ALL gone tits-up?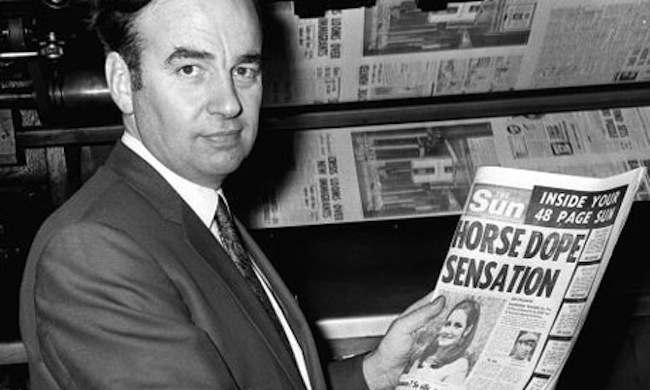 Forty-two is no age at all for a model these days, but life could be ending rather than beginning at 40 for Britain's most famous glamour modeling institution. Rupert Murdoch, responding to a tweet this week suggesting that the Sun's Page 3 is "so last century", replied: "You may be right, don't know but considering."
This isn't the first time Rupe has considered dumping the double-Ds. In a 1994 interview with India Today magazine, Murdoch acknowledged that the idea might have run its course, although in 1999 he told shareholders that an experiment with bikinis would stop if it caused a drop in Sun sales.
But if the end is now indeed nigh for this national treasure, it's worth reflecting on a few milestones along its shapely and occasionally rocky journey…
1969: Coy beginnings
On 17 November Swedish model and "Penthouse Pet" Ulla Lindstrom became the first Page Three Girl. "She's just the sort of gorgeous blonde you hope will smile at you on a dull, back-to-work Monday morning," cooed the accompanying pithy pen portrait. "This Swedish charmer has a nice line in brains, too. At present she's studying to become a systems analyst for computers in Stockholm."
The pin-up spot was the brainchild of the modern Sun's first editor, Larry Lamb. "I helped make page three part of the language," he wrote later. "In many ways now I wish I hadn't."
1970: Topless but tasteful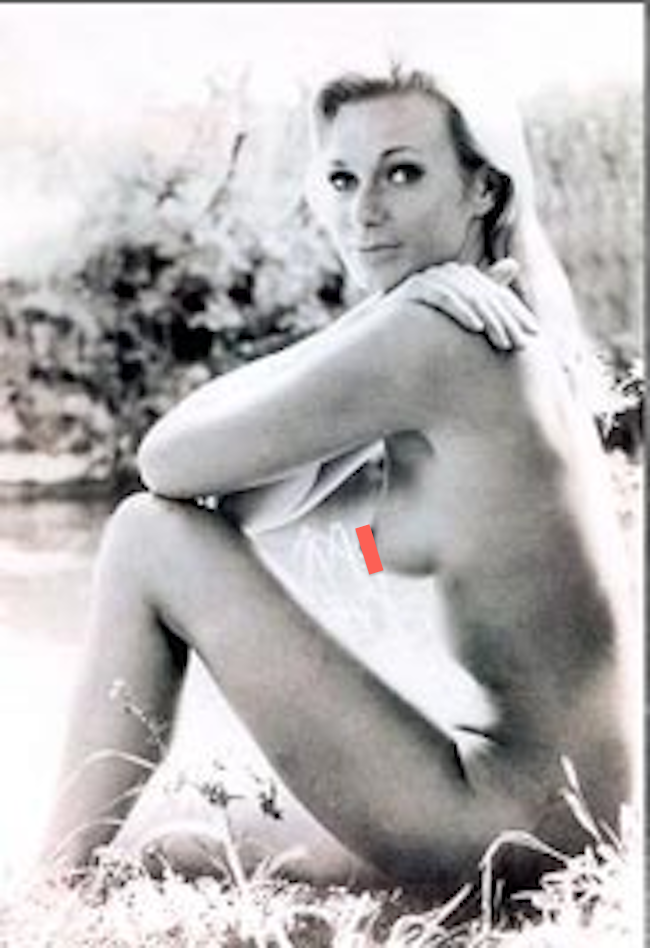 Exactly a year after the paper's re-launch, Stephanie Rahn from Germany, became the first topless talent to grace the paper's pages. Not many of them to the pound – or the Deutschmark.
1976: Lovely Linda
The year of the heat wave saw the arrival of another "scorcher", as Linda Lusardi began her long relationship with the paper. In 2005 she was voted Best Page 3 Girl Ever. Three years later she won Celebrity Come Dine With Me in 2008, beating fellow topless trouper Abi Titmuss.
1980: Songs of praise

The Lambrettas were so pleased with this sub-Jam effort that they released it as a single. Whereupon the Sun slapped a court injunction on it, claiming ownership of the phrase "page three".
1984: "Tits out for the lads"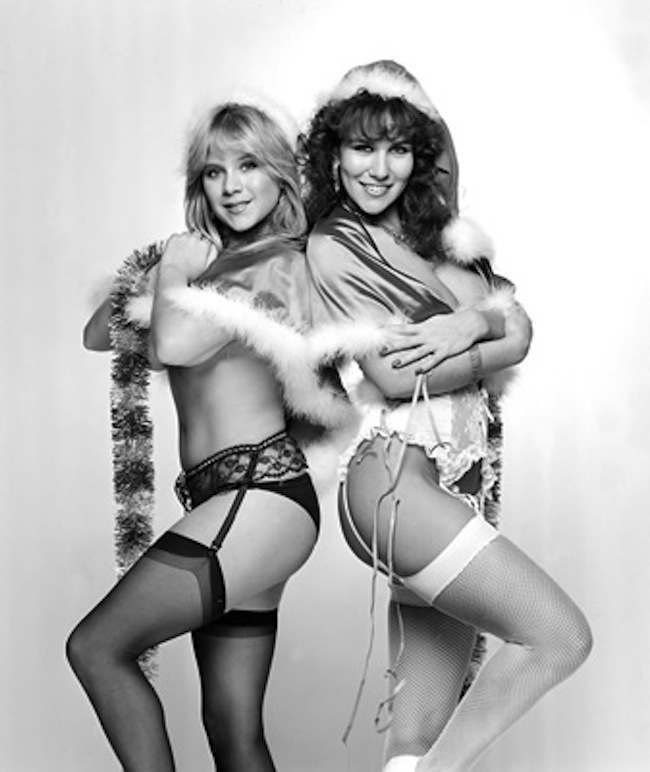 Sam Fox (seen here with Lusardi) was named Page Three Girl of the Year for three consecutive years between 1984 and 1986, after which she retired from modeling. Ten years later, she made a brief comeback for Page Three's 25th anniversary. In 2009 she announced that she wanted Motorhead's Lemmy to give her away at the civil partnership service she was planning with her manager Myra Stratton. (More here.)
Maria Whittaker stepped into the large gaps left by Sam, before moving on to become the face of Barbarian.
1986: Short shrift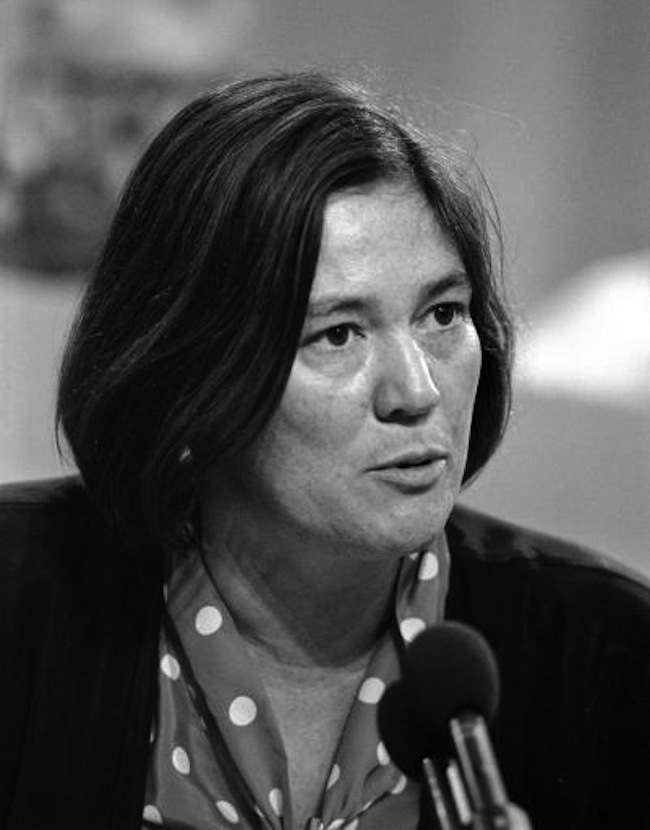 No, bubbly Brummie Clare Short did not get her top off in the Sun. Instead, the "spoilsport" Labour MP raised the issue of Page 3 in parliament, suggesting a ban on nude pictures in all newspapers. When the Sun switched its support to her party in 1997 she responded: "They think it's normal and acceptable to carry daily pictures of half-naked women, which is still revolting – but I'm still glad they're supporting us." Short renewed her campaign in 2004, prompting the paper to superimpose her face on a Page Three model's body and brand her "fat and jealous".
The not-so-naughty noughties
At the end of the 20th Century the Sun introduced a policy of only featuring models with natural breasts, thus ruling out models such as Jordan and Jodi Marsh. No great loss to either. Katie Price is now a leading author and Jodie Marsh is a bodybuilder of a different kind.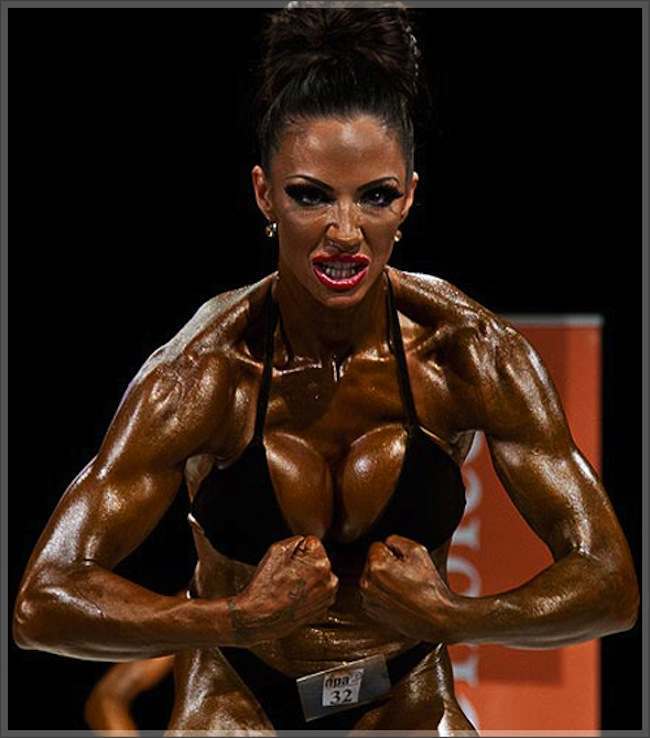 2003: Goodway to go

Beverley Goodway, the smudger who snapped Rahn, stayed on the job for a further 24 years until his retirement on 2003. "I must be one of the few men who can honestly say I've seen more naked girls in the flesh than I have had hot dinners," he reflected. "It's my claim to fame and it has been a pleasure. There's not a single bloke alive who won't swap places with me."
2012 Toppling the topless?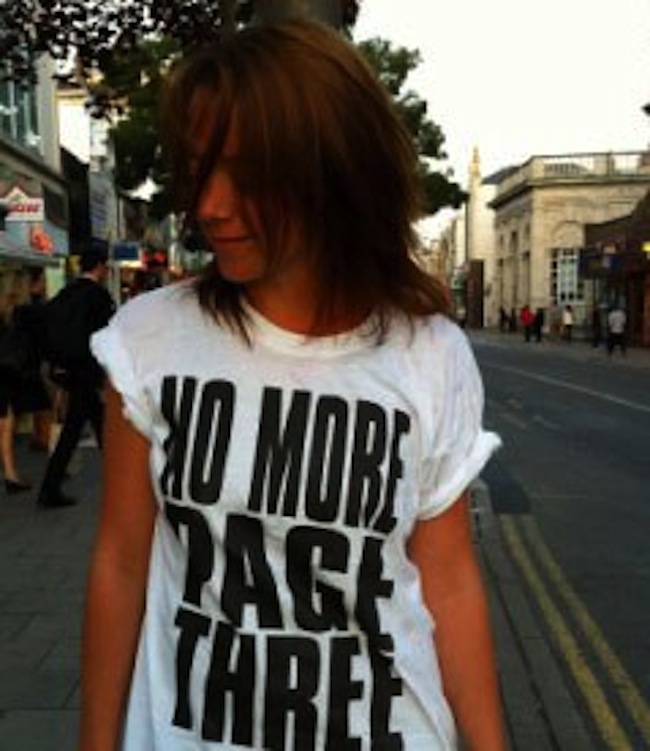 Writer and actress Lucy-Anne Holmes donned a suitably 1980s-style protest T-shirt to launch her No More Page Three campaign. Fat and jealous? Hardly.