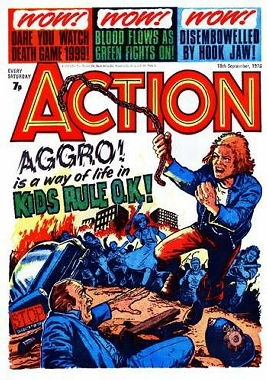 HALF a century ago, an influx of lurid American horror comics prompted a major backlash in 1950s Britain. The Christian philosophy of The Eagle set the scene for a new generation of comics for boys, in which clean-cut heroes triumphed over clear-cut baddies, and wholesome youngsters had good clean fun. Rip-roaring adventures were had by all, and everything was solved up in time for tea.
By the end of the 1960s, however, papers like The Eagle and Victor were looking a bit tired, and more aggressive comics like Warlord and Battle moved in to replace them. In one sense they were even more old-fashioned, dominated as they were by the Second World War; but their style was more modern and aggressive. Their subsequent success prepared the ground for the most controversial comic of recent times: the visceral and violent Action, which first hit the streets in February 1976.
Proposed names for the new mag had included Boots and Dr Martens, so it comes as no surprise to learn that the target audience was not the type that usually read boys' comics. A cursory look at the stories was enough to confirm this impression.
'Blackjack', a boxer from the ghetto, is going blind and struggles against the corruption of the fight game. 'Look Out For Lefty' features a hot-tempered footballer whose skinhead girlfriend isn't afraid to give him a clump. Lefty lives with his grandad (who eats tinned dog food) and is pelted with bottles by hostile crowds – the latter prompting complaints from the Daily Mail and the Football Association, as well as top referee (and magistrate) Jack Taylor. 'Probationer', as the name suggests, is about a young kid who falls foul of the law, while 'Kids Rule OK!' is set in a future (1986!) in which the adult population has been wiped out and gangs of teenagers fight each other, and against a sinister band of fascistic police cadets.
Action was an immediate hit, shifting hundreds of thousands of copies. But success brought a higher profile, and it soon attracted the attention of the guardians of public morality. Within months, Action fell victim to a combination of tabloid newspapers, Mary Whitehouse's National Viewers and Listeners' Association, the Responsible Society, and a general trend towards 'child protection'.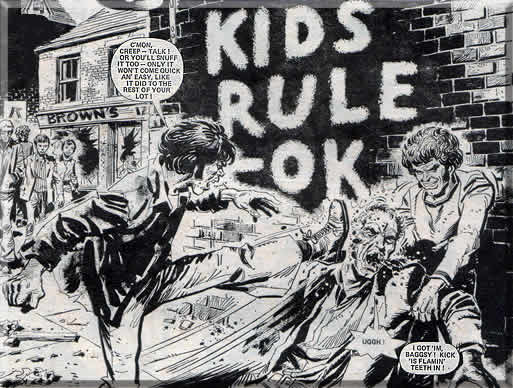 This culminated in an interview with the comic's founder John Sanders on the early-evening BBC show Nationwide. Without warning, interviewer Frank Bough set aside the agreed questions and launched a verbal attack. National retailers like WH Smith leaned on publishers IPC, which took the drastic step of withdrawing and pulping its biggest-selling comic.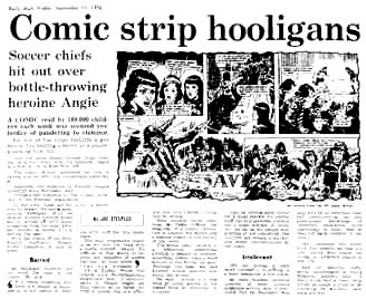 Action returned in a seriously sanitised form. Controversial stories were dropped and the remaining ones redrawn and rewritten. It was a shadow of its former self and nobody was fooled. Sales slumped and Action merged with Battle the following year.
But the so-called scaremongers were proved correct. Without the dangerous influence of Action on impressionable minds, there was a dramatic drop in street violence, hooliganism and anti-social behaviour. Today it seems inconceivable that such things ever existed.
For more Action www.sevenpennynightmare.co.uk