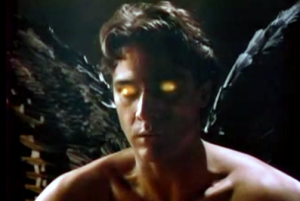 ON Tuesday, February 25, Monsters: The Complete Series will be released on DVD. For those who may not remember it, Monsters (1984 – 1988) was Laurel's second TV horror anthology after Tales from the Darkside (1984 – 1988), and – much like its more well-known predecessor – it was crafted on an extremely low-budget.
In fact, the joke about Tales from the Darkside in the eighties was that its special effects were crafted for $188.00 per episode.
The follow-up series, Monsters, was similarly austere.
Despite the egregious lack of funding, Monsters featured occasionally-inspired tales penned by notable authors like Robert Bloch and Robert Sheckley, and starred familiar faces such as Gina Gershon, Richard Belzer, Lili Taylor, Darren McGavin, John Saxon, and Glynis Barber.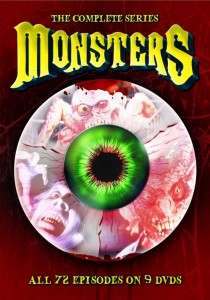 Monsters ran for seventy-two episodes in syndication and many of its most memorable instalments sought to tackle social issues, and to comment on the human condition. Racism was the subject, for instance of "One Wolf's Family," a horror riff on Guess Who's Coming to Dinner (1968) that featured…werewolves.
Similarly,  the episode "My Zombie Lover" saw The Cosby Show (1984 – 1992) actress Tempestt Bledsoe fall in love with a zombie during a night-of-the-living dead-style event, and face the wrath of her parents for dating outside her social class.
"I know you zombies, you have only one thing on your mind," Bledsoe's character notes at one point, regarding her new boyfriend.
Of course, she refers to his consuming desire to feast on human flesh…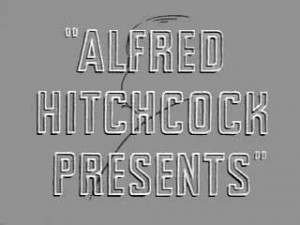 The imminent arrival of Monsters on DVD is a good reminder that the genre anthology was once one of television's most durable and memorable forms. From Alfred Hitchcock Presents (1955 – 1962) and The Twilight Zone (1959 – 1964) to Boris Karloff's Thriller (1961 – 1962) and Rod Serling's Night Gallery (1970 – 1973), the anthology often served as a training ground for future film directors like Richard Donner, Jeannot Szwarc, and Steven Spielberg.
In particular, working in the anthology format taught these young talents a sense of economy in their storytelling; how to establish and shape characters with visual distinction, and sometimes with remarkably little exposition.
Over the last few years, many of the more obscure entries in the horror anthology format have been released on DVD, including, Ghost Story/Circle of Fear (1972 – 1973), a series hosted by Sebastian Cabot.
But many other examples of the form still deserve to be excavated for modern audiences.  Four of the spikiest and strangest are described below.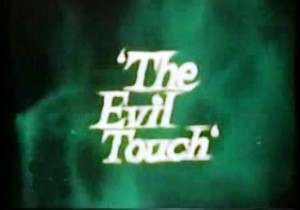 The Evil Touch (1973 – 1974)
Mende Brown produced this horror anthology series in Australia with Anthony Quayle serving as host and narrator.  The Evil Touch ran in syndication in the United States for one season of twenty-six, half-hour episodes, and it remains, even today, extremely impressive in its low-budget zeal and willingness to shatter TV taboos.  Specifically, the series often carries the "unsafe" aura of an early-1970s horror film, like The Texas Chainsaw Massacre (1974).
Sometimes, and in some episodes, you can't quite believe what you're seeing unfold on screen.
One of the nastiest entries in The Evil Touch canon is "The Trial," which tells the story of Lon Zachary (Ray Walston), a grotesquely wealthy man who hides a dark secret about his past, and now seeks to destroy a carnival fairgrounds to make room for his very expensive condominiums.
Unfortunately, the nearby carnies catch wind of this plan, and submit Lon to their own peculiar brand of justice.
You see, one carnie — now a tattoo artist — used to be a brain surgeon…
Another classic The Evil Touch entry is "Kadaitcha Country," which stars Leif Erickson as a missionary sent to aborigine territory to make converts to Christianity. But once there, Erickson's character very soon encounters a dark indigenous power: the Kadaitcha.
Because Erickson's character once suffered a nervous breakdown, he can't be certain, however, if he is going mad, or actually under the influence of a real malevolent force.  He finds that conversion is not so easy a thing to undertake, in other words, when his own faith is built on a shaky foundation of reality.
One more The Evil Touch story "Campaign '20 concerns, intriguingly, the 2020 presidential election in America, and one candidate's effort to eliminate his political opponent by sending a robot back in time to prevent his very birth. The episode forecasts, in some very direct ways, aspects of The Terminator (1984), and it starred James Daly as the candidate — David Arlington Zack — hoping to carry the future by rewriting the past.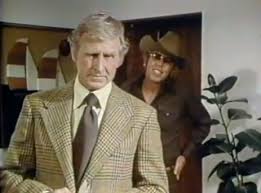 Quinn Martin's Tales of the Unexpected (1977)
This hour-long series from mega-producer Quinn Martin ran for just eight episodes in the summer of Star Wars, and featured William Conrad as the gravel-toned, off-screen narrator. The episodes were action-packed, surprising, and often quite bizarre.
The most outlandish of this bunch was "The Force of Evil," a note-for-note, a TV version of Cape Fear (1962) starring Lloyd Bridges and The Brady Bunch's Eve Plumb. On Tales of the Unexpected, this tale saw a wealthy doctor and his family stalked relentlessly by a Max Cady-like sadist named Teddy Jakes (William Watson). The action ended on — or at least near — the family house-boat.
"The Force of Evil" provides many clues that indicate Jakes is not actually a normal man anymore, but some kind of immortal, spectral avenger…the title's force of evil.  At one point, the camera lunges towards him from a low angle as he stands stationary in the desert, and this view provides a sense of his powerful, unyielding nature.
Also, throughout most of the episode, Jakes wears reflective sun-glasses, a mask which hide "the window to the soul:" his eyes.  Consequently, he becomes quite frightening and opaque a character, and one who is never quite vanquished, even by the narrative's inconclusive end.  The story is unusual because unlike most TV shows of its era, there is no attempt to provide closure, or to restore order to the characters' universe.
Other stories on Quinn Martin's Tales of the Unexpected included a remake of Martin's The Invaders (1967 – 1968) pilot, called "The Nomads, and "A Hand for Sonny Blue," about a Dodgers pitcher who gets a hand transplant from a murderer.
And in "No Way Out," Bill Bixby plays an absentee father, John Kelty, who sails from the 1950s straight into the 1970s during a storm (thanks to the Bermuda Triangle…), and warns his adult son, now a cardiologist, not to forego the pleasures of family life.  The tale features a remarkably uncompromising and downbeat ending.
Several episodes of Quinn Martin's Tales of the Unexpected have not been broadcast since their original (and only) network transmission in '77, though recently some episodes have appeared on YouTube.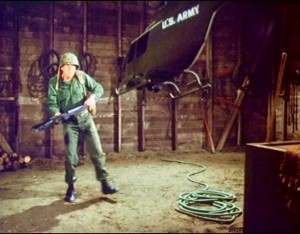 Darkroom (1981 – 1982)
James Coburn hosted this short-lived ABC anthology, which aired on Friday nights in direct competition with CBS's then-hit series The Dukes of Hazzard.
Darkroom ran for only seven hour-long episodes, and yet it features one of the creepiest intros of any series ever made: a point-of-view-camera tour through an empty (and ostensibly haunted…) house.  The camera-work and the sinister-sounding music together forge an atmosphere of menace that is hard to shake, even today.
Darkroom's most widely remembered episode is "Siege of August 31," and it revolves around a Vietnam veteran and farmer, Neil (Ronny Cox) who unexpectedly becomes locked in combat with toy soldiers and vehicles that suddenly become animated. The final confrontation between man and toy — an impressive collage of rear projection, blue screen and miniature effects — occurs in a barn by black of night as the veteran adorns his old uniform and literally returns to the war that haunts his dreams.
The specific details of the tale involve Neil bringing home to his son Ben two toy play sets of "Company B," miniature American soldiers. When the ten-year old boy is forced to attend military school by his demanding father, the toy soldiers begin speaking to the child, informing him of the atrocities committed by American military men in Vietnam.
The last straw breaks when Neil stumbles upon a toy version of the Vietnamese village he burned down.  Later that night, Neil meets his destiny in the barn, fighting a toy army and air force, including a miniature helicopter…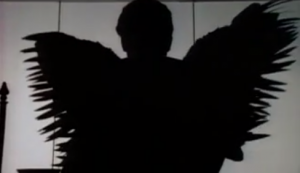 The Hitchhiker (1983 – 1991)
When it first aired on HBO in 1983, The Hitchhiker was a source of great controversy in the U.S. because it not only featured abundant blood and guts, but tons of nudity and "simulated sex" as well.  In short, it was the first horror series of the premium cable TV generation, created and produced exclusively for adult eyes.
In terms of its format, the series had a mysterious narrator in the person of Nicholas Campbell (and later Page Fletcher).  Playing a nameless, wandering hitchhiker, Campbell would introduce and close each story, often issuing vague moral platitudes about lust and other sins.
The first three seasons of this anthology series ran on HBO, and every story blended sex and violence, usually in a tale of cosmic comeuppance or scales of justice righted.
For instance, in "Hired Help," Karen Black plays a sadistic woman, Kay Mason, who regularly exploits Mexican workers in her sweat shop.  Soon after doing so, however, she is confronted with a handsome lover who is actually a Diablo — a Devil — out to exploit her body, and steal her soul.  The episode is as kinky as it sounds, with the hunky Diablo bedding Black and sprouting angel wings (not to mention glowing green eyes) during rough intercourse.  Parts of the sex scene are so graphic that they are lensed in silhouette only.
Other Hitchhiker episodes, such as "True Believer," were equally twisted.  That one saw Tom Skerritt bedding a ghostly nun, played by Ornella Muti….
After the first three seasons and 26 episodes, the USA Network bought and re-tooled The Hitchhiker, removing all of the sex and gore that had distinguished it in its first incarnation. The USA seasons are pretty dreadful, but the HBO years of The Hitchhiker certainly…raise the temperature a bit.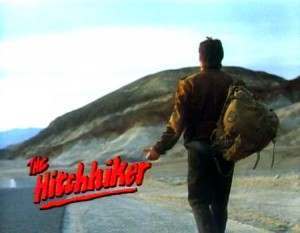 These four anthology series — The Evil Touch, Quinn Martin's Tales of the Unexpected, Darkroom, and The Hitchhiker — represent some dark but unjustly forgotten corners of television history, and would certainly be welcomed on DVD.
And lastly, one has to wonder when we are going to get from CBS the final two seasons of another long lost horror anthology:  One Step Beyond (1959 – 1961). One  unforgettable episode from that series' third season features host John Newland, sampling hallucinogenic mushrooms and then assessing their "psychic" impact on him…
Even today — and with so many viewing options available — scripted TV is rarely so…strange as anything imagined by these horror anthology programs of yesteryear.