What you see before you is a highly researched, academically sound list of the top 13 uniforms which utilized the mini skirt (many of which will be be featured in their own upcoming Mini Skirt Monday).  Don't dwell too long on the list order; dwell on the miniskirts instead…. and, as always, enjoy!
1.  STEWARDESSES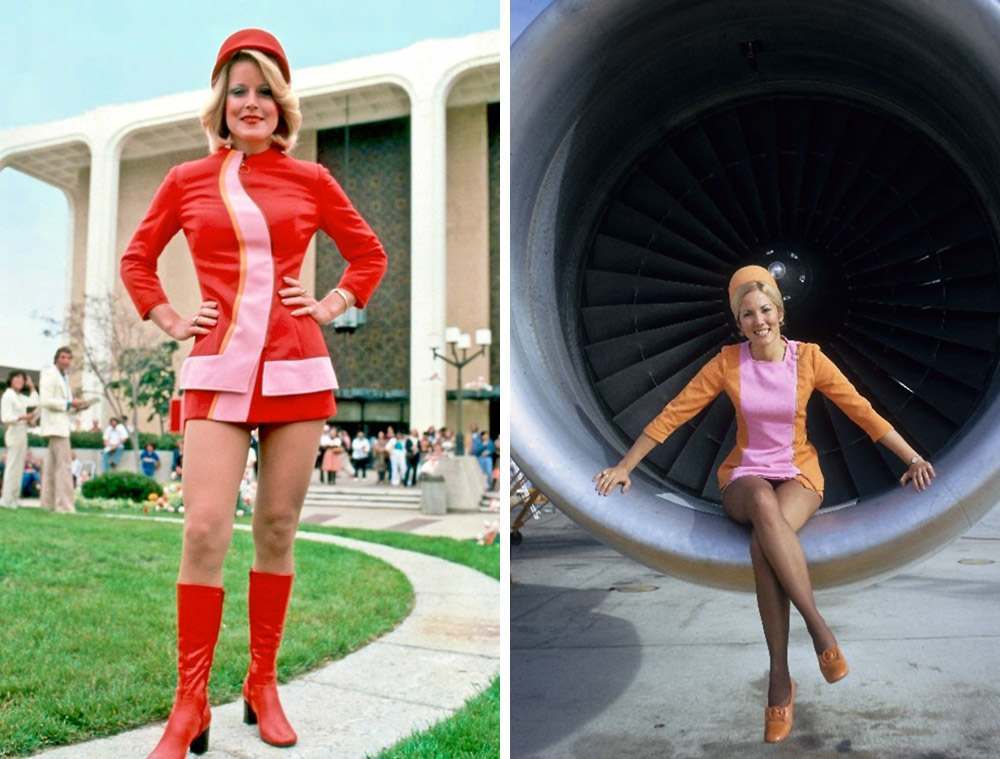 Nowhere is the short skirt as a uniform better represented than the old-school stewardesses….. er, excuse me – "flight attendants".  Today they come in all shapes, sizes and genders and they are highly trained professionals.  Back then, they were cocktail waitresses of the sky, and life at 30,000 feet was good.
2.  FRENCH MAIDS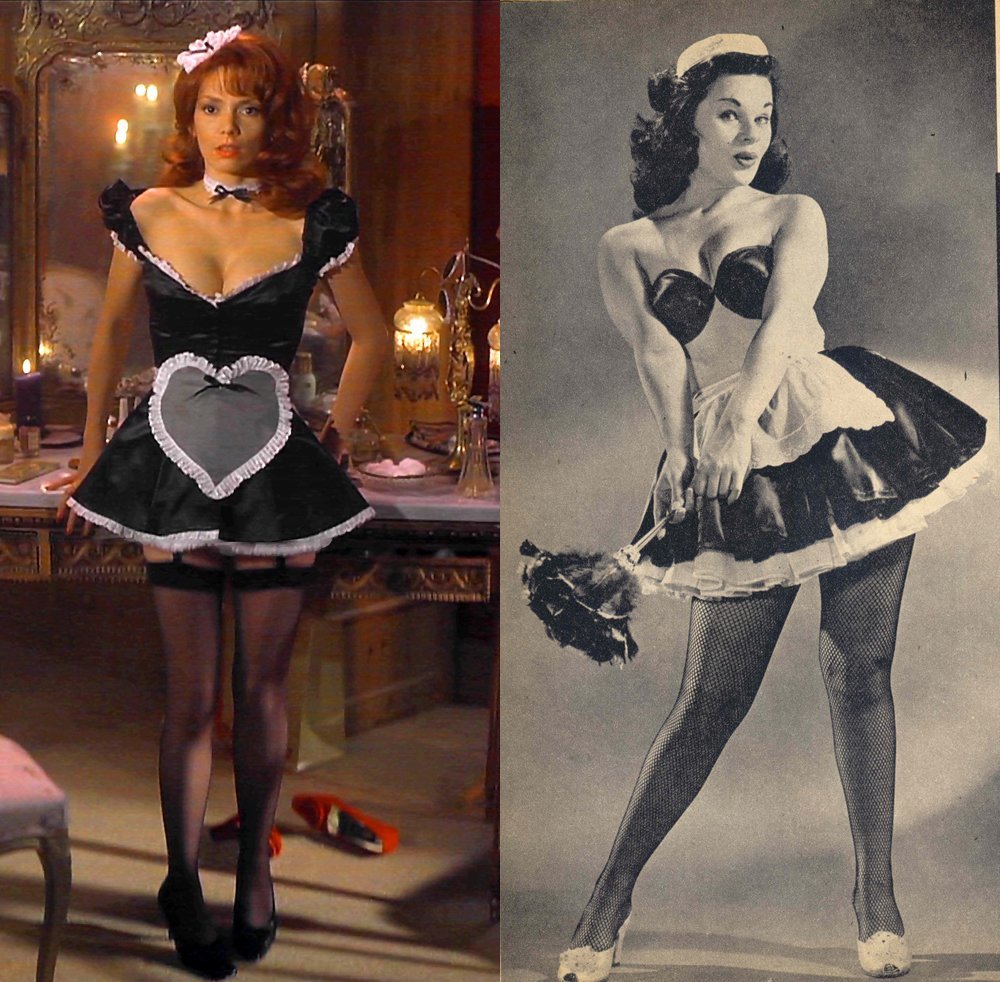 (Left) Joanne Whalley from The Man Who Knew Too Much and (Right) a picture from a 1956 issue of Gala magazine.
The French Maid uniform has become nothing more than a Halloween costume or cosplay outfit; however, it has its origins in 19th century France.  The housemaid's dress was subsequently sexxed up for burlesque shows; but I like to think that this was the standard operating uniform for lady servants of the 1800s.
3.  WAITRESSES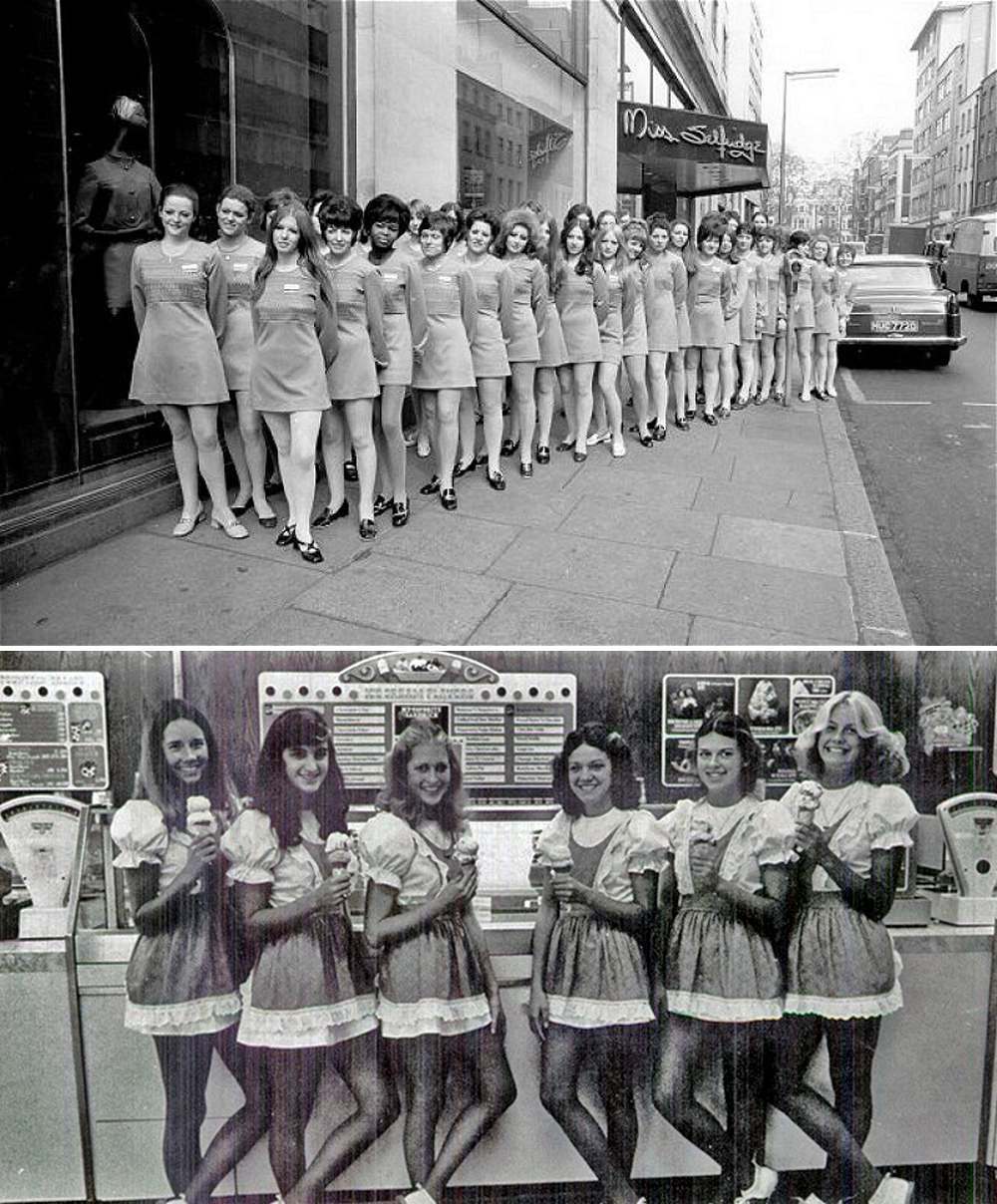 Whether it was a local greasy spoon or the ice cream parlor, you could be guaranteed your hostess was suited up in a miniskirt.  Alas, those days are gone.  Perhaps, for the sake of the women, it's a good thing (as this next uniform demonstrates)….
4.  CIGARETTE GIRLS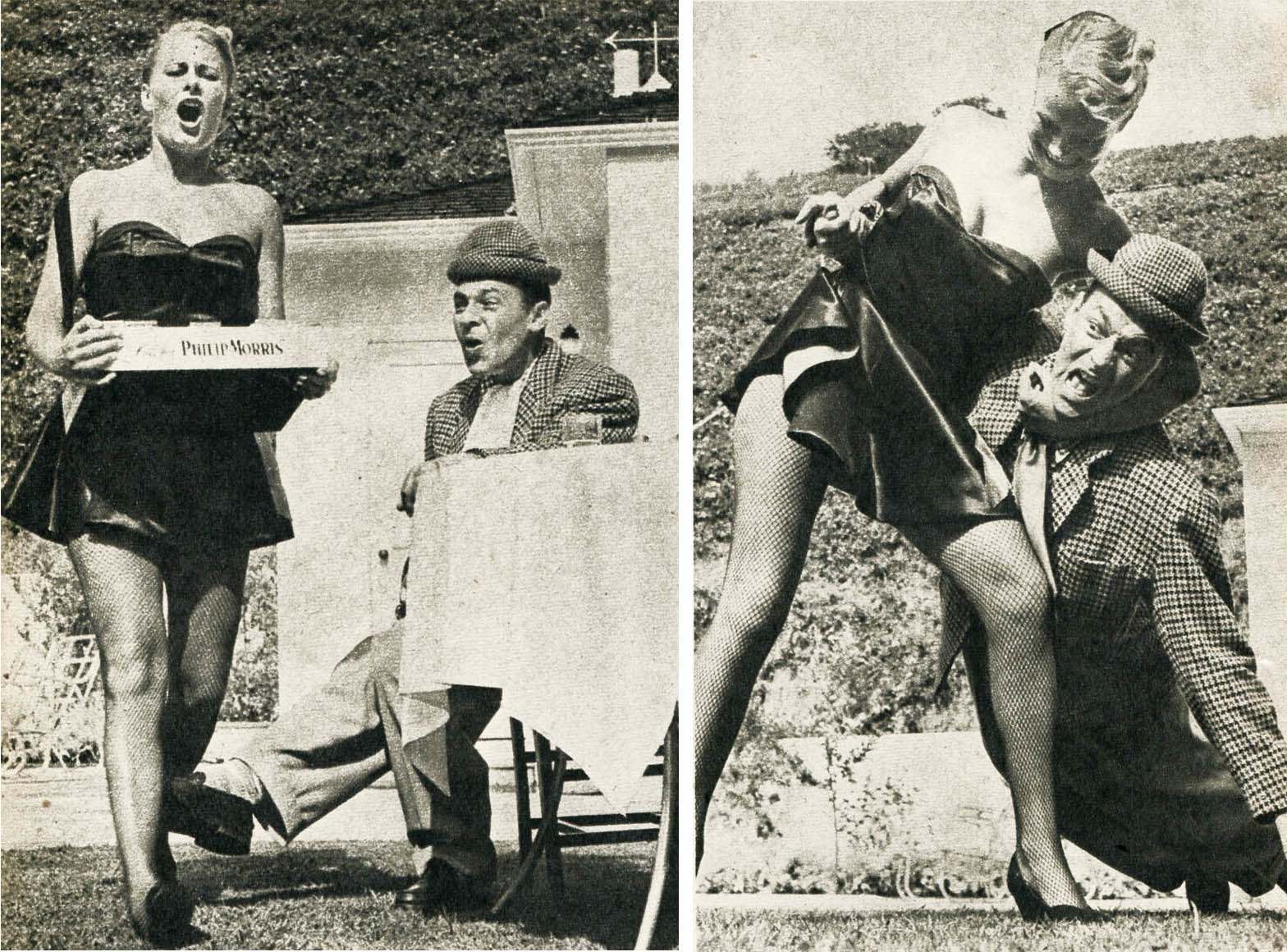 Let's face it, it was a man's world and the miniskirt uniforms served one purpose – to attract male customers.  As these photographs (featuring Pinky Lee) illustrate, wearing a short skirt to work every day in a "man's world" had it's share of job hazards.   Thankfully, this cigarette girl was able to handle the situation properly.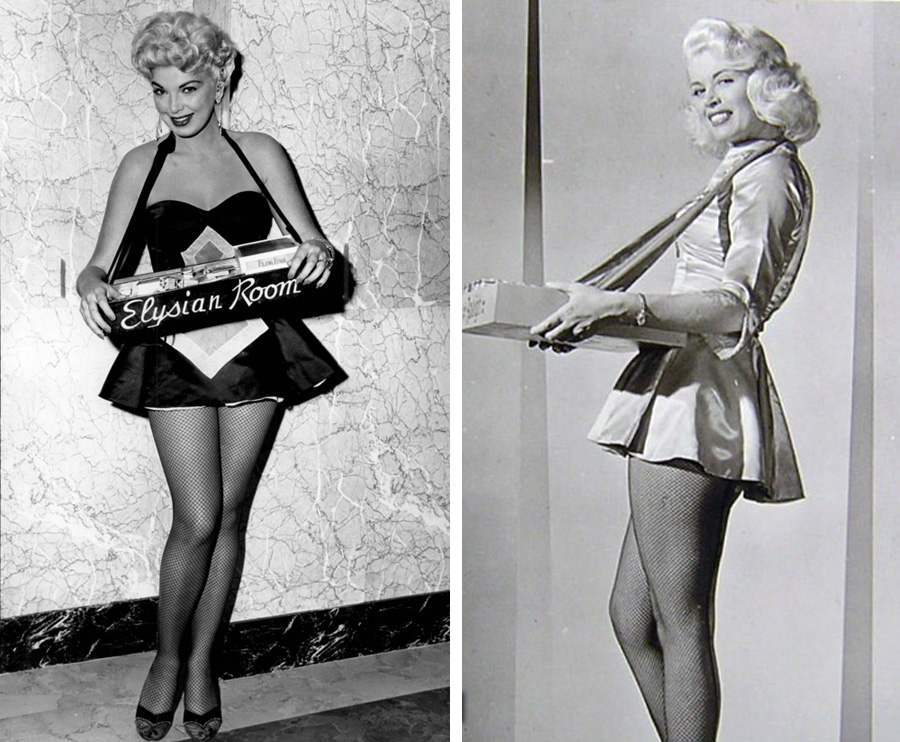 If there's anything more antiquated than miniskirts as uniforms, it's the very idea of cancer-stick peddling babes in short skirts.  The mind reels.
5. TENNIS PLAYERS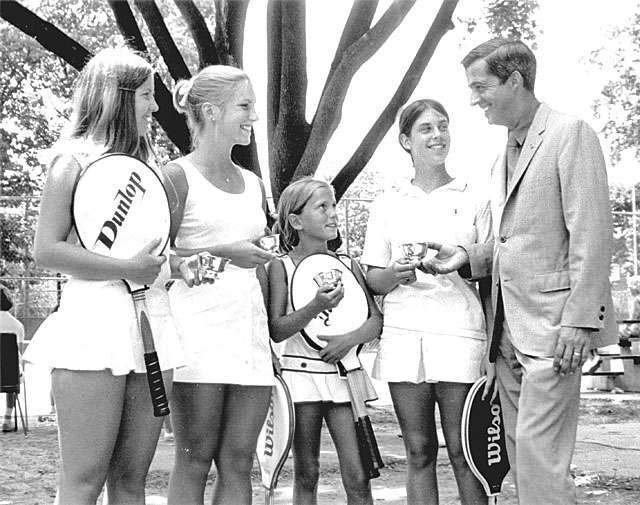 In the 1960s, the tennis skirt hemline vaulted many inches upwards.  Not only did the scenery in women's tennis improve, but the shorter skirt actually made more sense in terms of functionality.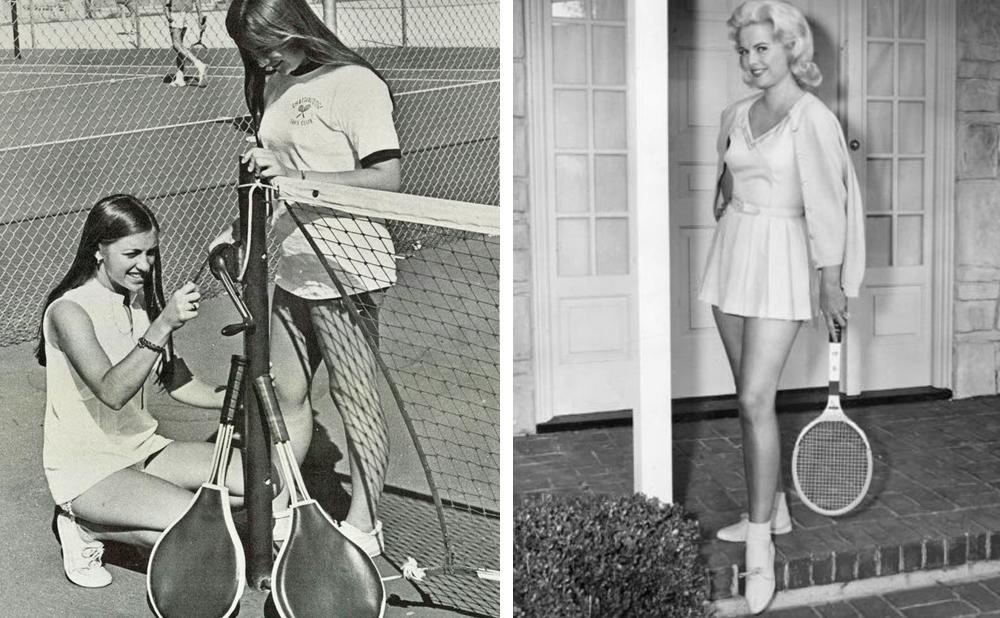 It's probably fair to say the hemline has gone down a tad since the Seventies.  Back then, it had gone from being a reasonable adjustment to accommodate the physical movement required of the sport, to a complete and total distraction.  We've probably arrived at a happy medium.
6.  SECRETARIES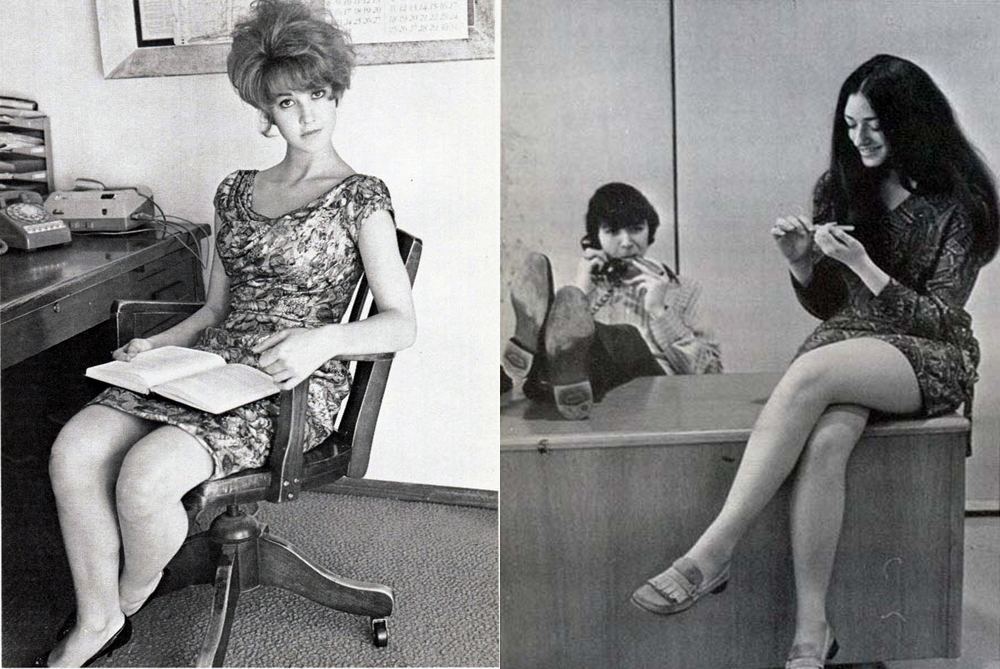 In the 1960s (and even much of the 1970s), the office more resembled a gentleman's club than diverse work environment.  During the heyday of the miniskirt, high hemlines were strongly encouraged… and if you wanted to keep your boss happy, they were a requirement.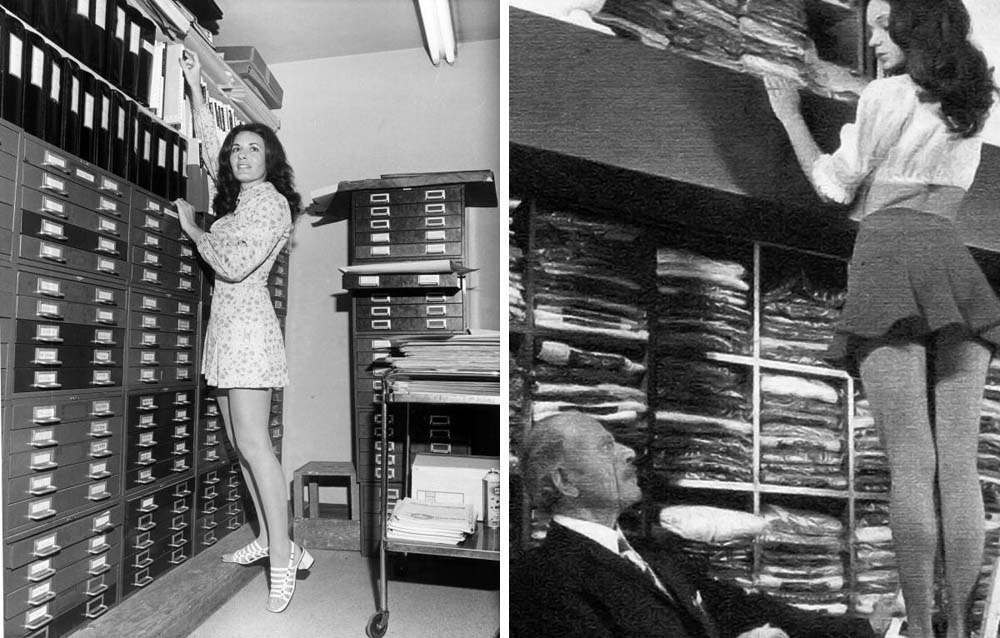 You can easily imagine the pervy harassment that took place.  Undoubtedly, there were many files located on upper shelves which needed gathering.
7.  ICE SKATERS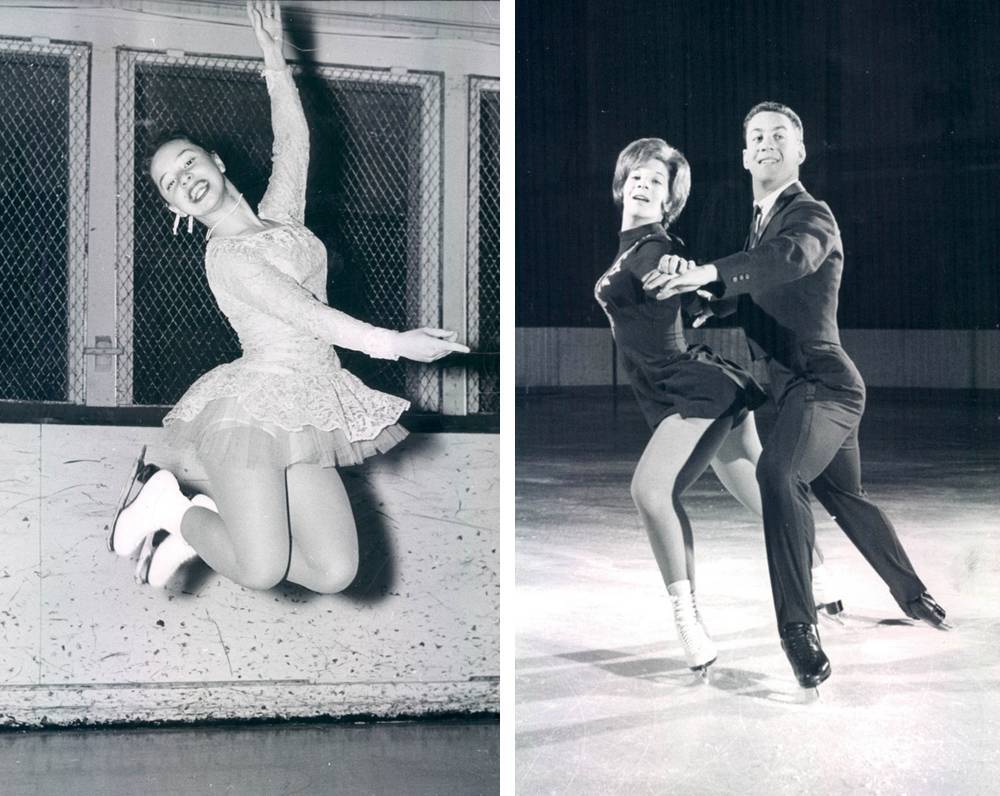 Due to pure functionality, the ice skating uniform has always been a good venue for short skirts (skating around in a long flowing dress could cause problems).
8.  LAW ENFORCEMENT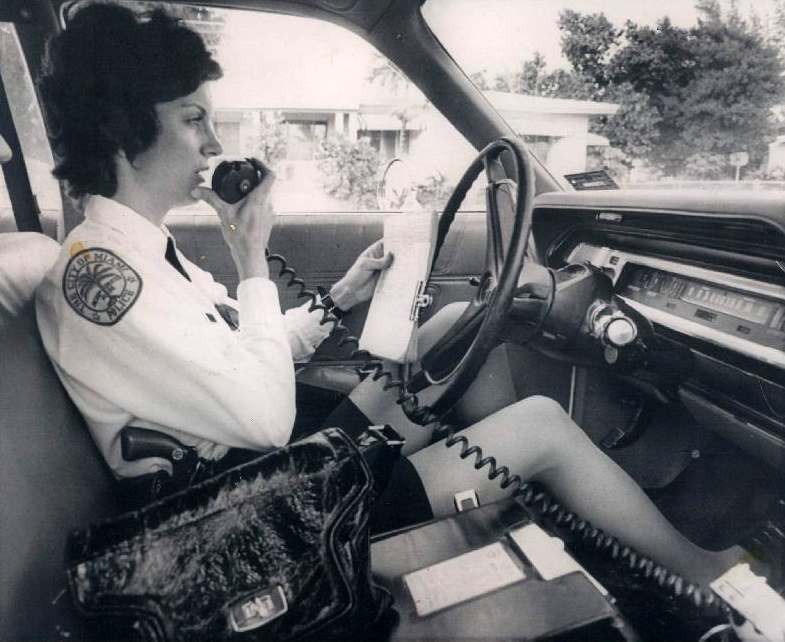 Granted, during the miniskirt's primetime, female law enforcement personnel were relegated to positions like dispatch and administration.  I'm sure there weren't many who took to the streets in miniskirts and heels… but it's a nice thought nonetheless.
9. PRIVATE SCHOOL STUDENTS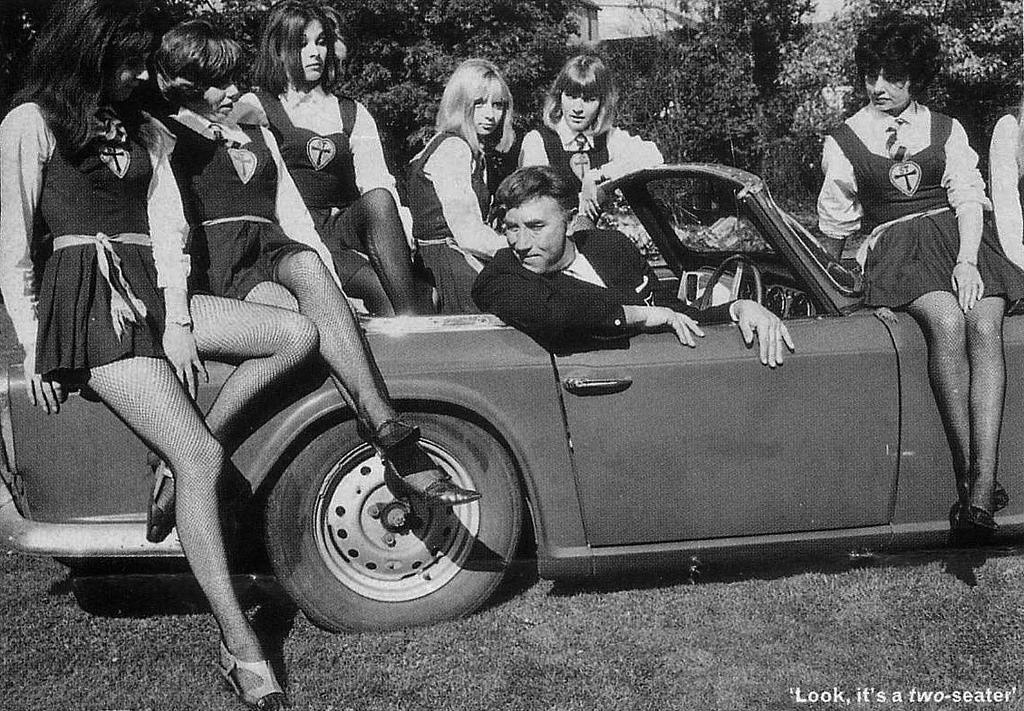 Okay, I know St. Trinian's (pictured above) is purely fictional; however, I can testify first-hand that private school skirts got insanely short in the early 1970s.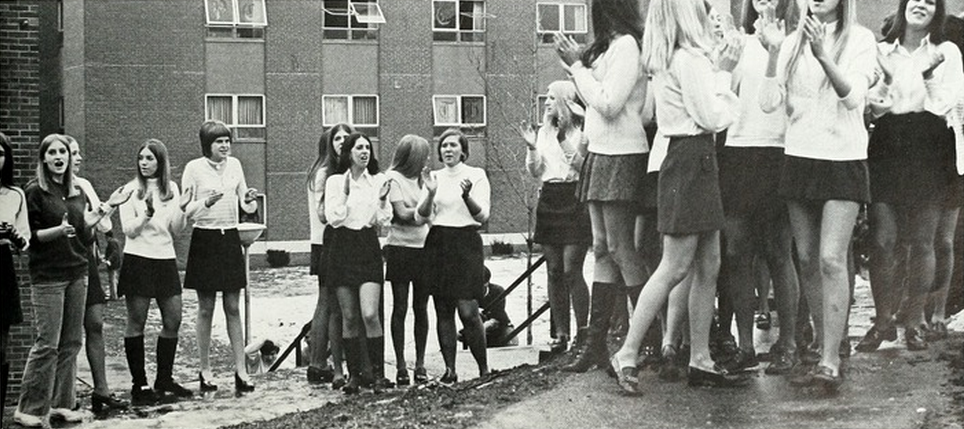 To learn more of the educational menace that was the  miniskirt's presence in the classroom, see an earlier Miniskirt Monday.
10. NURSES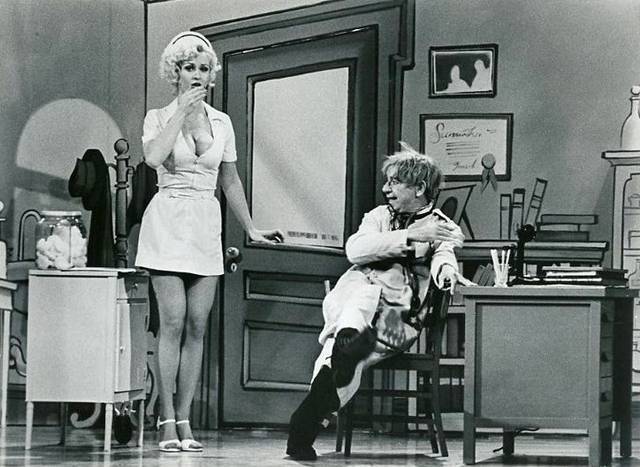 For a brief moment in time, between the long Florence Nightingale dresses and the current day scrubs, nurses often wore short skirts.   They weren't quite as revealing as the picture above, but compared to todays hospital garb, they may as well have been.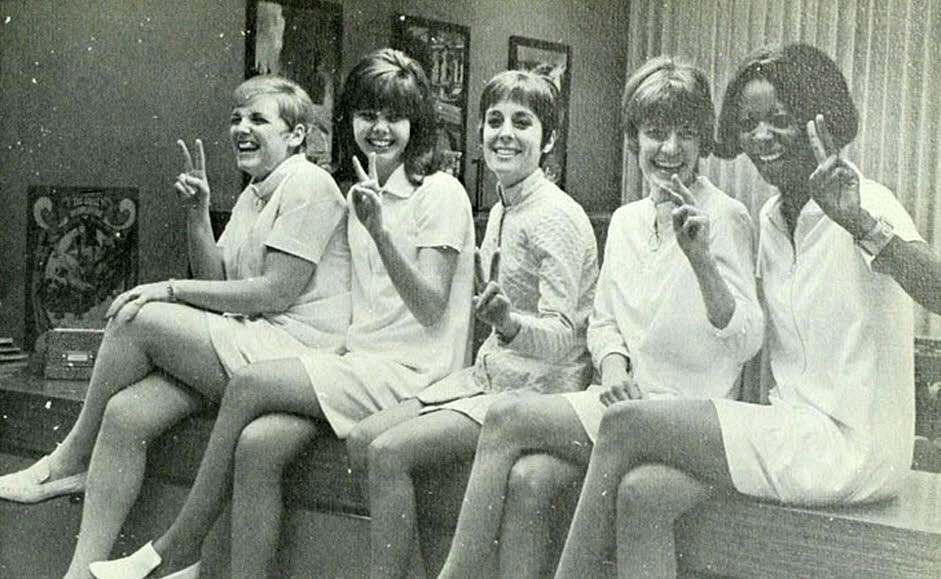 I should mention that the mini wasn't limited to nurses; any lady working in the healthcare profession was liable to work in a mini.  The photograph above: dental hygienists from 1970.
11. CHEERLEADERS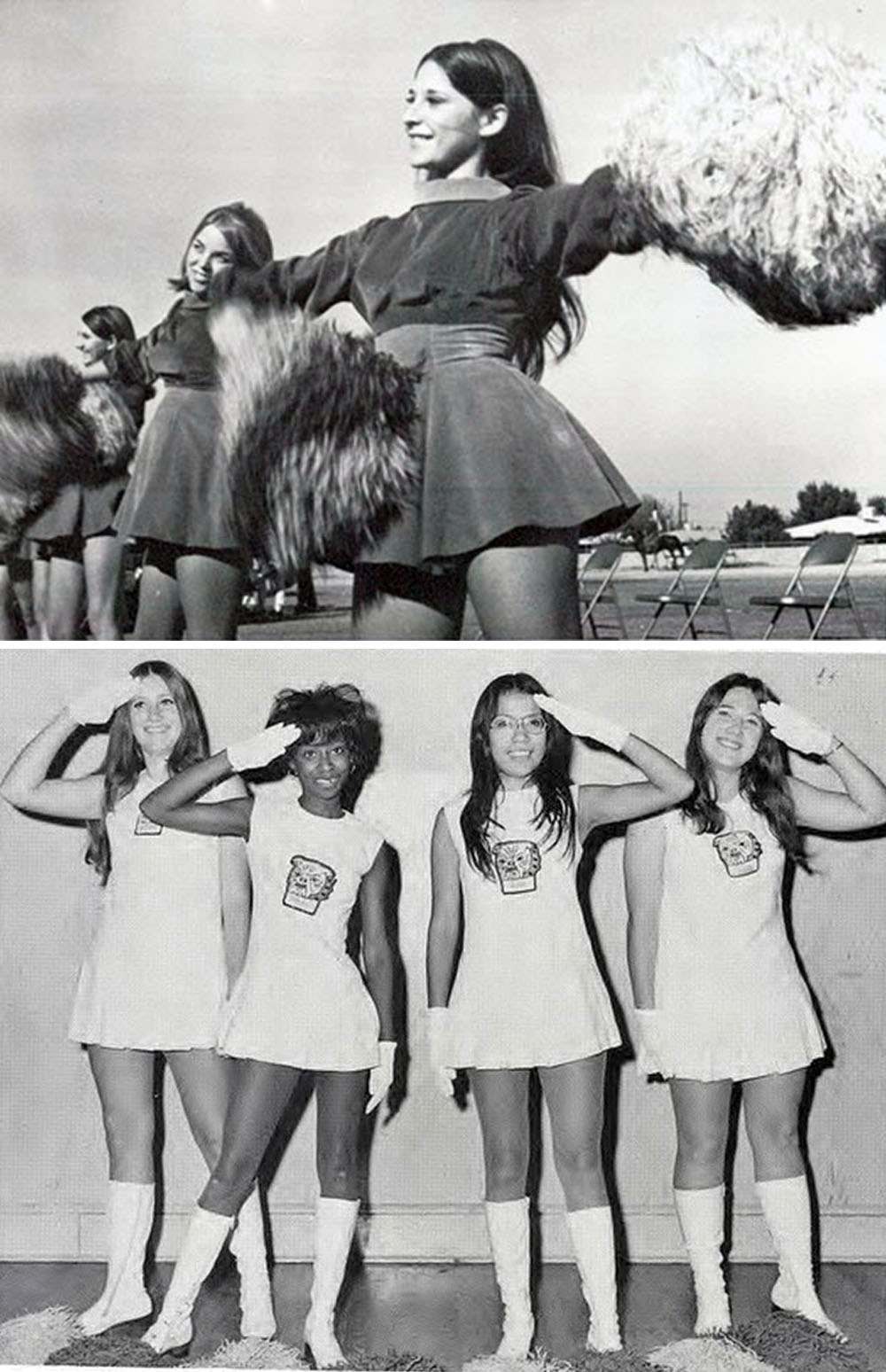 During the 1950s, cheerleader dresses extended well below the knee.  By the end of the 1960s, they were well above mid-thigh.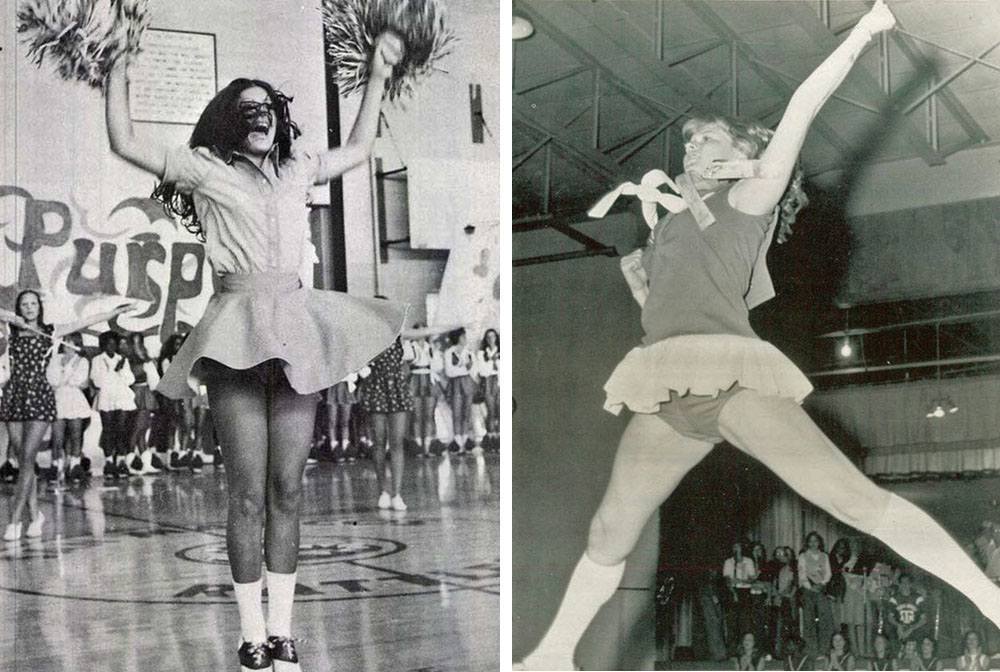 With all the peppy jumping that cheerleaders do, short skirts could create quite a view for the crowds.  It's no surprise that many cheerleading uniforms switched to shorts in the years to come.
12.  SANTA'S HELPERS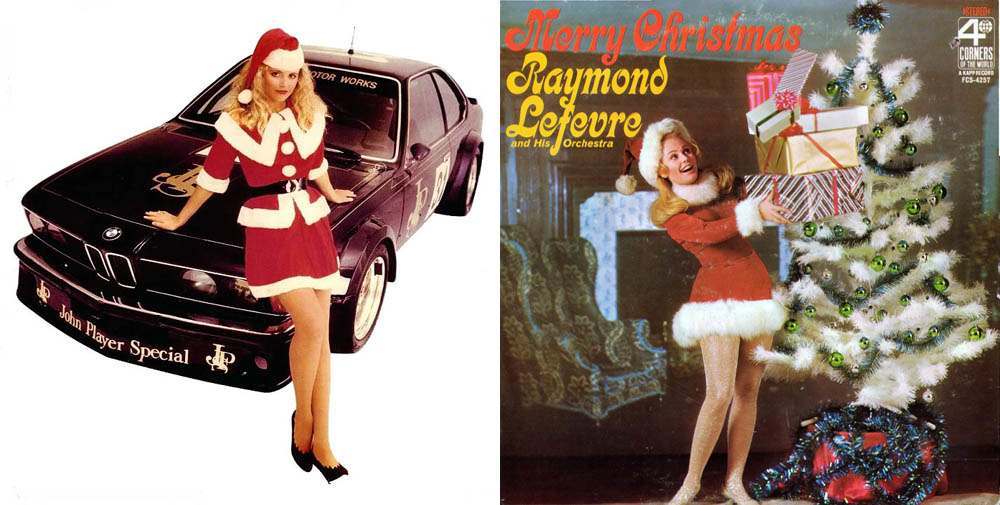 We've discussed before Santa's predilection for young ladies in scant clothing.  It should be no surprise that St. Nick's helpers should be uniformed in micro-minis.
13.  MILITARY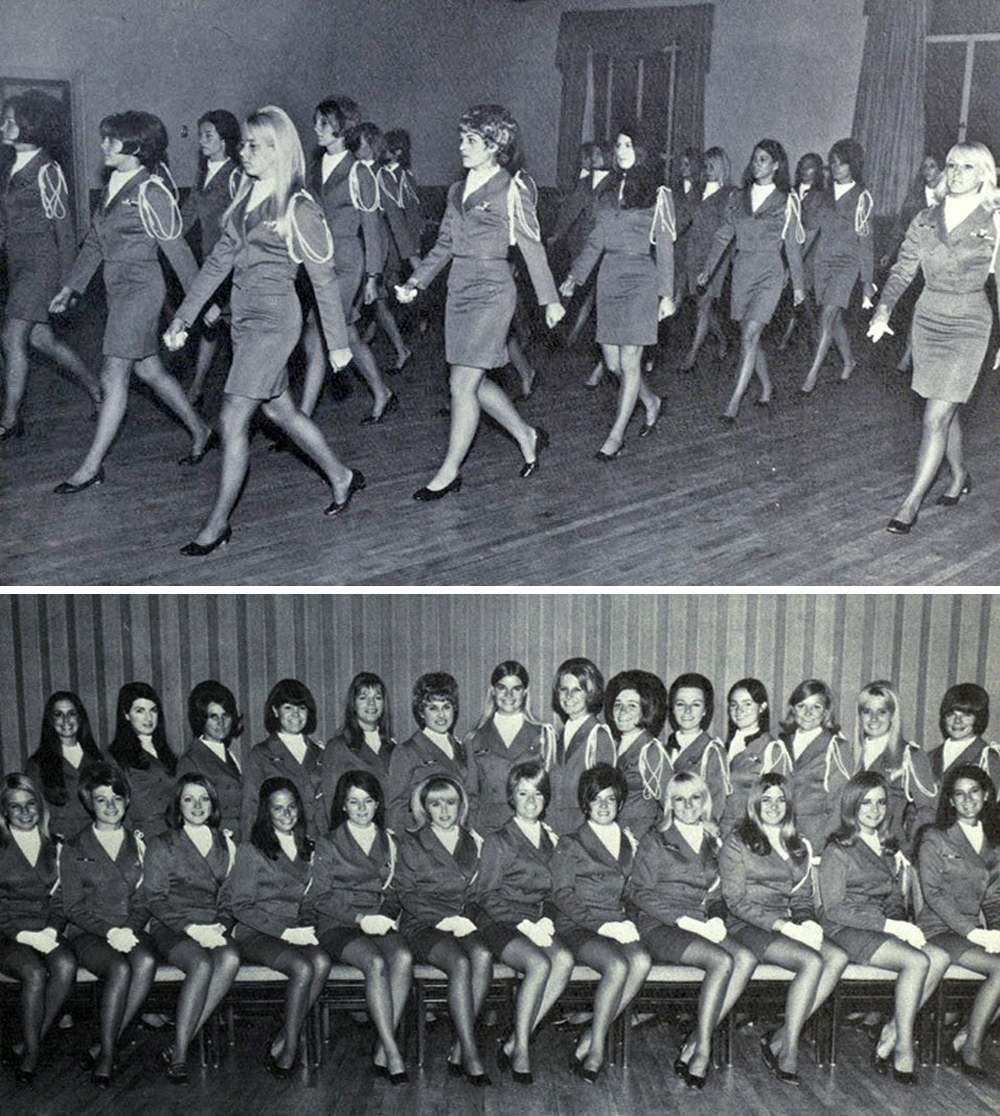 Like the police uniforms, the short skirt wasn't worn by ladies fighting on the front lines; however, it did have it's place among the many military support personnel.   One can only imagine how things would have turned out if miniskirted soldiers had been allowed in the foxholes; something tells me not much fighting would be getting done.  Perhaps miniskirts on the battlefield is the ultimate answer to world peace…. it's food for thought anyway.