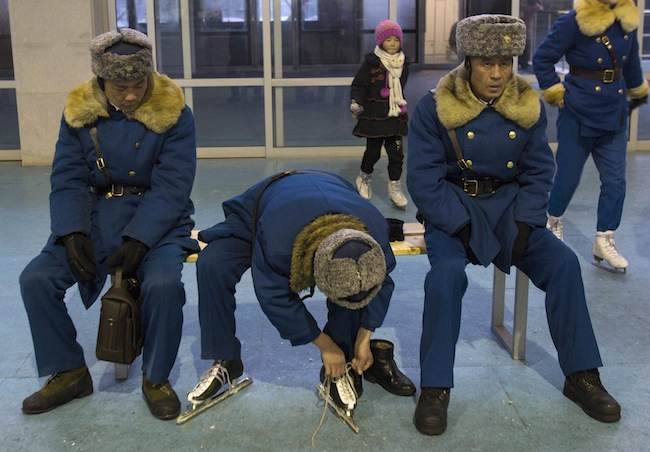 TO North Korea, where the marijuana runs wild and free:
NK NEWS receives regular reports from visitors returning from North Korea, who tell us of marijuana plants growing freely along the roadsides, from the northern port town of Chongjin, right down to the streets of Pyongyang, where it is smoked freely and its sweet scent often catches your nostrils unannounced. Our sources are people we know who work inside North Korea and make regular trips in and out of the country.

There is no taboo around pot smoking in the country—many residents know the drug exists and have smoked it. In North Korea, the drug goes by the name of ip tambae, or "leaf tobacco." It is reported to be especially popular amongst young soldiers in the North Korean military.
Meanwhile, in the UK:
Photo: An off duty North Korean traffic policeman laces up ice skates as his colleagues sit near by at an ice skating rink in Pyongyang, North Korea Friday, Jan. 11, 2013. Because off-duty cops alway go ice-skating, dude…