MARC Bolan, doyen of glam rock and died-too-soon pop star, fronted the live TV show Marc.
Recorded in Granada TV's Manchester studios, all six episodes of Marc aired in 1977, the run coming to an end when the singer died in a car crash on September 16th 1977, two weeks before his 30th birthday.
The 1970s were the most sensitive of times. Two episodes of Marc were broadcast after his death, one just four days later.
Each show featured Marc dressed in spray-on trousers, languishing over a day-glo set of manmade fibres and shiny surfaces. Marc, the frequently 'tired and emotional' popstar, laced his introductions and performances with fayness, indolence, sardony and an otherworldliness bordering on the deeply spaced. Your host once tripped over a lead and fell off the stage, causing guest star David Bowie to ask, "Could we have a wooden box for Marc [to stand on]?"
Guests included such top acts as Hawkwind, David Bowie, Thin Lizzy, Showaddywaddy, 10cc, The Jam and Generation X.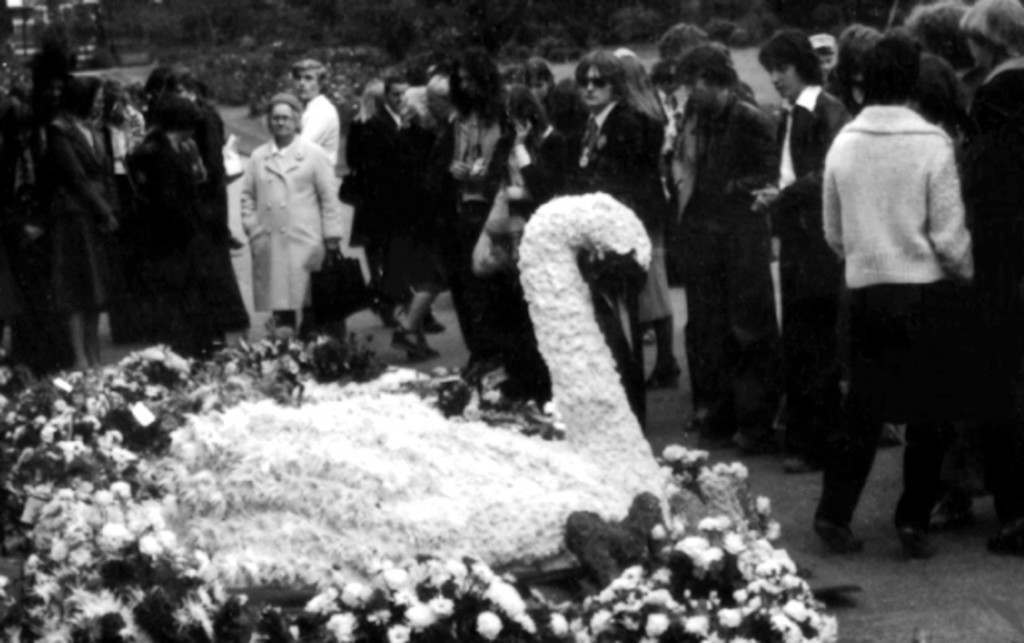 Episode one kicked off with Marc giving full throat to the immortal line "Oh Deborah, you look like a zebra".
Because this was children's telly, Marc met Robin Askwith, star of nostalgia-proof Great British Sex Comedies like Confessions of A Taxi Driver. Bolan salutes Askwith's work by placing a priapic, gilded trophy between his akimbo thighs.
Marc was routinley accompanied his dance troupe the Heart Throb. Boy those ladies could swing. And sway. They loved to sway.
Heart Throb once danced to the then latest T-Rex single Celebrate Summer. Despite the star's death, this song failed to be a hit. It really was that bad.
In this clip, Marc calls Hawkwind his "best mates". Well, they shared the same manager. But chances are that Bolan was being sarcastic. As Hawkwind's Dave Brock tells it:
I lived near Ladbroke Grove, West London, in various places around there. It was the era of psychedelia, loads of people smoking dope, taking LSD, loads of parties, lots of psychedelic music everywhere, clubs, strobes in all the clubs. Luke, a harmonica player, Francis and me got invited to Marc Bolan's party, well, not invited – we gatecrashed really [laughs]. Luke was a wonderful harmonica player, played like Sonny Boy Williamson, and I played guitar. We were at the party and heard Marc Bolan clanking around on his guitar. Luke said to Marc [thick Geordie accent] "Ee mon, give im yer geetar!" So I had this  guitar and played some blues and of course Marc Bolan didn't like that 'cos we were good [laughs]. We were  asked to leave. Consequently that's why I didn't turn up on his TV show in Manchester that time – I carried  resentment for many a year! I gave the excuse my car broke down! I didn't fancy travelling all that way just
to mime the show for our latest single 'Quark, Strangeness and Charm' anyway.
And:
The man with the strap on bird of prey is Robert Calvert, a poet and songwriter who was an important but intermittent presence in the band's history. Calvert was frequently hired, frequently fired, but he lends a very contemporary edge and style to this appearance.
In this clip, Marc gets sniffy About Generstion X and their 'pretty' leads singer Billy Idol (sniff-sniff):
But no-one was bigger than Mud, school disco floor fillers with those neat Tiger Feet. Belting out their blokey version of Just Try A Little Tenderness, Mud stuck around the charts for ages. Marc introduces them with the aid of a semi-nude child to his side. This being the 1970s, the odd thing was that the lad was wearing anything:
You can catch all epiodes of Marc in full on YouTube. This is episode 6. The end features Bowie laughing as Marc falls off the stage…