Not all trenches in World War 1 were equal. Men strived to make a home in the hell, customising their dripping, roofed mud-gutters with flowers, pictures, bedrooms, kitchens and furniture.
We'll look at some of these make-shift homes in the gallery below. Most pictures were taken for postcards sent home. They served as propaganda, of course, signs that life was not so bad – that even in the sodden Styx, hope floats.
He thought how 'Jack', cold-footed, useless swine,
Had panicked down the trench that night the mine
Went up at Wicked Corner; how he'd tried
To get sent home, and how, at last, he died,
Blown to small bits. And no one seemed to care
Except that lonely woman with white hair.
Wilfred Owen, Hero
"No words can adequately describe the conditions. It's not the Germans we're fighting, but the weather. Within an hour of moving off, we were up to our knees in mud and water. The mud gradually got deeper as we advanced along the trench.

"To move forward, I had to use both elbows for leverage, one each side of the trench. After about one and a half hours of this, we reached the firing line. Later, I groped my way to our dugout. What a sight. Imagine a room underneath the ground, whose walls are slimy with moisture. The floor is a foot or more deep in rancid-smelling mud." – Harry Drinkwater's diary, Thursday, December 16, 1915
"The trenches are in a terrible condition — anything up to 4ft deep in mud and water. We're plastered in mud up to our faces.  Our food – cold bacon, bread and jam – is slung together in a sack that hangs from the dripping dugout roof. Consequently, we eat and drink mud" – Harry Drinkwater's diary, Thursday, December 20, 1915
The darkness crumbles away.
It is the same old druid Time as ever,
Only a live thing leaps my hand,
A queer sardonic rat,
As I pull the parapet's poppy
To stick behind my ear.
Break of Day in the Trenches, by Isaac Rosenberg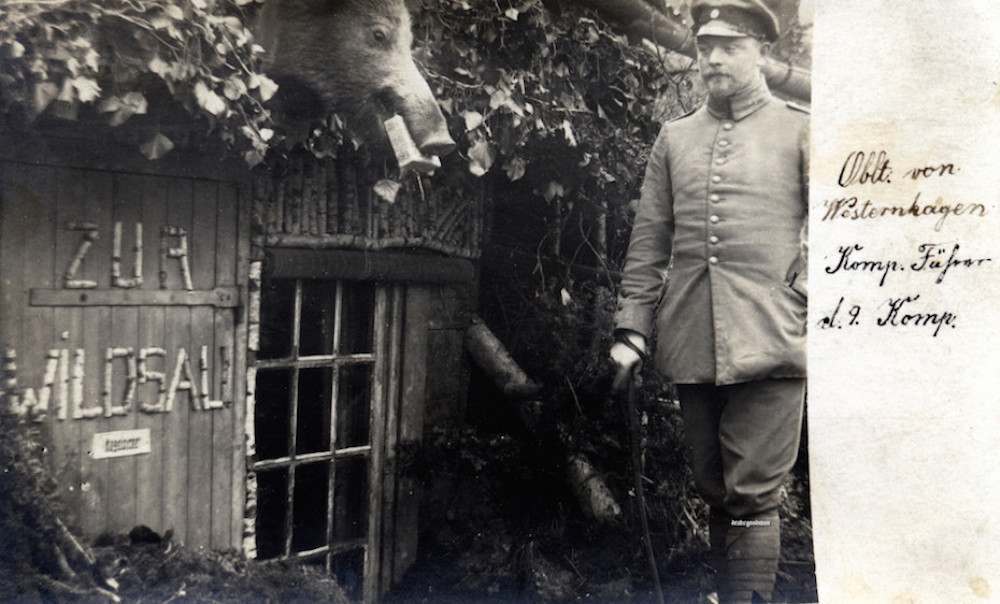 "Where we fought several times over the same ground bodies became incorporated in the material of the trenches themselves.' He remembered in one place accidentally digging through corpses of Frenchmen killed and buried in 1915. They were putrid, with the consistency of Camembert cheese. I once fell and put my hand right through the belly of a man. It was days before I got the smell out of my nails" –  Stuart Cloete, age 19, 1916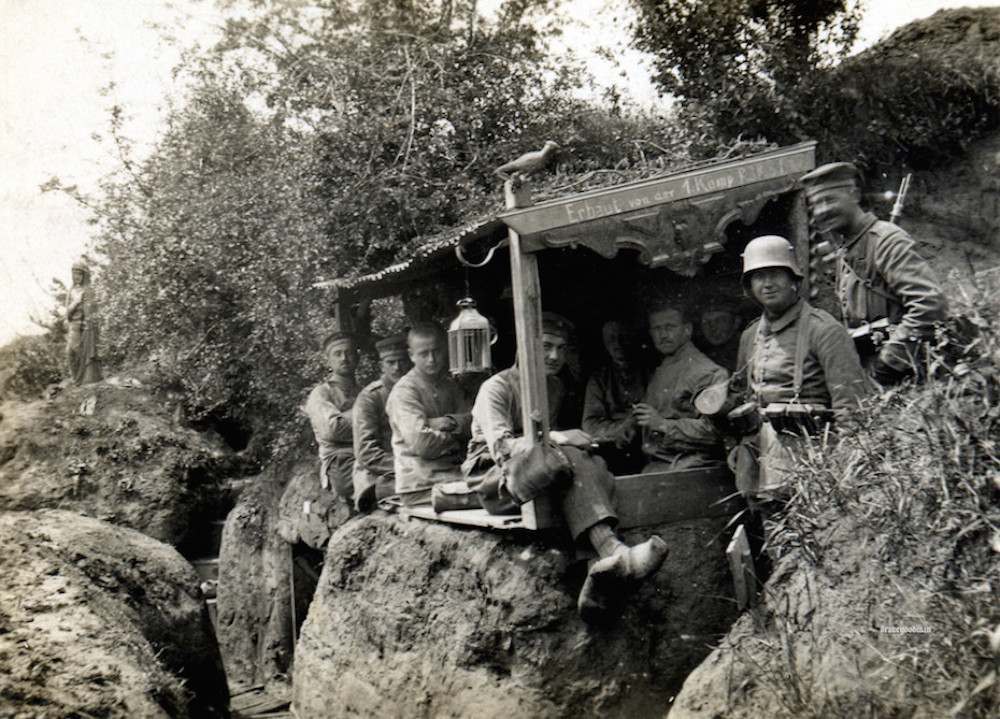 I knew a simple soldier boy
Who grinned at life in empty joy,
Slept soundly through the lonesome dark,
And whistled early with the lark.
In winter trenches, cowed and glum,
With crumps and lice and lack of rum,
He put a bullet through his brain.
No one spoke of him again.
You smug-faced crowds with kindling eye
Who cheer when soldier lads march by,
Sneak home and pray you'll never know
The hell where youth and laughter go.
Seigfried Sassoon, Suicide in the Trenches (1917)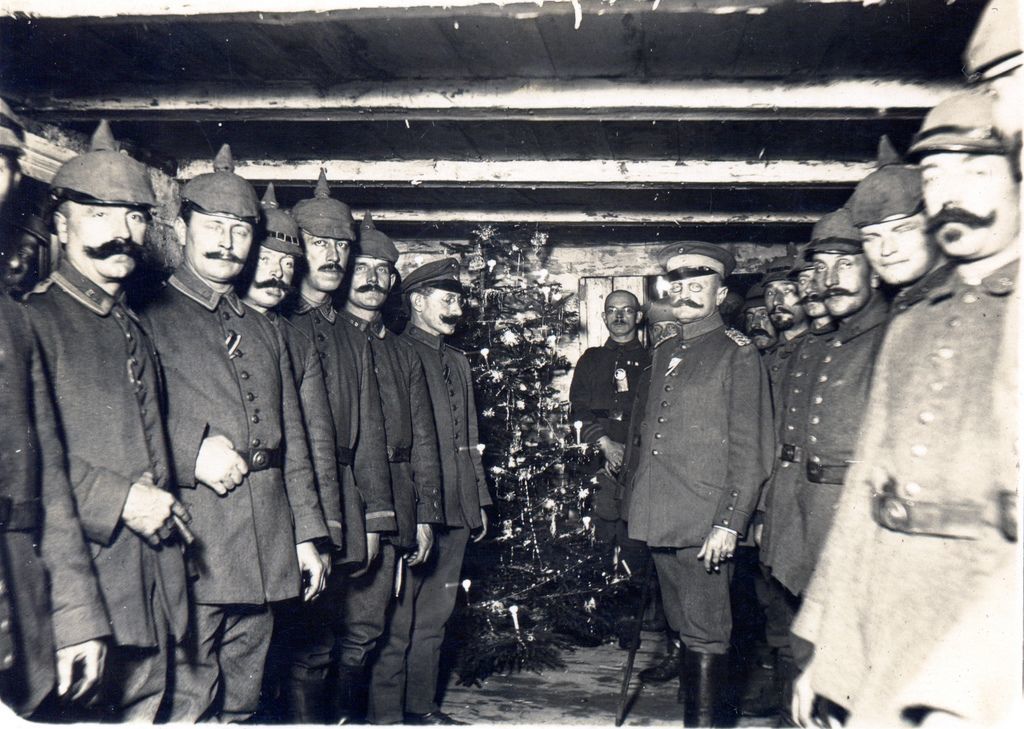 "Propped up against the wall were a dozen men, all gassed. Their colours were black, green and blue, tongues hanging out, eyes staring. One or two were dead and others beyond human aid; some were coughing up green froth from their lungs." – Lance Sergeant Cotton, Northumberland Fusiliers, describing a gas attack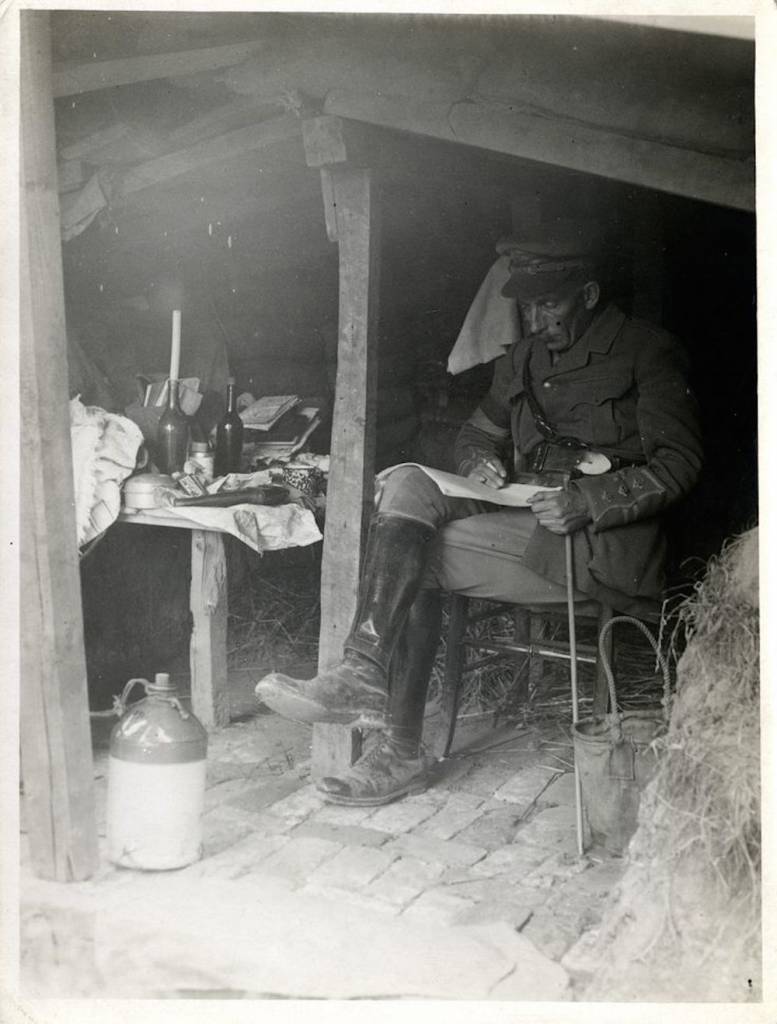 "To add to the general discomfort, the trenches were alive with rats. The knowledge that the gigantic trench rats had grown fat through feeding on the dead bodies in No Man's Land made the soldiers hate them more fiercely than almost anything else." – S. Case, The First World War, 1976
Via: Messy Nessy, Drake Goodman