Love Boat Rejects is a collection of pictures taken by Ian Hughes and his fellow photographers onboard American, Norwegian and Italian cruiseships throughout the 1990s. Working the decks was Ian's first job when he left Art College in Merseyside in 1989.
Photographer Muir Vidler understands the pain:
Being a cruise ship photographer is like being a prisoner of war, but you have to wear a name badge and pretend to be happy. It is, of course, grindingly depressing…

Another weekly low point was the captain's cocktail party. All the passengers would be herded past the captain for a handshake while I took a grip-and-grin photo of the momentous occasion. It was during one of these shoots that I took the first ever photo that I really liked… I can't remember how, but I had offended a cantankerous American passenger earlier in the cruise so when he came in for his free cocktail and handshake with the captain he gave me this moment of photo-gold: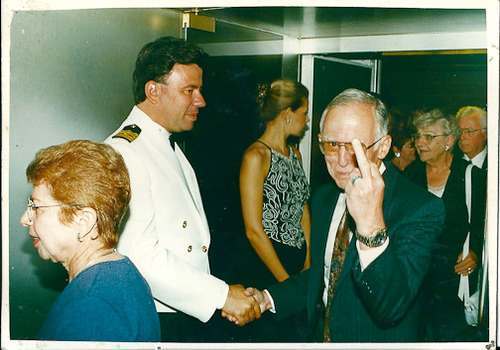 Sometimes the pain pays off. (These pictures really did make me laugh).