Cats were one of Ernest Hemingway's favorite animals. By 1945, he had 23 of them. This gallery shows Ernest Hemingway with his beloved pets in Idaho and at the Finca Vigia in Cuba.
Hemingway's niece, Hilary Hemingway, writes in Hemingway's Cats: An Illustrated Biography that the author and his fourth wife, Mary, dubbed the cats "purr factories" and "love sponges."
Do cats help the writer? Muriel Spark says they do in A Far Cry from Kensington:
If you want to concentrate deeply on some problem, and especially some piece of writing or paper-work, you should acquire a cat. Alone with the cat in the room where you work … the cat will invariably get up on your desk and settle placidly under the desk lamp. The light from a desk lamp … gives a cat great satisfaction. The cat will settle down and be serene, with a serenity that passes all understanding. And the tranquility of the cat will gradually come to affect you, sitting there at your desk, so that all the excitable qualities that impede your concentration compose themselves and give your mind back the self-command it has lost. You need not watch the cat all the time. Its presence alone is enough. The effect of a cat on your concentration is remarkable, very mysterious.
On February 22, 1953, one of Hemingway's cats, Uncle Willie, was hit by a car. Hemingway wrote to Gianfranco Ivancich. The letter:
Dear Gianfranco:

Just after I finished writing you and was putting the letter in the envelope Mary came down from the Torre and said, 'Something terrible has happened to Willie.' I went out and found Willie with both his right legs broken: one at the hip, the other below the knee. A car must have run over him or somebody hit him with a club. He had come all the way home on the two feet of one side. It was a multiple compound fracture with much dirt in the wound and fragments protruding. But he purred and seemed sure that I could fix it.

I had René get a bowl of milk for him and René held him and caressed him and Willie was drinking the milk while I shot him through the head. I don't think he could have suffered and the nerves had been crushed so his legs had not begun to really hurt. Monstruo wished to shoot him for me, but I could not delegate the responsibility or leave a chance of Will knowing anybody was killing him…

Have had to shoot people but never anyone I knew and loved for eleven years. Nor anyone that purred with two broken legs.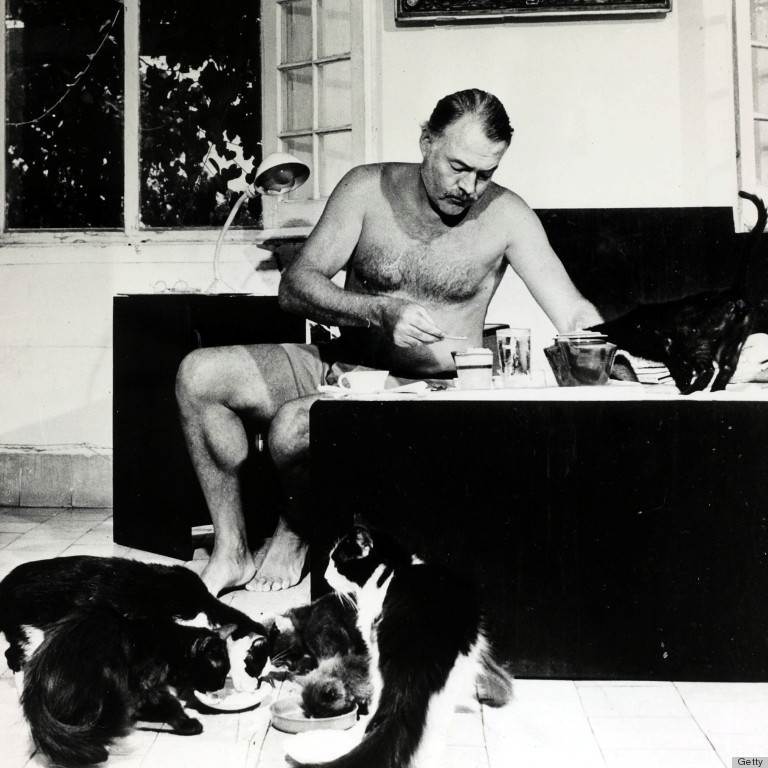 The Ernest Hemingway Home And Museum has more:
Ernest Hemingway was given a white six-toed cat by a ship's captain and some of the cats who live on the museum grounds are descendants of that original cat, named Snowball.
Hemingway named the cats after famous people of his time.