"It's the sauces that divide the men from the boys, and separate the gourmets from the guzzlers"

– Liberace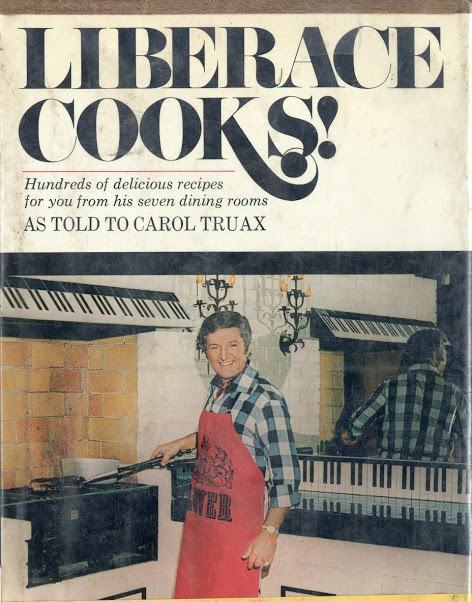 In 1970, prolific cookery writer and culture buff Carol Truax compiled the wonderful book Liberace Cooks!: Hundreds of Delicious Recipes For You from His Seven Dining Rooms.
Liberace (919 – 1987), the American pianist and singer was born Wladzio Valentino Liberace. Known for his flamboyant, uncomfortable fashion and conspicuous opulence, everything about Liberace screamed a man who'd been given too much, and, boy, was he delighted by all of it. Who doesn't look at the title to this tome and thrill at what gaudy decor features in each of those glitzy seven dining rooms in which Liberace entertained and cooked for such luminaries as Michael Jackson, King Carl XVI Gustaf of Sweden, his beloved mother and a legion of female groupies?
In her 1964 essay Notes on Camp, Susan Sontag says "the hallmark of Camp is the spirit of extravagance". Liberace bucked that rule – or so he'd surely say if the old stager were alive to sue anyone who commented on his sexuality being anything other than the rampant, heavily embroidered heterosexual strain.
This book did not come in a sequin-encrusted cover lined in gold lamé, with rhinestones in Liberace's eyes to make them twinkle all the more – and that's a pity. It was much more simple. He loved food, and was happy to let it do the talking.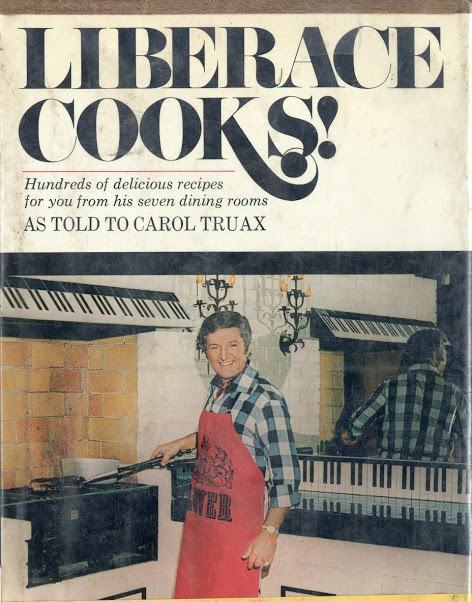 LIBERACE'S STICKY BUNS (via):

1 cup white raisins (or, of course, flame)
1/2 cup light rum
1 1/2 cups brown sugar
1/2 pound (two sticks) unsalted butter
1/2 teaspoon cinnamon
1/2 teaspoon each of ground nutmeg, allspice, cloves, and ginger
3 packages (18 buns) Pillsbury crescent dough.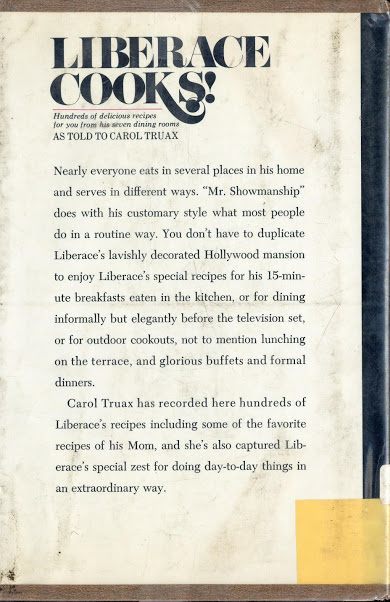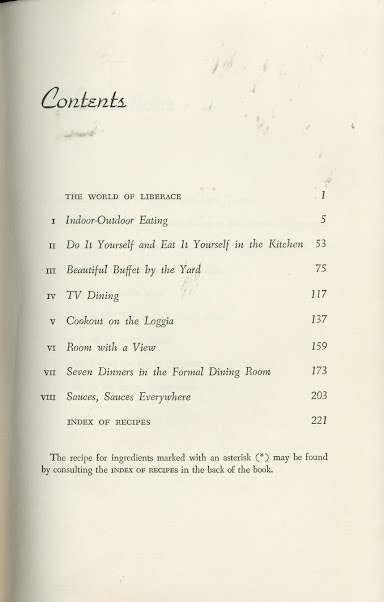 Liberace's Special 15 Minute Eggs
(1 serving) Printable Version
1 Tablespoon butter
2 large eggs
1/4 cup half-and-half or light cream
1/4 teaspoon salt
1/8 teaspoon pepper
2 teaspoons grated Parmesan cheese
The Blue room: "Everything that is not blue is glass" – Truax.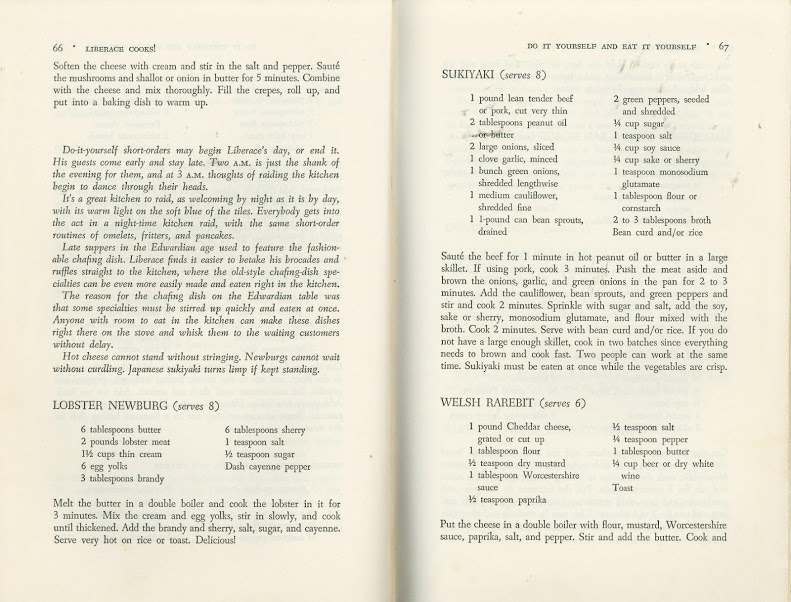 Truax writes:
Most of us call it lunch. Liberace calls it breakfast. His working hours are late, from 8 P.M. to midnight, and usually even later because his audiences have a way of refusing to go home. Following a night like that, of course he sleeps until after noon. Then he gets up, ready for a good breakfast, and sits down to it at lunch time. There is no law about where he eats it, but on certain days, "when the help is off," he may take over the kitchen.

Anybody would be proud to take over that kitchen. There is no more beautiful room in the house. Spacious, many-windowed, it is tiled in gleaming blue and papered in white with figures of the same Delft blue. One of the wide counters reaches into the butler's pantry. An oval table centers the room, and a white side table is ready to offer hot coffee and eatables.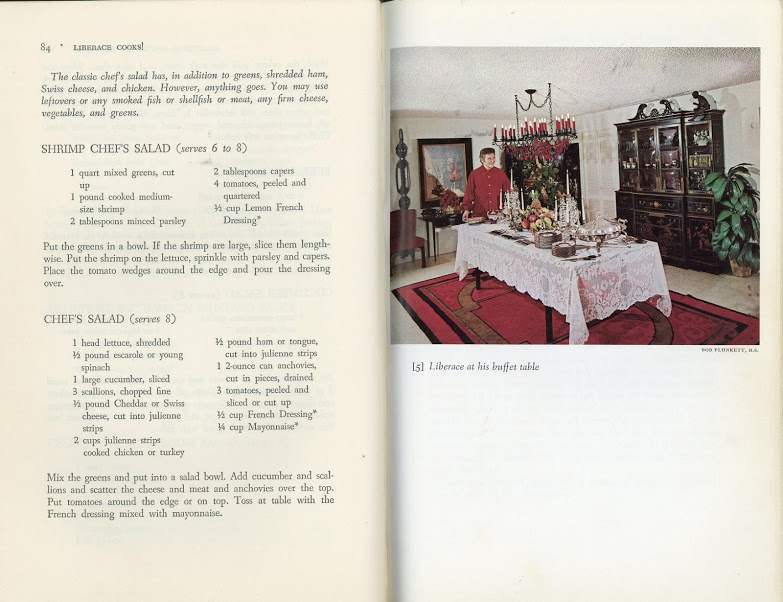 MOM'S BLUE RIBBON POTATO SOUP (serves 6)

3 large potatoes, peeled and diced
2 quarts water
Salt
¼ pound thin noodles
¼ pound thick sliced bacon, diced
1 large onion, chopped
¼ teaspoon white pepper

Cook the potatoes in 2 quarts salted water. Cook the noodles according to package instructions. Combine the noodles with the potatoes and their liquid. Meanwhile, sauté the bacon with onions. Stir into the soup. Add the pepper and adjust seasoning to taste. Serve piping hot.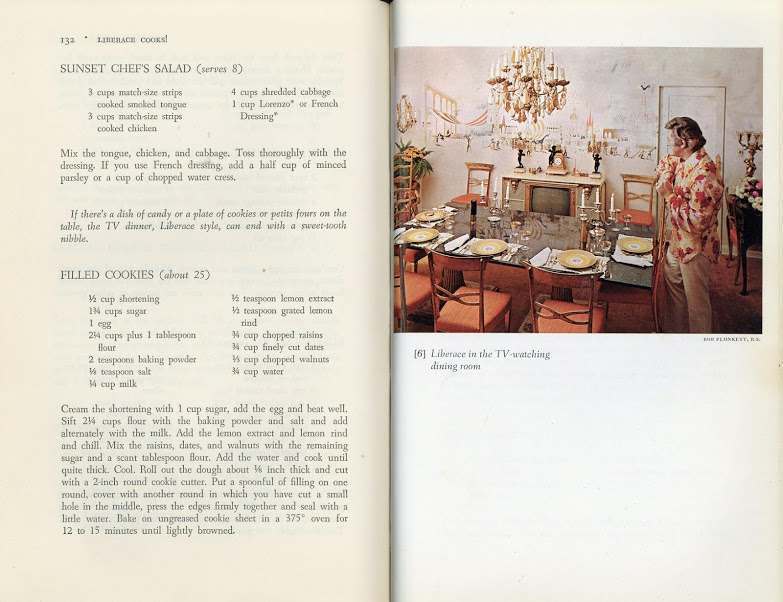 SINGAPORE AND MALAYSIAN SATAY (serves about 30 people)

3 pounds lean sirloin or filet of beef
¼ cup soy sauce
3 tablespoons lemon juice
1 tablespoon minced onion
1 glove garlic, crushed
¼ cup peanut butter
1 teaspoon salt
¼ teaspoon pepper
2 tablespoons brown sugar
½ teaspoon paprika

Cut the meat into ½-inch cubes and put into a large bowl. Bring all of the other ingredients to a boil. Pour over the meat and marinate for at least three hours. Thread a few pieces of the meat on the bamboo or metal skewers about 4 inches long. Broil for 2 minutes, turn and broil 2 more minutes. Brush with the remaining sauce or pass and let each person dip his own.
Via: Awful Library Books,