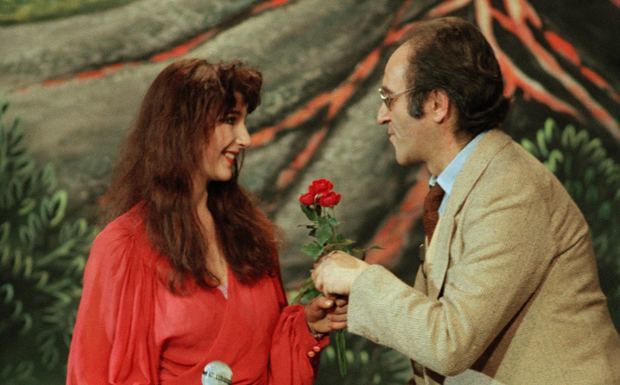 On February 9 1978, 19-year-old Kate Bush scored her first TV appearance, performing the A and B sides of her new single, Wuthering Heights and Kite, respectively, on the West German TV's Bios Bahnhof (Bio's Station).
This was the show's first episode, filmed in Cologne at the depot of the old Cologne-Frechen-Benzelrather Railway. The presenter was classical music and opera fan Alfred Biolek. On the look out for acts to feature in his new live music and chat show, Biolek was at EMI's offices in London. A song came over the office loudspeaker. Told it was a new artist who could do with some exposure, Biolek agreed to have her on his show. It was, of course, Kate Bush.
Kate had signed a four-year deal with EMI in July 1976. The plan was for EMI to train her. "It was a bit like signing a football prodigy and nurturing them through to the first team," recalled Brian Southall, then EMI's head of artist development. "We'd heard demos in the office, we knew she was a prolific songwriter, but we hadn't seen her perform. So we suggested she gain some live experience."
EMI hooked her up with mime artist Lindsay Kemp, who had also worked with David Bowie. The label encouraged her to perform on stage. So she formed a new band with her brother Paddy and his friends Del Palmer, Brian Bath and Vic King. The KT Bush band played their first gig in March 1977, wowing the locals at the Rose of Lee pub in London's Lewisham. The band were paid £27. King recalls gigs at such salubrious night spots as The Target in Greenford, Tiffany's in Harlow and a Friday night at a Tottenham Hotspur supporter's club do at the White Hart pub. "That was a bit strange," says King. "They thought Kate was the stripper, which didn't go down very well." On June 3 1977, KT Bush played the Half Moon in London's Putney. The pub was full of Scottish football supporters, visiting London for the next day's international against England. "Oh, it was a riot!" says Bath. "They were getting up on stage, some guy was all over Kate. They were doing catch-the-whisky-bottle, throwing it at each other. It was mental, but we got through it. It was not really her thing".
Having gained experience, Bush was ready to go. In August 1977, she recorded material for an album. In September EMI picked the first song to release: James and the Cold Gun. Kate wanted them to go with Wuthering Heights. After some debate, Wuthering Heights was scheduled to be released on November 4 1977.  With things all set, Kate wanted EMI to change the artwork on the picture-sleeve. The "pink top" picture is replaced with photos taken by Del Palmer, a friend of her brother Paddy's and part of the KT Bush band.
With Christmas approaching, EMI feared Kate's debut will be lost in the haze. The release date was moved to early 1978. But, like many other radio stations, London's Capital Radio had already been sent a promo copy. EMI wanted the stations to wait. Capital wouldn't. They played the song. A lot.
On 20 January 1978 the by now familiar Wuthering Heights was finally released. Kate appeared on Capital Radio, interviewed on Tony Myatt's Late Show. And then German TV came calling.
For Kite, Bush is backed by the aforesaid KT Bush band. For Wuthering Heights, she sings with a backing tape. She speaks no German.
By way of context, here are some images of Kate at her family's home in 1978: