"I'm Pierrot. I'm Everyman. What I'm doing is theatre, and only theatre. What you see on stage isn't sinister. It's pure clown. I'm using myself as a canvas and trying to paint the truth of our time" – David Bowie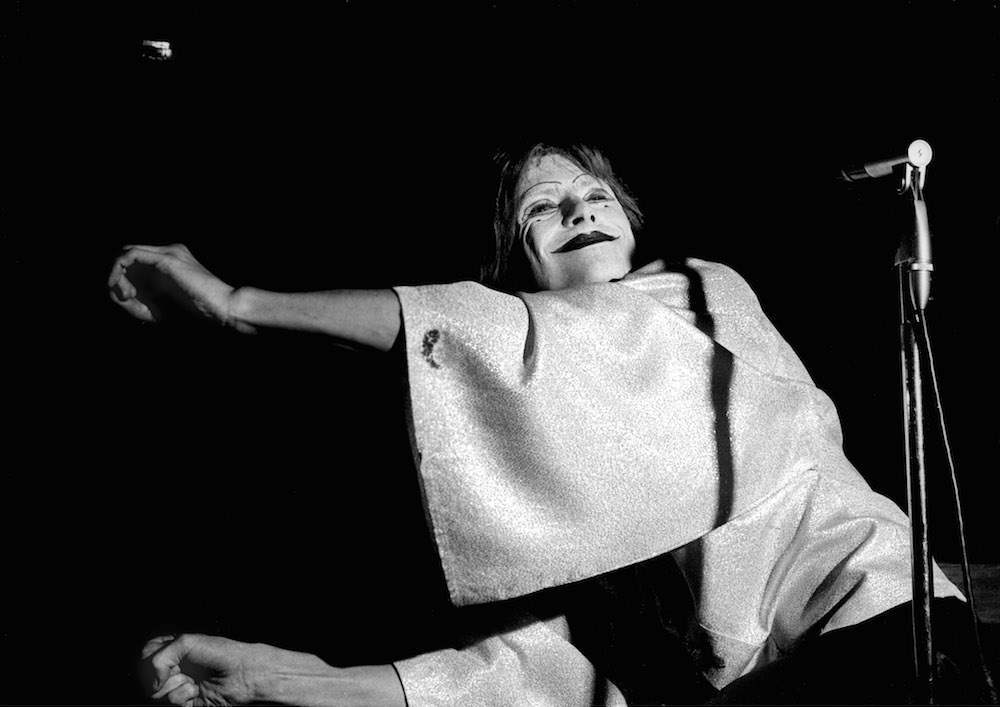 David Bowie appeared in such variable films as The Man Who Fell to Earth and Merry Christmas, Mr. Lawrence. On December 28 1967, Bowie made his acting debut as Cloud in Commedia dell'Arte's mime Pierrot in Turquoise, aka The Looking Glass Murders. Inevitably, music played a part, with Bowie writing and performing the show's music.
Was it any good? The Oxford Mail reviewed the show, then in its infancy:
David Bowie has composed some haunting songs, which he sings in a superb, dreamlike voice. But beguilingly as he plays Cloud, and vigorously as Jack Birkett mimes Harlequin, the pantomime isn't a completely satisfactory framework for some of the items from his repertoire that Mr Kemp, who plays Pierrot, chooses to present….

…No doubt these are shortcomings Mr. Kemp will attend to before he presents Pierrot in Turquoise at the Prague Festival at the invitation of Marceau and Fialka next summer. No mean honour for an English mime troupe.
As Paul Gallagher notes:
After a few tweaks, Pierrot in Turquoise opened at the Rosehill Theater, Whitehaven, before its proper run at the Mercury Theater, and Intimate Theater, both London, in March 1968…
With hindsight, you can see where his career was going, but by 1967, the teenager's first recording career had come to a halt after the release of his oddment Laughing Gnome after which, Bowie didn't release a record for another two years.

During this time, he fell under the influence of mime artist and performer, Lindsay Kemp, who helped Bowie channel his unique talent towards Space Oddity and later Ziggy Stardust. As Kemp later told journalist Mick Brown for Crawdaddy in 1974:

"I taught David to free his body," says Kemp, smiling wickedly.

"Even before meeting, David and I had felt the need to work together. I'd identified myself with his songs, and he'd seen my performances and identified himself with my songs. I was singing the songs of my life with my body; he was singing the songs of his life very fabulously with his voice, and we reckoned that by putting the two together the audience couldn't help but be enthralled. In other words, one large gin is very nice, but two large gins are even nicer."

The two large gins became Pierrot in Turquoise, which was filmed by Scottish Television in 1969, and broadcast in July 1970.
Here it is:
Via Dangerous Minds