"I know it's supposed to be flattering to be imitated," Marilyn Monroe once said of her rival Jayne Mansfield—a "riskier, boozier" Hollywood bombshell. (She was also called the "Working Man's Monroe.") "But she does it so grossly, so vulgarly—I wish I had some legal means to sue her." Monroe and Mansfield shared more than superficial similarities. Both intelligent brunettes who played dumb blondes in the movies, Monroe was widely read, and Mansfield reportedly spoke 5 languages, and played the violin, viola, and piano. The public, Mansfield admitted ruefully, was "more interested in 40-21-35."
Still, she fully owned her role as vulgar Hollywood doll, giving—as they say—few fucks about what other people thought of her, and earning the undying admiration of legendary Hollywood outsiders like John Waters and Kenneth Anger. She cavorted with Church of Satan founder Anton LaVey, who was said to have put a curse on her the year before her death. ("Curses, smirches," says Anger, who thought LaVey was a fraud.) She appeared every February in Playboy, was the first actress to appear nude in a major motion picture (in 1963's Promises, Promises!), and at the height of her fame, she posed for a tacky novelty hot water bottle made in her sultry image.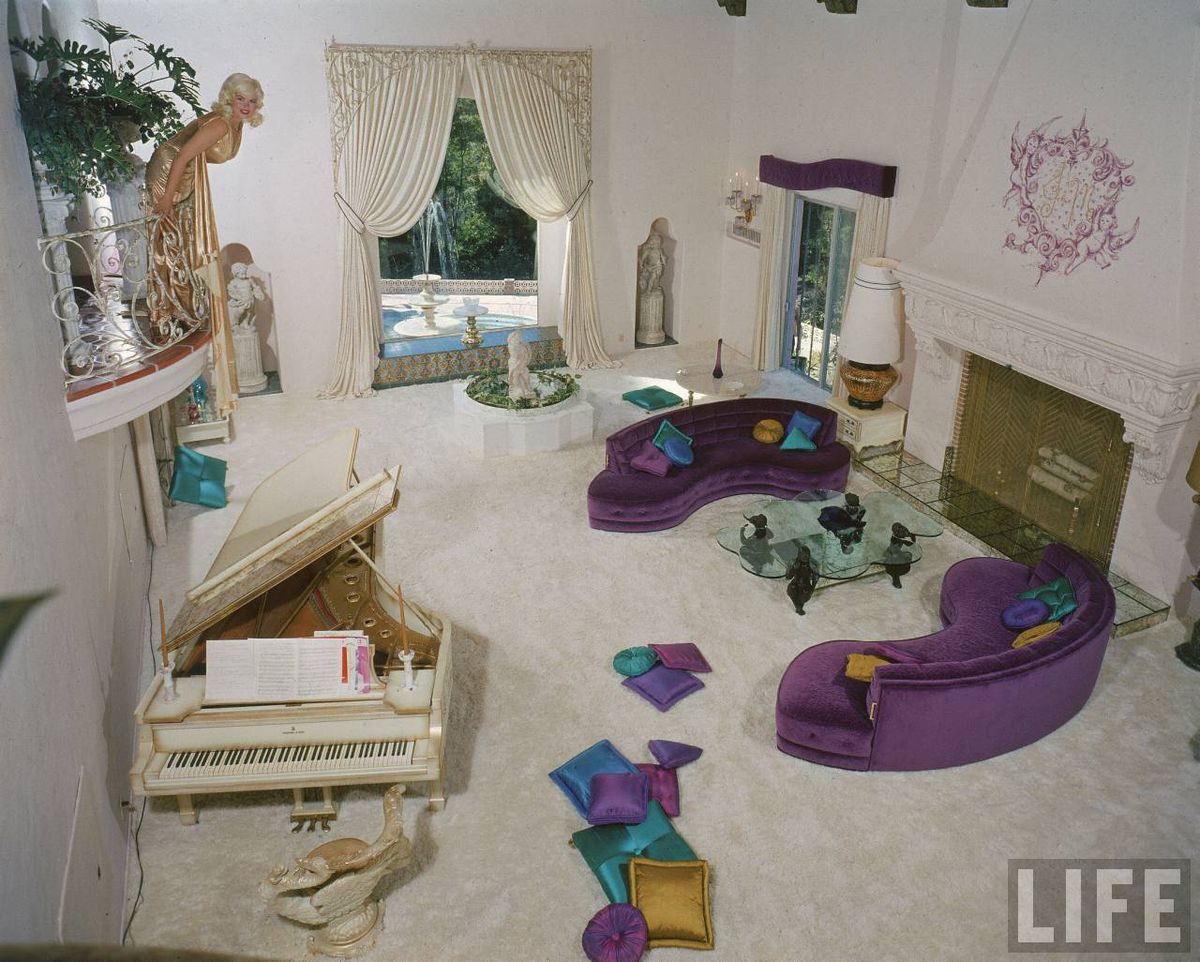 In the late 50s, while Elvis was living at Graceland with his parents, Mansfield was busy turning a 1929 L.A. mansion into the "Pink Palace," or what writer Colleen Welsch justly refers to as the "original Barbie dreamhouse." Gold everywhere. A bathroom with a heart-shaped jacuzzi and plush, pink shag carpeting on the floors, walls, and ceiling. A heart-shaped swimming pool with "I love Jayne" in gold leaf lettering at the bottom. A room outfitted with padded red leather, like a huge diner booth seat…. She "decorated her palace on a budget," notes Welsch, "by requesting free samples from furniture and building suppliers in exchange for the notoriety of having their products in her house."
Mansfield lived in the Sunset Boulevard mansion with her second husband, Mickey Hargitay, the former Mr. Universe, who had worked construction in another life and built the famous swimming pool himself. With the help of set designer Glen Holse, she converted the property into the ultimate "family residence-slash-branding tool," writes Curbed, a glitzy manifestation of the trashy Mansfield aesthetic. The Pink Palace was, as Mansfield would say, "divoon"—a 30 room house with 7 bedrooms, 8 bathrooms, a dining room, bar, library, wine cellar, and, of course, a fountain full of pink champagne.
After Mansfield's death in a 1967 car accident, the house passed through a series of famous owners, including Ringo Starr, Mama Cass Elliott, and Engelbert Humperdink, who sold it to its final owner, Roland Arnall, founder of subprime mortgage lender Ameriquest. The philistine financier had no respect for Mansfield's legacy of kitsch and demolished the house in 2002 to enlarge his own property. "Seeing it demolished was like losing a member of the community," remembers Alison Martino at Vintage L.A. "There was nothing else like it," and no one—Marilyn Monroe's infringement claims notwithstanding—quite like Jayne Mansfield.