IN 1978 two of Argentina's 1978 World Cup winning team, Osvaldo Ardiles and Ricardo Villa, joined English football club Tottenham Hotspur. Spurs, as they are known, had just secured promotion to football's first division. The signings were a sensation.
Spurs had pulled off a masterstroke.
Neither player spoke much English. But 'Tottingham' (more on that later)  had that in hand. The players took English language lessons at the East Grinstead firm of Interlingua. The tutor was Matthew Burran.
Ossie was a fast learner.
In 1981, Spurs won the FA Cup, which back then was a big deal.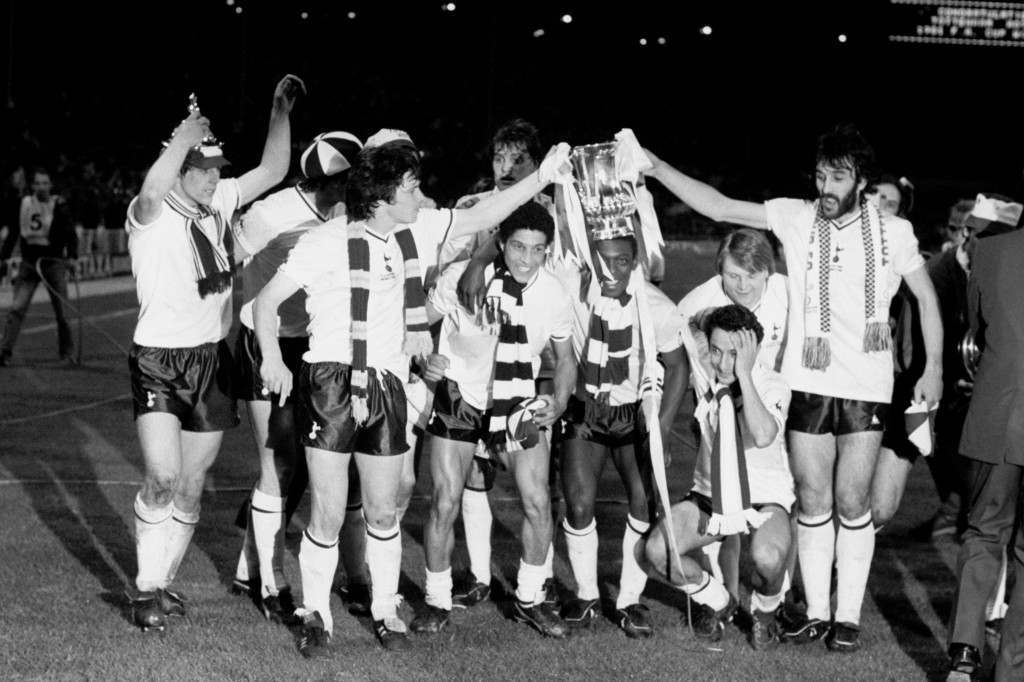 One highlight was Villa's mazy goal.
The second highlight was the team's jingoistic Cup Final Song, Ossie's Dream. Chas and Dave were, as ever, brilliant. But the song was stolen by Ardiles, who pops up after the 1min 32s mark.
One year later, Spurs were in the final against fellow London club Queen's Park Rangers.
Spurs won the replay 1-0. Buy neither Ardiles nor Villa played.
Ardiles had returned to Argentina to prepare for the World Cup finals while Villa was omitted because of the on-going hostilities of the Falklands War.
The Foreign Revolution has more:
Ardiles's attachment to his adopted country made the fallout from the Falklands War ever more painful. Keith Burkinshaw recalled how he first heard news of the conflict, on the morning of 3 April 1982. "We were due to play in the FA Cup semi-final against Leicester at Villa Park that day. When everyone went to bed in the team hotel the night before everything was fine. The next morning the two lads told me that our countries were at war. They'd been up literally all night talking to people back home. They'd hardly slept. I had to make a decision whether or not to play them." In the event, only Ardiles was picked to start and Spurs won 2–0. Burkinshaw recalled that Ardiles got "some terrible stick" from the crowd. In the aftermath of the game there was intense media debate about whether or not it was right and proper for the Argentinians to continue playing for Tottenham while Britain was at war with their country. Matters were further complicated because Ardiles was due to return to Argentina to begin pre-World Cup training with his international side. When he left for Buenos Aires after the FA Cup semi-final, his departure was taken in some quarters as a political statement. Burkinshaw insists it was a pre-arranged move that had nothing to do with the Falklands. "Before the semi-final, I'd already agreed that he could go home to prepare for the World Cup in Spain. The press said at the time it was because of the war. That was wrong. The decision had been made before the war even started." Villa, who was not involved in the World Cup, stayed in England and played on during the war, although he removed himself from contention from the FA Cup final, played on 22 May while the hostilities were still raging.
In early June, Ardiles was back in Europe, although not in England. The doubts still lingered about his future and many observers felt he would never play for Spurs again. Burkinshaw travelled to the Continent to meet him at the training camp where Argentina were preparing for their opening World Cup match on 13 June. Ardiles told him: "It will not be possible for me to play for Tottenham again. We're at war." It was an awkward meeting. Barely a month had passed since almost 400 Argentinian crew aboard the cruiser General Belgrano had been killed as their ship was torpedoed by the British outside the war zone, while sailing away from the islands. More recently, the battle of Goose Green had brought multiple deaths and injuries on both sides and reports of bloody hand-to-hand bayonet combat were filtering out. The Argentinians were also stepping up their air attacks on British landing craft, a policy that claimed dozens of lives. "We're winning," Ardiles told an incredulous Burkinshaw. "I don't think you are," Burkinshaw replied. "I don't want to come back," Ardiles said. "Well I'm not going to sell you," said Burkinshaw. "You can go somewhere on loan for 12 months but I'm not letting you go."
Burkinshaw recalled: "It seemed obvious that he'd been given all kinds of false information back home. The propaganda in Argentina had been drilled into him all the time. And then the war was all over a few days after that. In the end we agreed a loan deal to let him go to Paris St Germain but almost as soon as he got there he was on the phone saying 'Come and get me'." Ardiles recalls the period as "an incredibly difficult time where it was hard to have an everyday life". He said: "Tottenham never wanted me to leave but I thought returning to England would be a bad thing to do. My wife wanted to come back, Keith wanted me to come back. But I thought the best thing to do was leave. The scars were open, people had lost sons on both sides. We compromised and I went to France. I don't regret going and I don't regret coming back." ….. He returned to Tottenham in January 1983 and in his first match, away at Luton, he received vocal abuse from the home supporters. There was also criticism from Argentina. Within a couple of months, by early March, Ricky Villa had decided to leave England. Ardiles remained, and went on to play for Spurs until March 1988, after which he had a brief playing spells with Blackburn and QPR before embarking on a globe-trotting a career in management. He said the highlight of his time at Spurs – and the second best moment of his playing career, after the 1978 World Cup – was the 1981 FA Cup win. Although Spurs won the UEFA Cup in 1984, Ardiles only appeared as a substitute in one leg of the final against Anderlecht.