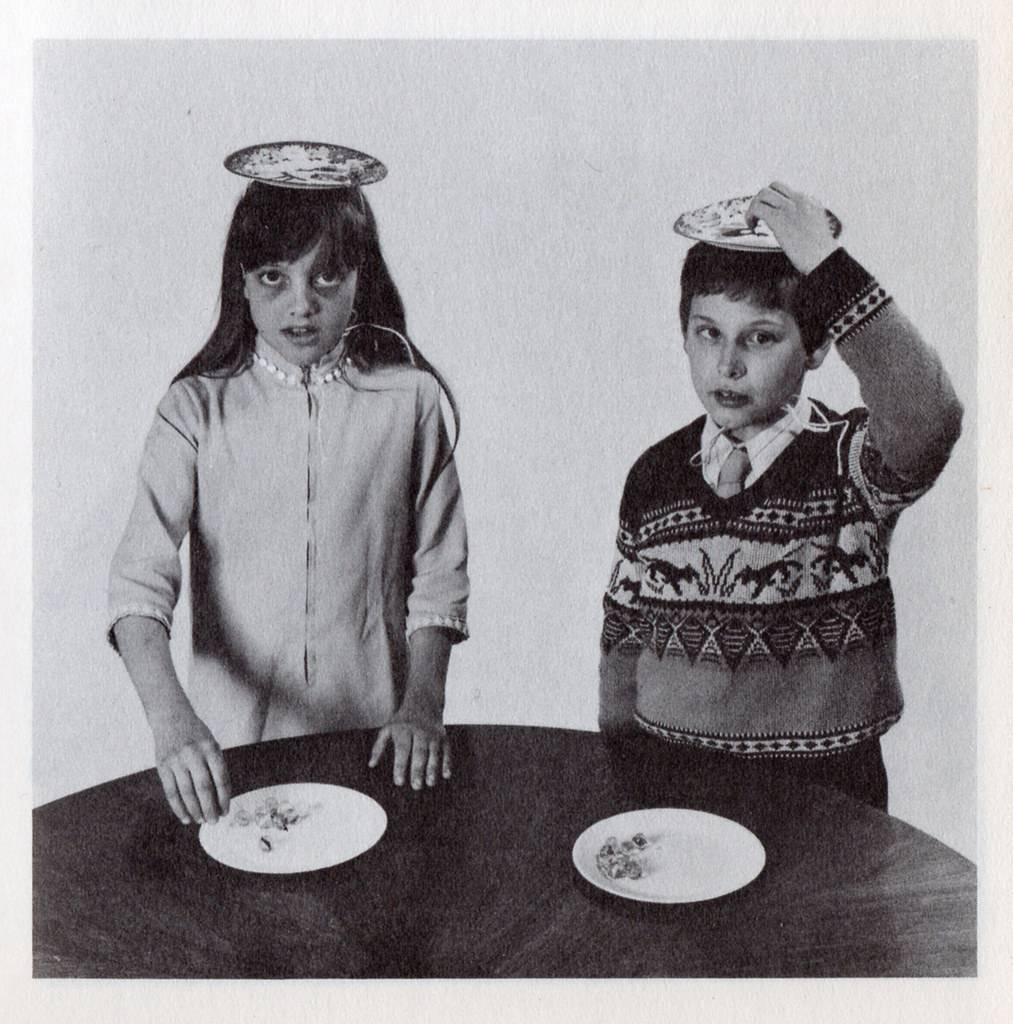 The 1965 issue of Britain's Crackerjack Book of Games contains a cavalcade of fun. The book, a spin-off from the BBC TV show Crackerjack ("CRACKERJACK!"), features games hugely inappropriate for today's children, needing such items as string, cups and pens. (Ask your mums and dads, kids.)
Before we judge, a spot of context. These games are from the era when playgrounds were metal and deadly. Back then slides were modelled on Mesoamerican temple sluices for the gore to wash down after a sacrifice. One slip and those kids were a flesh-coloured stain on the cement.
You go-ahead digital kids might well sneer and scoff at the simple indoor games, but those boys and girls were survivors. As you journey to school in bubble wrap and a helmet, your soft hands wrapped about digital cuddle-cloths, try to see the games that follow less as pastimes to thrill and more as parts of a journey to full mental and physical recovery. Just look at faces of the two children in our lead photo. Sure, vitamins are useful, but will they stop the nightmares?
Let the games begin!
Nylon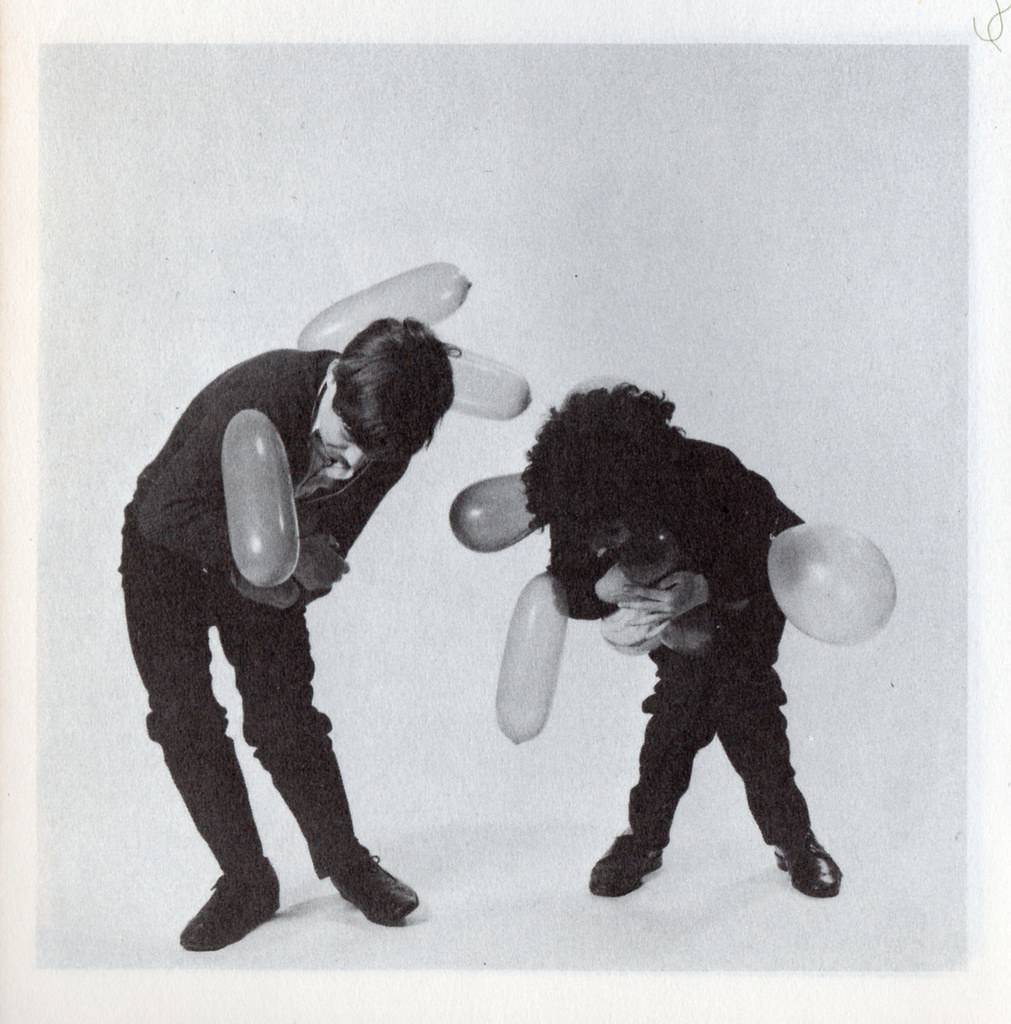 Man-made fibres were fun. Drag your feet across the carpet at any department store, touch the metal and – fzzzurping! – sparks flew. Rub a balloon on your jumper and wait for the magick.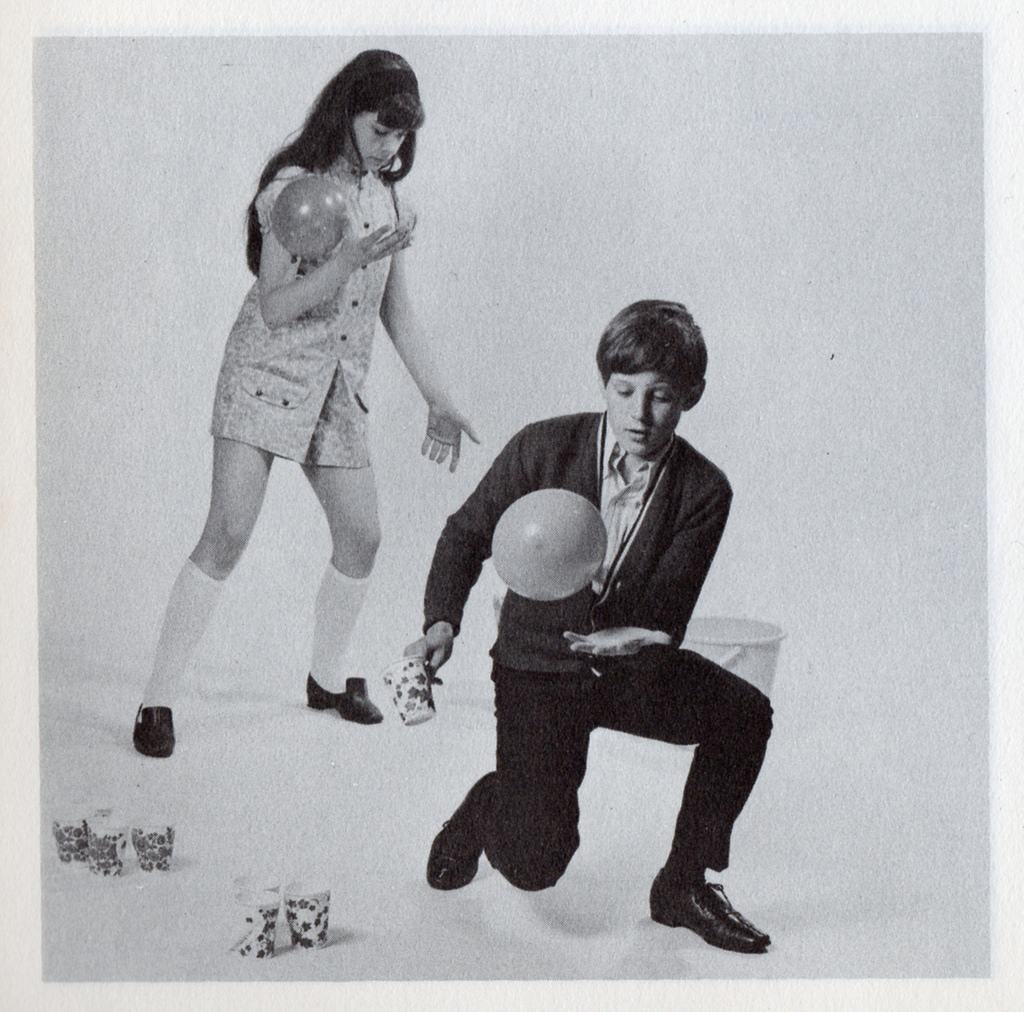 The shoes, right. Today's British children go to school dressed comfortably in preparation for a life sat in an out-of-town service centre. Sarah-Jane and Bruce have sensible shoes, highly-polished and sturdy to a militaristic gleam. The job-for-life is waiting for them. And at some point they will need to be seen by an actual customer and walk.
Buckets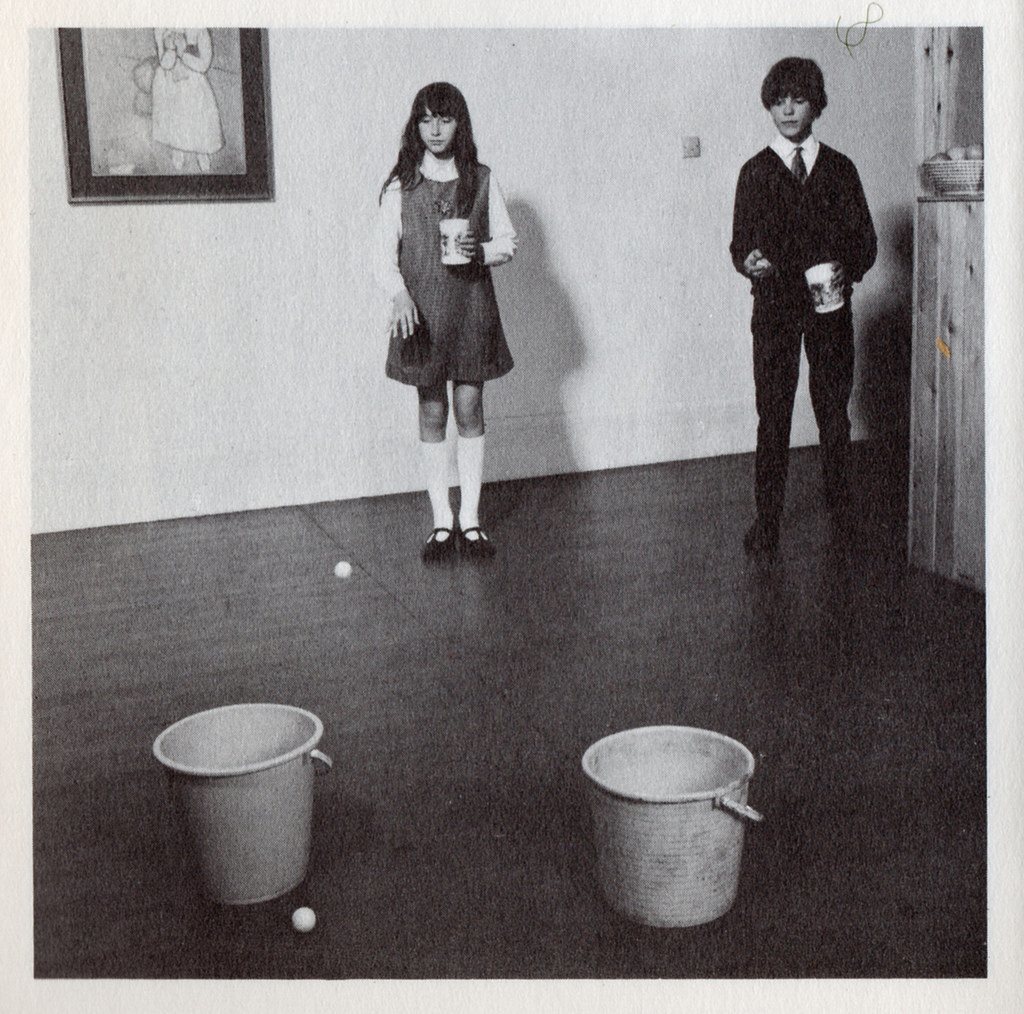 American eyes see a ball being tossed into a pail. The British see preparation for life in a borstal and then prison just after slopping out time. Borstals were youth detention centres run by HM Prison Service aimed at reforming delinquent young people. Much like jumpers, they offered a 'short, sharp shock'.
This was equal opportunities fun. (Prosthetics: model's own.)
Stacking (with a nod to matchboxes)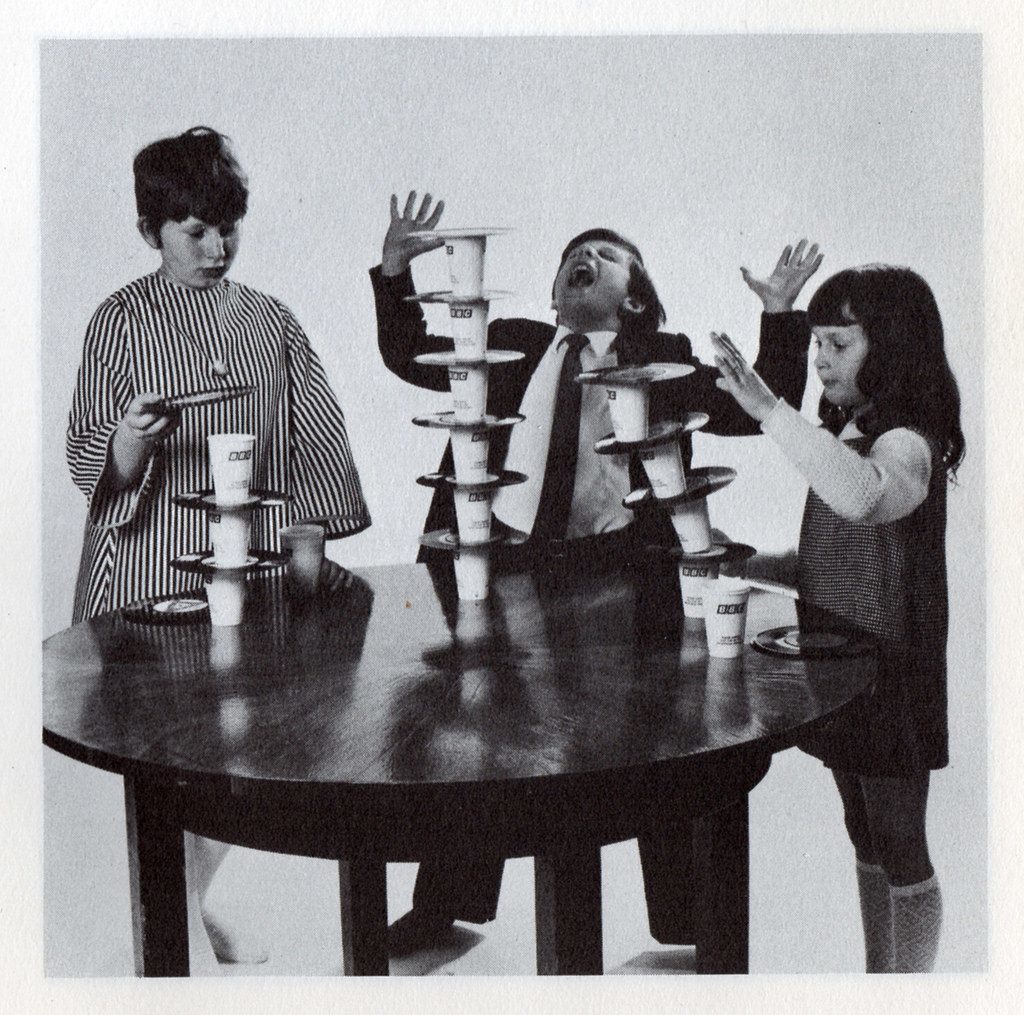 Child A  – let's call her Joanne – is playing the awaiting game. As Peter reels back to enjoy the moment of triumph, Joanne (sorry, Jo) makes ready to kick the table leg. Eh voila! Softly, Softly, Catchee Monkey.
Jenny remains useless. But with minimal training and a dearth of ambition she will one day work in the BBC canteen.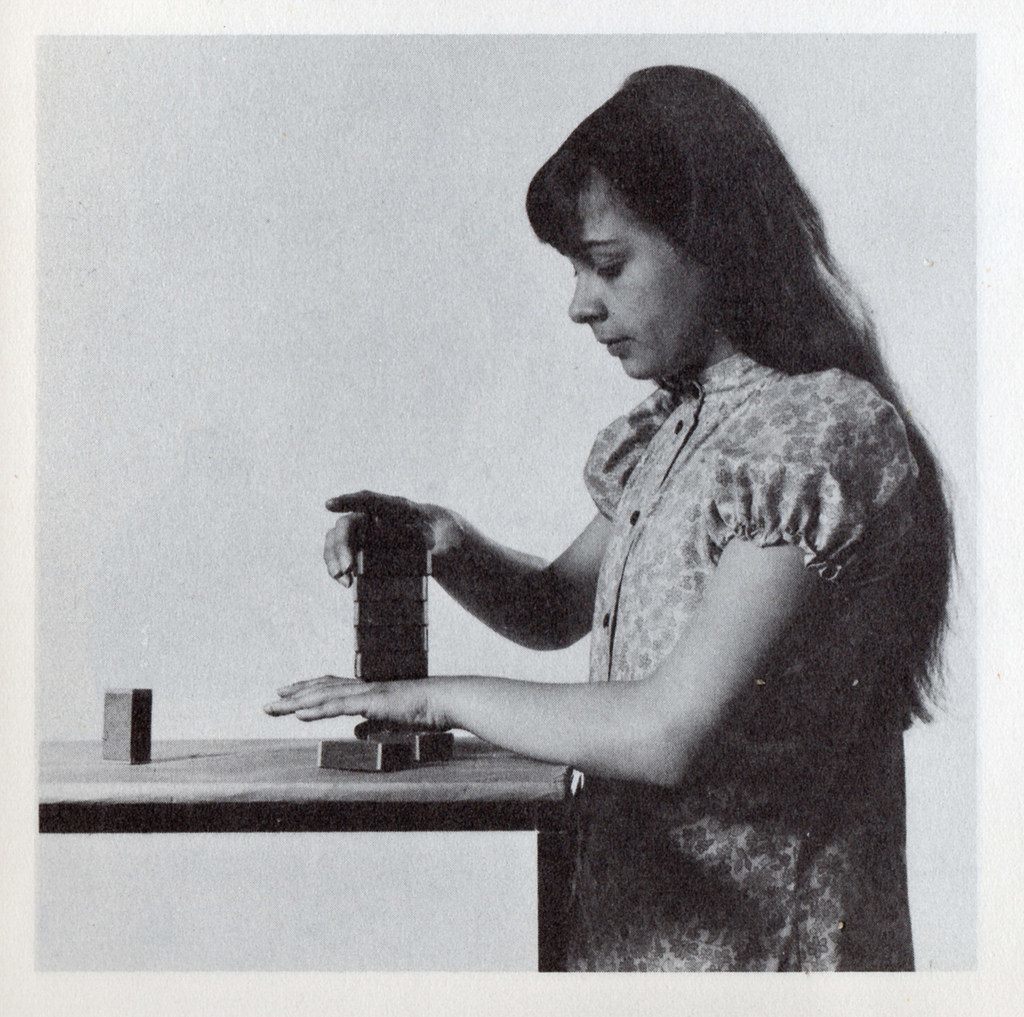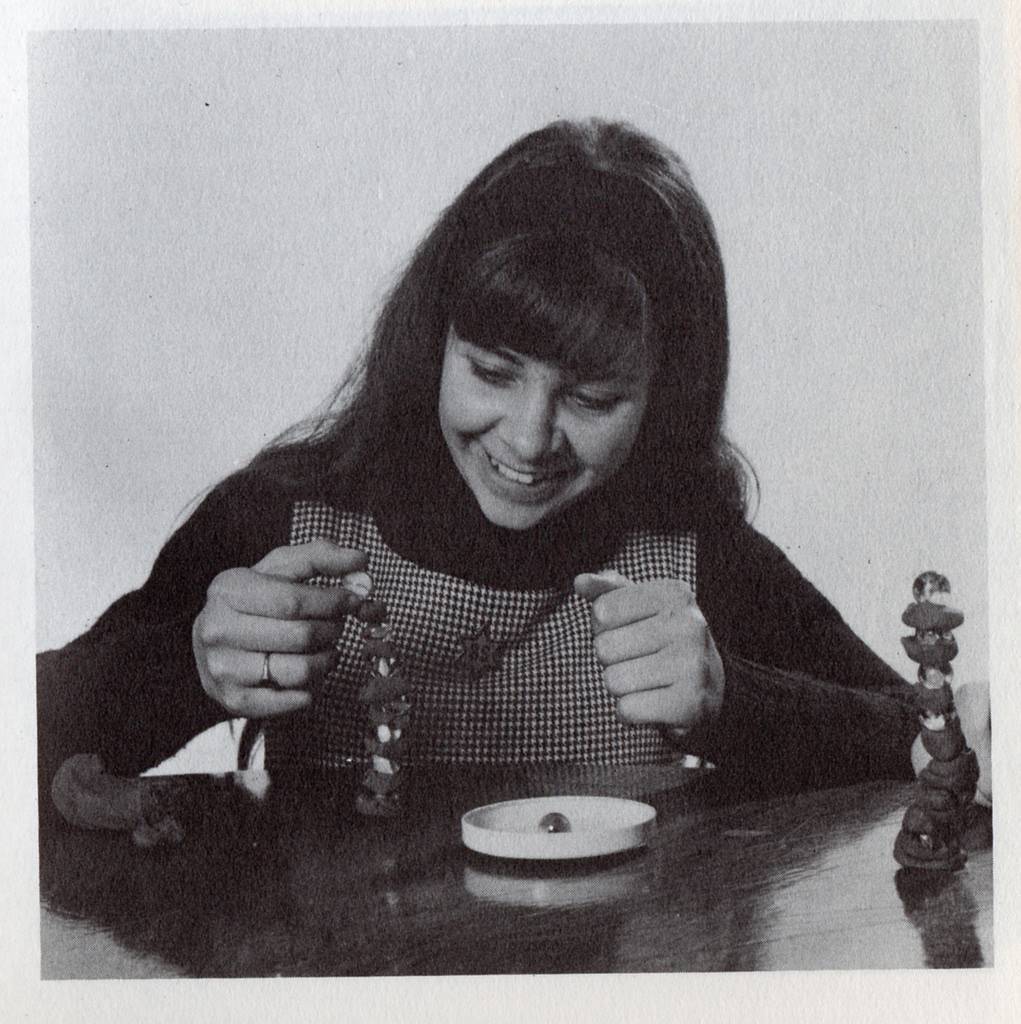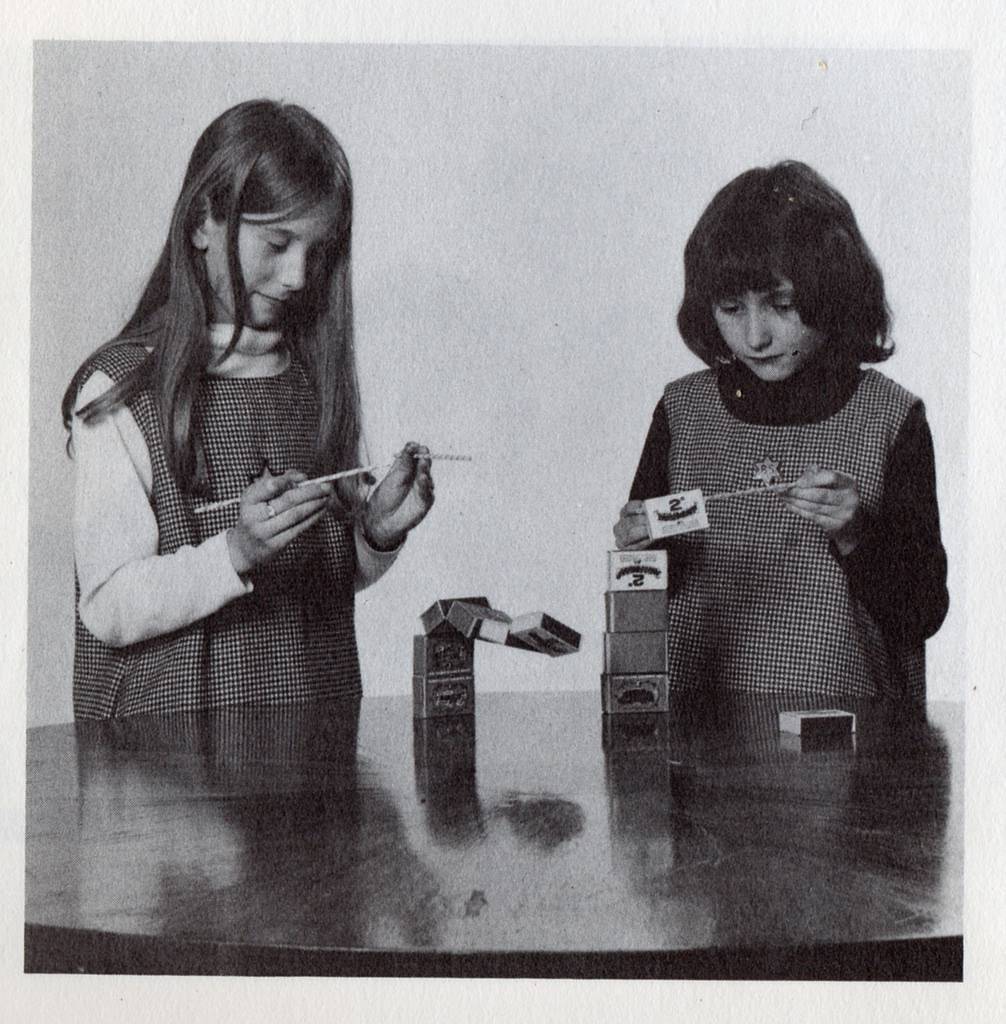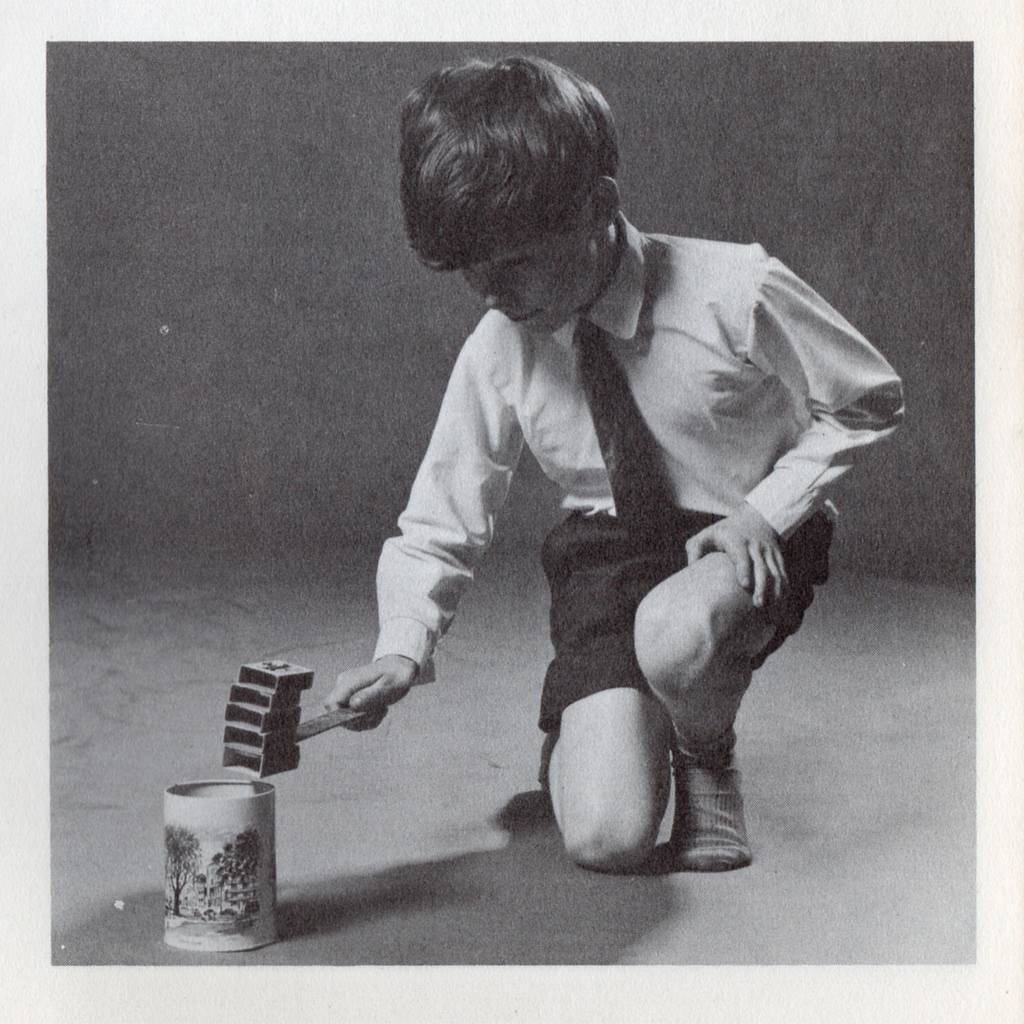 Every child had their own beer Steiner in the 1960s.
Blowing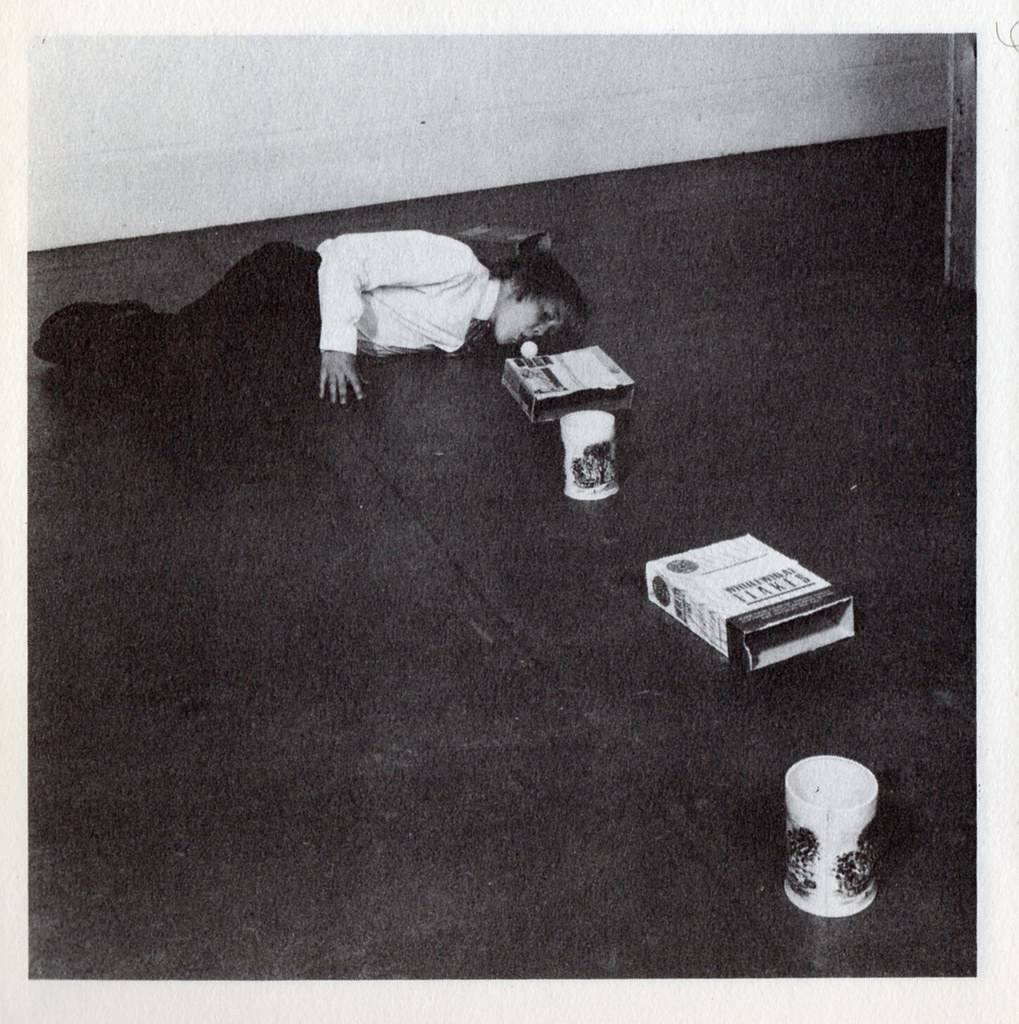 Back then, kids loved a good blowing game, whether it be table blowing, blow-football or smoke rings. Today's kids are reduced to having fun with blow-and-fret drugs test kits.
(Note the beer Steiner.)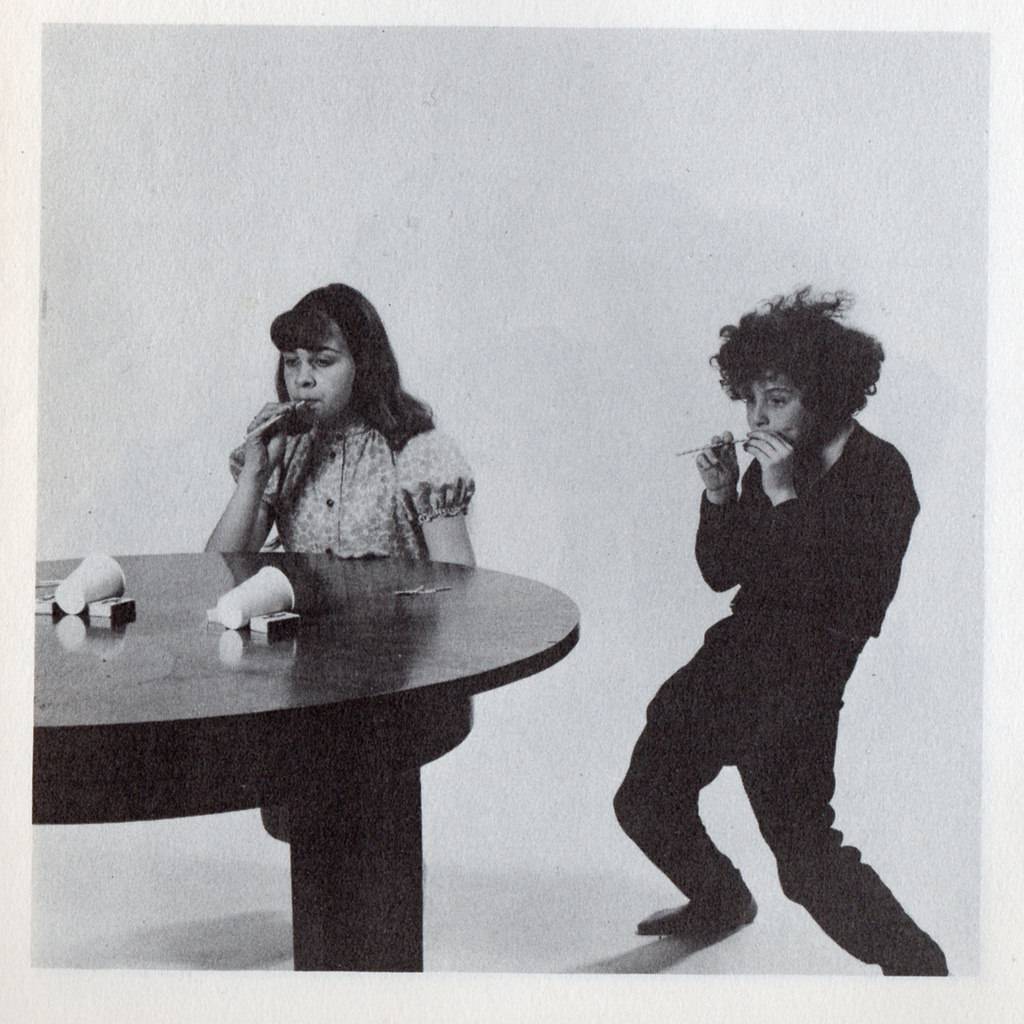 Andrew has loaded his hollowed out Bic Biro with some tracing paper bullets and lashings of spittle. Anne will discover that her dress is wet only after Andrew has left and laughed himself sick.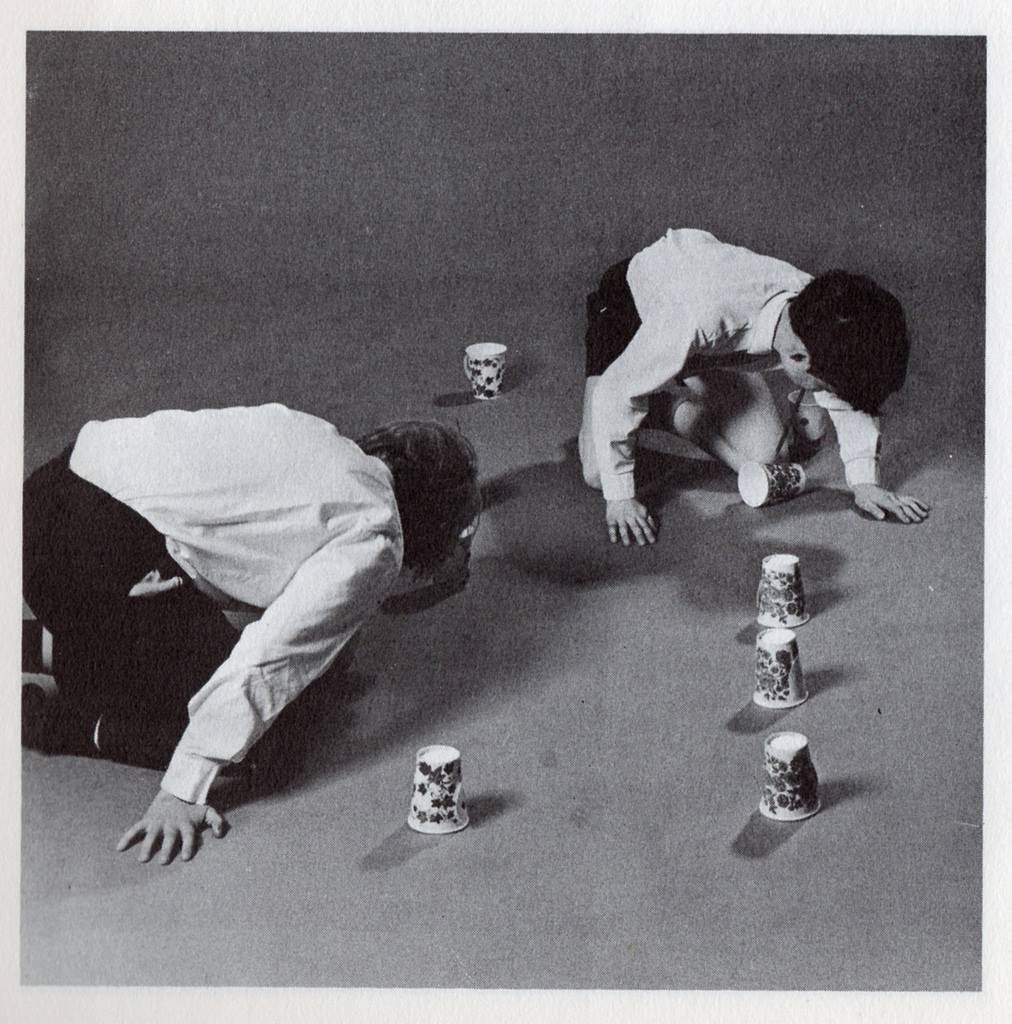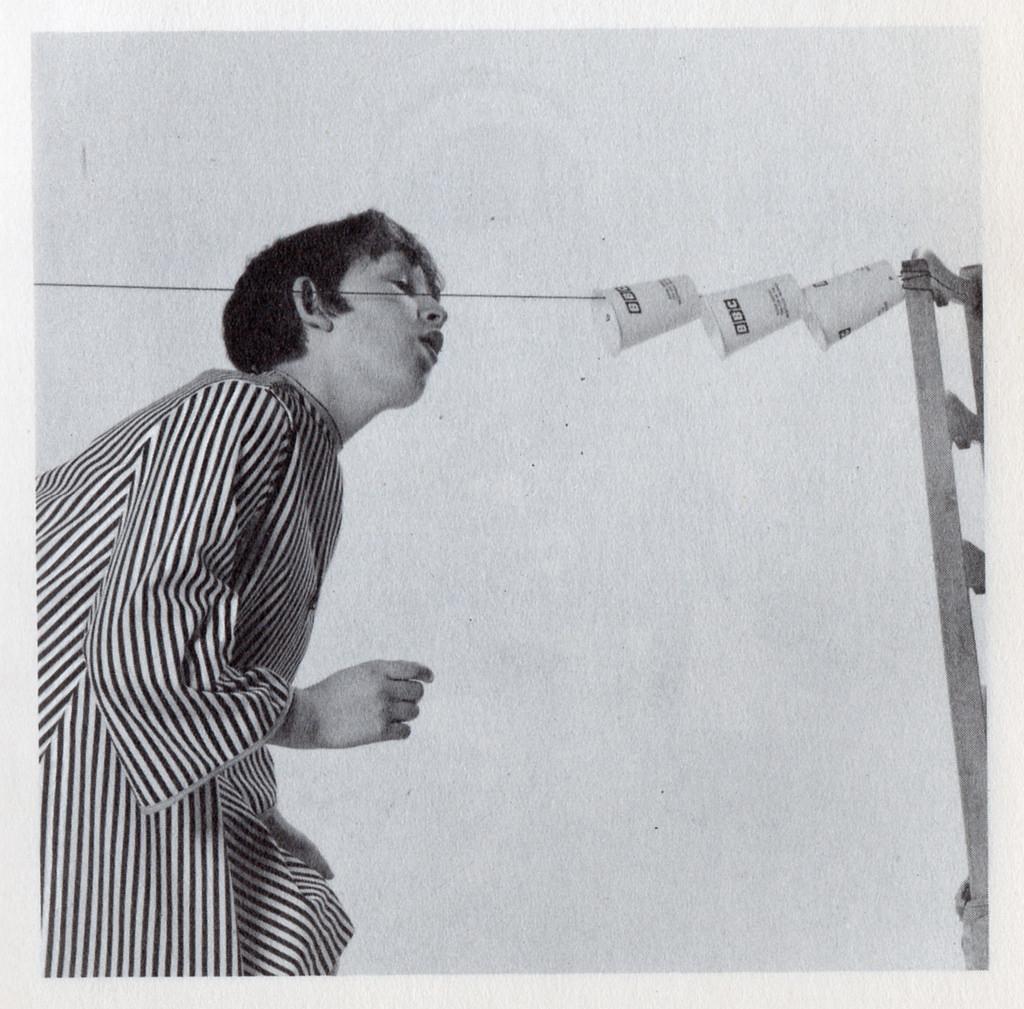 Note: if you don't have a relative already working at the BBC, this was the next best way of getting in.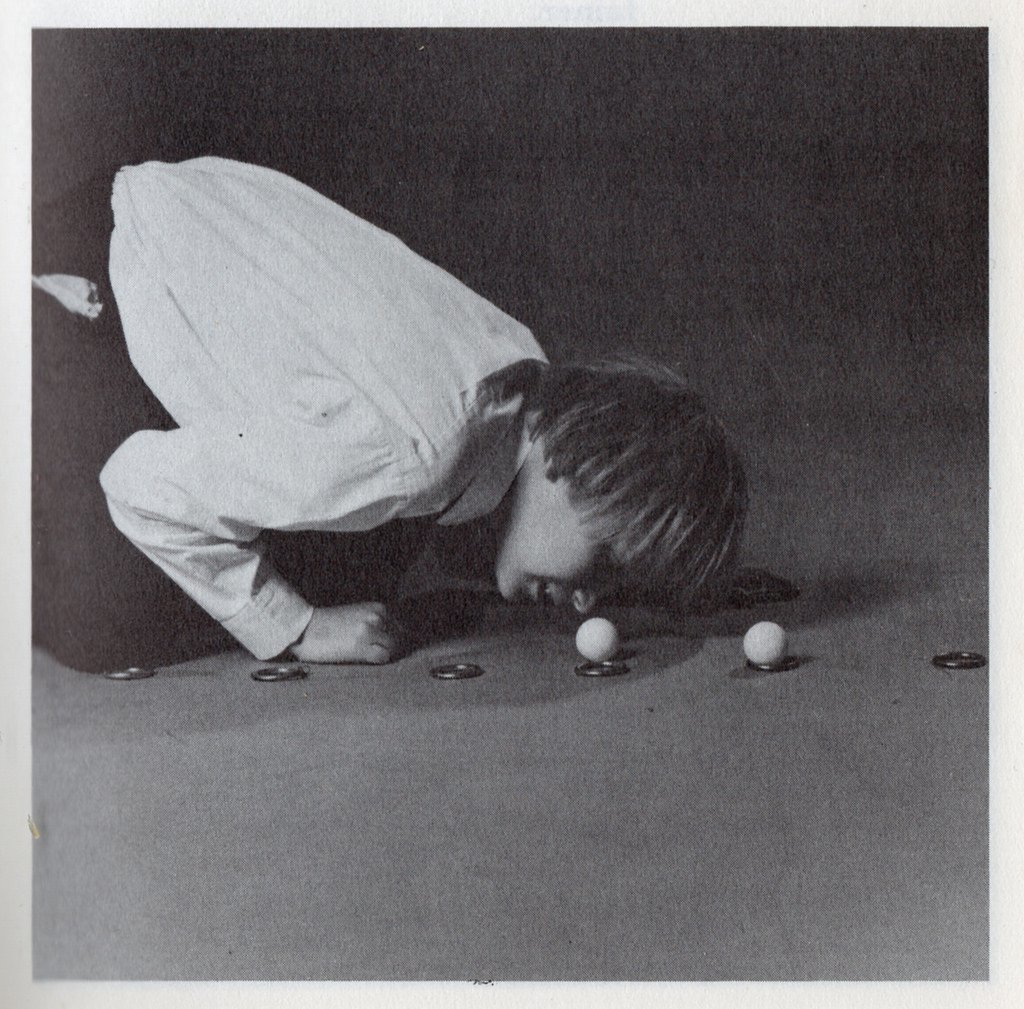 Ping-Pong Balls
We've already seen a few example of the diversity of the ping-pong ball – although, oddly, no game of actual ping-pong, or table-tennis as the IOC has it, features in the book – even the traditional version played on a dining room table surface with hardback books.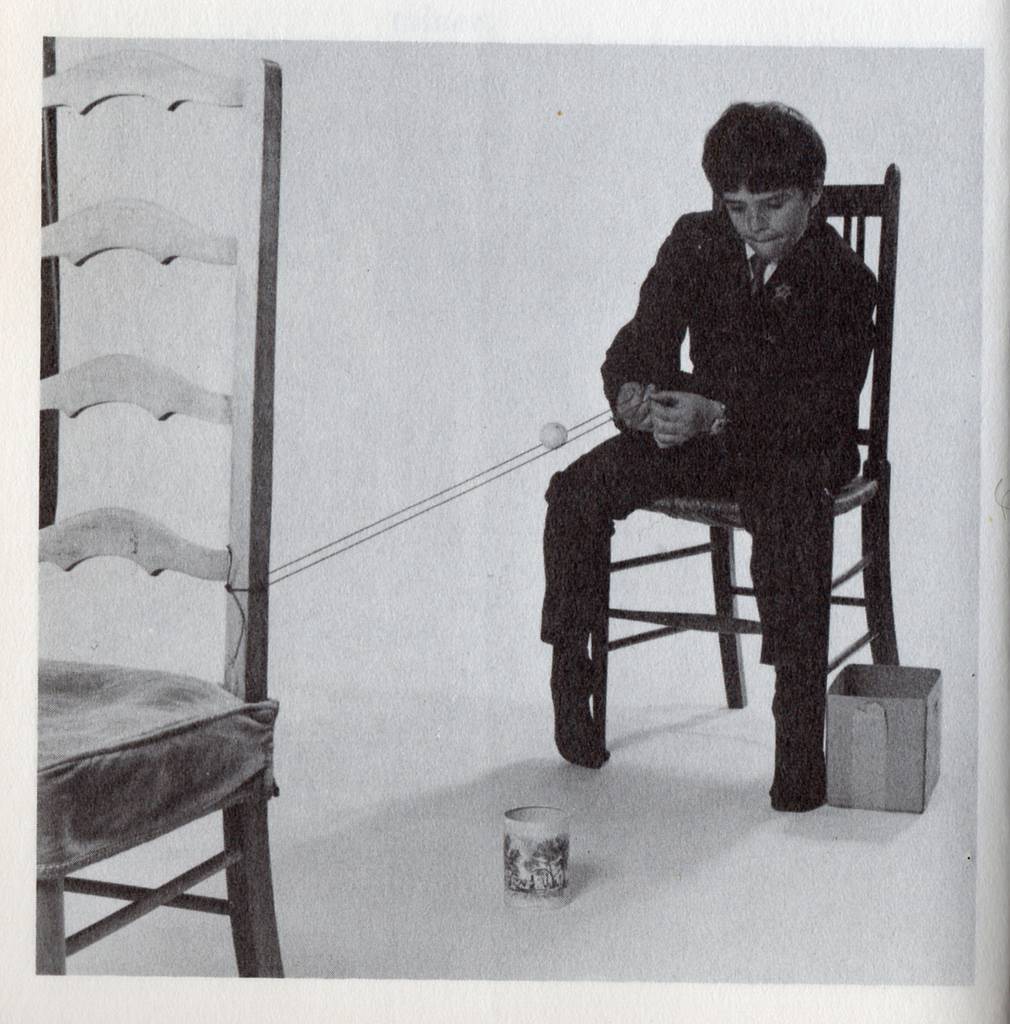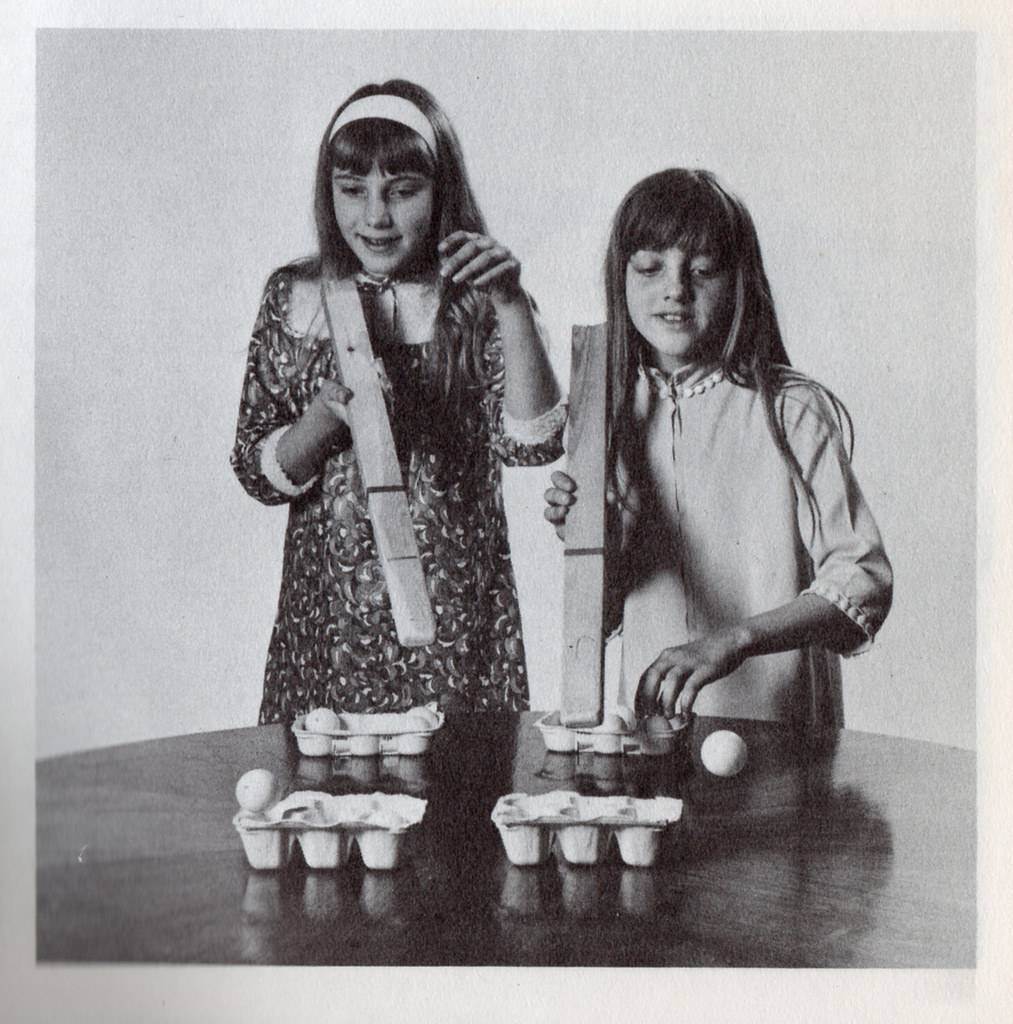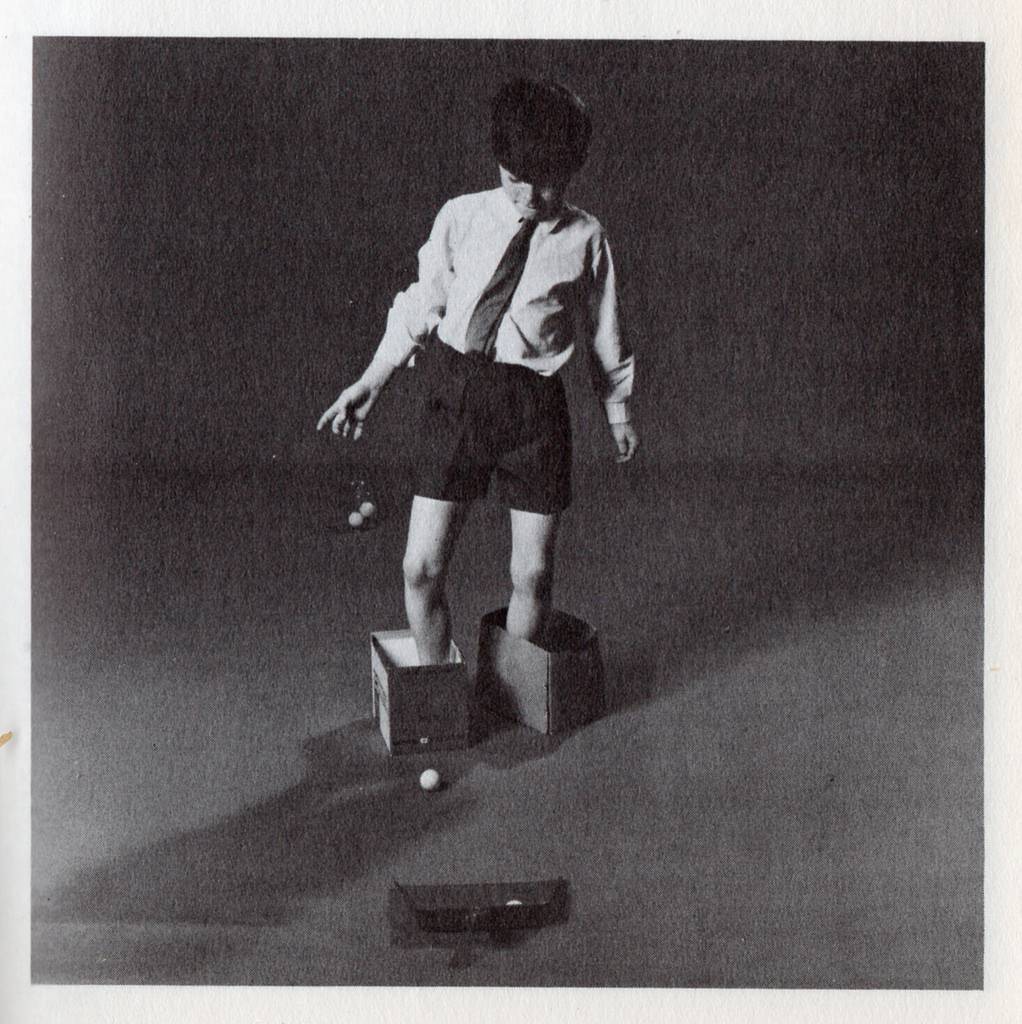 Factoid: That tray on the floor by Edward's feet is the dustpan part of the two-bit dustpan and brush analogue cleaning device.
String (and matchboxes)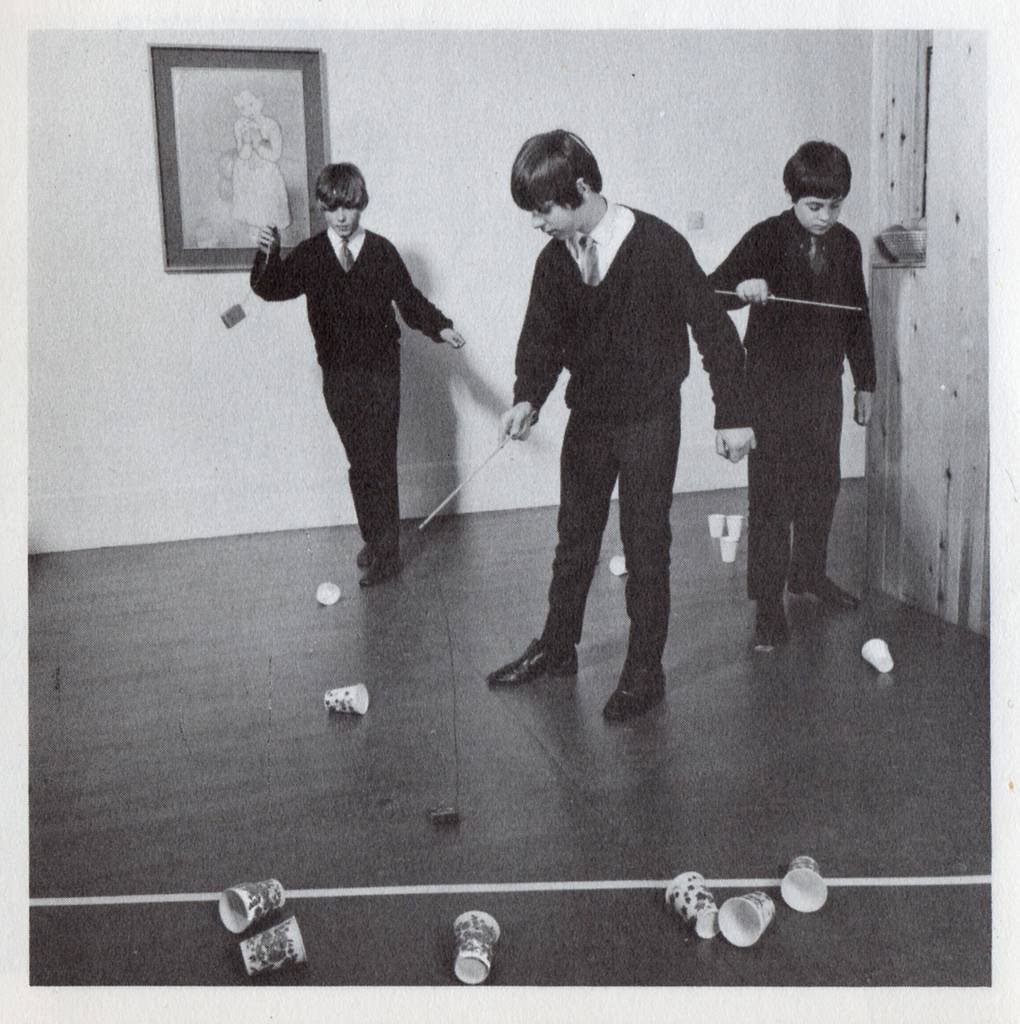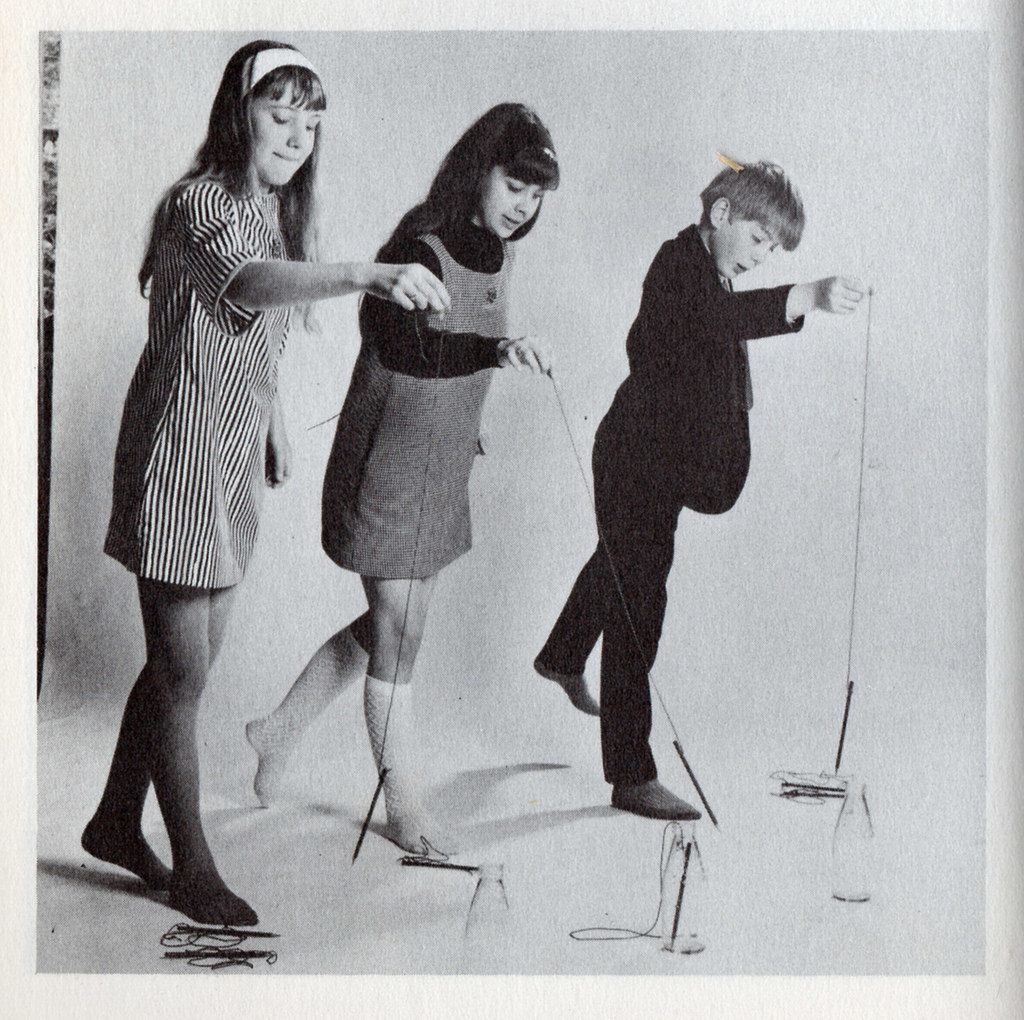 The milk bottle was versatile. Paint it. Fill it with petrol, a lit oil-socked rag and throw it. Drop a pencil in it. Versatile.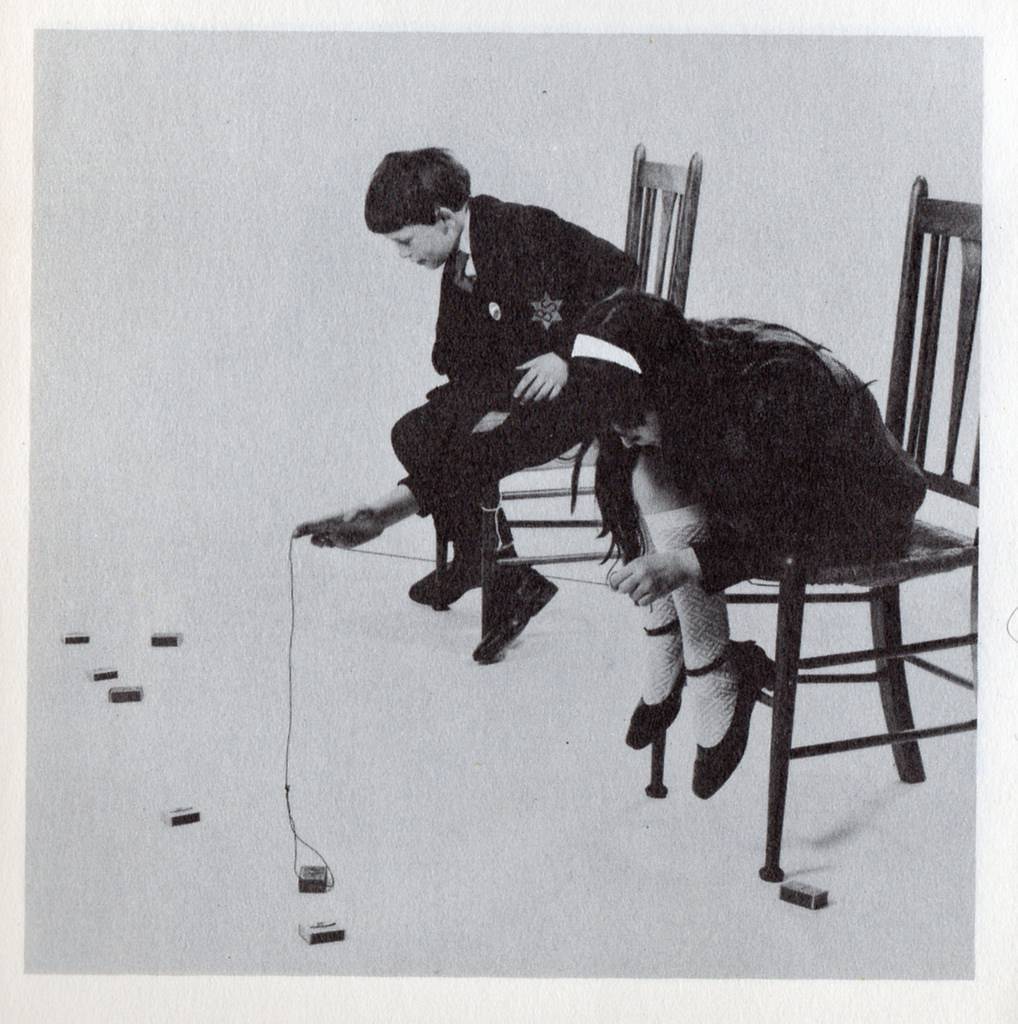 More matchboxes. Smoking paraphernalia was fun.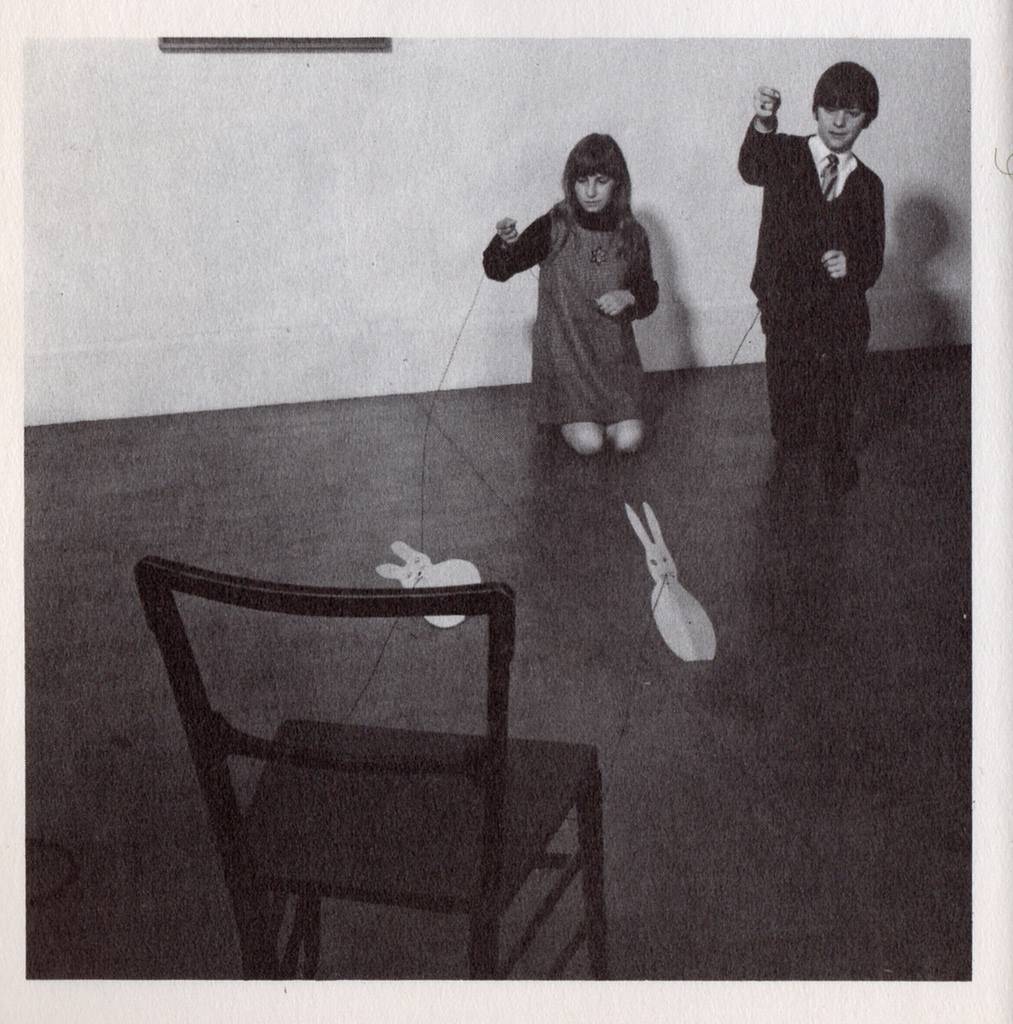 Does anyone else see the rabbits?
Arson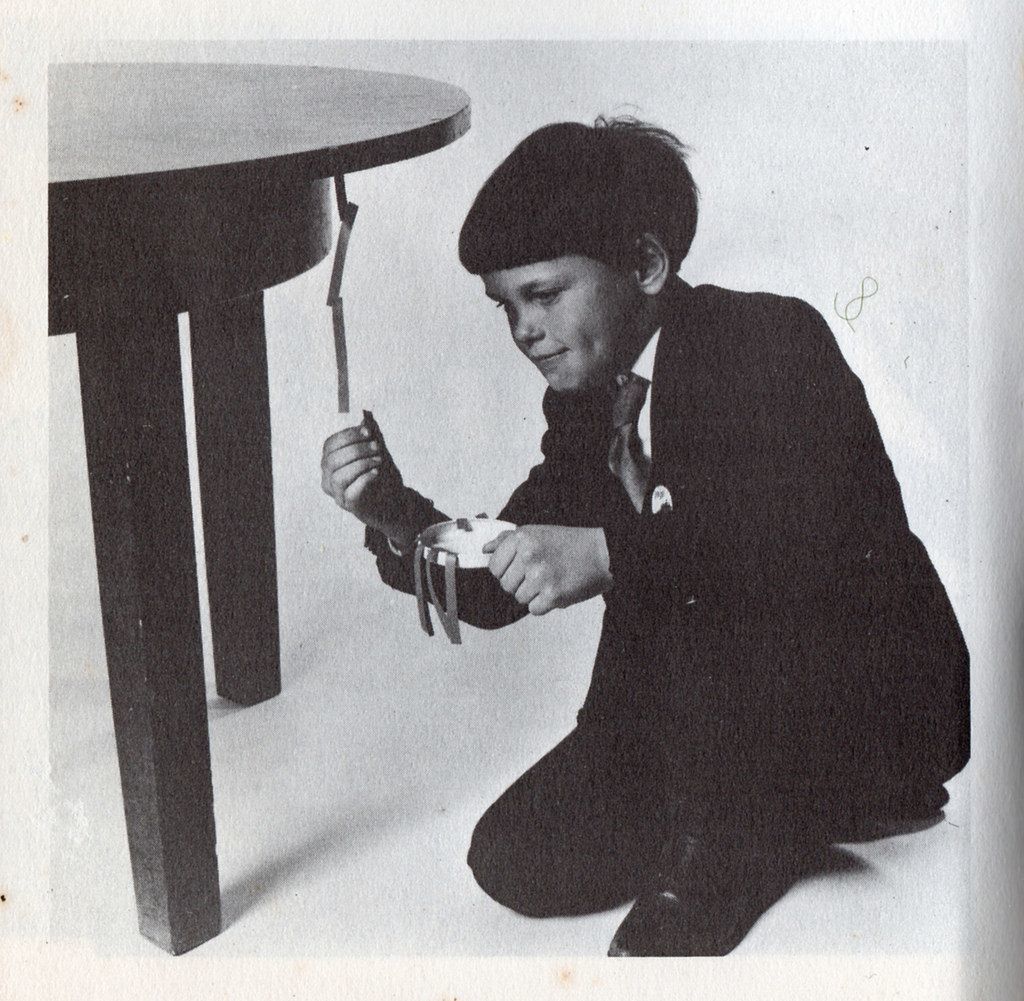 Tongs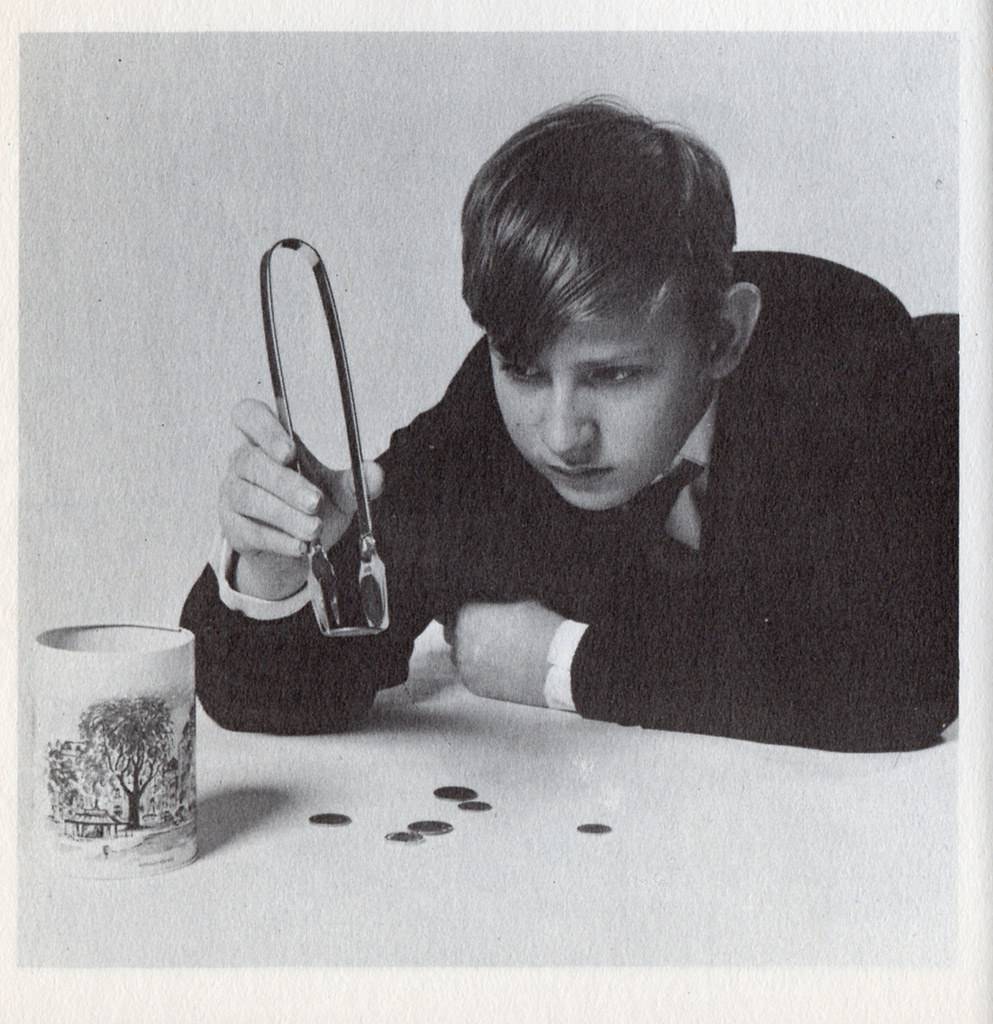 There's that Steiner again. The ice-bucket tongs challenge looks easy enough. But Charles only took up the game after he'd finished the ice in his half pint of gin. The cornered threepence bit is simple, but whenever Charles says 'thrupenny bit' he sniggers and his hand shakes. Nothing another drink won't fix.
Cutlery (with marbles)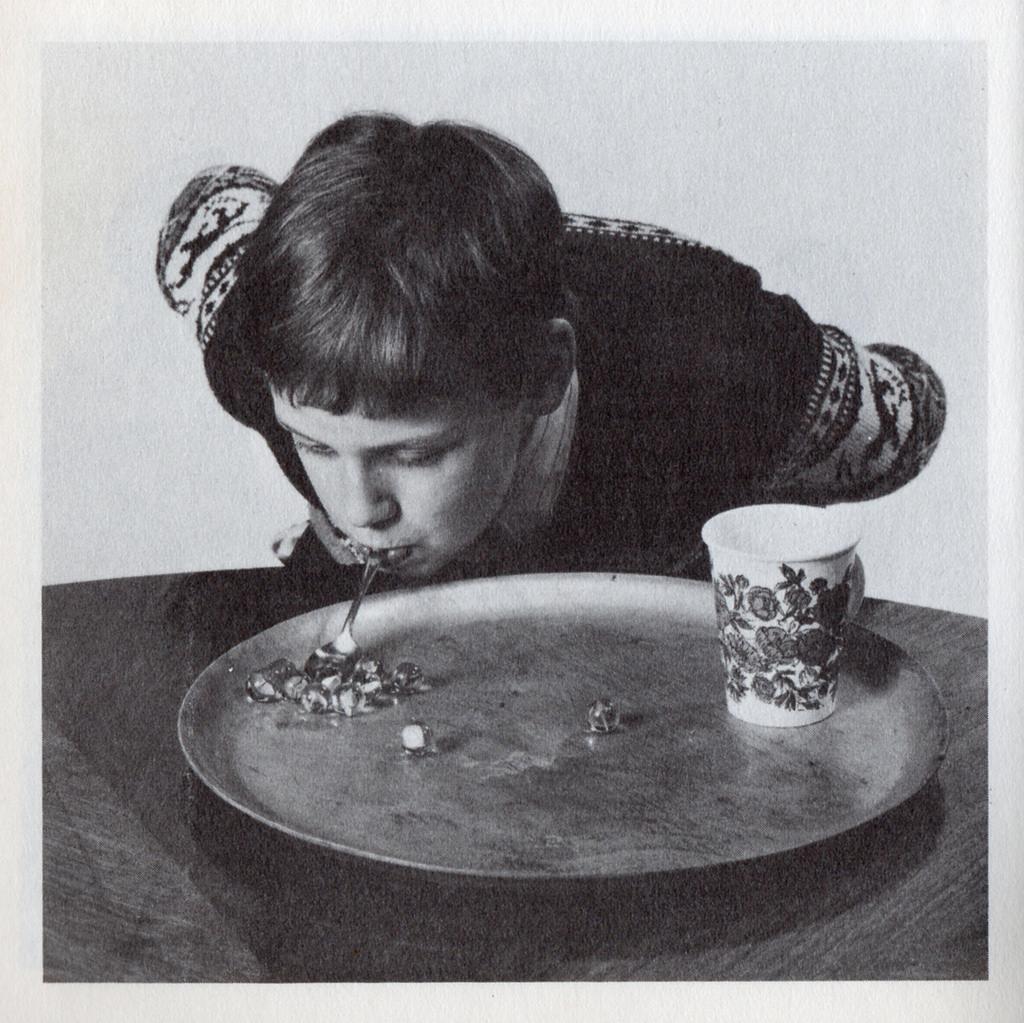 Eat yer heart out Christie Brown. One slip  and those marbles will roll into William's mouth causing him to speak like a BBC continuity announcer. Danger.
Matchboxes (with marbles)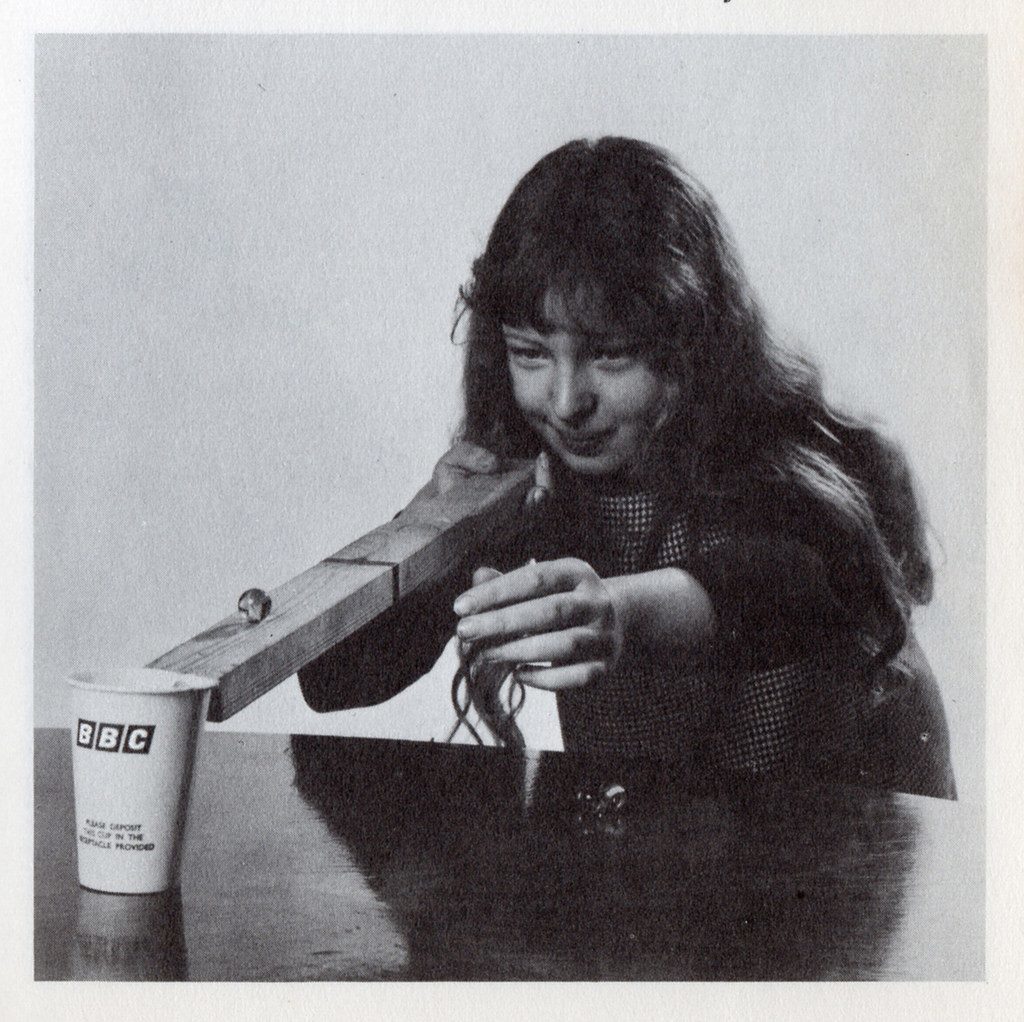 Matchboxes (with crockery – see lead photo)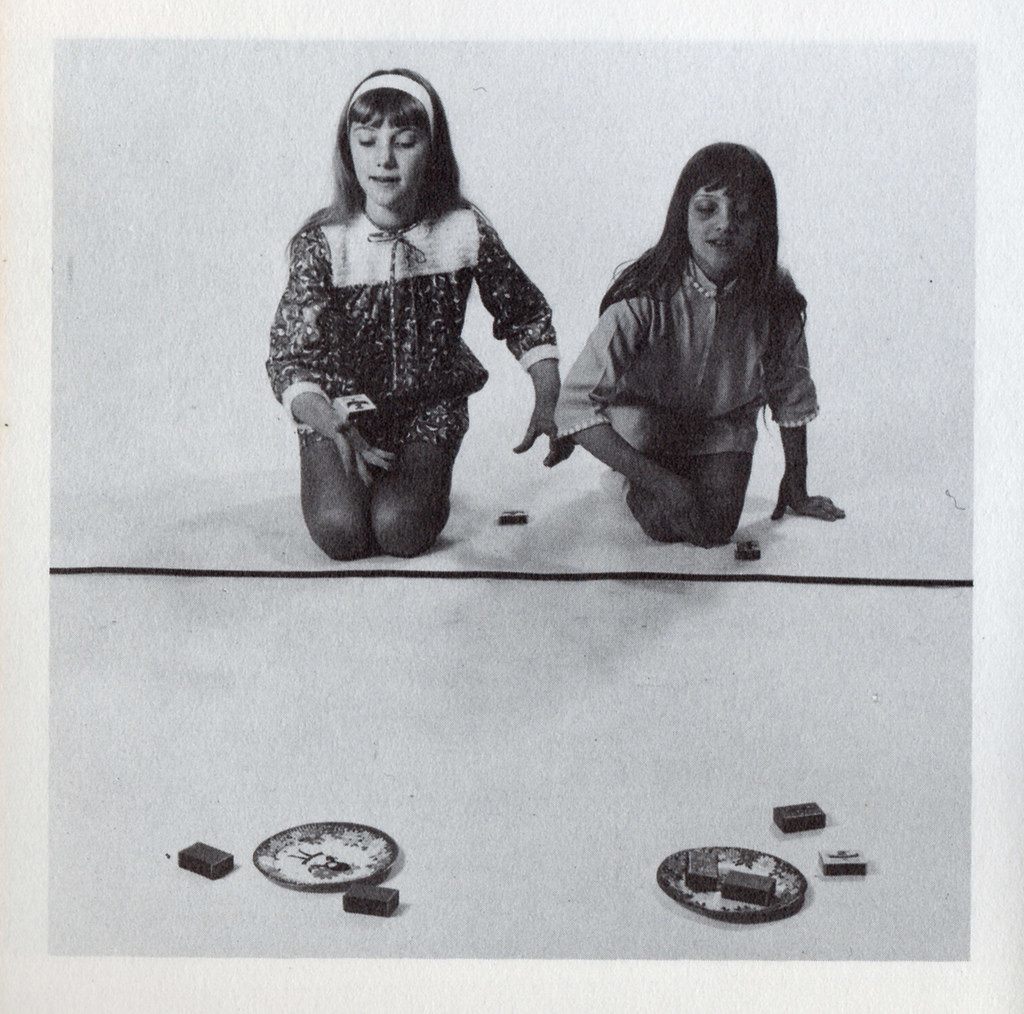 Records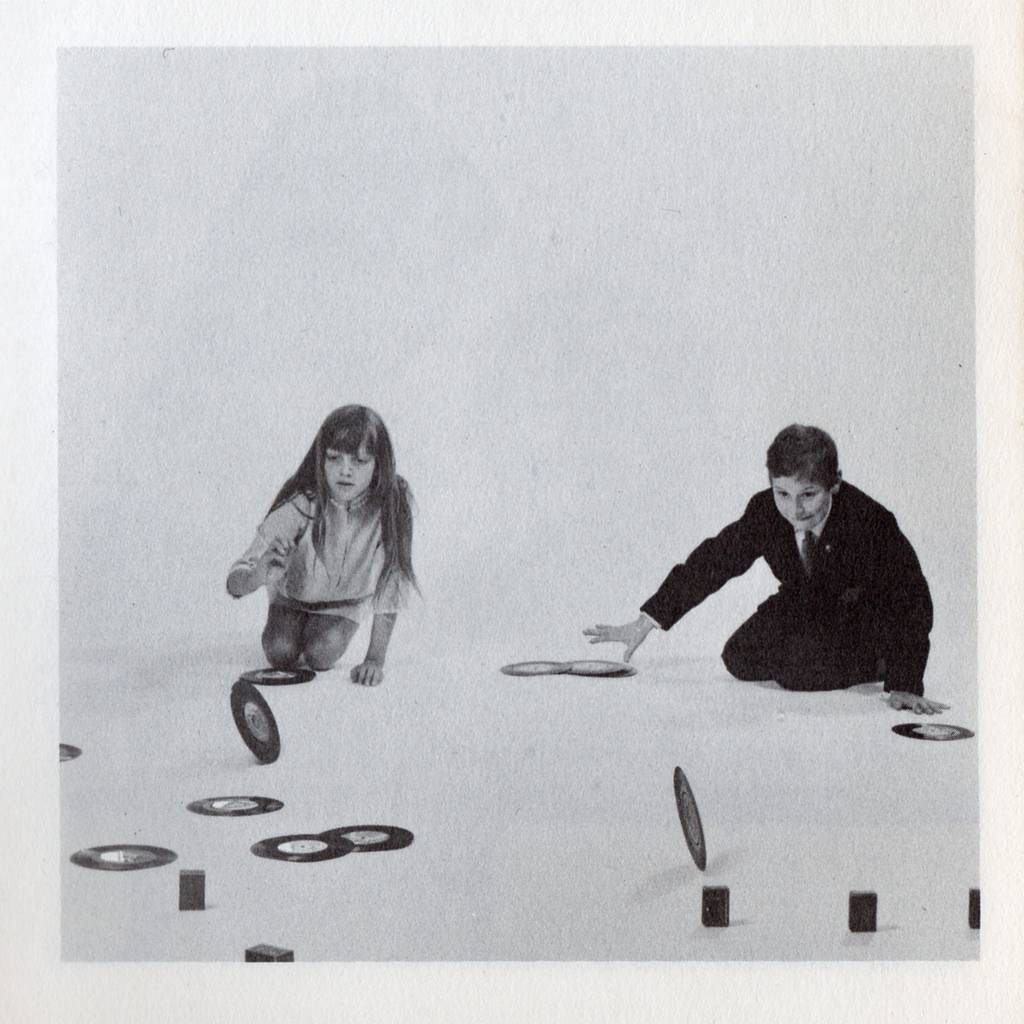 Original, pristine 45s of 1965 hit records  – Chris Andrews' Yesterday Man, The Animals' We Gotta Get Out Of This Place, Fontella Bass' Rescue Me, The Beatles' Day Tripper, Ken Dodd's Tears and The Rolling Stones (I Can't Get No) Satisfaction – are all collectible. It serves mum and dad right, of course, for leaving you indoors all day.
Ransom Notes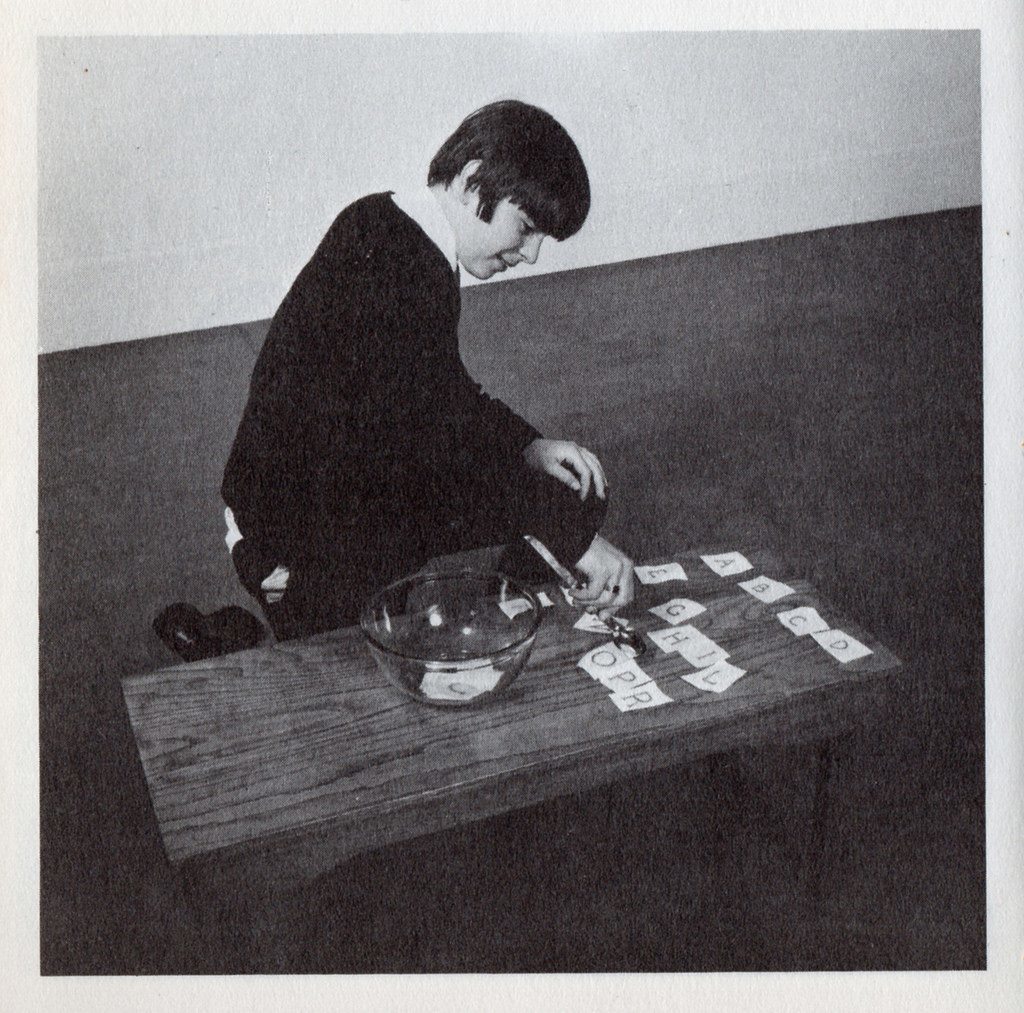 Let's go out, gang. Last one to the circle of death, is 'it'.
Via: Bollops