Remember when playgrounds were fun? Sure, there was a pretty good chance you'd be scalded by a hot metal slide, or walk away with tetanus, but that's what memories are made of.  At my children's school, there is literally a sign that reads "NO RUNNING ON THE PLAYGROUND".  My, how times have changed.
Let's have a look at what playgrounds used to look like, and marvel at how much "safer" things have become…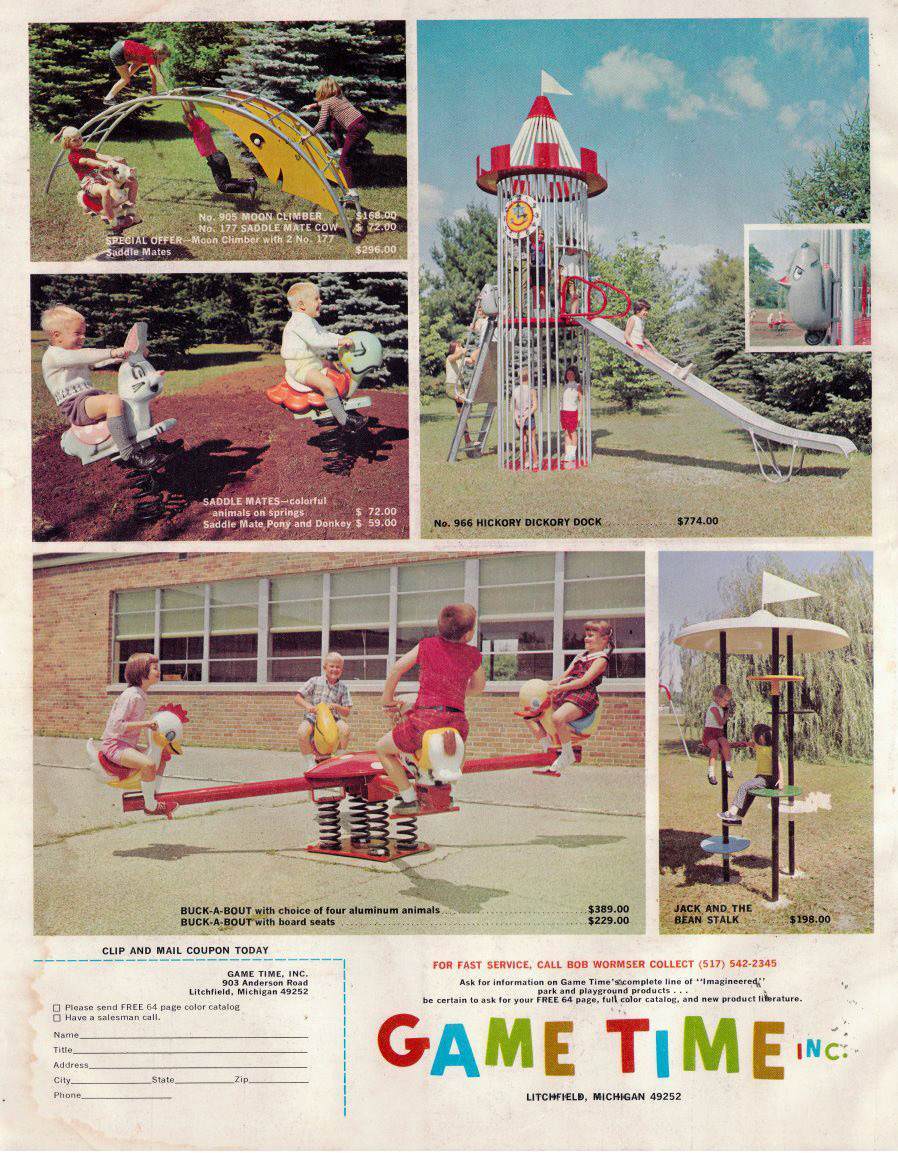 Notice the "Buck-A-Bout" is placed squarely above concrete?  Today, most playgrounds are lined with soft rubber matts sprinkled lovingly with soft recycled rubber.  In the 1970s you maybe had grass…. but more often than not, your ground was asphalt, concrete or gravel – none of which made for a pleasant landing.  Eventually, every kid is going to go to school wearing bubble wrap and a helmet.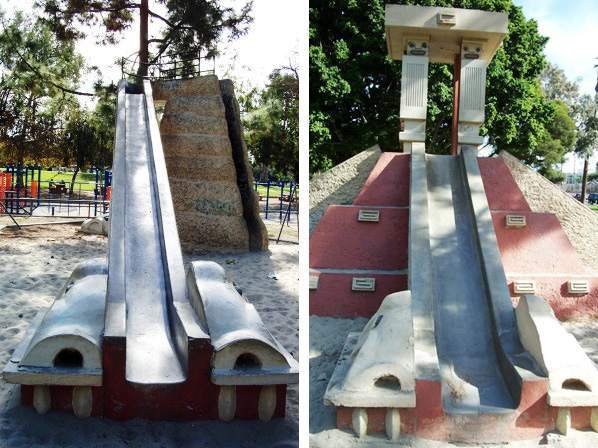 Lincoln Park (Los Angeles, CA) has since been demolished; thankfully, photographs of its Aztec grandeur still remain.  Can you imagine rolling down these stone slides?  In ancient times, these Mesoamerican temples had slides for the gore to wash down after a sacrifice….. not much different than these playground slides, which I'm sure saw their share of blood.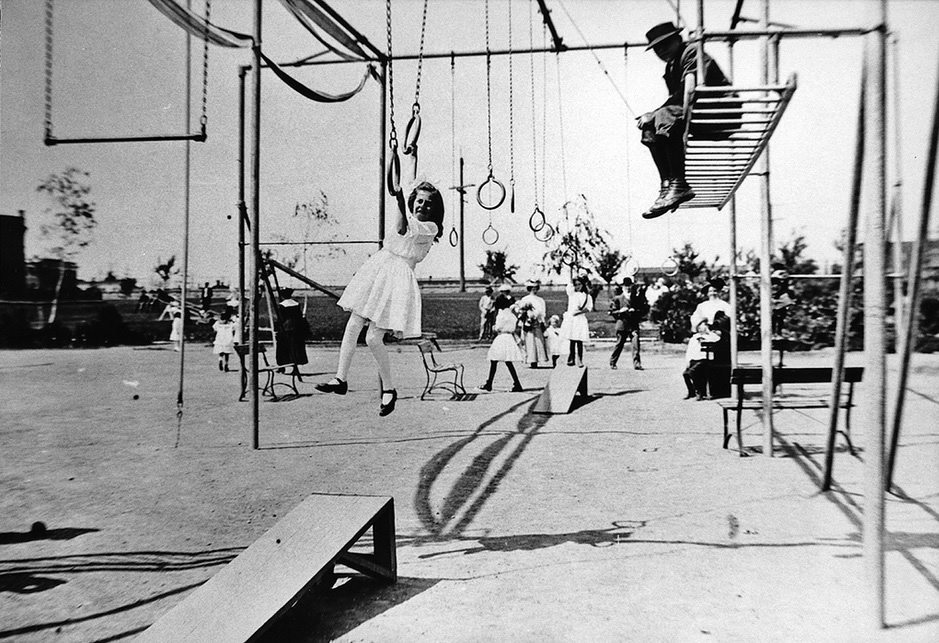 The Broadway Playfield (Seattle, WA), if it were around today, would be renamed Lawsuit Station.  Let's face it – the reason our playgrounds have become child-proof isn't because we suddenly decided we didn't want children to get hurt…. it's because the slightest playground bruise can result in a mega-lawsuit.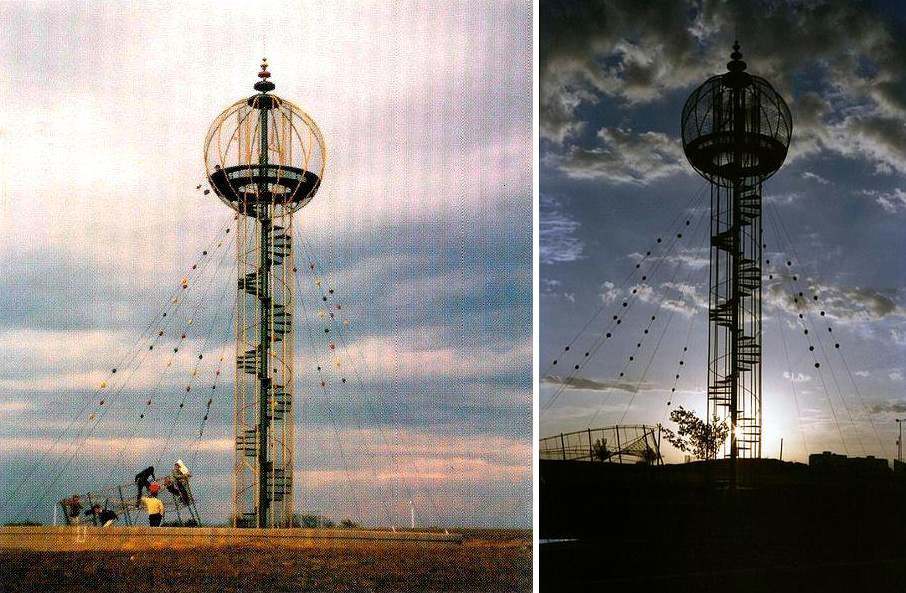 The Sooner Tower at Sooner Park (Bartlesville, OK) stands as a testament to the space-age fever that swept America during those days (1963) – and also as a testament to not giving a shit about free-falling kids.
Seriously, this thing stands fifty feet tall. I suppose its steel mesh kept things relatively safe, but there is no way in hell this thing would ever be built today.  But ask anyone who remembers playgrounds from the 1950s-1980s – they often had really tall structures with no safety net or barrier.  I recall my school playground had a metal ladder "wall" that I swear went up three stories – it didn't connect to a slide or anything. It was literally a ladder to the sky.  One false move and I'd have been a flesh colored stain on the asphalt.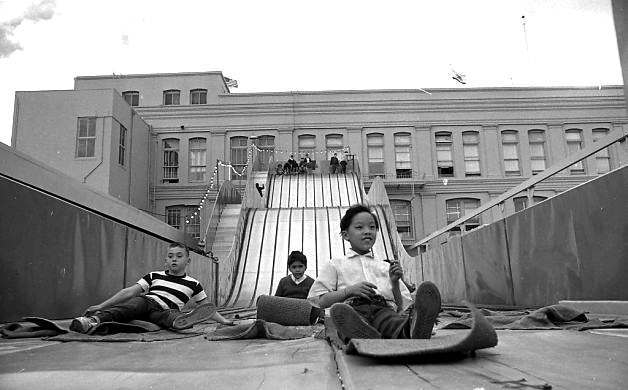 Simple merry-go-rounds and swing-sets are considered hazards today; imagine the public outcry over a metal slide launching kids off the roof of a building? Such was the roof slide at San Francisco's Emporium department store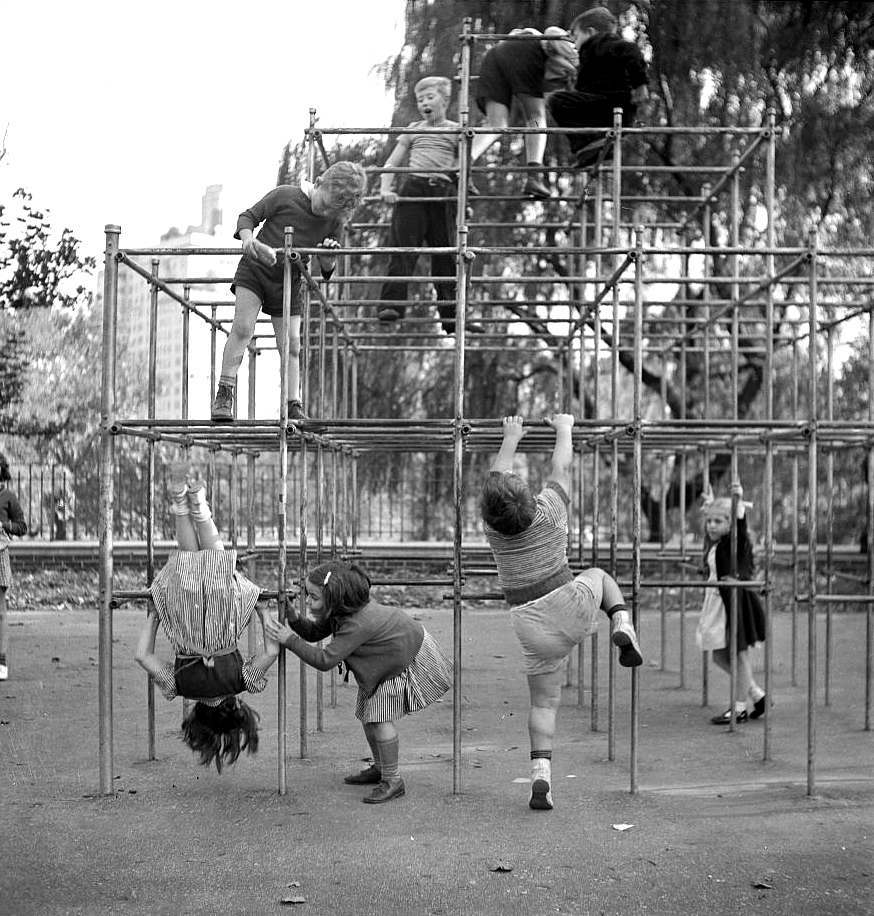 Of course, most parks didn't have a four-story roof slide, 50 foot steel tower, or bloody Aztec stone temple slide.  Most, like the Central Park playground above, were fairly simple: monkey bars, a slide, a merry-go-round, and a swing-set, all on a nice rock-hard surface.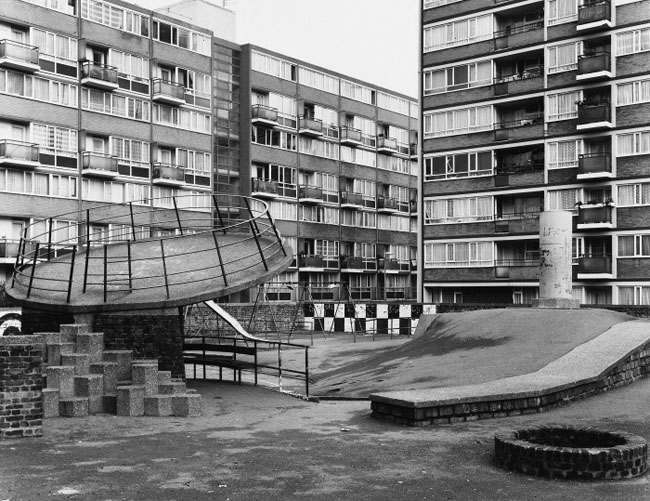 Scary playground equipment was by no means exclusive to the US.  As evidence, the Pimlico, London death trap.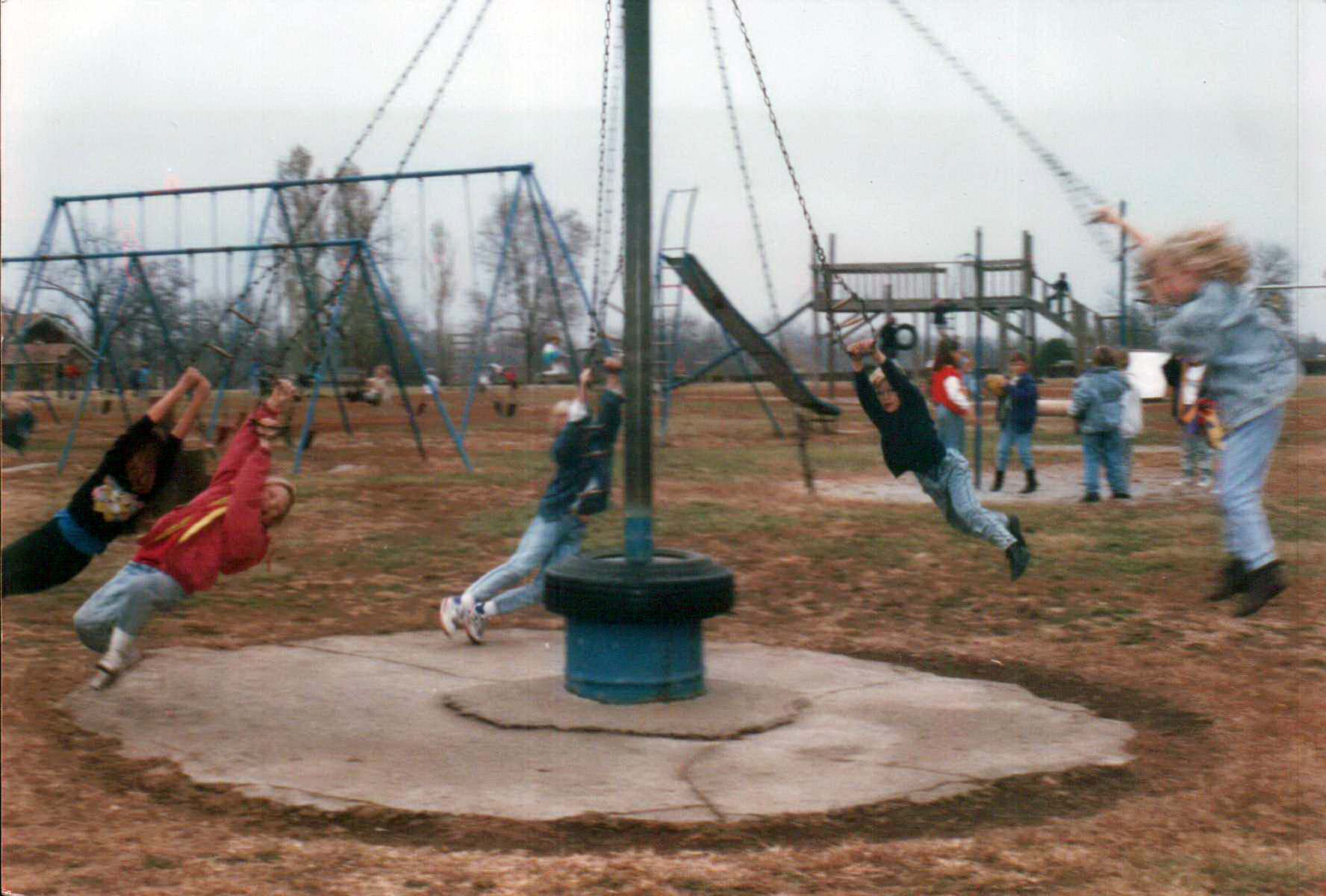 If you were to travel back in time, the biggest difference might not be the equipment, but rather the lack of parental supervision.  Not only were we swinging around like maniacs on all kinds of deadly steel contraptions, but we were doing it pretty much unwatched by adult eyes.  Grown-ups of the pre 1990s  had a tendency to just "let 'em play".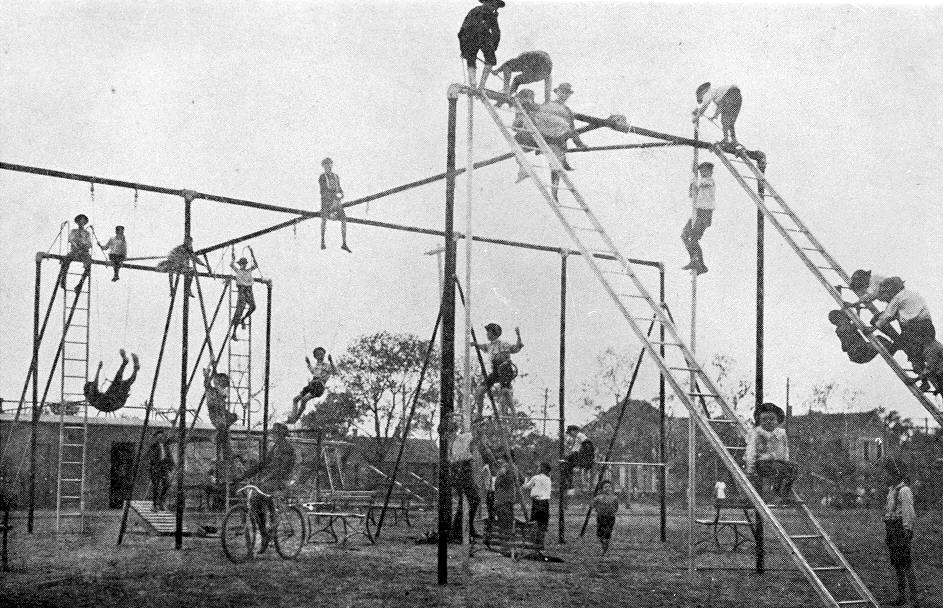 Yet, I have to wonder whether all this heavy-duty chaperoning and ultra-safe equipment has really made much of a difference.  Children still get hurt.  No matter how much you pad the floor underneath the monkey bars, kids are still going to find ways to make things dangerous and hurt themselves.  This is what kids do best.
You can remove the see-saws all you want, but unless you remove the kids, somebody's going to get hurt.
Now let's go play on Giganta…