After Star Wars premiered in 1977, the world fell in love with droids R2-D2 and C3PO. More specifically, children fell in love all over again with robots.
Previous generations had played with the Robot Commando, Zeroids, or the Ding-A-Lings, but starting in 1978, a whole new generation of working robot toys flooded the toy market.
Here are some of the most memorable of the post-Star Wars robot bunch.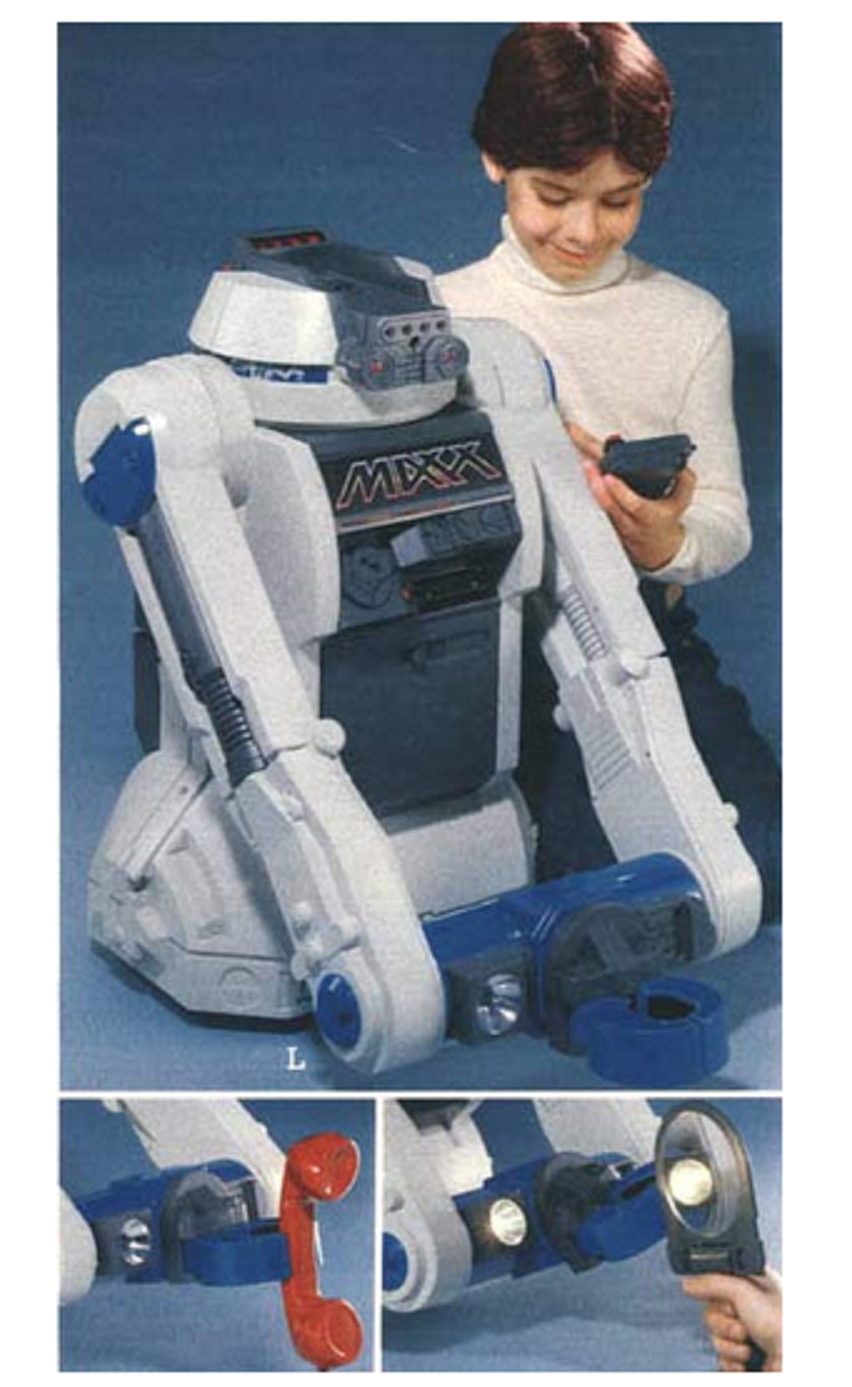 2-XL
Mego's 2-XL is a "robot with a personality" manufactured and released by Mego Corp. in 1978.  This small robot is an "electronic toy" and came complete with "8-track cartridge, instruction, and game booklet."
2-XL could tell jokes, ask the user true/false or multiple choice questions, give information on different subjects, play games with the user and friends, and play standard 8-track tapes as well as 2-XL cartridges.
2-XL was redesigned in the 1980s, and was sold in stores as late as 1992.  The 1970s version that I keep in my office has a Bronx accent, which sounds really weird coming out of a robot body.
Maxx Steele
This robot from CBS Toys and Ideal stood 24 inches high, and had a 140-word vocabulary (so it could talk to you, I guess, in the equivalent of a modern tweet)
Maxx Steele came with a charger, and could power down to conserve its energy.  More than that, however, Maxx Steele could bring you a snack, or a drink.
Too bad this impressive machine pal cost a whopping $499.99.
https://youtu.be/HpXp6kU2qC4
Verbot
Verbot was manufactured by Tomy Corp. in 1984, and this nifty bot could perform eight functions by remote control. He was also voice-controlled.
The instructions on this robot's box noted that a child could: "program Verbot to respond to your own secret commands through his remote control microphone.  He will move forward and back, turn left or right, pick up and deliver objects, blink and smile, all at the sound of your voice."
Verbot also had a "dazzling personality" and could blink and smile at the user's request. Verbot was designed to be a "mechanical messenger" and pick up and deliver objects.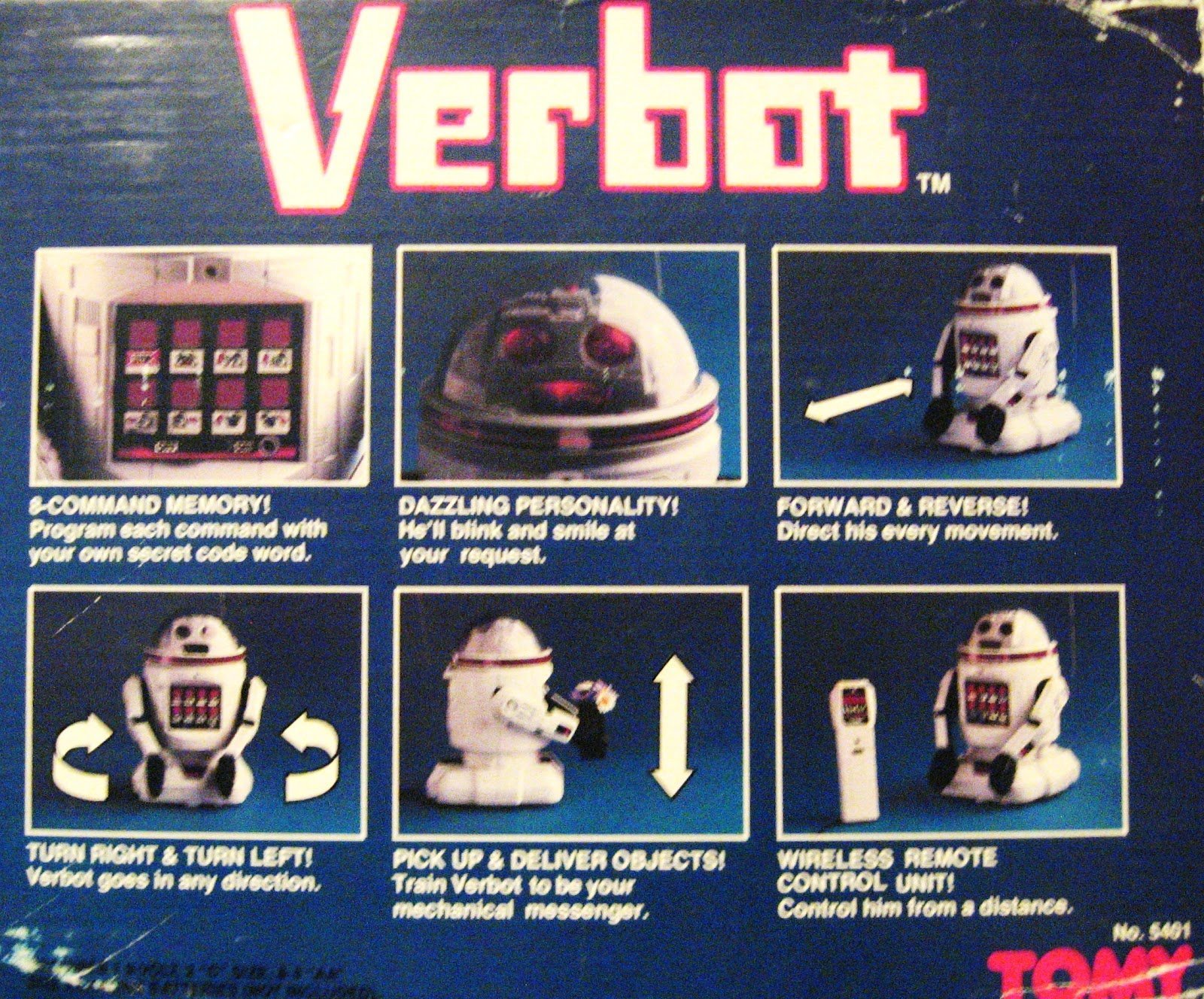 Omnibot
Omnibot also came from manufacturer Tomy — the first name in toy robots of the Reagan Era — and was a sort of deluxe or upscale version of Verbot.  (Verbot in turn, was a bigger, more elaborate robot than the smallest in the line: Dingbot.)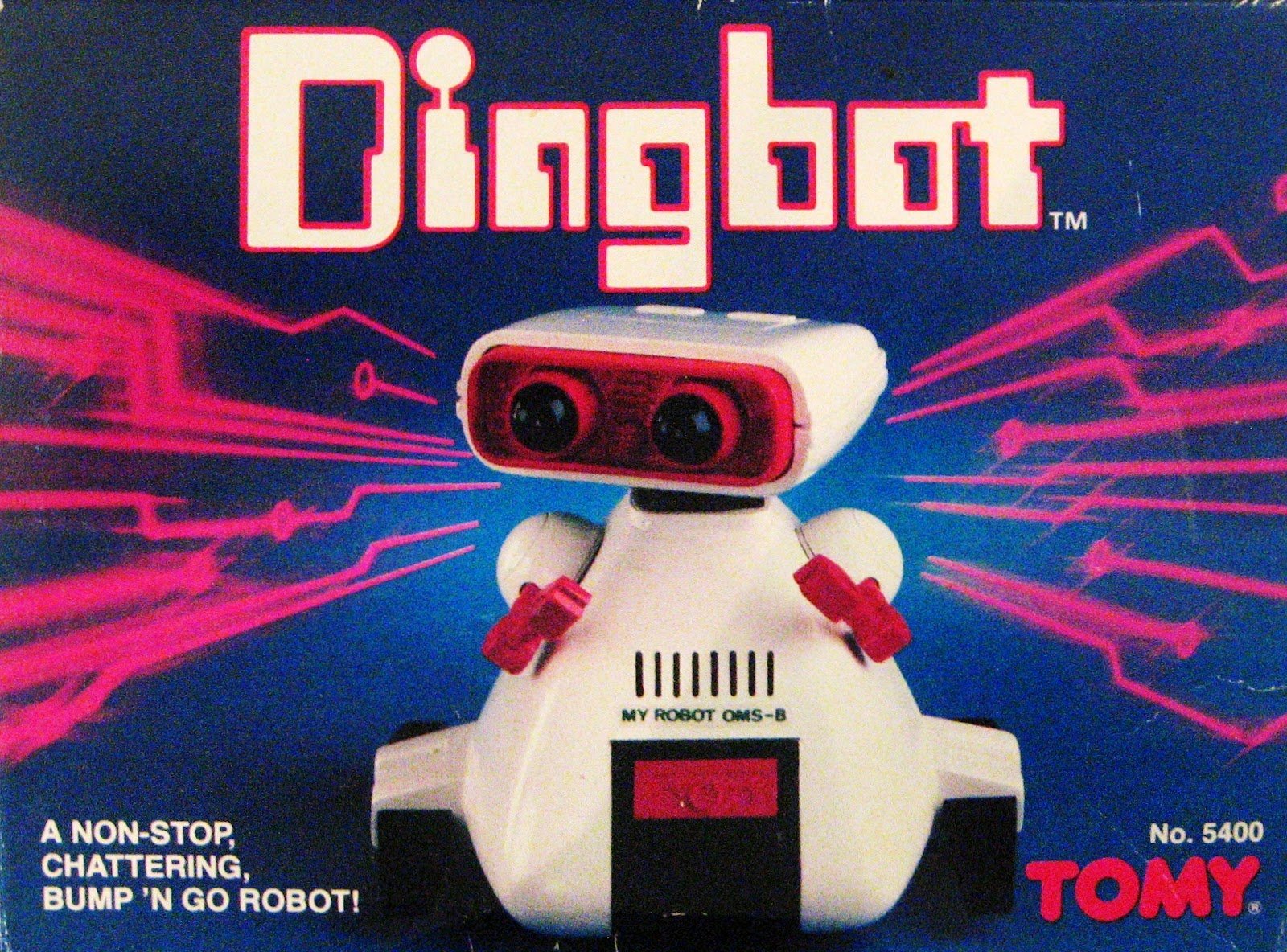 Motorized and equipped with a rechargeable-battery, Omnibot could move back and forth on hard-wood floors or carpets, and play cassettes too.  It had light-up eyes, and came with a remote through which you could speak to him.
Armatron
This robot was sold exclusively at Radio Shack locations, but manufactured by Tomy.
Unlike the other robots on this list, Armatron is basically just a robot arm , one controllable by an attached console with two joysticks.
You could swing Armatron around, and have him grab and lift objects at your command.
R.O.B.
The Robot Operating Buddy – or R.O.B. for short — was developed for the Nintendo Entertainment System, and hit American shores in October 1985.
Alas, only two video games were ever developed that old R.O.B. could participate in: Stack-up and Gyromite.
Still, he's one awesome-looking bot.