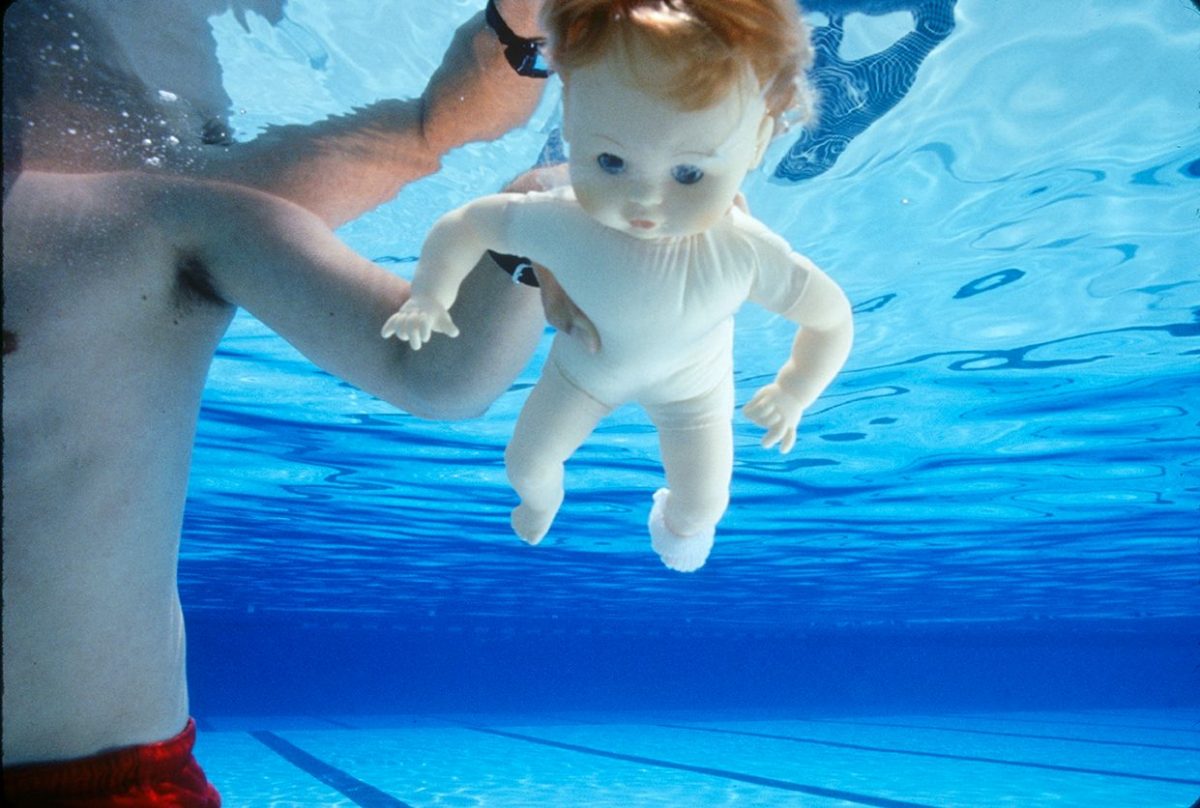 "A large record label needed an arresting album cover for one of their newly signed up and coming bands," writs Kirk Weddle. "The concept was to create a visual statement by capturing an image of a baby going after a dollar bill on a fishhook underwater."
The band was. of course, Nirvana. Kirk continues:
"A 4-month-old baby was cast and I conducted the shoot with just his parents and a lifeguard present. I placed a camera with a motor drive , in an underwater housing, mounted on a tripod at the bottom of a pool. Since kids are always an unknown at shoots, I did several prelight and prefocus passes with a doll. Once I felt I had the framing, light, and exposure dialed in; the parents slipped the child into the water. I took seven frames on the first pass and four frames on the second. As expected, the baby started to cry, this had been the babies first time underwater, and we wrapped the shoot. The dollar bill and the fishhook were stripped in in post. The result was one of the most iconic album covers in the last 25 years. The music inside wasn't too bad either; to date it has sold over 30 million copies."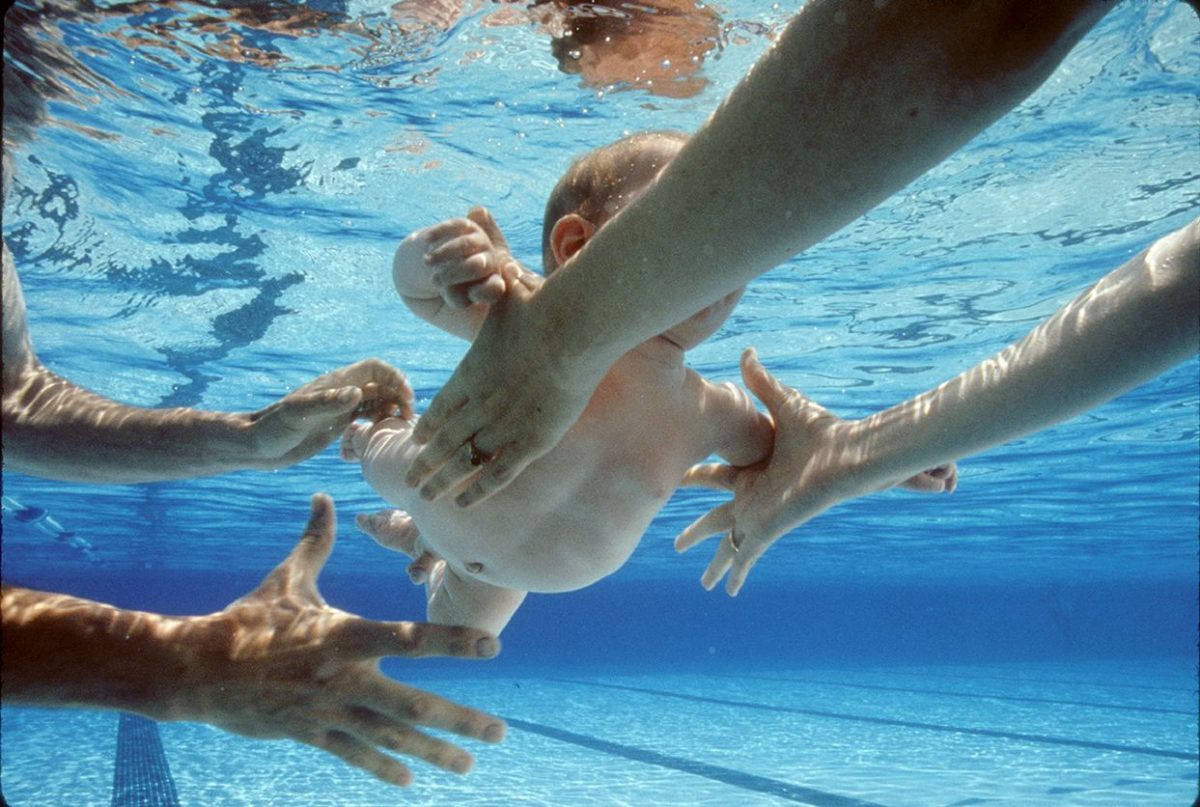 The naked baby boy in the Nirvana photos is Spencer Elden. His father Rick was friends with Kirk. Spencer now sports a large tattoo that says "Nevermind" on his chest. "[When] I go to a baseball game and think about it: 'Man, everybody at this baseball game has probably seen my little baby penis,'" says Elden in an interview with Time.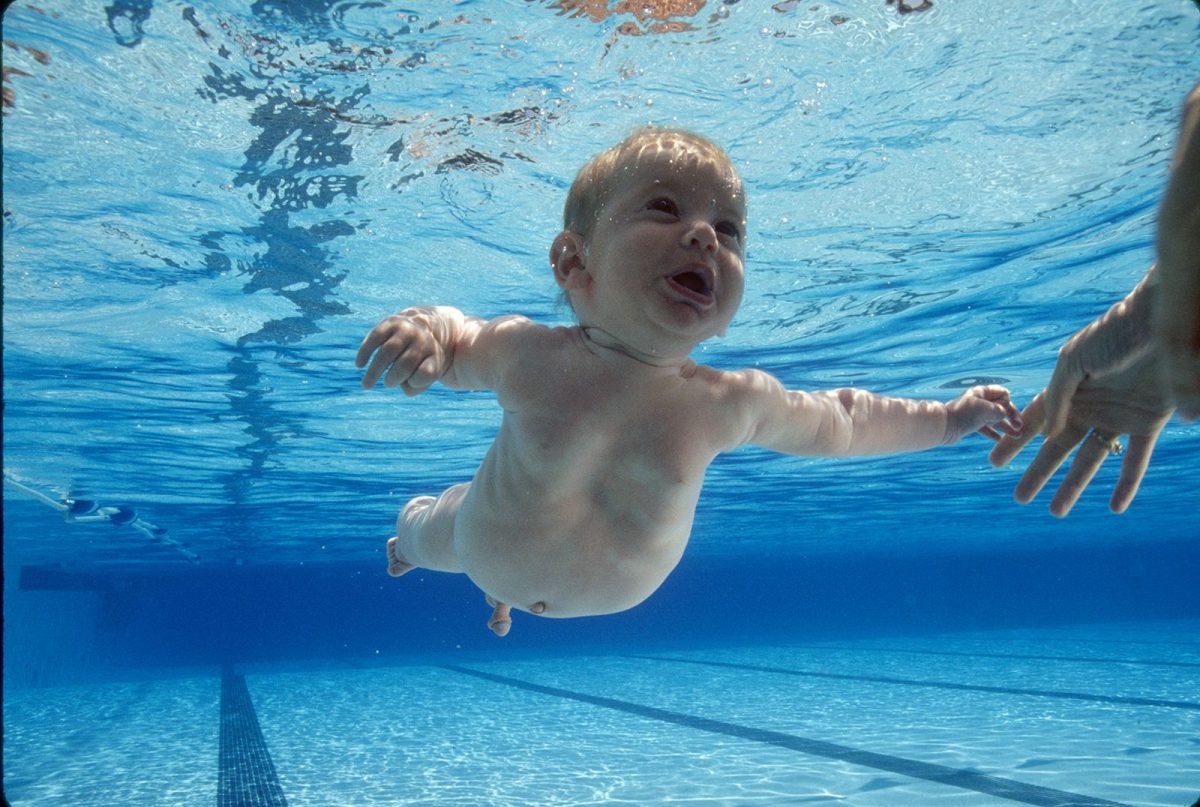 "[He] calls us up and was like, 'Hey Rick, wanna make 200 bucks and throw your kid in the drink?,'" Rick recounts. "I was like, 'What's up?' And he's like, 'Well, I'm shooting kids all this week, why don't you meet me at the Rose Bowl, throw your kid in the drink?' And we just had a big party at the pool, and no one had any idea what was going on!" …

Three months later, while driving down Sunset Blvd., the Elden family spotted a 9-foot-by-9-foot Spencer floating across Tower Records' wall. Two months later, Geffen Records sent 1-year-old Spencer Elden a platinum album and a teddy bear.