Meet the early Fauves.
They were called Les Nabis. A bunch of artists who bridged the gap between Impressionism and early Modern 20th-Century art. You know the kind of stuff: Fauvism, Cubism, even Art-Deco, almost up-as-far-as Abstract Expressionism – but that came much later.
Les Nabis (the Prophets) was a club of artists including Pierre Bonnard, Maurice Denis, Paul Ranson, Édouard Vuillard, Ker-Xavier Roussel, Félix Vallotton, Paul Sérusier and Auguste Cazalis. Some these names are now well-known. Some not so-much.
Paul Ranson (1864-1909) is one of the lesser-known names when compared to Bonnard or Vuillard. But Ranson was, at one time, considered 'a Prophet' and 'a Seer' and was painted as such by Paul Sérusier. Sérusier is another talent lost among the quick-change artists of the 20th-century like Picasso, Matisse, Dali and alike. Sometimes success depends as much on longevity as talent.
Ranson's mother died in childbirth. He was raised and educated by his grandparents. His grandfather was a twice-elected mayor of Limoges. Raised in a comfortable middle-class family, Ranson grew-up with a sense whatever he did or thought had more merit than anyone else. He enrolled at the École des Beaux-Arts Appliqués à l'Industrie in 1877. As you do. Ranson had talent but not inordinately so. But as a thirteen-year-old kid, he was proficient enough to impress his tutors. Ranson moved onto the École Nationale Supérieure des Arts Décoratifs, before transferring to the Académie Julian. By now, he had developed his promise into a working potential and the possibility of great art.
In 1888, Ranson was one of the five founding members of Les Nabis. The group met regularly. They dabbled with the occult and with any new fashionable idea. Ranson carried a shepherd's crook or sceptre carved with a symbol a snake for wisdom and a pentagram for the power of the occult. Meeting began with an invocation:
Sounds, colours, and words have a miraculously expressive power beyond all representation and even beyond the literal meaning of the words.
The artists took their influences from Paul Gauguin, Japanese art, the Symbolists, Impressionism, and the dark tastes of the Decadents. They pioneered the use of colour and bold graphic line. Some of Ranson's works like Witches Around the Fire (1891) anticipated (and I would say influenced) artists like Henri Matisse.
Ranson and his fellow Nabis believed art worked best when the artist imposed his/her personality on the picture. This was achieved by altering the subject matter by use of colour and line (or shape). Ranson's work was often decorative in style, graphic in line. But while his fellow artists followed paths into colour and form, Ranson began painting more anti-clerical, irreligious, what you may call pagan and occult-inspired paintings.
He had married his first cousin, Marie-France Rousseau, in 1884. She was his model and greatest influence. When she became pregnant in 1898, Ranson rued her loss to motherhood. He fell ill and his health failed. He died in 1909 from typhoid fever.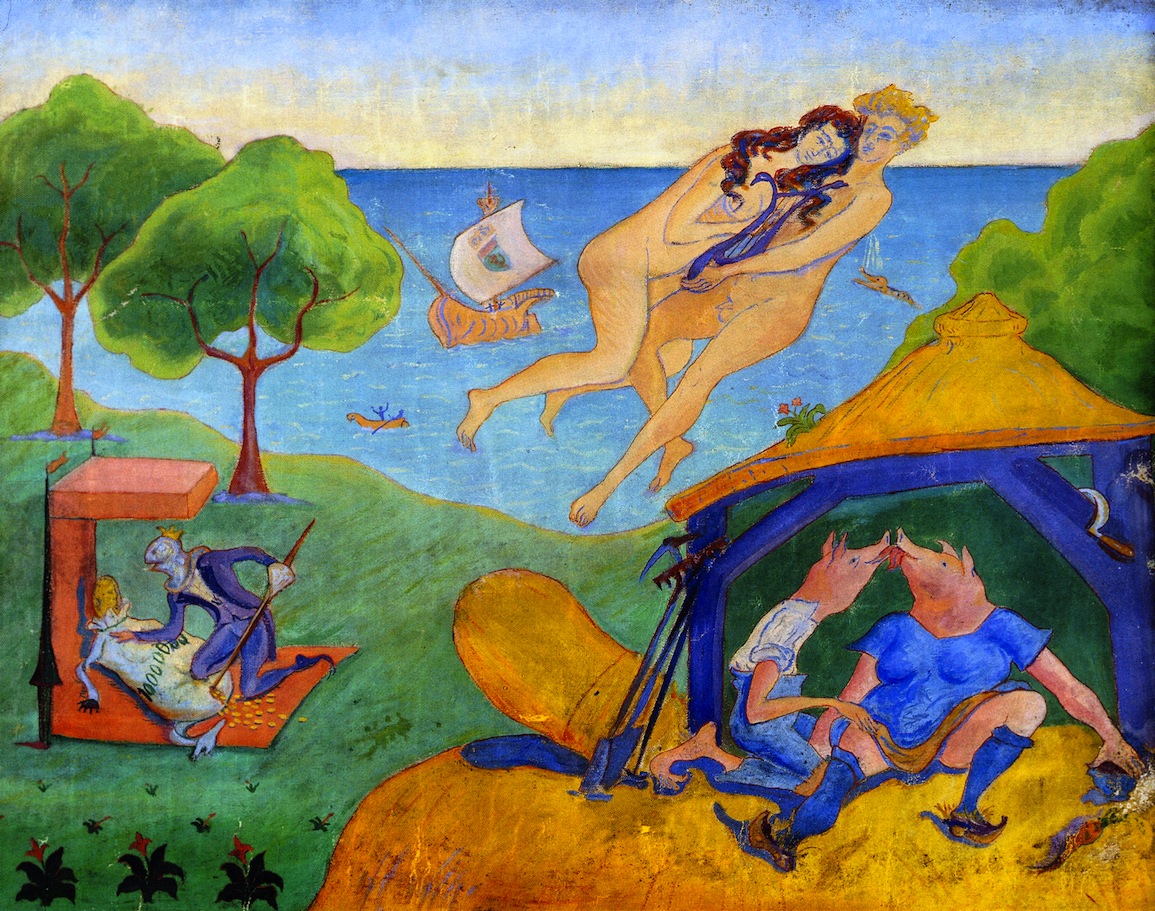 H/T Monster Brains and Dangerous Minds.