In our previous girlie magazine post I promised that I'd continue with the alphabetical gallery of adult reads if the response was good.  Well, (big surprise) it was a sufficiently popular article to warrant a sequel.  I give you-  French through Gypsy!
The Letter "F"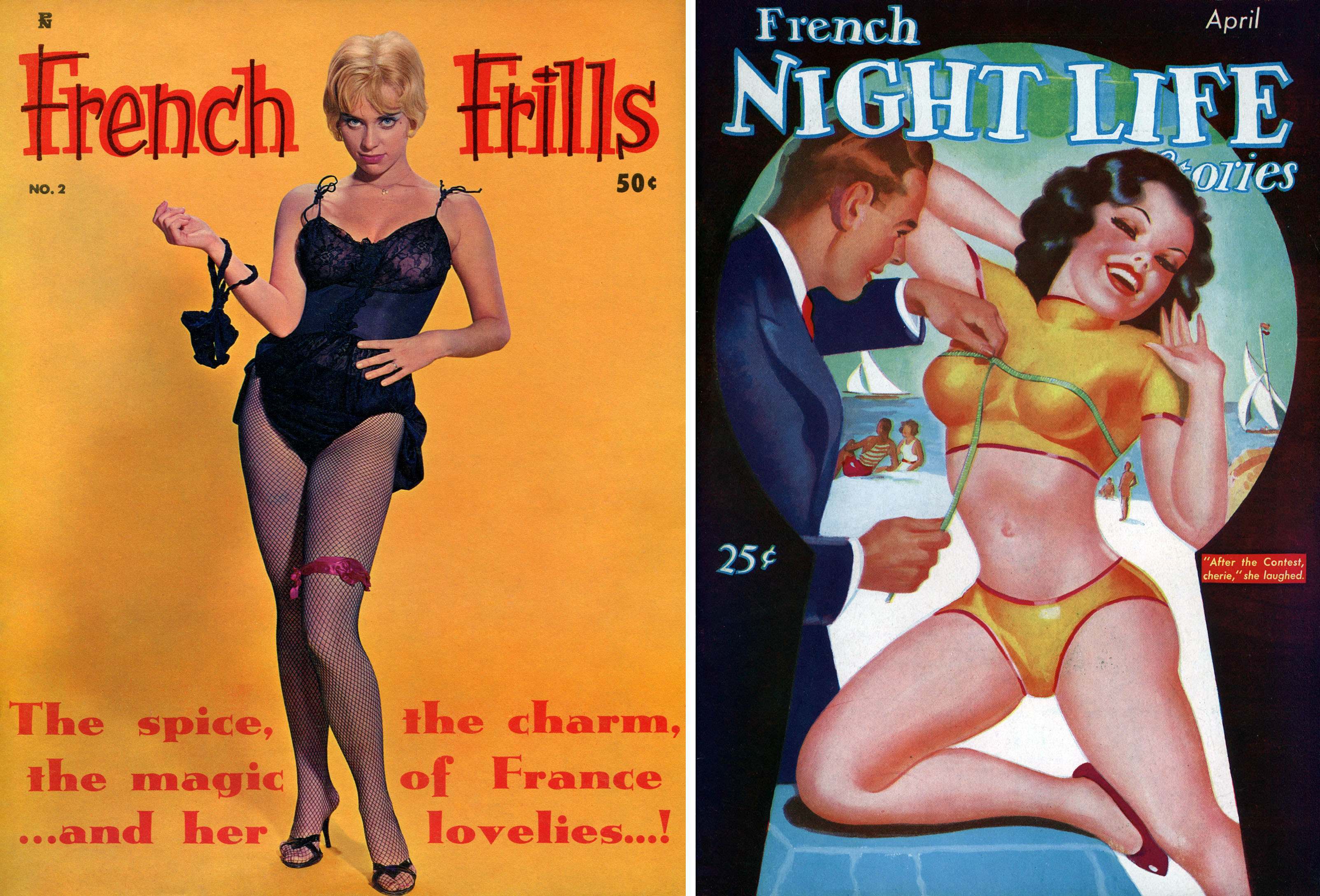 FRENCH FRILLS – To mid-century Americans, France was a land of sexual liberation.  America was conservative and stifled; France was sexually liberated and hedonistic… at least that's how the girlie magazines spun it.
FRENCH NIGHT LIFE STORIES – She is getting way too much pleasure from a measurement.  Like I just said – things were stifled.  The slightest touch could send you into full orgasm.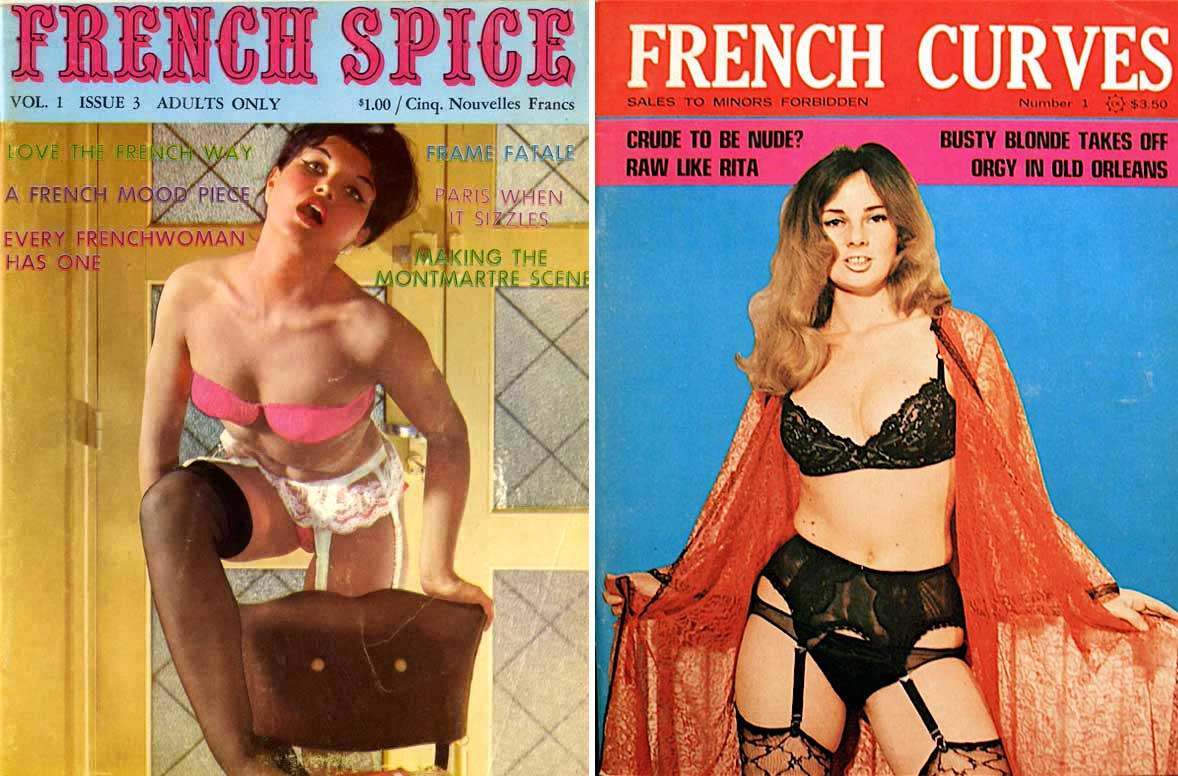 FRENCH SPICE – You wouldn't want to use these spices in your Rouille
FRENCH CURVES – Yep, the "French" thing was definitely overplayed.  Let's move on…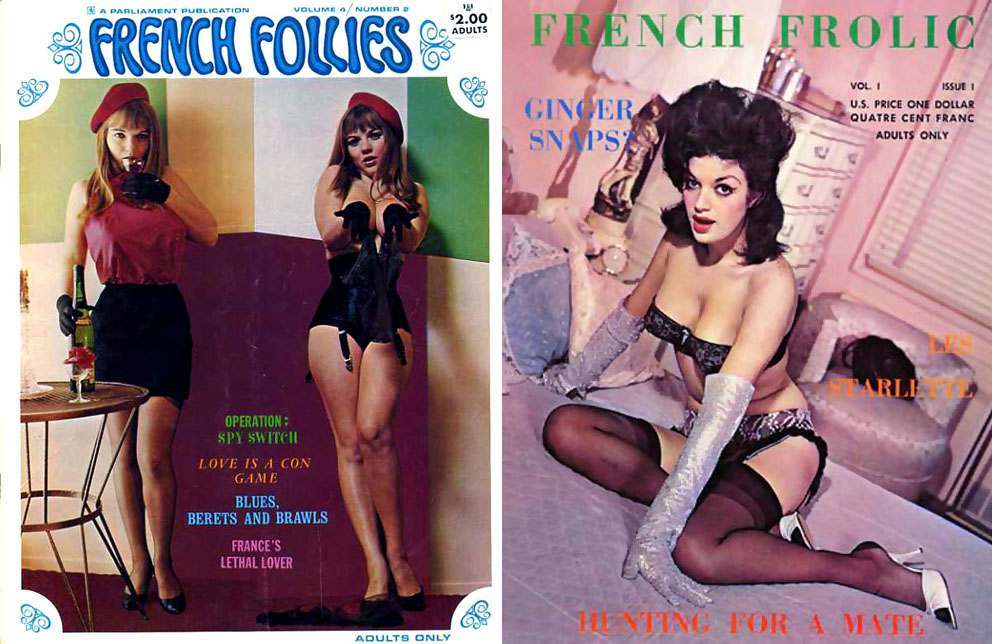 FRENCH FOLLIES – More France-envy
FRENCH FROLICS – You'll note there's no Poland Spice or Bulgarian Follies magazines.  France had the market cornered on naughty nation-states.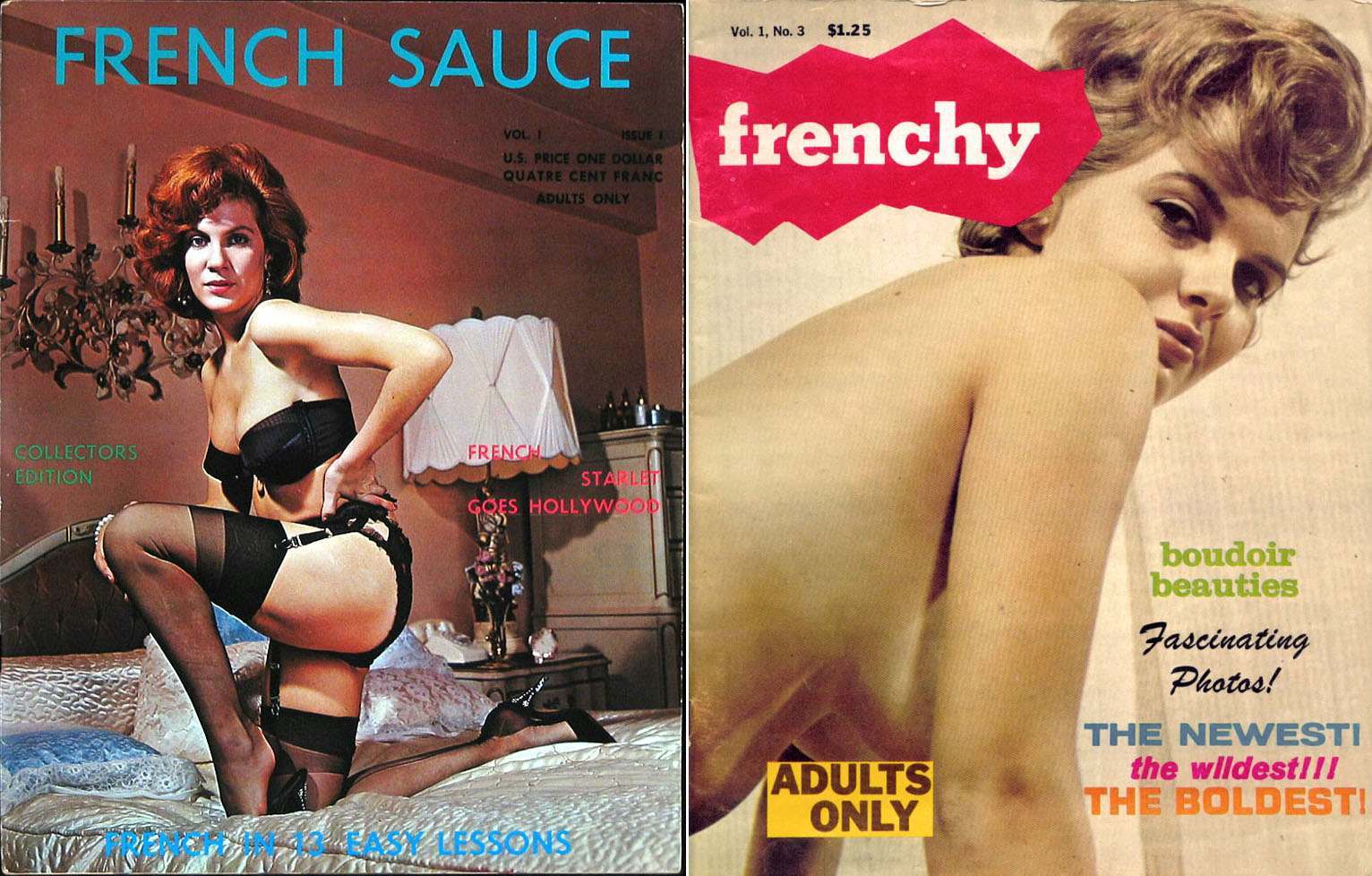 FRENCH SAUCE – Not a book about Bechamel.
FRENCHY – We've at last reached the end of the French schtick.  I promise you – there were many more.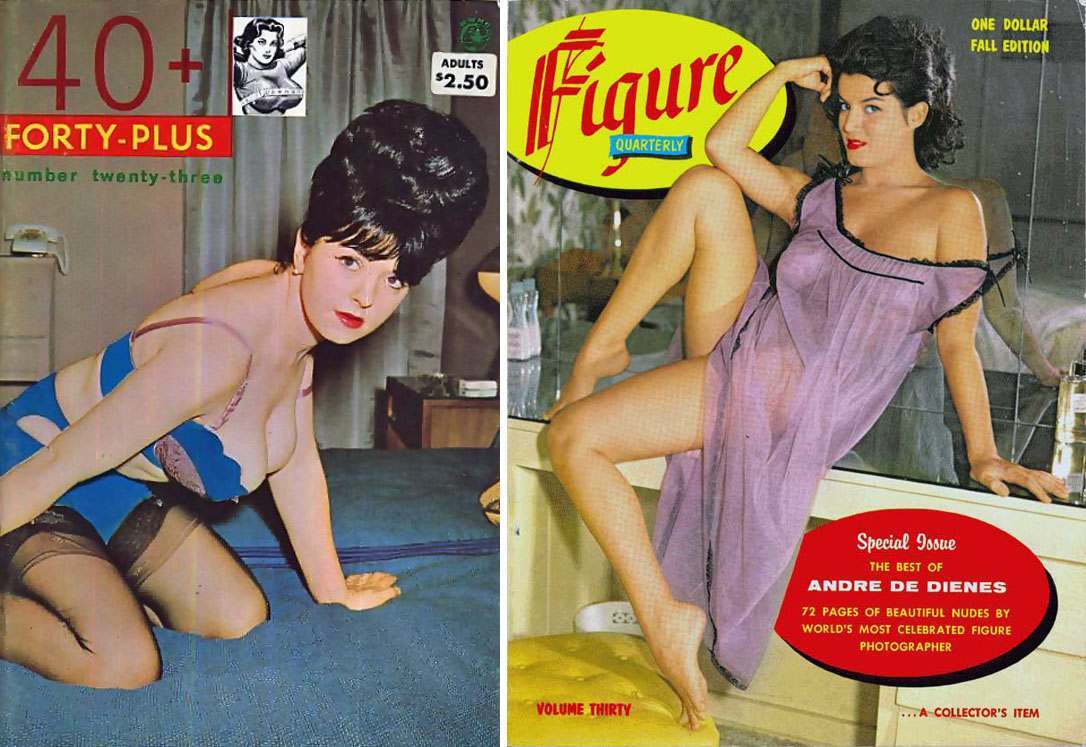 FORTY PLUS – Note that there's an illustration  insert of a woman's bust being measured – just in case you thought this magazine might be about women over forty.  (Although, I'm not convinced it's really not about hairdos over 40 inches.)
FIGURE QUARTERLY – A sad, sad pretence that the magazine was REALLY about photography… at least that's what you could tell the wife.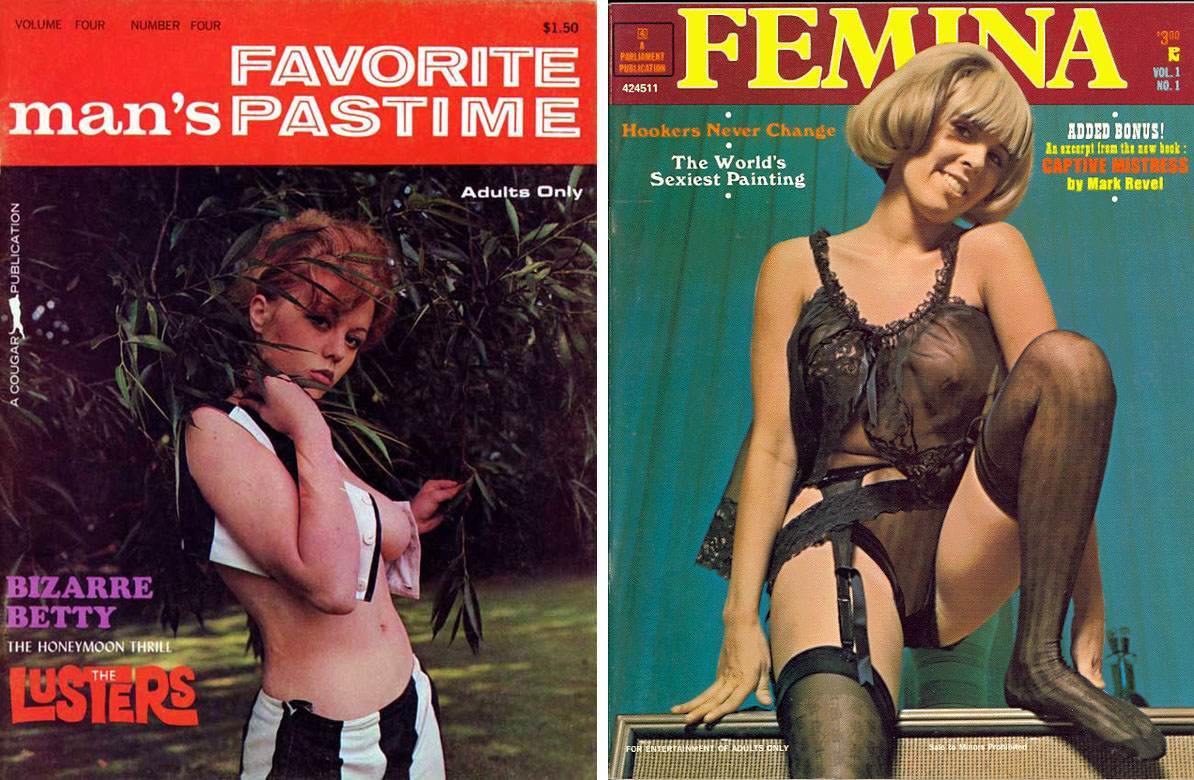 FAVORITE MAN'S PASTIME – Finally, a magazine about watching sports while eating nachos.
FEMINA – "Hookers Never Change".   Yes, they're always about sex and money – why can't they sometimes just let their winning personalities shine?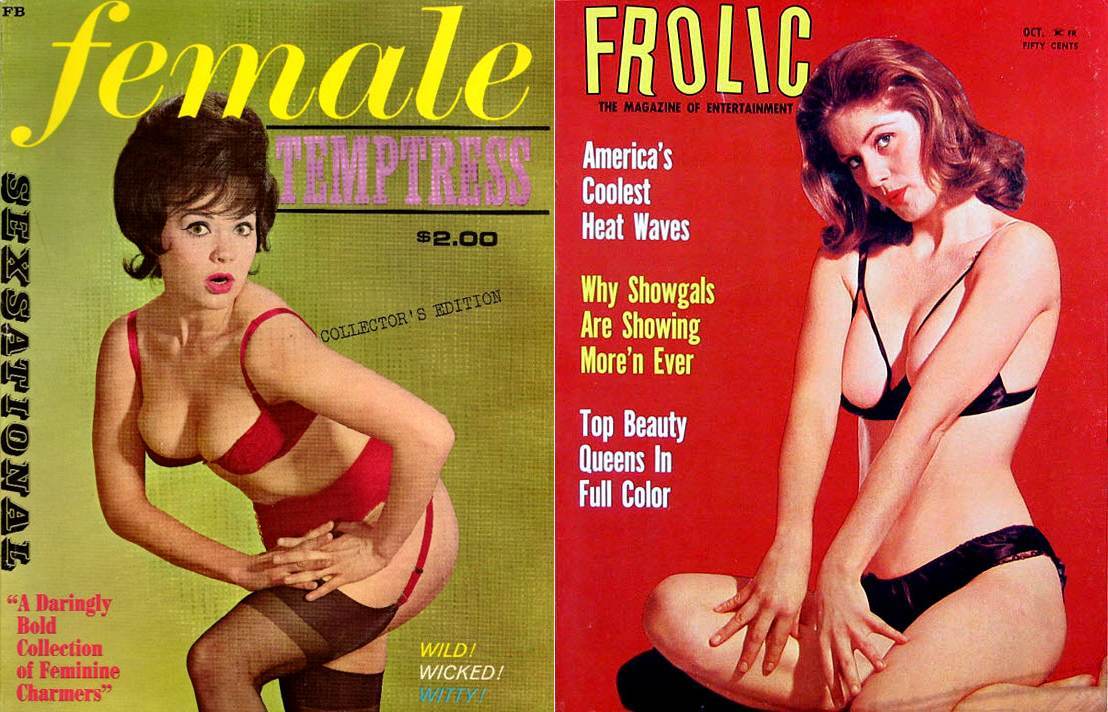 FEMALE TEMPTRESS – This one's a "collector's edition"… I'm guessing because of an extra supply of "feminine charmers"?
FROLIC – Most of these magazines were flash-in-the-pans, only lasting a few issues.  Frolic actually was quite successful until things got graphic.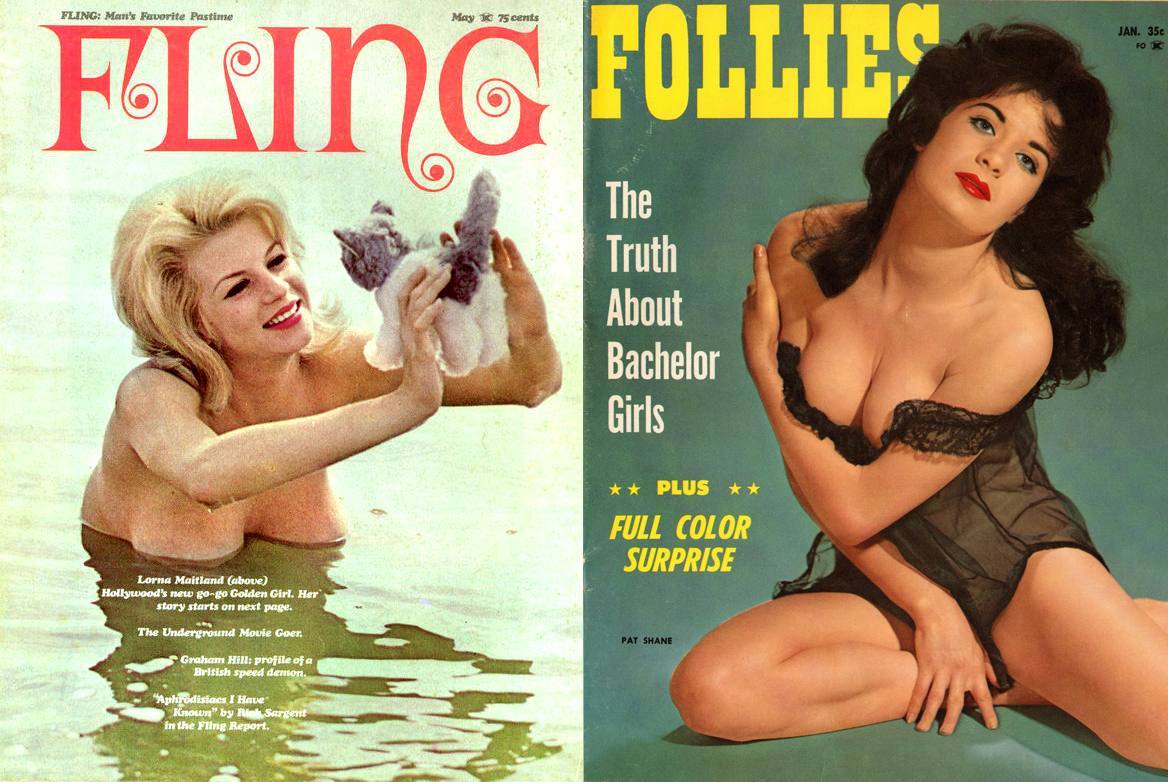 FLING – A magazine about skinny dipping with your plush toys – admittedly, a niche market.
FOLLIES – Boy will they be disappointed to find that the "full color surprise" is a map of Belgium.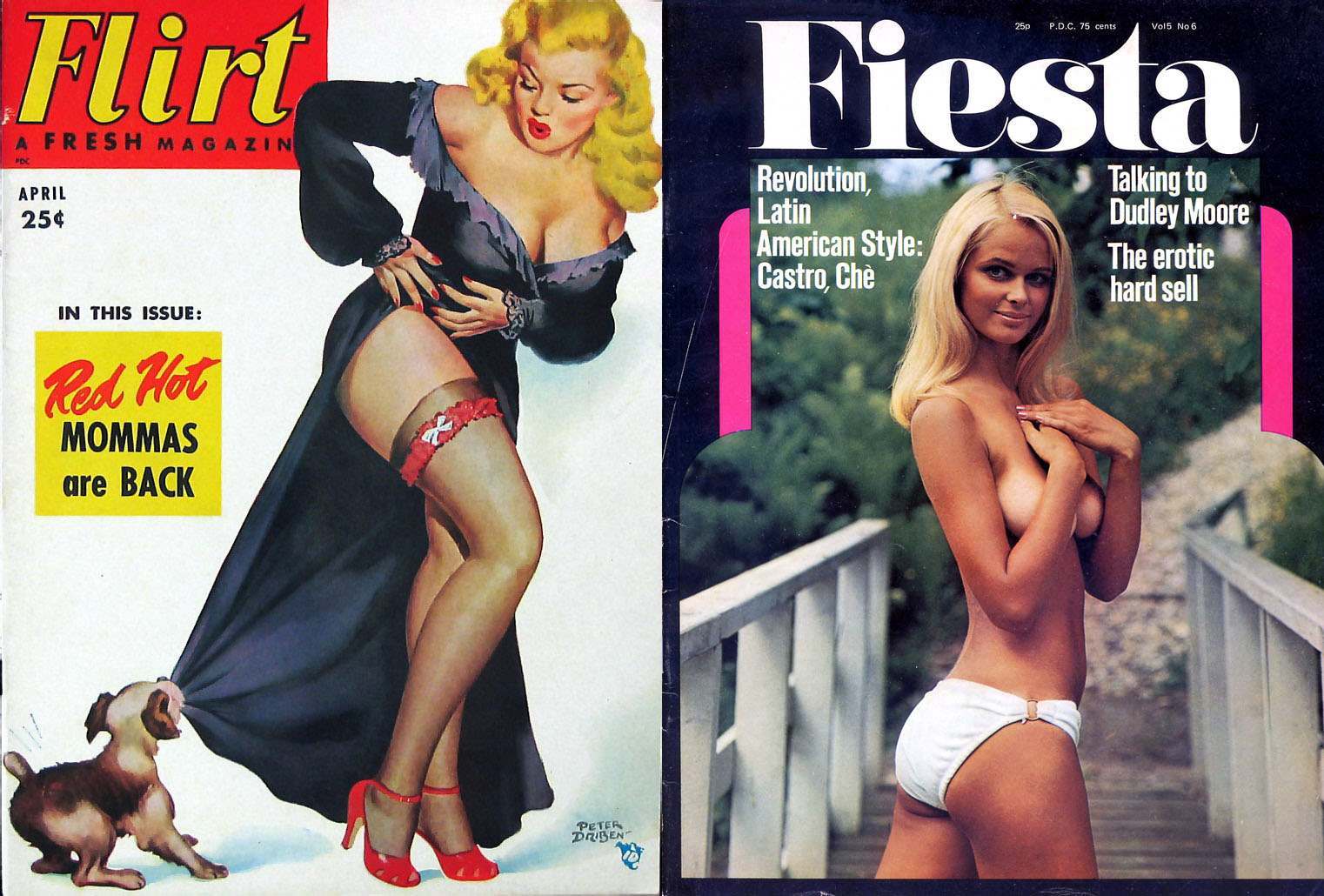 FLIRT –  That dog is an annoying dick.  She should definitely consider putting those red heels to good use.
FIESTA – "Talking to Dudley Moore"… not exactly titillating.  Fiesta could take a lesson from Flirt's "Red Hot Mamas Are Back"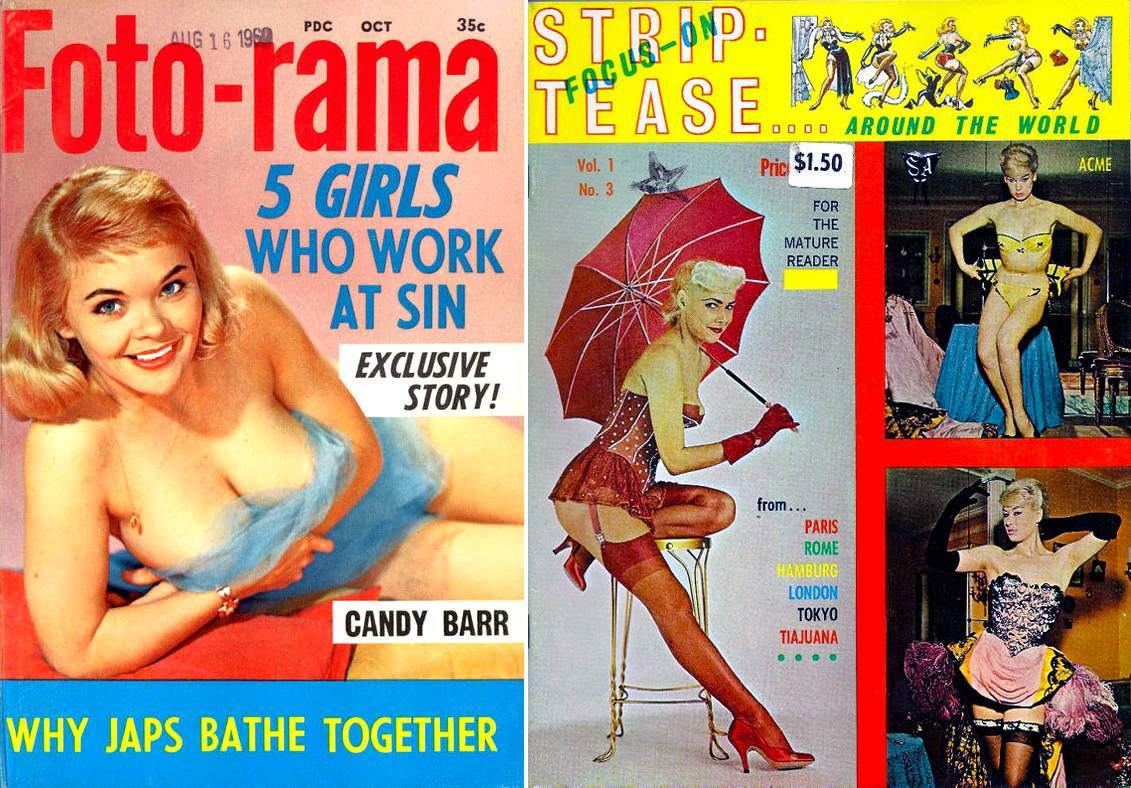 FOTO-RAMA – "Why Japs Bathe Together"…. just no comment.
FOCUS ON STRIPTEASE – "Paris, Rome, Hamburg, London, Tokyo, Tiajuana"…… er, um that last city has some striptease acts you may want to brace yourself for.  I won't elaborate.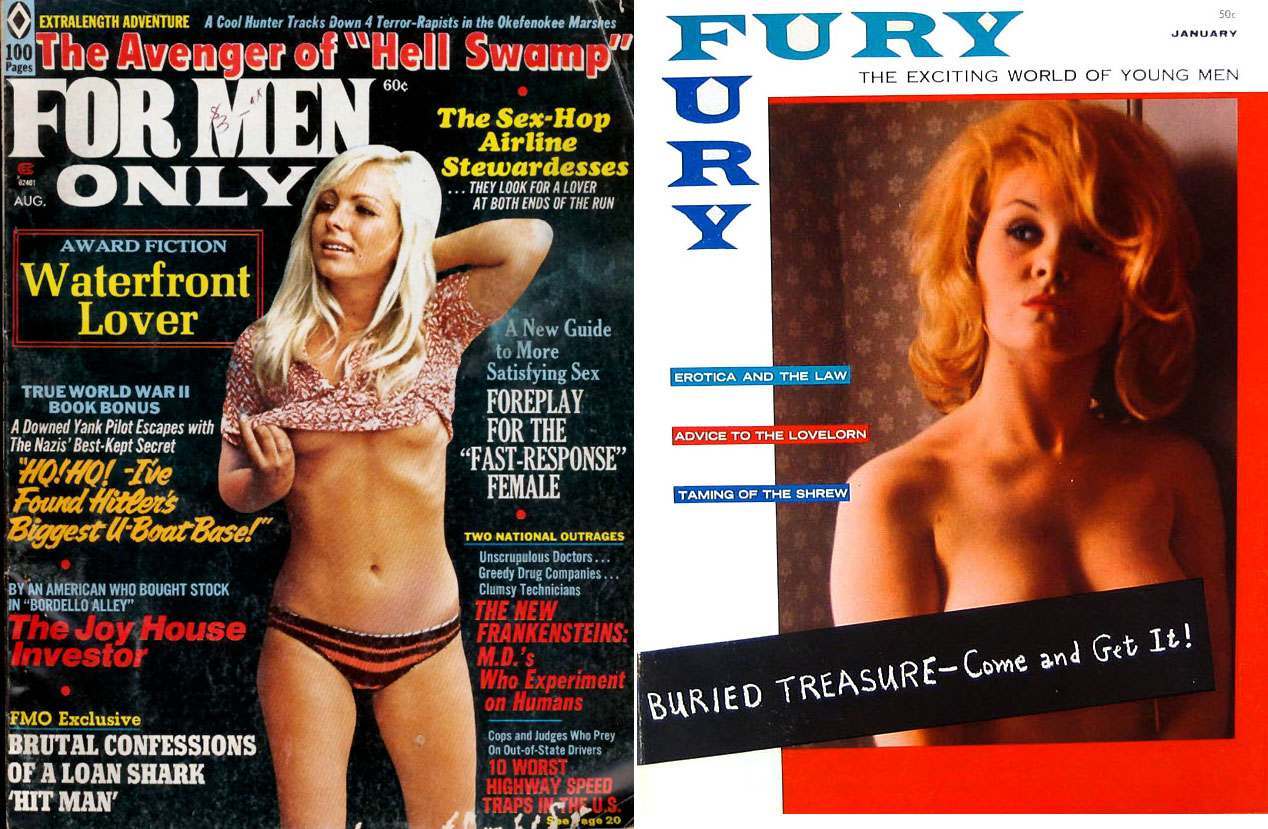 FOR MEN ONLY – This, like so many other girlie mags, started as a men's action magazine, but transitioned once that pulp tradition fell out of favor.
FURY – "Taming of the Shrew" – Every once and a while these girlie magazines would slip in something from the 1590s.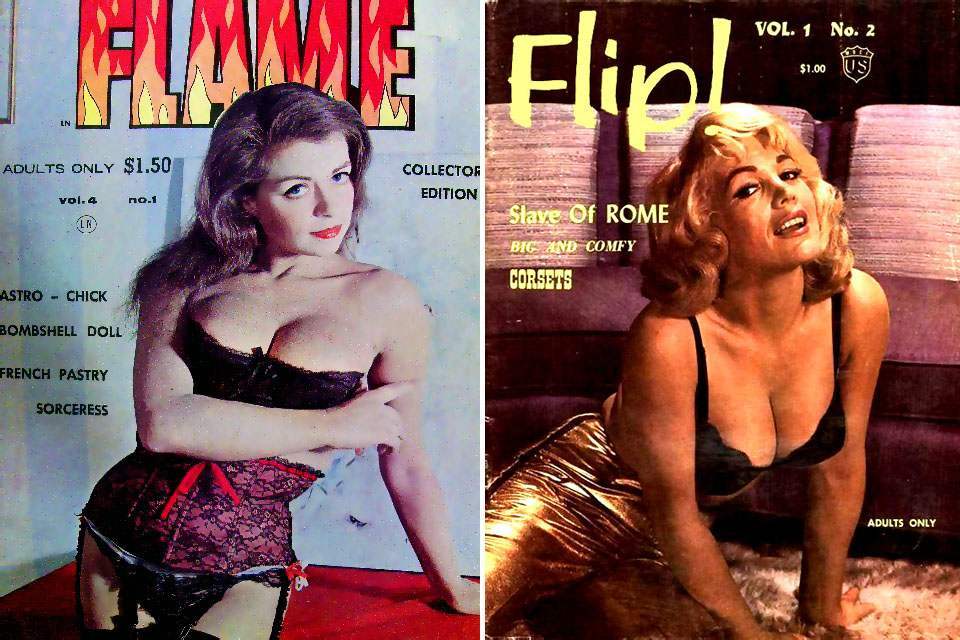 FLAME – Awesome cover stories: "Astro chick, bombshell doll, French pastry, sorceress"… compare that to the next one….
FLIP! – "Big and Comfy, Corsets"  (okay, "Slave of Rome" isn't too shabby)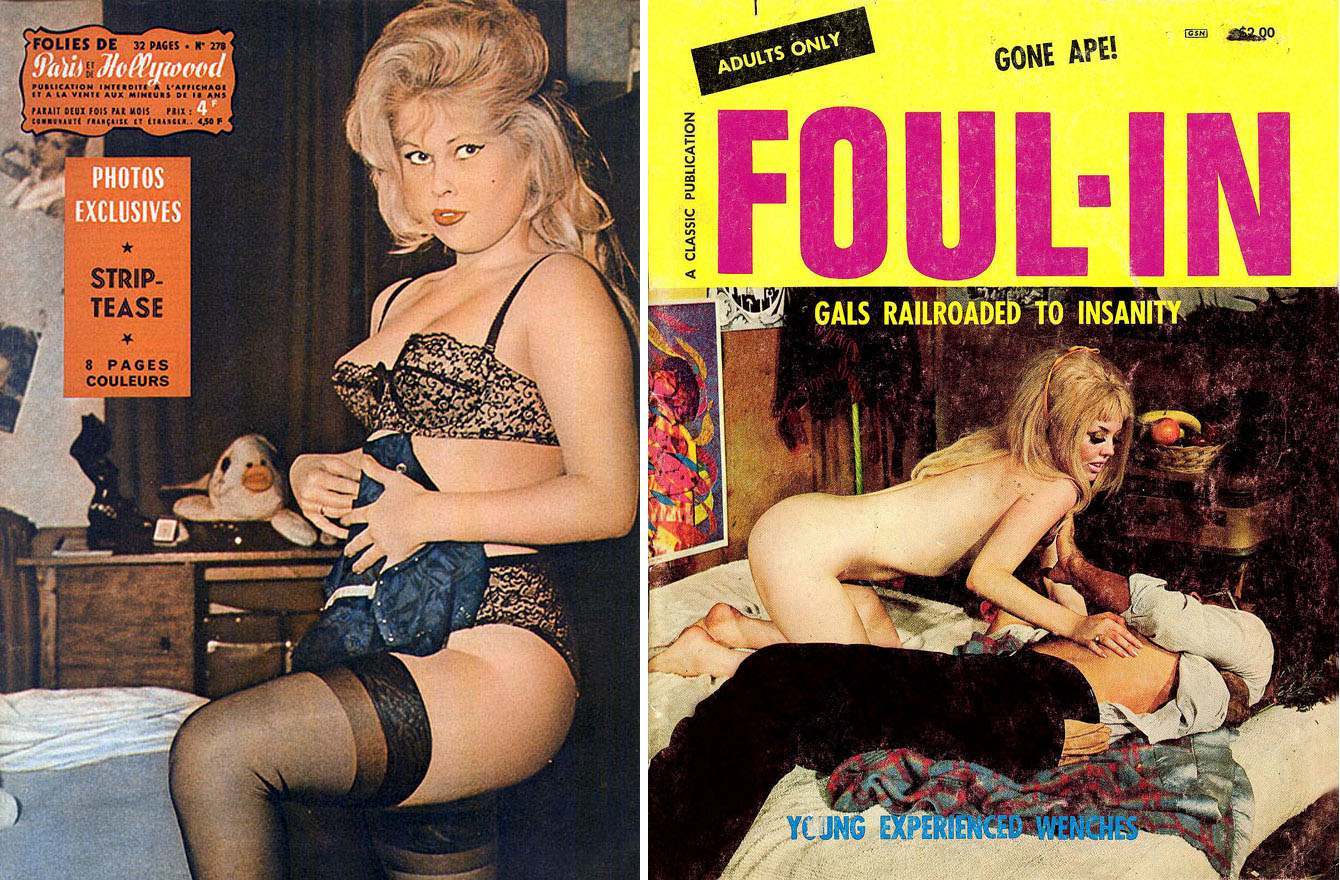 FOLIES DE PARIS ET DE HOLLYWOOD – What sort of creature is that on her nightstand?  A manatee? It's sort of detracting from the moment.
FOUL-IN – Just a piece of advice – I wouldn't eat any of that fruit.  (In fact, if you touch the fruit, I'd recommend you disinfect immediately.)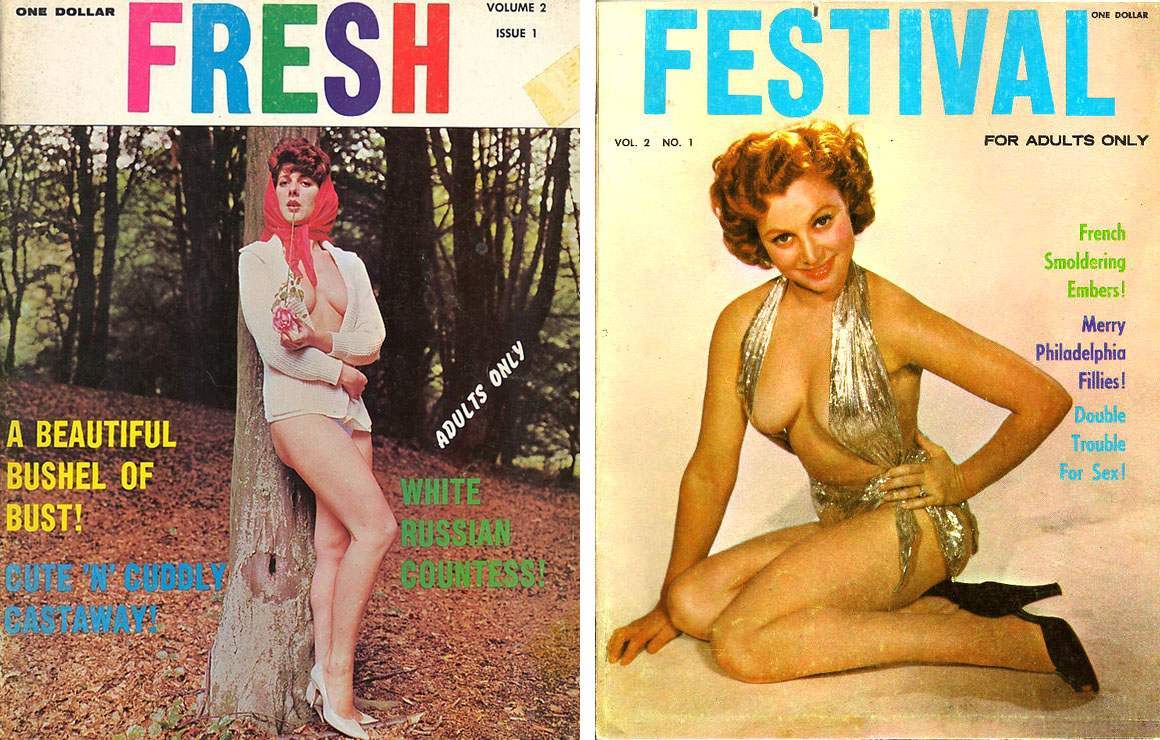 FRESH – Did they have to pick the tree with a knothole like that?
FESTIVAL – I'd be more interested in a Festivus magazine, full of full color pictures of unadorned aluminum poles and stories of the "Airing of Grievances" and "Feats of Strength".
The Letter "G"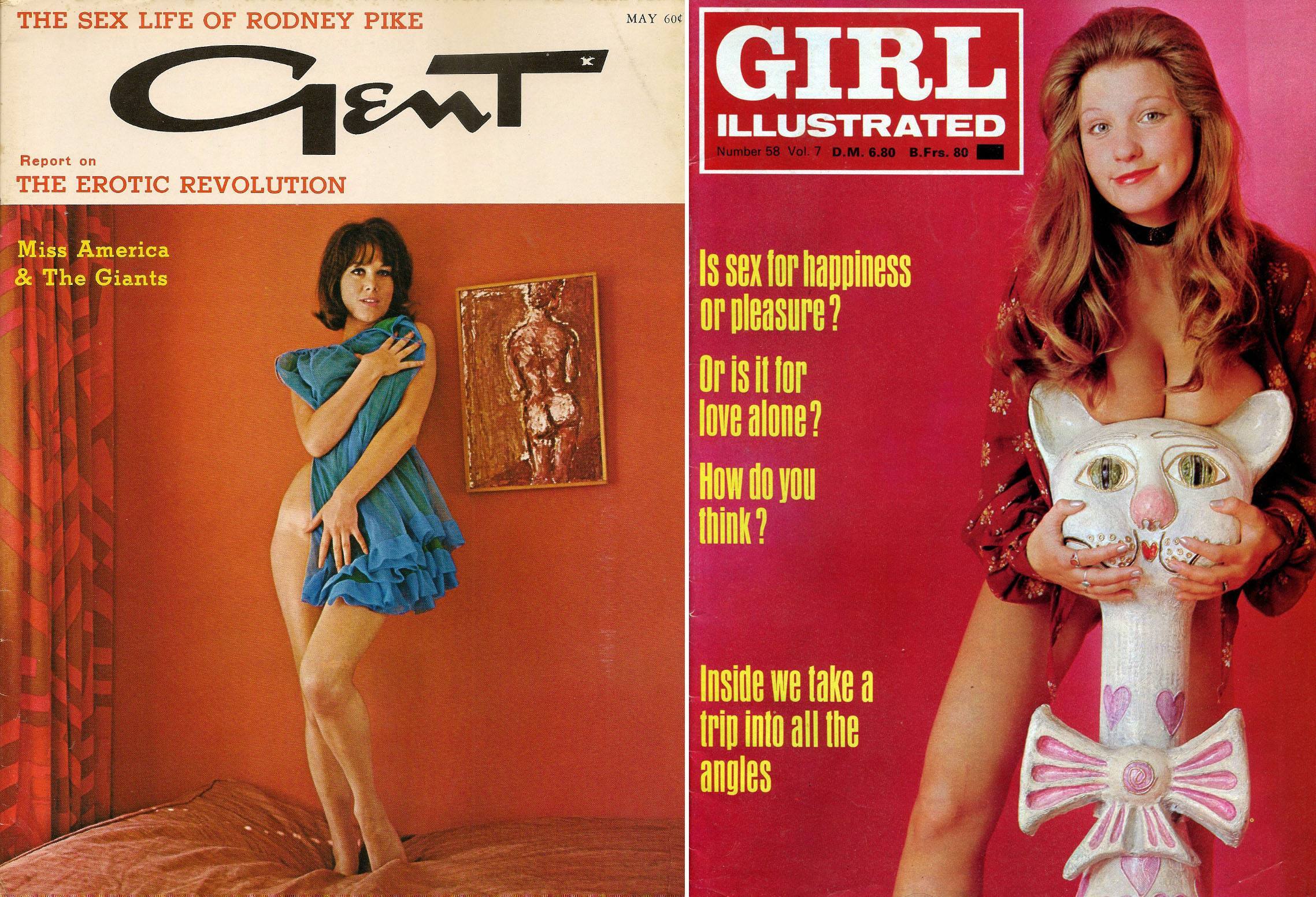 GENT – This girl is doing it right – covering up seductively with her nighty.
GIRL ILLUSTRATED – …. and this girl is doing it wrong – covering up awkwardly with a freakish statue.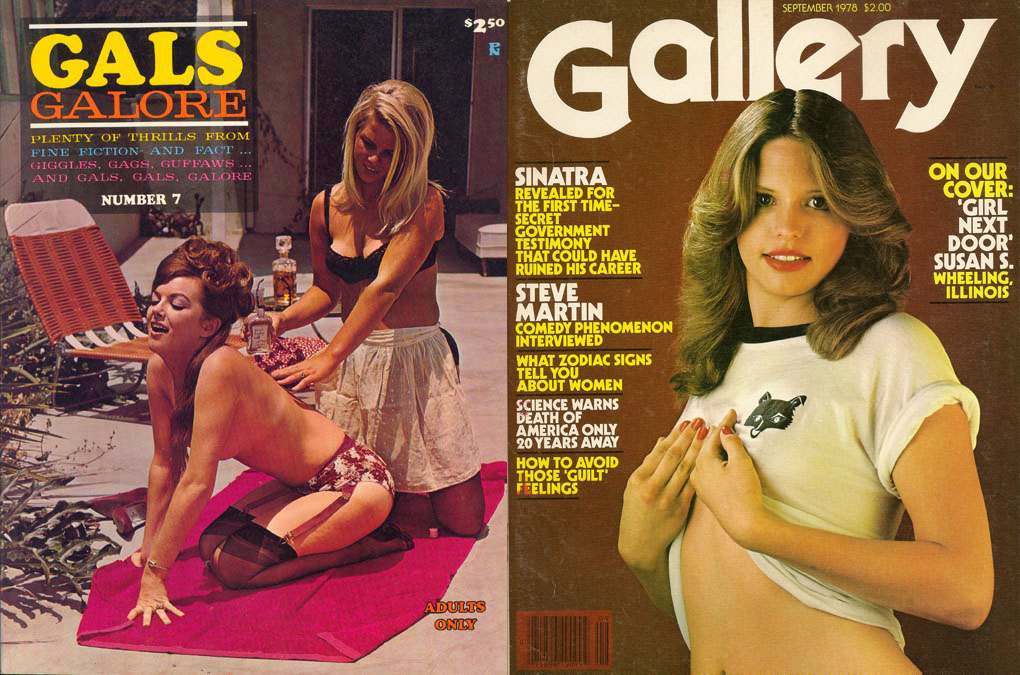 GALS GALORE – This erotic treasure promises "giggles, gags, guffaws", because a skin rag just isn't worth the money without guffaws.
GALLERY – "How to Avoid Those 'Guilt Feelings" – basically the quest of the entire decade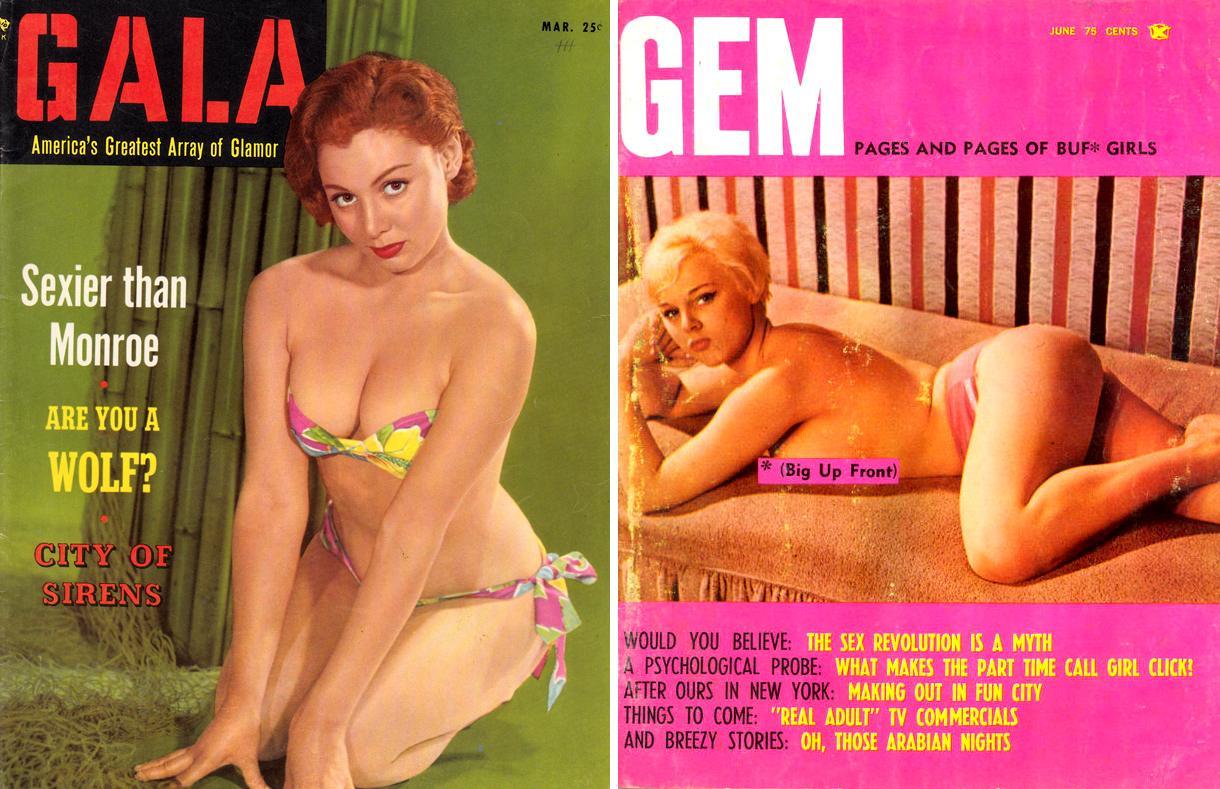 GALA – "City of Sirens"  – a story about Camden, New Jersey?   Oh, they're not talking about police sirens.
GEM – "Pages and Pages of BUF* Girls"  (BUF = Big Ugly Fella)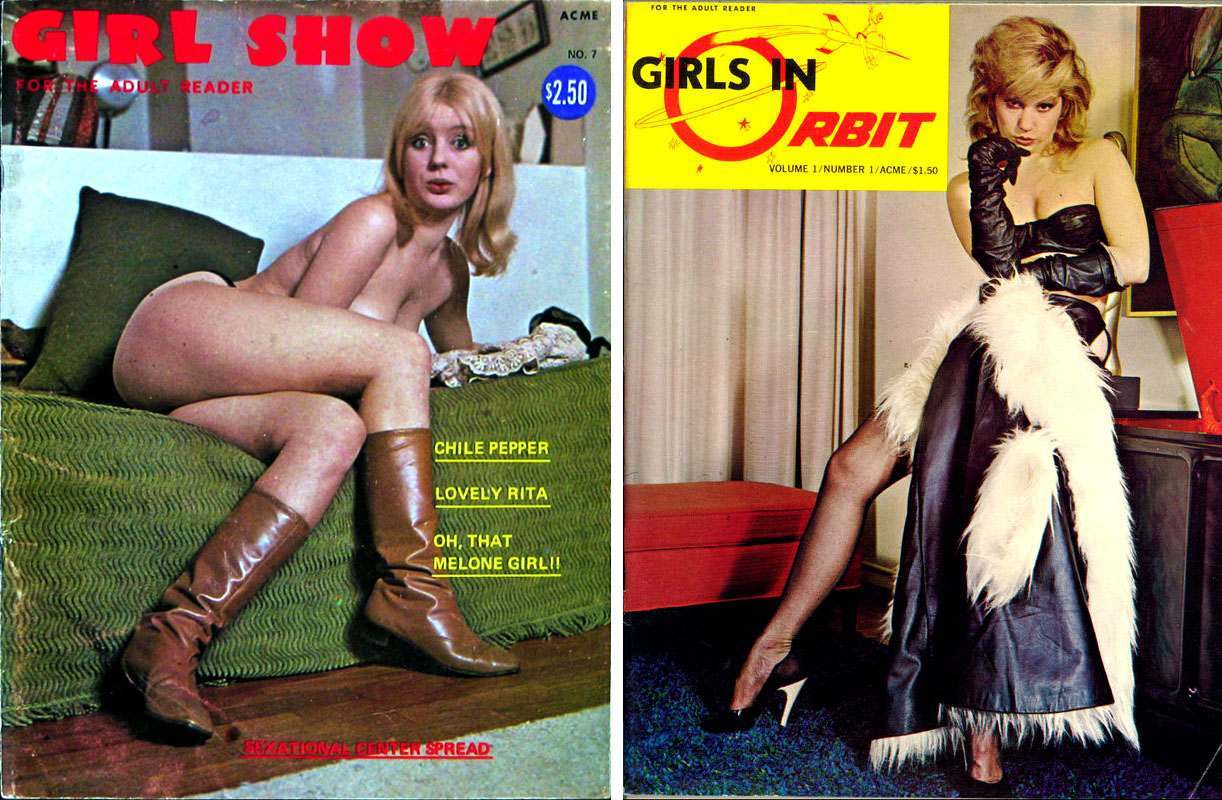 GIRL SHOW – I'm anxious to read about Lovely Rita and, oh, that Melone girl (a total bitch).
GIRLS IN ORBIT -And by "orbit" I assume they mean drab living rooms.  A sci-fi girlie mag would've been so cool.
GLAMOUR PHOTOGRAPHY – Do these girls not find his photography even a little bit creepy?
GLAMOR PARADE – "Around the World on a G-String" sounds like a reality show I'd actually watch.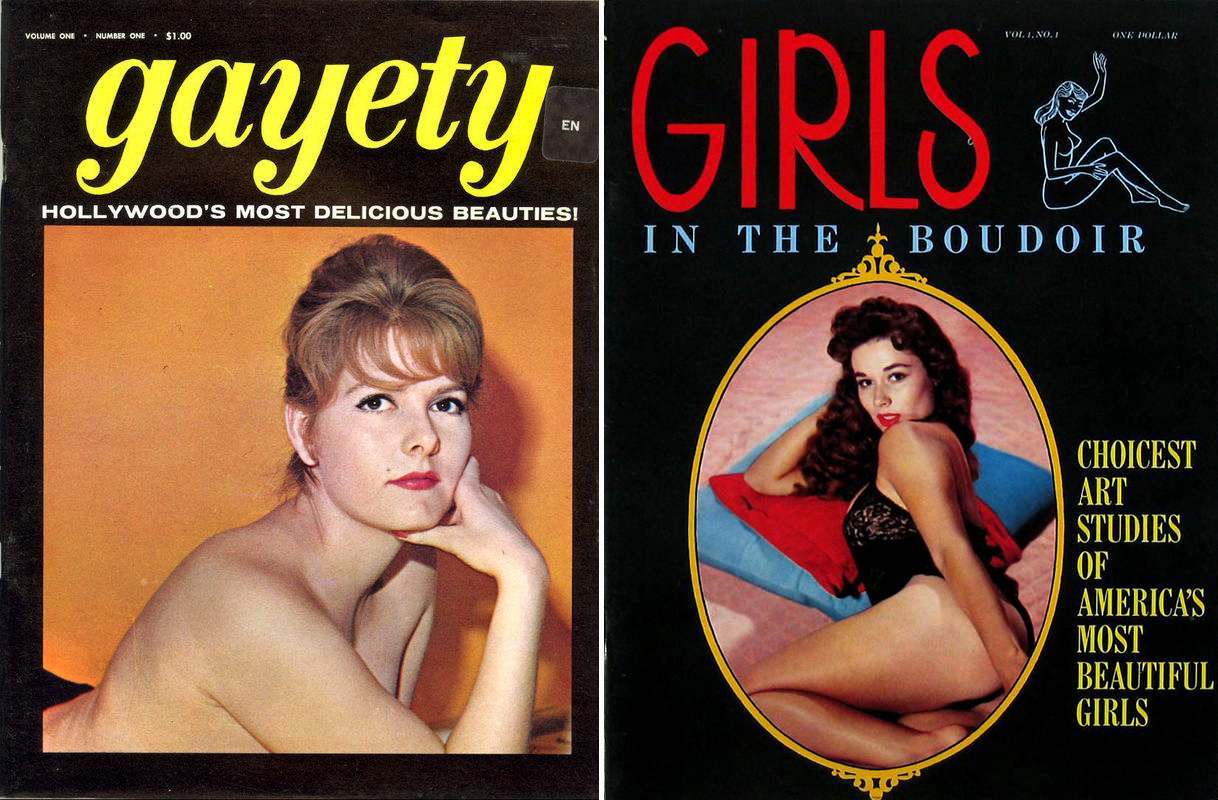 GAYETY – For a magazine with this title, they put this sourpuss on the cover?
GIRLS IN THE BOUDOIR –  "Art Studies" my ass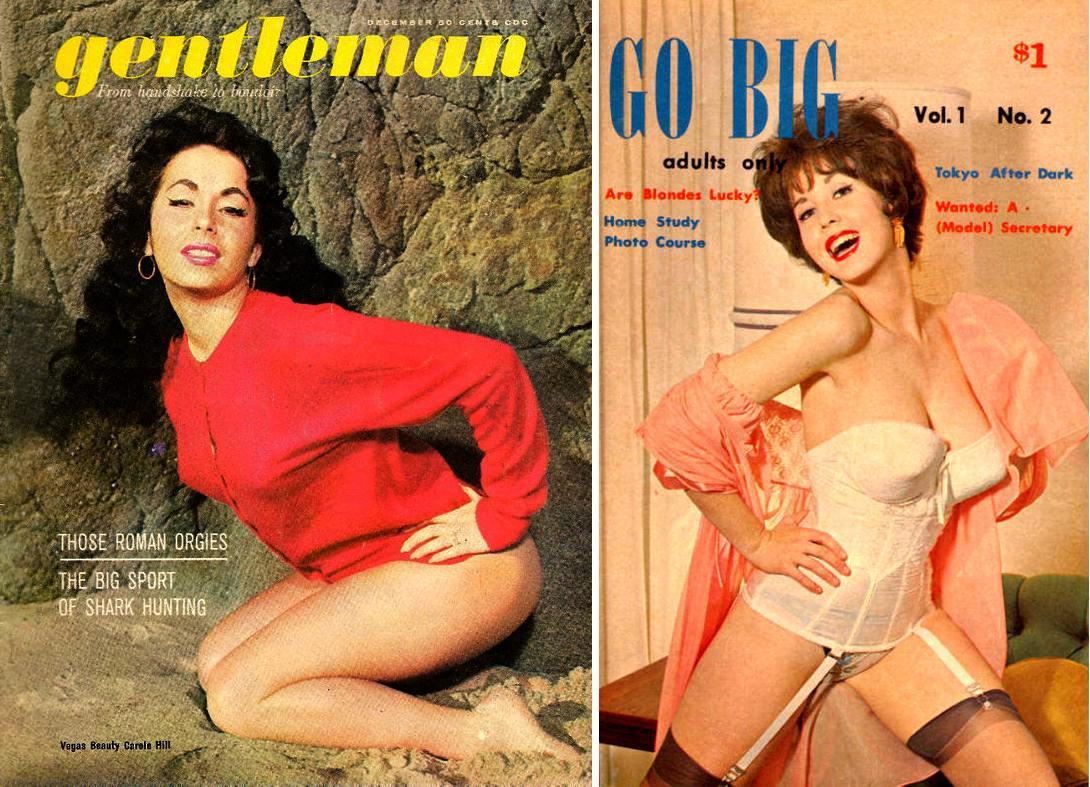 GENTLEMAN – "From Handshake to Boudoir" – an odd subtitle for a magazine if there ever was one.
GO BIG –  Yeeeah boii, we should go hella big cuz!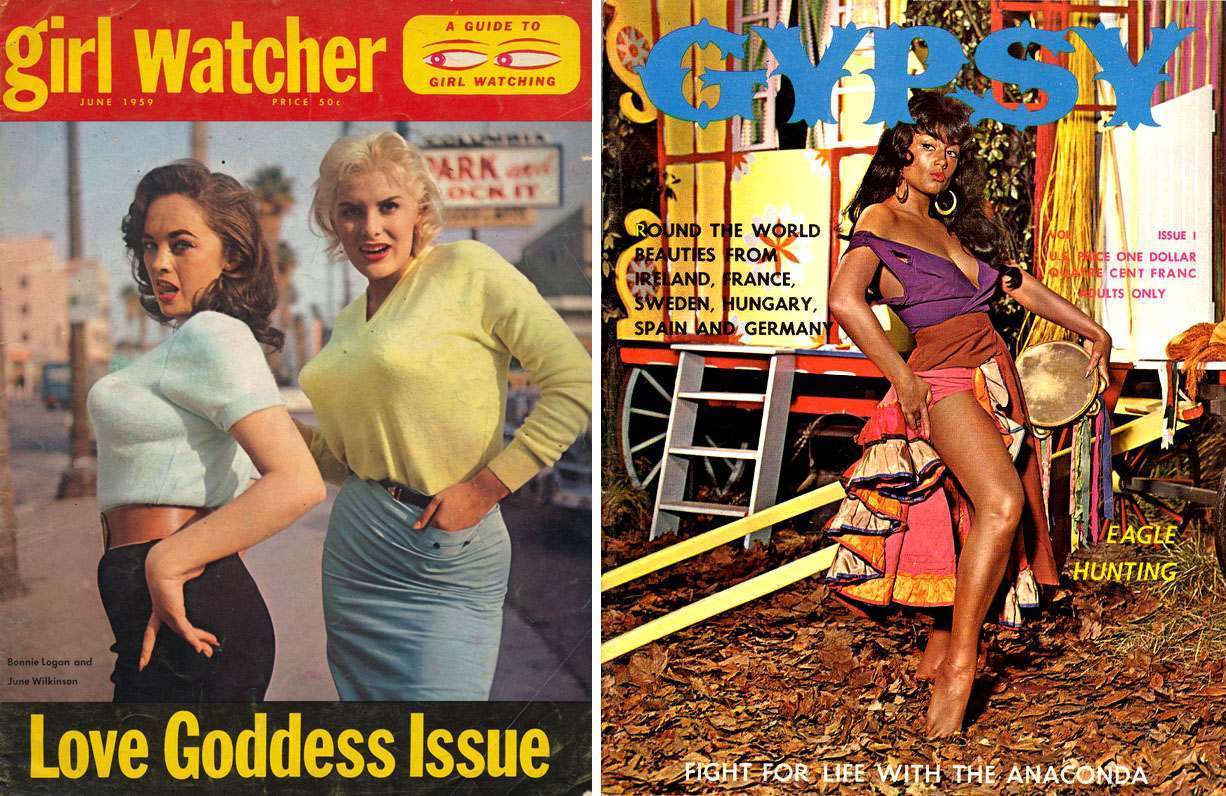 GIRL WATCHER- I think these "girls" are onto your little girl watching game… and they are strutting it like there is no tomorrow.  A bit creepy, but that's quite alright.
GYPSY – Contains such informative guides as "Eagle Hunting" (I hope there's a section on escape techniques for federal prisons).