How many adult magazines (AKA girlie mags, skin rags) were there in the 1950s and 1960s?  I'll wager most people today could name Playboy and that's it.  After all, these were "conservative" days before the counter-culture movement did away with those pesky mid-century taboos.  There couldn't possibly have been more than a few illicit periodicals back then, right?
Wrong.  The 1950s and 60s were positively overflowing with skin rags.  I couldn't begin to count them all, they were so plentiful.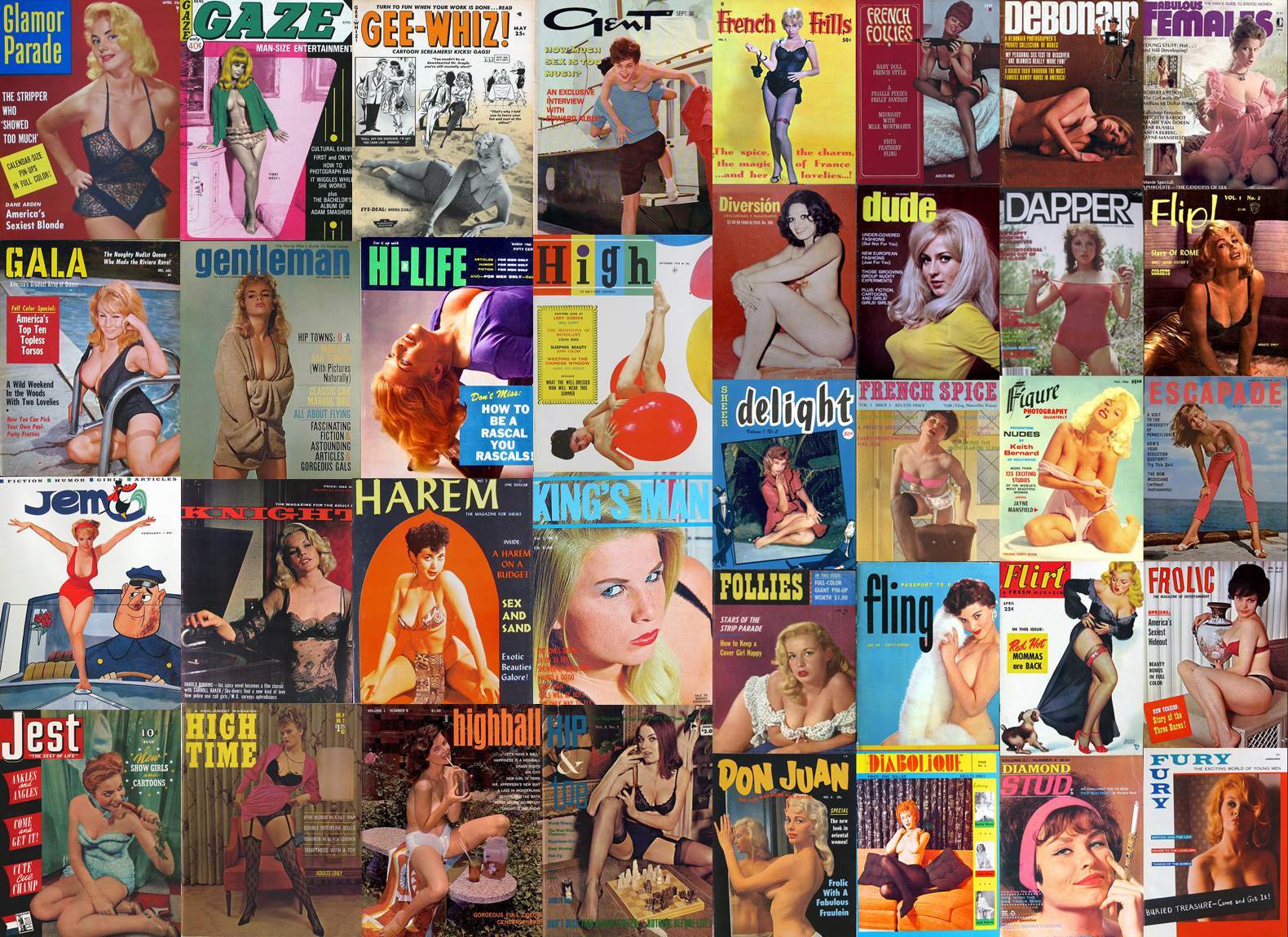 Sure, things got sleazier in the 70s, when basically all restrictions were eliminated, and magazines like Hustler drove the limits of bad taste straight into the sewer.  However, the 50s/60s were, without question, the Golden Era of the Girlie Magazine: they weren't as explicit, but they were plentiful, diverse, and (yes, I'll say it) better quality.
The paper quality was poor, with most of these rags printed on crummy B&W pulp.  However, they truly were a better read.  It's become a joke to say you read Playboy for the articles; however, back then, the articles were often well-written (with big-name authors contributing, since there wasn't the stigma there is today).  By the time the notorious Pubic Wars rolled around in the 1970s, the articles were almost irrelevant compared to the glossy pictures of x-rated anatomy.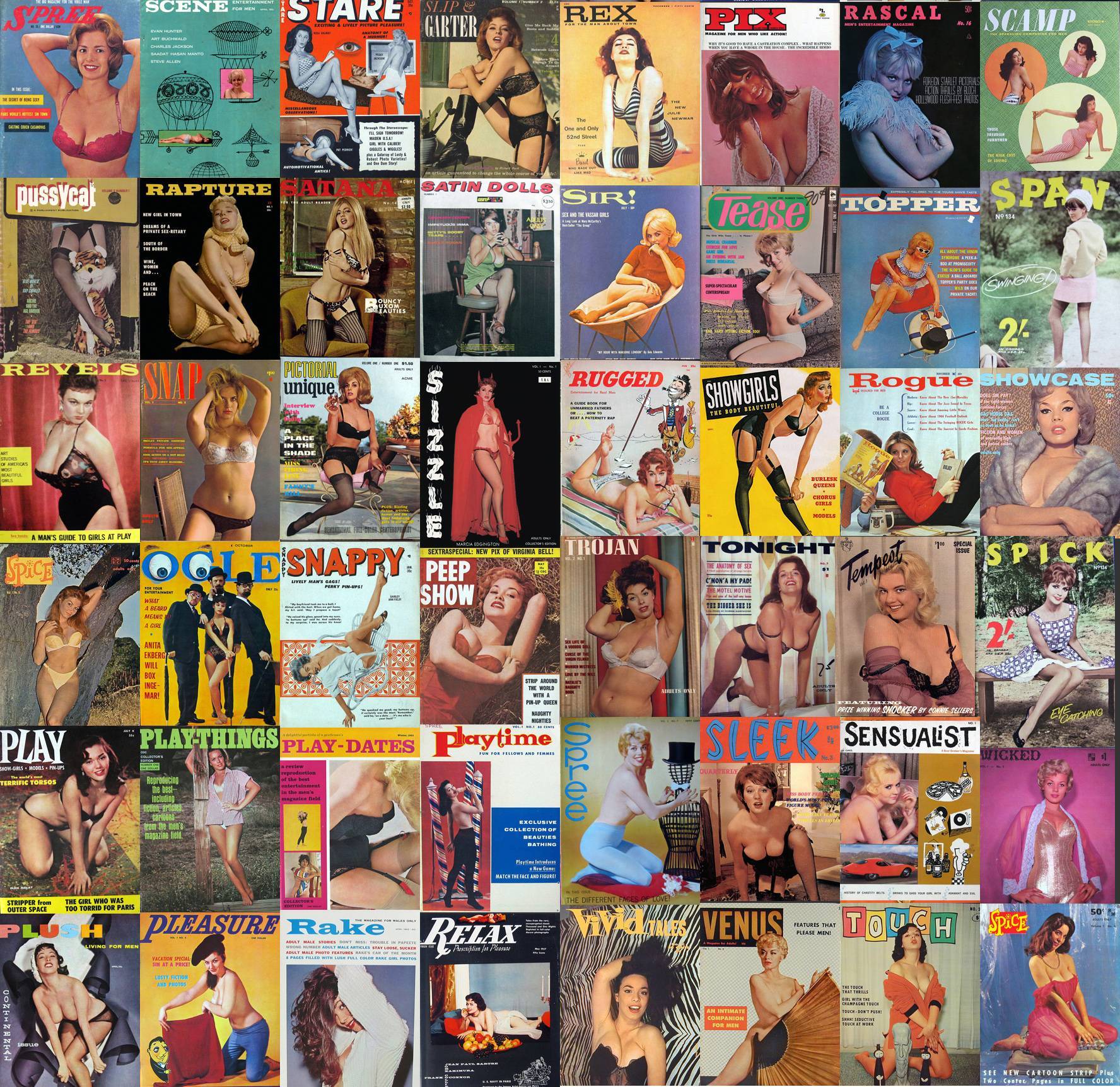 So, here are 50 or so girlie magazine covers from before things got explicit, but were still adult oriented.  When it wasn't just about anatomy, but the whole package: the stories, the vibe, the art, and – of course- also the pictures.  Take note of the variety.  Would it be safe to say there were more titles of girlie magazines than of all other types of magazines combined?  Probably not – but I'm sure it was close!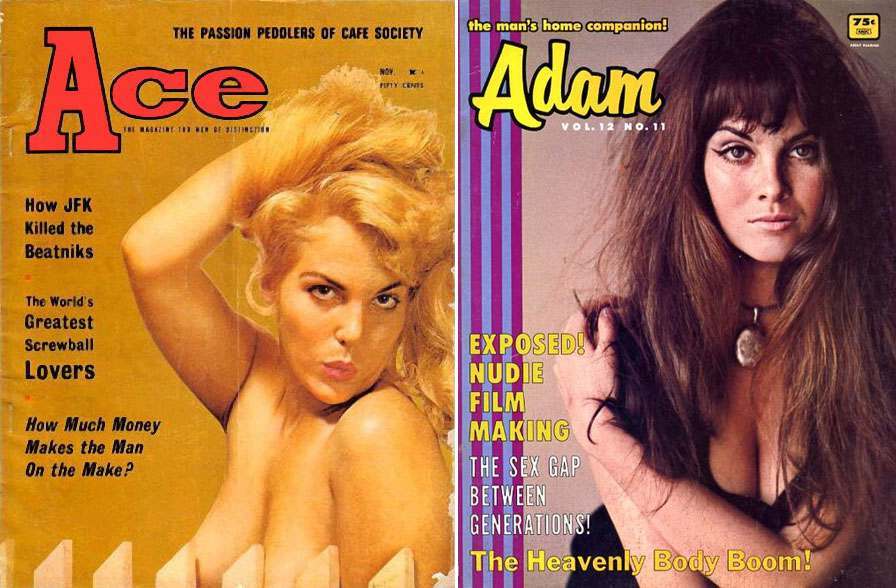 ACE – Today I learned: JFK killed all the beatniks. Who knew?
ADAM – I believe that's Hammer babe Caroline Munro in this issue of Adam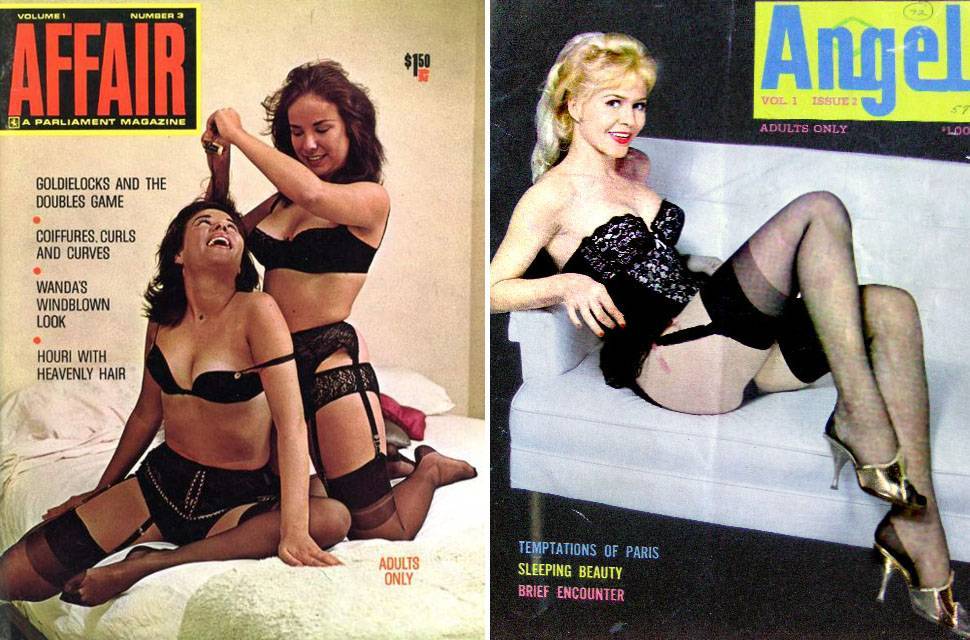 AFFAIR – When I was young this is the way I imagined what all girl sleepovers looked like.  (I still secretly hold out hope)
ANGEL – Volume 1, Issue 2 … I'll wager it never made it past Issue 3.  A lot of these girlie magazines were here today, gone tomorrow.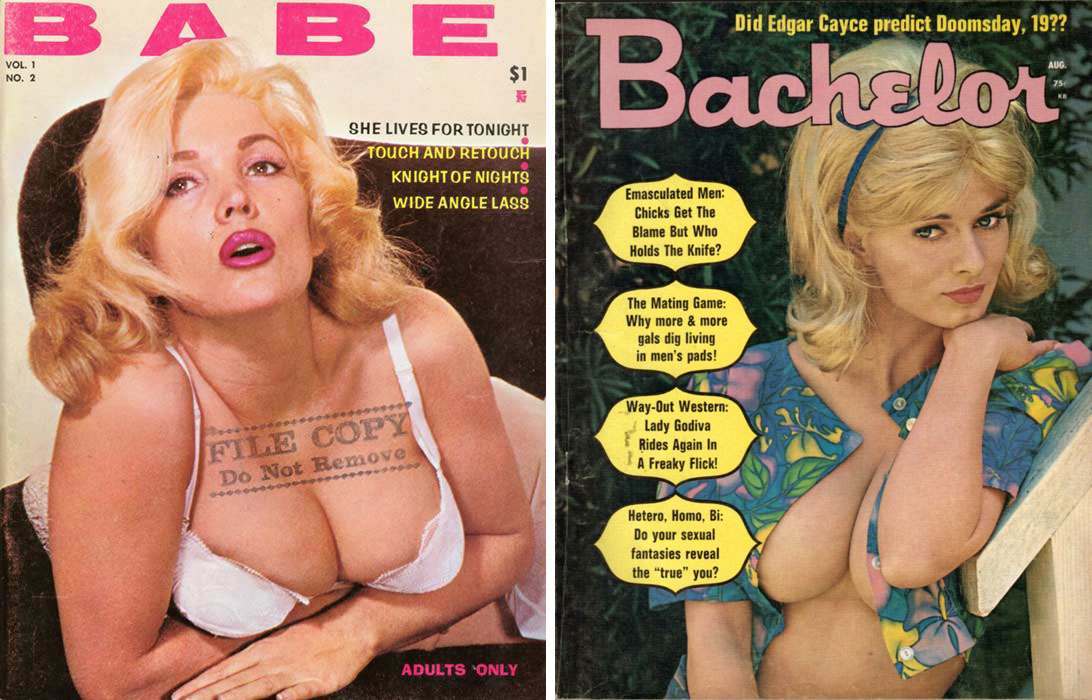 BABE – This magazine has "File Copy – No Not Remove" stamped across this woman's cleavage.  Was this kept in an office somewhere?  These girlie magazines weren't as explicit back then, but they weren't exactly fit for doctor's waiting room reading either.
BACHELOR – Speaking of cleavage.  Since these old magazines weren't allowed to show any naughty bits, cleavage was the go-to/default cover concept.  In the era of Jayne Mansfield, this worked just fine.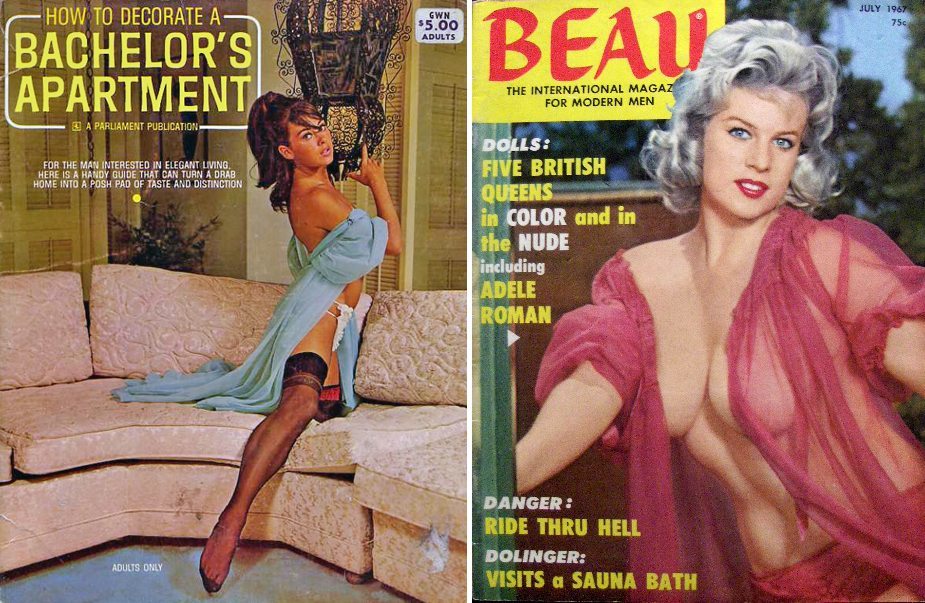 BACHELOR'S APARTMENT – Now this is a home decorating magazine a Sixties Swinger can get behind.
BEAU – I think some of these were B&W and colored later – I can't imagine this gal actually had silver grey hair.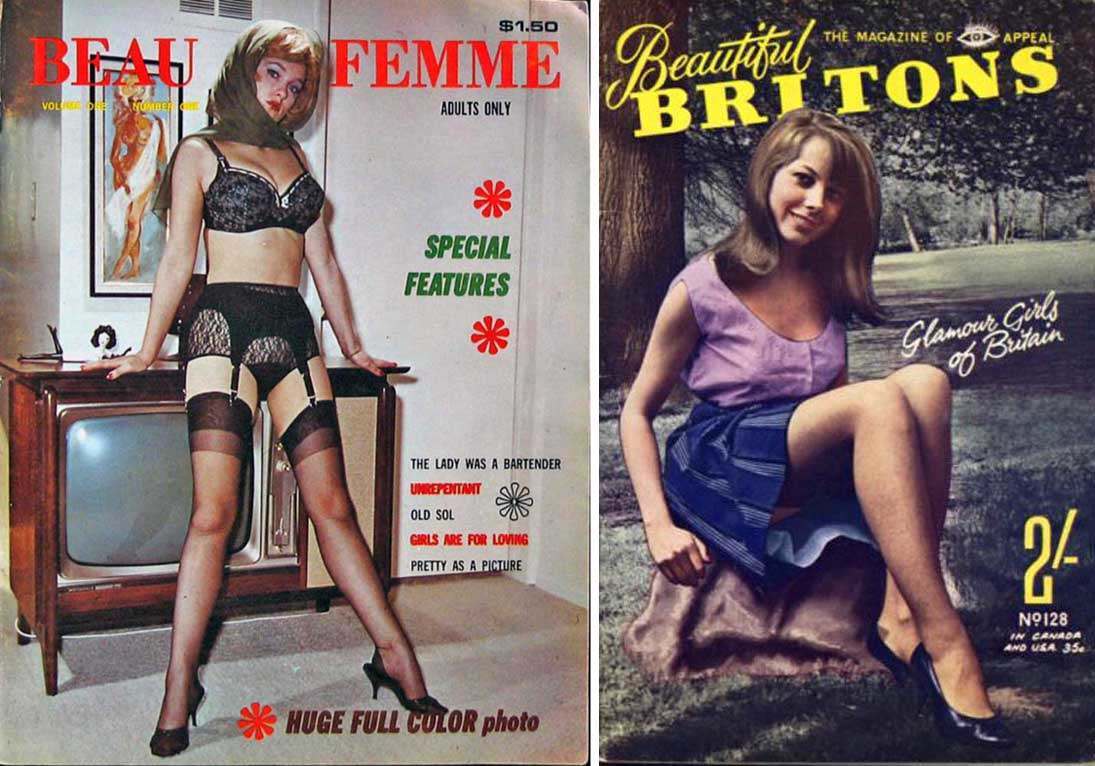 BEAU FEMME – Excuse, me, ma'am.  You're blocking the set.  We're trying to watch the game.
BEAUTIFUL BRITONS – The girlie magazine was by no means exclusively American.  The UK had similar rags…. whereas, Scandinavia had long since gone fully explicit.   American and English adult magazines looked positively tame by comparison.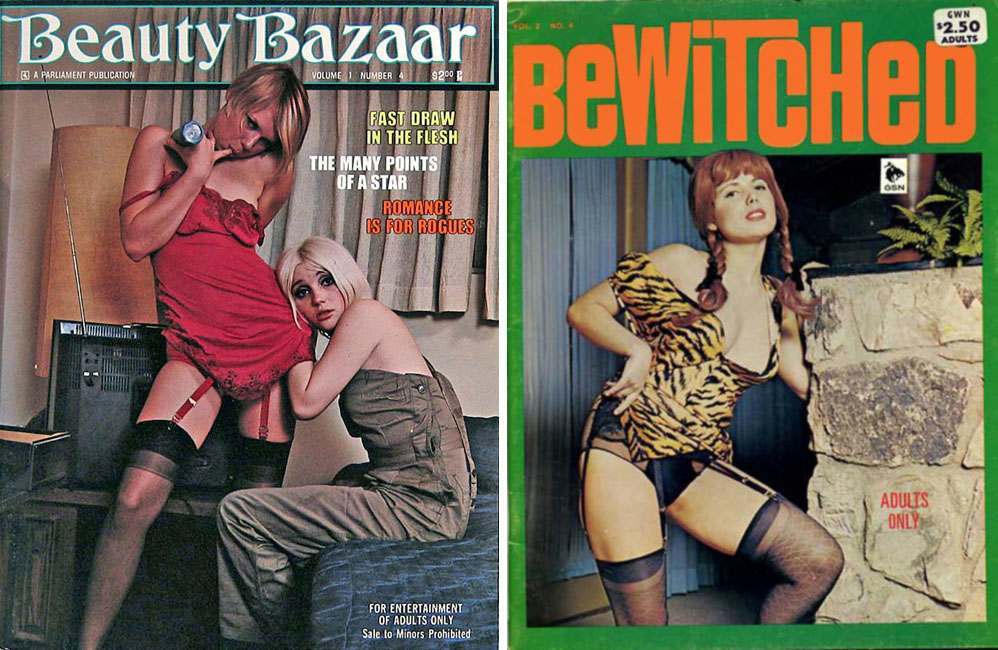 BEAUTY BAZAAR – Is she sad because her TV is broken?  Suffice it to say, when you have SO many brands of girlie mags on the shelves, there's bound to be a few that leave you scratching your head.
BEWITCHING –   That stone wall is positively bewitching.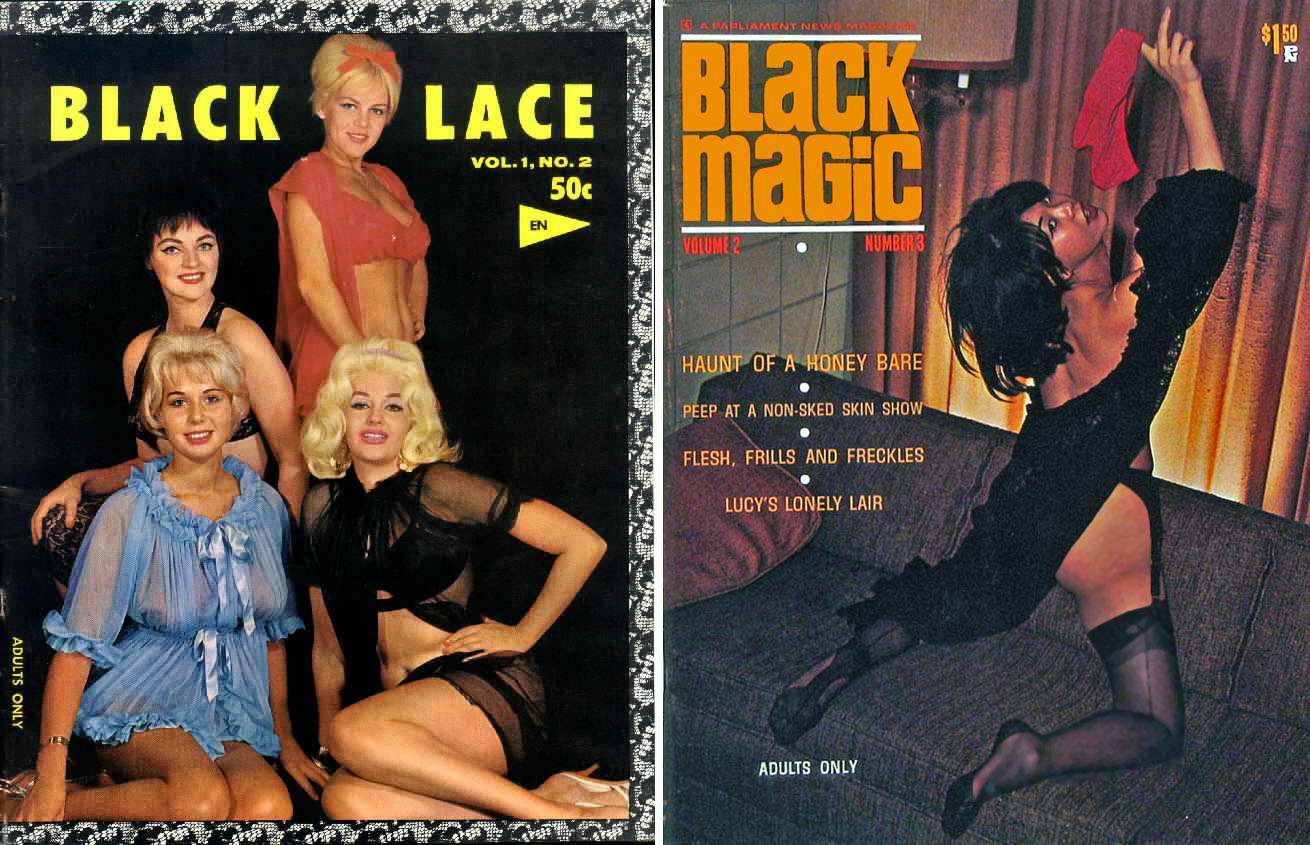 BLACK LACE – Looks like a couple of these girls didn't get the memo.  The magazine is called BLACK lace!
BLACK MAGIC – Is she trying to tell us something with that red rag, or just wipe something up high?  I'm so confused.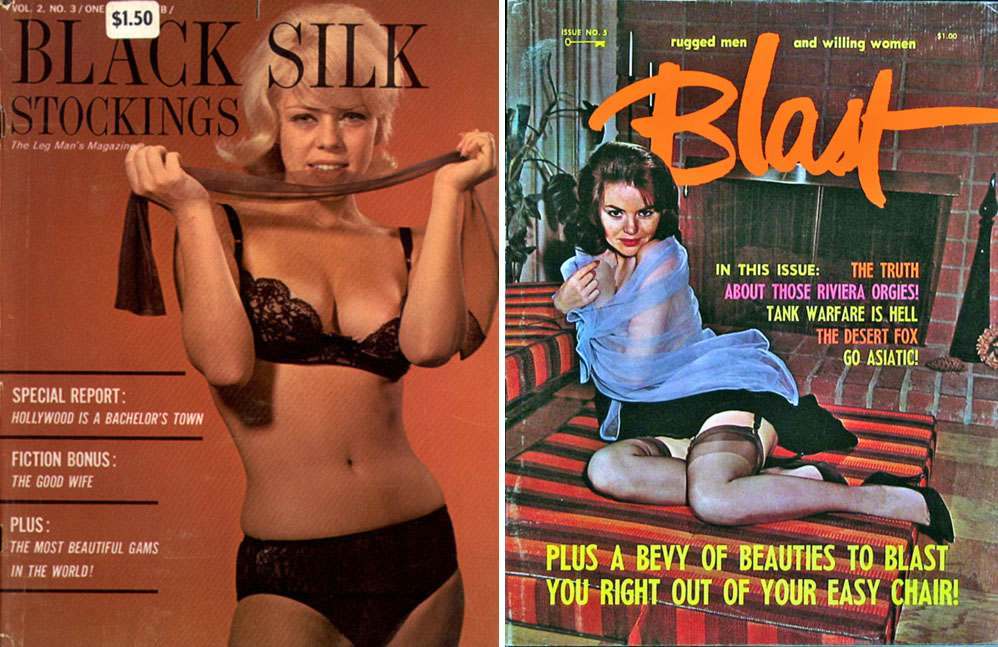 BLACK SILK STOCKINGS – We'll stop here with the "black" titles – they are endless: Black Satin, Black Silk, Black Nylons… the 1960s gent couldn't get enough of the black undergarment!
BLAST – "A bevy of beauties to blast you right out of your easy chair"  – the best cover blurb ever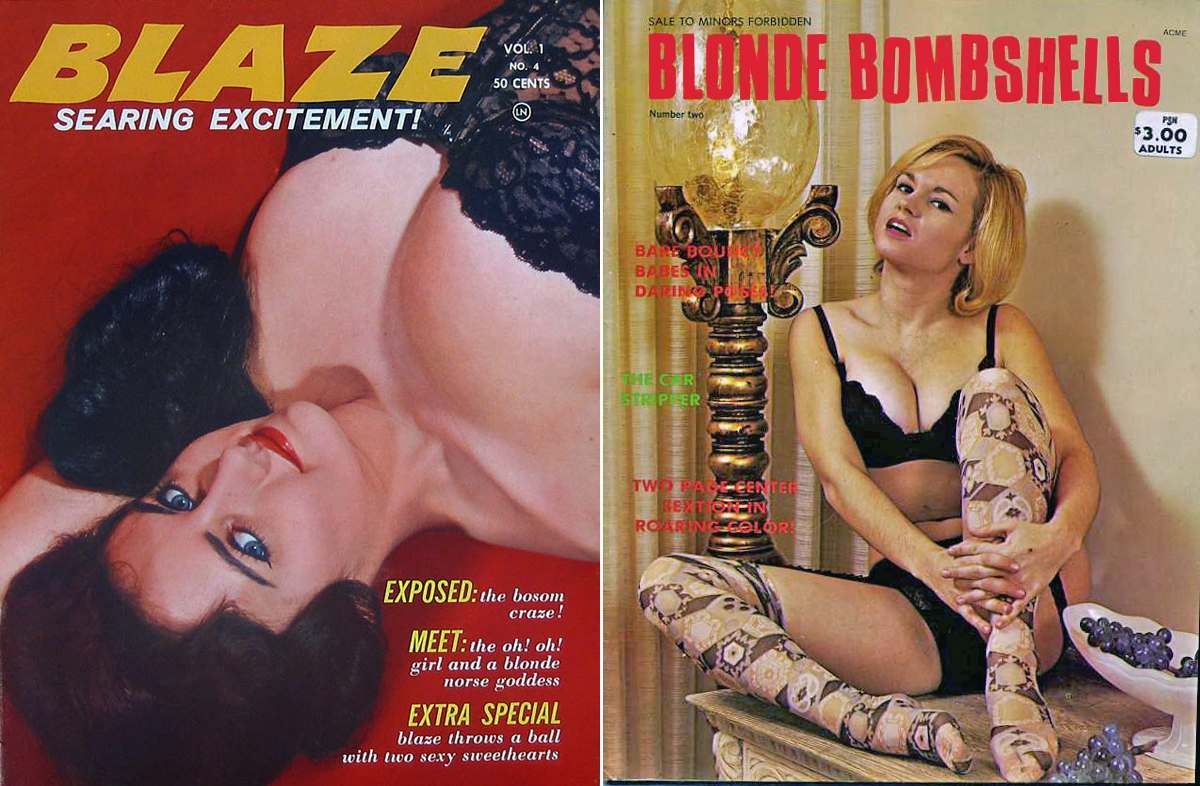 BLAZE – "The bosom craze" seems to have infected the Blaze as well.  Is anybody safe?
BLONDE BOMBSHELL – I remember those glass grapes (a fixture in many a 60s abode); those leggings, however, not so common.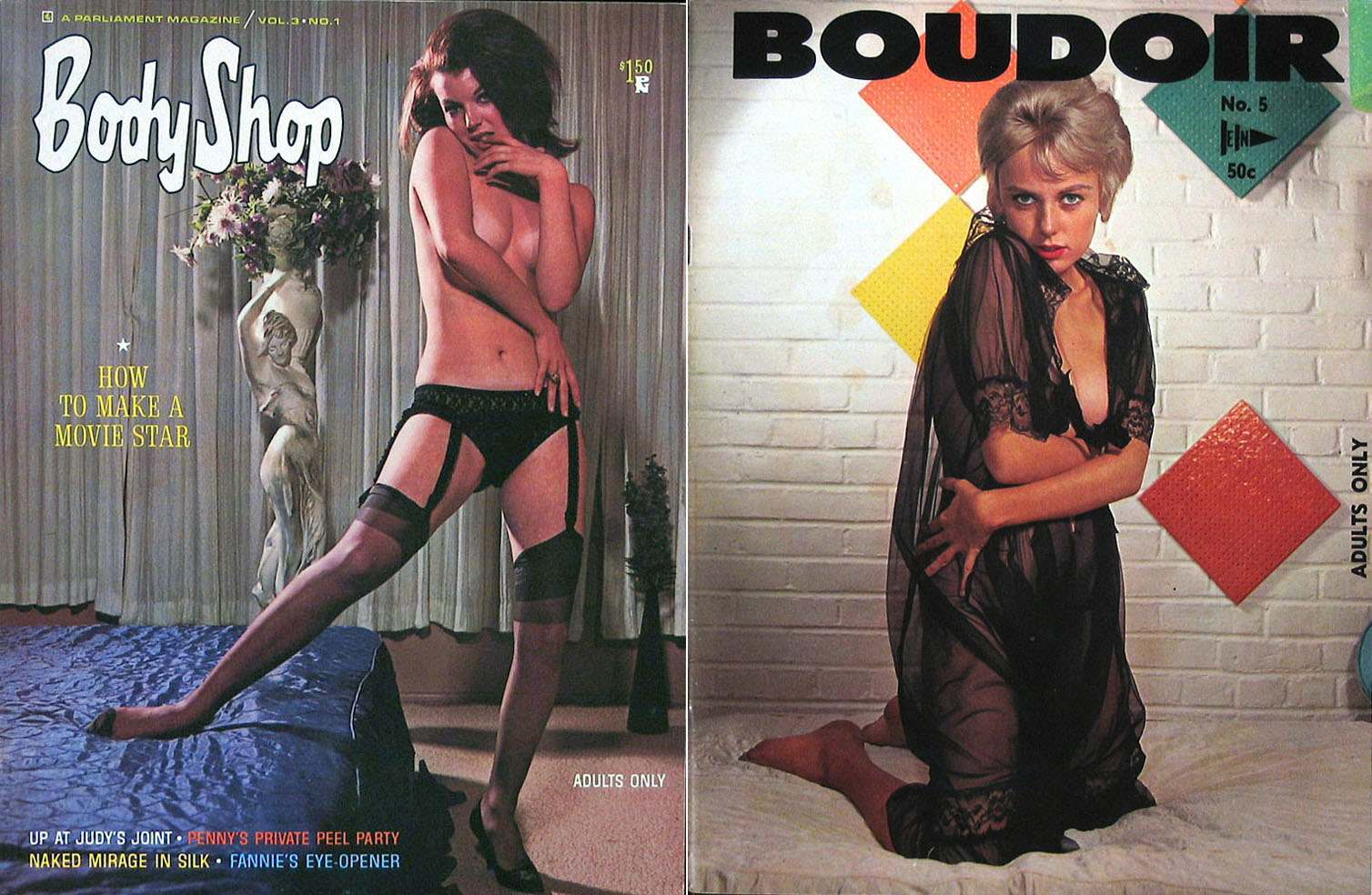 BODY SHOP – These Greek style set pieces really lend a sense of class to these magazines, don't you think?
BOUDOIR – Somebody get this girl a coat, she's freezing!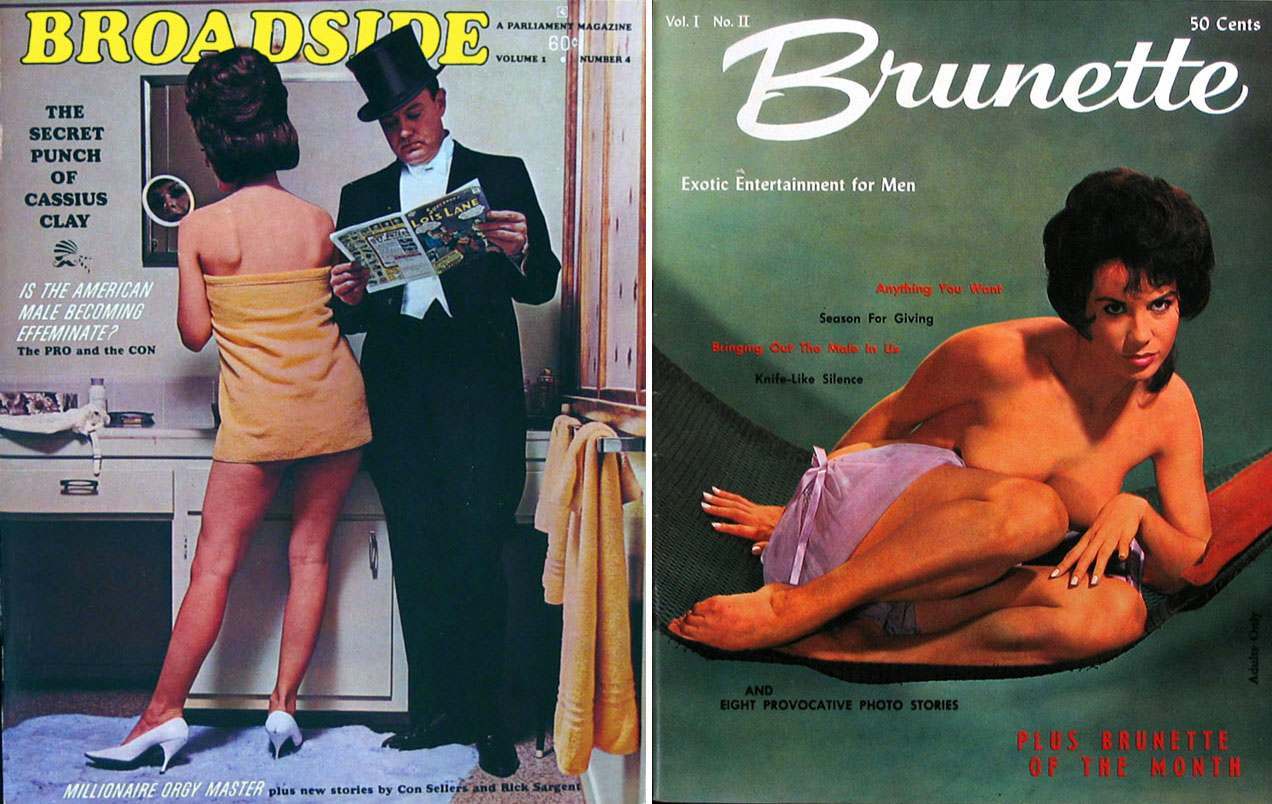 BROADSIDE – Speaking of "classy", there's nothing classier than a man in a top hat reading a Lois Lane comic book.
BRUNETTE – "Exotic Entertainment for Men", because brown hair is oh-so-very exotic.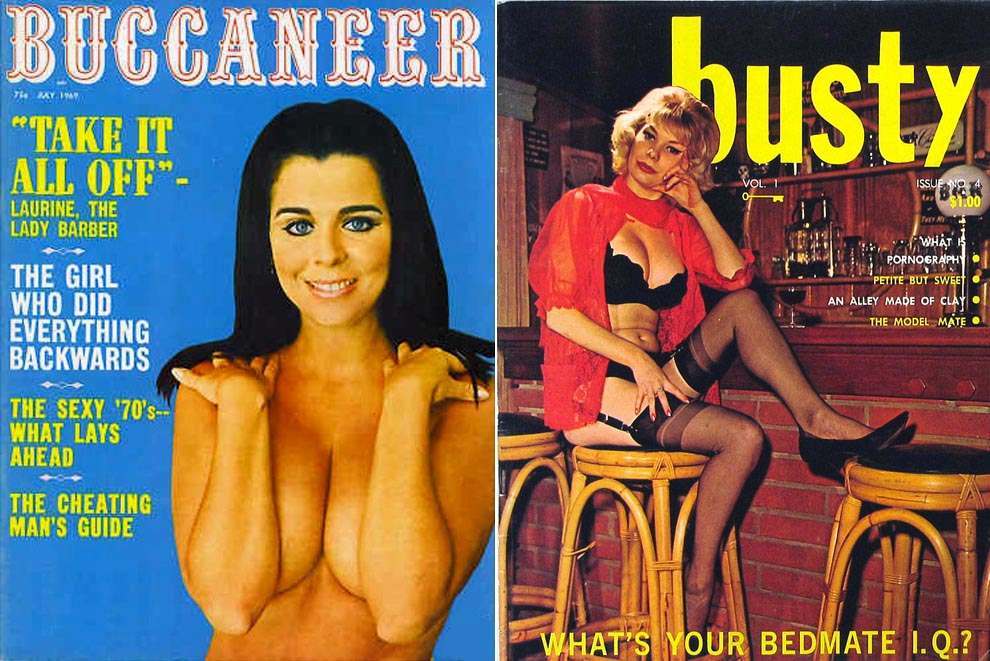 BUCCANEER – Laurine, the Lady Barber says, "Take it All Off" is their nonsensical headline, but I'm more intrigued by the "Sexy '70s – What Lays Ahead".  I'll tell you what lays ahead, Buccaneer – your extinction and the extinction of nearly every magazine on this list – in favor of a select few magazines which are a lot more gynecological (for a lack of a better word).
BUSTY – Perhaps, BORED would have been a more appropriate title.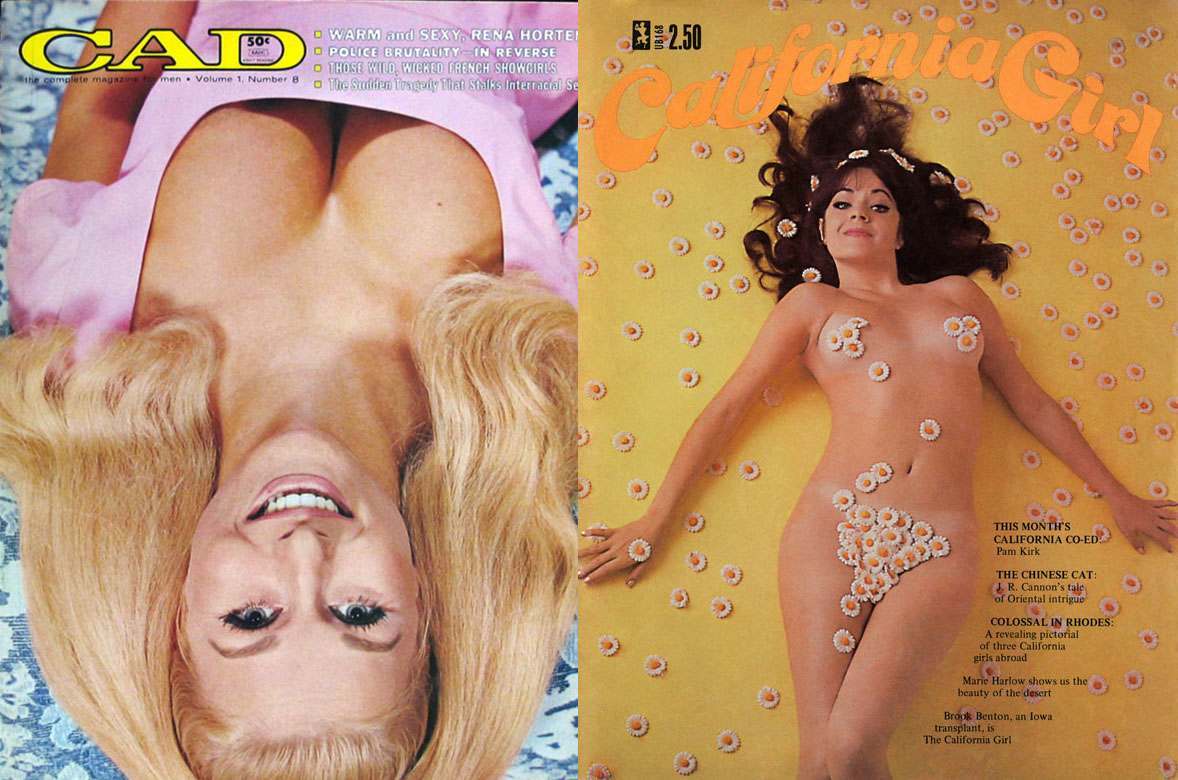 CAD – "Excuse me – my eyes are down here.  Men are such pigs!"
CALIFORNIA GIRL – If I'm not mistaken, this magazine lasted all of one issue.  A steep price tag of $2.50 may explain why.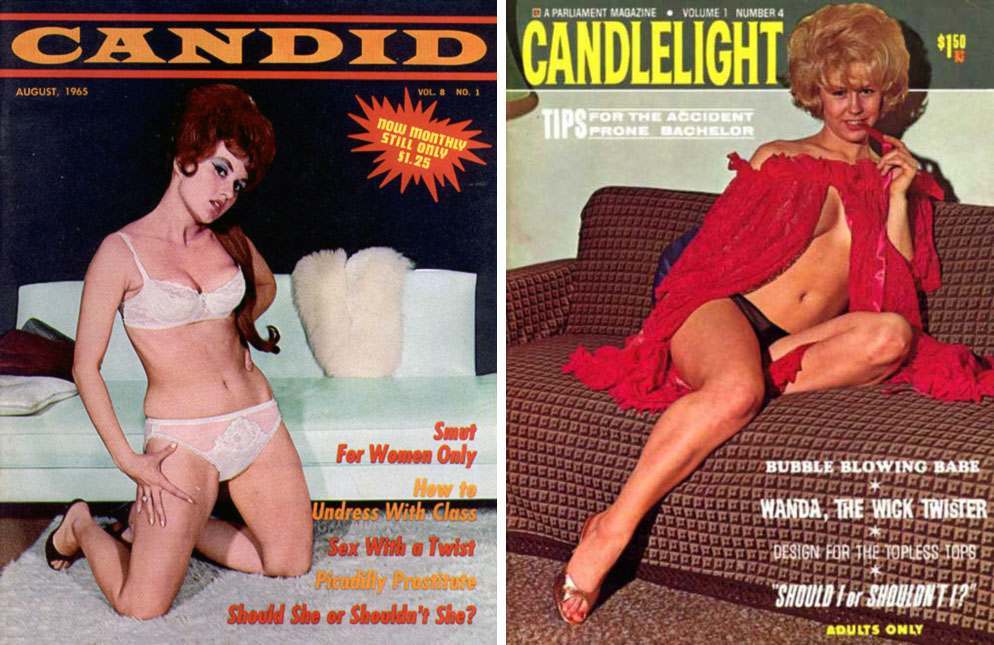 CANDID –  "Still only $1.25″… California Girl could've learned a thing or two from Candid.  Sixties gentlemen would only pay so much for their skin rags.
CANDLELIGHT – For more on big, big hair, I recommend an earlier article, for a full appreciation.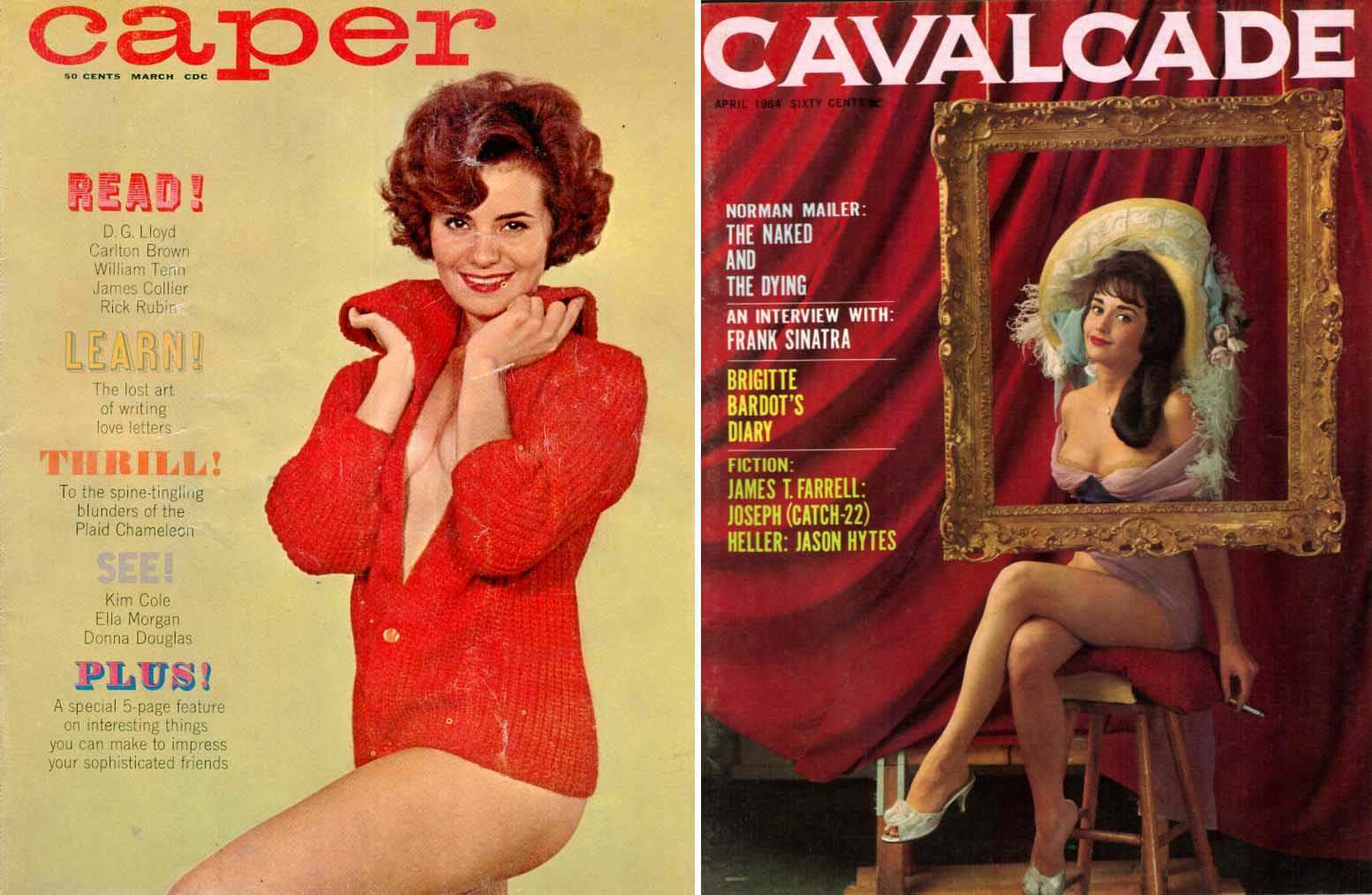 CAPER – "Thrill to the spine-tingling blunders of the Plaid Chameleon" – I must say, I'm intrigued.
CAVALCADE – This is one of the few magazines on this list that had been around for a number of decades (predating Playboy),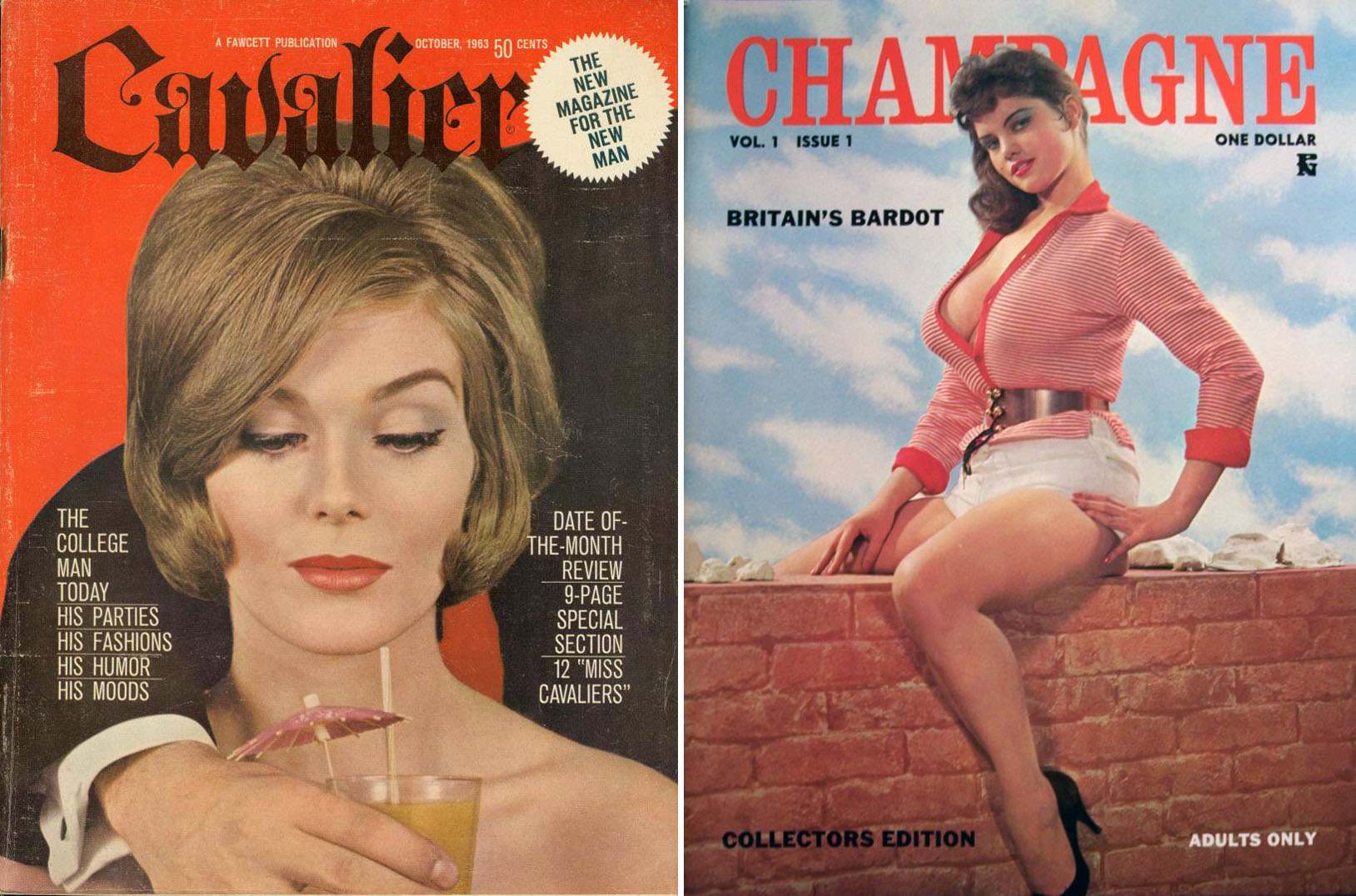 CAVALIER – While Esquire and Gentlemen's Quarterly (GQ) never went far enough to be labeled "skin rags"; Cavalier is another story.  Like many others on this list, it started out classy, but in an effort to boost sales, went dirty.
CHAMPAGNE –  What exactly are those white thingies on the wall?  Giant dollops of meringue? Dumplings maybe?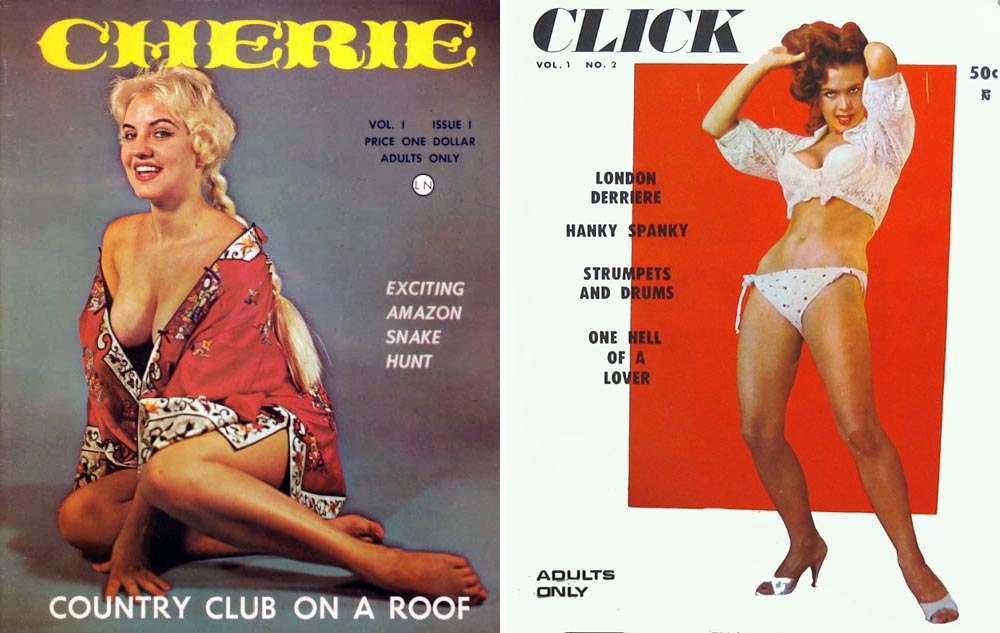 CHERIE – Perhaps "Cherry" was already taken.
CLICK – I love the minimalist cover blurb: "Strumpets and Drums".  After all, do we need any more than this?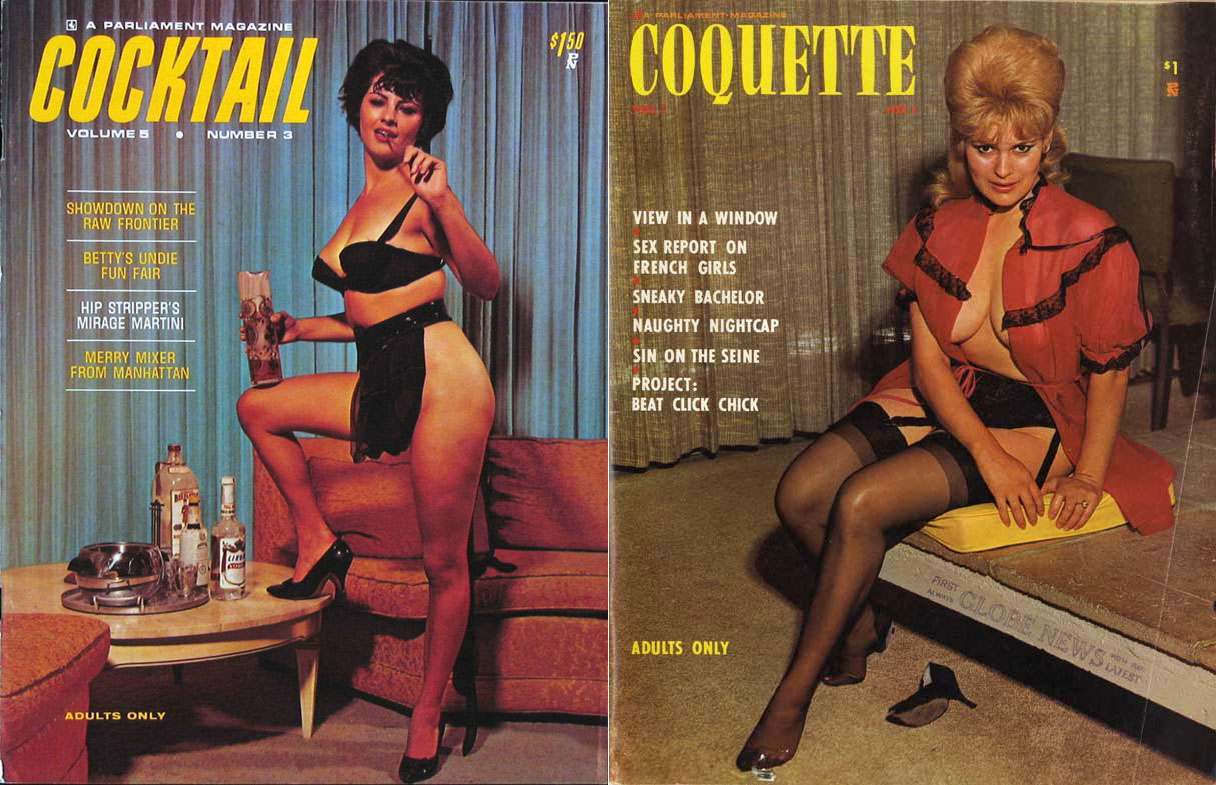 COCKTAIL – I'll have what she's having.
COQUETTE – Do you get the impression these magazine publishers broke out the Thesaurus a good bid when coming up with their titles?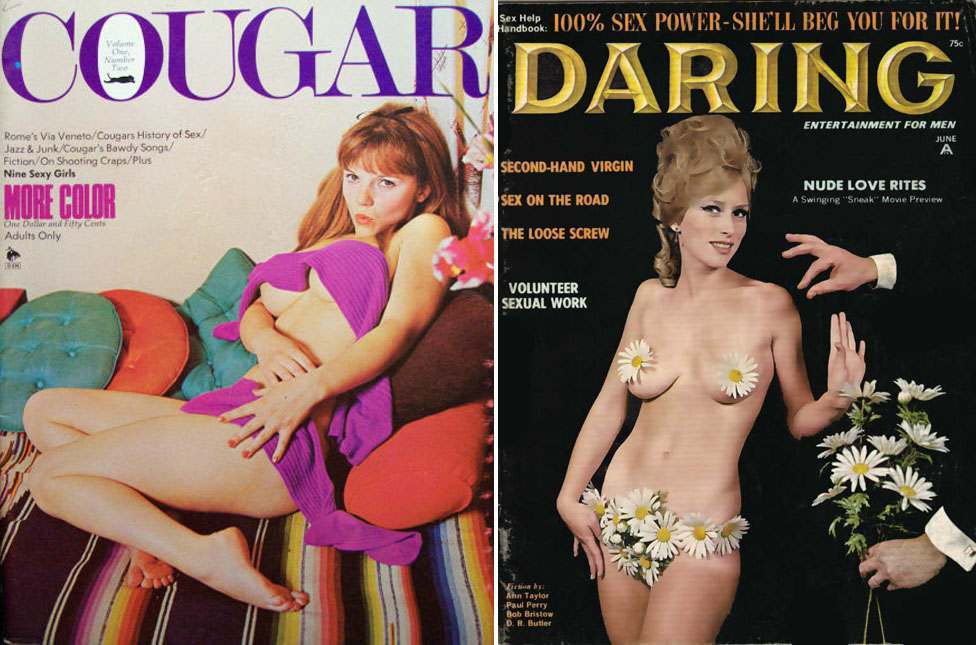 COUGAR – The definition of "cougar" has changed a bit since the 1960s.
DARING – Apparently the daisy cover-up was a thing in the 1960s (see California Girl)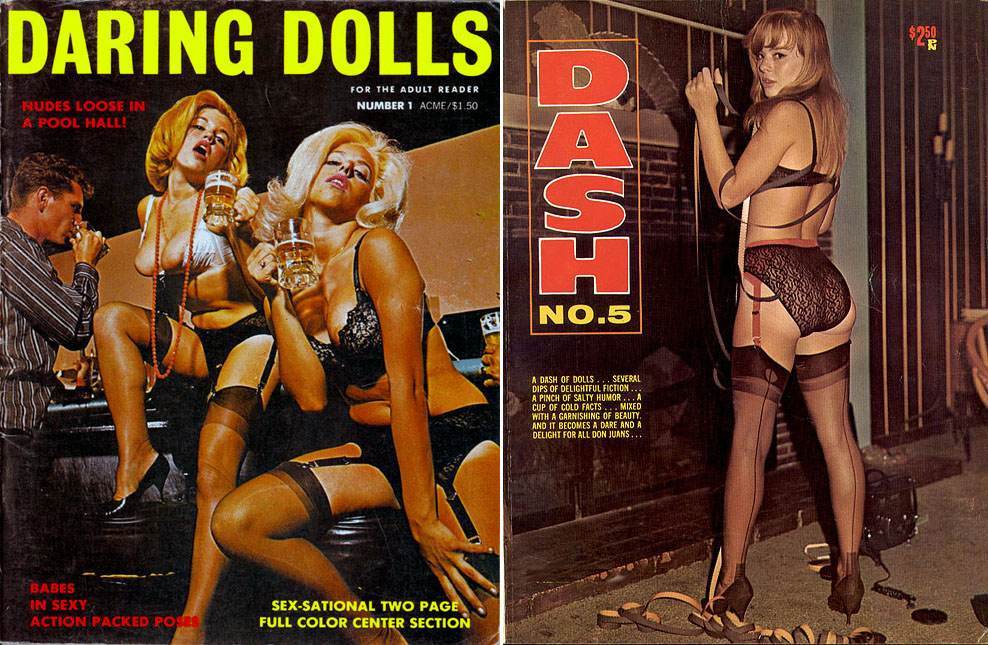 DARING DOLLS – Looks like the fella at the bar is guzzling down some liquid courage.  He'll need it if he'd going to tangle with these two.
DASH – Somebody help me out here.  It looks like maybe there's been an accident with a camera?  I'm at a loss.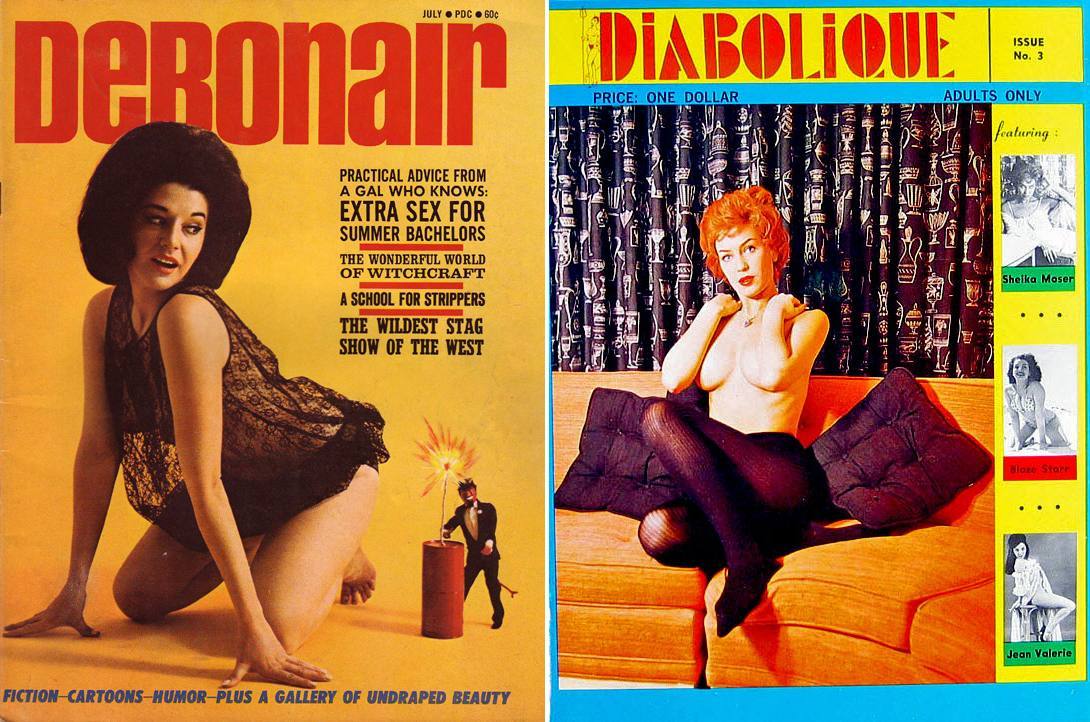 DEBONAIR – Because nothing says "debonair" like a mini-devil lighting a firecracker under a girl's ass.
DIABOLIQUE – Fresh from the drab days of B&W, the folks at Diabolique may have gotten carried away with the saturation knob and cranked it up to "11".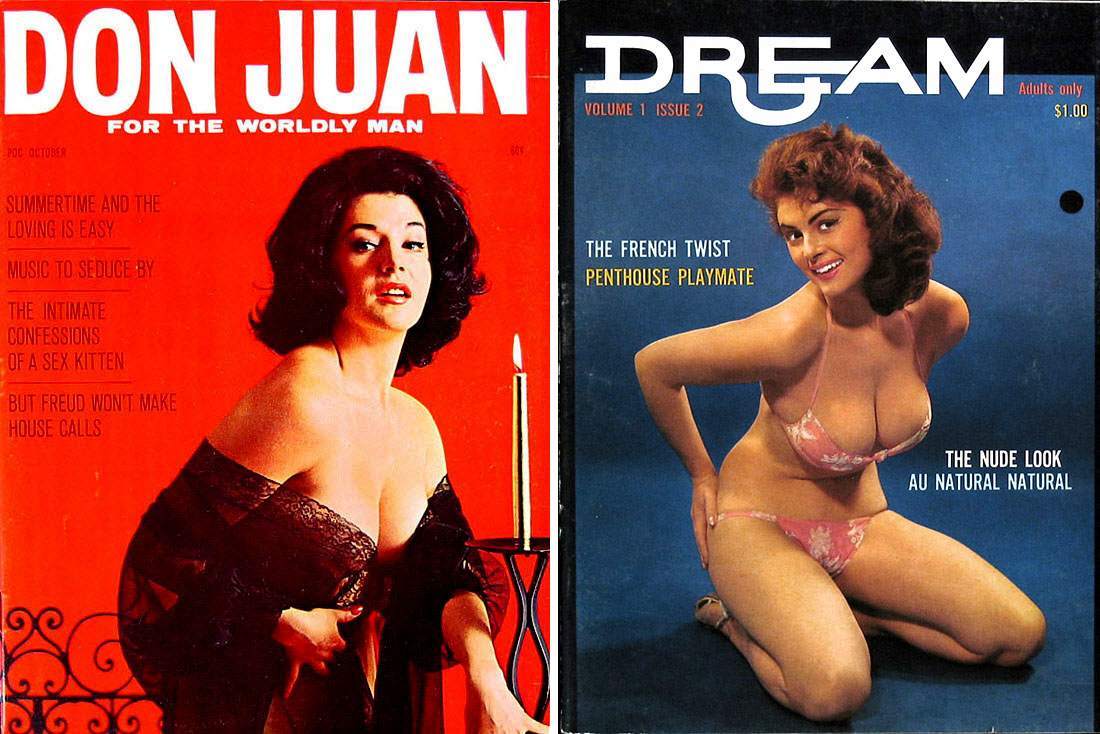 DON JUAN – From a time when every single guy fancied himself a Don Juan lathered up with Aqua-Velva and Brill Cream, owned a new high-fi, decorated with Tikis and kept their wet bar fully stocked.
DREAM – Before "Penthouse" in the context of an adult magazine meant something completely different.  Alas, the 1970s were right around the corner.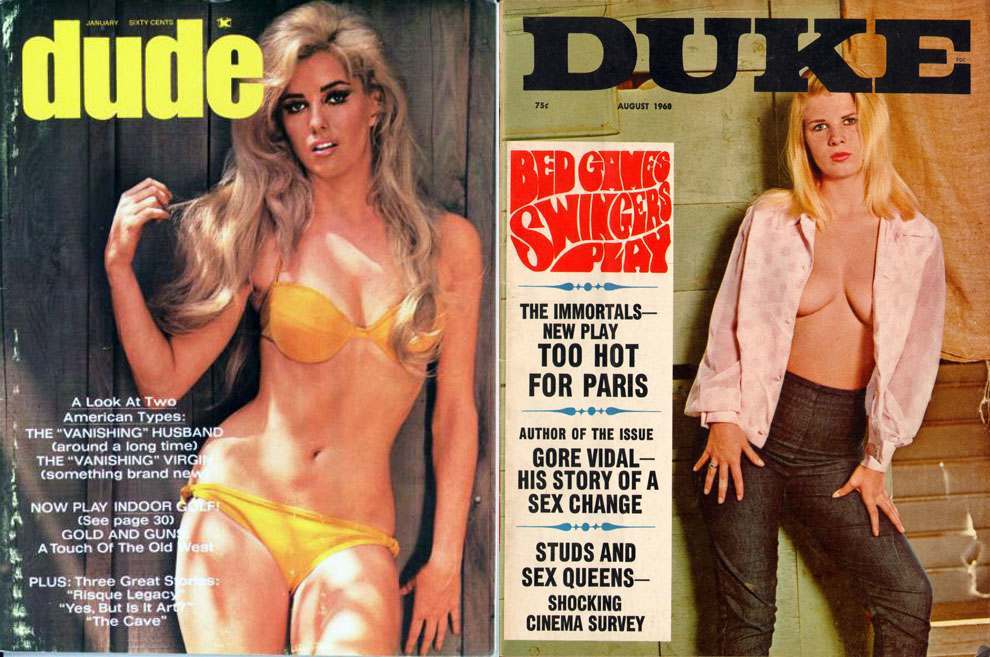 DUDE – Not to be confused with another girlie magazine, THE DUDE.  I told you there were a lot titles!
DUKE – "Bed Games Swingers Play" – you can tell by the font, we're getting to the end of the Sixties.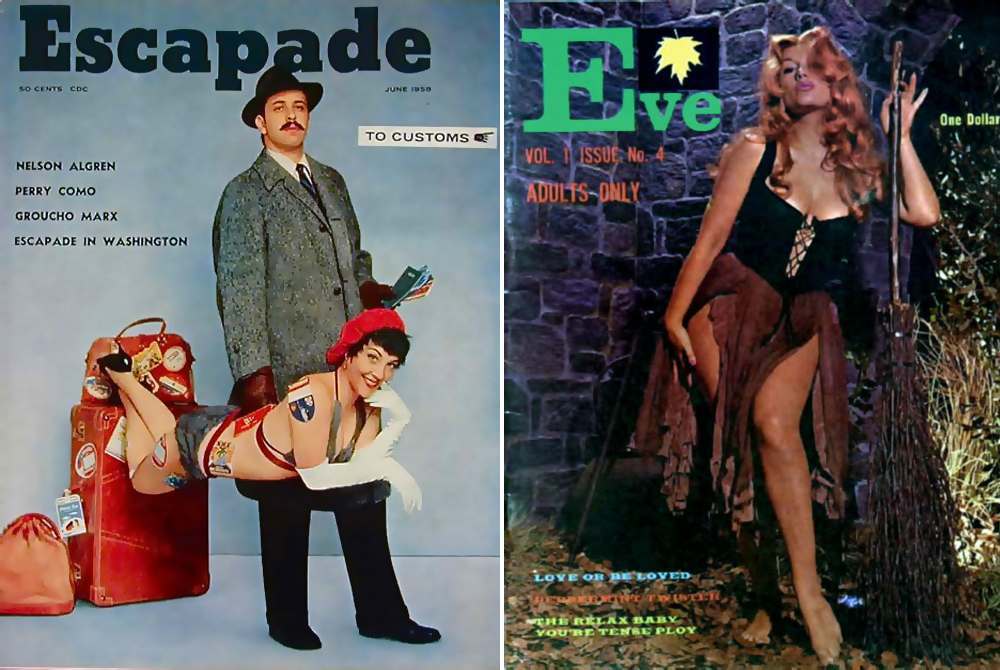 ESCAPADE – This cover does not compute.  My 2014 brain can't handle something so politically incorrect.  So, I'll just laugh awkwardly and move on.
EVE – And so ends our tour for today – I said this would be from Adam to Eve.  To take it to the end of the alphabet would be a bit lengthy.  Depending on the response to this one, we'll see if we can dish up the remaining letters.  Until then!