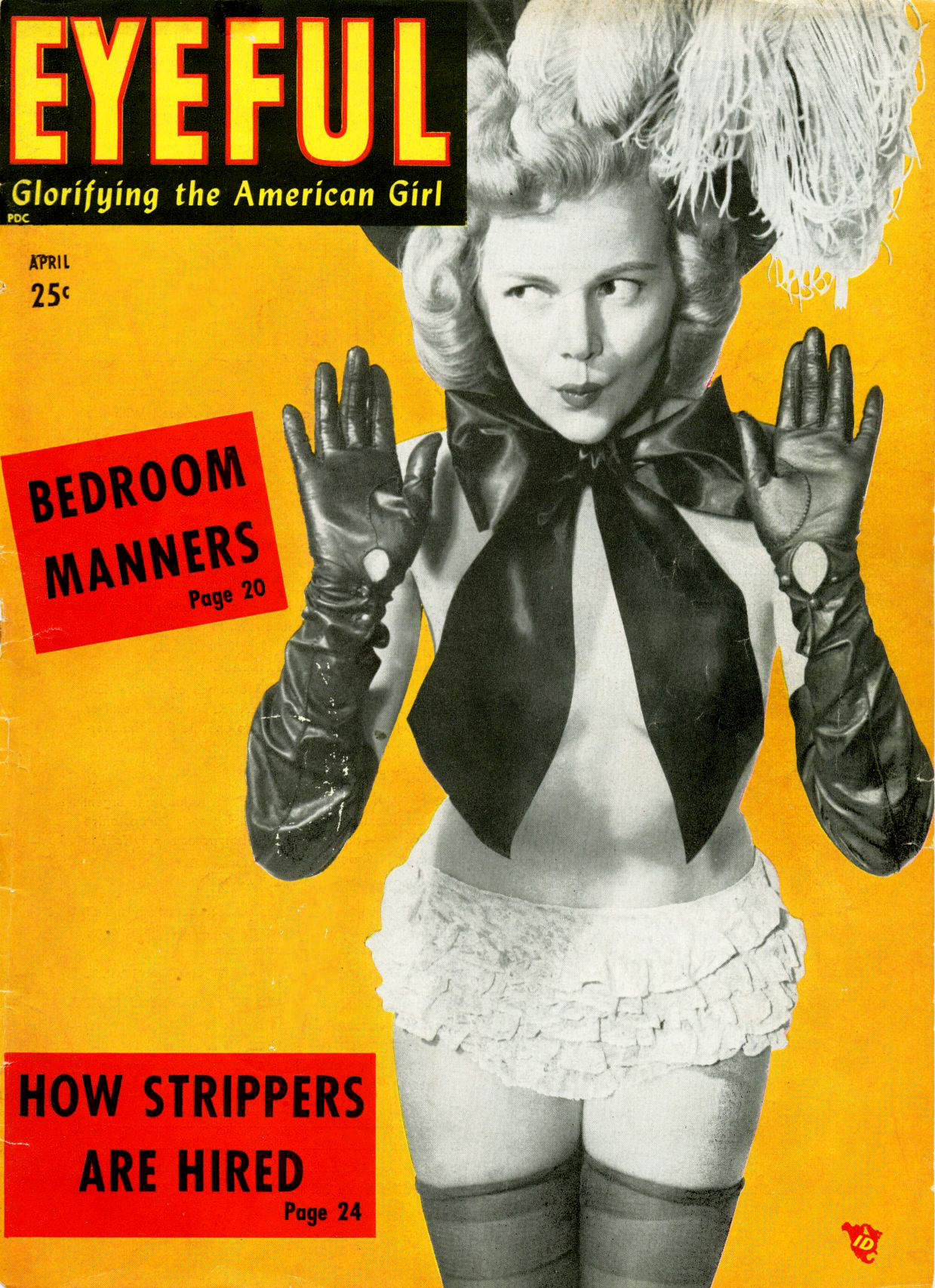 Eyeful was a men's magazine that aimed to "glorify the American girl".  It was marketed to men, but the days of explicit content were still a few years off. Playboy wouldn't come on the scene until  the tail-end of 1953.  In 1949, American adult oriented magazines were innocent by today's standards – they were harmless fun, employing a cheeky form of risque.
A couple months ago we had a look at LAFF (LAFF Magazine October 1945), a similar sort of magazine. This time let's take Eyeful page by page; a magazine which premiered in 1942 and focused primarily on the burlesque/stripper beauties of the day.  It's April 1949 – Hamlet has just won the Academy Award for Best Picture, Ireland leaves the British Commonwealth, the US signs NATO, and South Pacific is taking Broadway by storm.  Let's see what graces the pages of this humble men's magazine amid all these world events. Enjoy.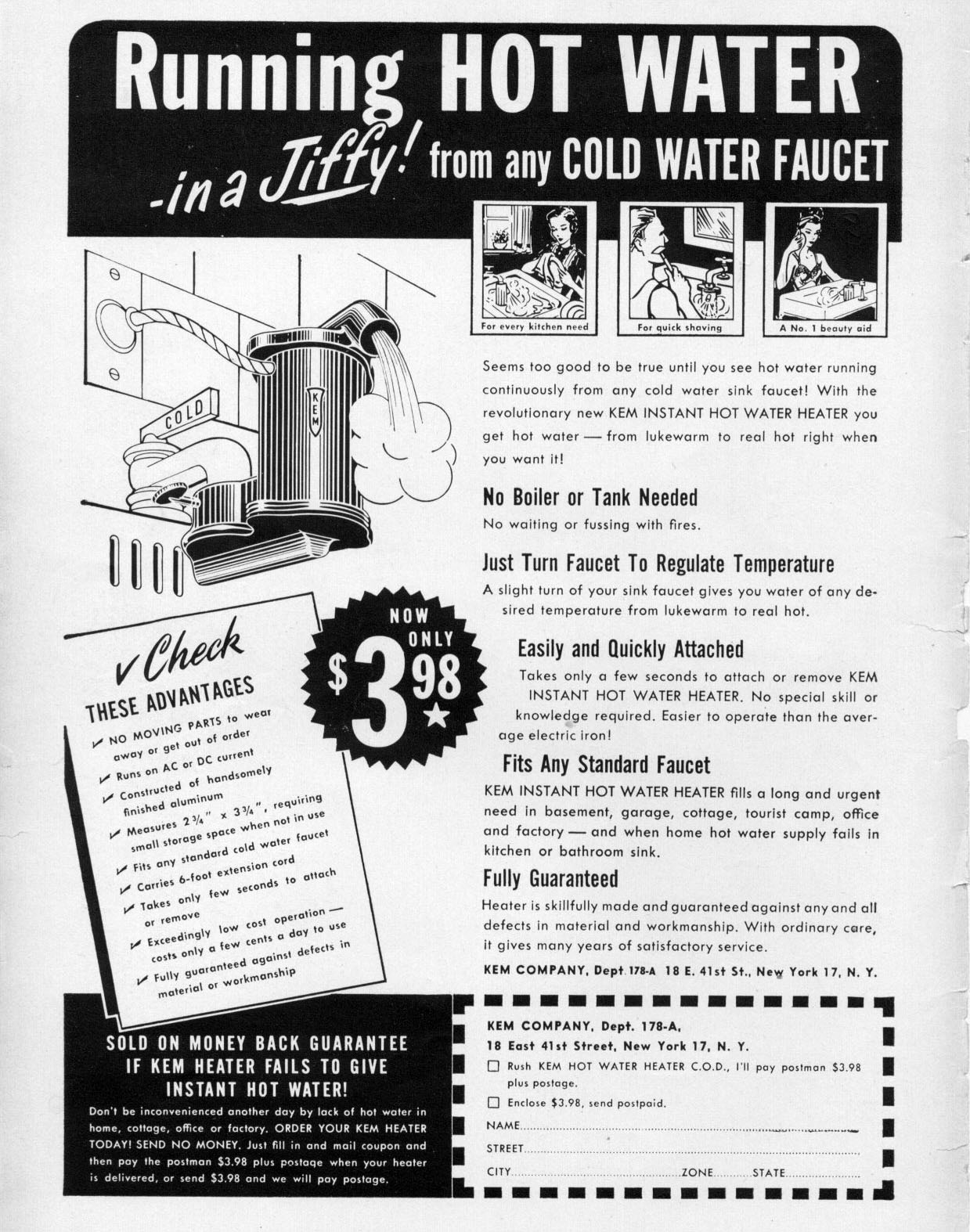 We take our hot water from the tap for granted; in 1949 you had to "fuss with fires".  This gadget looks like it has coils which heat up your water… but I detect some downsides.  First, you have to screw this apparatus to your faucet every time you want hot water.  Second, there's no way it's going to instantly heat all the water passing through.  You're going to have to wait for it to heat up your modest volume of water each time.  Lastly, I'm pretty confident you stand a good chance of death by electrocution with each use.  An electric water heater plugged in by your faucet is probably not the safest setup in the world.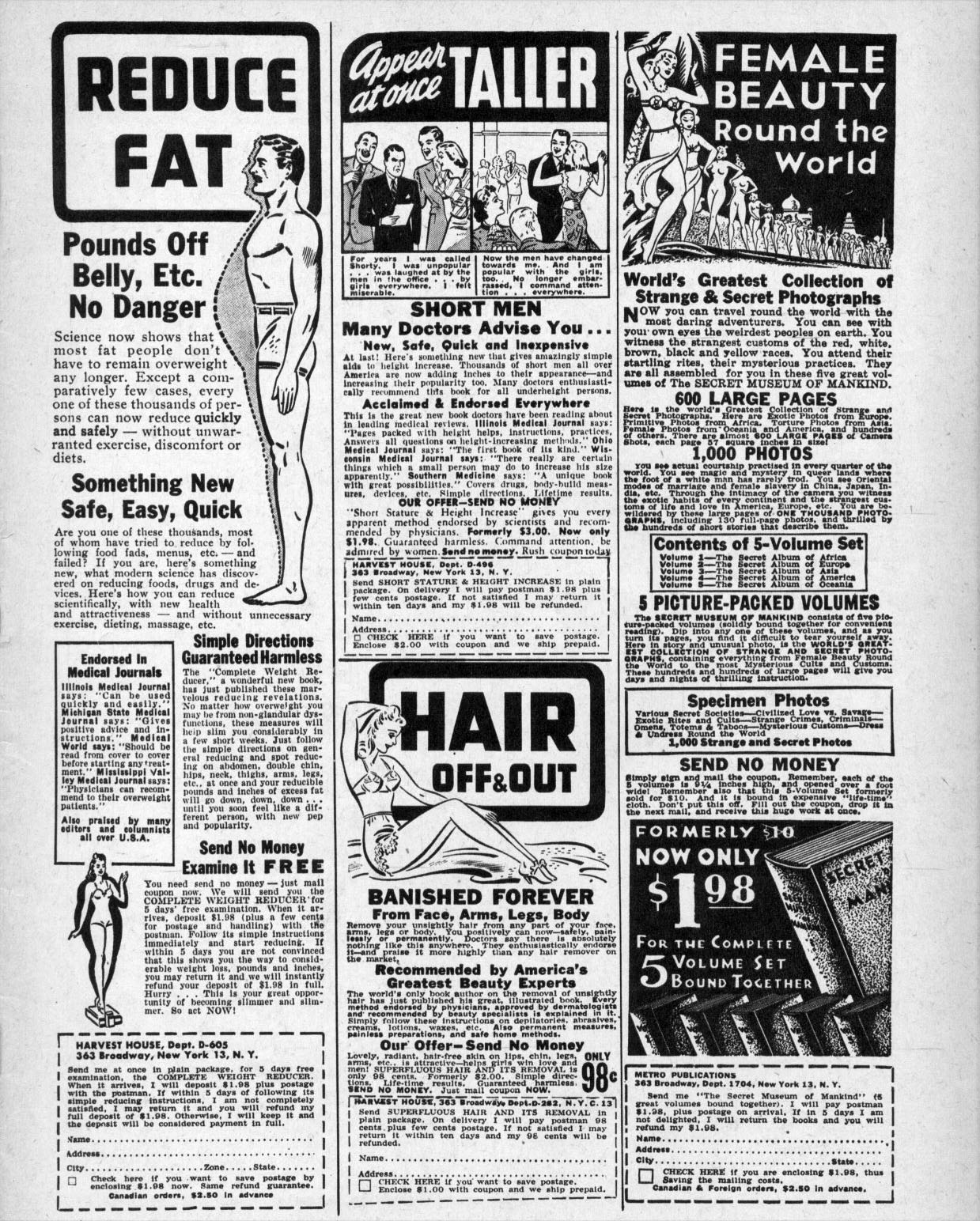 "World's greatest collection of strange & secret photographs" for $1.98.  Now that's what I call a bargain.
From the advert on the cure for shortness: "For years I was called Shorty.  I was unpopular, was laughed at by the men in the office, by girls everywhere.  I felt miserable…..  Now the men have changed towards me. And I am popular with the girls too.  No longer embarrassed, I command attention…. everywhere."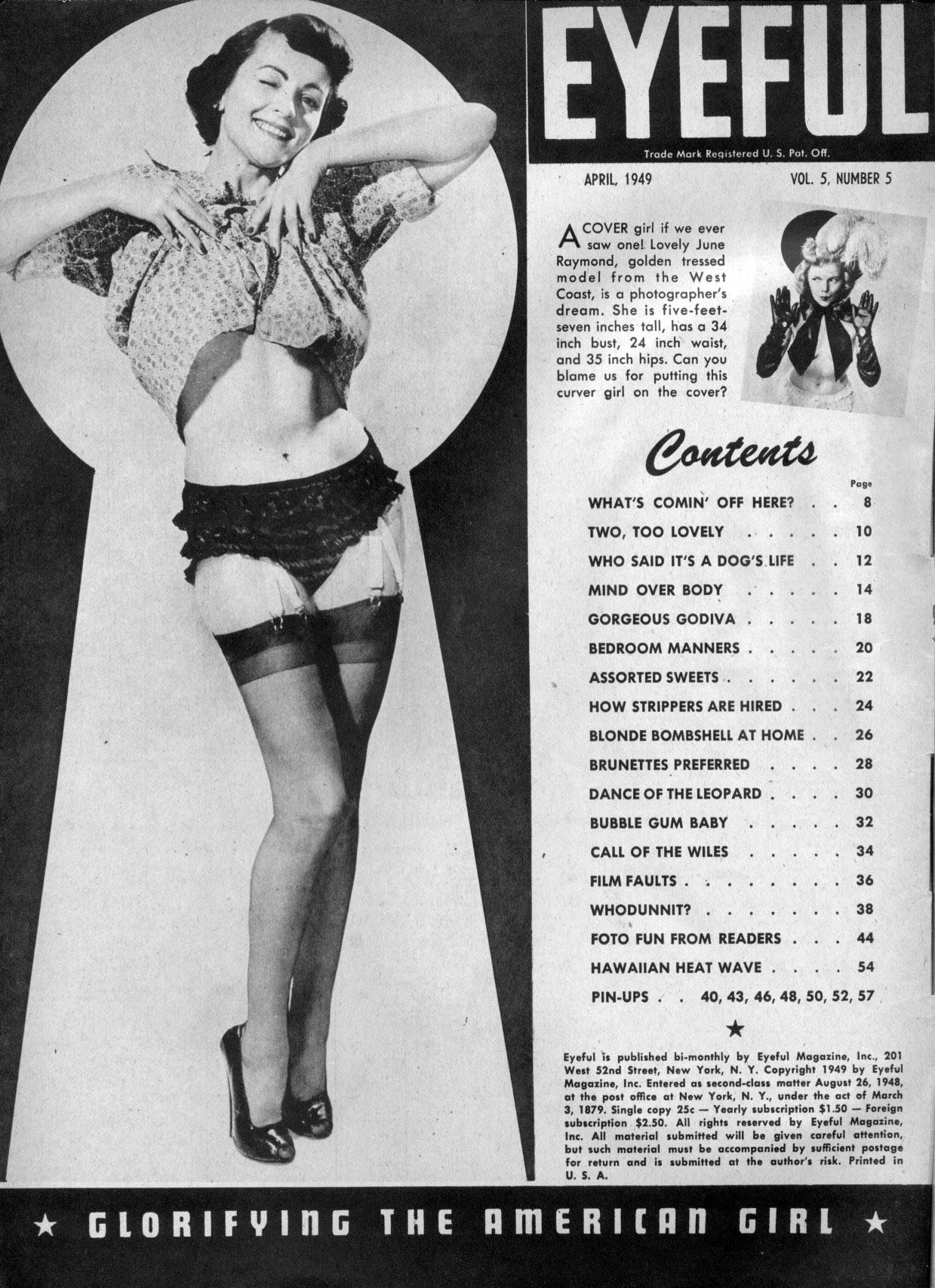 I looked up June Raymond, and the best I can find is a Miss Boston 1942 by that name who did go on to a career in modelling (after being sued for divorce by her pilot husband after returning from the war).  However, I am doubtful they are one and the same June, especially since the caption says this girl is from the West Coast.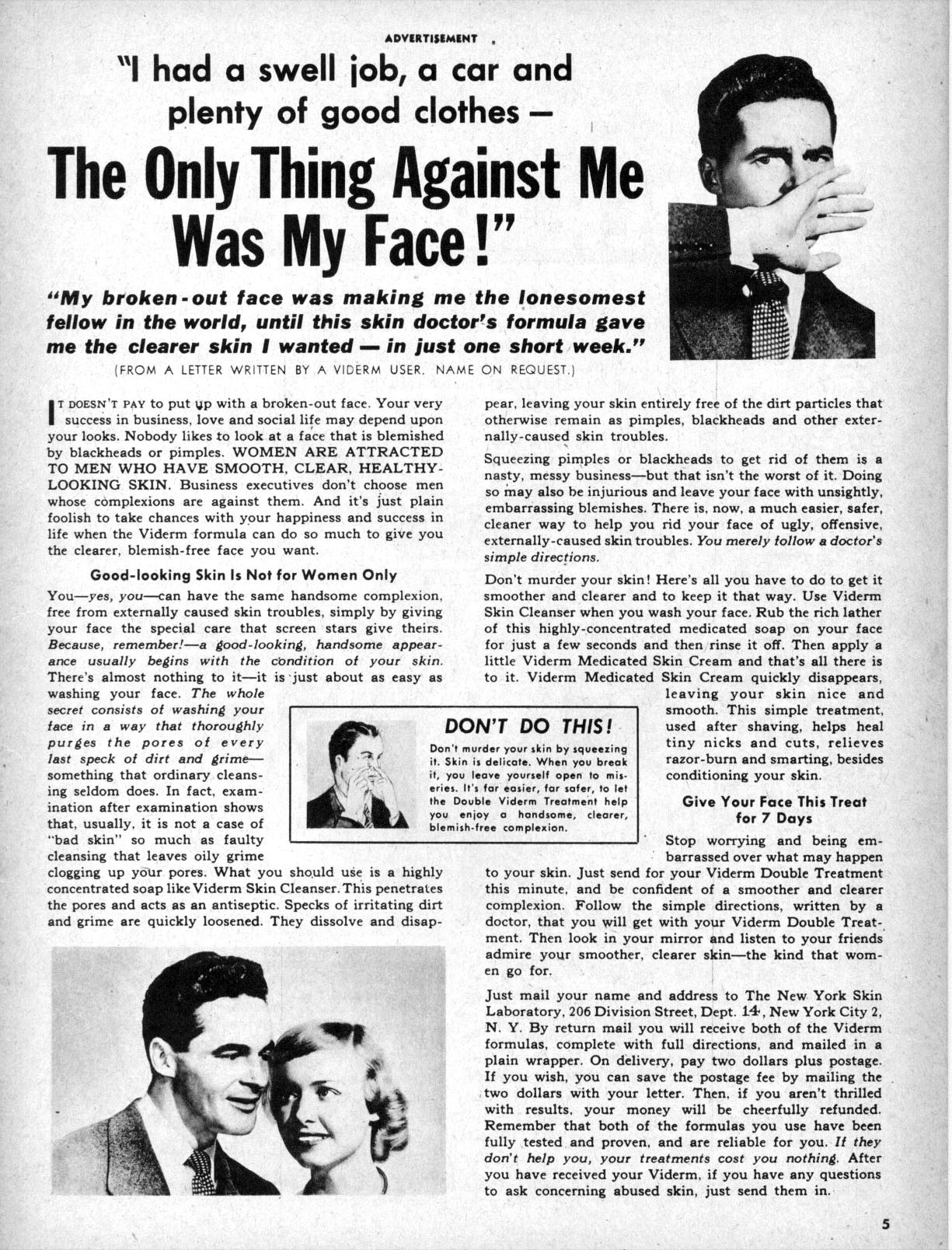 If you read enough old magazines and read the advertising therein, you'll get the distinct impression that the slightness "abnormality" (bad breath, shortness, baldness, complexion, overweight, etc.) would get you absolutely banished and shunned from society.  A man with a receding hairline and a pimple could expect to die a virgin, forever ostracized from living among "normal" people – perhaps sleeping in caves, scavenging for scraps of food.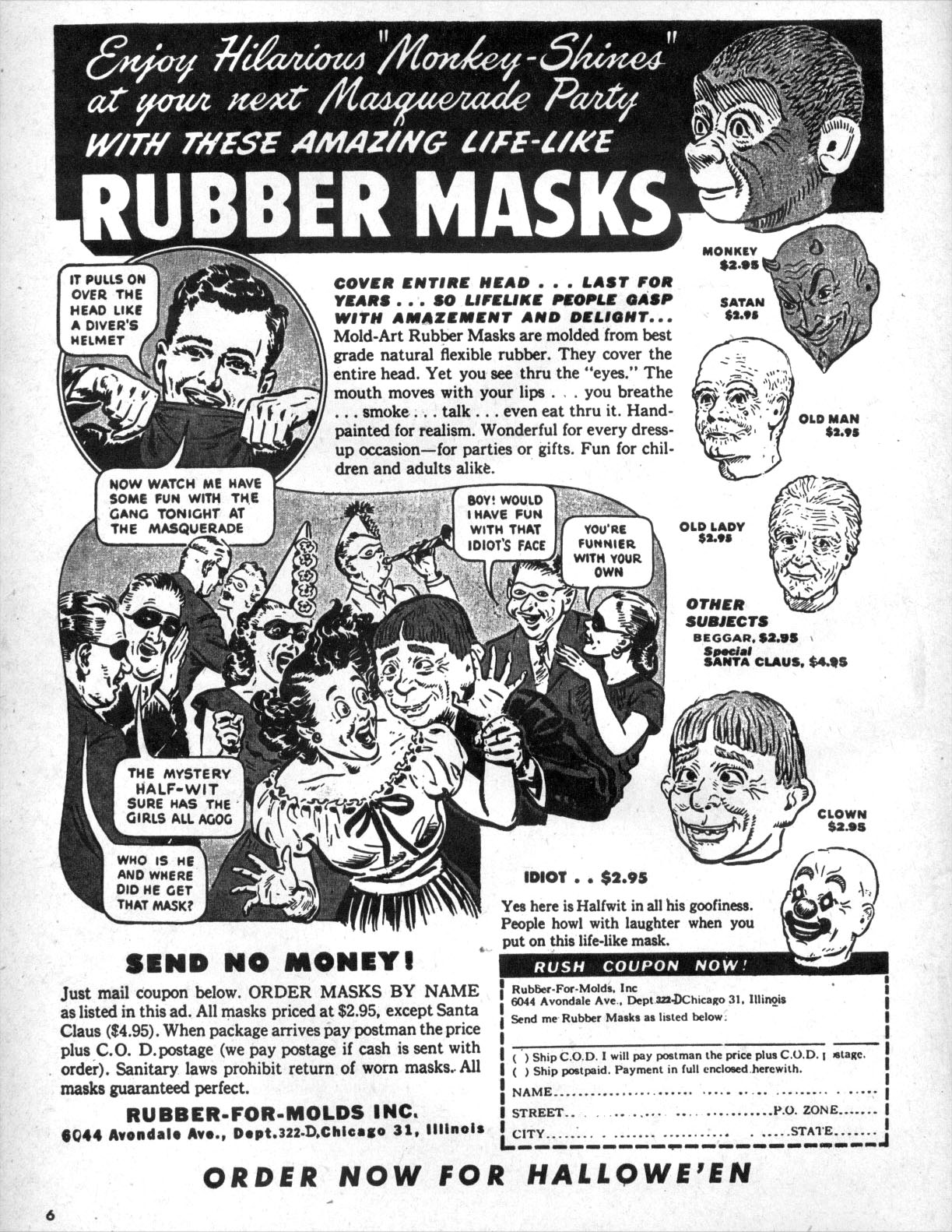 I'm sure the Satan, old man and woman, and clown were positively horrifying. And I find it hilarious there's an "idiot" mask.
"The mystery half-wit sure has the girls all agog."  Yes, I'm sure he had to absolutely fend off all the girls clawing for him in that ridiculous mask.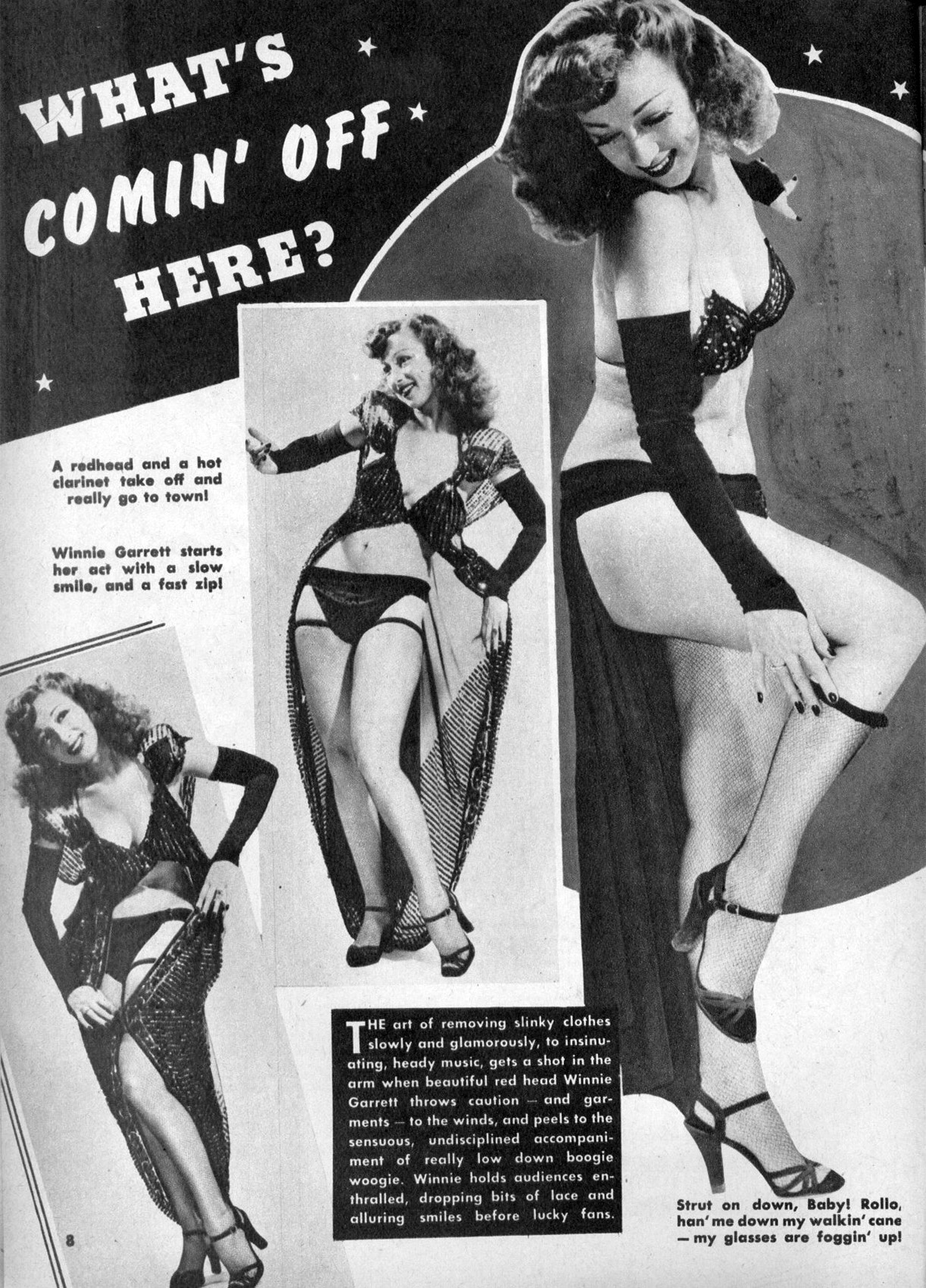 Winnie Garrett was known as "The Raven haired Beauty of Burlesk," "Winnie the WOW," and "Flaming Redhead." as well as '"Queen of the Peelers". Winnie was the owner of two legitimate recording companies (one was "Famous Records") and married a successful Manhattan architect.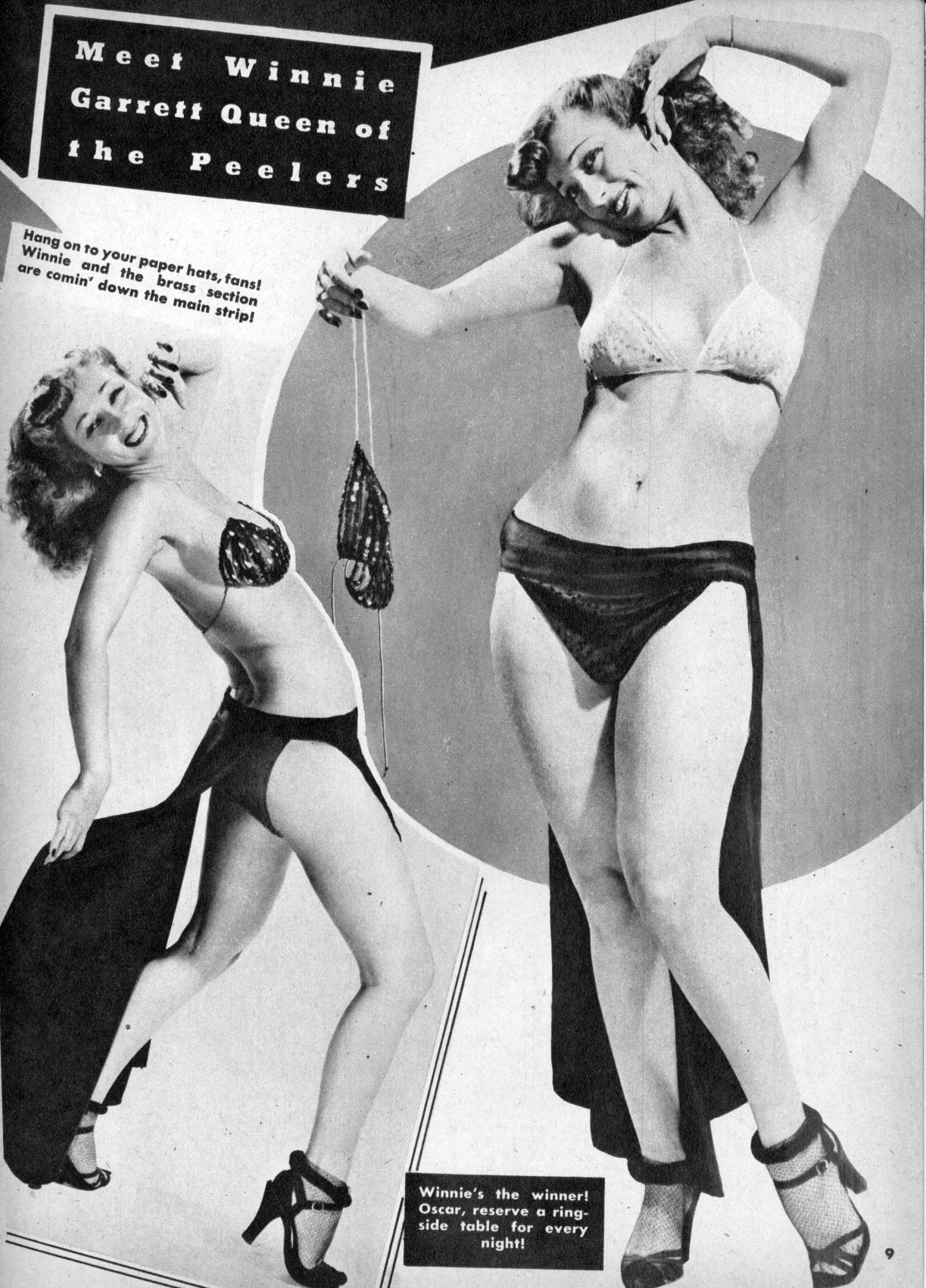 Whatever became of this redheaded Queen of the Peelers? I'm not sure.  There isn't a lot of information on ol' Winnie to be found.  But given that she had two record companies and a Manhattan architect husband, I'm going to presume she did just fine.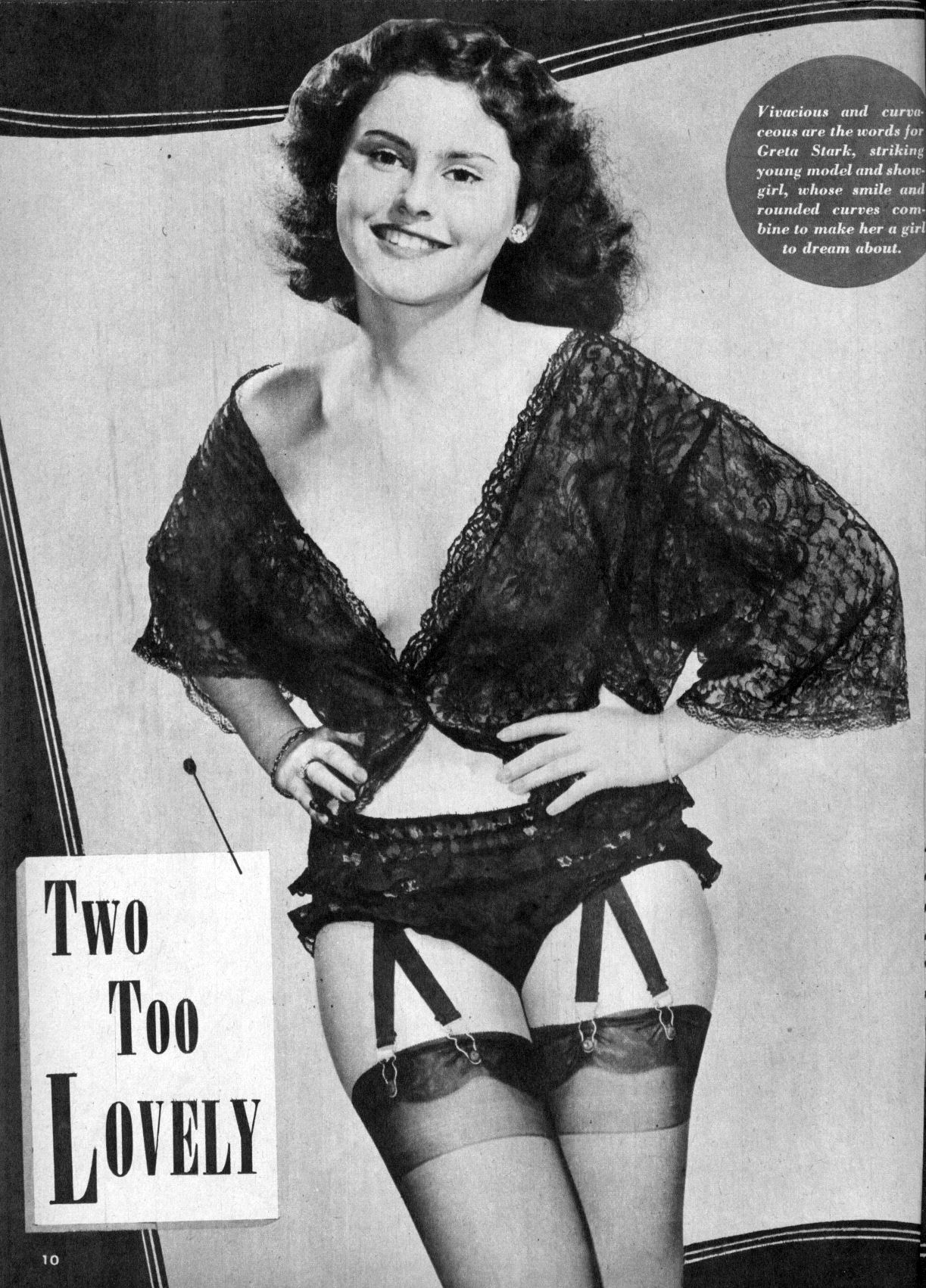 The next article is titled "Two Too Lovely" and so features a pair of girls: Greta Stark and Dayle Lindsey – neither of whom can I find any information on.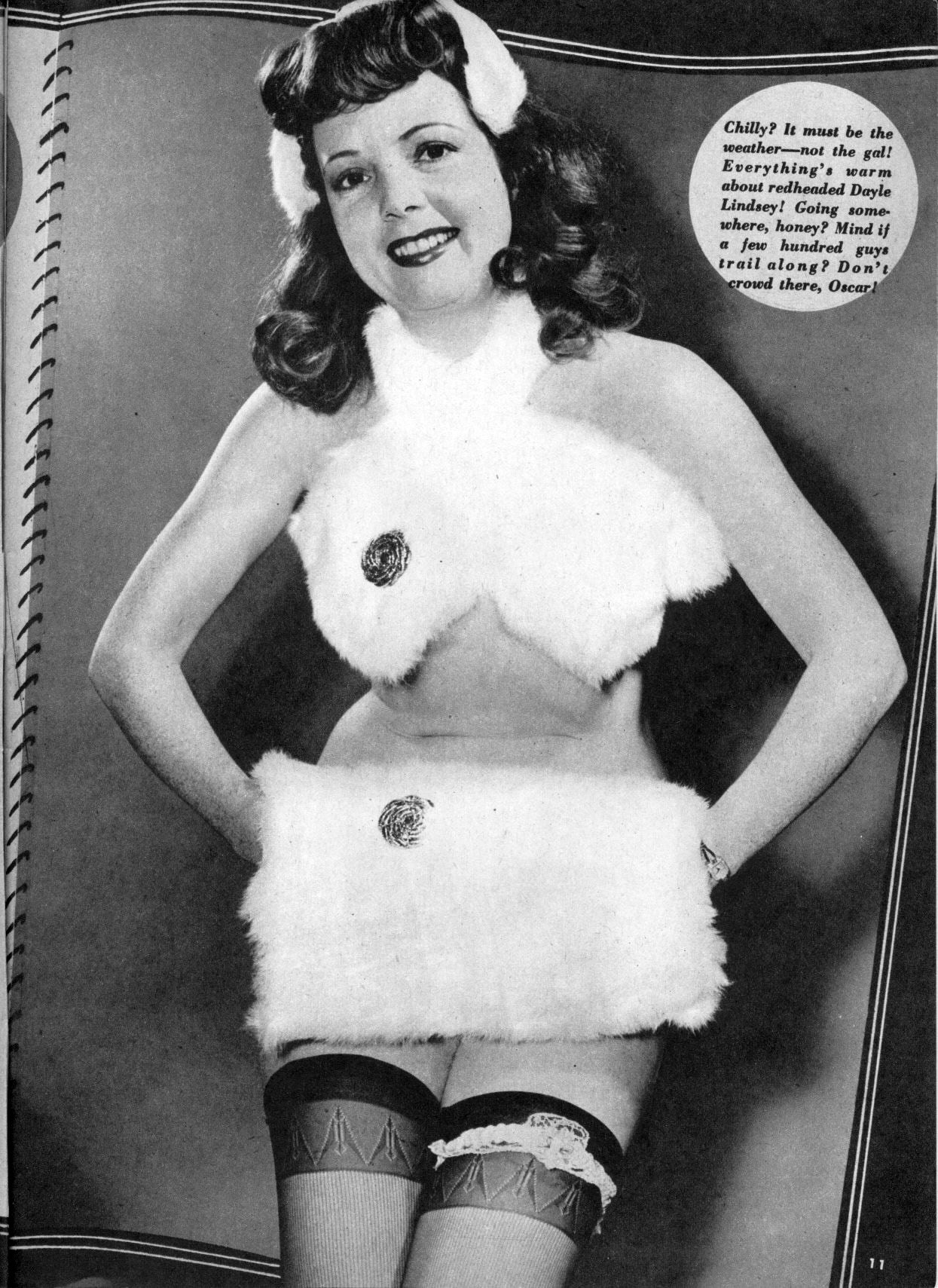 "Going somewhere, honey?  Mind if a few hundred guys trail along?"   Yeah, I'm thinking she'll mind – sounds a bit traumatic actually.
Prepare for the four-page politically incorrect article: "Mind Over Body":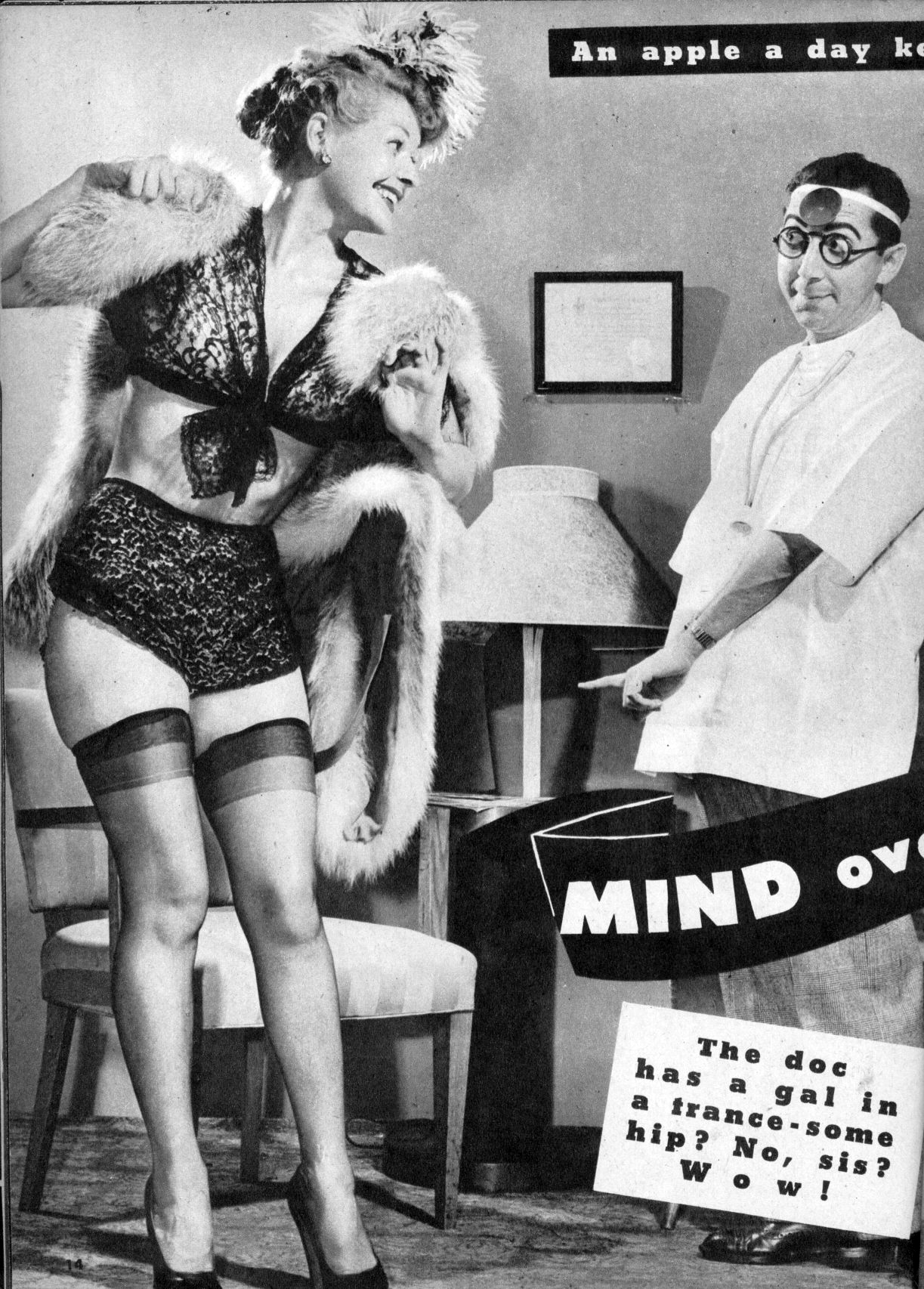 "The doc has a gal in a trance – some hip? No, sis? Wow!"
Say what?  It's like they were speaking another language in 1949.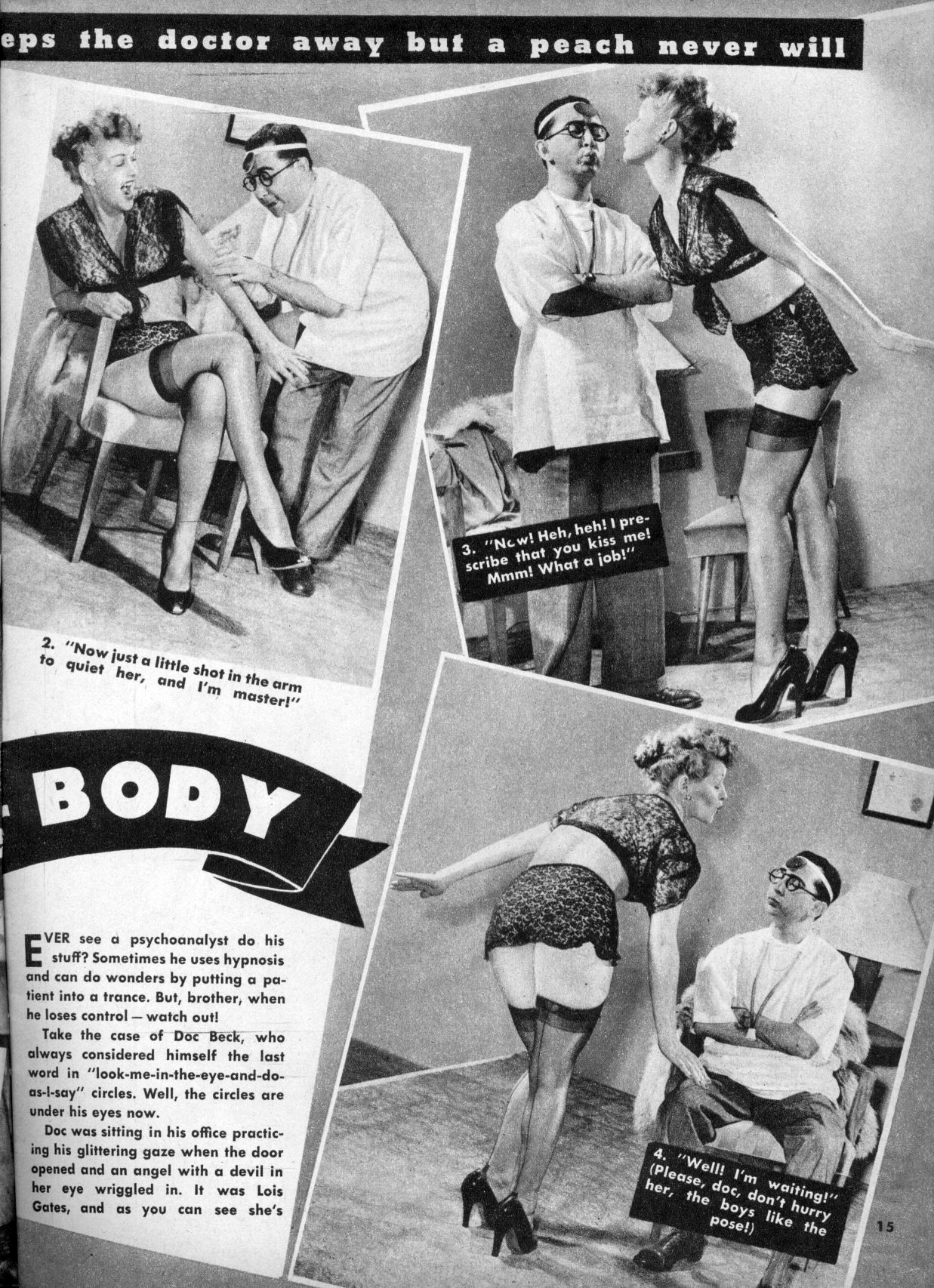 So, we have a doctor who puts his female patients into a trance then has his way with them.  Isn't that hilarious?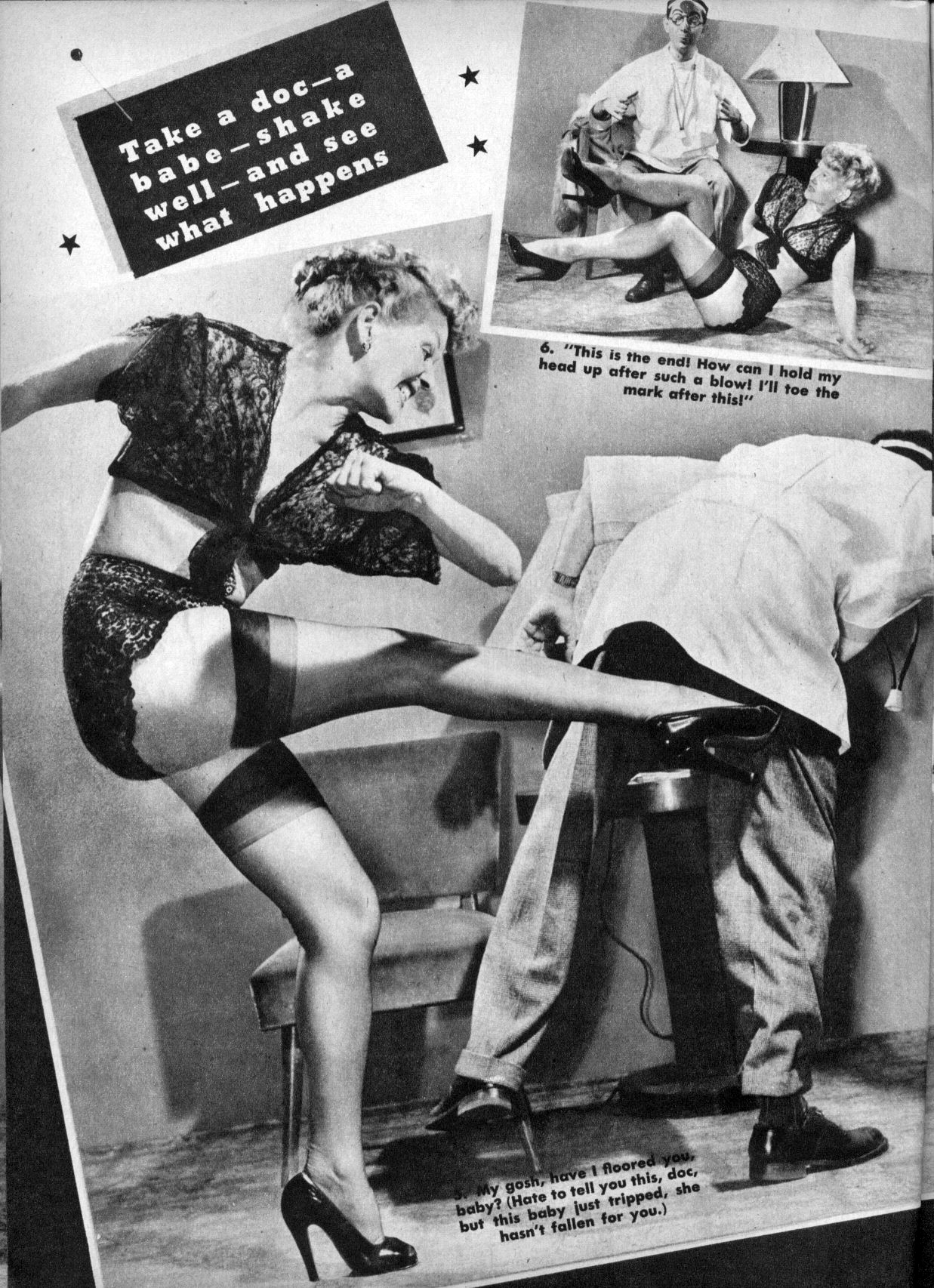 Apparently, the pervert's hypnosis didn't stick, so now she's literally kicking his ass.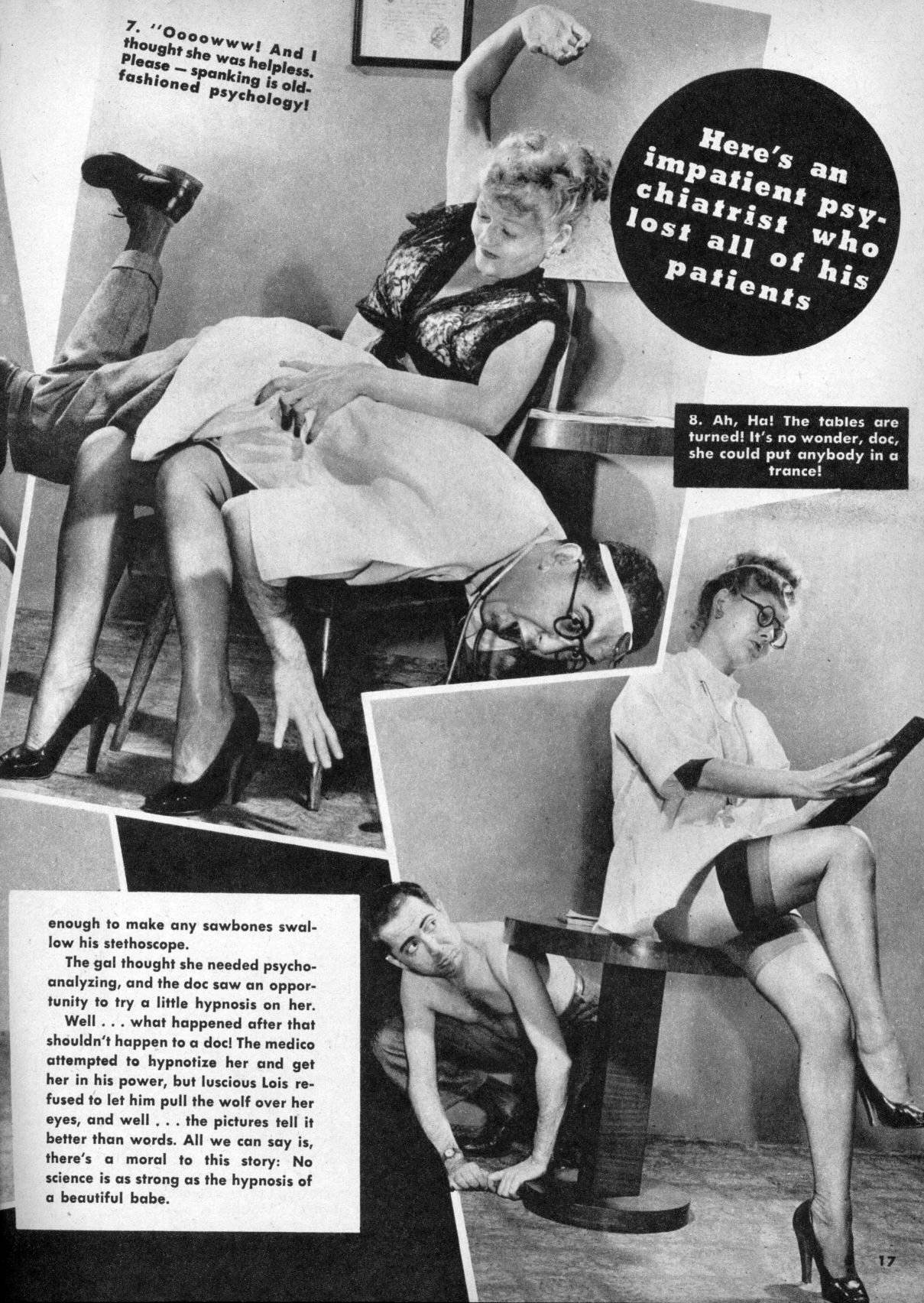 Okay, I'm glad she was able to get the better of the pervert; but shouldn't she be filing a report or something?
Myrna Dean was knows as "The Dean of Strippers" and "The Atomic Platinum Blonde"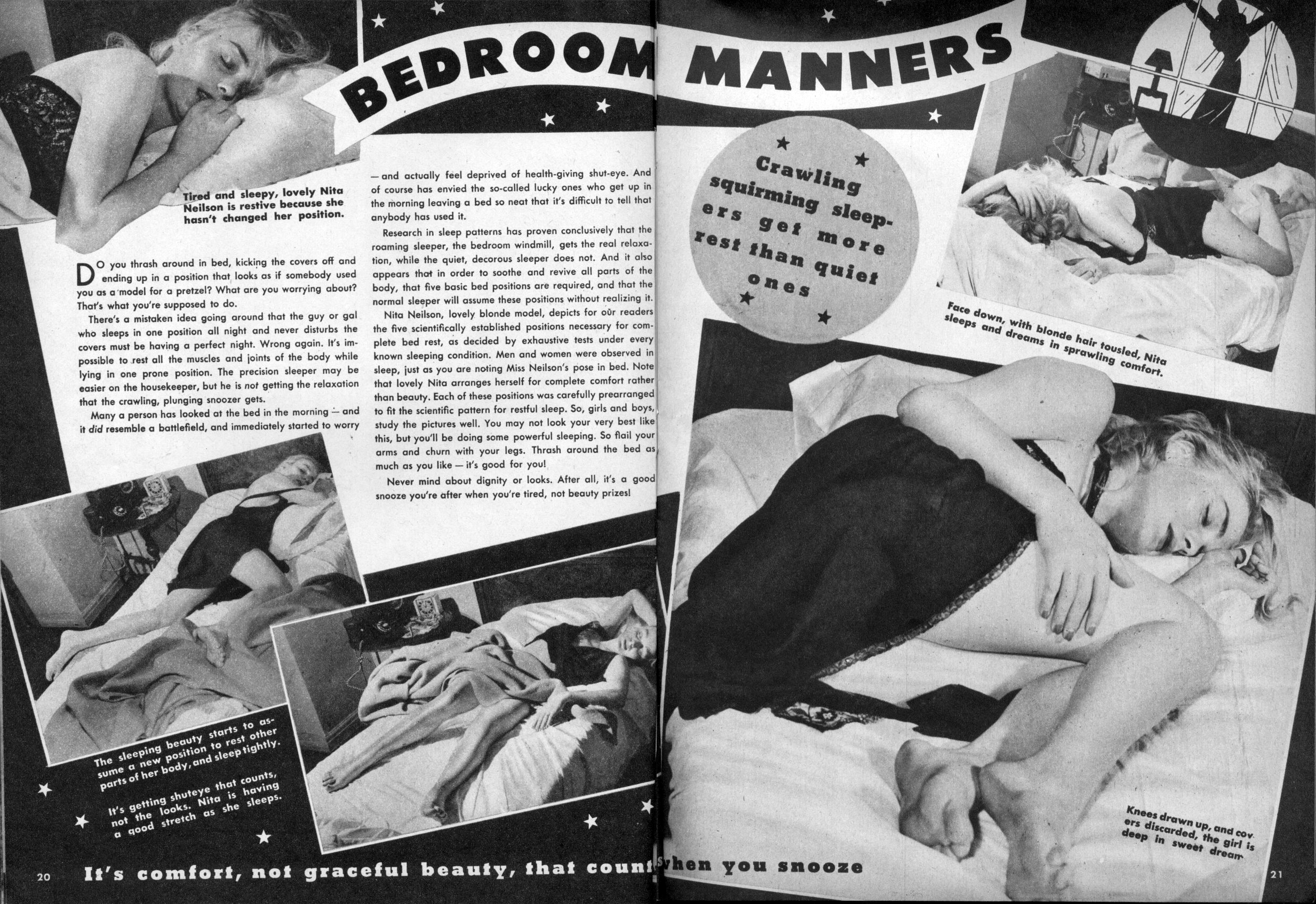 This is supposed to be a scientific article about how to get a better night's sleep through body positioning…. but I think it's just an excuse to show this check rolling around in bed.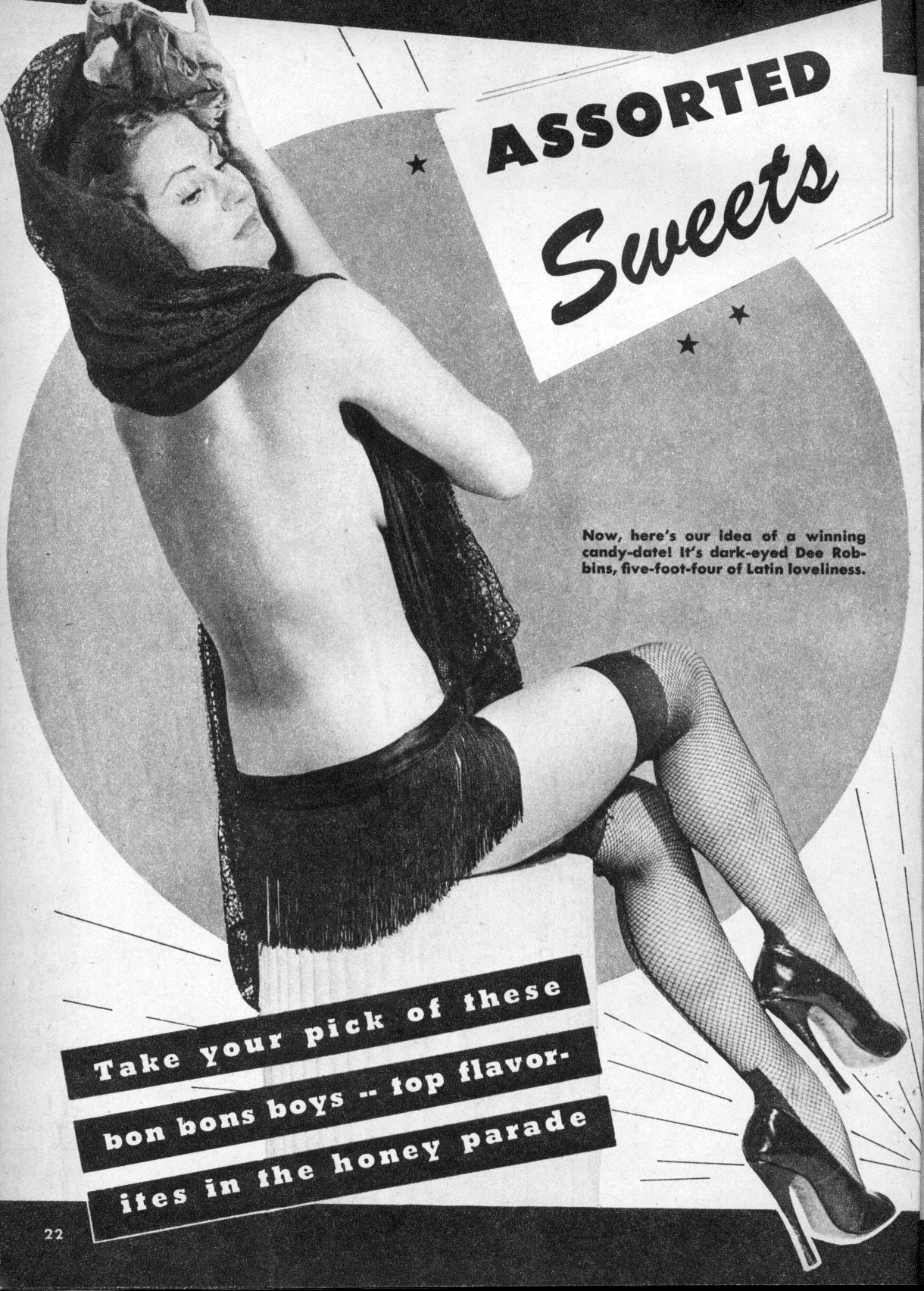 And here's a parade of honeys – and just think: everyone of these gals is pushing 90 years old now (or dead).  A sobering thought.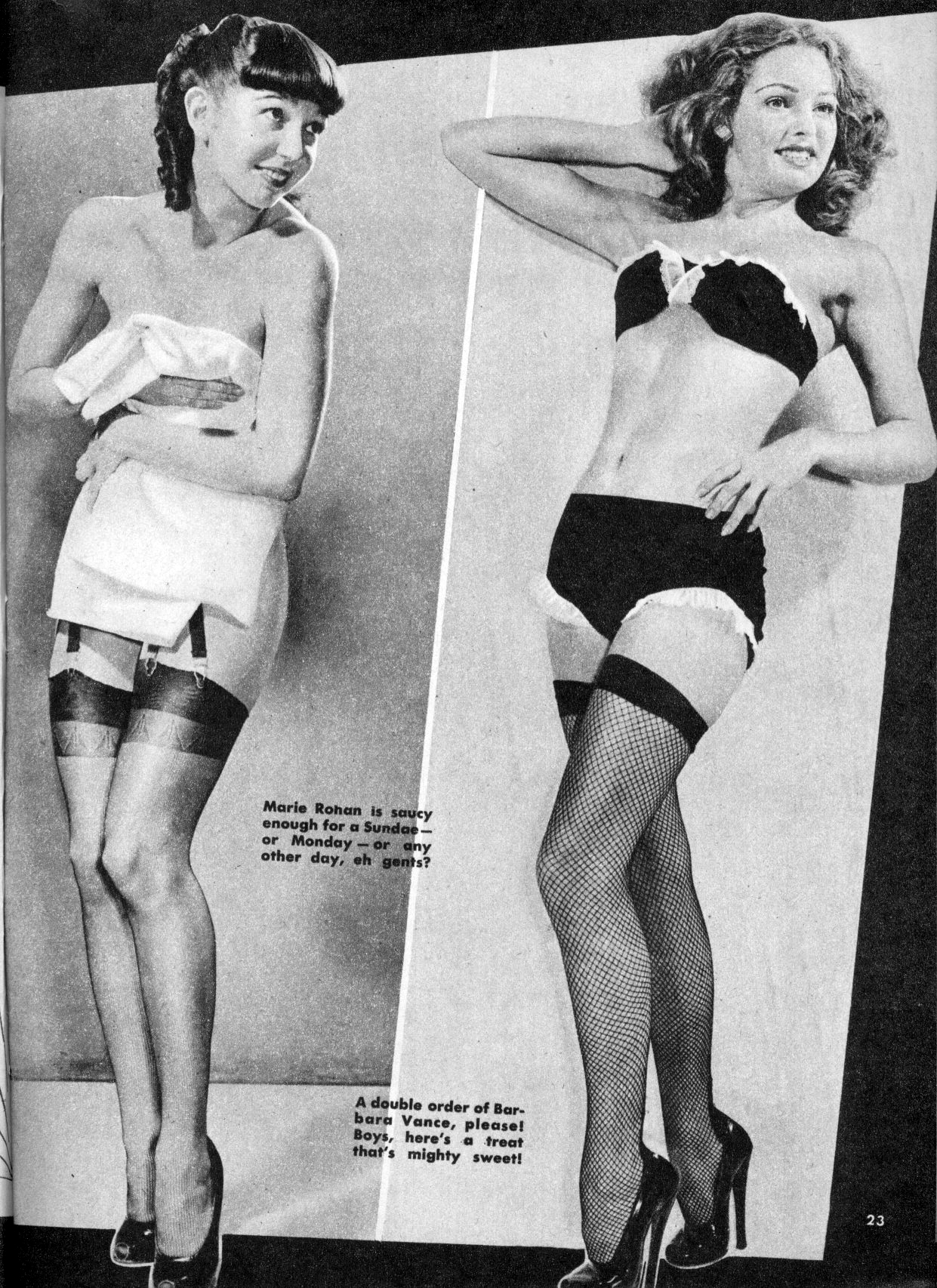 Okay, enough cheesecake. Time to get down to serious business and learn how strippers are hired…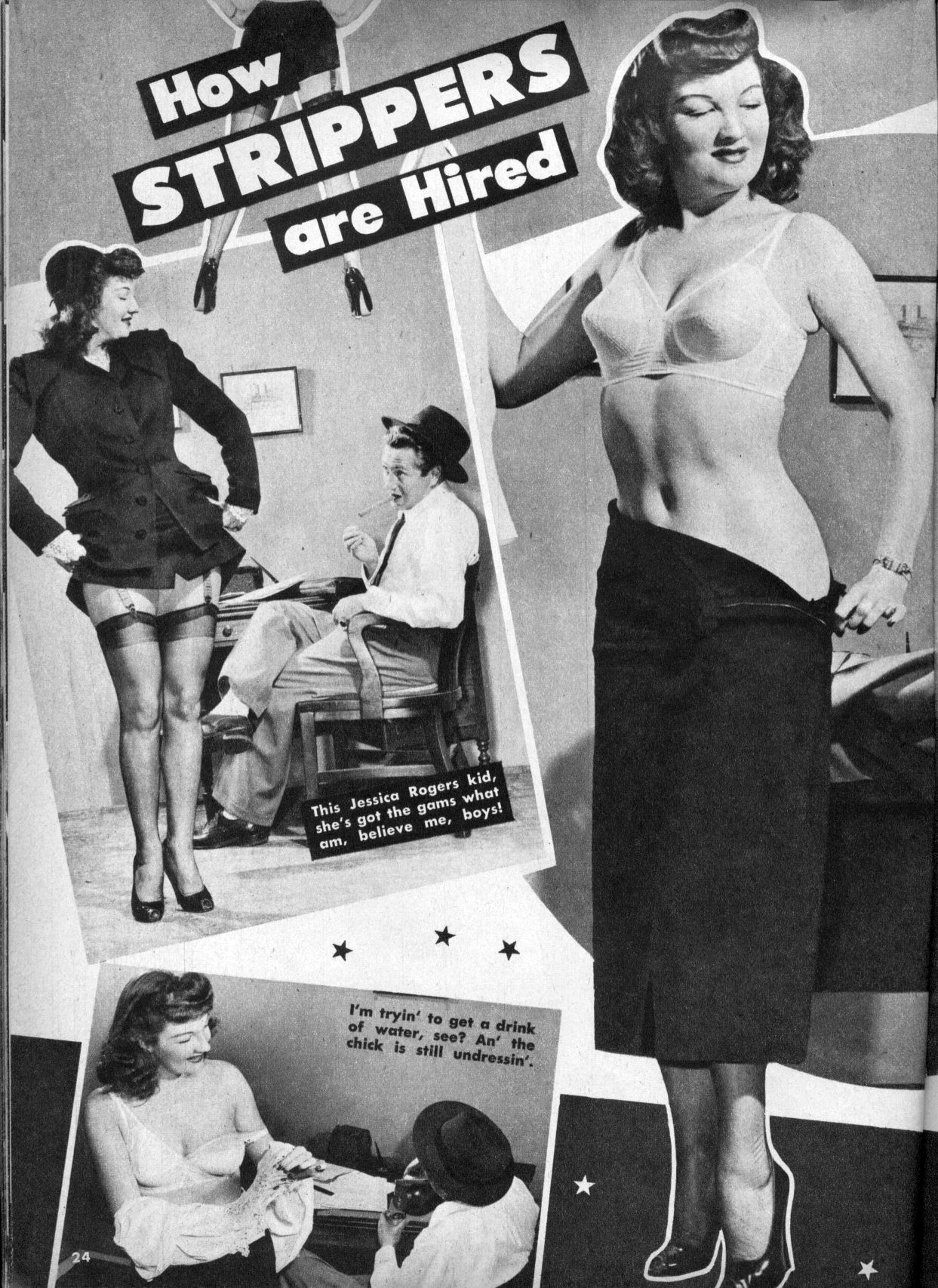 Apparently, stripper employers are hapless Sam Spade characters, "tryin' to get a drink of water, see?" who basically molested by wannabe strippers.  The girls invade his office and immediately start disrobing… "wotta life!"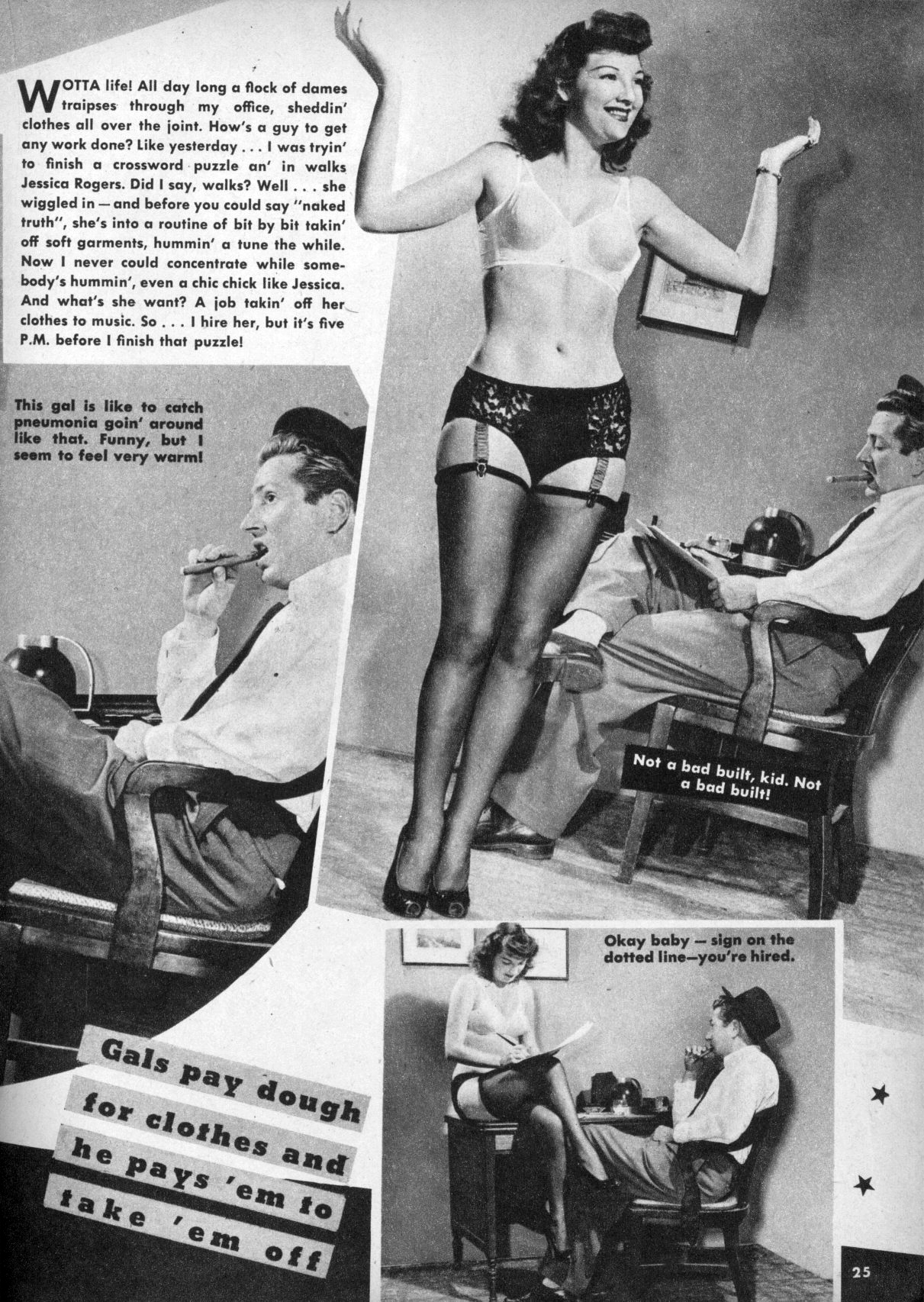 Okay, I'm not sure what we learned here, folks but we got to meet the famed Jessica Rogers.  Jessica was known as "The WOW Girl" and was supposedly the inspiration for Jessica Rabbit (Who Framed Roger Rabbit?).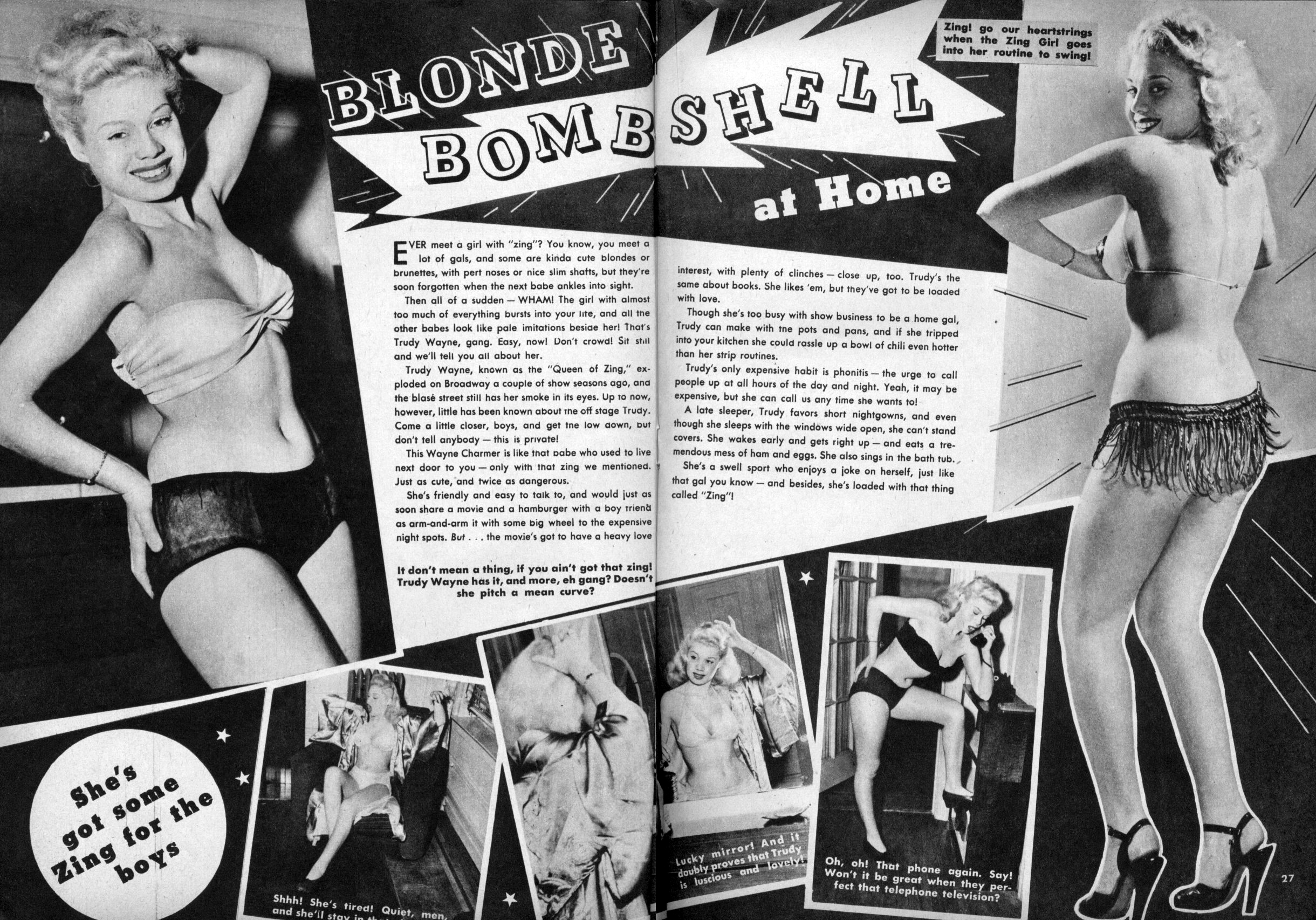 Trudy Wayne was known as "The Queen of Zing", but more commonly, "The Golden Girl from the Golden West."  Perhaps her biggest claim to fame is appearing in the Bettie Page – Tempest Storm  cult classic: Teaserama (1955).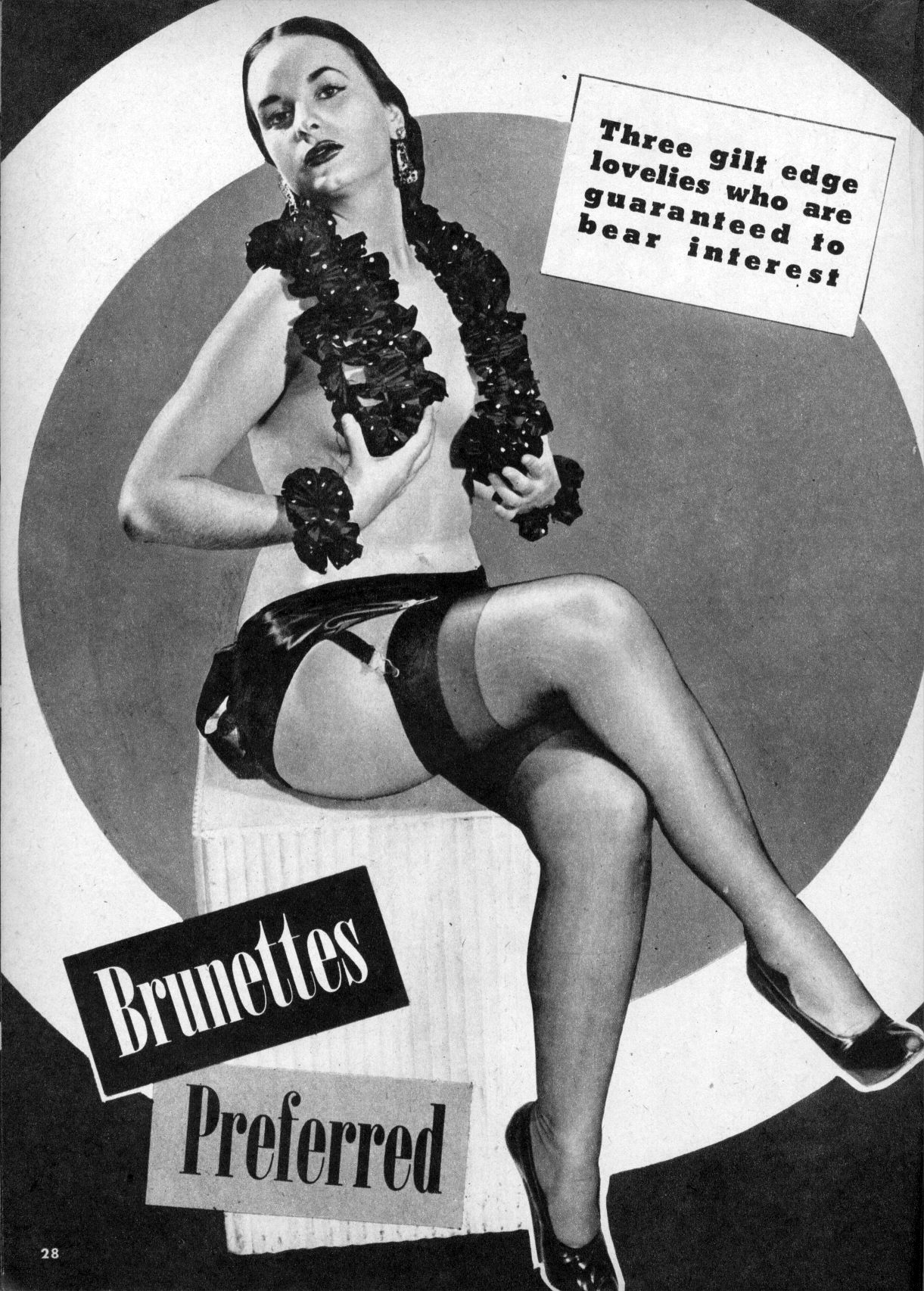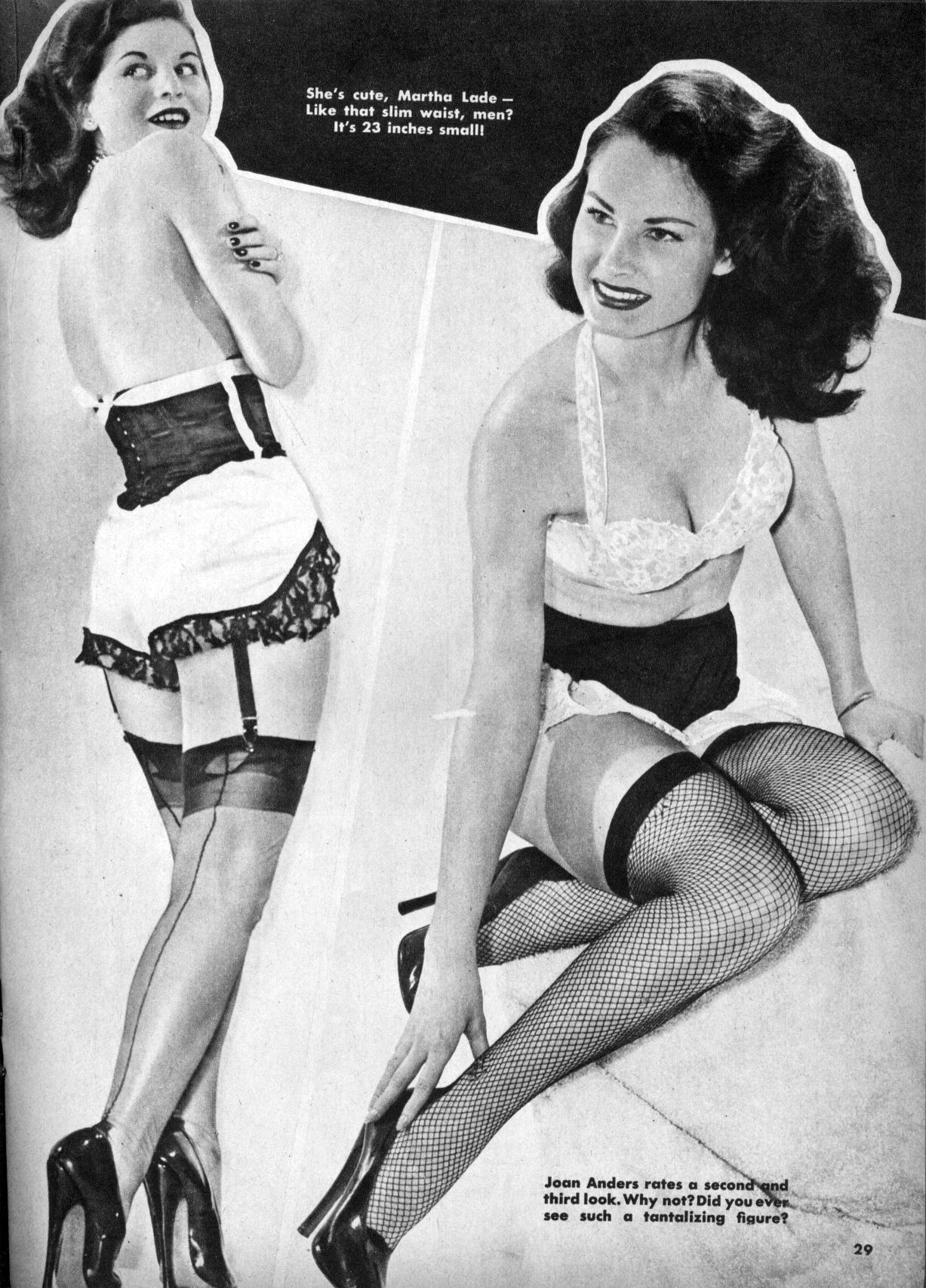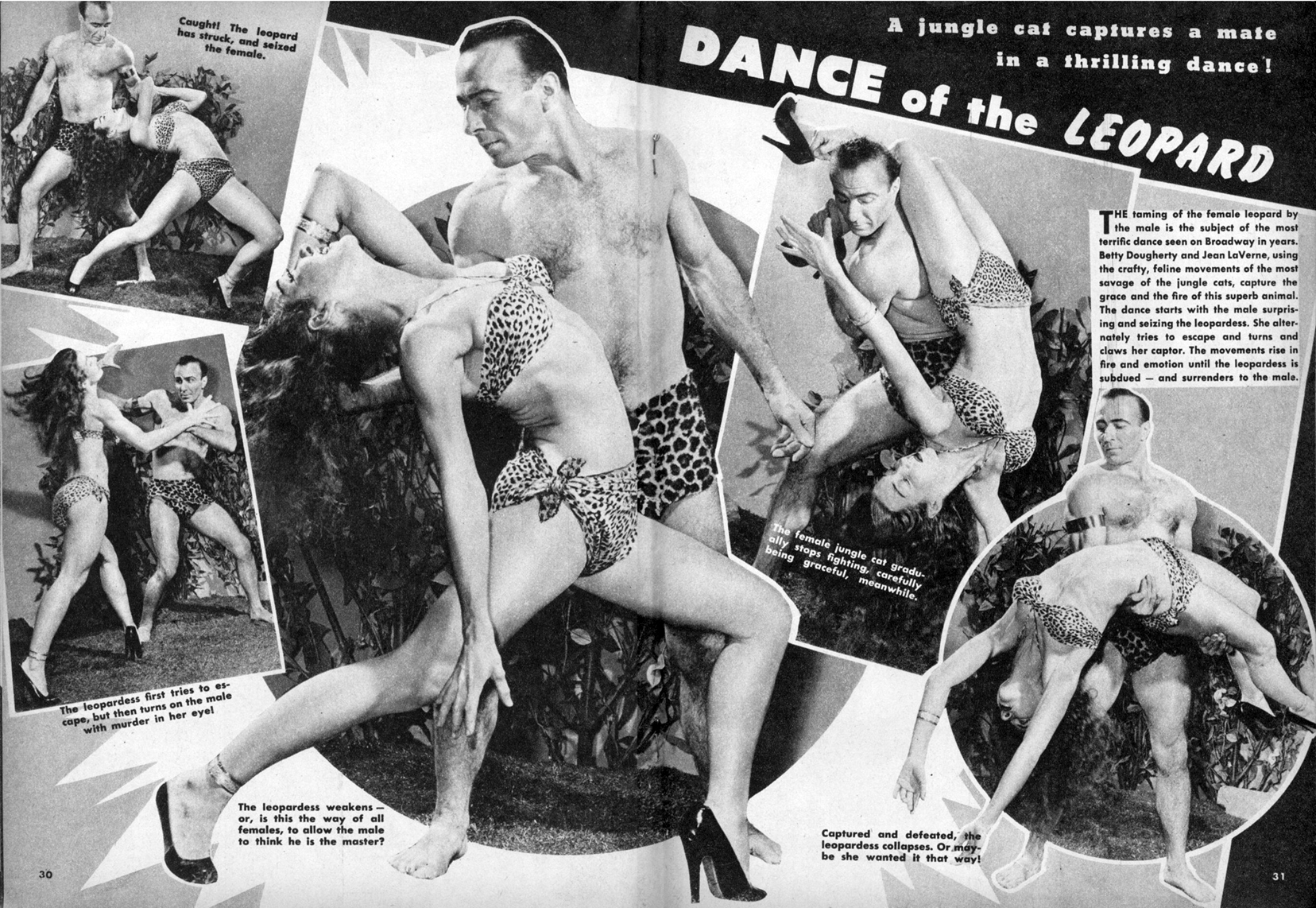 My favorite line: "The leopardess weakens – or, is this the way of all females, to allow the male to think he is the master?"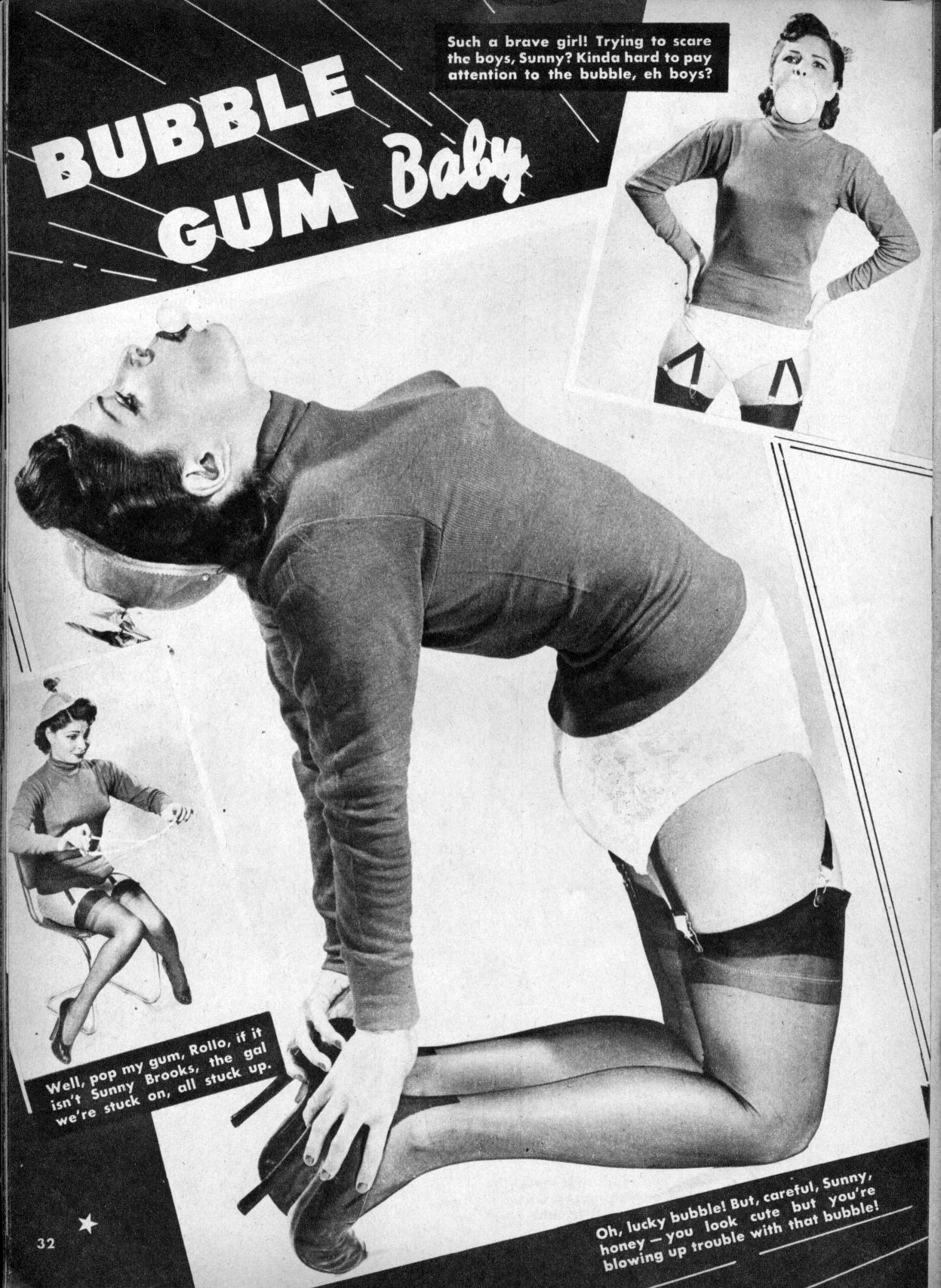 This is more than a little insane. We have a model entertaining herself with "latest fad" – chewing gum. And she blows a bubble so big, that when it pops, it blows all her clothes off.
Yep.  That happens.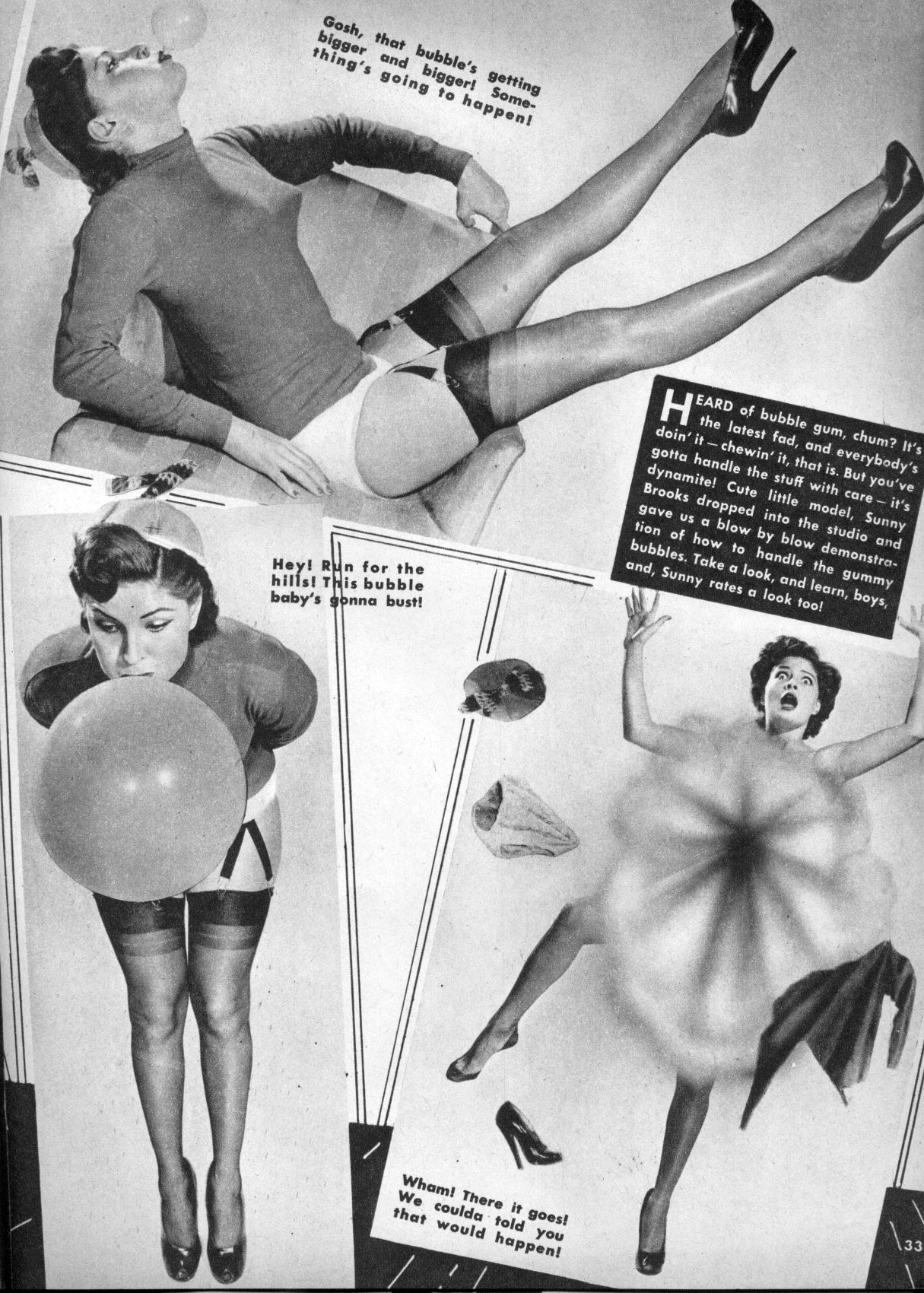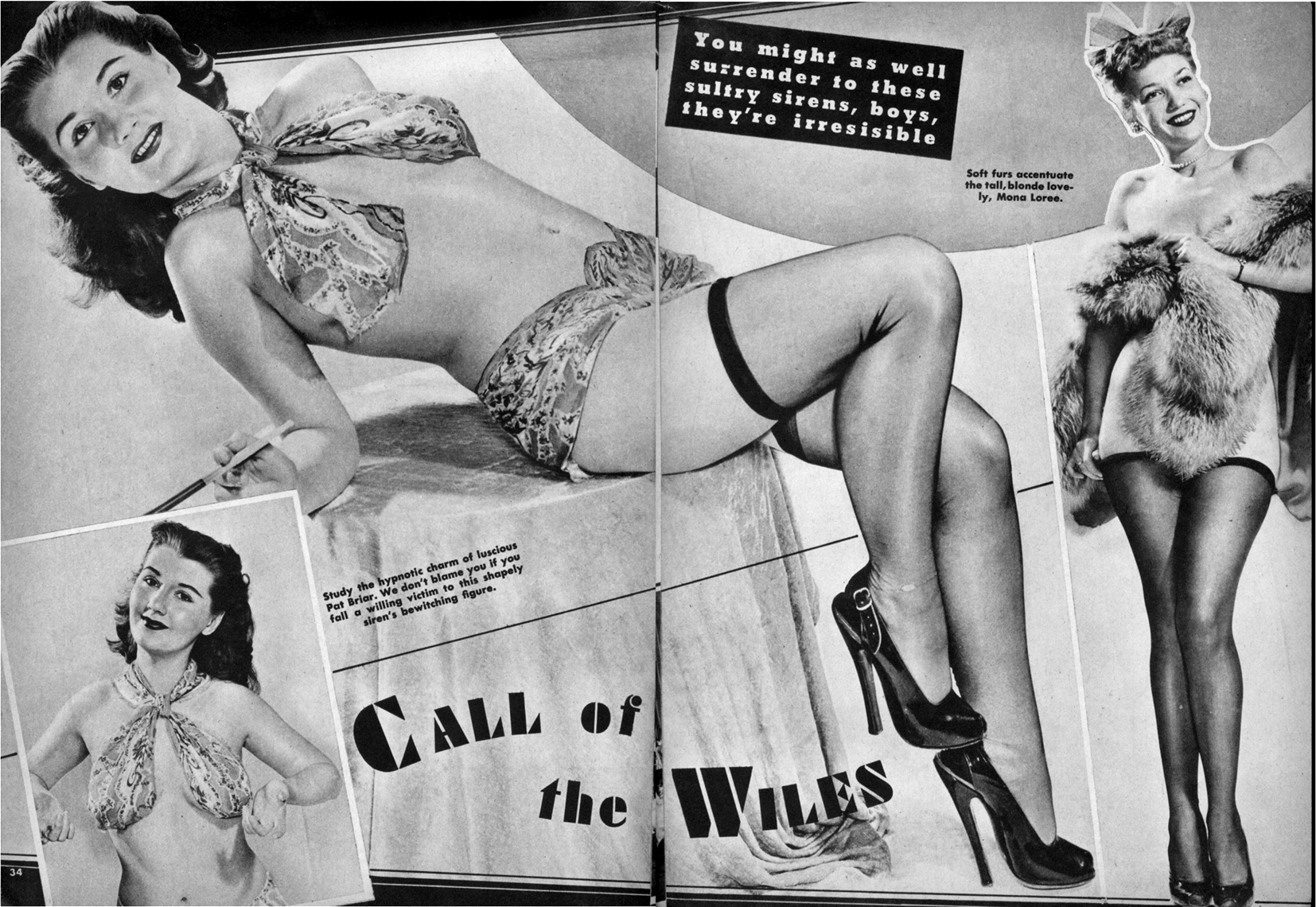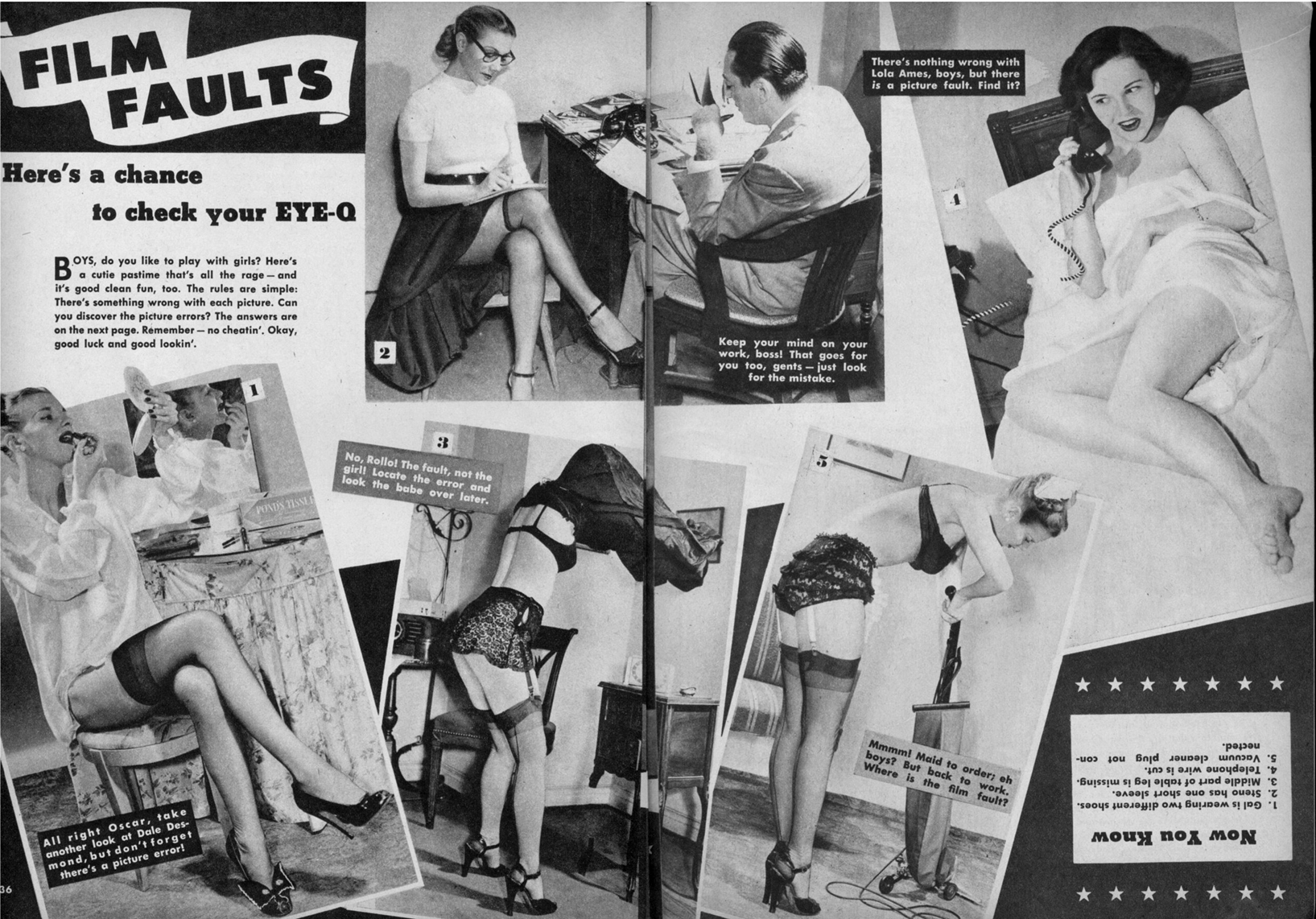 So, the game here is to find out what is wrong with each picture.  The answers are below:
Gal is wearing two different shoes
Steno has one short sleeve
Middle part of table leg is missing
Telephone wire is cut
Vacuum cleaner plug not connected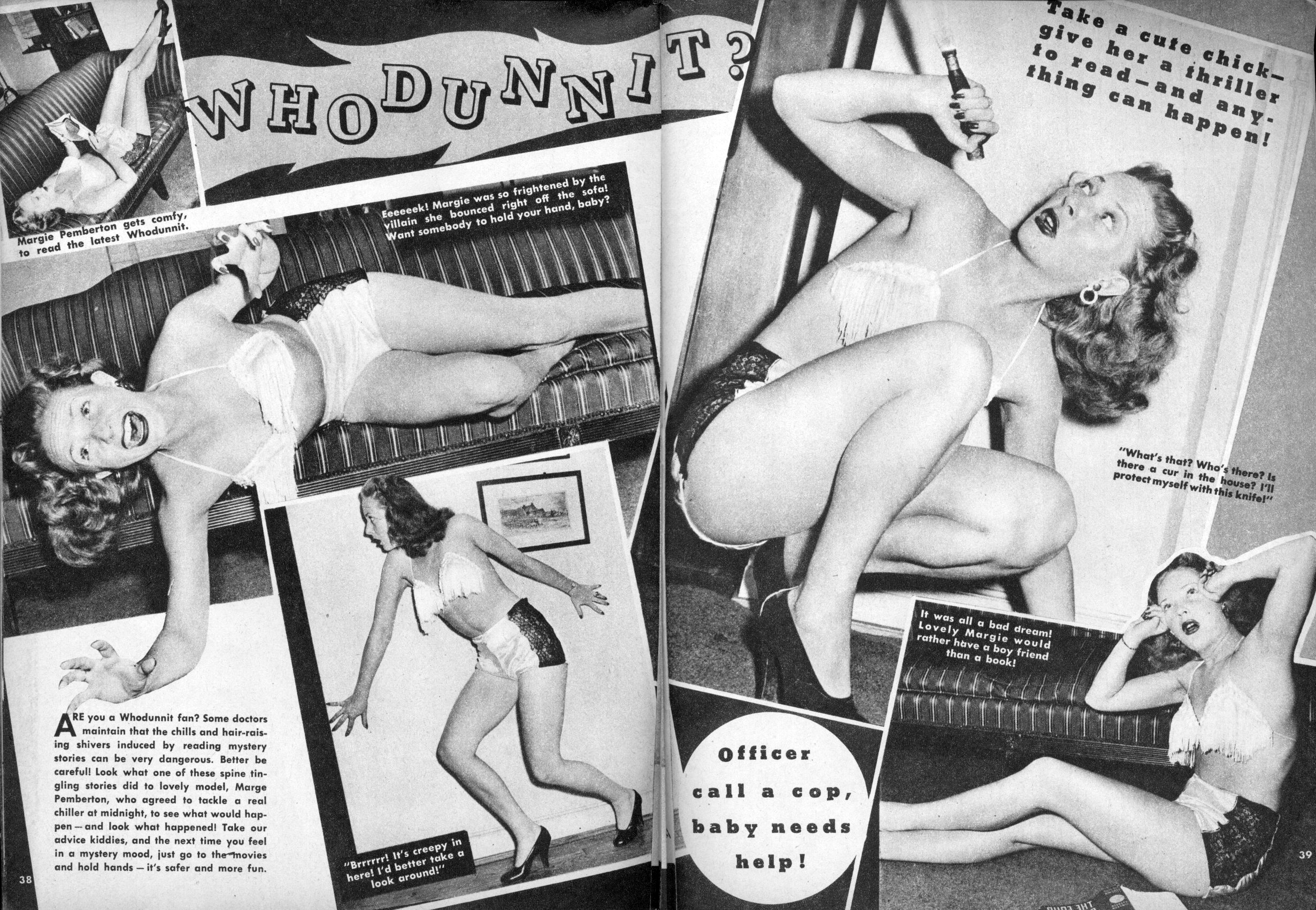 "Officer call a cop, baby needs help!" In which a poor, helpless and stupid dame gets scared by her mystery novel and acts like a complete idiot. (Women's Lib was still a couple decades away.)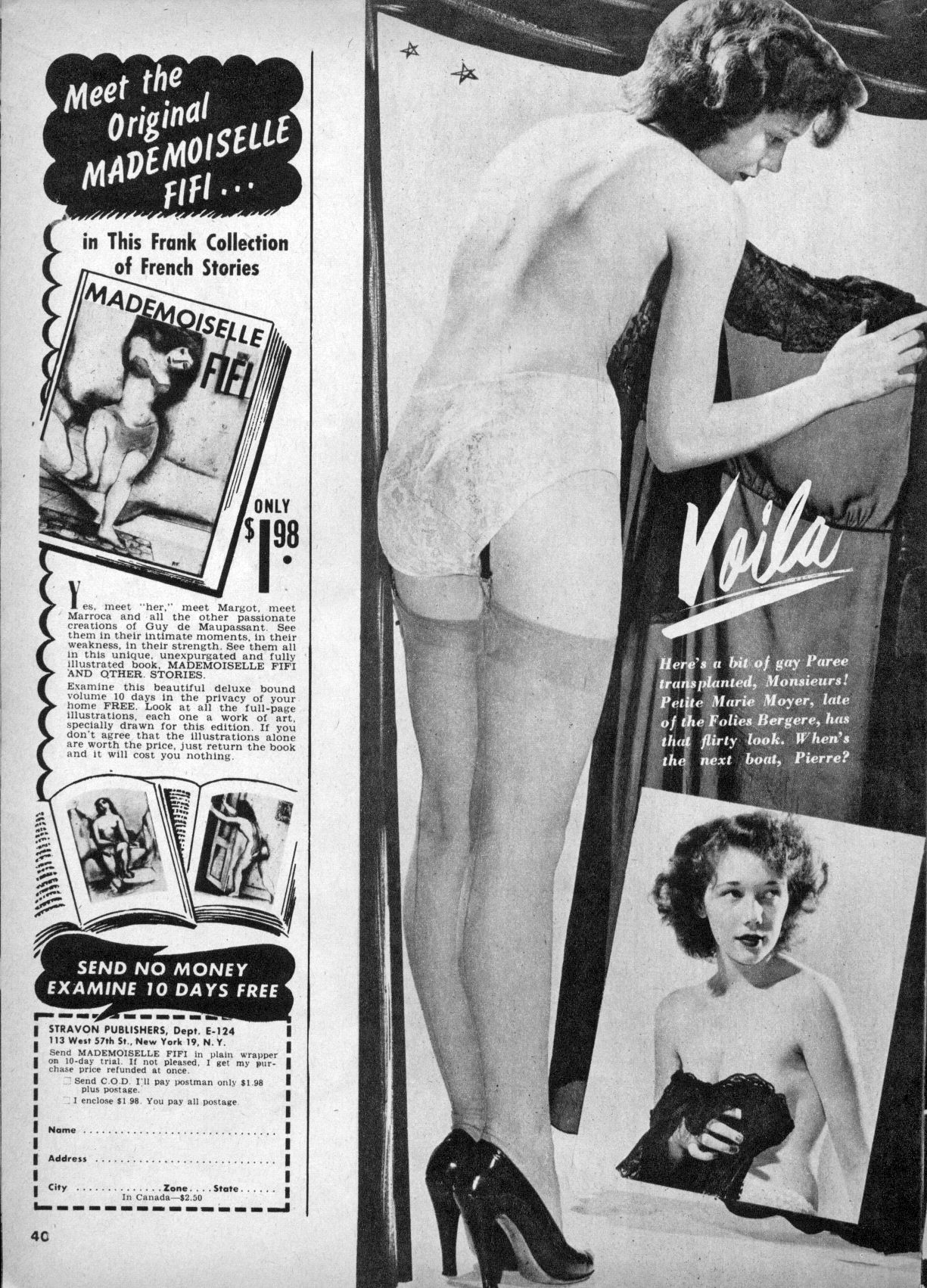 It's interesting that they're marketing "Mademoiselle Fifi" (a short story by Guy de Maupassant) as something akin to 50 Shades of Grey.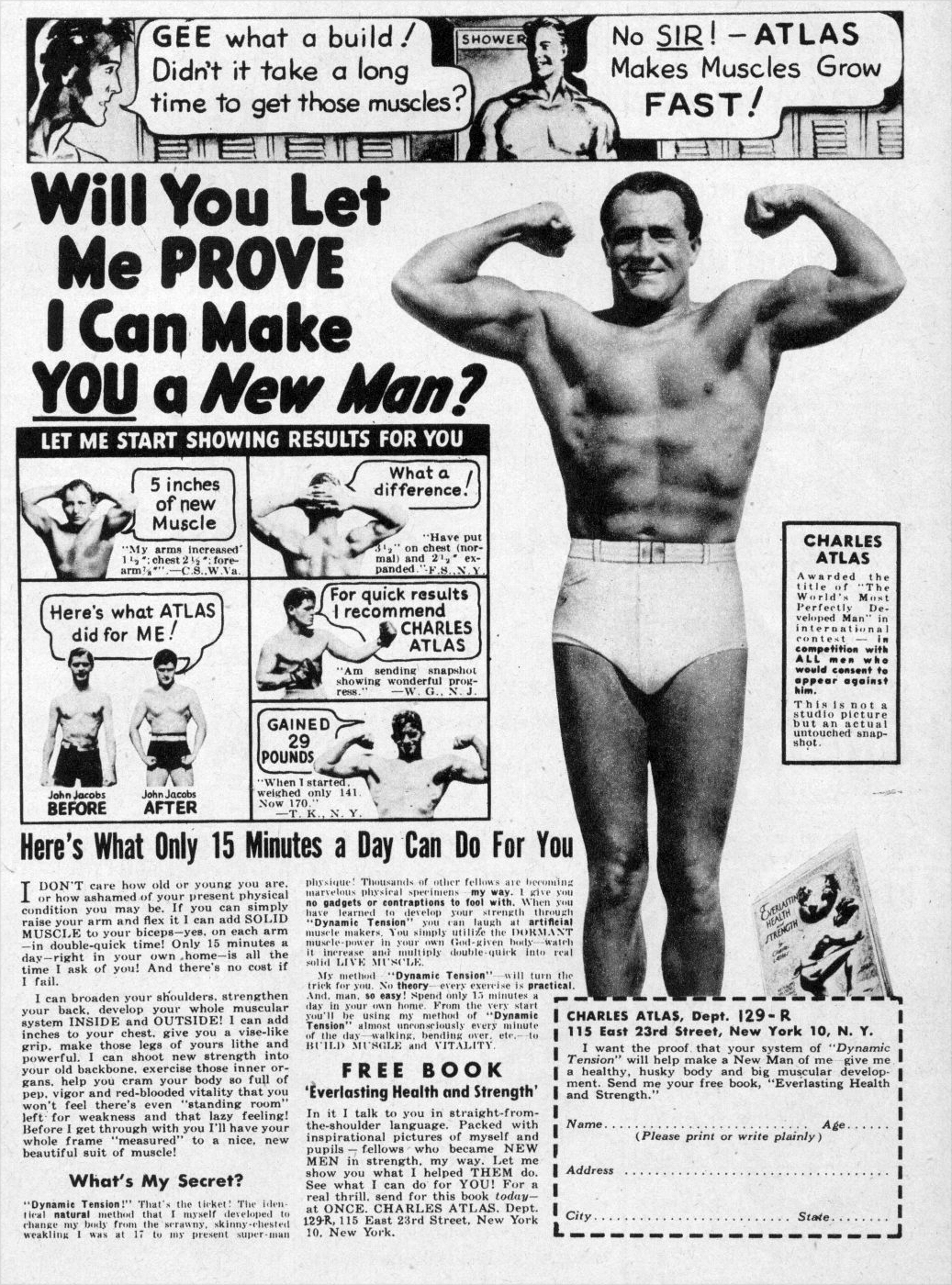 It just wouldn't be a men's magazine without a Charles Atlas advertisement to make readers feel weak and inferior.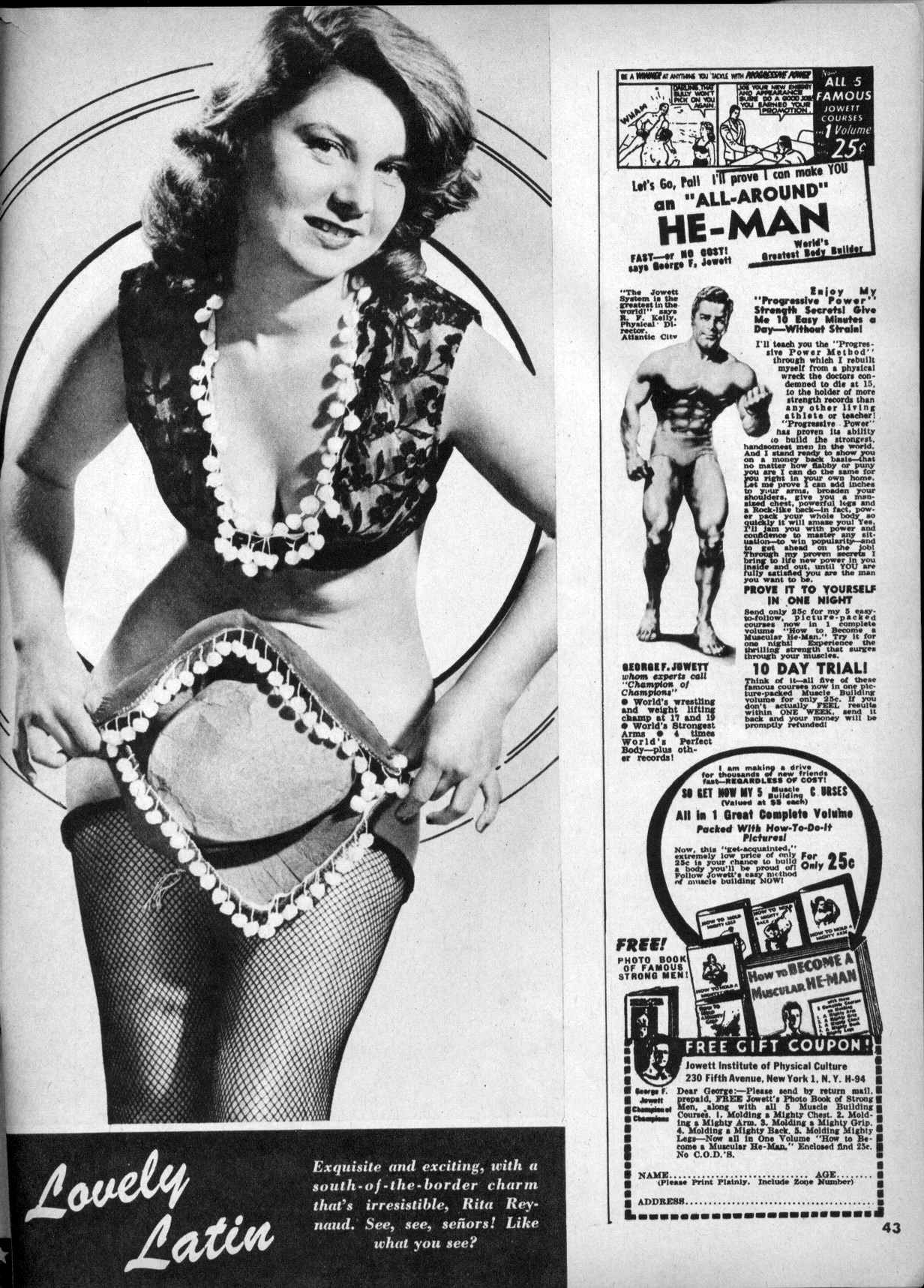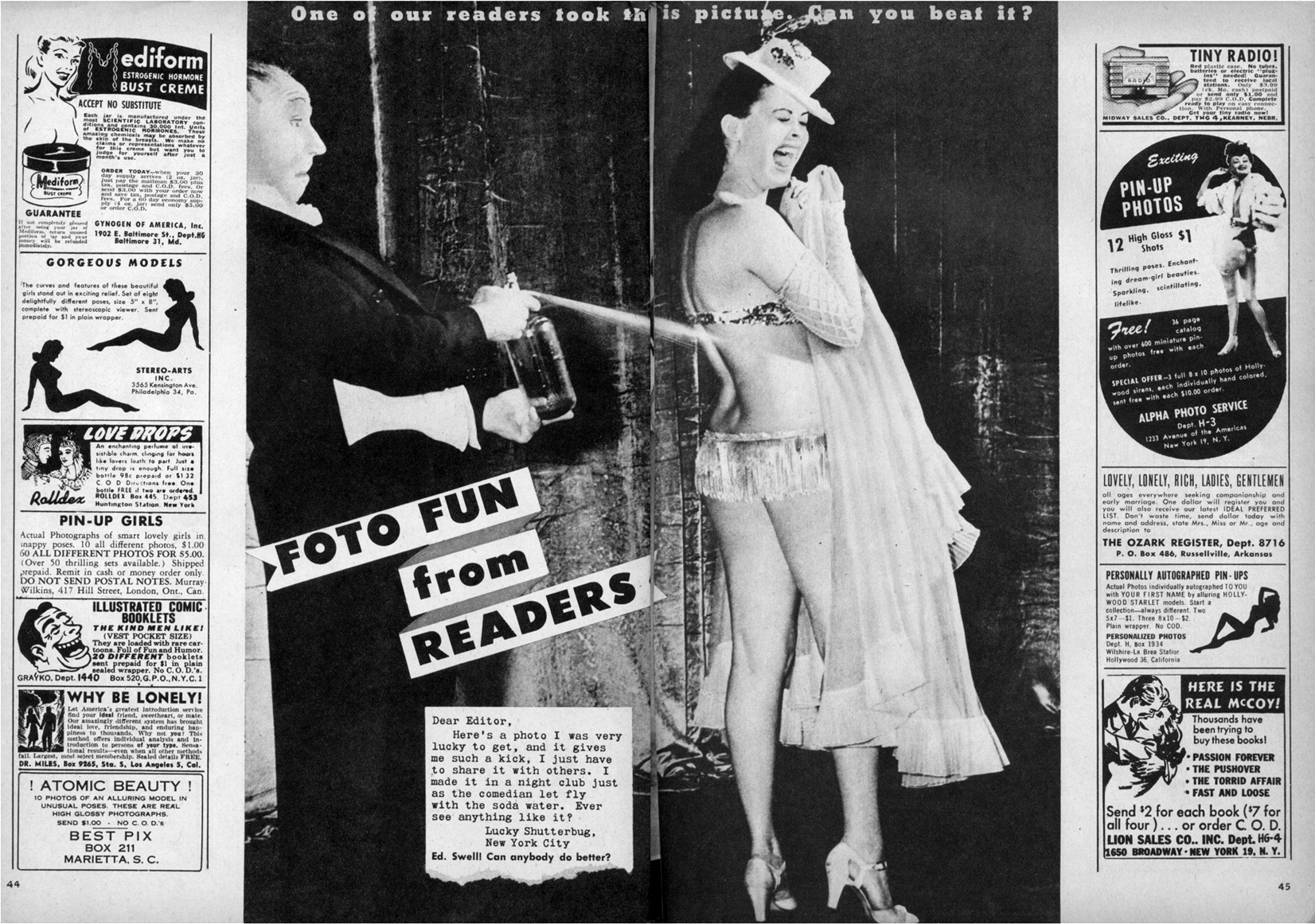 This is just odd: the comedian who's spraying the soda water has a cartoon face… WTF?  I'm not sure which is more suspicious, the advertising or the photograph from a "reader".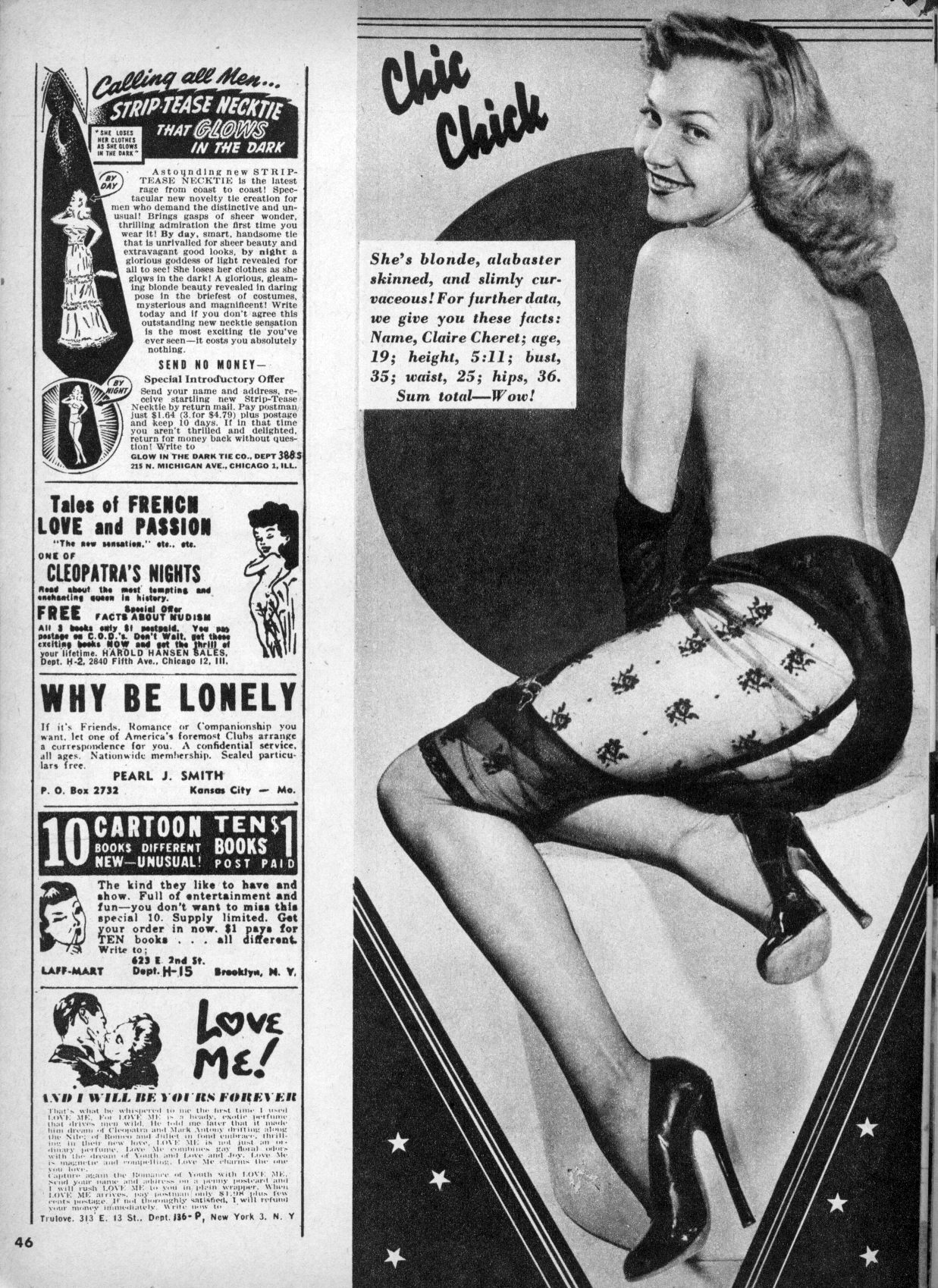 You had to be a certain kind of guy to pull off the glow-in-the-dark striptease necktie.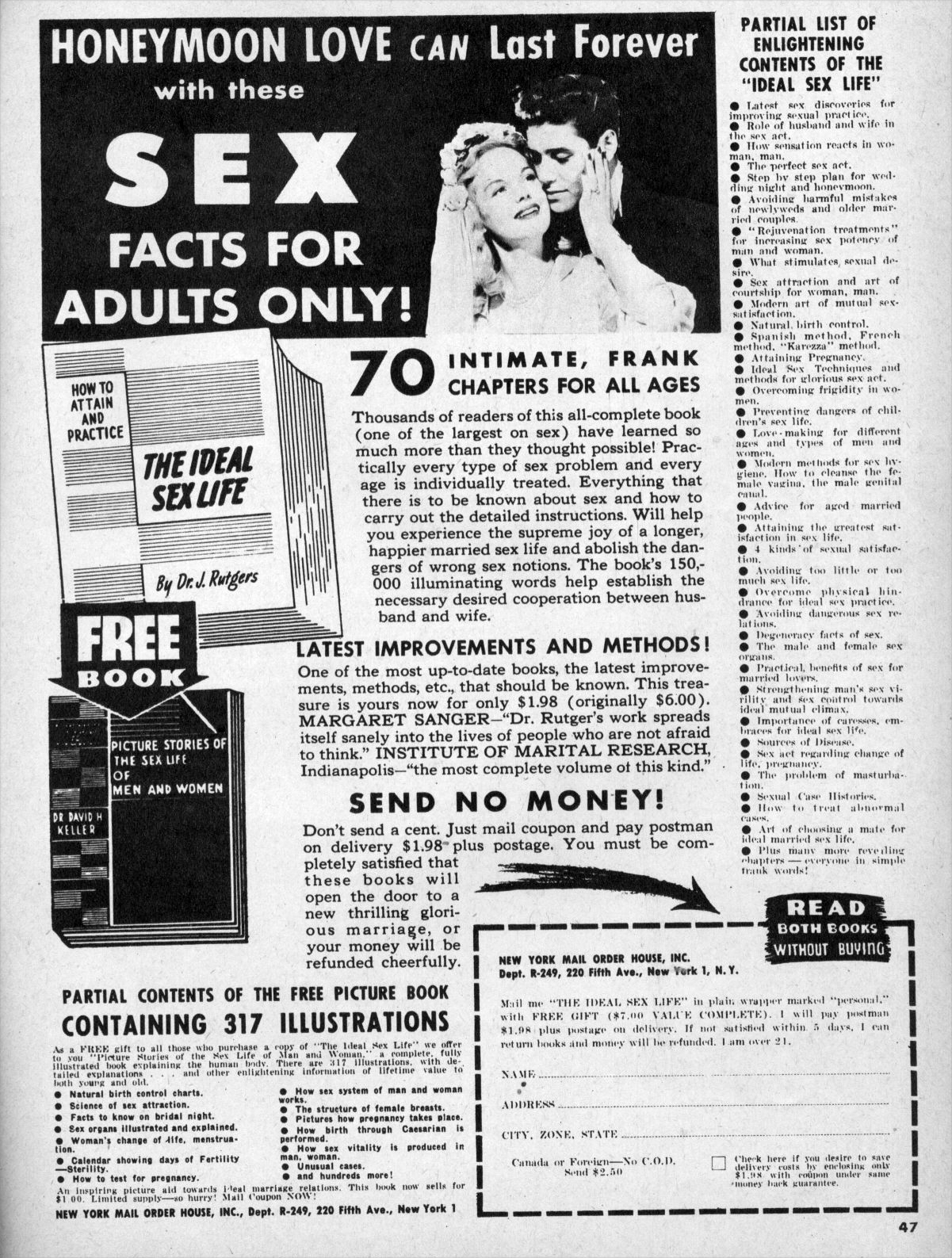 The number of books on sex advice in these old men's magazines is staggering.  For more, see the article: If Husbands Only Knew: Mid-Century Book Adverts of Sexual Anxiety, True Love and Smut.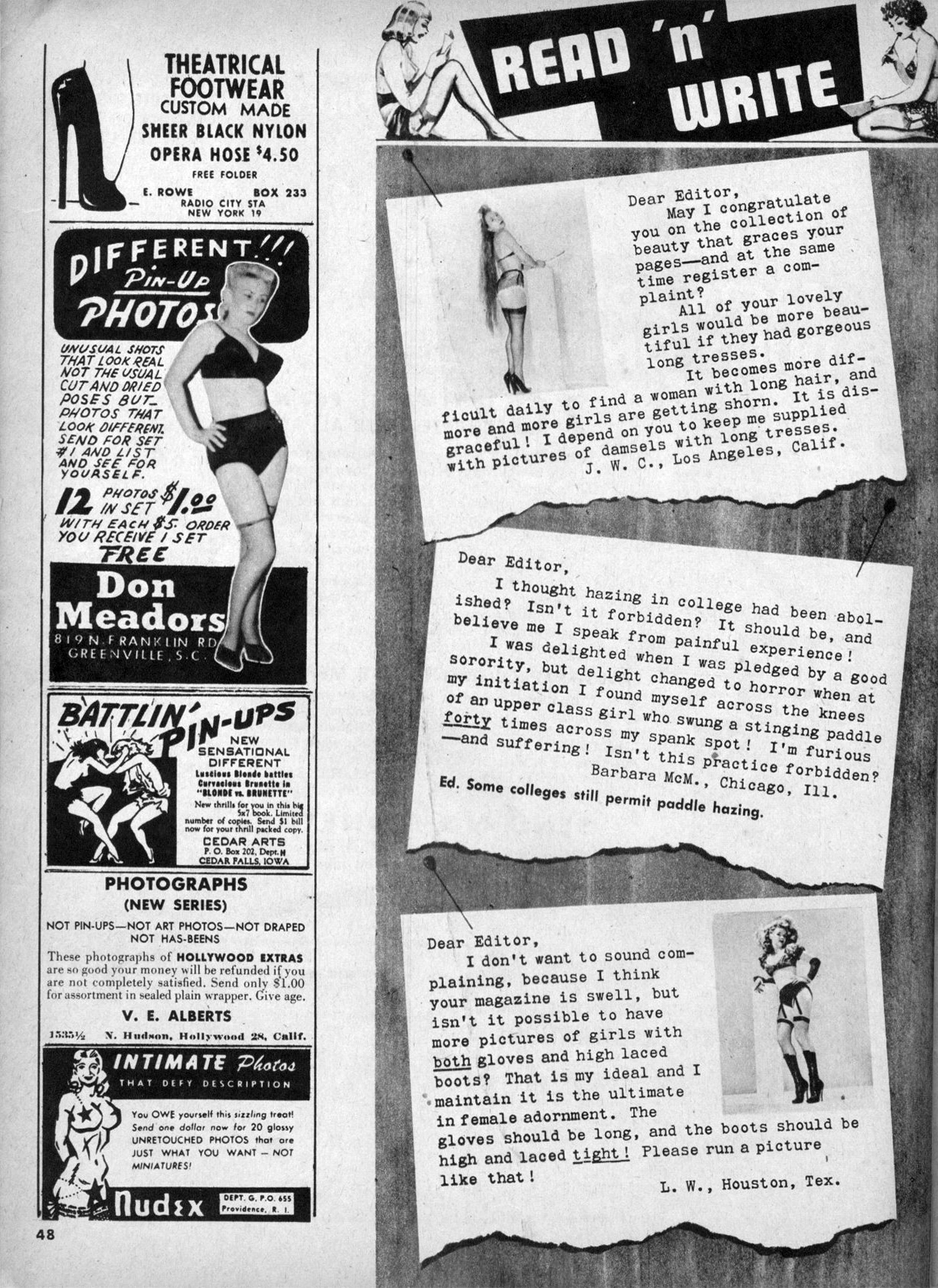 "Dear Editor: I thought hazing in college had been abolished. Isn't it forbidden? It should be, and believe me I speak from painful experience!  I was delighted when I was pledged by a good sorority, but delight changed to horror when at my initiation I found myself across the knees of an upper class girl who swung a stinging paddle 40 times across my spank spot! I'm furious and suffering.  Isn't this practice forbidden?"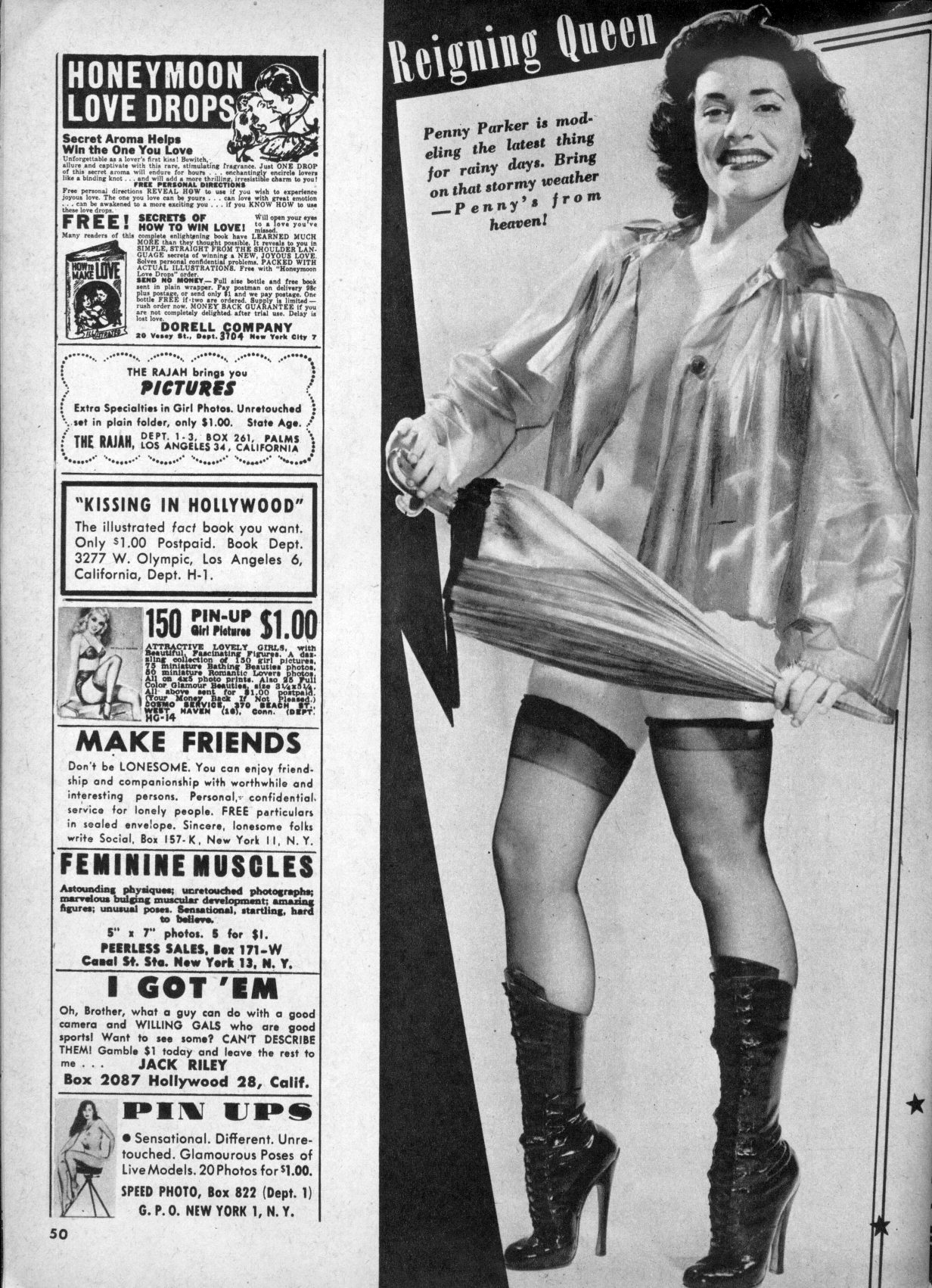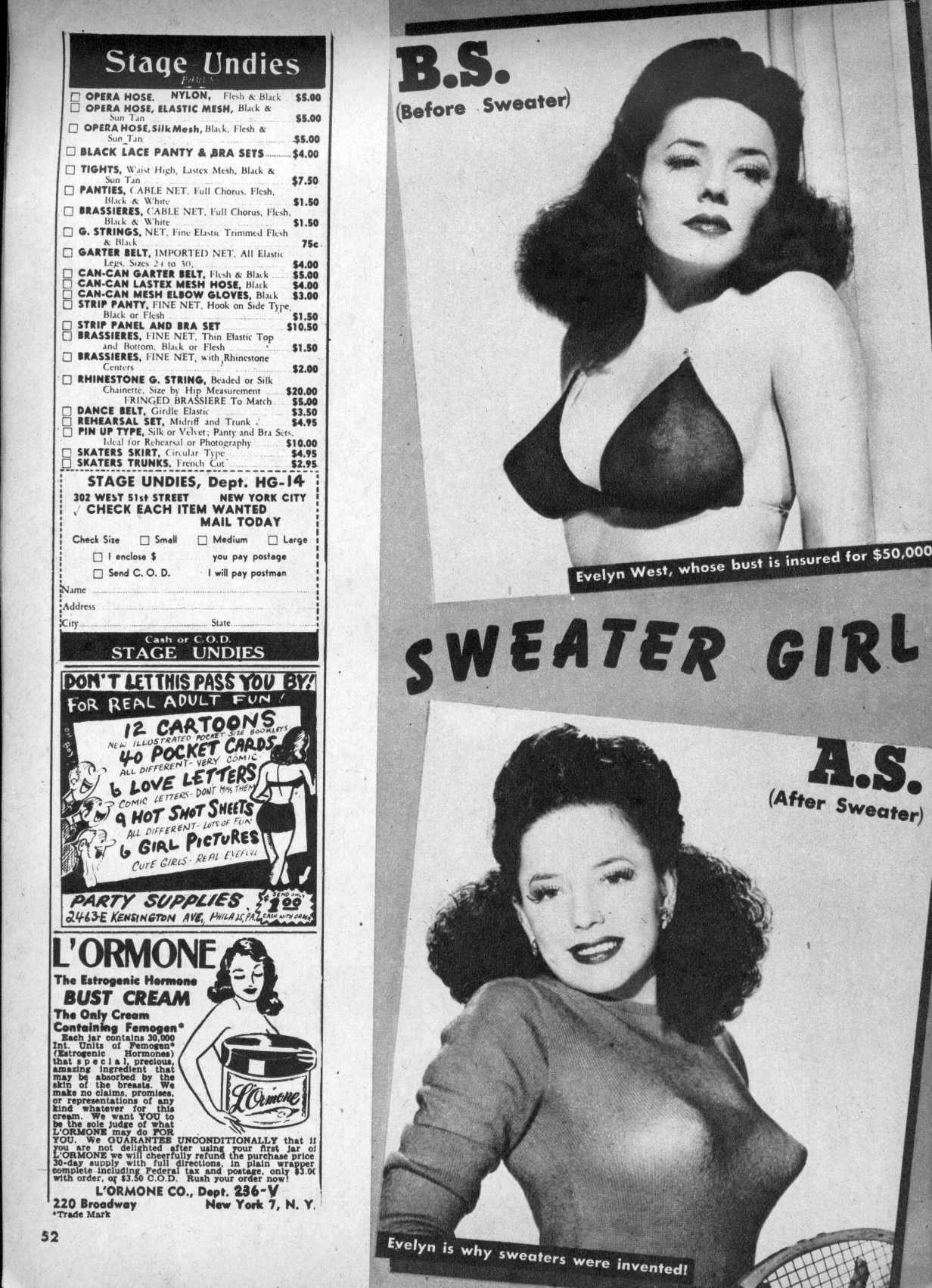 Evelyn West actually tried to legally changer her name to "Evelyn '$50,000 Treasure Chest' West.  West was among the more colorful characters of burlesque's golden age. West was also called "The Hubba-Hubba Girl", and I think we can see why.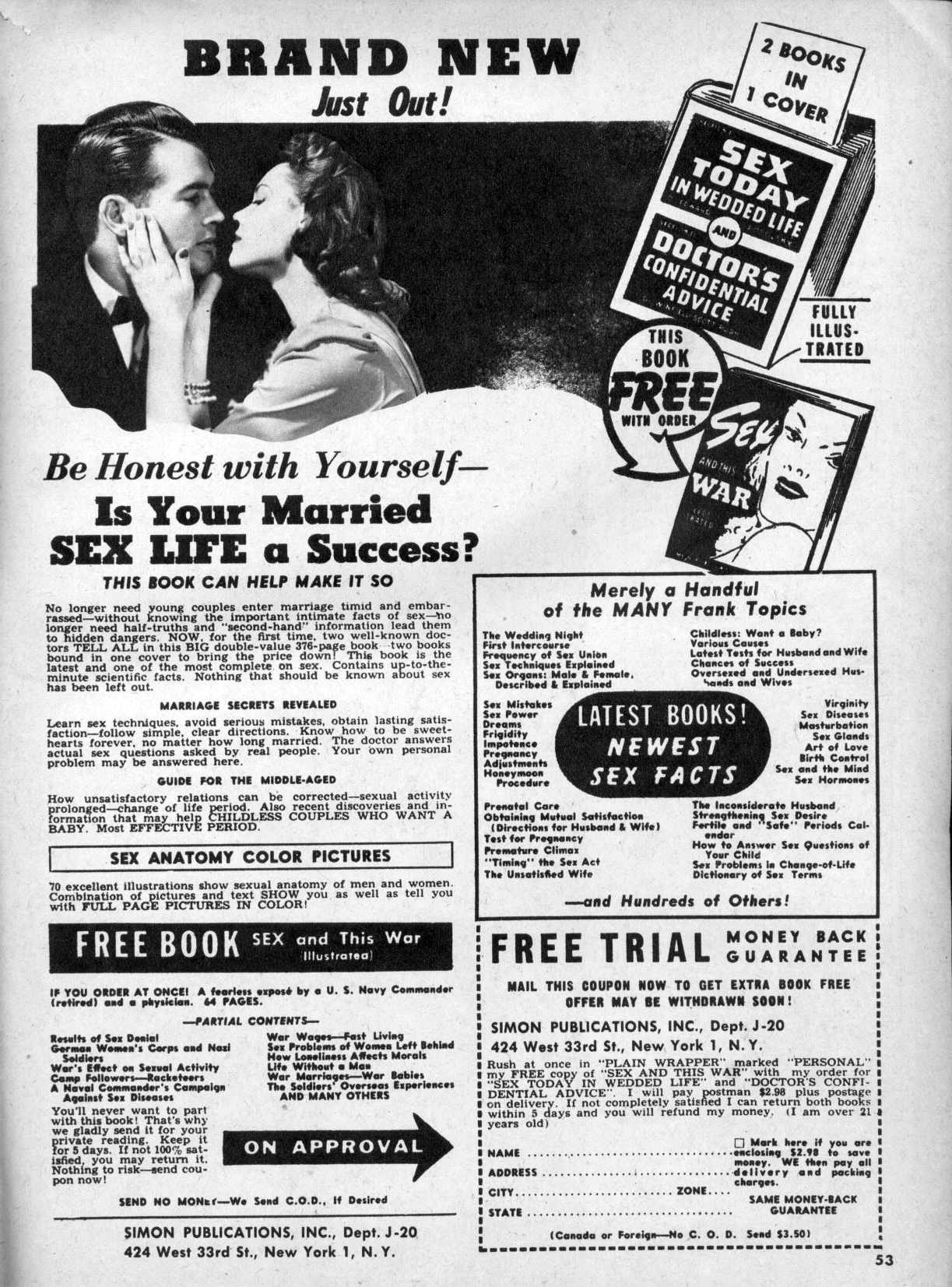 More sex education for anxiety-ridden blokes of the 1940s.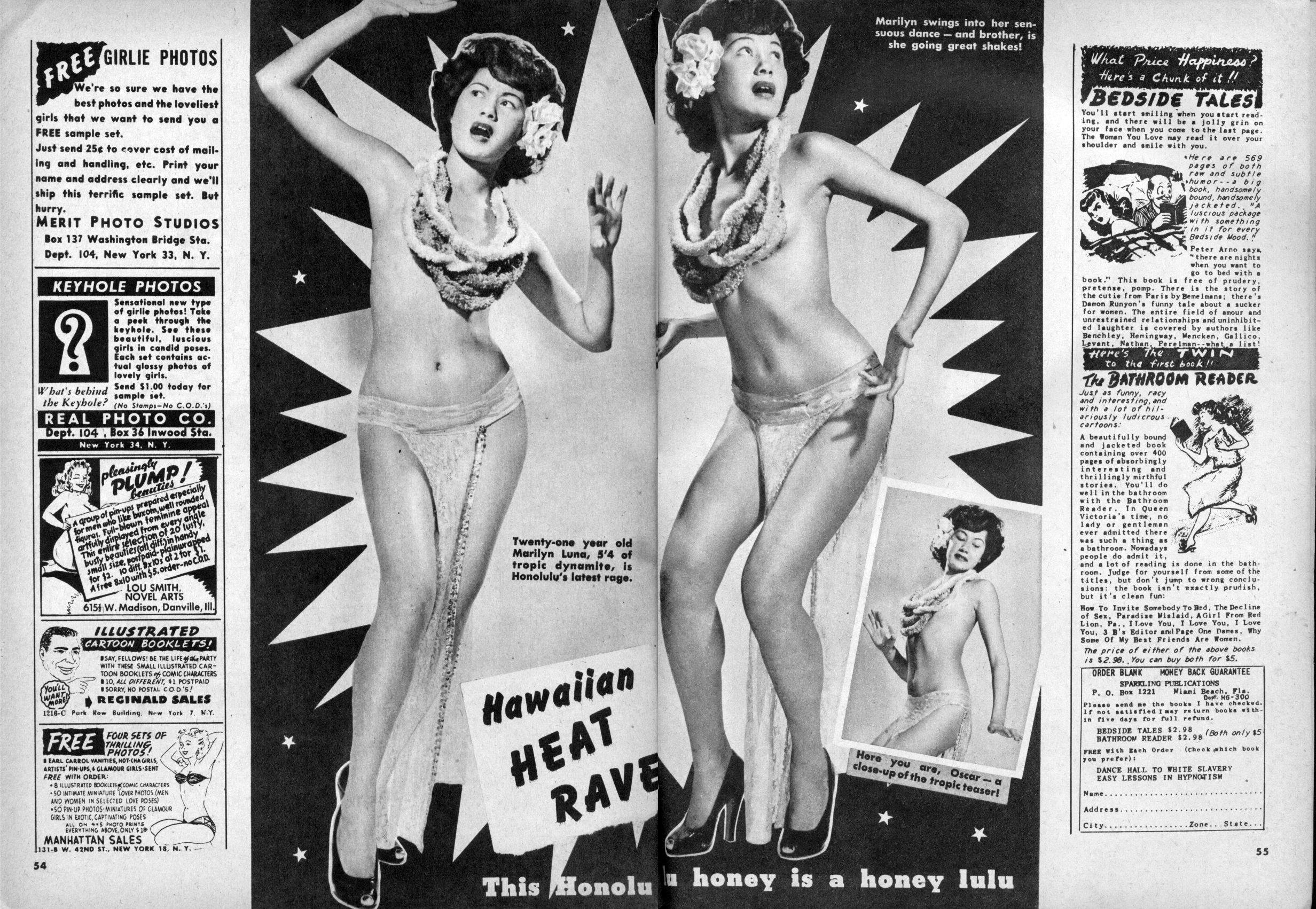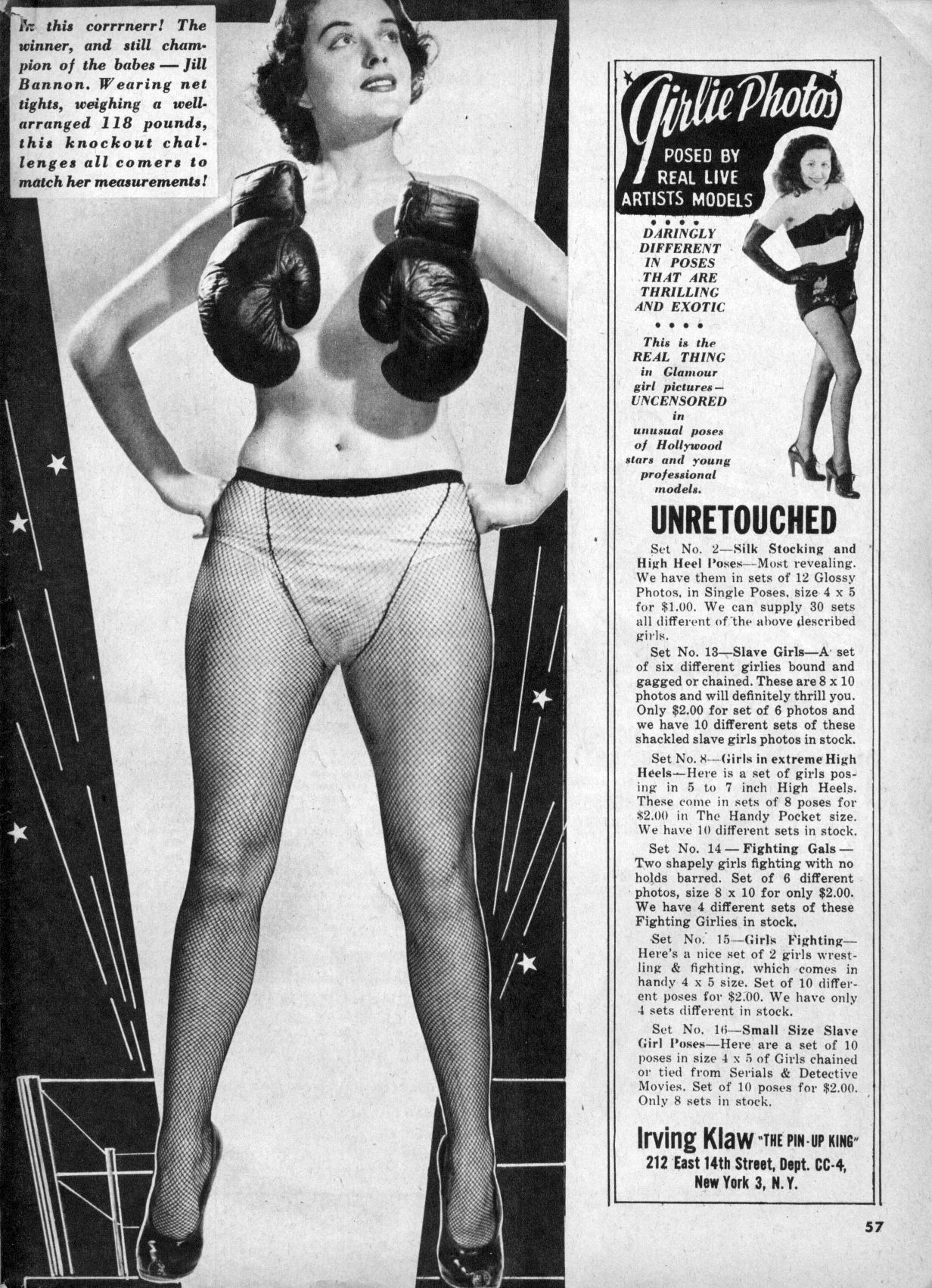 Take note of the Irving Klaw advertisement – the man behind those famous Bettie Paige photographs.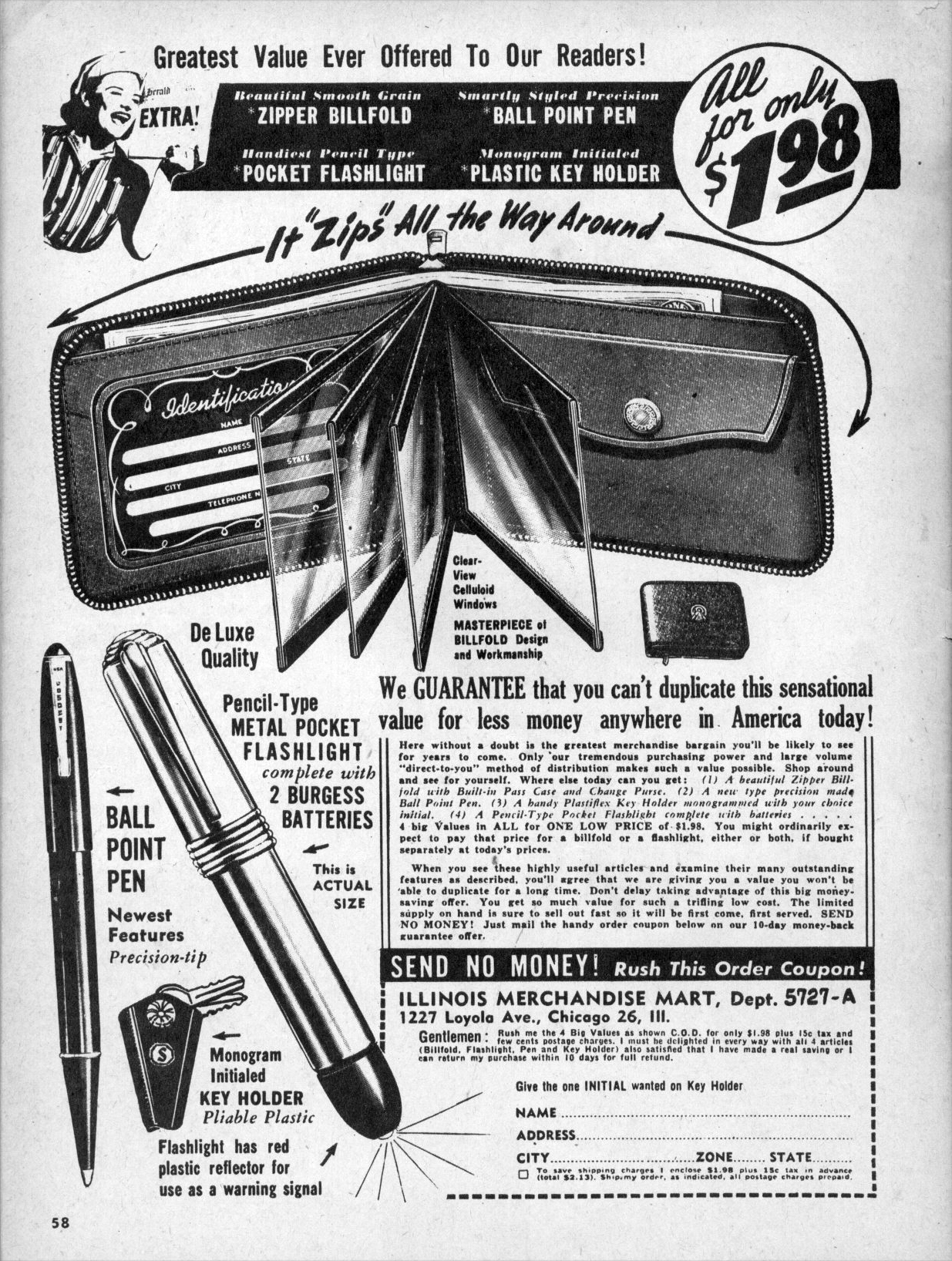 So, you've purchased your Irving Klaw fetish photos, your education book on sex, and your Charles Atlas guidebook to muscles and manliness… now to top it off, a wallet that zips all the way around!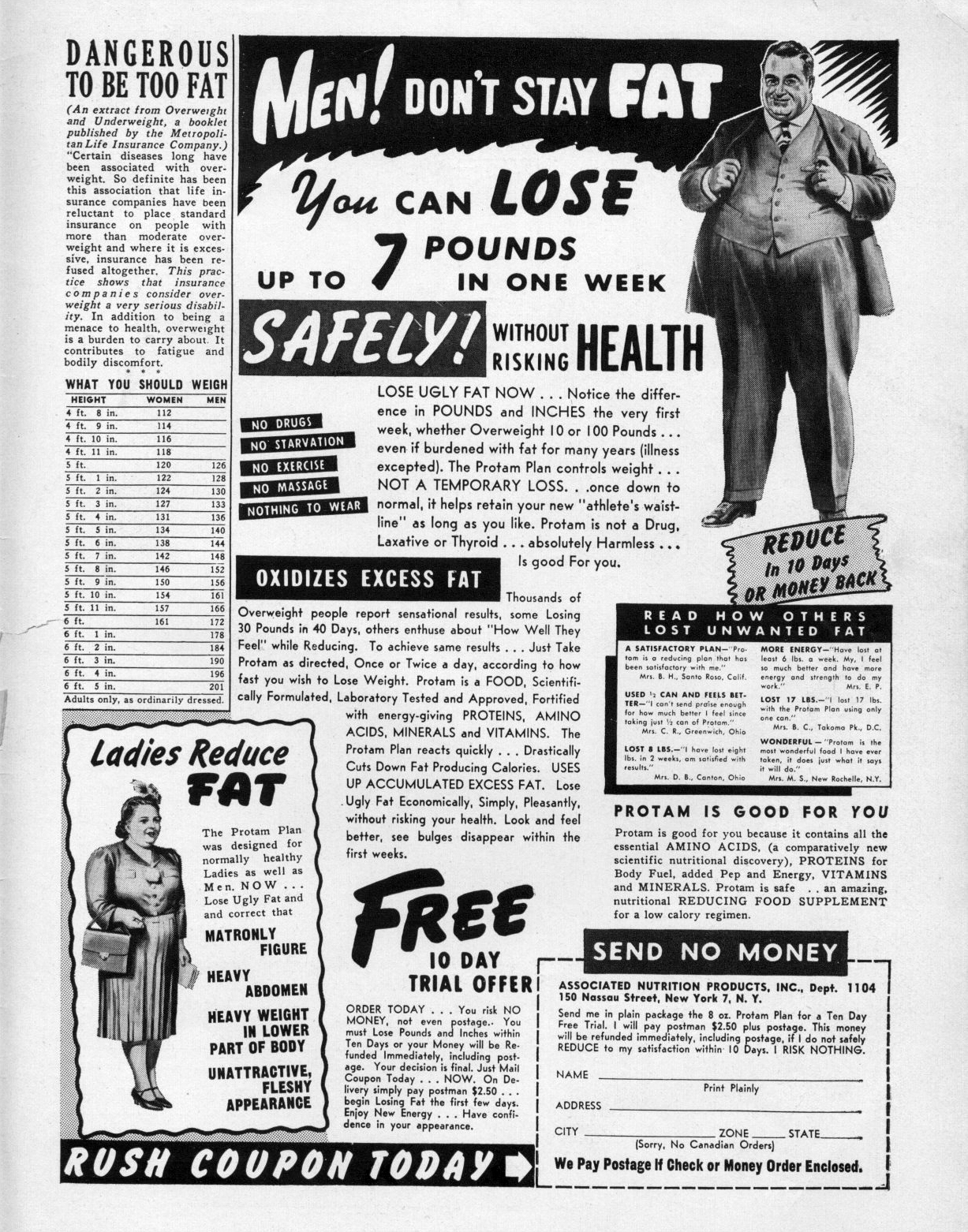 Take a look at the height/weight chart.  How does this stack up to today's ideal weight?
And so, here's the back cover below.  I hope you've enjoyed it – until next time.  Cheers.