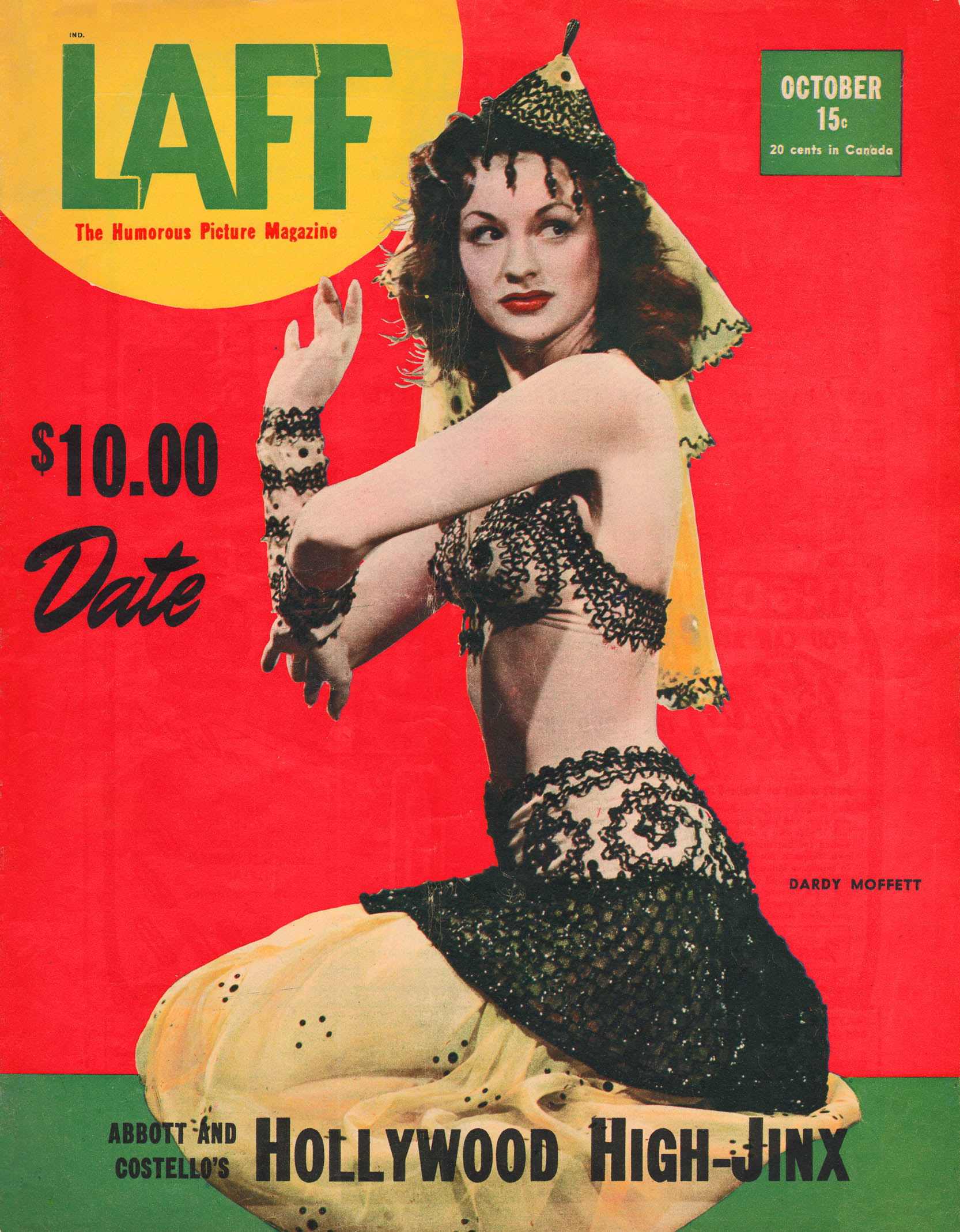 It's October 1945, Japan has just surrendered and, months before that, the Axis powers were defeated – the Soviet army marched on Prague and the war was officially over.  So, what to do?  Naturally, it's time to celebrate with a glass of Scotch and a magazine.  Let's have a look through the pages of LAFF – "the humorous picture magazine".  We'll take it page-by-page. Enjoy.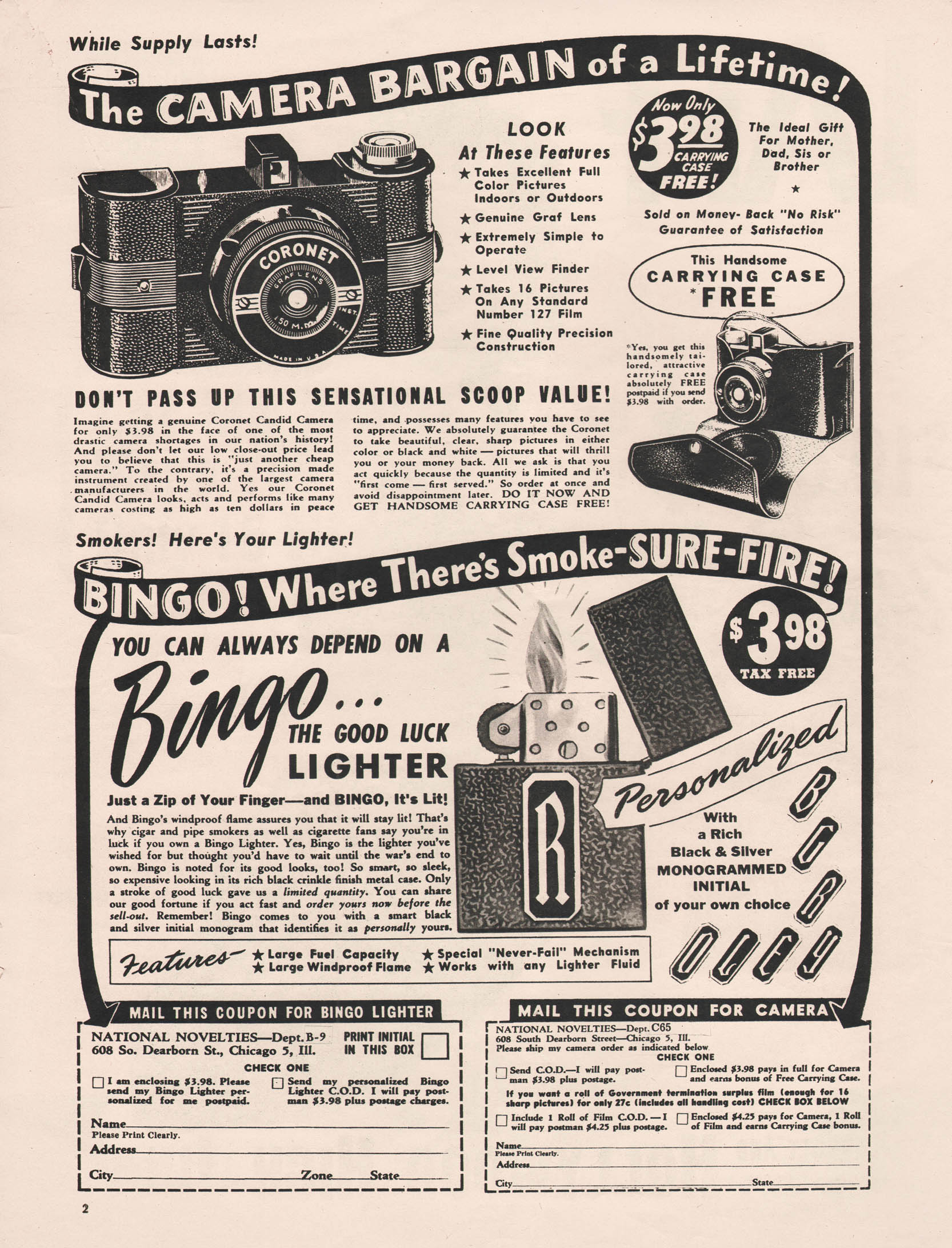 FYI – $3.98 in 1945 is worth about $53.45 today.   Still, not a bad deal for a camera…. but it makes for a rather expensive lighter.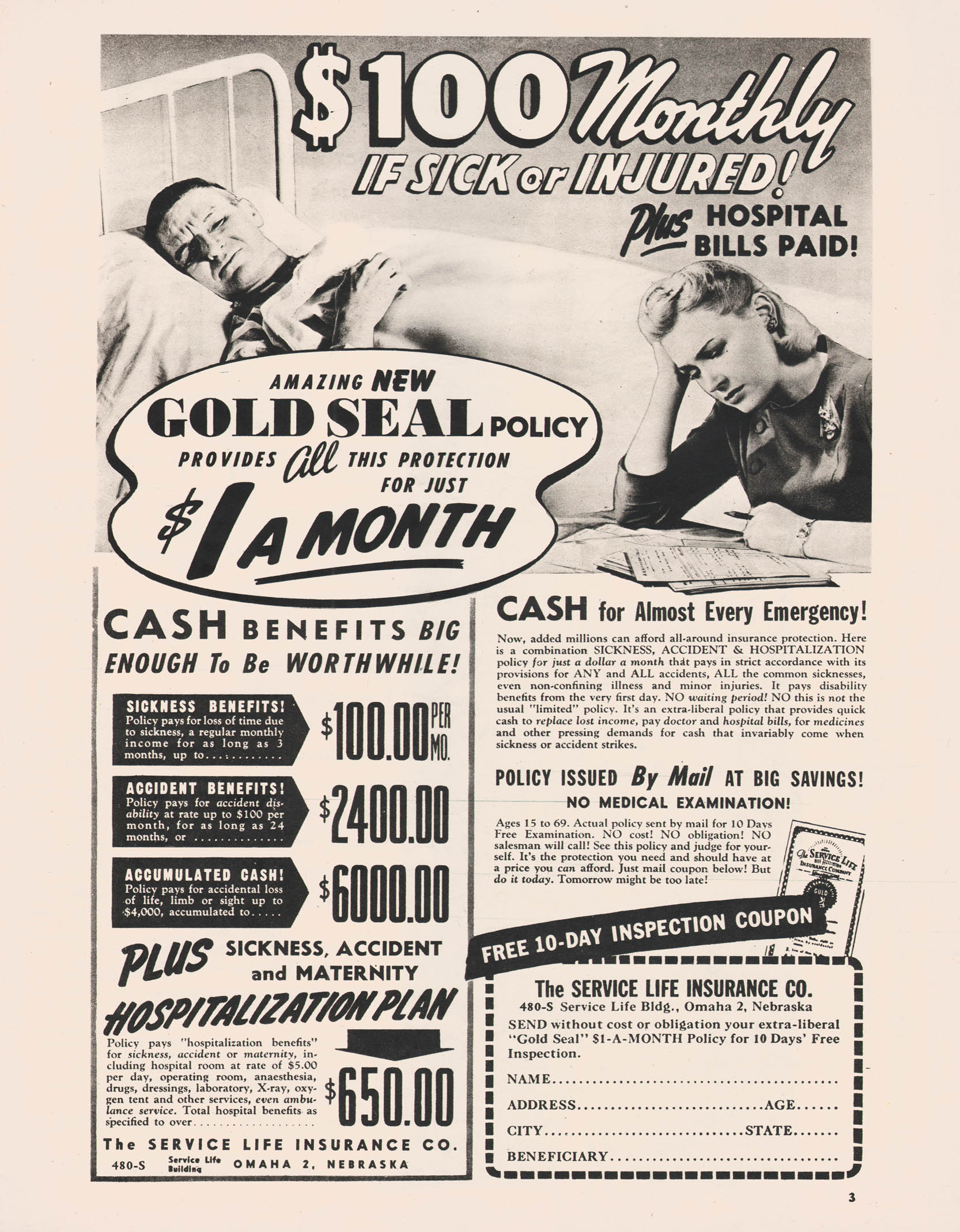 Not much has changed in the U.S. in terms of health care.  In 1945, if you got sick, missed work and had to pay for hospital bills, you were pretty much screwed.  Fast forward to 2016 – ditto.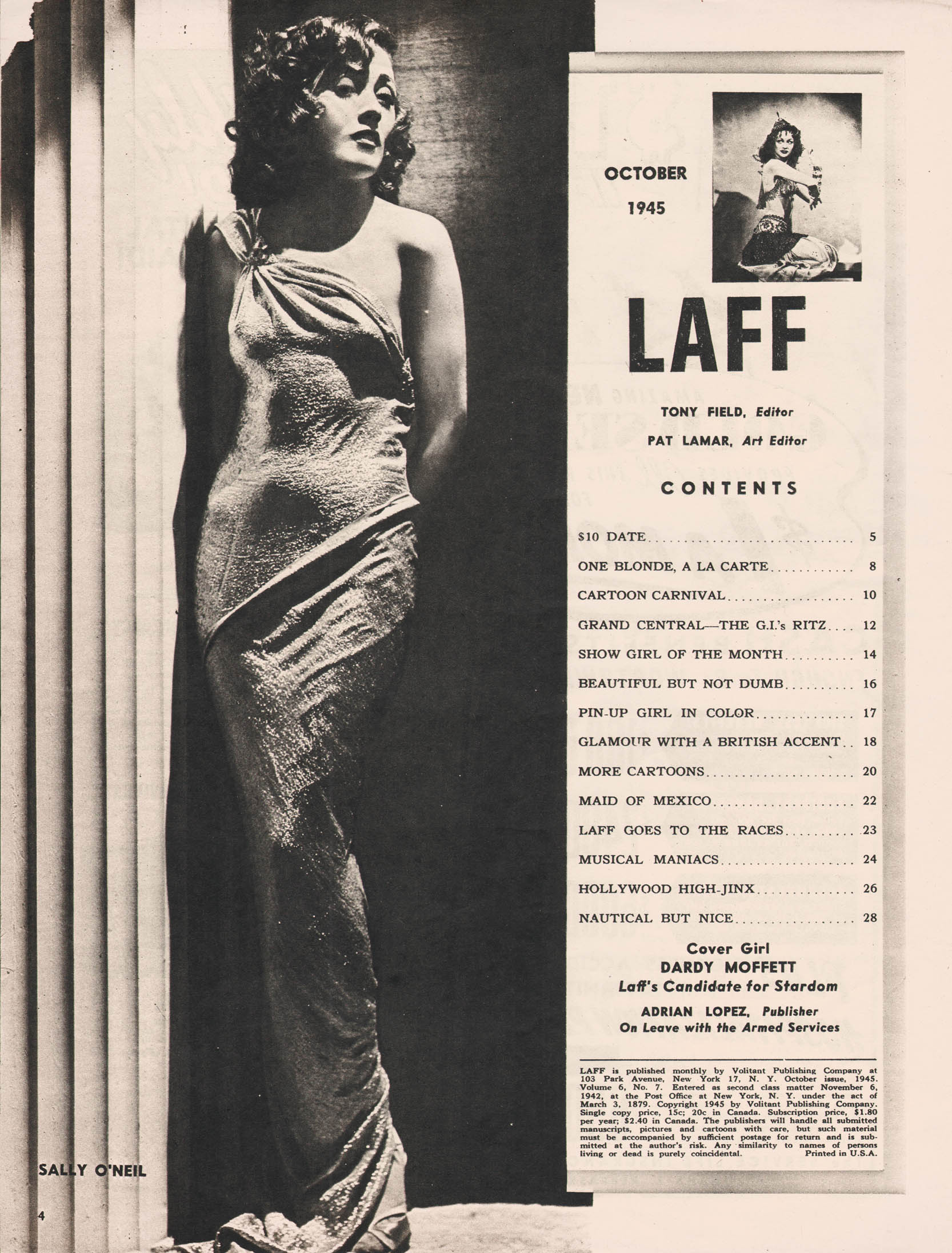 Pictured is Sally O'Neil – an actress who was pretty damn successful during the Silent Era.  She appeared in about 40 films, and was top billed for most of them.  Sadly, with the end of the silent film, Sally didn't fair to well with the "talkies" and she developed stage fright.  Her movie career was washed up by the 1930s, but she still performed for the military during WWII and in the theater. She died of pneumonia in 1968 at the age of 59.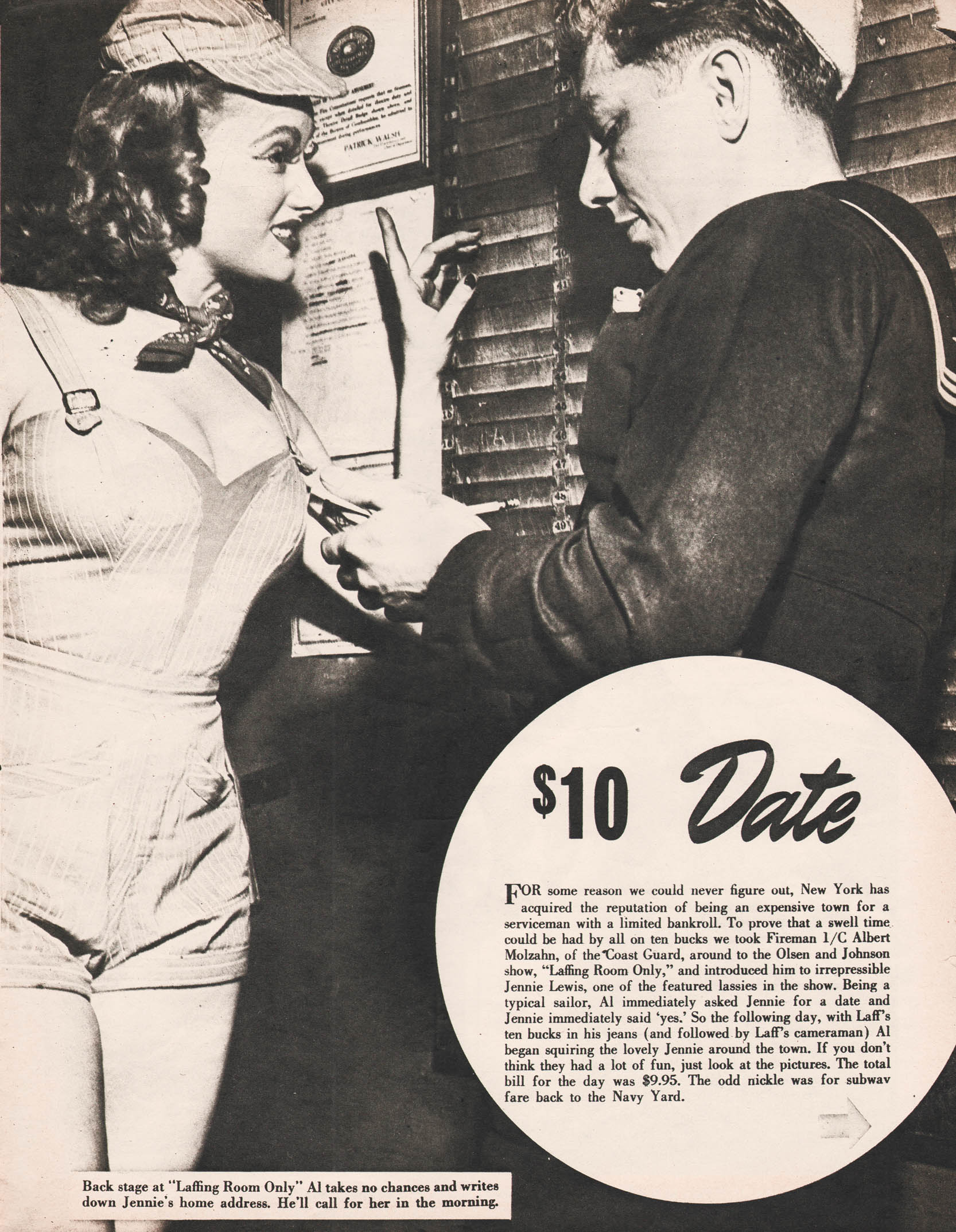 So, the premise of this article is that LAFF magazine gives Albert Molzahn of the Coast Guard ten dollars to take Jennie Lewis (one of the burlesque dancers at a New York show) out on a date.  "The total bill for the day was $9.95.  The odd nickle was for subway fare back to the Navy Yard".  Can you even comprehend taking a lady out in New York City for ten bucks?
But let's remember inflation.  That's $134 in today's dollars.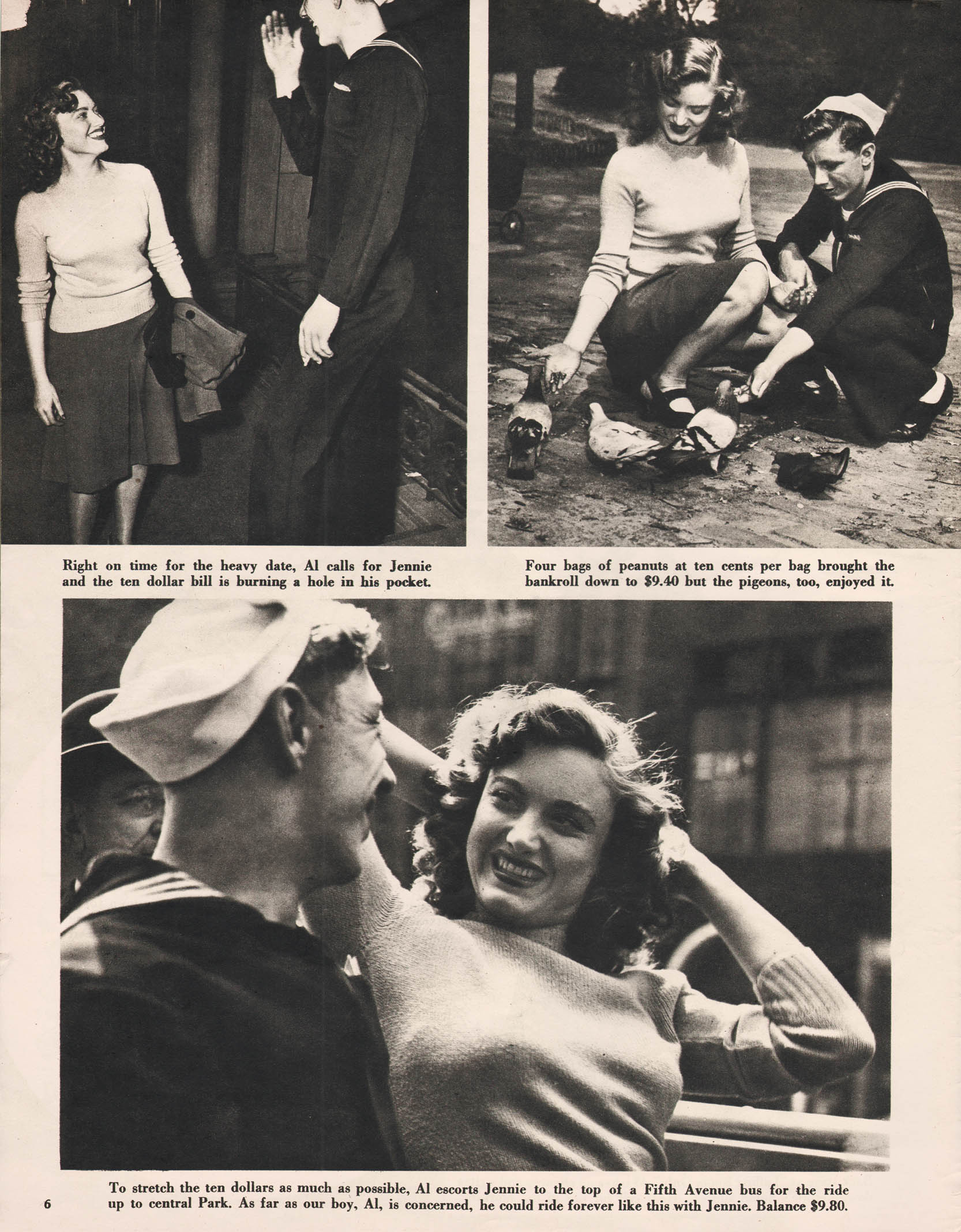 Al puts his ten dollars to use: four bags of peanuts for the pigeons (?) and then a ride through Central Park.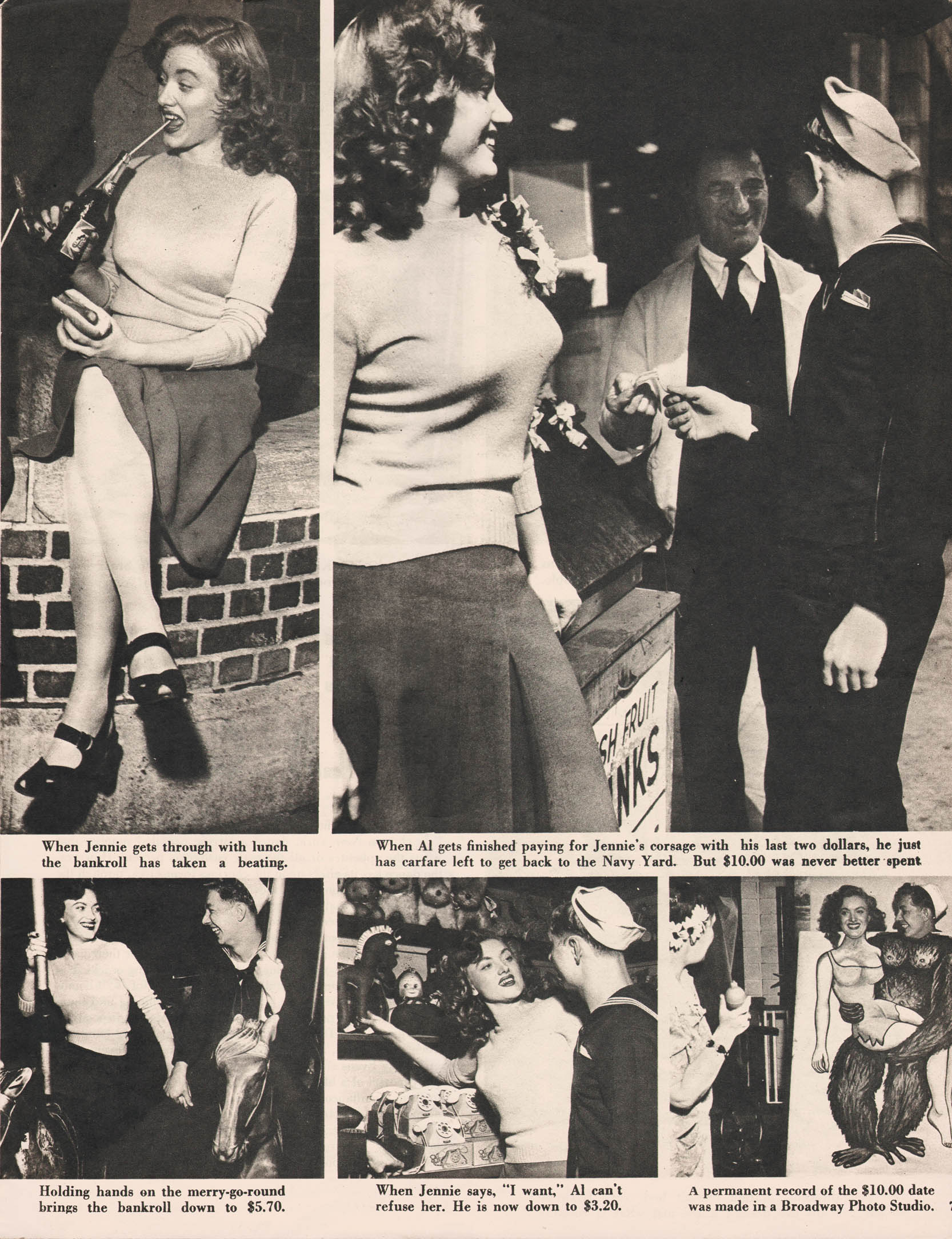 The remainder of the ten dollar bill goes to: lunch, a corsage, a merry-go-round ride, a prize and then a novelty photograph. Man – you could do a lot with ten dollars in 1945… kind of depressing!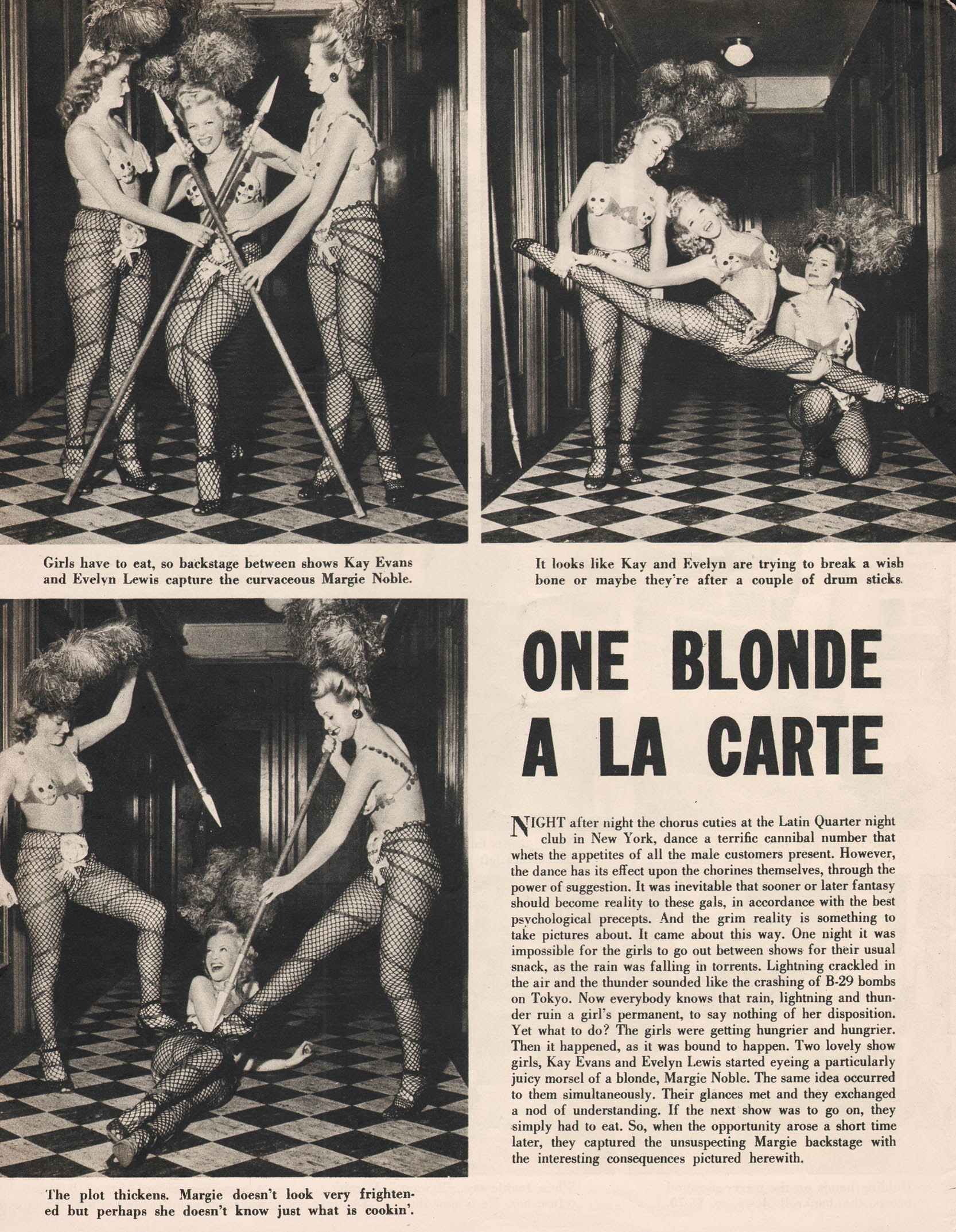 According to this story, a trio of chorus girls from the Latin Quarter got stuck indoors during a thunderstorm and got hungry… eventually deciding to kill and eat one them…. which, I suppose, would be charming and cute if it weren't so damn disturbing!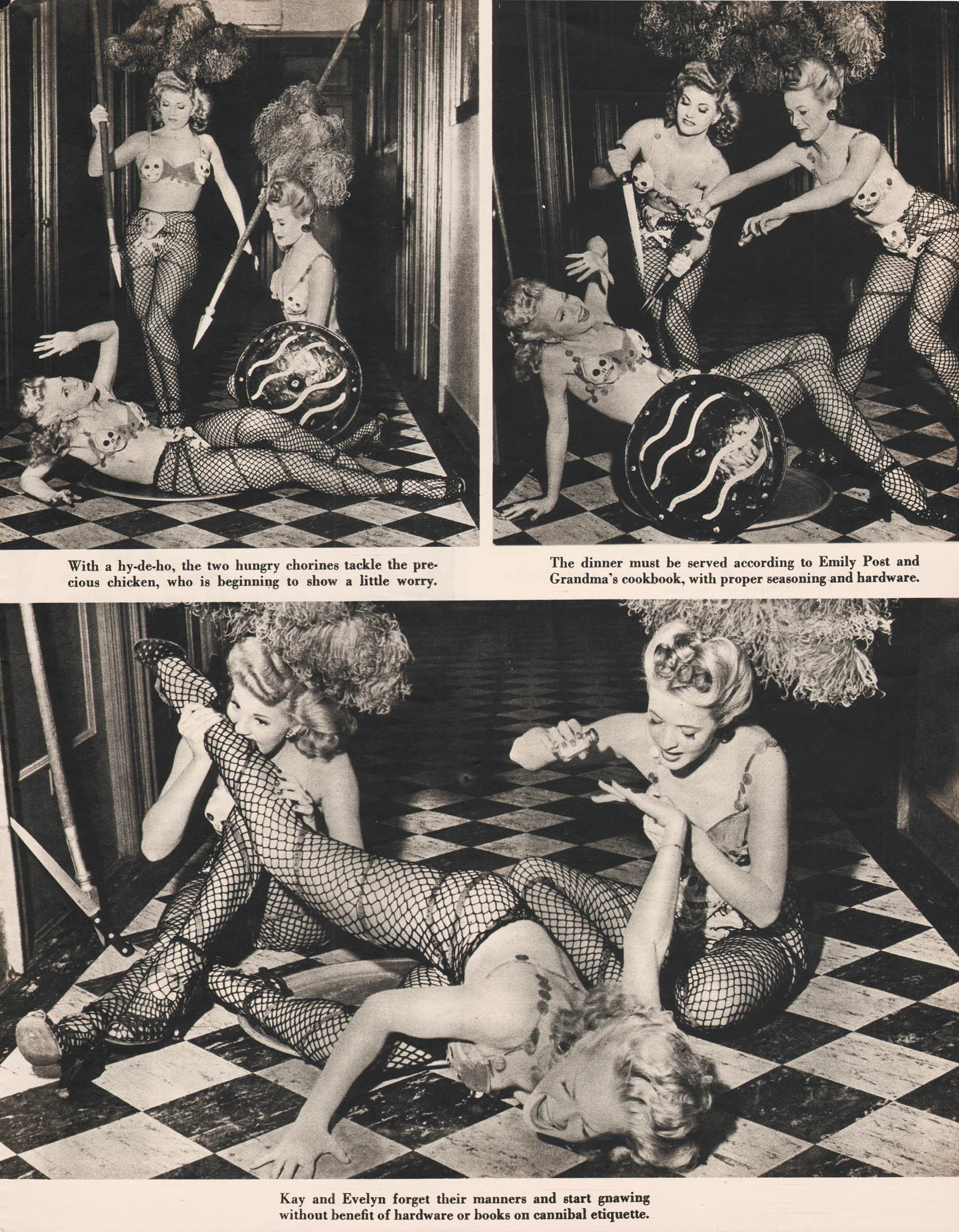 I'd like to assume this didn't happen… but Margie looks genuinely traumatized!
Well, enough with cannibalism, let's move on to the funnies….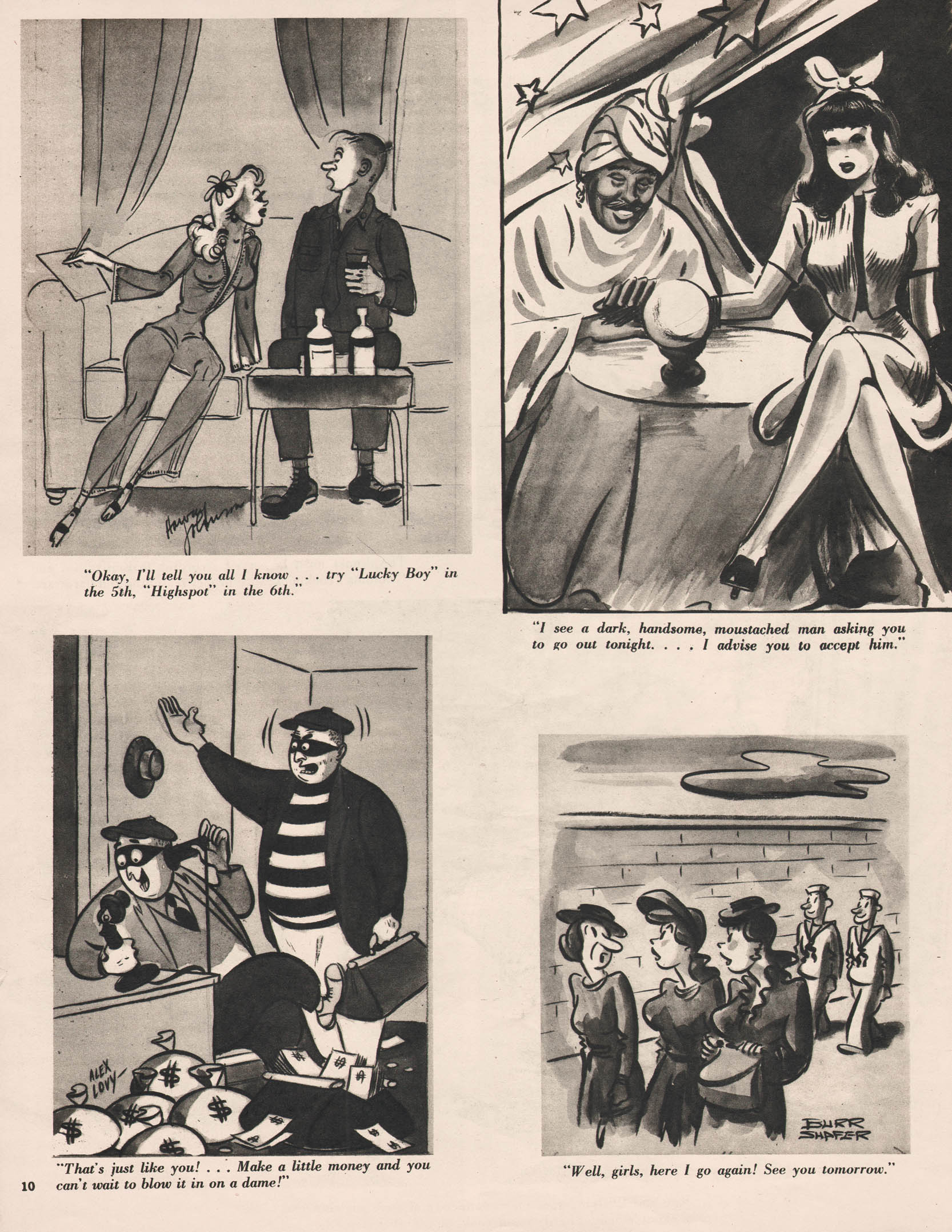 "Well, girls, here I go again! See you tomorrow." says the girl with the big nose.  Kind of sad, actually.  The cannibal story was better.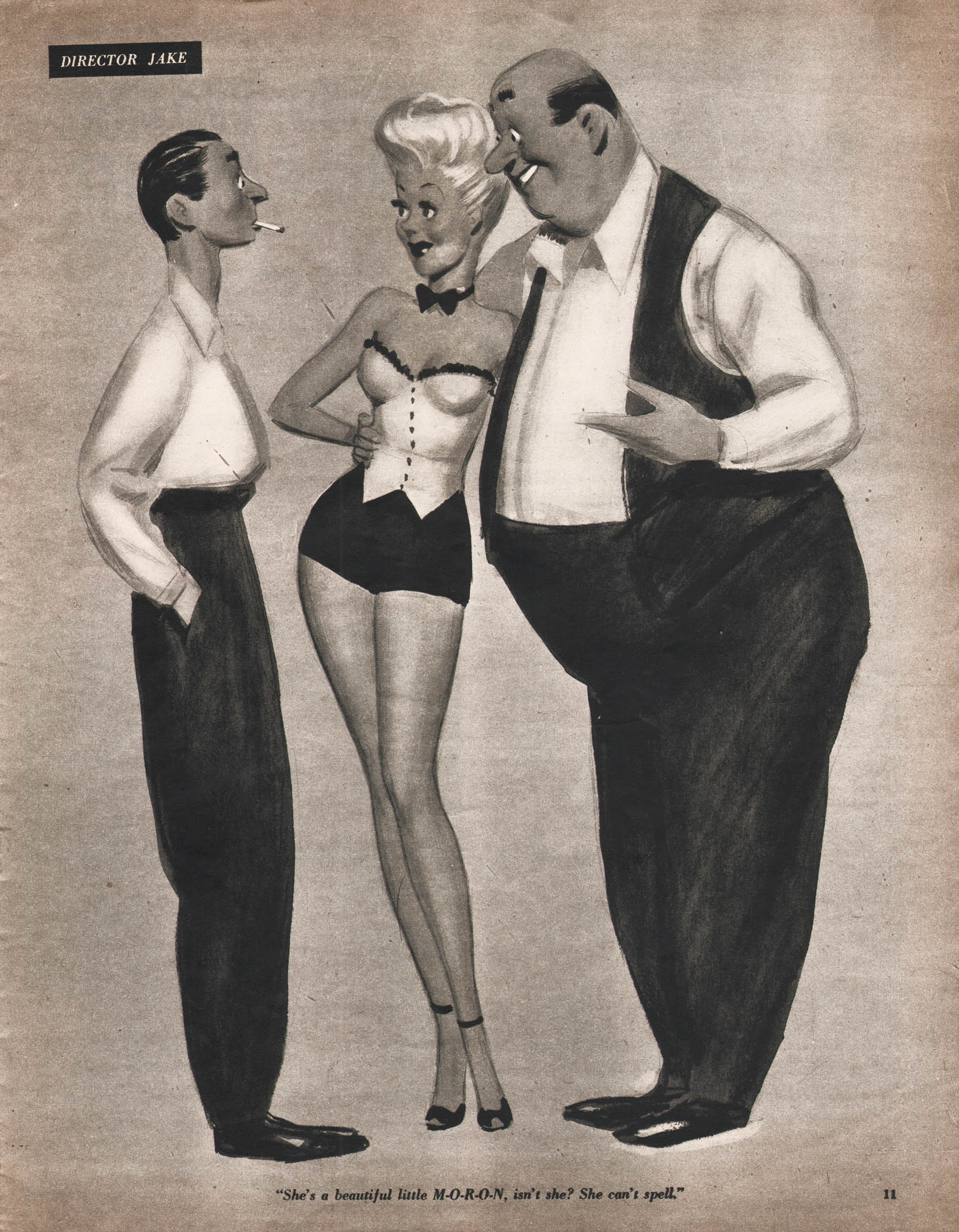 "She's a beautiful little M-O-R-O-N isn't she?  She can't spell."    Just wow.  Suffice it to say,  humor could be a tad sexist in 1945.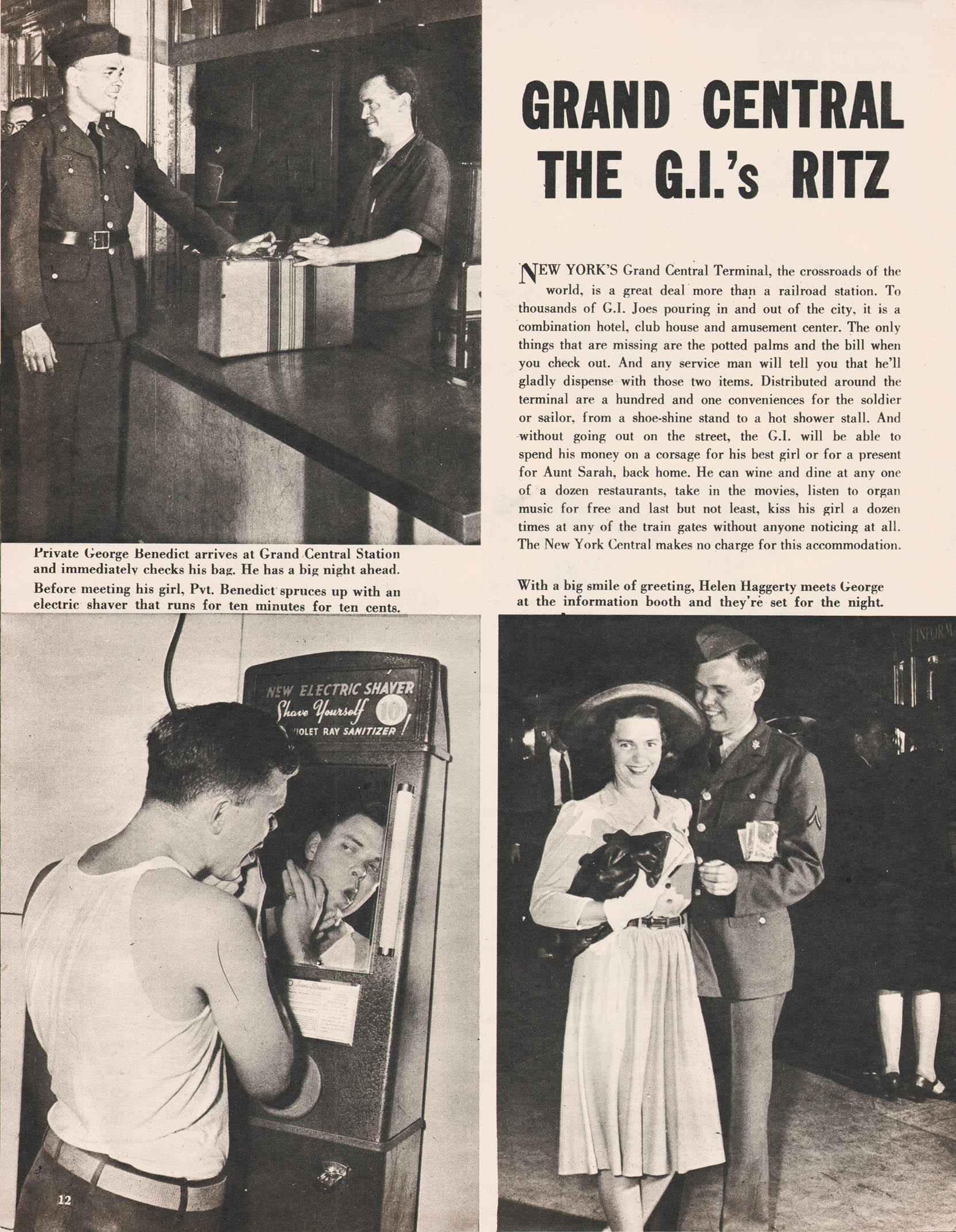 An interesting look at Grand Central ~ 70 years ago.  GI's were busy coming home and having babies that would make up the Baby Boom generation.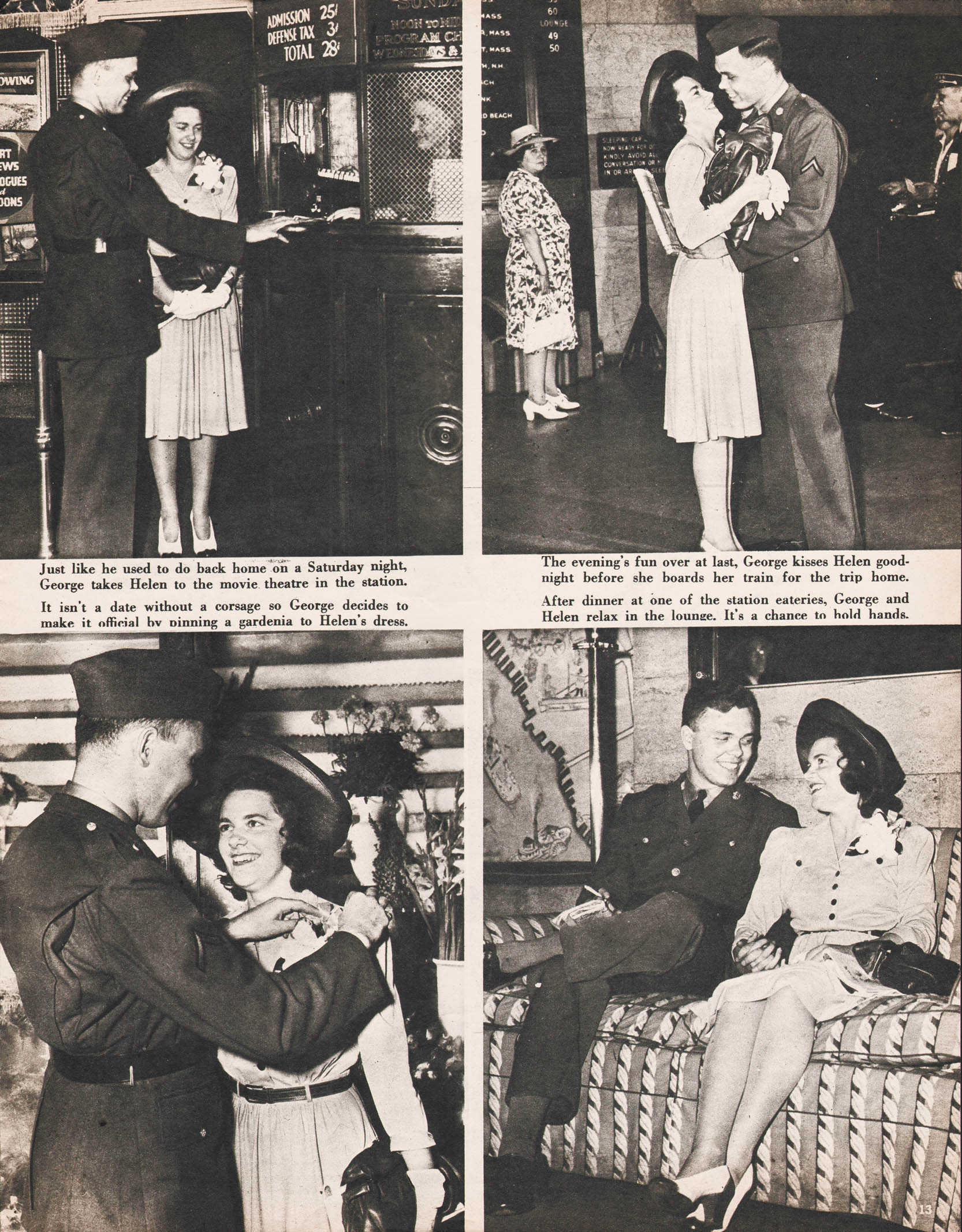 GI George and Helen go on a date… it just seems so incredibly wholesome and antiquated compared to today.  A dinner, a movie, and a kiss – that was it.  My how times have changed.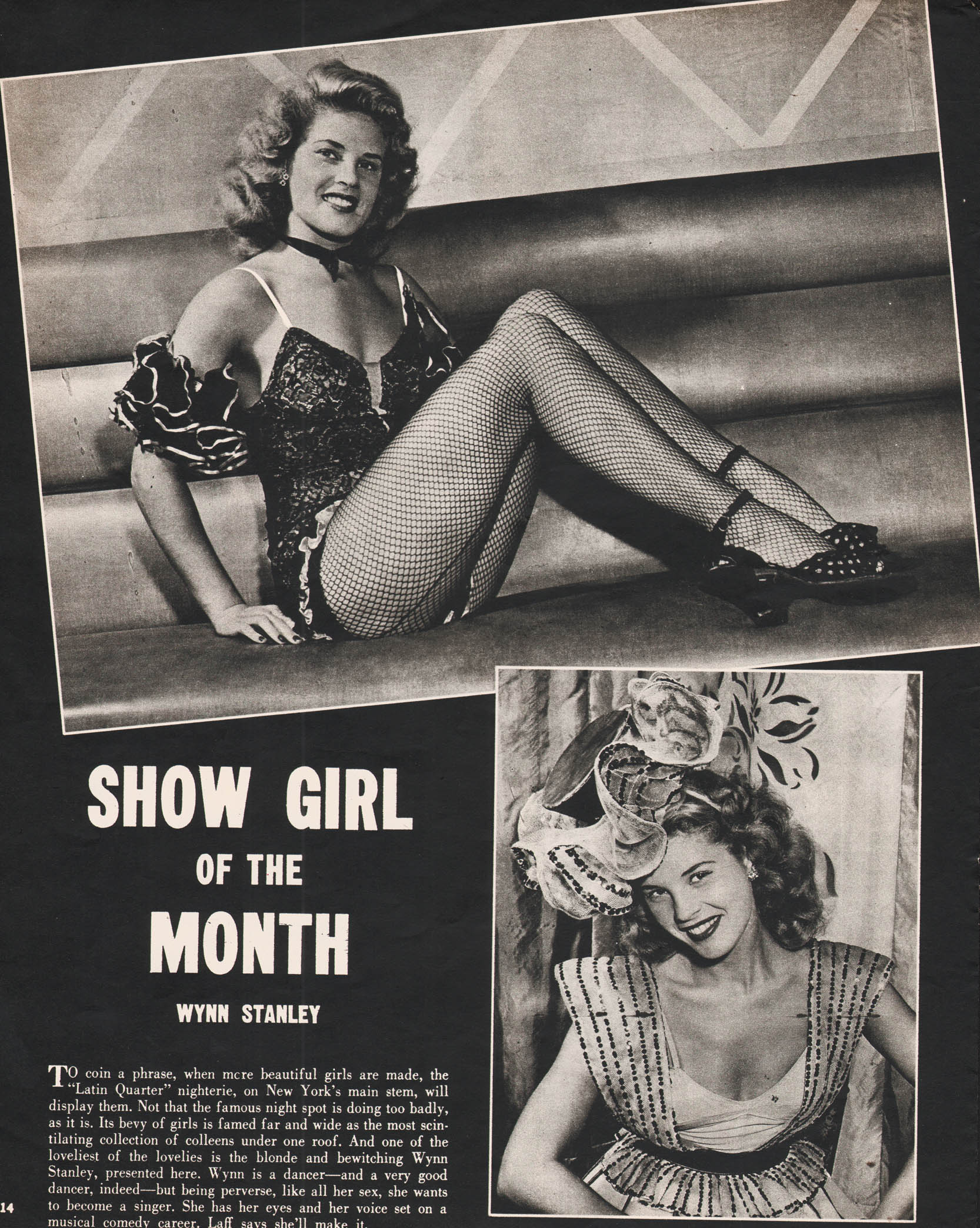 Showgirl of the Month: the "bewitching" Wynn Stanley.  I love the description: "Wynn is a dancer – and a very good dancer, indeed – but being perverse, like all her sex, she wants to become a singer."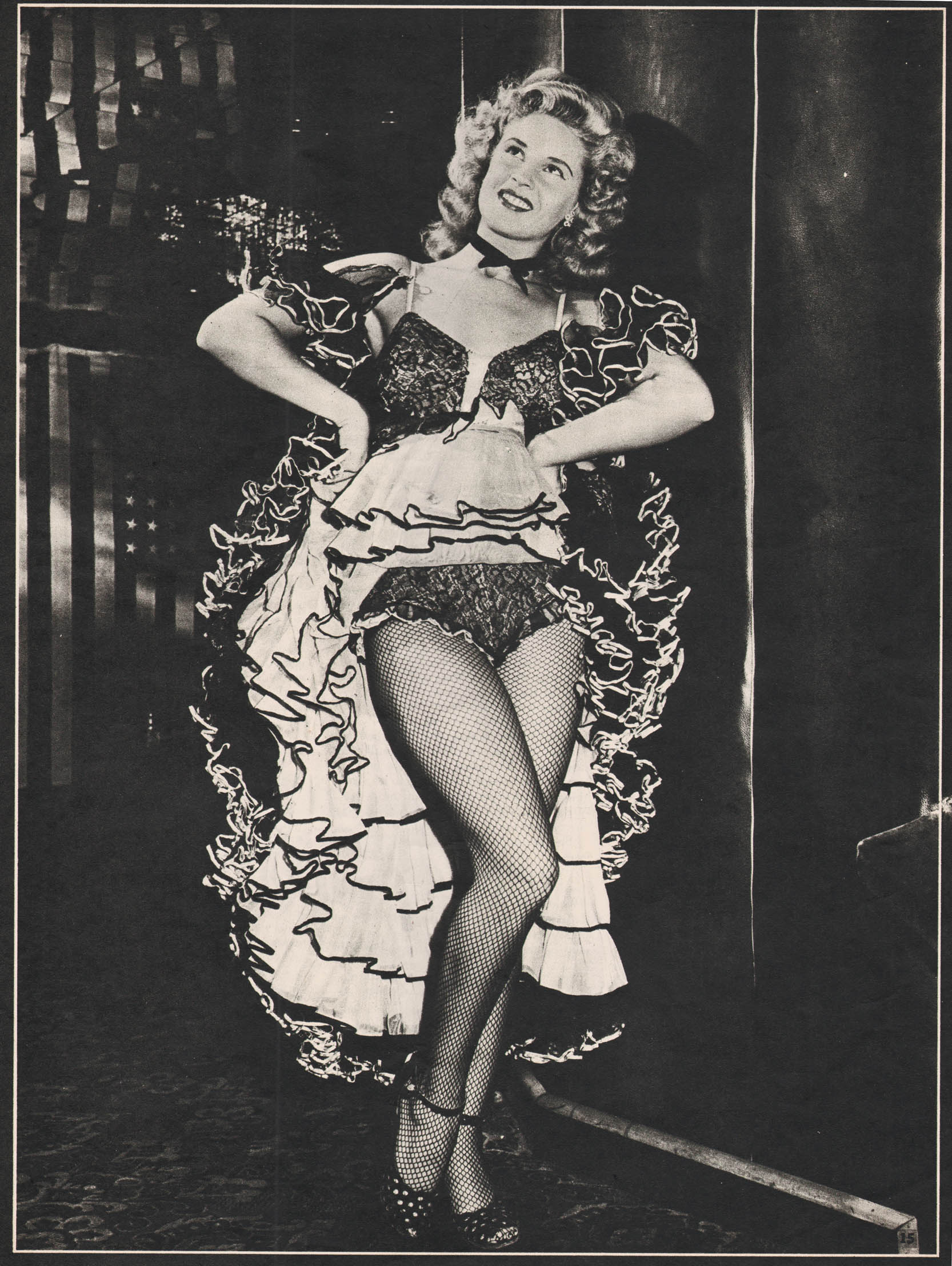 I did a quick Google search and came up empty for Wynn Stanley.  It doesn't look like she made it in the music business.  I wonder what became of her.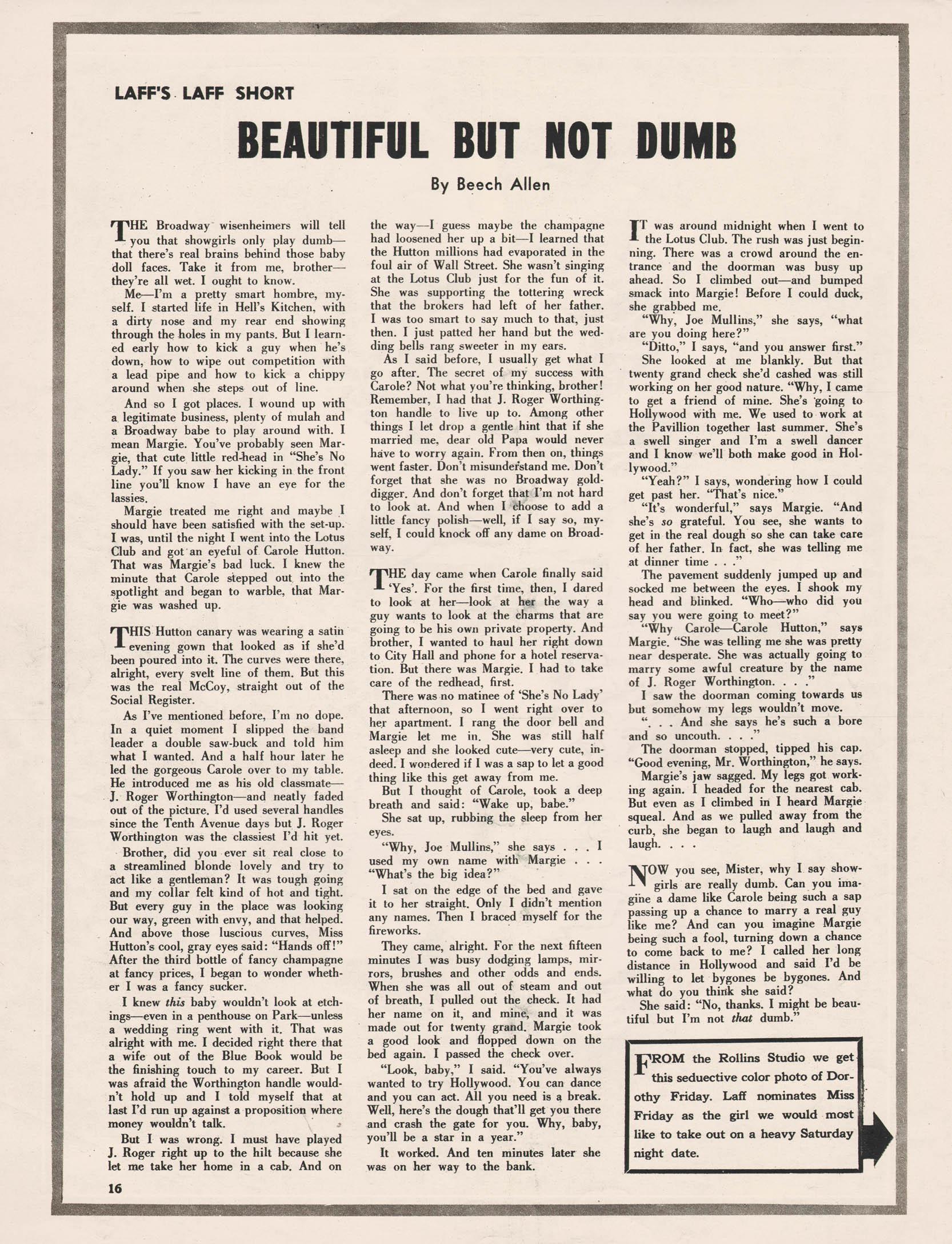 I love this kind of writing, so popular in the day.  If you've read Raymond Chandler, then you are familiar.   A bits from the story:
This Hutton canary was wearing a satin evening gown that looked as if she'd been poured into it. The curves were there, alright, every svelte line of them.  But this was the real McCoy, straight out of the Social Register.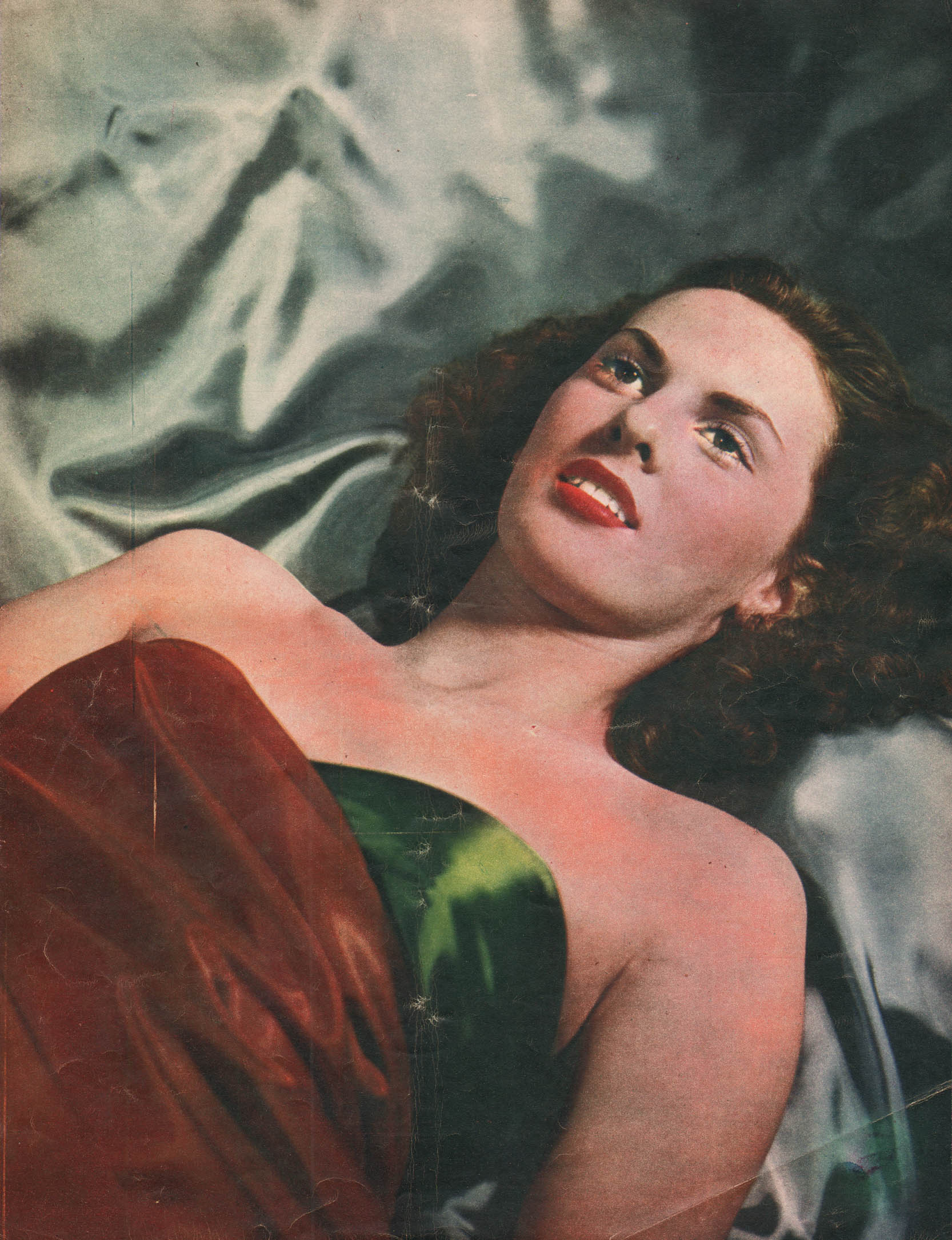 Dorothy Friday – nominated by LAFF as "the girl we would most like to take out on heavy Saturday night date"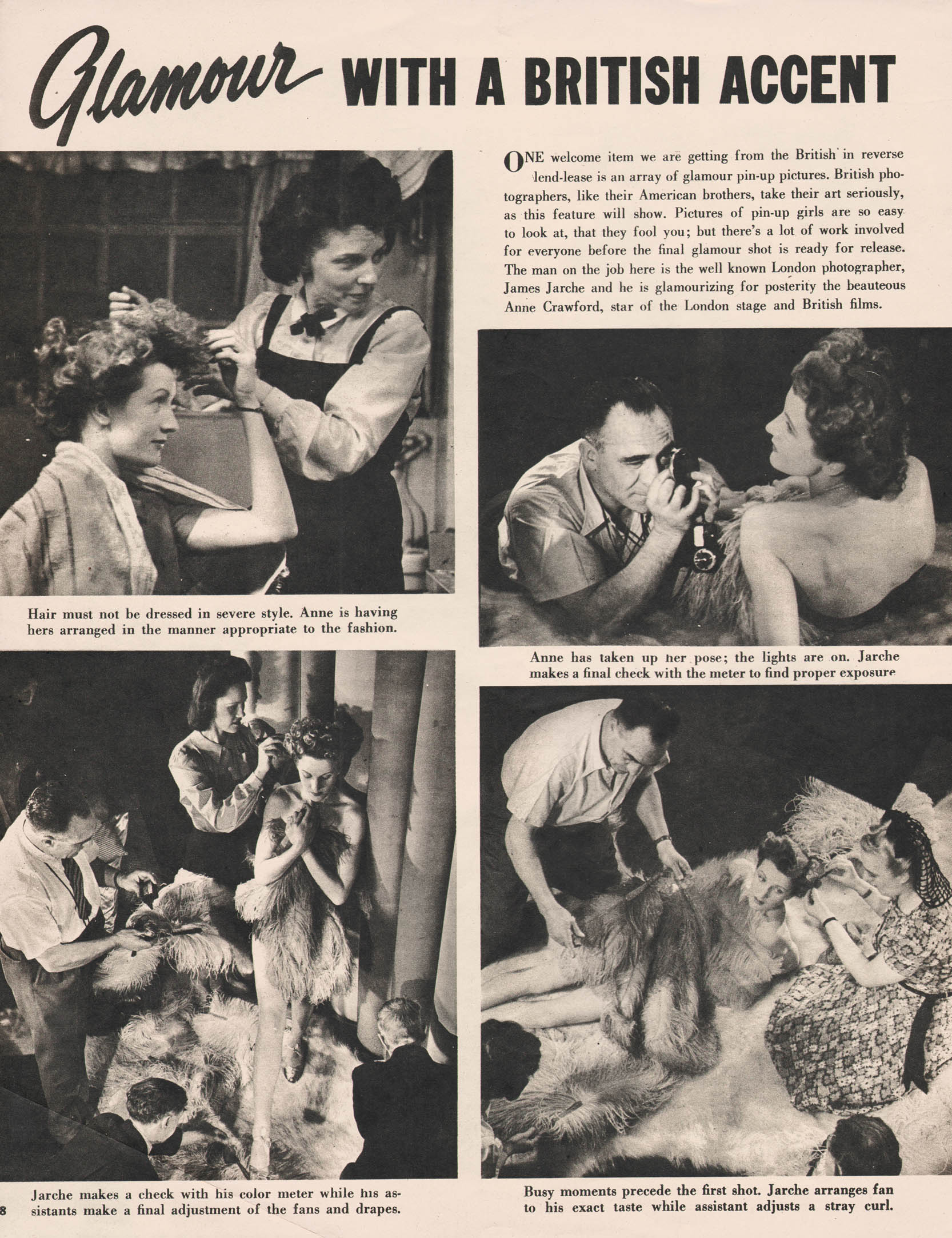 Backstage with British photographer James Jarché and model/actress Anne Crawford.
Jarché was a Fleet Street photographer notable for the first pictures of Edward VIII and the then-unidentified Wallis Simpson.  He was a war correspondent during WWII and has a catalog of amazing wartime photographs to his his credit.
Anne Crawford is best remembered for her role as Morgan LeFay in Knights of the Round Table (1953).  Sadly she would die just a few years later of leukemia at the age of 35.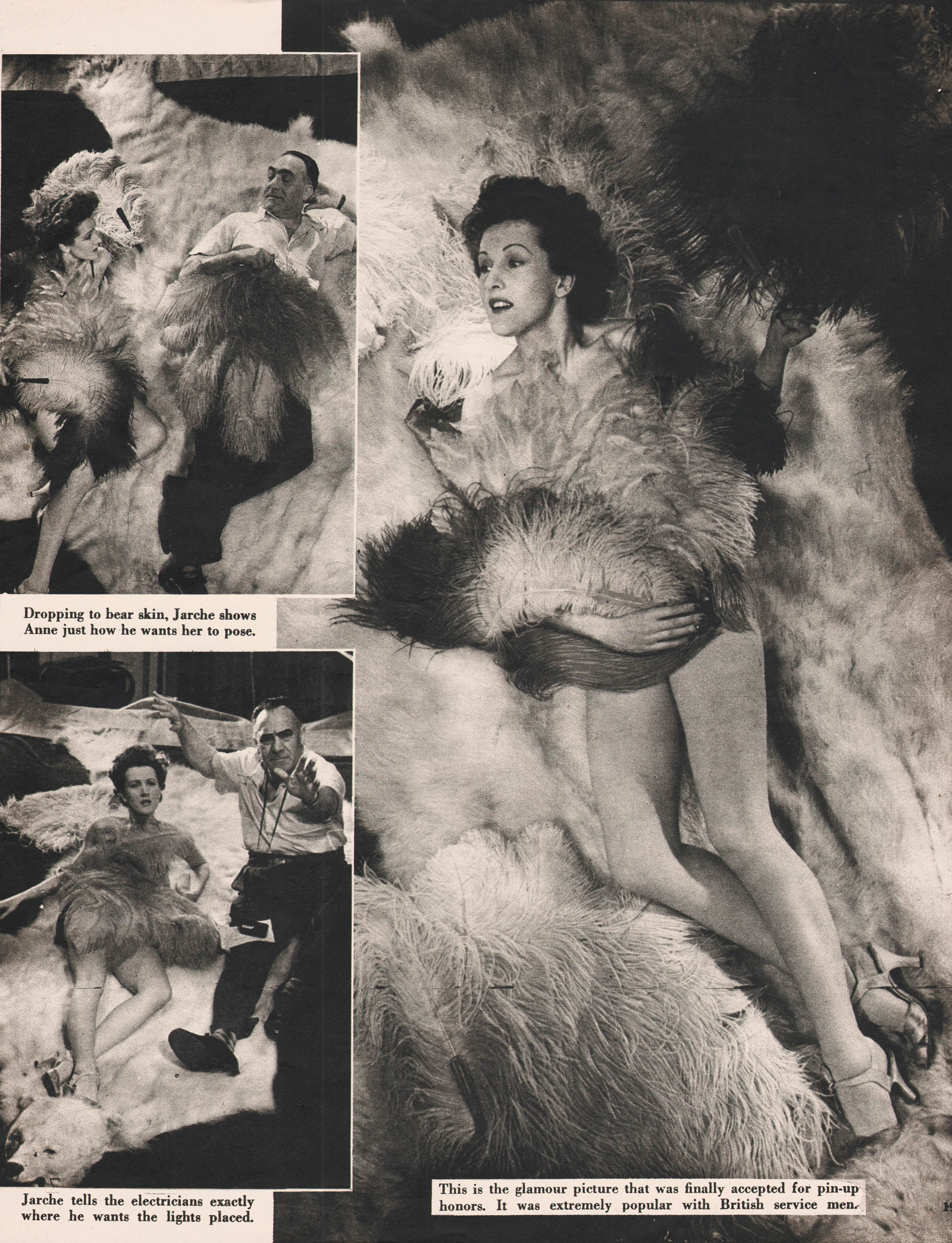 Jarché did his time on the front lines – he's earned the right to photograph pinups on bearskin.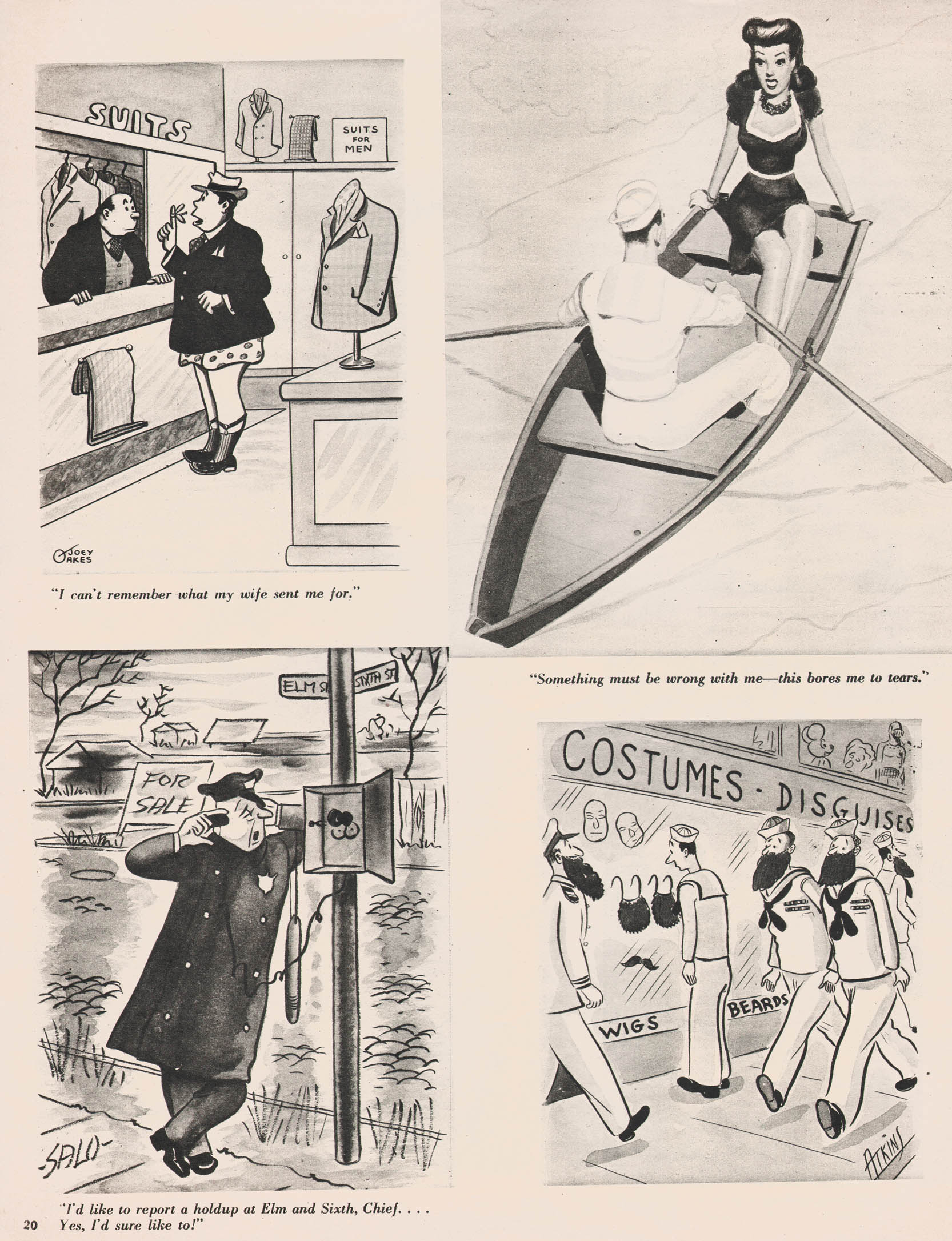 Either humor has changed so significantly over the past seventy years, and I simply don't get the jokes anymore… or, these were never funny to begin with.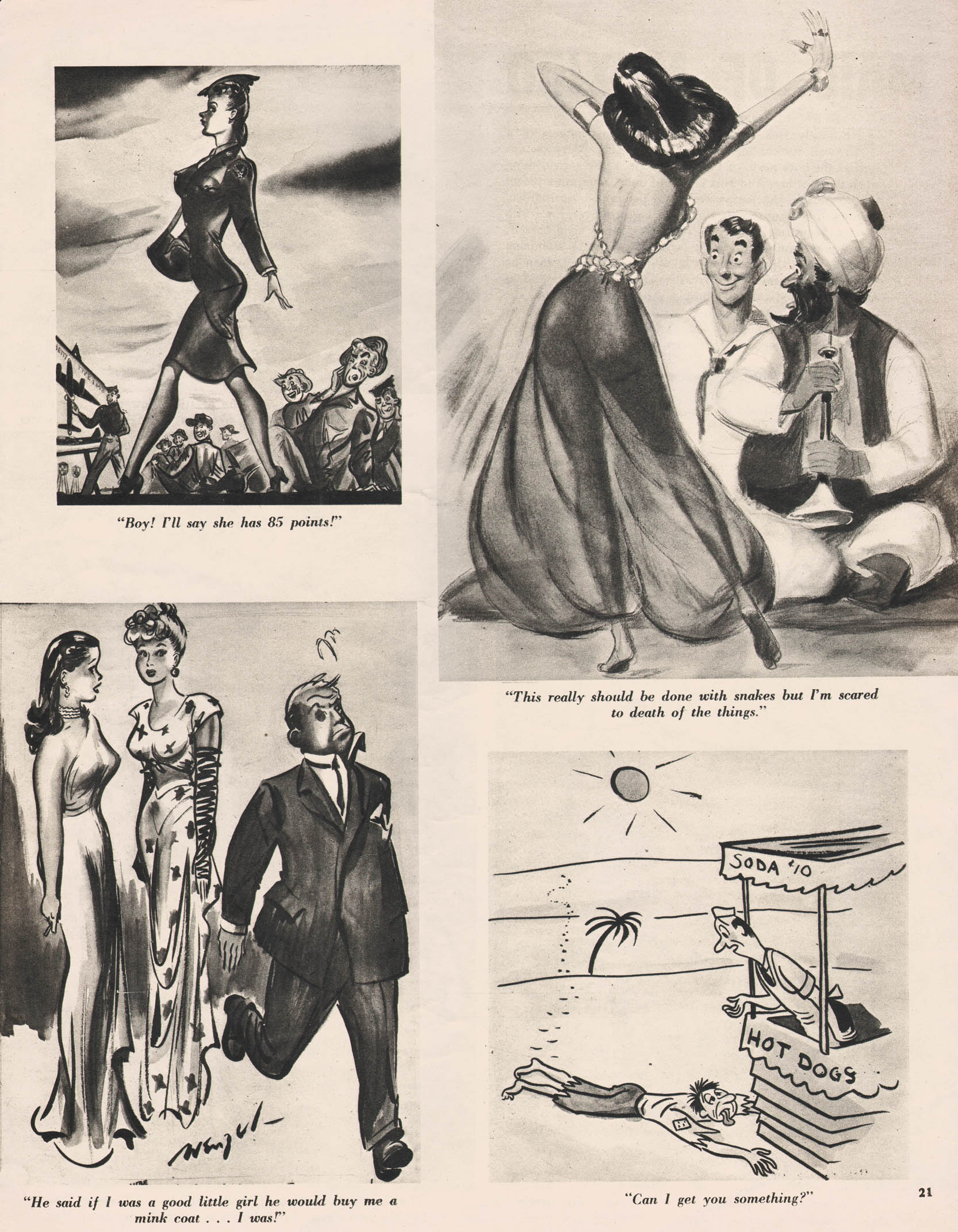 Okay, a few of these made me chuckle (ever so slightly).  The snake charmer artwork is quite good – anyone know who the artist is?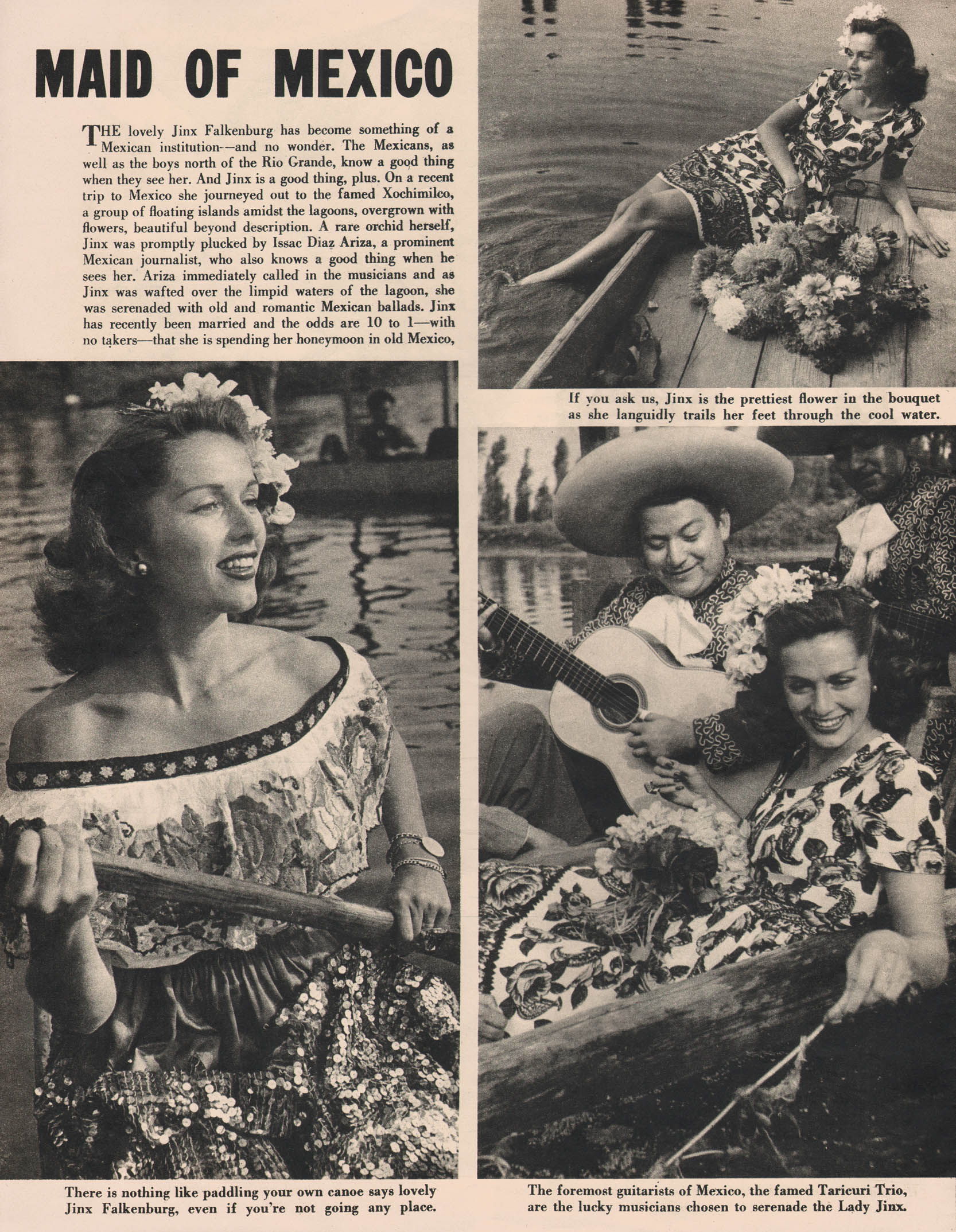 Wikipedia:
Jinx Falkenburg was an actress, expert swimmer and tennis star, and one of the highest-paid and most ubiquitous cover-girl models in the United States during the 1930s and 1940s – one of the first supermodels. She married journalist and influential publicist Tex McCrary in 1945. Known as "Tex and Jinx" to most American households, the glamorous couple pioneered and popularized the talk-show format, first on radio and then in the early days of television.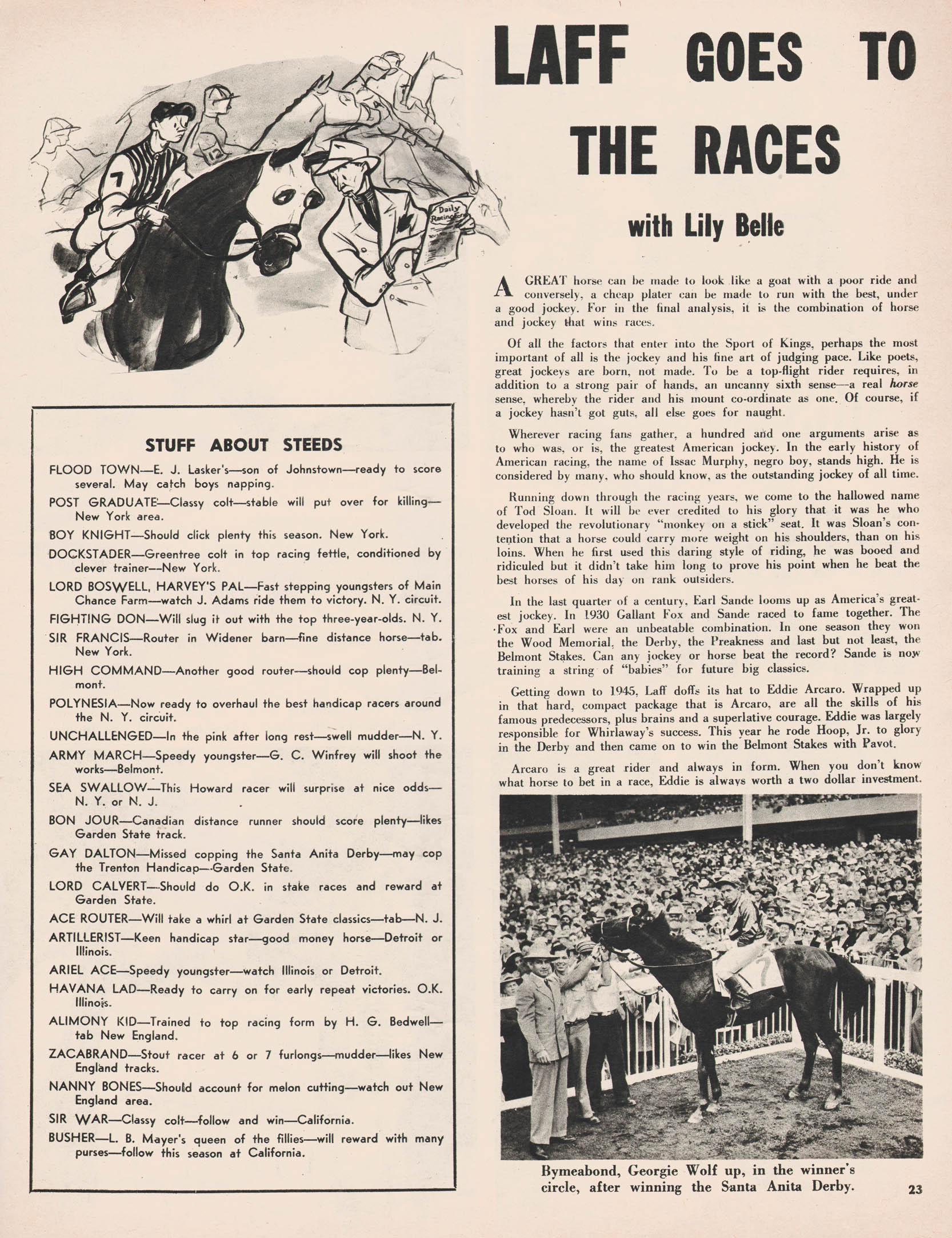 Okay, who's your money on?  Nanny Bones, Alimony Kid or Gay Dalton?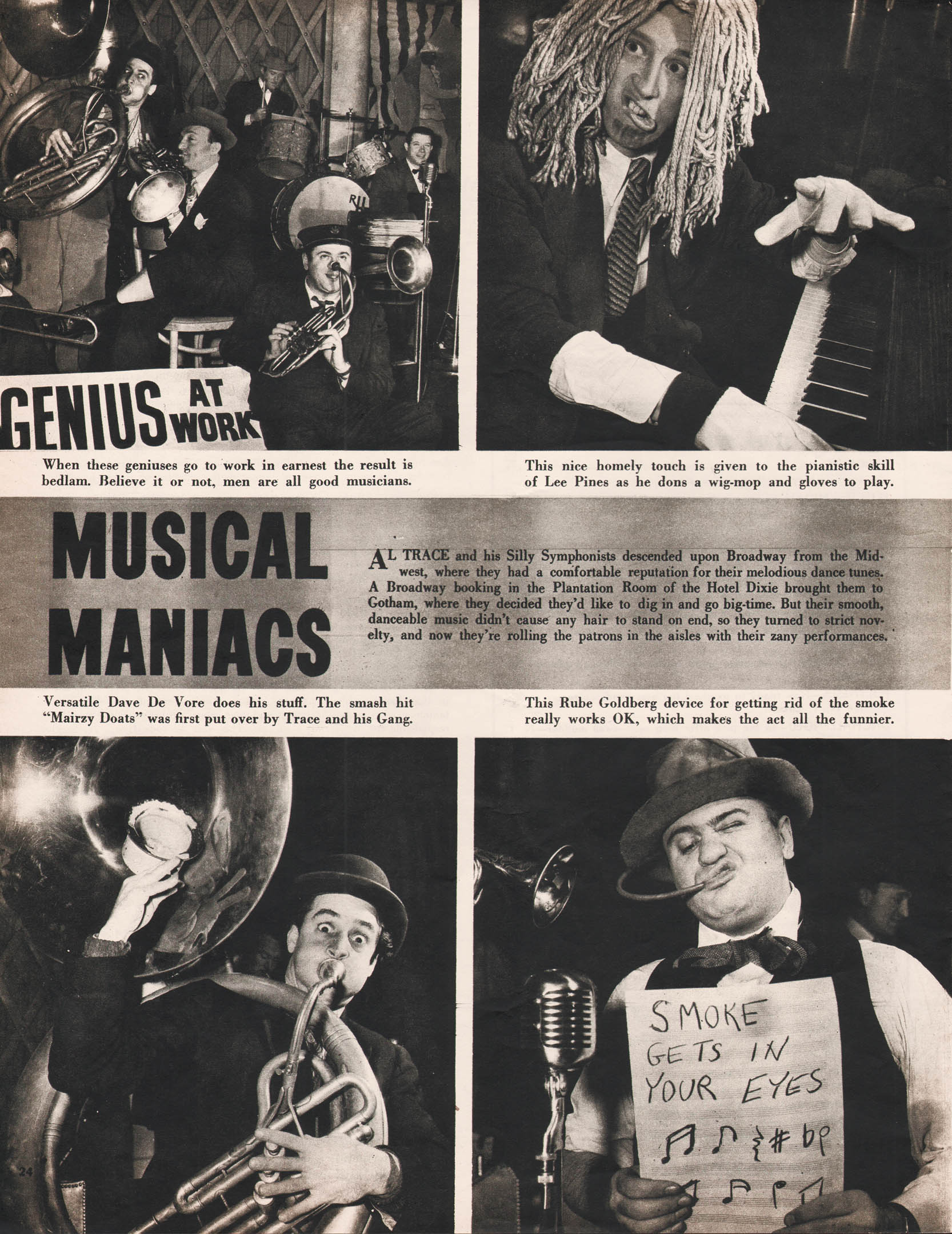 If you look up Al Trace, you find he was a successful composer (with 300 songs to his credit) and a popular big band leader… but not much is mentioned about this foray into slapstick music with the Silly Symphonists.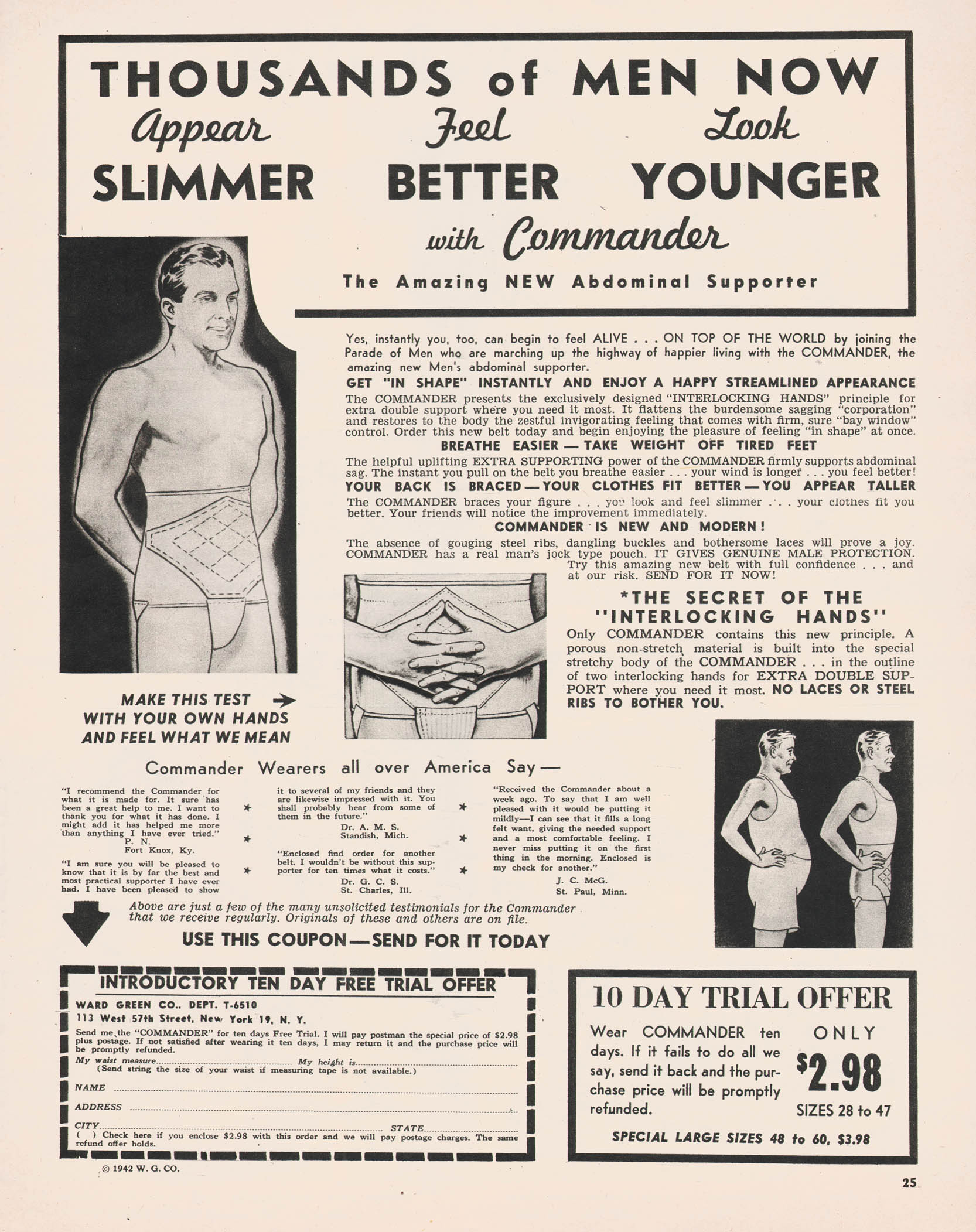 Never has a girdle sounded so life-changing.  I guess it has something to do with "the secret of the interlocking hands".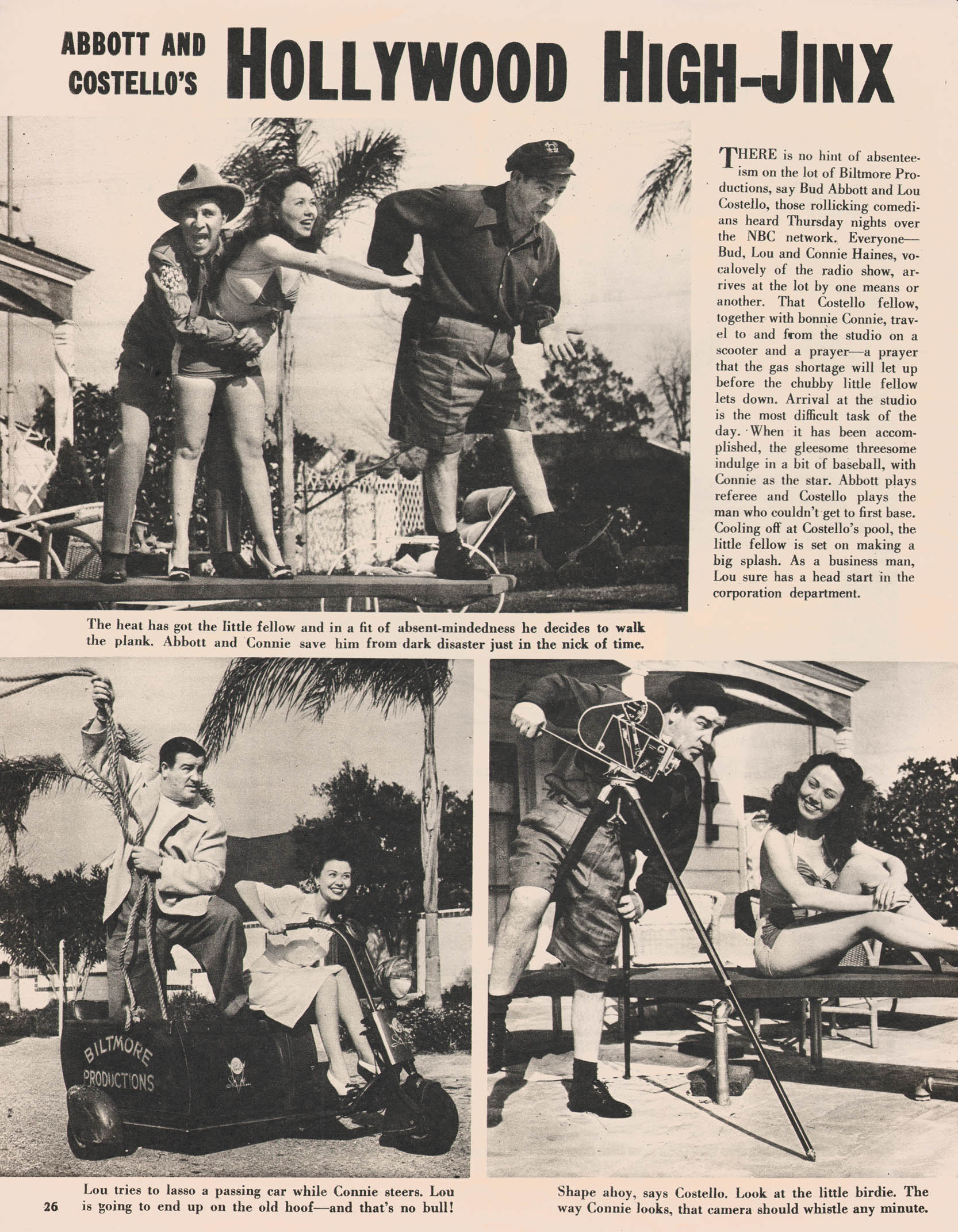 I must admit – I love me some Abbot and Costello.  Here we have the comedy duo with the lovely Connie Haines – the lead singer on their radio show, who would join with Tommy Dorsey a few years later (then become an ordained minister in the 1970s).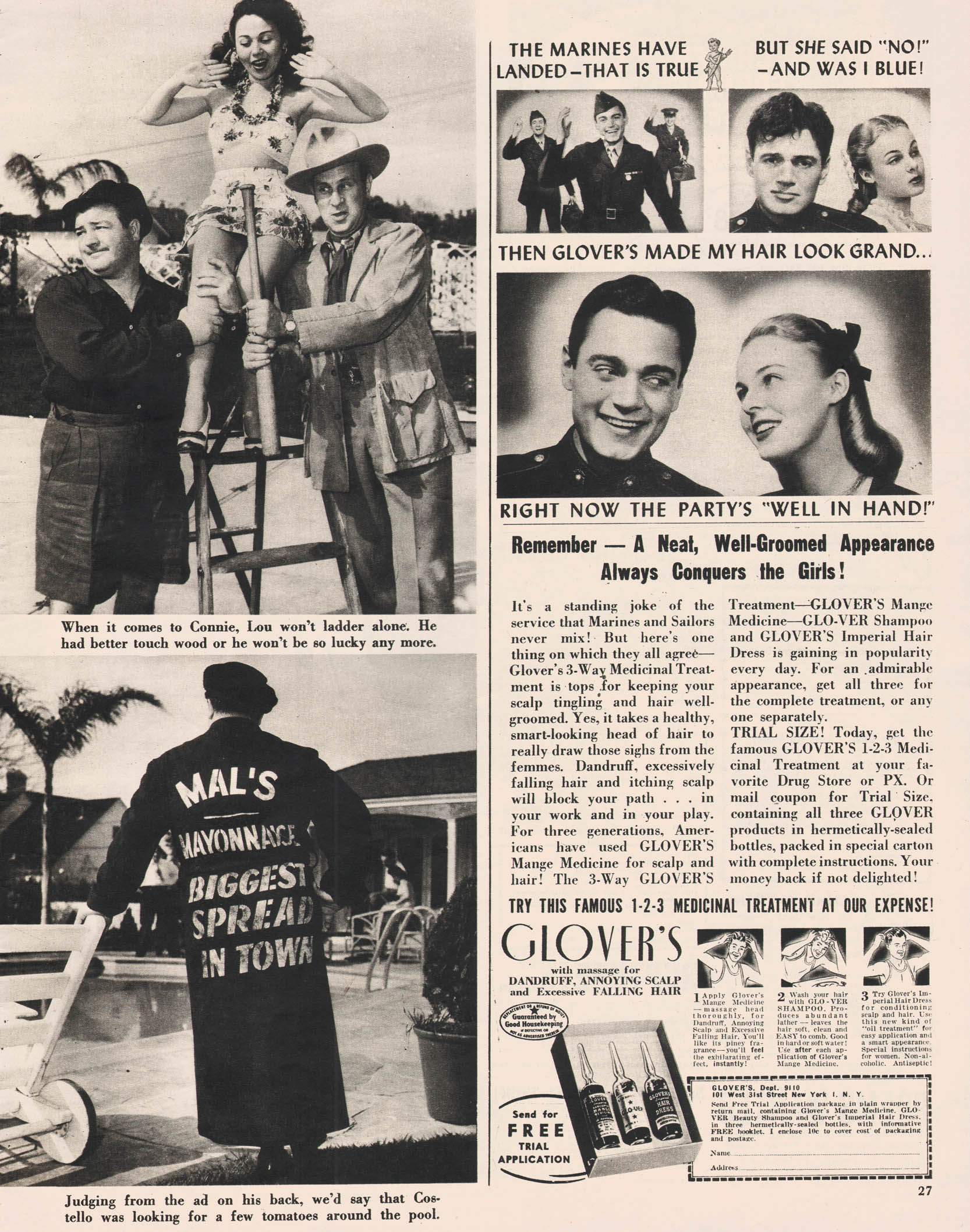 Let me get this straight – this marine fights in the trenches of World War II, comes home and his girl rejects him because of his dandruff?  Seems a bit harsh.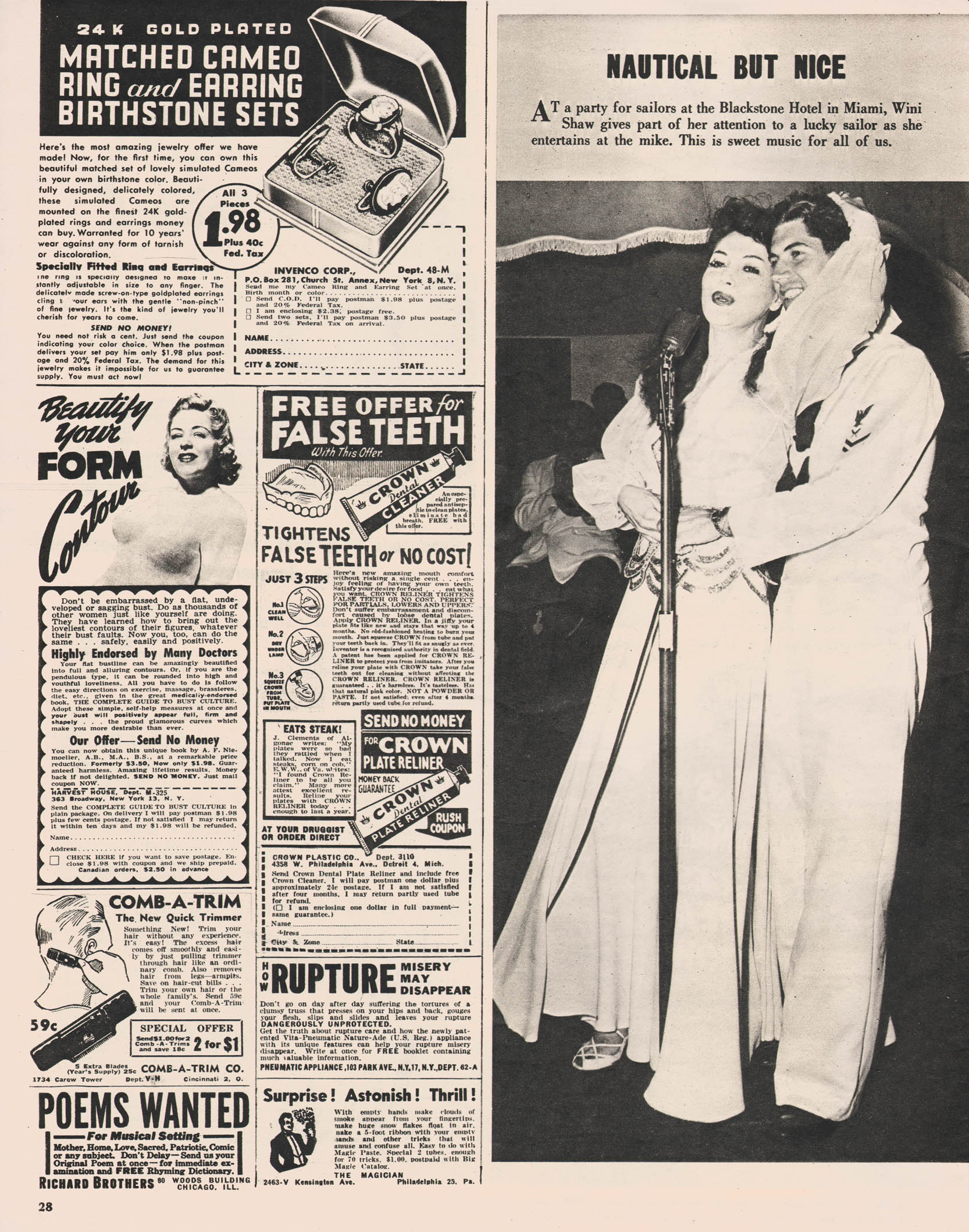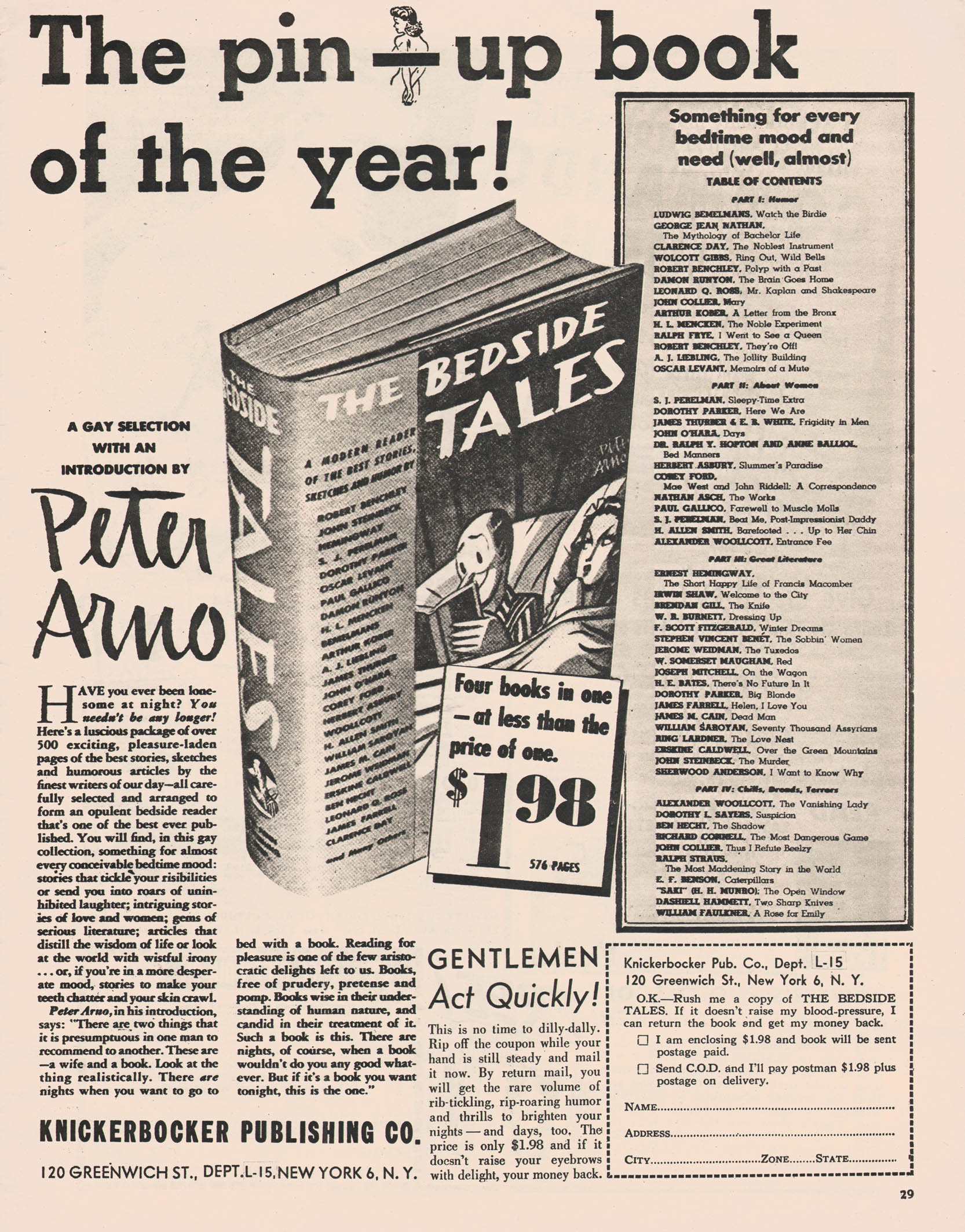 They make this sound like some sleazy read for lonely men to get their rocks off… but then your read the table of contents and find John Steinbeck, F. Scott Fitzgerald, William Faulkner, etc.  No doubt it's a good read – but not something to be described as "luscious pleasure laden pages".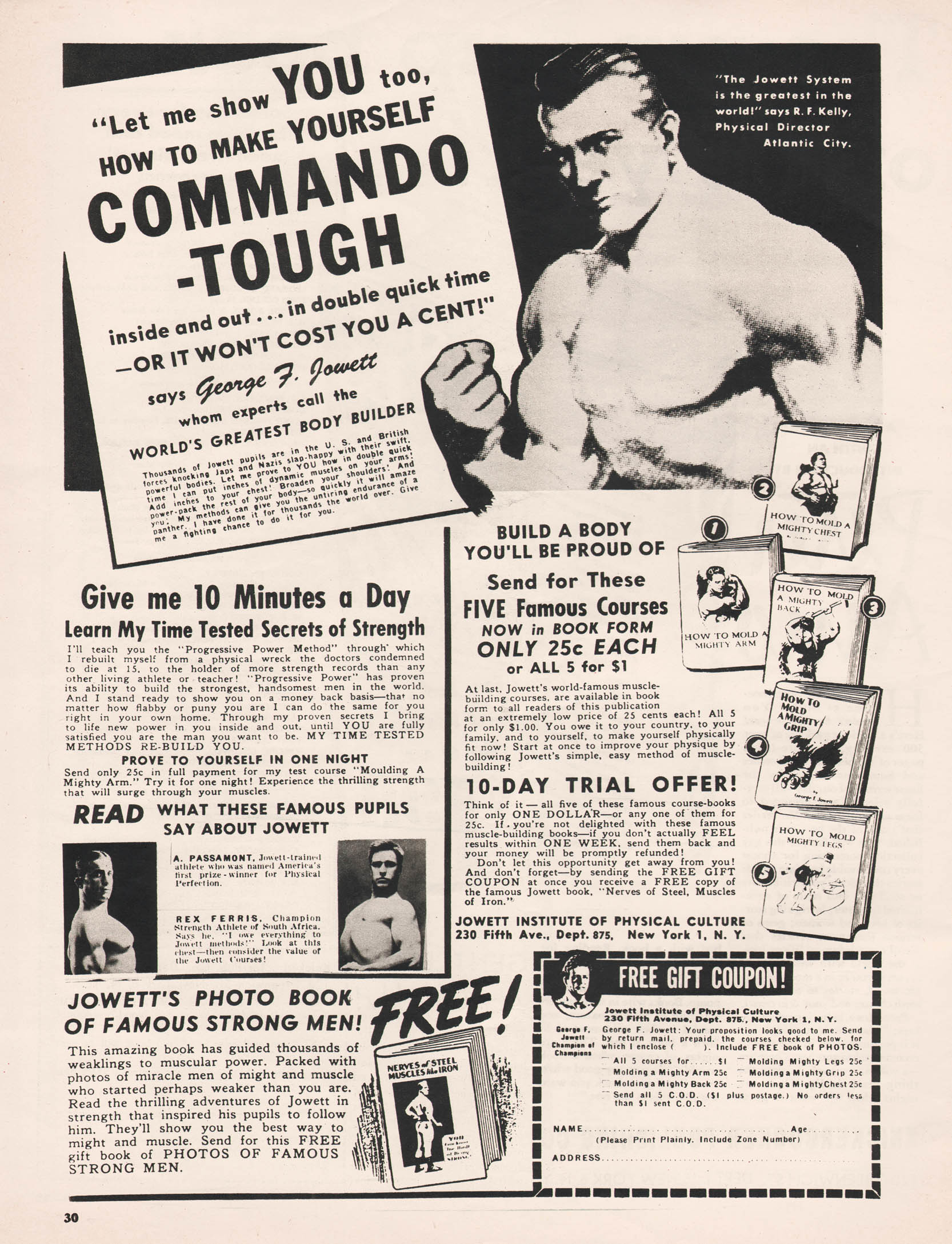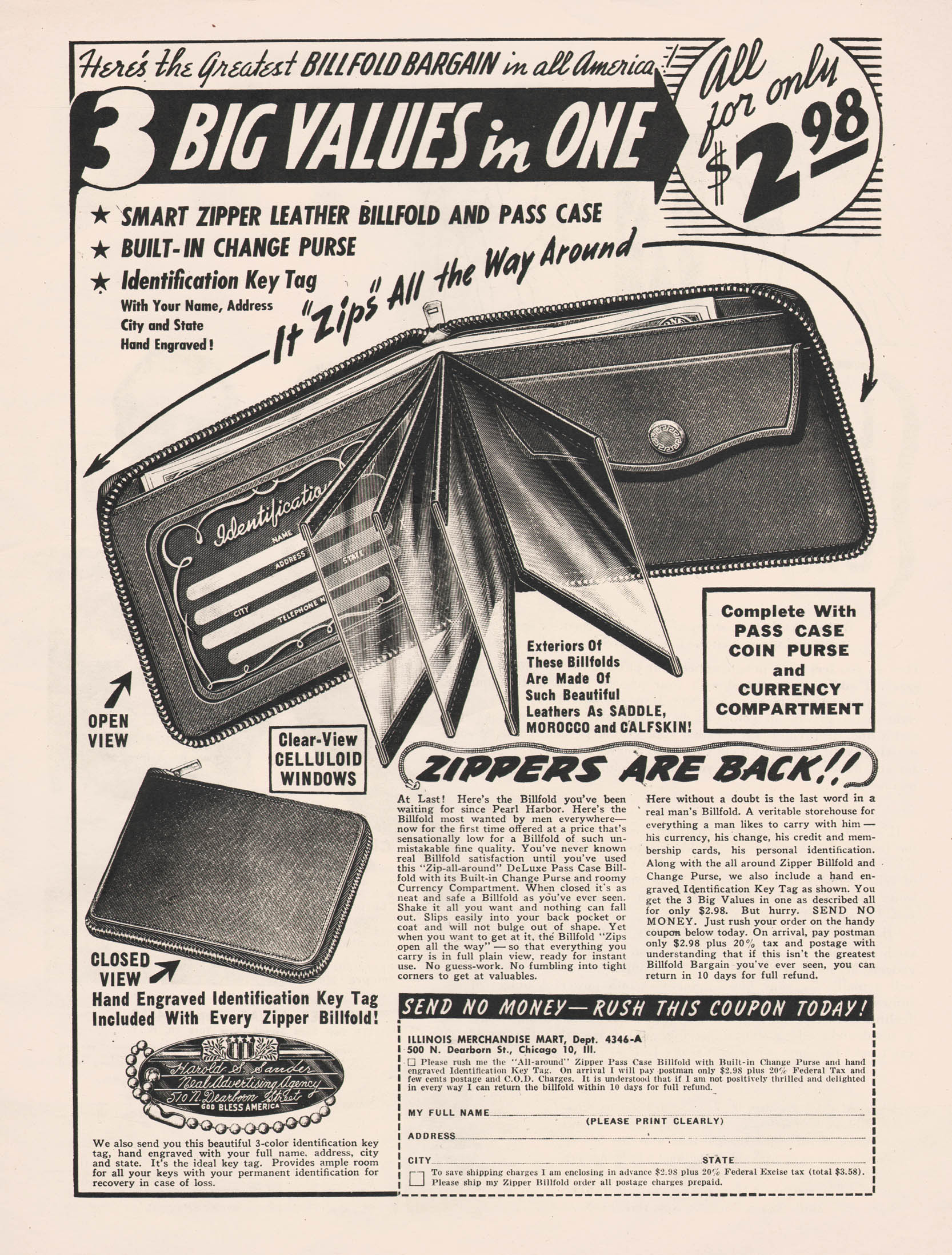 "Zippers are back!!"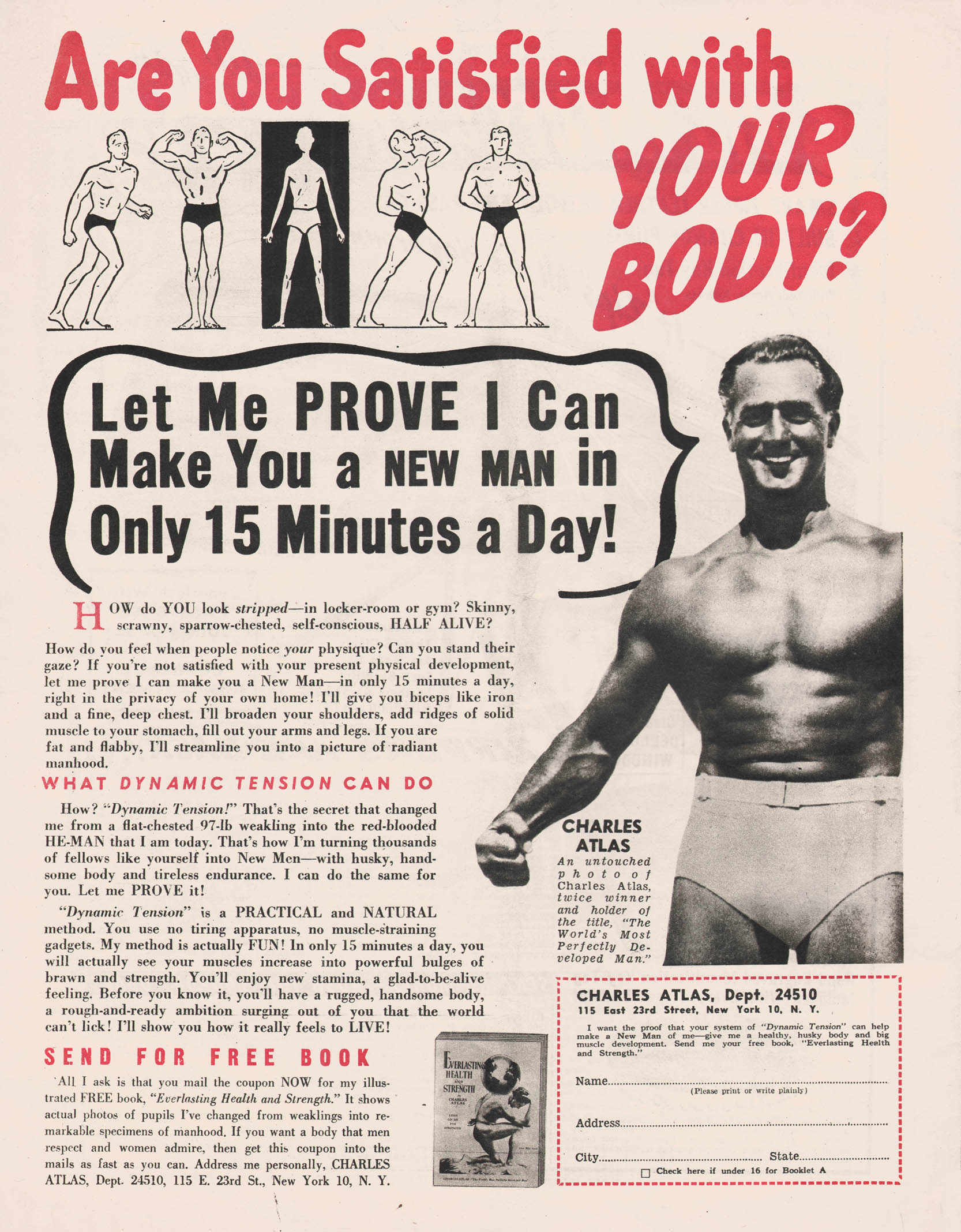 Well, that's the whole magazine.  I hope you enjoyed it as much as I did.  Cheers.