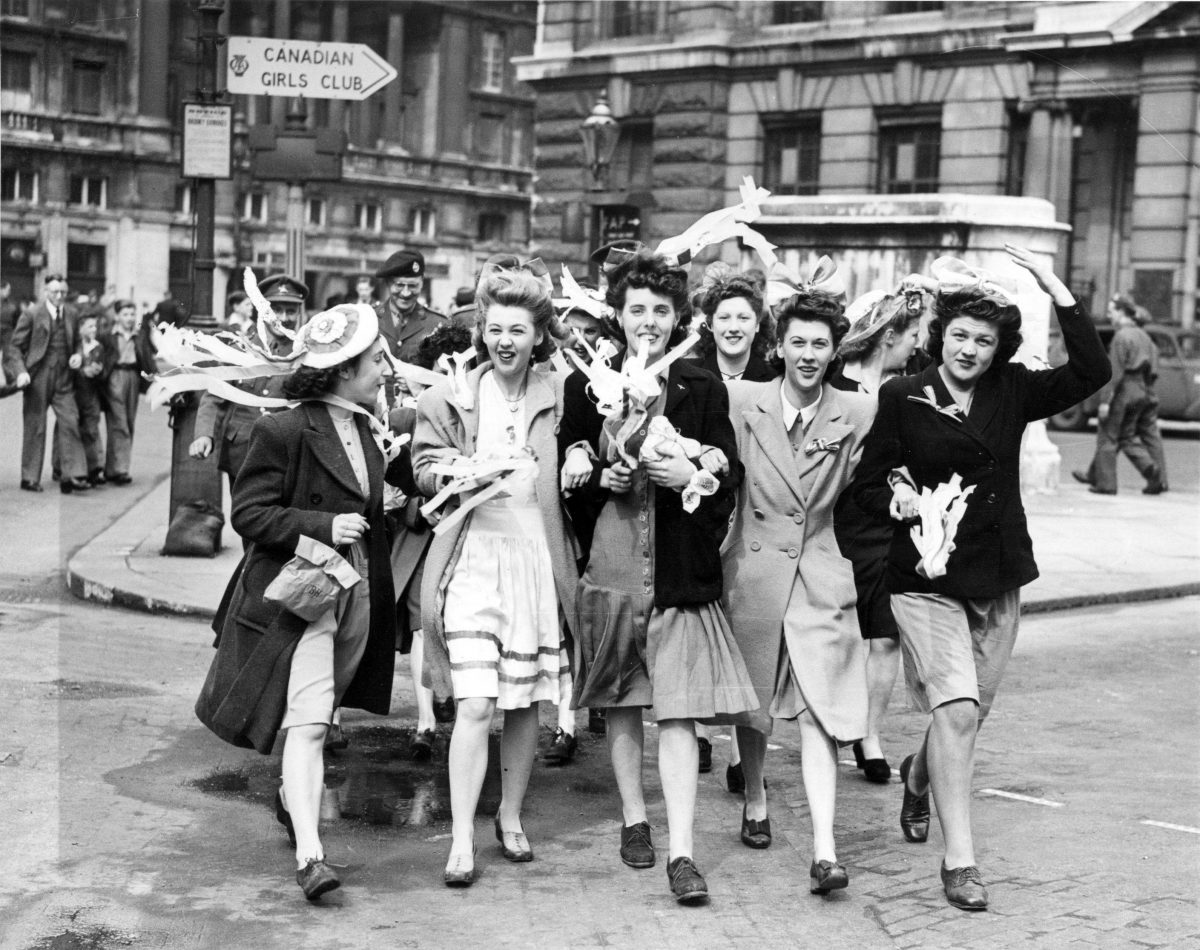 The Daily Telegraph went with "GERMANY CAPITULATES!,  followed by 'To-day is VE Day: "Complete and Crushing Victory". Of course the other newspapers joined in with celebratory VE Day headlines. After all there was a lot to celebrate. Even The Irish Times managed to join in when the pro-British editor Bertie Smyllie got past the strict Irish government censorship of newspapers, especially The Irish Times, by setting the front page to make a sort of  V for victory sign. The official day for the celebrations was on 8 May 1945, although after a radio announcement the previous evening many people decided the black out was over and all over the country people pulled back the curtains and the blinds and walked out into the street to see what it looked like.
By early afternoon the next day people were gathering in the West End of London by their hundreds of thousands. Many people were wearing paper hats. Harold Nicolson walking through Trafalgar Square that afternoon thought them "horrible, being of the comic variety".  At three o'clock in the afternoon everyone stopped to listen to Churchill's victory speech he had written the night before: "the evil-doers now lie prostrate before us" he said with a flourish and everyone cheered. Loudspeakers had been connected everywhere. Two or three days before Churchill had said to his wife Clementine, "I need scarcely tell you that beneath these trumps lie poisonous politics and deadly international rivalries".
Model and actress Christabel Leighton-Porter made her way to perform at the Kilburn Empire in London. She was famous as the model for the famous Daily Mirror cartoon strip 'Jane', and that evening, in honour of VE Day, she had decided to pose on stage as a semi-nude Britannia, draped in a Union Flag but, best of all, wearing a helmet the fire brigade leant her.
The crowds in front of Buckingham Palace have spilled into Green Park and in the evening deckchairs and park benches were passed via a human chain and thrown onto a massive bonfire.
A Mary Derrick, aged 20 and who at the time was working in the Education Department in Clifton had written in her diary on the 7th: Terific excitement, rumours of V E Day, shampooed my hair, went to bed at 12. The following days entry read: V E day at last. Went up to Grace's at Redland at 11 o'clock. Down to centre, climbed up Cabot Tower. To Corn St, saw Lord Major at centre. Back to Grace's for tea. Up to Downs marquee. Back to Grace's. Walked from Redland to Centre. Hundreds of people. Left Centre at about 12. Walked home. Bed at 3 am.
After celebrating VE Day in front of Buckingham Palace, Noel Coward walked back to the Savoy Hotel, where he'd been ensconced since his home was bombed in 1941, with his friend, the composer Ivor Novello, who has a flat nearby. At about midnight Coward wrote in his diary later: 'I suppose this is the greatest day in our history.' And it probably was.