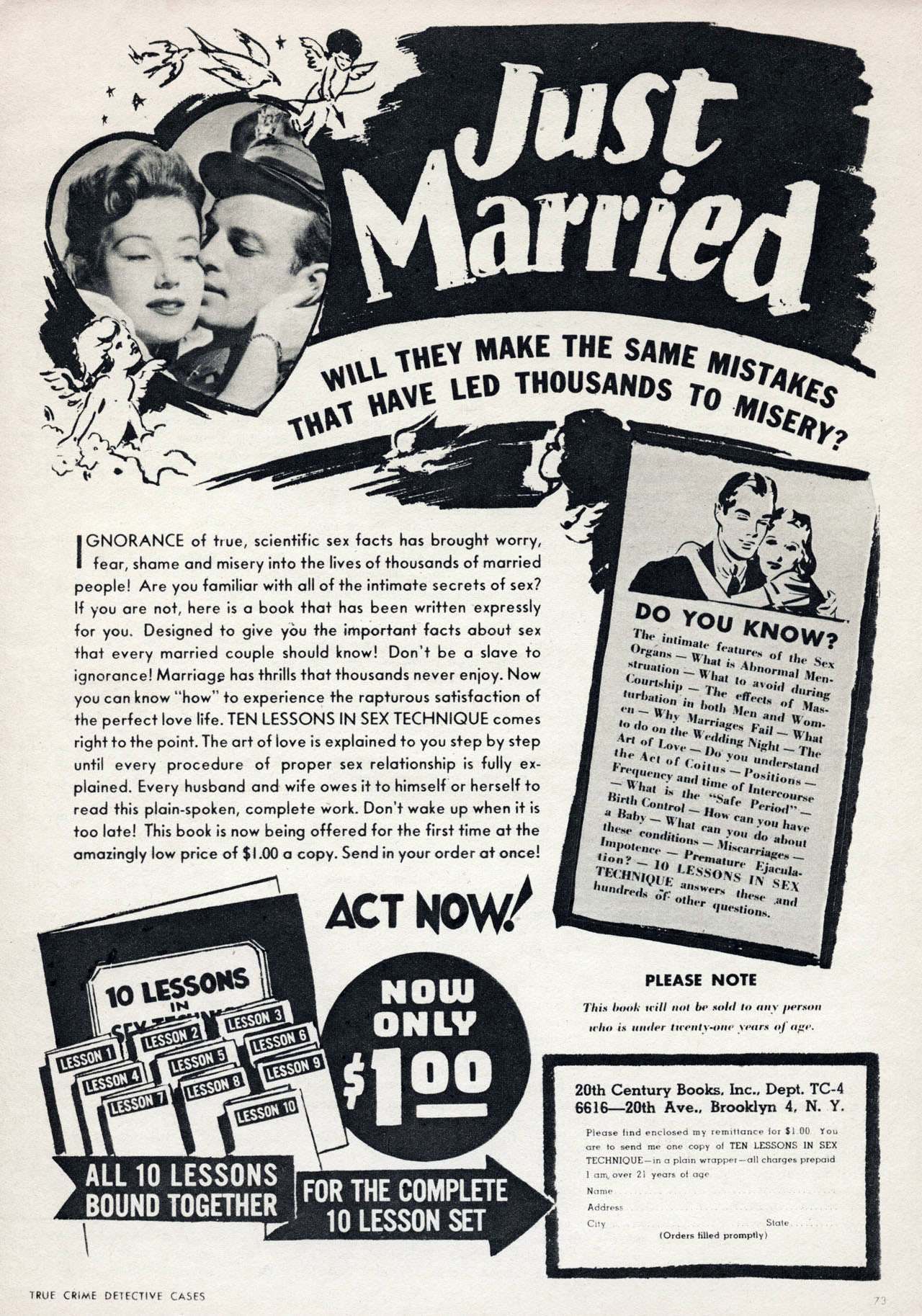 If you have the chance to pore through some vintage pulp magazines, you'll find them chock full of sex-advice books. You'll get the impression that men of the 1940s-50s were scared shitless about underperforming in the bedroom, and were desperate for any help they could get.  Perhaps it was due in part to the conservative pretenses of the time – not a lot of opportunity for trial-and-error sex.  The best a guy could do was prepare for the honeymoon by doing plenty of research (and plenty of praying).
Personally I would love to get a hold of those lesson booklets above.  What secrets await in the final lesson – Lesson 10?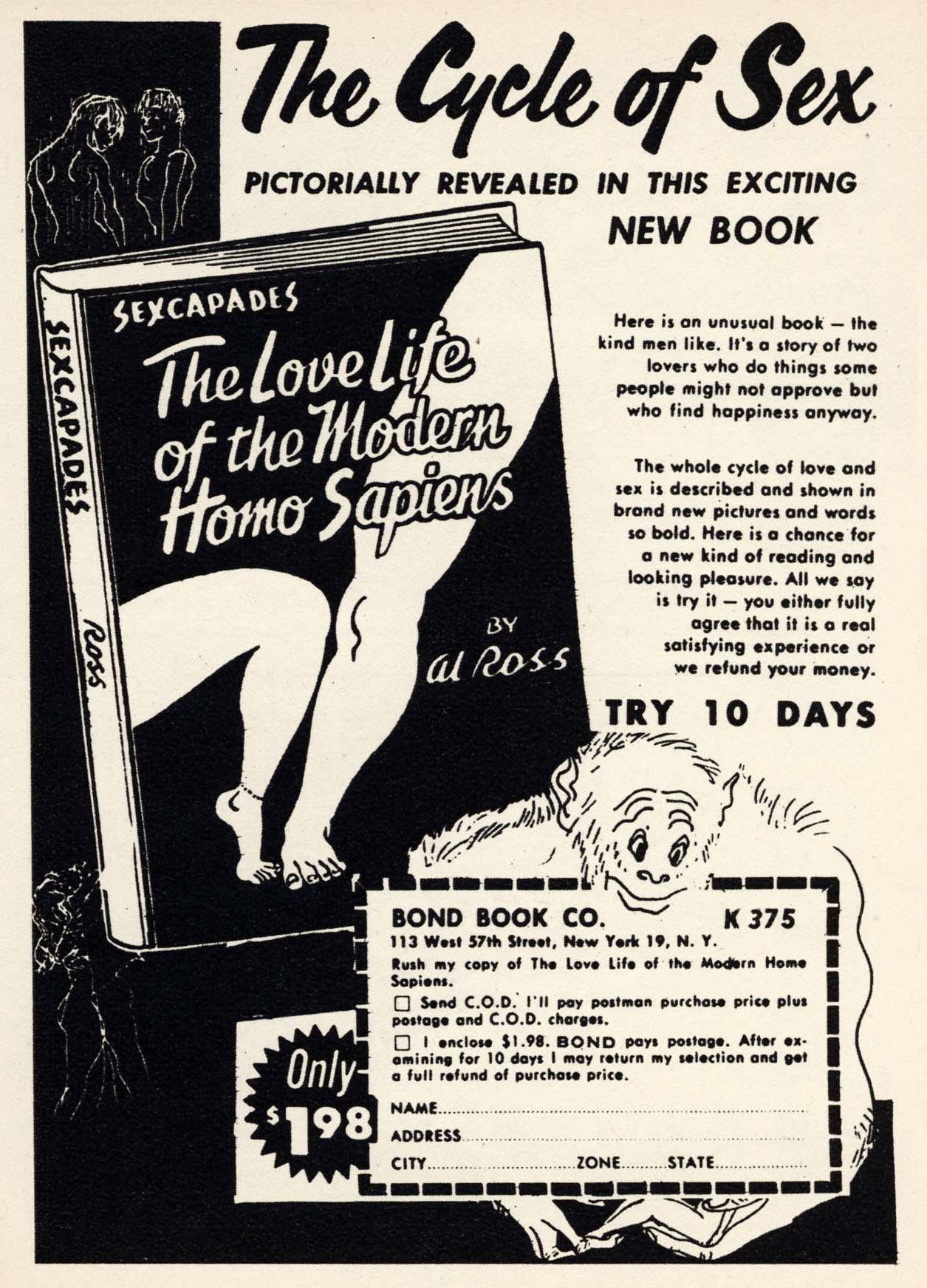 This 1954 advert appears to be for just another sleazy read disguised as an academic study (and there were many wolves in scholar's clothing back then).   Actually, if you can get your hands on it, this is pretty cool book.  It's done by the famed cartoonist Al Ross (Saturday Evening Post, Collier's, etc.) who provides illustrations throughout his journey to find meaning in sex and love.  There was a conflict in the 1950s: you had the very puritanical view which looked upon sex as only a marital duty to procreate and be done with this nasty business.  And then you had the Kinsey study phenomenon which painted mankind as a bunch of loveless perverts.  Was there a happy place in the middle where love and sex abide harmoniously?  Al Ross attempts to find out.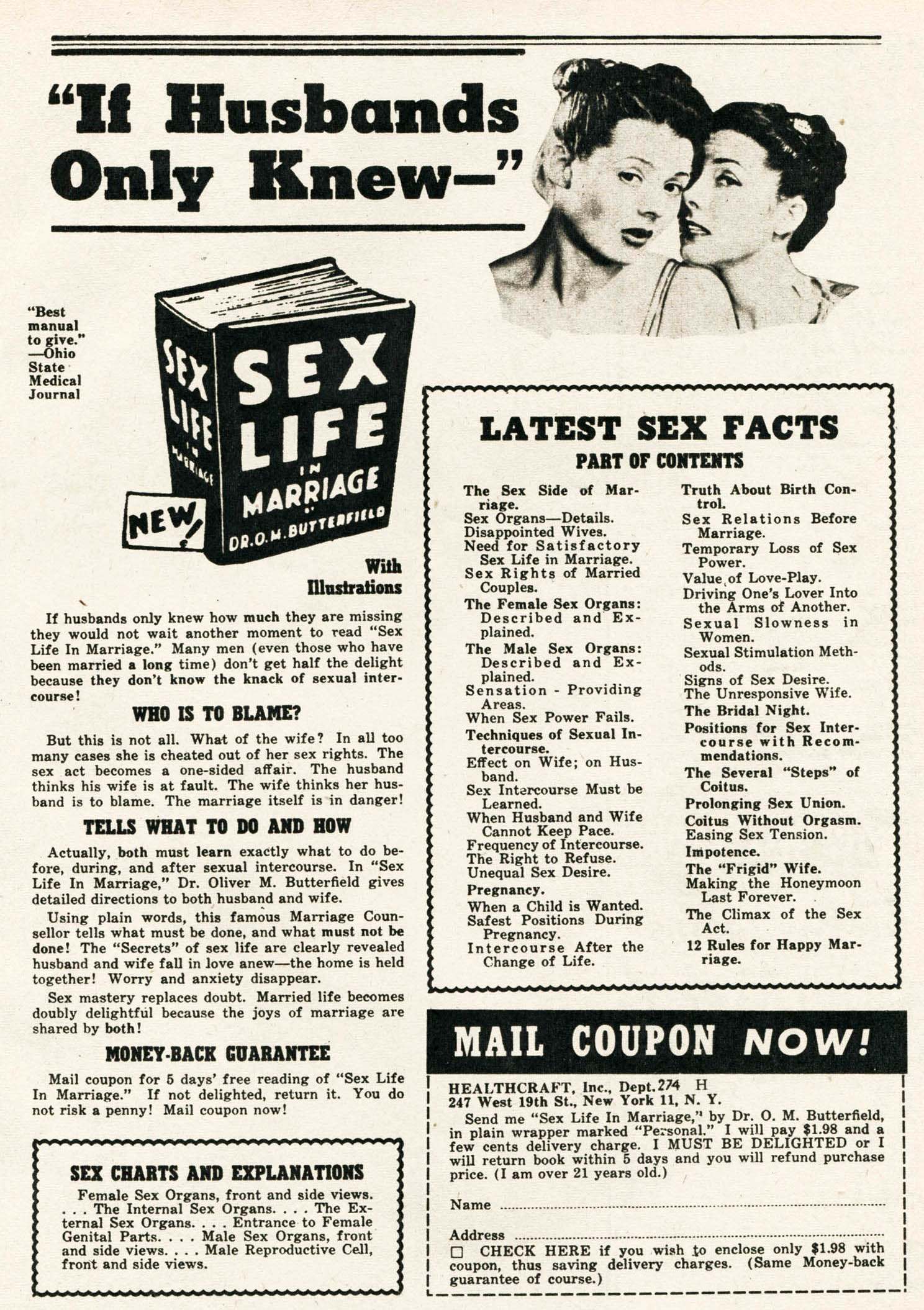 Dr. O. M. Butterfield imparts his extensive sex knowledge to society – with an endorsement from the Ohio State Medical Journal, so you know it must be legit!  In fact, it 's just another sex book preying upon the anxieties of the mid-century male.  The table of contents reads like a list of male insecurities and fears. Will I be so underwhelming in the bedroom that I drive my wife into the arms of another?  Holy shit – I better send my $1.98 now!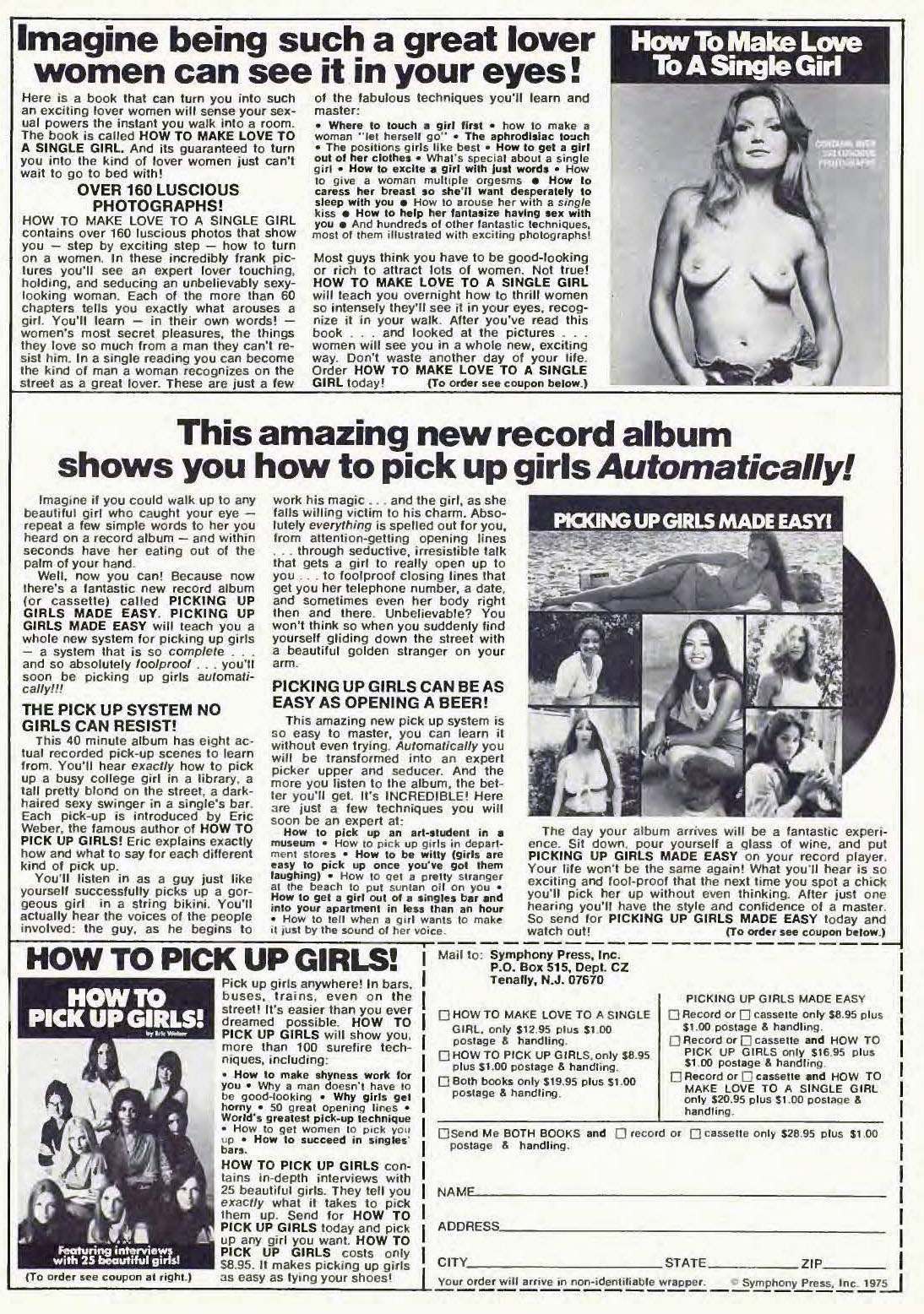 Of course, the sex advice book was not limited to mid-century virginal worrywarts.  If you grew up in the 1970s, you will remember the "How to Pick Up Girls" series (the advert above is from 1976).  There was even an album released (the early version of the audio book).  It was the Sexual Revolution, and you didn't want to be left in the dust – better brush up on your lovemaking skills and keep up with the rest of the swingers.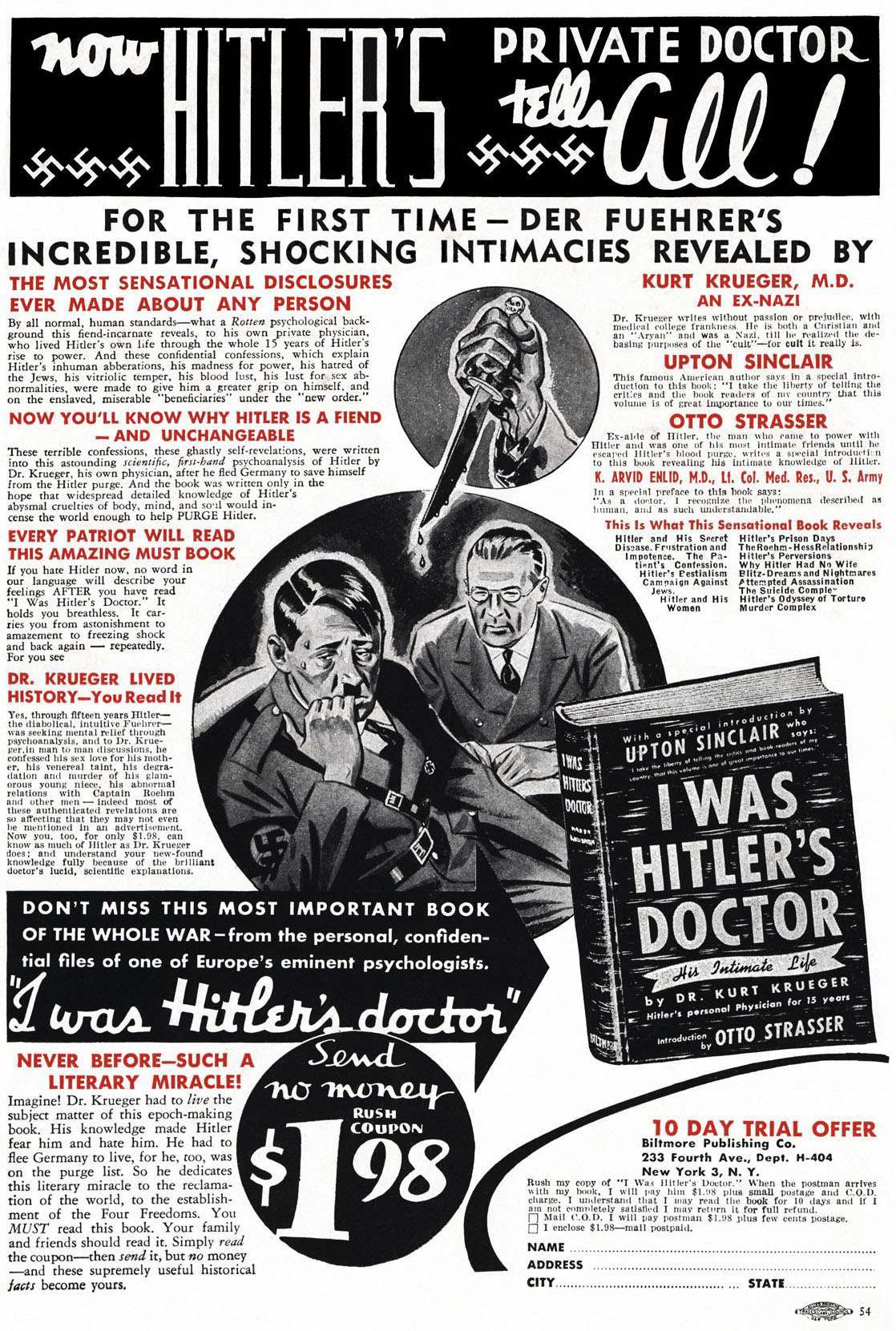 I've actually had the misfortune of reading some of the "most important book of the whole war" – and it reads like dimestore smut.  It's basically one degenerate sex scene after another, interspersed with psycho-babble.  It's quite obvious the whole thing is a hoax – this wasn't Hitler's private doctor….. but what intrigued me was that it was endorsed by both Otto Strasser and Upton Sinclair.
Turns out, Strasser was in a Canadian prison at the time, so he may have had financial motivations for providing the endorsement.  Upton Sinclair had just written a book about his wife's telepathic powers, so there was some strange behavior going on there too.  Ultimately, this fraudulent smut sold around 200,000 copies and became lost to the passage of time (until today, that is).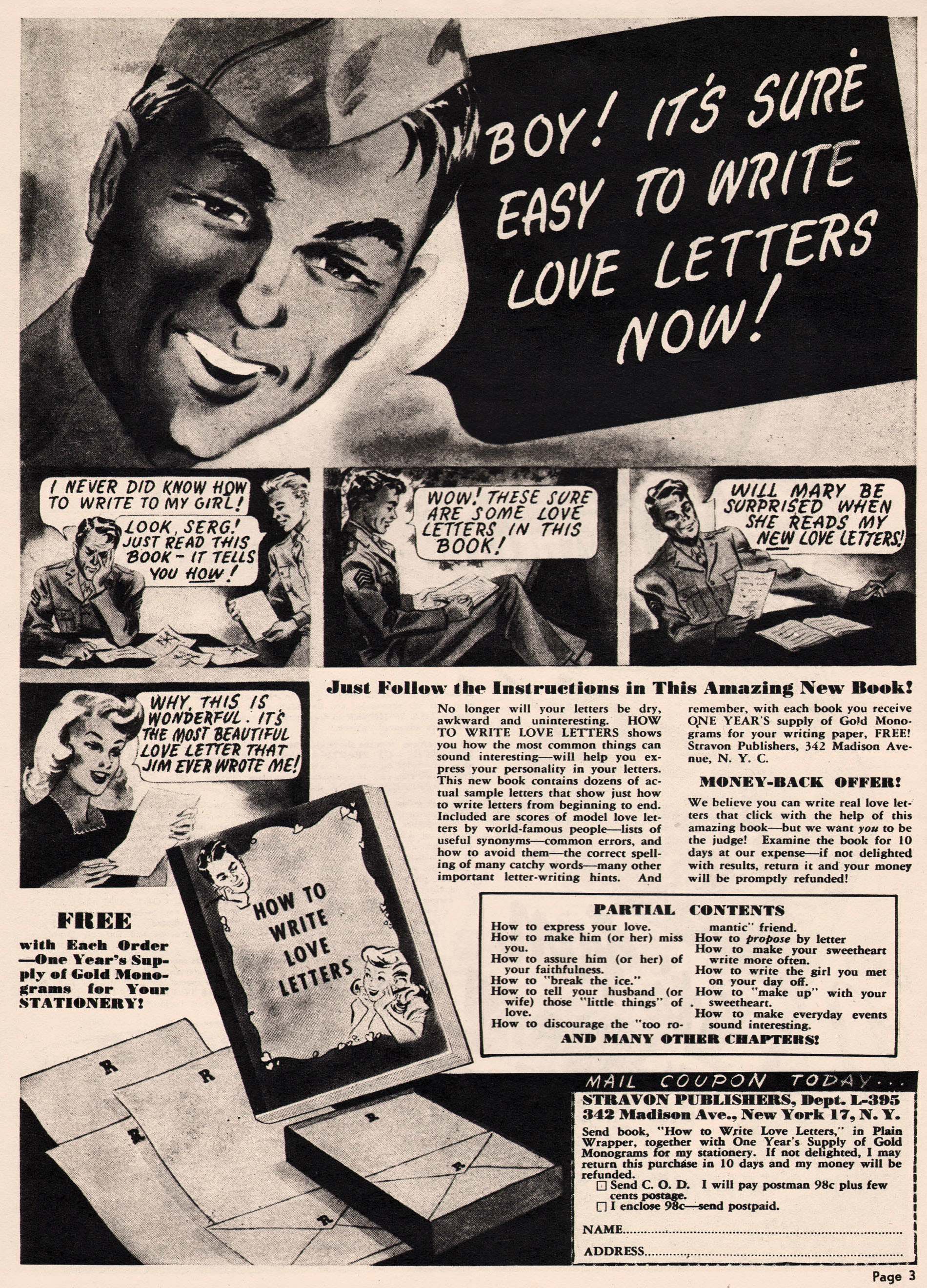 "No longer will your love letters be dry, awkward and uninteresting"
Well, the carnage and existential horror of the battlefield doesn't make for good loveletter topics.  Nor do tales of the French whorehouses.  Better get a template to help out.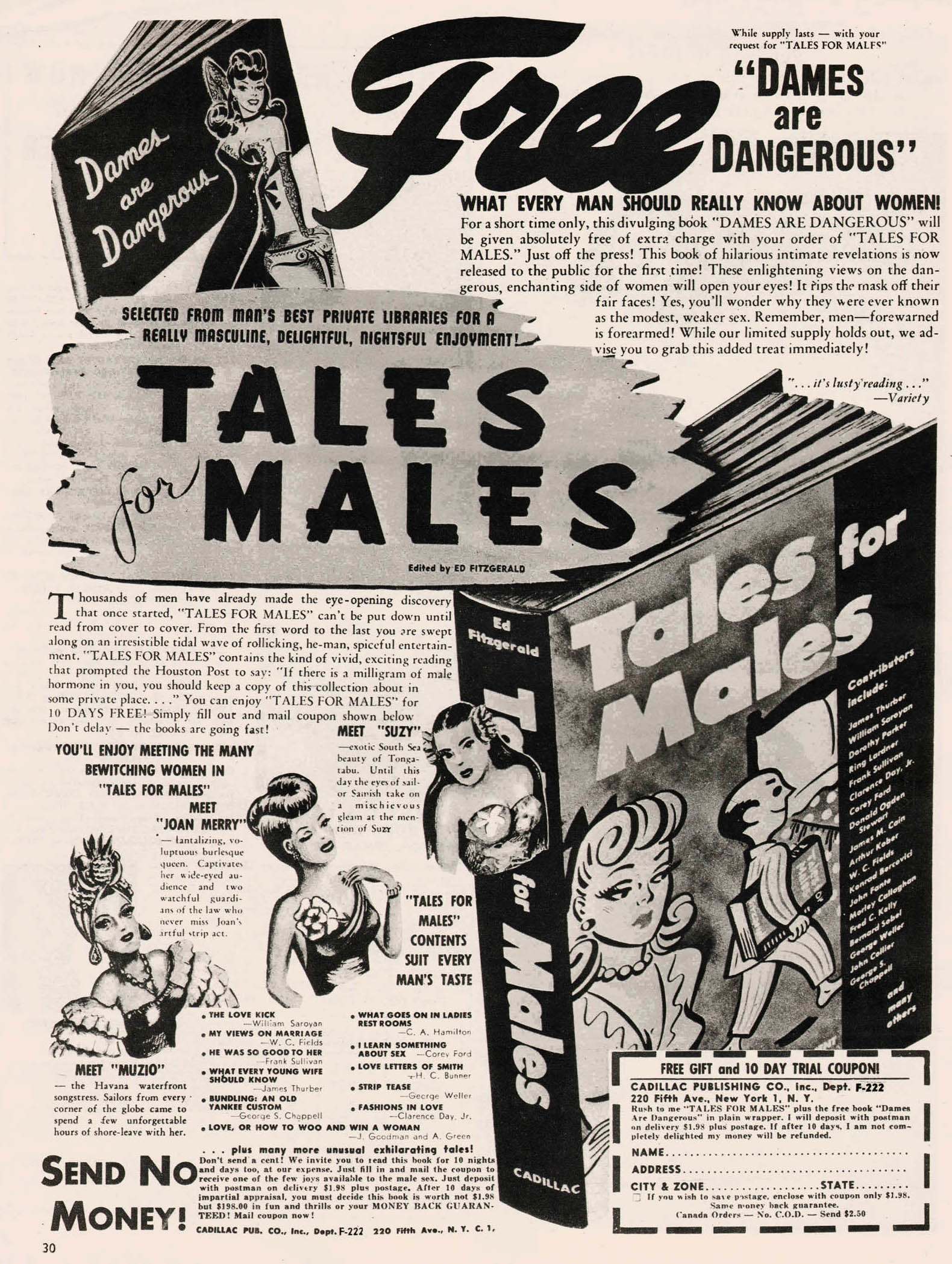 This supposed guidebook paints women in a rather unflattering light: "This book of hilarious intimate revelations is now released to the public for the first time! These enlightening views on the dangerous, enchanting side of women will open your eyes!  It rips the mask off their fair faces! Yes, you'll wonder why they were ever known as the modest, weaker sex.  Remember, men – forewarned is forearmed!"
And, finally – "G'way woman, you bother me!"