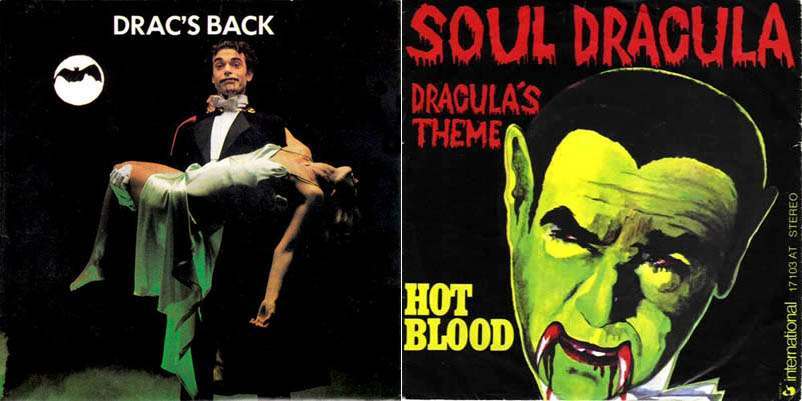 Who can forget the disco scene in Love at First Bite (1979)? You might say The Count shed his Gothic pretentions in the 1970s and got a little bit funky. Here are 5 hits from that special moment in time when vampires were neither satanic love machines (as in the Hammer movies) nor glittering dullards (Twilight), but rather undead disco dynamos!
"Drac's Back" by Andy Forray (1979)
The high water mark in cringeworthy Halloween themed disco tracks. I'll let the lyrics speak for themselves:
They're easy pickin's at the discotheque
I leave them feeling like they've been in a wreck
You know they wake up all wasted
And they never ever check
Those two small holes that I leave in their neck

Well if they were wise
They would soon realize
They're not hung over
They're just vampir-ized
'Cause Drac's Back

I wanna suck your..(oooh.. Dracula!)
Drac's back…
"Soul Dracula" by Hot Blood (1977)
Without question, my favorite Halloween themed disco track. Hot Blood was a French disco group that seemed to vanish into thin air, but not before unleashing unto the world the ultimate horror disco dynamite. The album Disco Dracula contained such gems as "Baby Frankie Stein", "Even Vampires Fall in Love" and "Terror on the Dance Floor". And because you can never get enough of "Soul Dracula", here's a performance that cannot be missed:
"Disco Blood" by The Vamps (1978)
A perfect example of everything that is both wrong and right with disco. The right: dense orchestration and a hopping beat that gets asses on the dancefloor. The bad: absolutely inane lyrics. 'Gimme, gimme, gimme your blood." Ugh.
"Dracula's Disco" by Gerry Bribosia (1977)
Similar to "Disco Blood", the beat is catchy, but the vocals are just awkward. Still, a must for any self-respecting Disco Halloween party host.
"I hear knocking at the door, I wonder who it could be
Oh, is my friend Frankenstein, I'm glad you could come
Do you hear the music? Do you see the lights?
Well, come on in, welcome to the Count Dracula Disco"
"The Stalkway" by Gene Page (1972)
A track from the film Blacula and the Soul Train Dancers…. it simply doesn't get any better than this.  You're welcome.