In the 1970s New York danced to disco's beat. Bill Bernstein was there to photograph the electric thrills. He thanks US President Jimmy Carter's mother, Lillian, for his break. Bill recalls:
"I was working for the Village Voice when I got the call to go and photograph her. She was receiving an award for her humanitarian work and, for some reason, the ceremony was at Studio 54. So I went there and shot what I needed to, including a photo of her and Andy Warhol talking together."
To realise how unusual a venue choice that was, you can read our history of the fabled New York nightclub and enjoy photographs of the decadence therein.
Lilian collected her gong and left. But Bill noticed who was arriving:
"After the event, the regulars started to arrive. But these people were not your regular regulars. The mix of humanity that started coming though the door, the way they dressed, the way they walked and talked and posed. I stayed and got hooked on disco."
Below are some of Bill's pictures of Studio 54 and other clubs of that era: Brooklyn's Empire roller disc, Le Clique, Hurrah, GG's Barnum Room and The Mudd Club.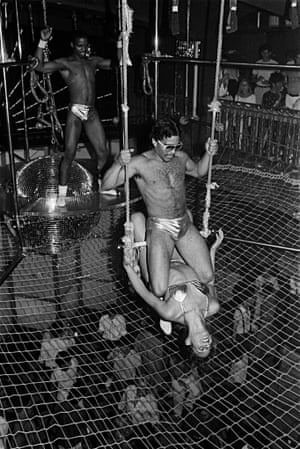 "Over the next five or six hours, my world underwent a transformation. Had I been suddenly transported back to a prewar Berlin cabaret? Who were these people of the night…?… I sensed early on that disco, in its own extravagant way, was a very progressive, democratic scene. There was a real acceptance of people, no matter who or what they were, and an incredible tolerance of diversity. They encouraged and celebrated it."
"Before disco went overground with Saturday Night Fever, it was a series of smaller scenes with very defined crowds. At the roller discos out in Brooklyn, you'd see some white kids, but it was mainly a black scene and one in which everyone seemed to know each other. Roseland was mostly Hispanic, while places like the Loft in Manhattan or the Ice Palace 57 were gay discos…
"When disco hit big in the 70s, the Empire Rollerdome, in the heart of Brooklyn, changed its name to the Empire Roller Disco. Out went the organ music and in came a sound system and DJ Big Bob (Robert Clayton). It was an enormous old parking garage from the 40s with a beautiful maple floor that held over a thousand skaters. There was no violence here, just pure fun."
GG's Barnum Room was "the different disco – a transgender haven – I met people who were pre-op and people who who were post-op and they loved being there mixing with the straights. I figured it was a place where they felt safe because it was their world and the straights were, for once, the outsiders."
"Not enough can be said about the influence of Larry Levan, the Paradise Garage's legendary DJ, whose sets were called 'Saturday mass' by his followers. Sometimes I would just put down my camera to watch him work the crowd."
"While the UK punk scene grew out of a political expression, New York punk clubs like the Mudd Club were primarily led by pose, fashion, new wave music, a general dislike of anything disco, and the occasional Support Nicaragua badge."
"Le Clique was a travelling disco with actors, acrobats, strippers, clowns and simulated sex acts, all designed to lessen the inhibitions of the club members and to get them involved in the debauchery."
"This is one of the first shots I took at Studio 54 – the couple reminded me of a prewar Berlin cabaret image. I had this image stuck in my mind throughout the entire disco project. These were the people I found the most intriguing; those who had a whole other life at night and became their fantasy characters."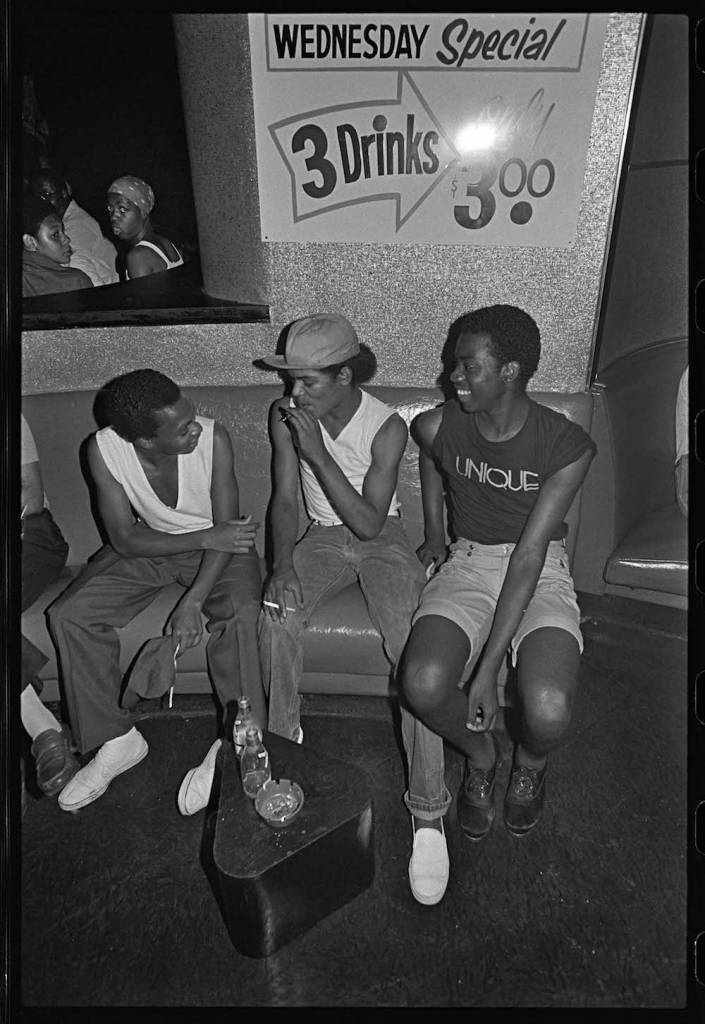 All images by permission of © Bill Bernstein. You can see more on his book Disco: The Bill Bernstein Photographs, by Reel Art Press.