Studio 54 is immensely interesting just in terms of a sociological perspective.  It peaked just about a decade after the Summer of Love – how far the Baby Boomers had come since their anti-materialist, hippie days!  Their trademark hedonism was still intact, but the values (or complete lack thereof) had shifted 180 degrees from Woodstock.  "All You Need Is Love" had somehow changed to "All You Need Is Fame and Lots of Money." The cast was the same – the same generation that had flooded  Max Yasgur's 600-acre dairy farm in 1969, now flooded this new discoteque steeped in elitism and shameless materialism.  What happened?
Why exactly the counter-culture movement was pissed upon is a topic for another day.  Instead, let's look at the ultimate symbol of the Boomer's "new attitude". When their hippie spiritualism and idealism flatlined, the neon sign of the mighty Studio 54 shone bright, and all bowed in its decadent glow.
The building itself at 254 West 54th Street in Manhattan, NYC had been around since the 1920s as an opera house, then became the property of CBS in the 1940s.  A number of popular programs were filmed there including Captain Kangaroo and To Tell the Truth.  In the mid-1960s CBS moved to what was at the time the largest broadcasting facility in the world, and in 1976 the remnants still filming on 54th Street were relocated to headquarters and the Ed Sullivan Theater.
This is where things get nasty.
Now that the lot had been vacated by CBS, rich people came out of the woodwork showing an interest in buying the place.  Among the interested was German model, Uva Harden – but he was in line behind Frank Lloyd, founder of the prestigious Marlborough art gallery. Unfortunately for Lloyd (and fortunately for Harden), the gallery was in the midst of scandal.
Famed artist Mark Rothko had committed suicide and his wife died of a stroke a few months later.  What to do with all his valuable paintings?  The Marlborough gallery took possession of much of them, and when the Rothko family took the gallery to court, all kinds of greedy shit was revealed.  Among the  gallery's shady shenanigans: intentionally devaluing Rothko's paintings (via all manner of trickery we won't go into here) and stockpiling his works.  The New York Court of Appeals called Marlborough's actions "manifestly wrongful and indeed shocking",  The Marlborough upper echelon was imprisoned, and Lloyd was on the hook for almost $10 million.
Thus, the German model now was "first in line" and seized ownership of the property.  It's fitting, I think, that Studio 54 would owe its origins to a landmark case of greed.
Uva could buy the place, but he didn't have the money to do anything with it – he needed investors.  This is where Steve Rubell comes in…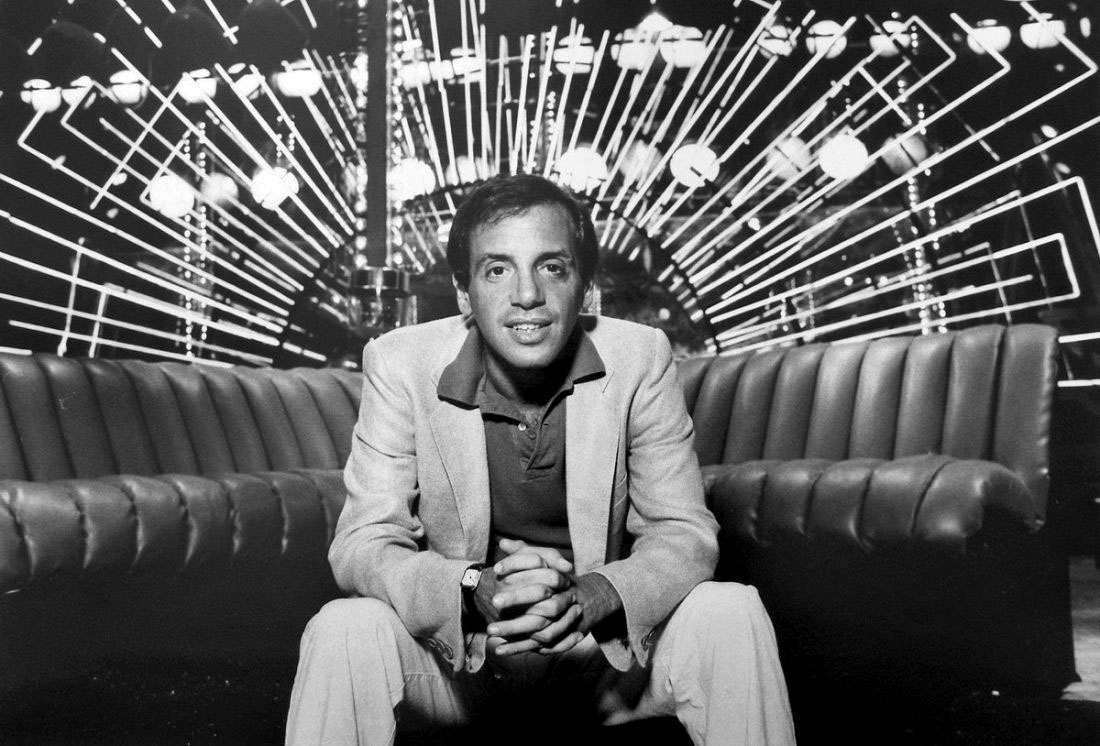 Steve Rubell had taken a winding road to get to this point.  He nearly became a professional tennis player like his dad, but it didn't work out.  He tried dental school, but when that didn't seem to be his calling, he got a Masters Degree in Finance.  After that, he served in a military intelligence unit with the National Guard.
After his military duties were over, he got together with his old college chum (now a lawyer), Ian Schrager and opened a couple steak restaurants.  They were a big success, which led the duo to open a couple nightclubs, which also did well…. and this, then led to their "partnership" with the German male model.
I put "partnership" in quotes, because, they quickly bought him out and these two New York Jews kicked his German ass to the curb.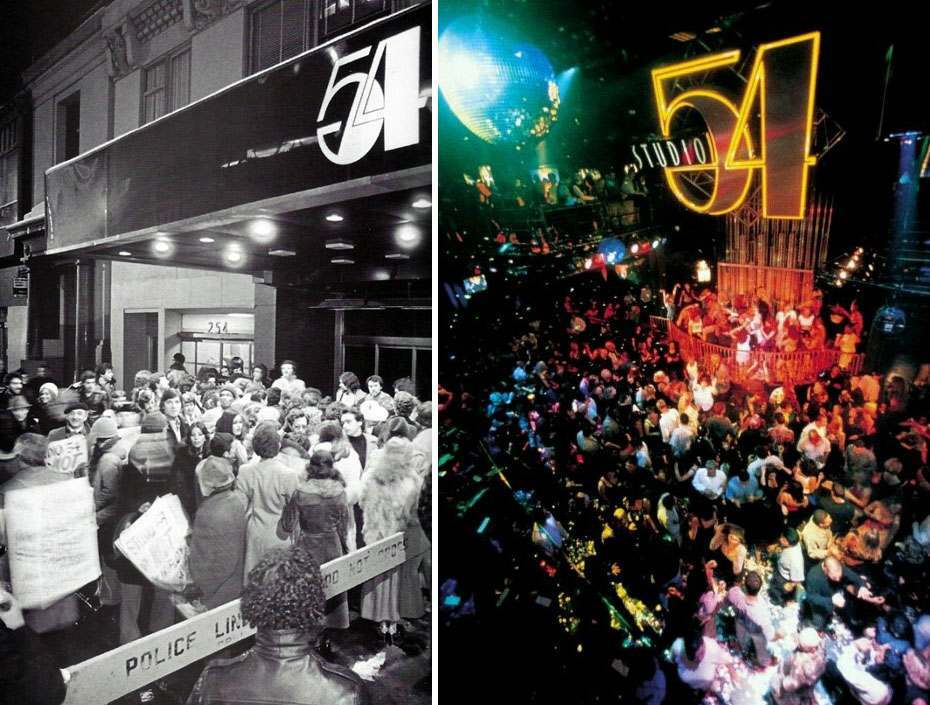 Rubell and Schrager sunk about $400,000 to renovate the old CBS lot – a risky move.  If the club wasn't successful, they were in big trouble.
But the word got out among the "in crowd".  When the doors opened on April 26, 1977, the celebs turned out in droves.  It was THE place to be – and the press took note.
The New York Post's Cher story is often cited as the match that lit the flame.  For whatever reason, this was the first domino in a long line of stories which fawned over celebrities at this new nightclub.  The stories flooded the tabloids and entertainment media: Henry Winkler ("The Fonz" ) had been turned away at the door – (the horror!), Bianca Jagger rode a white horse into the club on her birthday (the glory!), a "commoner" had tried to get into the exclusive club through an air vent and died (the tragedy!),… the stories were endless, each building the club up higher and higher.
Celebs in the late 1970s pretty much had to go to Studio 54 or risk being left-out and permanently excluded.  The nightclub had its regulars: Andy Warhol, Truman Capote, Halston, Cher, Diana Ross, Brooke Shields, Michael Jackson, Calvin Klein, Bianca Jagger, Liza Minnelli, Rudolf Nureyev, and Debbie Harry…. but to list every celeb who graced its disco floor would be nearly impossible: Stallone, Beatty, Travolta… it was a who's who of the disco-era's "beautiful people".
But a special place was reserved downstairs for the most beautiful of all….
Rumors of Studio 54's exclusive basement are the stuff of legend.  The club, famous for excluding the huddled stinking masses of normal people, had an even more exclusive area downstairs!  God only knows what sort of debauchery took place down there, because there was plenty of debauchery to be found even on the main floor….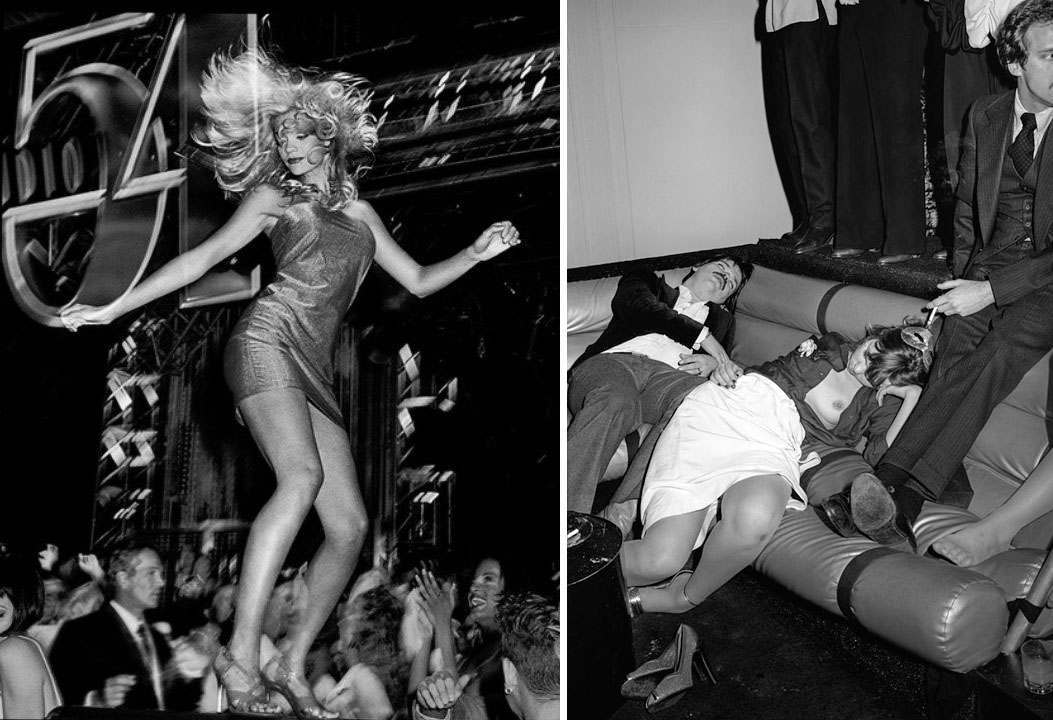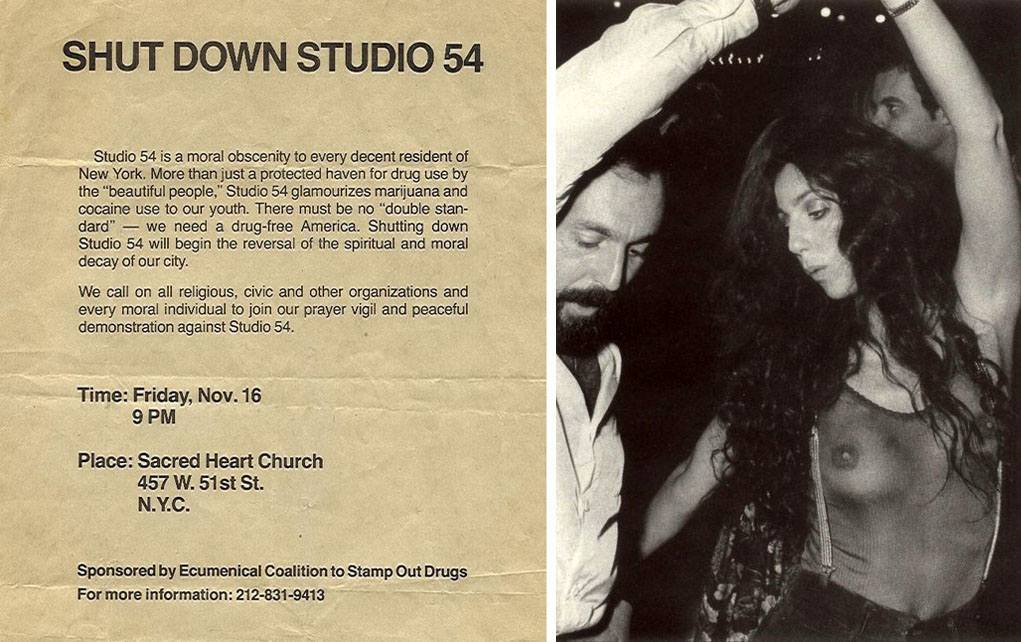 We'll never know the amount of cocaine that went up nostrils at Studio 54 – suffice it to say, the tons of glitter dumped from the ceiling helped conceal the thin layer of wall-to-wall powder.  While blue-collar Americans stood in line to never make it past the velvet rope, the popular people snorted and cavorted under big sparkly disco balls.  The hippie dream was all but forgotten… and no one enjoyed stomping on its remains more than Steve Rubell….
While his partner, Ian Schrager, took more of a behind-the-scenes role, Rubell basked in the glory of his newfound celebrity status.  He had grown up in the shadow of his more popular older brother, but now he was Mr. Big, hobnobbing with the biggest names in fashion, entertainment and art.  Rubell was often spotted in gay NYC clubs, but still, for some reason, remained in the closet.  Soon, this double lifestyle and intense drug use took its toll.
Supposedly, Rubell could be a real dick to his employees.  Attribute it to his drug use and insane lifestyle if you wish, but whatever the case, it created some disgruntled employees…. one in particular would cause the whole thing to come crashing down.
A male waiter went to the IRS and told them about Rubell and Schrager's shady bookkeeping practices.  Apparently, they had been keeping vast sums of cash in Hefty garbage bags and stowing them in the ceiling.  Turns out, Rubell and Schrager had only paid $8,000 in taxes since they opened, yet they were making more than $75,000 per night!  This was bad news for Rubell and Schrager.  Very bad news.
But Rubell wasn't going to go down without a fight.  He bargained with the IRS, saying he would reveal a big secret if they'd be lenient.
What was the big secret, you ask?  Rubell claimed that President Carter's Chief of Staff, Hamilton Jordan, had snorted cocaine in the Studio 54 basement.  The allegations couldn't be substantiated, but they made life miserable for Jordan.  They brought scandal to the White House and had the FBI knocking on Jordan's door.
Jordan had been getting dogged by the media well before the Rubell accusation.  He was young and prone to rub shoulders with Hollywood celebrities like Warren Beatty.  He'd even been accused of ogling the breasts of Egyptian ambassador's wife (saying "I have always wanted to see the pyramids").  After an extensive investigation by the FBI, Jordan admitted to going to Studio 54 ("for about an hour"), but not doing coke. Eventually, the whole matter was  dropped for lack of solid evidence- but the damage had been done.  Walter Cronkite has stated that, of all the stories he covered, he regrets reporting on this tawdry scandal the most.
Rubell and Schrager pled guilty and were sentenced to three years in prison.
Studio 54 was over.  Liza Minnelli sung "New York, New York" at the farewell party and the doors were closed.  It reopened in the 1980s under new management, but it just wasn't the same.  After serving their sentences, Rubell and Schrager amazingly rebounded and became "respectable" hotel operators – making more money than ever.  Sadly, Rubell died of AIDS in 1989, but Schrager has kept the hotel business thriving to this day.
Rubell had taken an old opera house and made it the world's center for glamour and decadence. The club's manic cocaine-fueled energy never could have been sustained for long – it was destined to go supernova from day one.  But while it lasted, it served as a perfect bookend to the 1970s – a decade that had gone from hippie idealism to a materialistic apocalypse.  When it was all over and the smoke cleared, disco was dead, Reagan was in office, AIDS was epidemic, and the country was a very, very different place.