This photograph – taken by Joe Stevens in early 1976 in Fulham, west London – is featured in the exhibition Just Chaos!, which opened on May 7 2013 at Marc Jacobs' Bleecker Street NYC bookstore BookMarc.
The T-shirts worn by Simon and Hynde were among the first variants of a limited edition designed by Malcolm McLaren to promote the newly formed Sex Pistols. A few were also sold in Sex, the environmental installation/shop operated by McLaren with Vivienne Westwood at 430 King's Road in World's End, Chelsea.
"Malcolm dropped the shirts off at my Finborough Road studio; they were freshly silk-screened from a limited edition," says Stevens, then working for the NME and living with Simon (who was employed by rival music paper Sounds). "Chrissie was living in a squat and cleaning offices for a living. She'd drop by the pad to take showers. I'd hear her singing in there and realised she had a wonderful voice."
McLaren produced the designs with the express aim of promoting the new group. "This was my first attempt at making a Sex Pistols T-shirt," he told me in 2006. "I wanted to create something of a stir."
The central image of the naked boy posed with a cigarette came from a copy of Hans Herbert Hubermahl's paedophilic underground magazine Boys Express purchased by McLaren in Brixton, south London.
Working with sidekick and screenprinter Bernie Rhodes – later to manage The Clash – McLaren created a series of design variants, some emblazoned with the stencilled group's name and the silhouette of Pistols' bassist Glen Matlock's guitar.
"Bernie was a bit frightened by the nude boy print," McLaren recalled."It was too much for him. He used to perspire as he printed at the kitchen table, as if somebody was about to break down the door, arrest him and charge him with being a paedophile, and haul him off to prison. That would have been all my fault."
Rhodes confirmed this to me in 2007; he was still furious at McLaren for having involved him in the escapade, failing to see that this was one of a series of artworks aimed at making public the seamy sexual underbelly of Britain's repressive society.
In the event, McLaren coerced Matlock, at the time a student at Central Saint Martin's art school, to use the college printing facilities to produce the original run. "We didn't make very many, 40 or 50 at most, and they were in quite small sizes," said McLaren. "They were supposed to be sold in the store but at first I gave them away to people who looked cool."
There's no denying that he achieved the desired effect with Hynde and Simons. Says Stevens: "The shirts were supposed to be for me but the ladies kept them."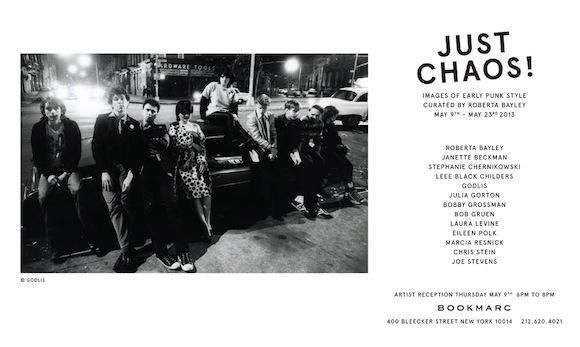 Timed to coincide with the staging of Punk: Chaos To Couture by The Costume Institute of the NY Met, Just Chaos! was curated by another photographer, Roberta Bayley, and included her own work from the period, as well that of Stevens' and photos by others such as Lee Black Childers, Bob Gruen and Godlis.