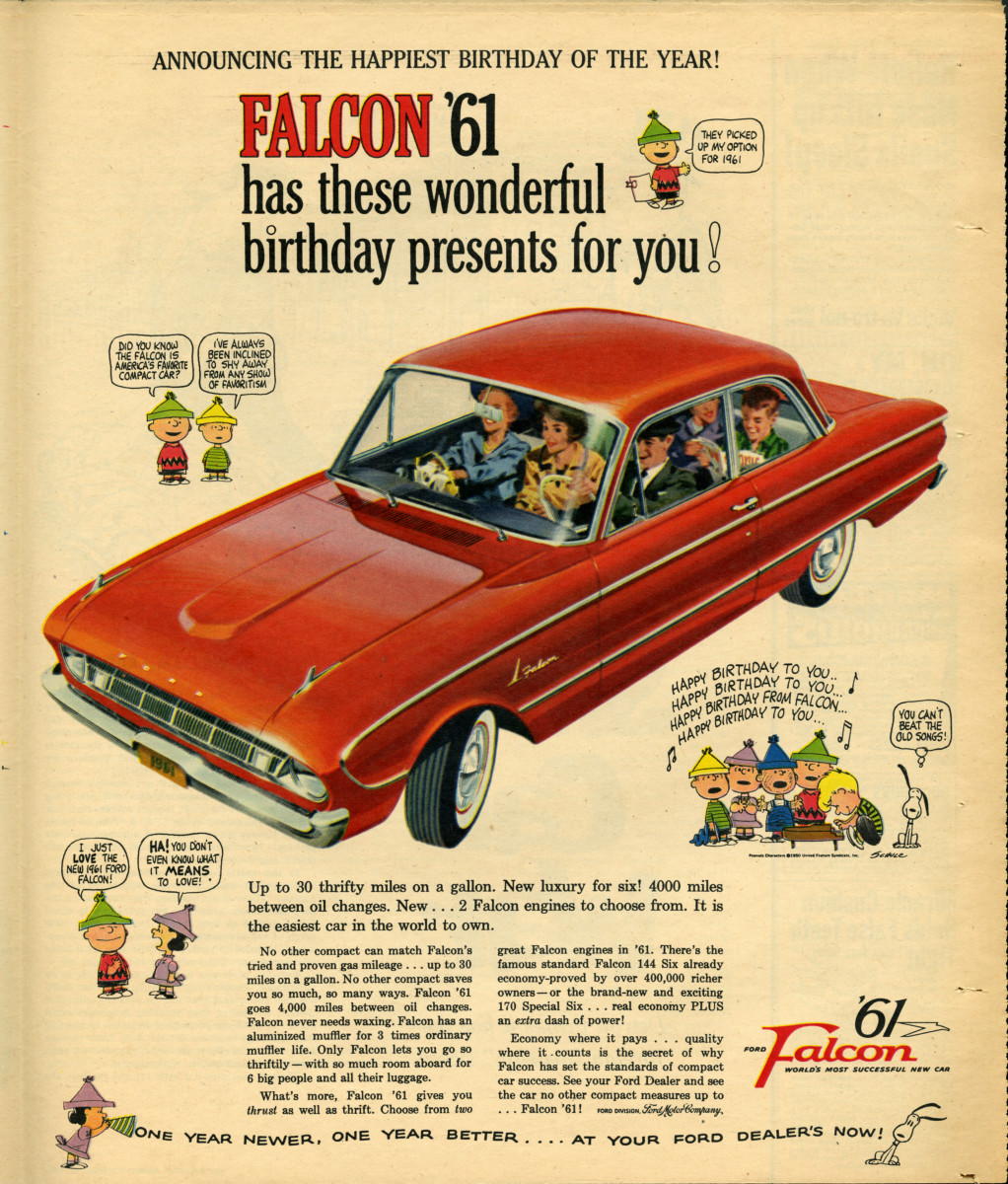 1965's A Charlie Brown Christmas may be the purest expression of holiday joy and melancholy to ever make its way to television, bringing together the collaborative team of Charles Schulz, director Bill Melendez, and composer Vince Guaraldi as a force for feel-good children's entertainment devoid of the usual schmaltz and manipulative commercial cynicism.
Though brought to audiences by Coca-Cola, the Peanuts holiday movie got under executives' skin at first with its anti-shopping messages, though they were overjoyed with its success, which lead to more than fifty TV specials and feature films in the following decades.
But A Charlie Brown Christmas was not Charlie Brown and company's first appearance on television. Before they piously extolled the simple virtues of Christmas, the gang sold cars for Ford. In the late 50s and 60s, Schulz was offered a contract by Ford Motor Company. The ads for the new compact Ford Falcon aired on TV from 1960 to 1964, with print ads like these here appearing as well.
In some highlights from the '61 Falcon ad at the top, which celebrates the car's "birthday," Charlie Brown tells Lucy, "I just love the new Ford Falcon," to which she replies, with typically penetrating psychological analysis, "Ha! You don't even know what it means to love!"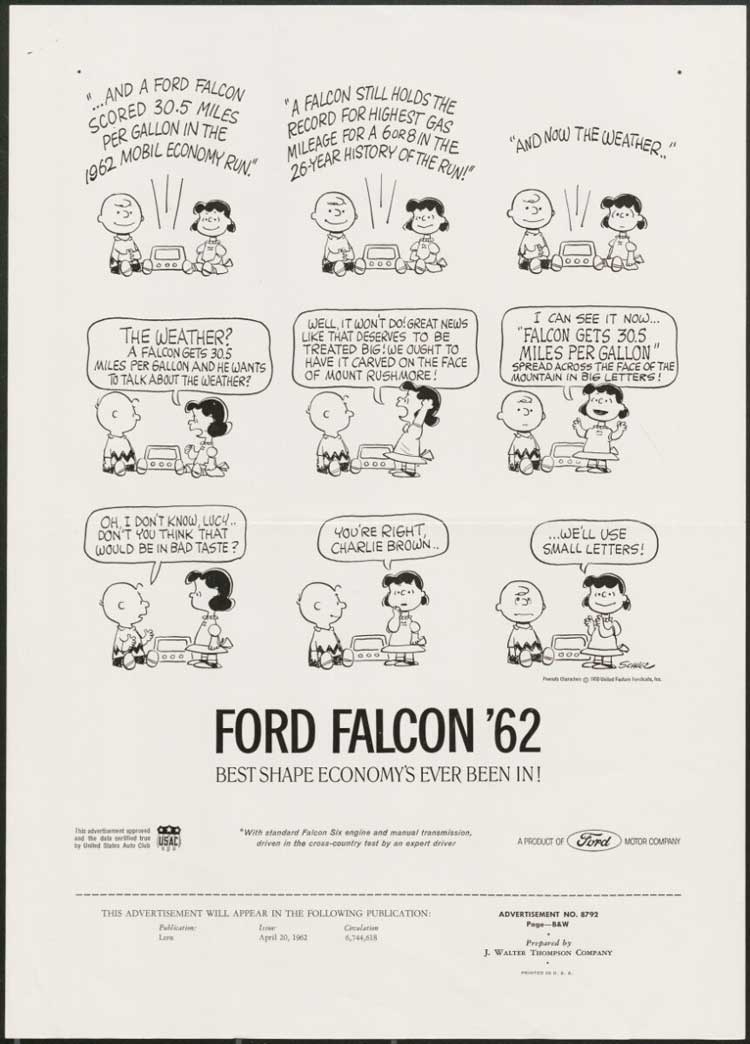 Other ads don't even bother to use the characters' voices, instead shoving marketing copy about the "added value" of "improved front suspension" and "self-adjusting brakes" etc. into their mouths. A much better use of their talents has Lucy and Charlie riffing in the '62 ad above, in what sounds like one of their usual sarcastic exchanges. .
While the Ford campaign marked Peanuts' TV debut, it was not the characters' first foray into marketing. Kodak made a deal with Schulz in 1955 to feature the characters in one of its handbooks. But after Ford, the commercial floodgates opened—Peanuts characters sold everything from breakfast cereals, to snack cakes, to insurance.
Now "there are more than 1,200 licensing deals," AdAge reports, "with companies such as Hallmark, CVS, H&M, and Old Navy in 40 countries with annual retail sales of more than $2 billion." But the integrity of the original comic strip has been preserved.
Before his death in 2000, Schulz requested that no one else be allowed to draw the comic strip. The last strip appeared on January 3rd, 2000. And A Charlie Brown Christmas is still the perfect holiday movie about the soul-sucking ills of holiday consumerism.
via Go Retro