"Sometimes I lie awake at night, and I ask, 'Where have I gone wrong'.
Then a voice says to me, 'This is going to take more than one night."
― Charlie Schultz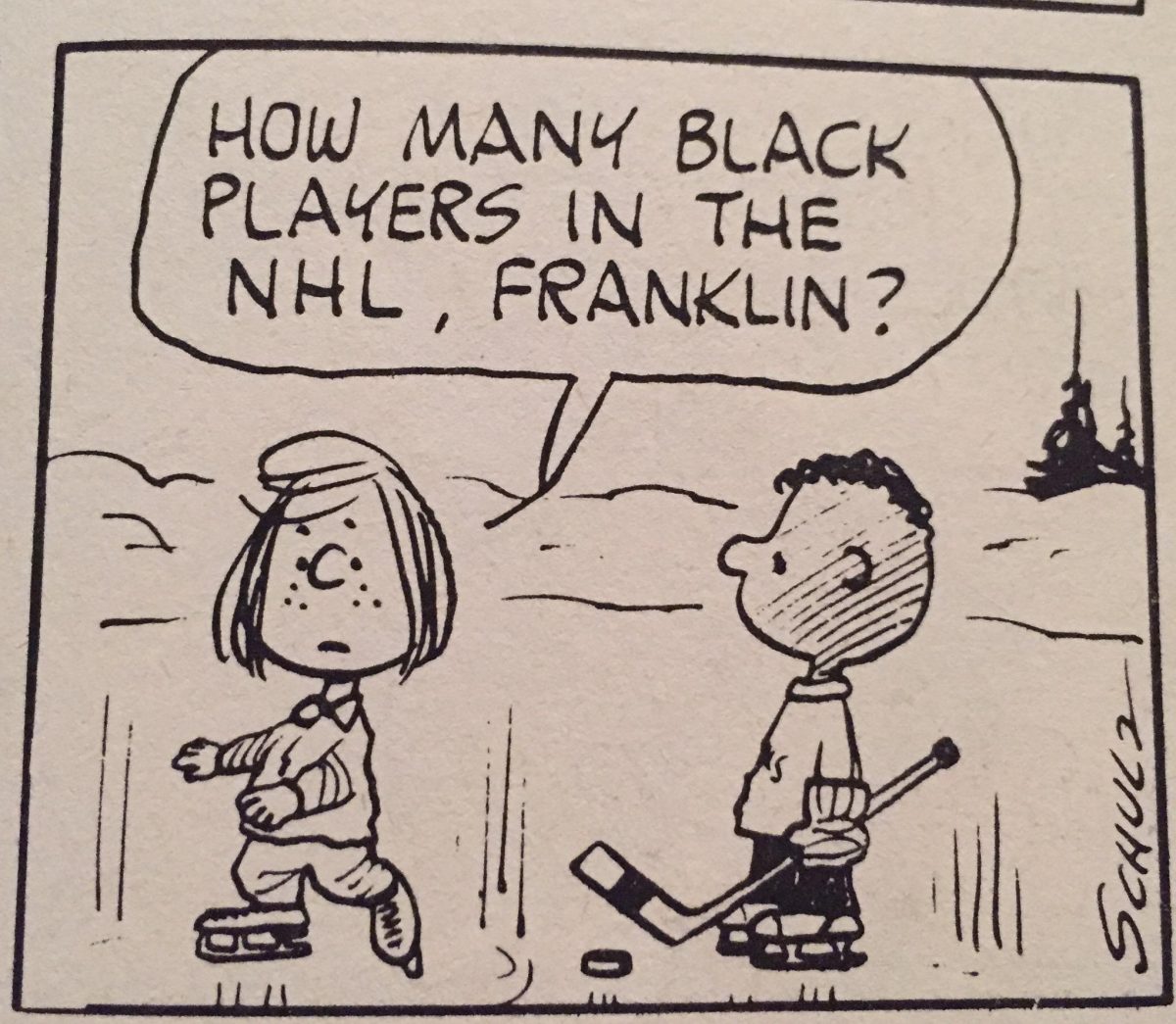 Peanuts was arguably the greatest comic strip of all time. In over 17,897 comic strips Charles M. Schulz dealt with the complexities of life through the eyes of children, a dog named Snoopy and his bird pal Woodstock. Jeff Kinney, author of theDiary of a Wimpy Kid, noted, "Schulz understood how to make every line count. Nothing extraneous, no waste. Only what's necessary." Schulz's work gives minimal reader confusion. You don't need to analyse anything. You get it. "A cartoon is really a picture demonstrating one thought in the guise of another," said Schulz. "If somebody reads my strip every day, they'll know me for sure – they'll know exactly what I am." The unifying theme is love, whether it's walking hand in hand with overburdened Charlie Brown or irascible Lucy van Pelt.
And Peanuts can foment change. In 1968 Schulz gave Peanuts its first black character. When Franklin handed Charlie Brown his beach ball, the one that so often floated off into the distance, one reader was pleased to see "my kids seeing themselves pictured in the overall American scene". Fast forward to 1986, and Schulz is replying to a letter from 15 year old boy Randee. He'd has seen a comic strip from the early 1970s and wondered it was racist.
The final panel from that strip we can see above. Better we see it all. Is Patricia "Peppermint Patty" Reichardt really going to pull on a frou-frou skirt and become an ice dance queen? This is Patty, the girl in the shorts and T-shirt whose best friend Marcie calls "Sir"; this star athlete good enough to play pro baseball but who won't get the chance because she's female; the pupil who sleeps in class and scores a D-grade on every assignment; the solid pal who thinks Snoopy is a "a funny looking kid with a big nose" and stays with in his 'guest cottage'; the only child who lives with her single-parent dad, lying awake til he comes home late from work and who laments the absence of her dearly departed mother; the lovelorn who clumsily tries to woo Charlie Brown by telling him "You kind of like me, don't you, Chuck?" Having outlined her ambition to be a figure skater, is Patty the best person to dish out tips on self-awareness? Isn't that part of the joke? Surely Franklin senses the irony.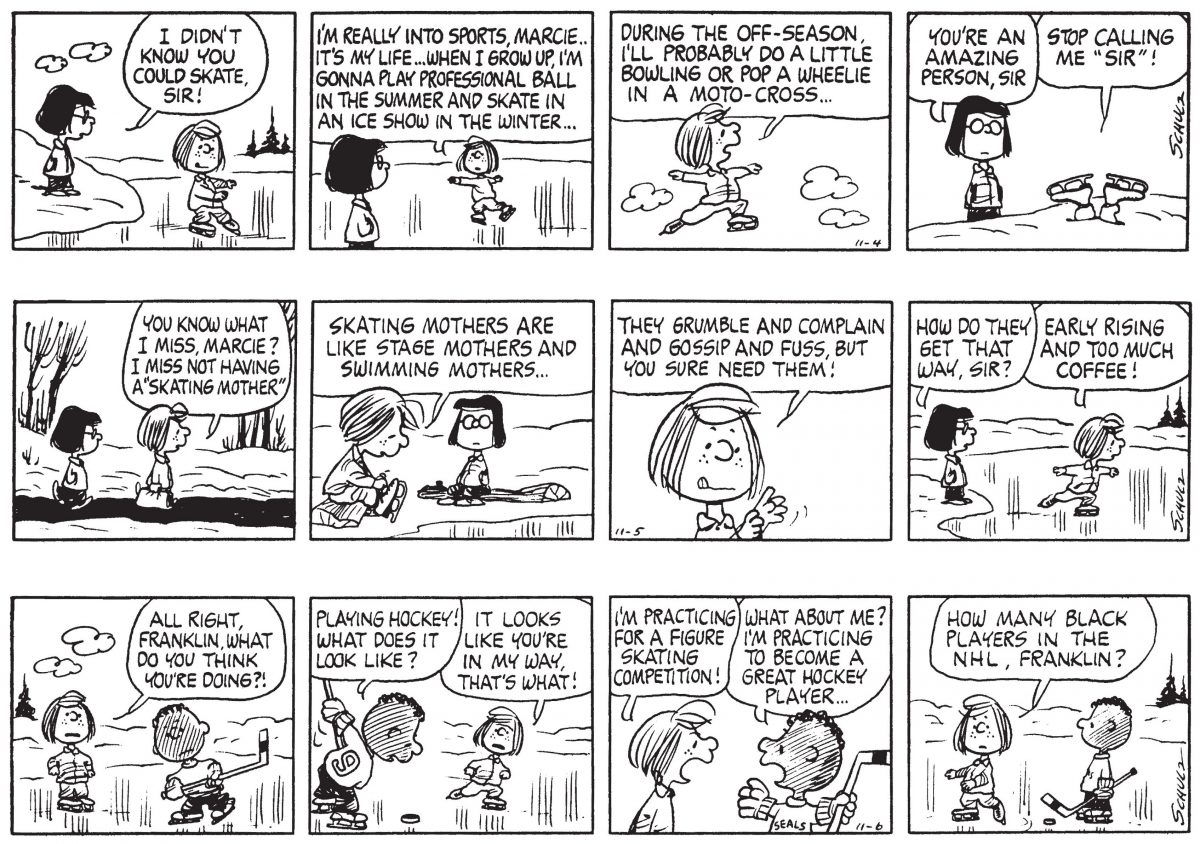 Schulz replied. He'd noticed that the NHL did not feature many black players. Canadian Willie O'Ree was the first black player in the National Hockey League, making his debut in January 1958. He played his final game in the league in 1961. There were no more black players in the NHL until the 1974 season, when Canadians Mike Marson and Bill Riley Amherst took the ice. Val Edwin James was the first black American to play in the NHL, making his debut in the 1981-82 season. So what of Franklin's chances of making the cut?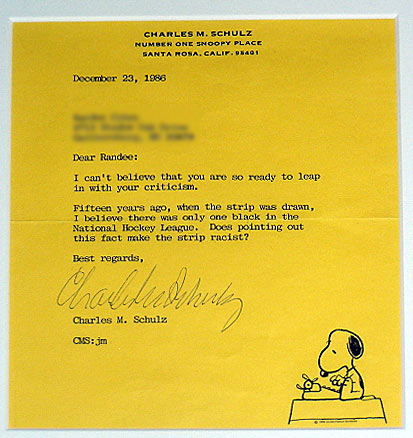 CHARLES M. SCHULZ
NUMBER ONE SNOOPY PLACE
SANTA ROSA, CALIF. 98401

December 23, 1986

Dear Randee:

I can't believe that you are so ready to leap in with your criticism.

Fifteen years ago, when the strip was drawn, I believe there was only one black in the National Hockey League. Does pointing out this fact make the strip racist?

Best regards,

(Signed)

Charles M. Schulz

CMS:jm