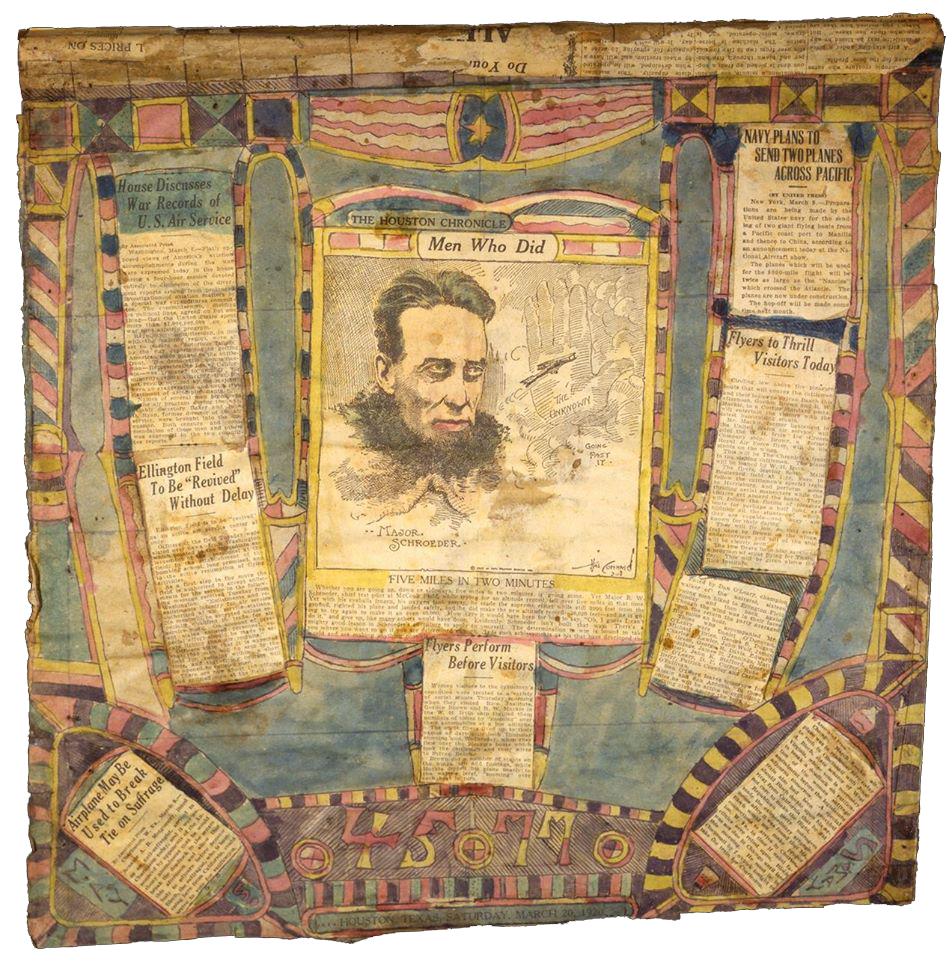 In 1969 second-hand furniture dealer Fred Washington bought 12 notebooks a trash collector had found in a Houston, Texas, dumpster following a house clearance. That same year, Mary Jane Victor was picking through stuff at Washington's OK Trading Post warehouse when she happened upon the books. Inside she discovered the work of Charles Dellschau (born Berlin 1830  – died Texas 1923). Sensing she was on to something special, Victor contracted the Art Director of Rice University, Dominique de Menil, who bought Dellschau's work for $1,500 and exhibited it. Dellschau, a long-dead Prussian immigrant had been 'discovered'.
He had arrived in the United States at 25 years old from Hamburg in 1853 and documents show he lived in both California and Texas with his family, working as a butcher. After his retirement in 1899, he took to filling his days by filling notebooks with a visual journal of his youth. He called the first three books, Recollections and recounts a secret society of flight enthusiasts which met in California in the mid-19th century called the 'Sonora Aero Club'.

The Wright Brothers wouldn't even make their famous first flight until 1903, but Dellschau draws dapperly-dressed men piloting brightly-coloured airships and helicopters with revolving generators and retractable landing gear. No records have ever been found of the Sonora Aero Club but Dellschau's artworks hide a secret coded story.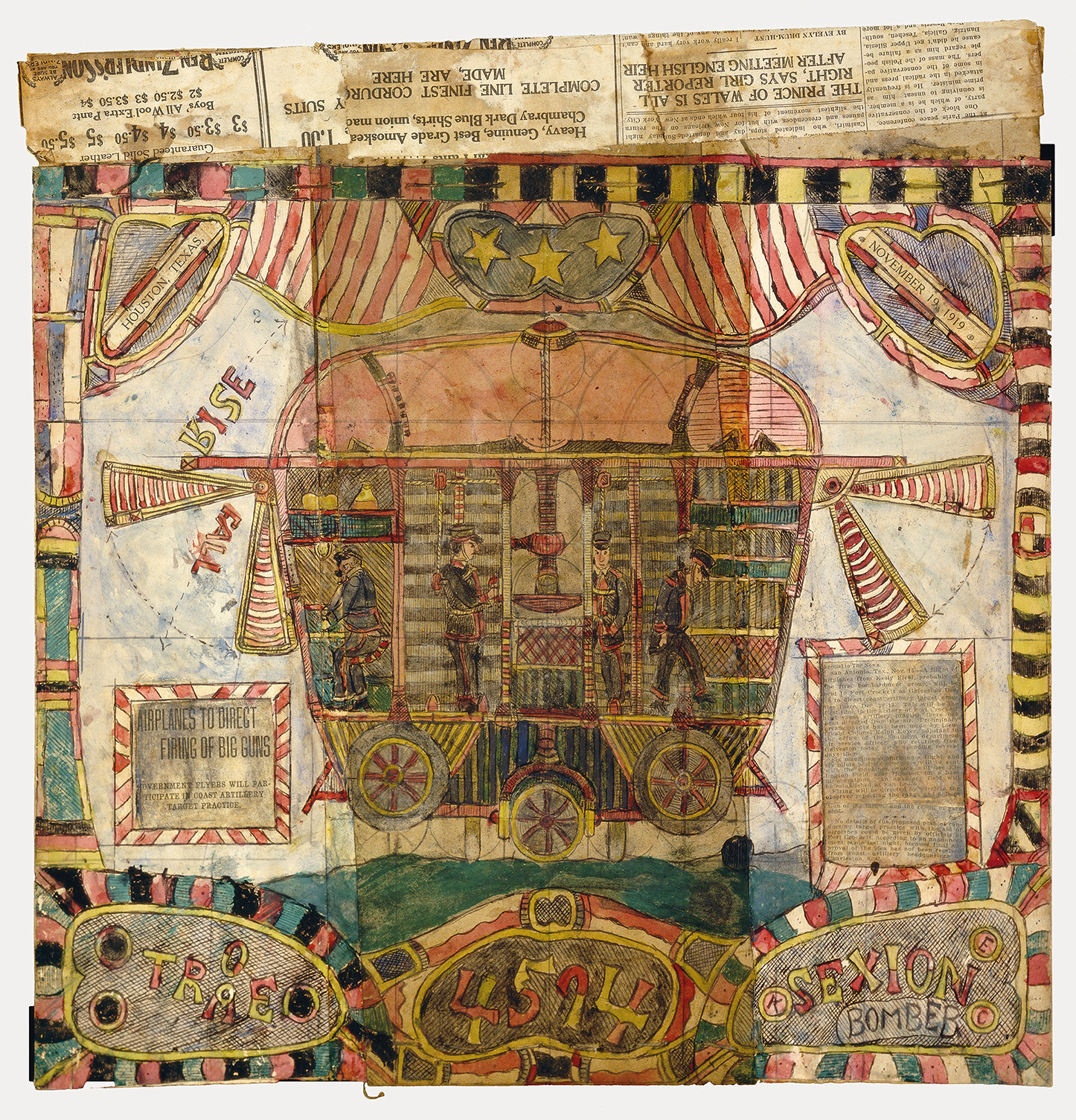 All together, the shoestring-bound books contain some 2,000 pages, each a double-sided collage replete with calligraphy (often in a code that is still today only partially deciphered), drawings, and newspaper clippings. (Dellschau referred to the clippings as "press blooms," as though they were preserved flowers.) Each page — or "plate," as Dellschau called them — is dated and numbered, though the counting starts at number 1601. The estimated 10 volumes with the first 1,600 drawings are presumed lost or destroyed.

What are these scrapbooks? Are they an elaborate fantasy, spun out of the overactive imagination of an aging man? An outright delusion? Or are they earnest recollections of a lost time, a commemoration of the best years of a long, hard life?
Dellschau's wife, Antonia, bore him three children. In 1877, tragedy struck: Antonia died, and their six-year-old son, Edward, died two weeks later. Census records show that Dellschau remained in Richmond for a while afterward with his daughter Bertha.

In 1889, the phone directory lists both Dellschau and Bertha in Houston, living with Dellschau's stepdaughter, Elizabeth, and her husband, Anton Stelzig, a harness- and saddle-maker and the founder of the Western clothing store that still exists in Houston.

Sometime before 1892, Dellschau's daughter Bertha was diagnosed with tuberculosis and was institutionalized. By 1898, the sanatorium wrote Dellschau that she wouldn't live much longer.

For a few years after moving to Houston, Dellschau worked as a salesman and clerk for Stelzig's saddlery and harness business on Main Street, between Congress and Franklin. But the aging butcher — in his late 50s when he moved to Houston — never mastered work in a service industry. "They sent him home," says Leo Stelzig Jr., Anton's grandson. "He was kind of abrupt and wasn't smooth with the customers."

It was then that Dellschau began to fill his days by filling his notebooks. He wrote a two-part, 200-page journal and produced roughly 5,000 ink-and-watercolor drawings before his death in 1923. By Steen's calculation, that works out to the furious rate of a drawing every day or two. "He had something to say," Steen concludes. "The most important thing in his life was his work."

Leo Stelzig Jr. was two years old when Dellschau died and, as a boy, used to rummage through the attic looking for old letters whose stamps could grace his collection. In the process, he came across Dellschau's belongings and marveled at the bizarre aeros.

Dellschau's notebooks languished in the attic until sometime in the 1960s. According to Steen's search of public records, the fire department found the house a fire hazard and ordered that it be cleared of debris. A nurse who'd been hired to care for Anton Stelzig's two aging sisters attacked the job zealously and in the process consigned many of the Stelzigs' valuables to a trash heap on the curb. Among the losses were old World War I uniforms, some very old records and — worst of all — Dellschau's notebooks. Now 74, Leo Stelzig shakes his head sadly as he recounts the nurse's words: "I took care of that mess and cleaned it all up."
Via Messy Nessy Chic, Houston Press