Yul Brynner wasn't only the King of Siam.
Yul was a polyglot (11 languages including English, Russian, Chinese and Romany), a nightclub entertainer, a musician, a trapeze artist, a member of a traveling gypsy troupe, a pro jai alai player, and a director.
And a cook. In 1983, Yul Brynner gave us The Yul Brynner Cookbook – Food Fit For The King And You.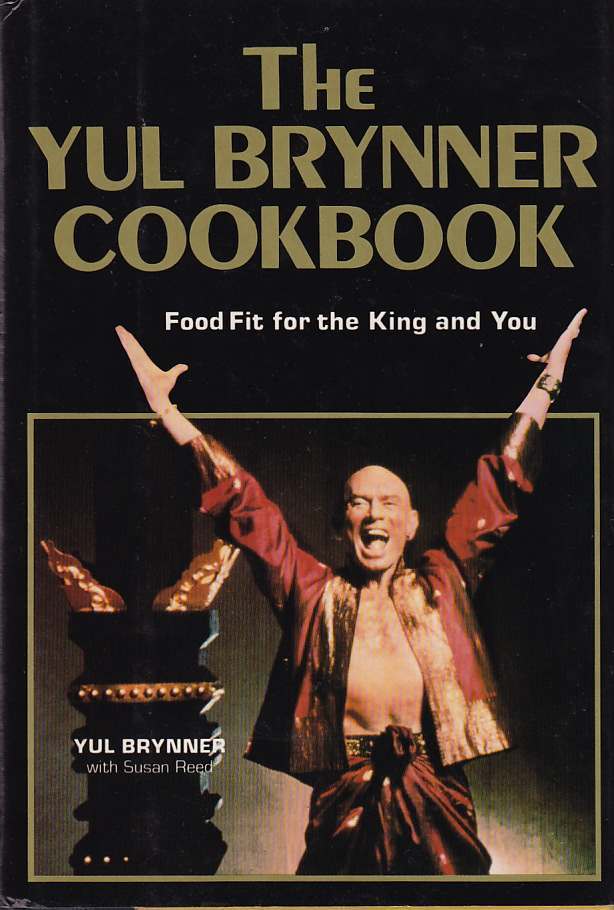 Lucinda Ville notes:
Brynner was born on Sakhalin Island, a slim strip of land off the southeastern coast of Russia and north of Japan. The island is sub-arctic and during the 1940's both Japan and Russia claimed the island. His family took him to China when he was 6 months old. The cookbook features cuisines from his multi-ethnicity. There is a Russian section and a Japanese section. There are sections from his many travels featuring French and Thai cuisine. By far the most interesting section features his Romany or Gypsy heritage.
In his introduction, Brynner tells us:
"My mother was a gypsy, and I spent several of my teenage years traveling through France with a gypsy troupe. …there are inherent difficulties in constantly moving from one place to another. Just think of the everyday chore of preparing meals."
His recipe for Pork and Sauerkraut Ragout:
1 1/2 –2 pounds pork shoulder
2 tablespoons vegetable oil
1 large onion
1 garlic clove
1 tablespoon paprika
1/4 teaspoon slat
1 teaspoon caraway seeds
1/2 cup water
1 cup beer
1 1/2 pounds sauerkraut, drained
1 cup sour cream

Trim excess fat off pork, and cut the meat into small pieces. It's all right to cook this dish with pork bones included; they should be discarded before serving, but they add flavor to sauce. Set the pork aside, and heat the vegetable oil in a Dutch oven. While the oil heats, peel and chop the onion. Sauté the onion and garlic clove in the vegetable oil until the onions are transparent. Remove the garlic, add the pork, and brown well on all sides. Add paprika, salt, caraway seeds, water and beer to the Dutch oven. Cover, cook for one hour, periodically skimming fat from the top of the sauce. After one hour of cooking, add drained sauerkraut, cover, and cook another 45 minutes. Garnish with sour cream.

 
Collectible Cooking has more:
Stuffed cabbage – Serves 4
1 medium white cabbage (Note: I only found green or red but not white so I used green. If you ask me, white and green are the same thing)
2 tablespoons butter
1 medium onion, chopped fine
1 clove garlic
1 pound ground beef
1 teaspoon dill
½ teaspoon salt
¼ teaspoon black pepper
2 cups chicken stock
2 tablespoons tomato puree
3 tablespoons raisins
3 tablespoons vinegar or lemon juice
1 cup cooked white rice
3 tablespoons butter
1 cup sour cream (optional)

Fill a large soup pot with water, and place over high heat until water boils. While water is heating, remove outer leaves from cabbage, and cut out the cabbage core. Discard outer leaves and core. Separate the remaining cabbage leaves, taking care not to tear them (riiiight), and cook them for about ten minutes in the boiling water. If the leaves do not separate easily, put the entire head of cabbage into the boiling water. Peel the leaves away carefully as the cabbage cooks. (Please see my note above on how tricky this is). The leaves should be medium-soft and translucent in appearance when you take them out of the water. Set the leaves aside to cool.

In a large skillet, melt two tablespoons butter and sauté the chopped onion and garlic clove in the melted butter. Remove the garlic clove and add 1 pound ground beef, dill, salt and pepper. Brown the meat thoroughly and when it's cooked, drain off excess fat and remove cooked beef from the heat. Combine stock, tomato puree, raisins, vinegar or lemon juice, and sugar in a sauce pan. Bring to a boil and then reduce heat so that sauce simmers. Mix the cooked rice with the cooked beef. Preheat oven to 350.

Stuff individual cabbage leaves with 2-3 tablespoons of rice and meat filling to form cabbage rolls. When stuffing the cabbage leaves, being by placing the filling about two fingers' width from the thinnest edge of the leaf (top edge). Then cover the filling with that exposed top edge of the leaf, and fold in the sides of the leaf to prevent the filling from escaping. Continue rolling until the leaf from the top edge to the bottom edge. Trim off any excess part of the thick end of the cabbage leaf, once the roll is completed. Rolls should look like oblong cylinders. NOTE: When all else fails, read the instructions. This recipe started out with how to roll the leaves, followed by the ingredients list, followed by the instructions for how to put the dish together. I didn't realize until I started to write this blog posting, that I should have rolled them differently and thus ended up with quite the mess on my hands when it came time to turn the cabbage rolls (below).

When done rolling the cabbage leaves, place the rolls in a single layer in a large, shallow baking dish. Pour the hot sauce over the cabbage, and bake covered for 30 minutes. After 30 minutes, turn cabbage rolls, re-cover dish, and bake another 20 minutes. After 20 minutes, turn rolls once more, dot with 3 tablespoons butter, and bake uncovered for the last 10 minutes. Serve with sour cream to garnish, if desired.
Eat Drink Films gives us anothr treat:
Potatoes Baked with Sour Cream

3 cups peeled, sliced white potatoes
4 tablespoons butter
1 medium onion, peeled and chopped
1 cup sour cream
1 egg, beaten
½ teaspoon dill
¼ teaspoon caraway seeds
1/8 teaspoon salt
¼ teaspoon black pepper
½ cup bread crumbs
½ cup parmesan cheese (optional)
2 tablespoons butter

Bring 6-8 cups salted water to a boil.  Add potatoes and cook for 10 minutes, or until potatoes are softened but not cooked through.  Drain water off potatoes and set aside.  Preheat oven to 350 degrees F.  Melt butter in a skillet. Sauté onions.  Put sour cream in a bowl; add cooked onion, butter and egg, stir.  Add dill, caraway seeds, salt and pepper to the sour cream mixture, stir again.

Lightly butter a casserole dish.  Layer potatoes and the sour cream mixture, ending with sour cream.  Sprinkle bread crumbs over the sour cream, and if desired, sprinkle cheese on top of the crumbs.  Dot with butter, and bake 35-40 minutes, or until a knife inserted in the dish goes through all the layers easily.  (Serves 4)
Spotter: Silver Screen Suppers