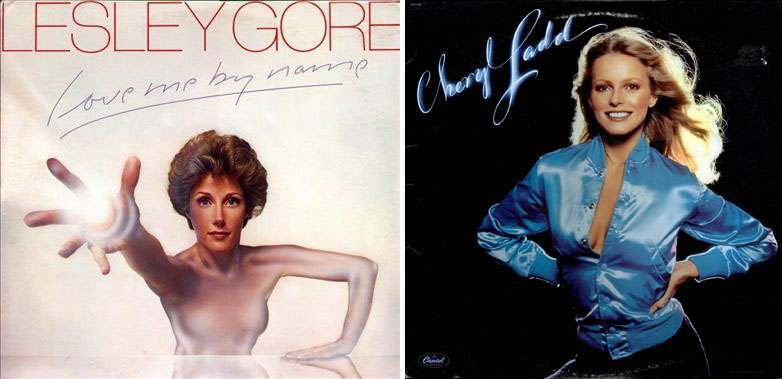 In March of 2014 we uncovered the prime culprits in the untimely death of disco. Among the main suspects were the EZ Listening crew and family friendly pop artists who suddenly decided to cash in on the disco craze. Once a counter-culture phenomenon gets so mainstream that EZ listening and mainstream pop artists are on board, the end is nigh. What was once the domain of an inner city homosexual underground now had the likes of Donny & Marie as its top selling artists.
While these Johnny-come-latelies were able to ride the gravy train for a couple years, they eventually drove it into the ground, killing the genre and tarnishing its name for decades to come.
Sunny Gale – "I Wanna Know"

Does this look like the face of urban counter-culture music? Nothing against this sweet 1950s songstress, but she represents perfectly what went wrong here. Sure, she had as much right as anyone else to take a stab at disco. However, my point isn't that these artists shouldn't have gone disco… it's that when they did, they ensured its demise.

Disco is unique in that I don't know of a single other pop music phenomenon where literally artists of every genre jumped on board. There was never a Sammy Davis, Jr. grunge record or a Barry Manilow dubstep single. I suppose rap music has had its share of incongruous artists jumping on the hip-hop bandwagon; but, disco is still tops (and was subsequently toppled).
Lesley Gore – "Sometimes"

The "It's My Party" girl gets funky with this 1976 release. You can cry if you want to – and trust me, you'll want to.
Peggy Lee – "You"

I don't think many would consider Lee's later disco years a career highpoint. Perhaps if the songs had been mixed better and Peggy didn't sound so lethargic, things might've been different.
Cheryl Ladd – "Skinnydippin'"

Charlie's Angel, Cheryl Ladd, delivers one of the most generic disco offerings ever recorded. It sounds a lot like Olivia Newton-John… and you'll notice she mentions "soul kissing" which would be an ONJ's record title. Coincidence? I think not.
Cy Coleman – "Chloe"

Coleman is a Broadway composer and the man behind the classic "Witchcraft". Not a name that instantly comes to mind when I think of gay underground dance music, but there was room for everyone in disco's heyday.
Dusty Springfield – "Your Love Still Brings Me to My Knees"

Such an iconic voice. "Son of a Preacher Man" is easily one of the greatest songs ever recorded…. and into this world comes Dusty's disco days. How did so many respectable artists fall into the disco trap? Was it the mad stacks of cash? A need to still fit in? Whatever the reason, disco's lure grabbed a hold of a surprising spectrum of singers and musicians.
Donny & Marie Osmond – "On the Shelf"

If I had to put a pin on the timeline where disco went off the cliff, "On the Shelf" might just be the perfect spot.
Dionne Warwick – "Take it from Me"

The sad thing is that a lot of these are actually damn good disco songs. Despite her Burt Bacharach connection, Dionne should have been a legendary disco diva. Alas, the proverbial disco floor was already overcrowded.
Mac Davis – "I'm Just in Love"

What in the name of all that is holy is Mac Davis doing making a disco record? How did this happen? I have to find an explanation. Did he need rent money?
Arthur Prysock – "When Love is New"

Prysock was a jazz/soul singer from the 50s and 60s. No one would have predicted this old-school gent would land a disco hit.
Wayne Newton "You Stepped into My Life"

Didn't know Wayne did a cover of a Bee Gees hit? Well, unfortunately, now you will have to live with this information till your dying days.
Jane Birkin – "Lolita Go Home"

The Stone Cold French Fox cashes in on the disco cash cow and owns it.
Percy Faith – Disco Party

This Canadian composer/conductor is the Grand Poobah of all EZ-Listening music. At one time, every elevator in the world played his milquetoast classics. Percy is disco-killer suspect numero uno.
Frankie Valli – "Soul – Heaven Above Me"

I'm not sure what the song is about, but I think it has to do with Frankie selling his soul for a hit disco record.
Paul Anka – "Make It Up to Me in Love"

The man behind Sinatra's "My Way" goes full disco, even implementing the dreaded "waka waka" disco beat.
Karen Carpenter – "My Body Keeps Changing My Mind"

Richard shelved Karen's foray into disco, and his motives have been much debated. According to Richard, he was protecting her, and the album was just an awful mistake. According to others, Richard was afraid of Karen making it on her own outside The Carpenters. I suppose we'll never know for sure where his intentions lied; however, I'm inclined to think this was best left on the shelf.
Johnny Mathis – "That Old Black Magic"

Mathis destroys an old standard by giving it the disco treatment. Sadly, this was a common trend among old-school artists…
Sammy Davis, Jr. – "That Old Black Magic"

Sammy D dunks the same song in the disco marinade; however, this time it comes out hopped up on cocaine. It's so outlandish, I actually dig it.
Shirley Bassey – "This is My Life"

In which Dame Shirl besmirches her time honored classic. It's like listening to a historic monument being demolished.
Here she is again (skip to 0:56) and this time it looks like she's having the time of her life!

And, finally, I've saved the best for last…