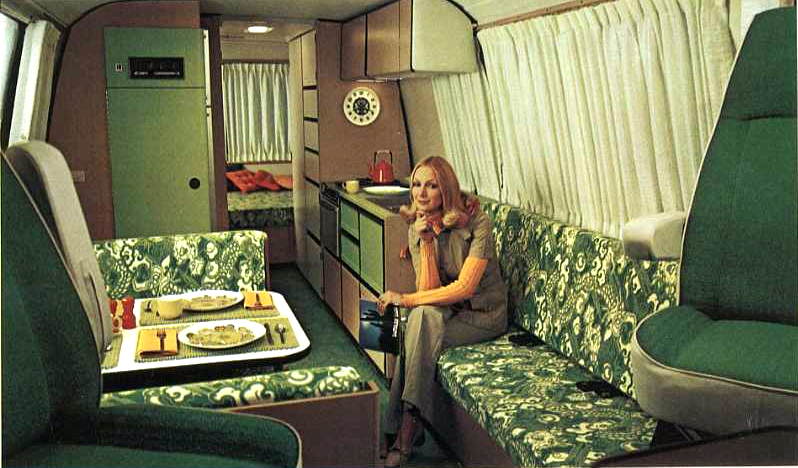 We recently took a step inside the recreational vehicles of the 1970s, and those groovy interiors have already called me back for another round.  You just can't look away from the upholstery, the carpet, the paneling, and the people inhabiting them – denizens of the vintage motor home are sights to behold.  In this edition, we'll walk through 1971-1976, taking it year by year – so buckle up, it's going to be a quite a ride!
Wait – scratch that.  Back then, no one wore seat belts.   Forget the buckle, and let's roll…
1971
As mentioned in the last article, RV's have always been the prime domain of the aged and feeble – it was basically grandma's house on wheels.  But let's also remember that Boomers were starting families around this time – and what better way to go into debt than to buy a brand new motor home?   Does the advert above (for the 1971 Chieftain) look like it was geared toward grandma?   The massive generation of Boomers had officially arrived into the economy, and the RV companies definitely took note.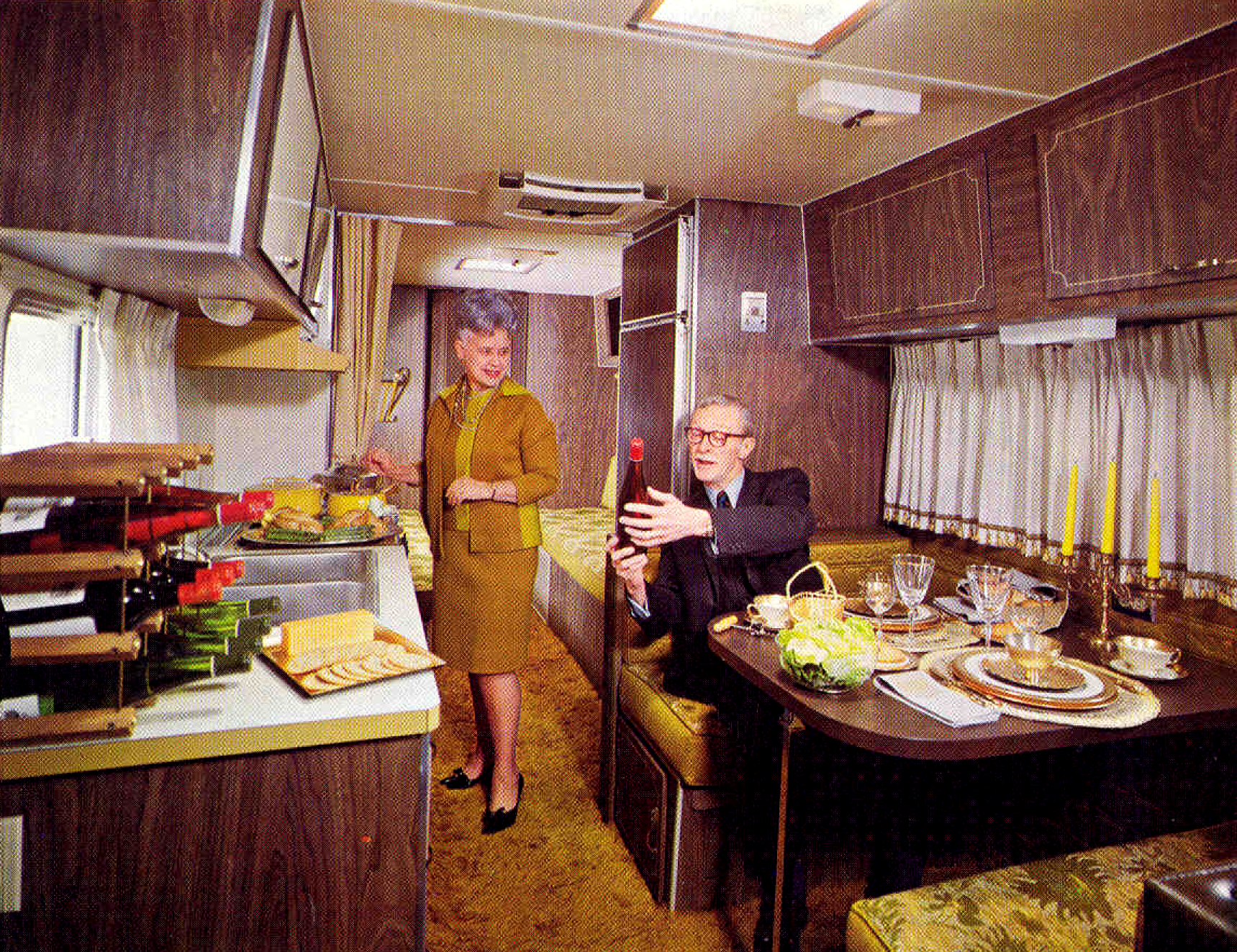 Grandma and Grandpa livin' the dream: dining on Cornish game hens, wine and cheese amongst a thick carpet of golden shag.  This was traveling in luxury.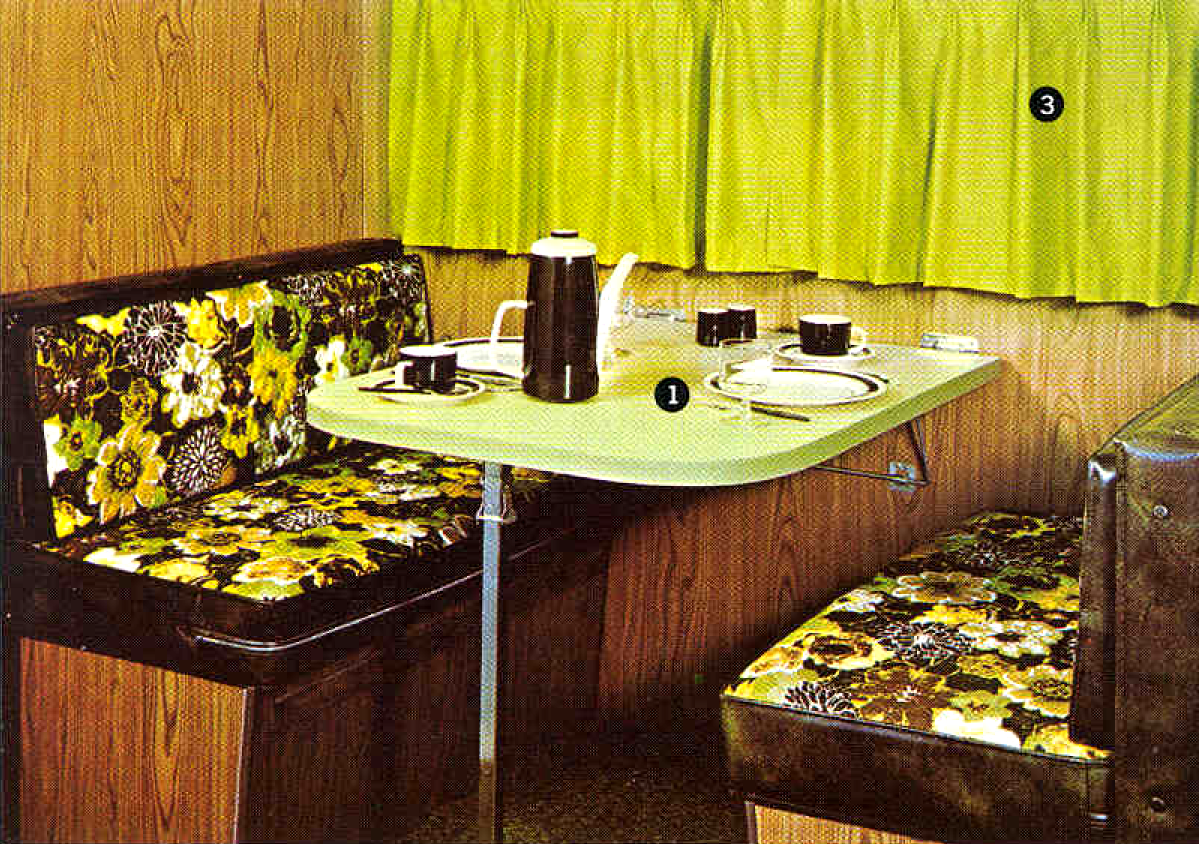 Sure, the color palette of 1971 left something to be desired, but travelers in this wood paneled camper weren't worried about what 2015 internet articles would say about their upholstery.  They were living the high life.
1972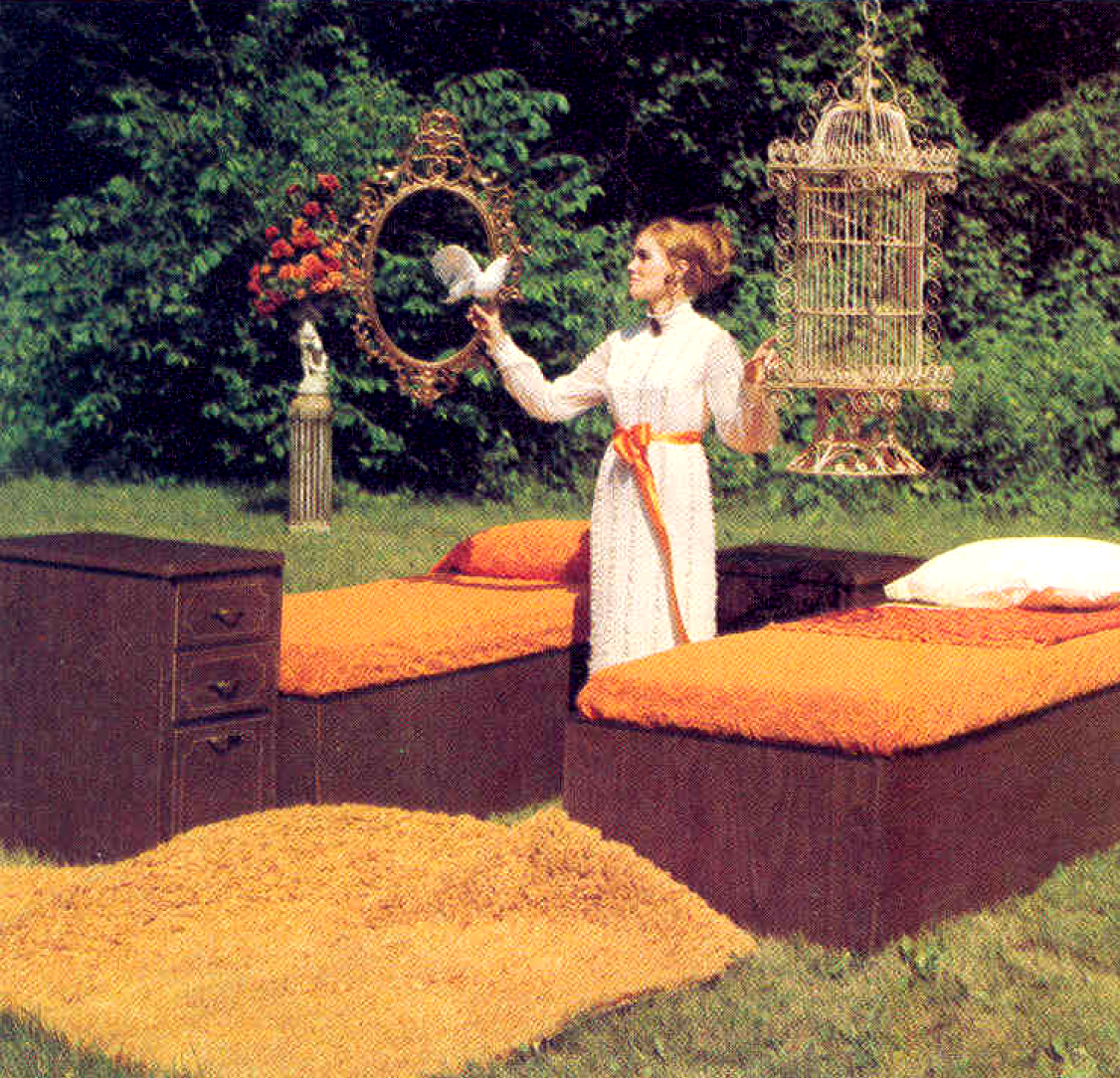 From a 1972 Chieftain brochure, highlighting the wonder of burnt orange shag for your new RV.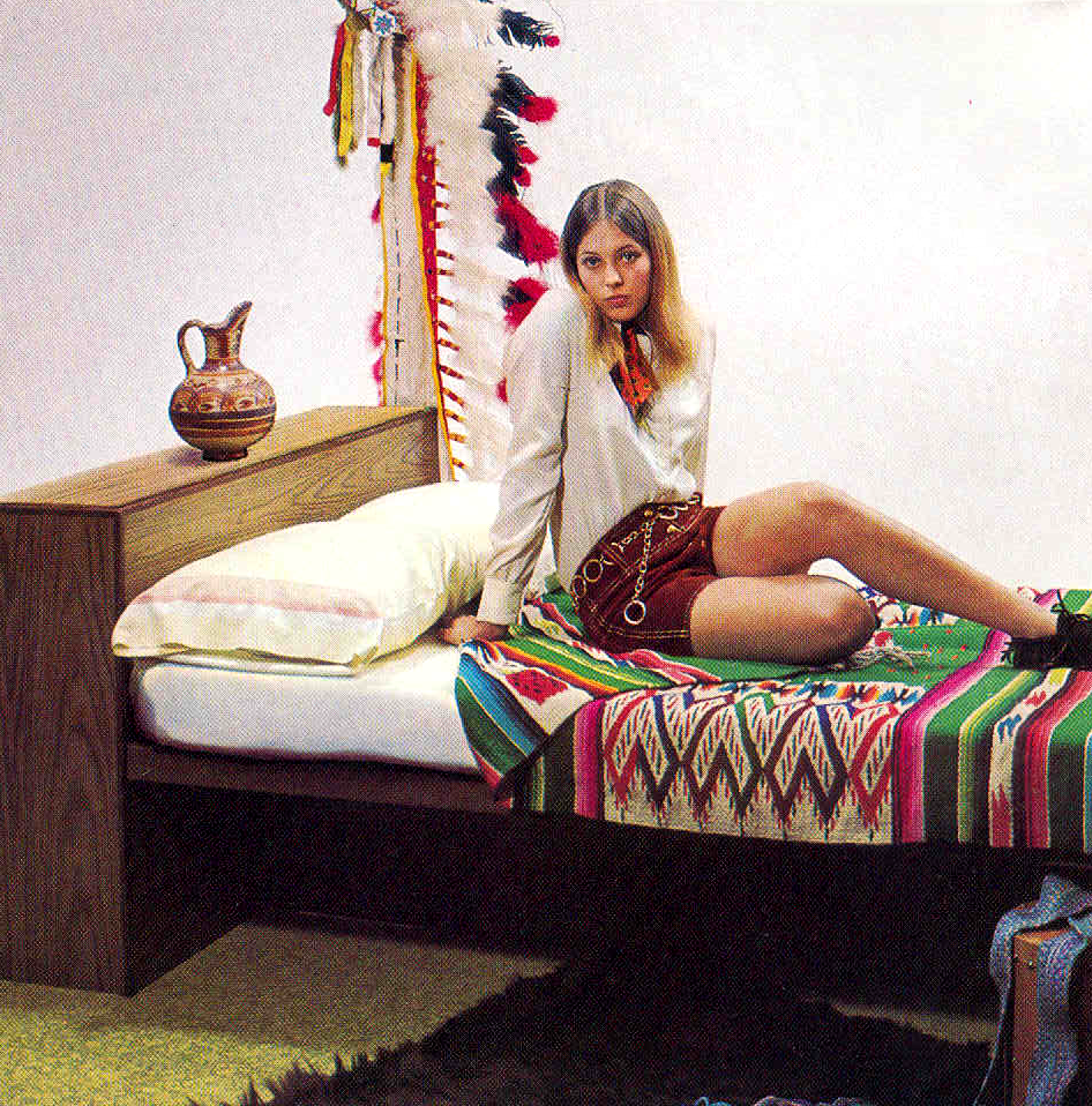 I suppose since the motor home was called the "Chieftain" and "Winnebago" itself was a tribe, they decided to play up the Native American angle.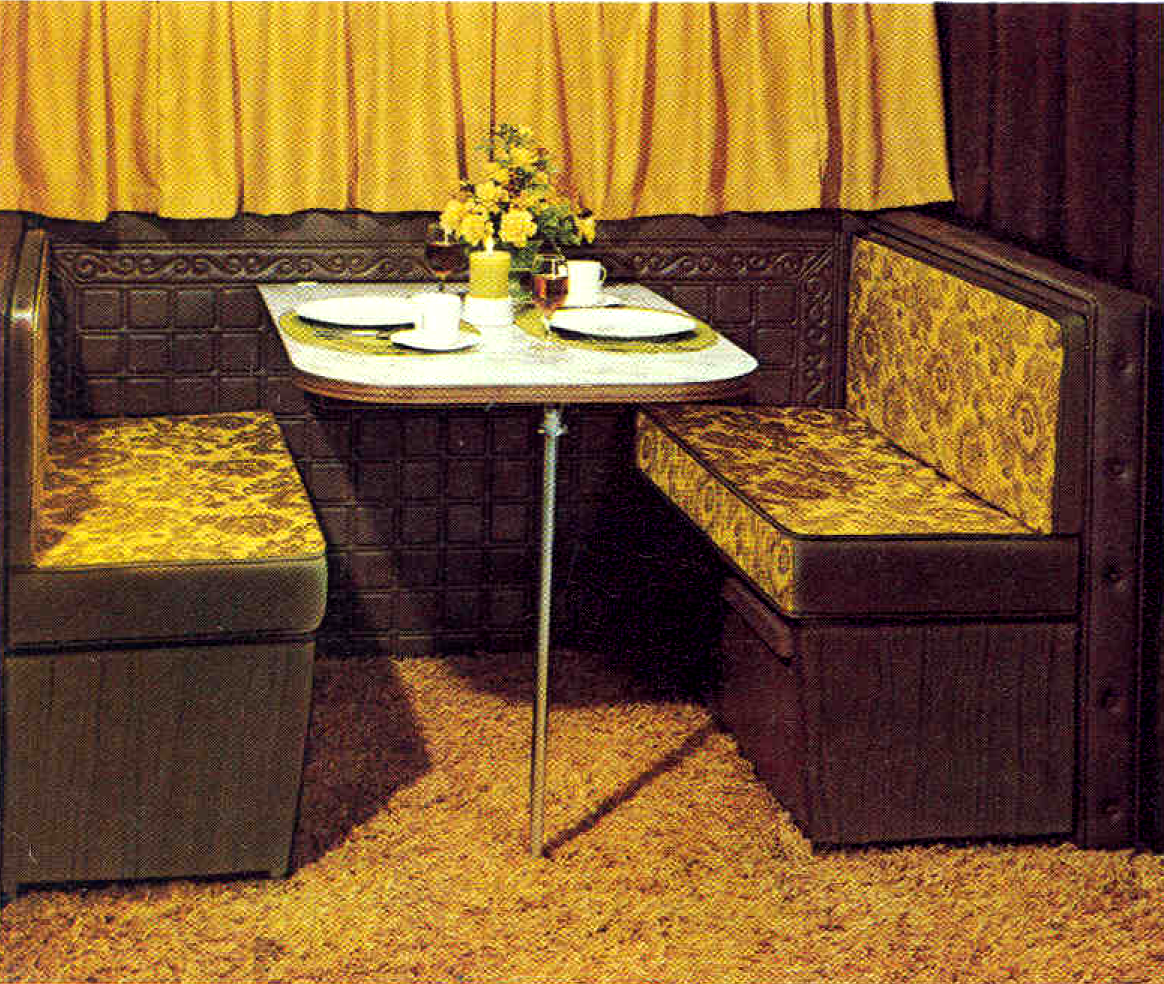 1973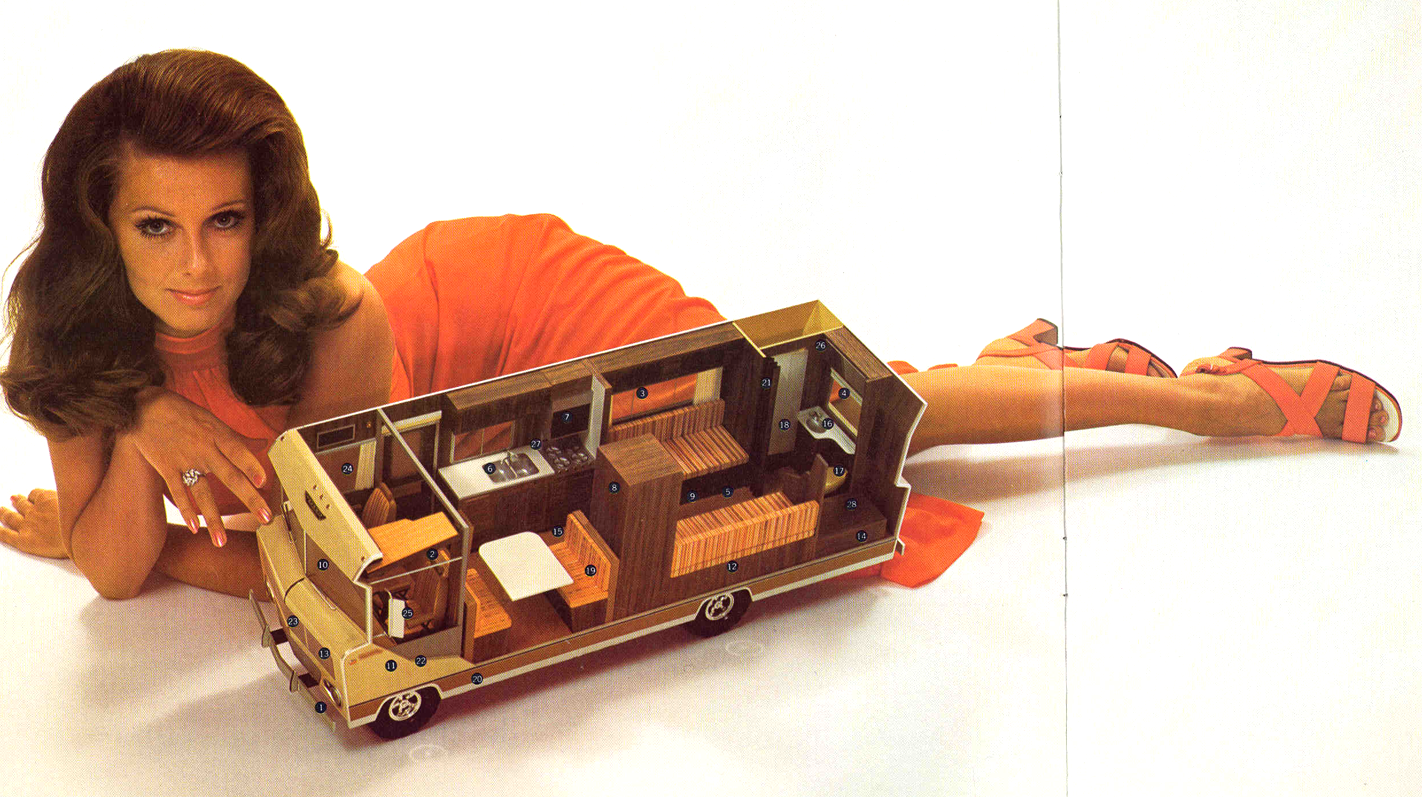 Who could resist this 1973 Winnebago advertisement?  Today's RV's have bigass flatscreens and every high-tech convenience you can think of… but they still pale in comparison to the orange 'n' brown splendor that was the 70s's motor home.
Letting the wife behind the wheel?!?  It's 1973, and times they are a-changin'.   (Of course, judging by her window view, it appears she's driven it into the ocean.)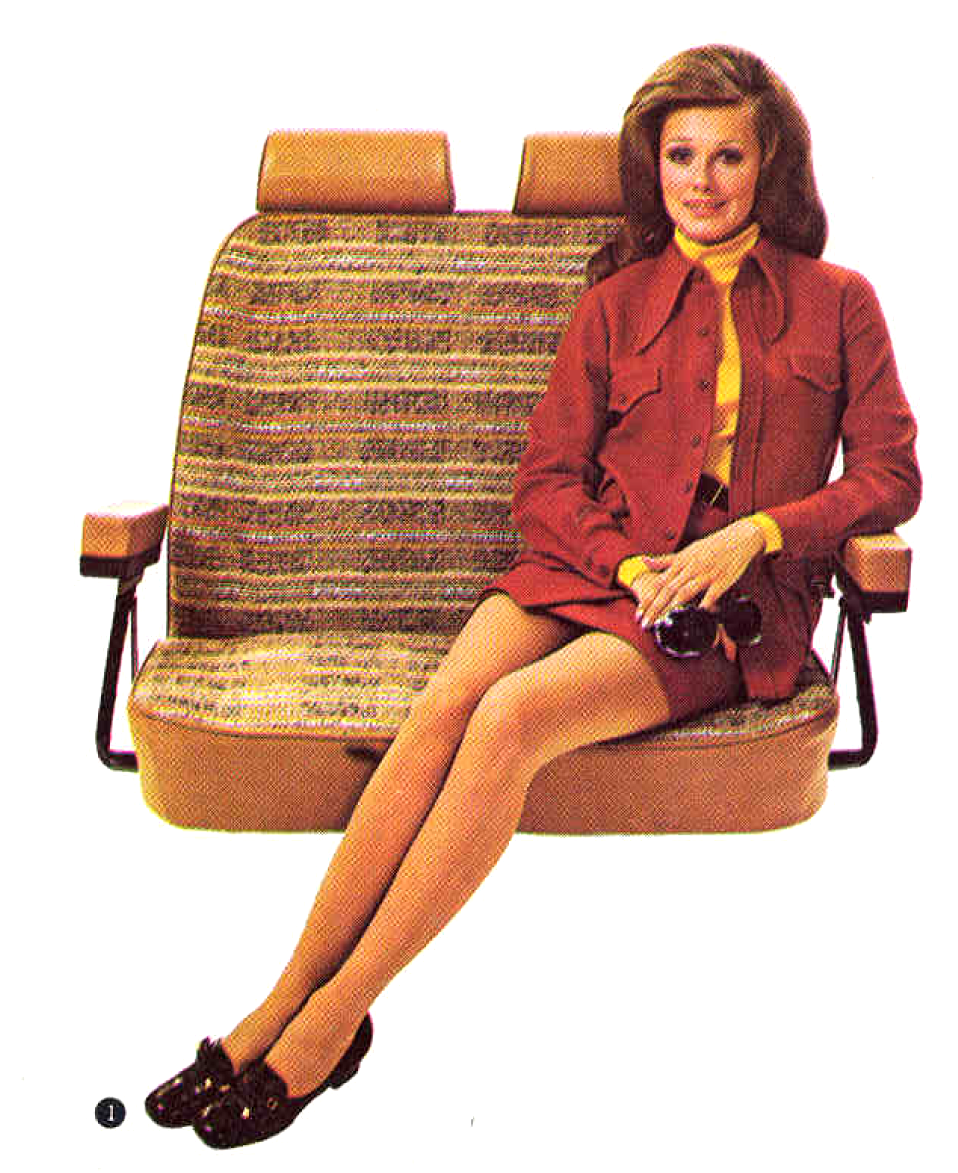 This comes from the 1973 Winnebago Chieftain brochure, demonstrating the fashionable seating that awaits in your new motor home.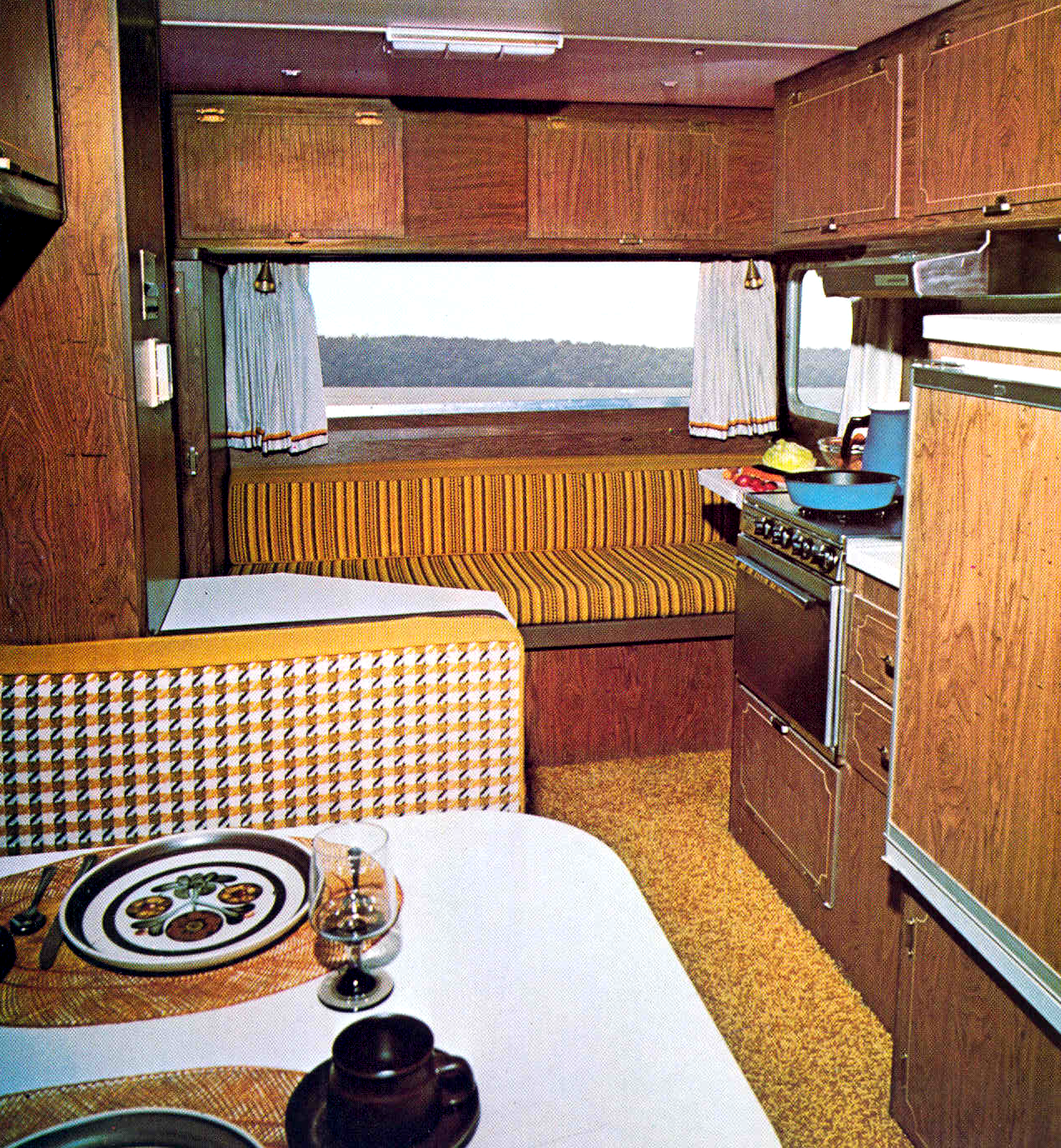 1974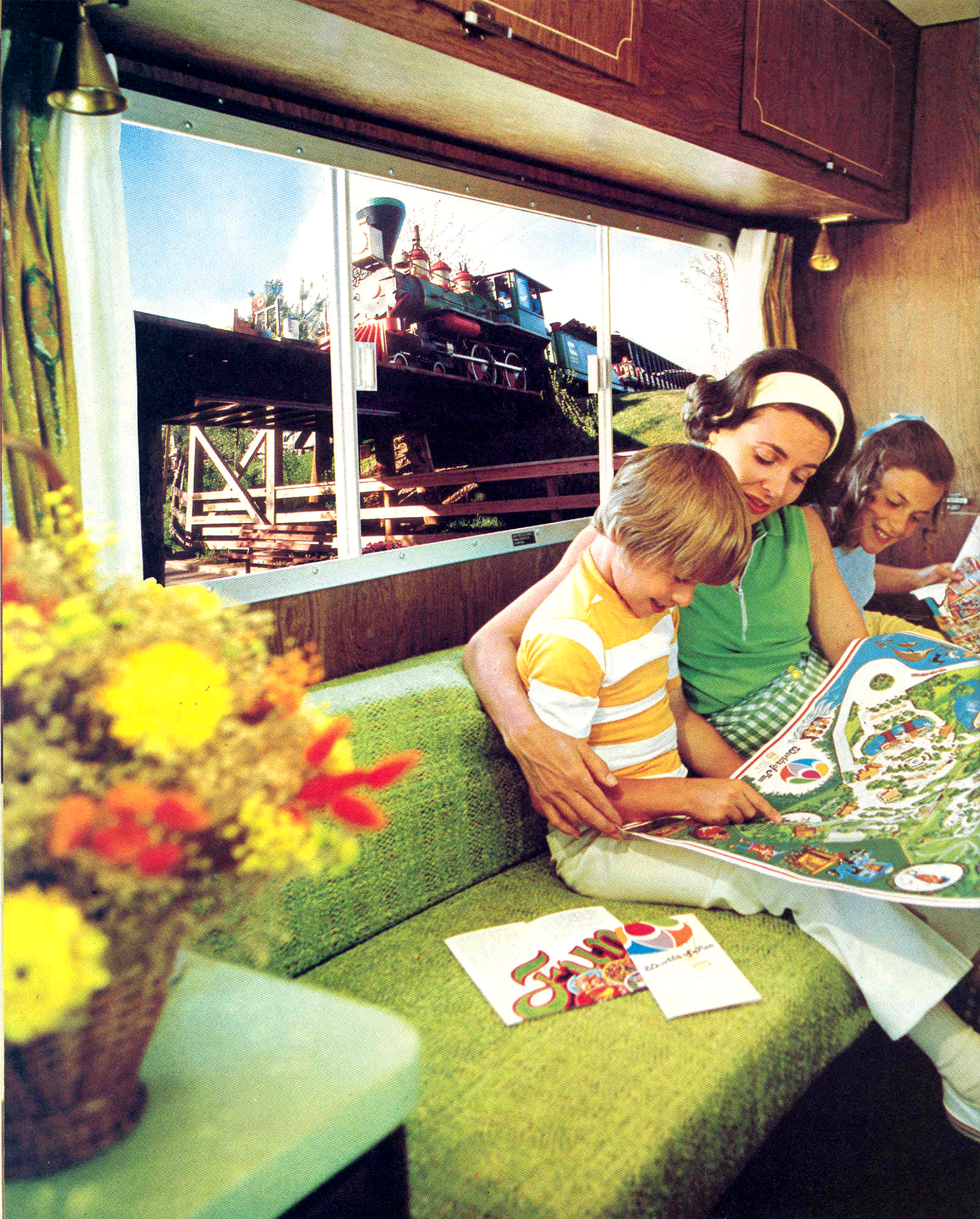 If you're curious, they are looking at a map of the Worlds of Fun amusement park in Kansas City.
Perhaps they should have chosen less distracting pants for their model – I can't concentrate on anything else in the picture.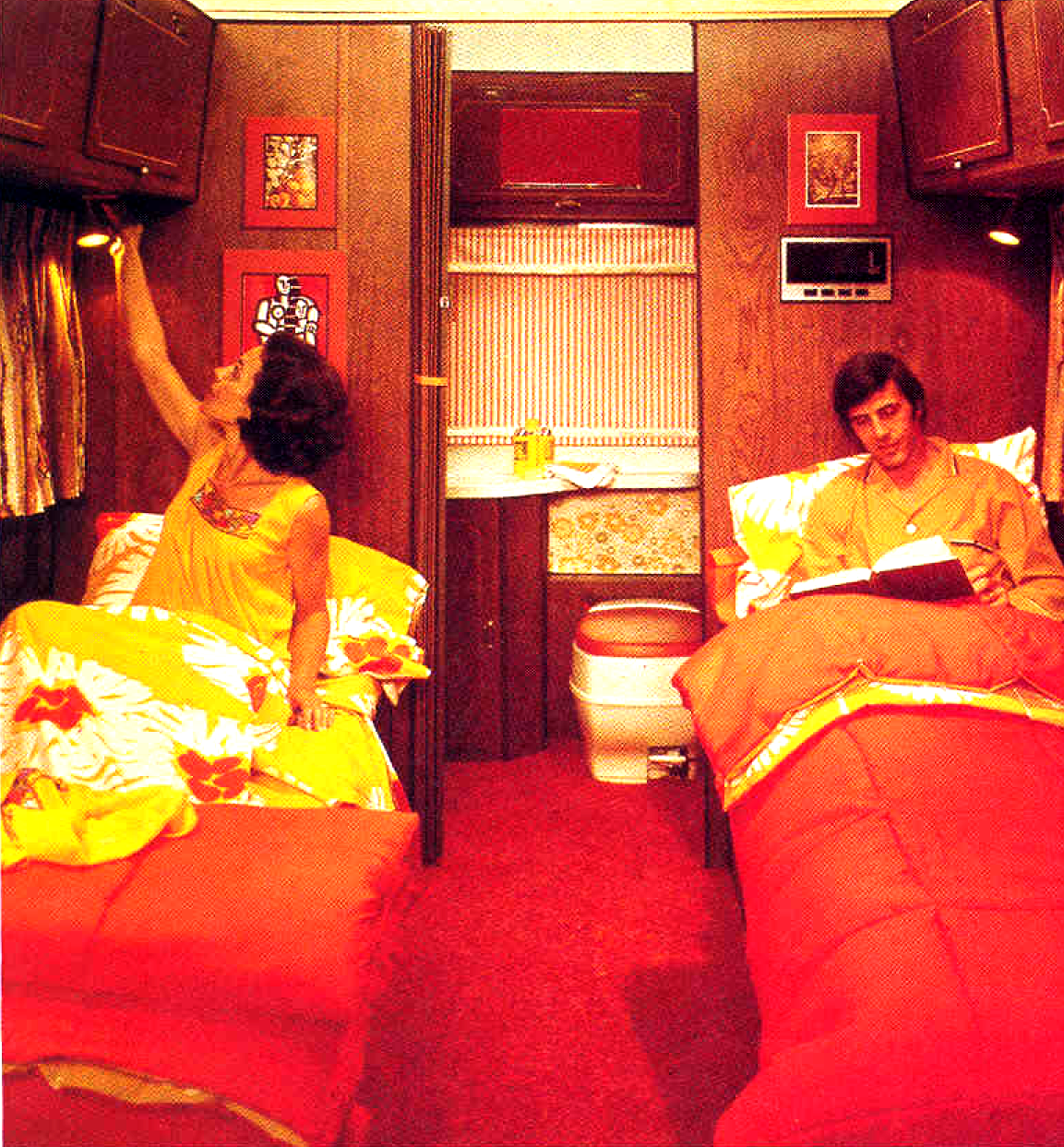 The bedroom area is so blindingly orange, it looks like its under a massive heat lamp.   Separate beds is a bummer, but the lush carpeting may come in handy.
If the Winnebago is a-rockin', don't come a-knockin'.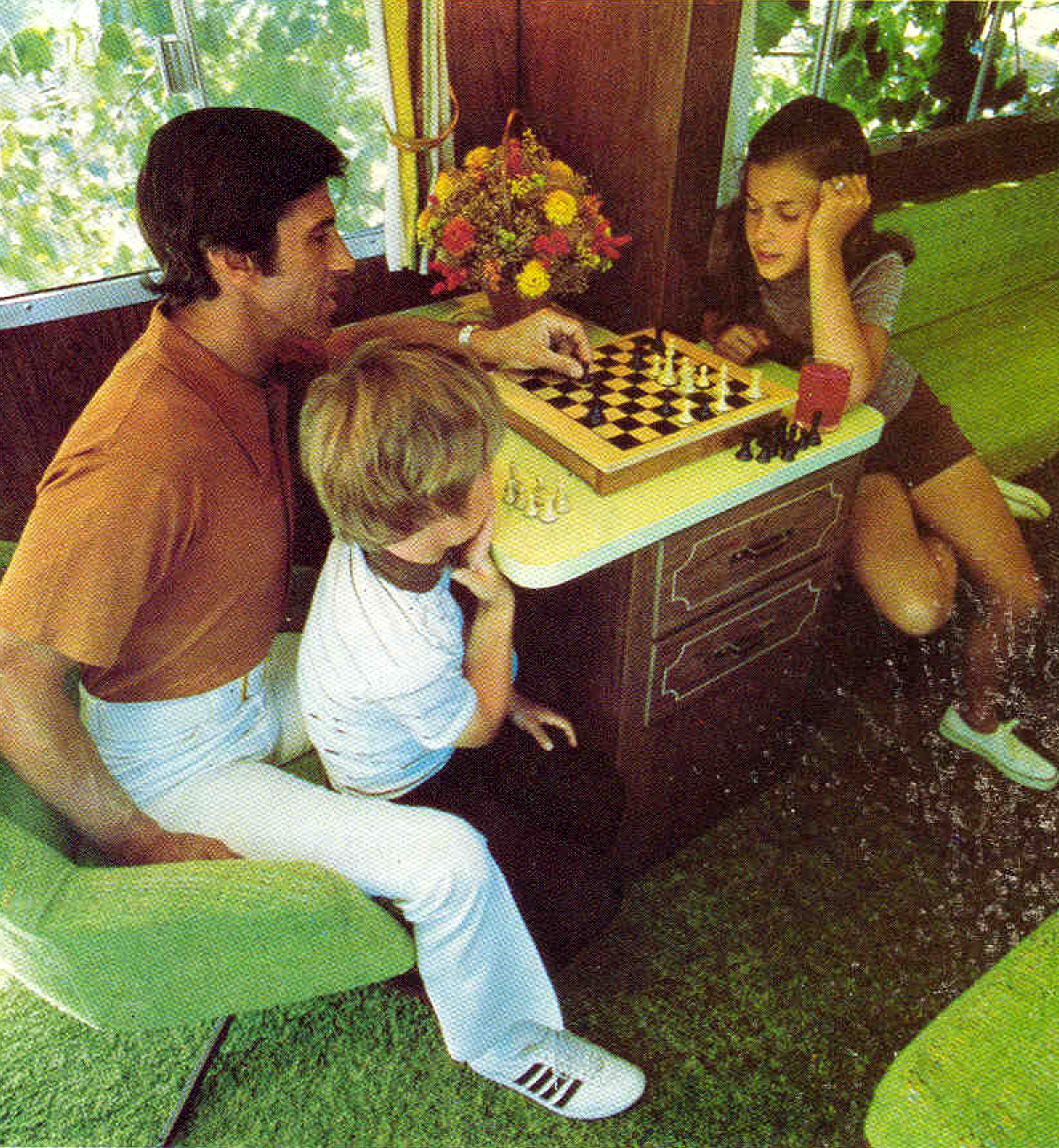 How humiliating.  Dad is getting destroyed by his daughter.  Thankfully, this brochure didn't include the picture of dad smashing the chess set to the floor and driving them straight back to Dayton.
1975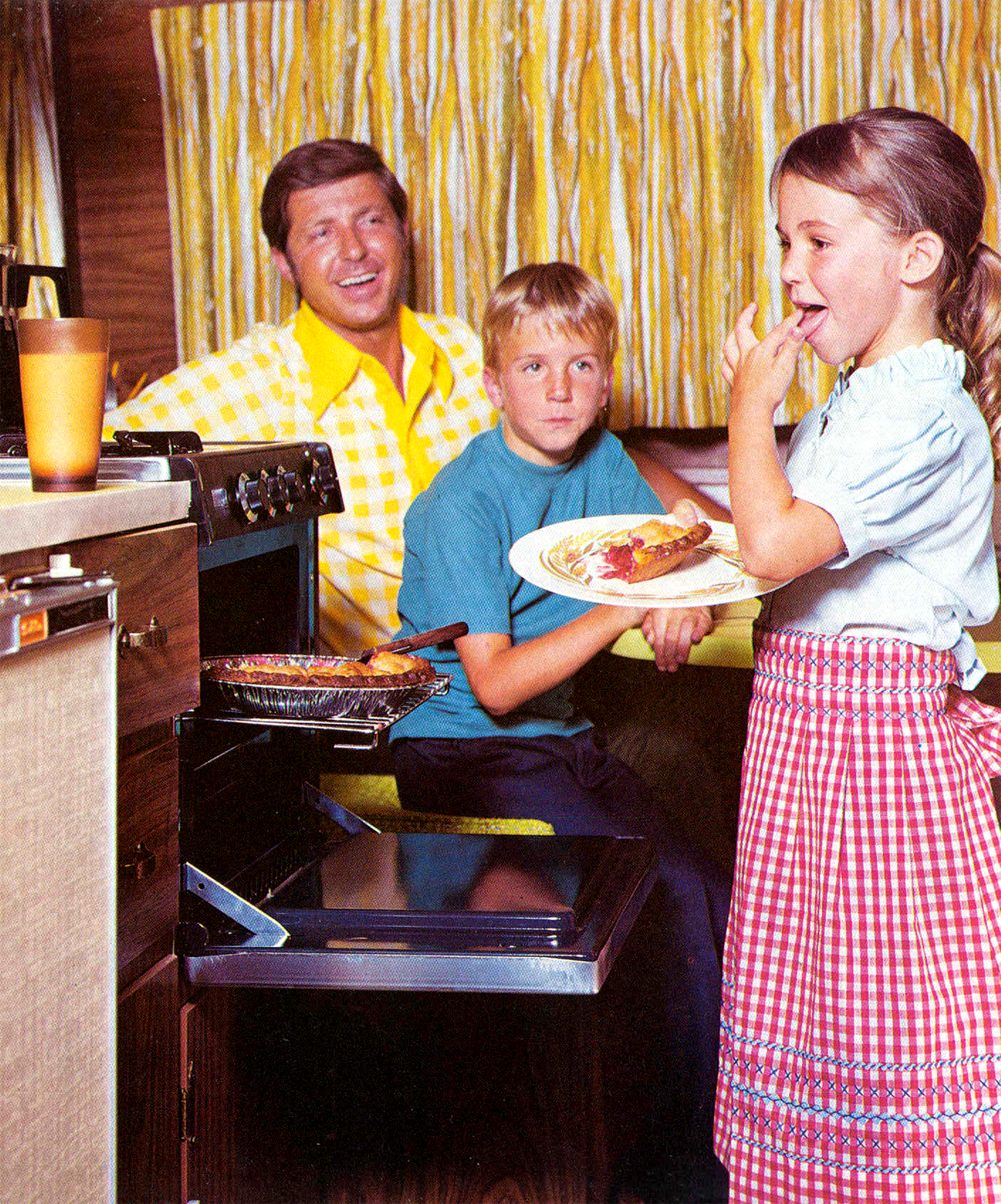 The son is not amused.  Just gimme the damn pie.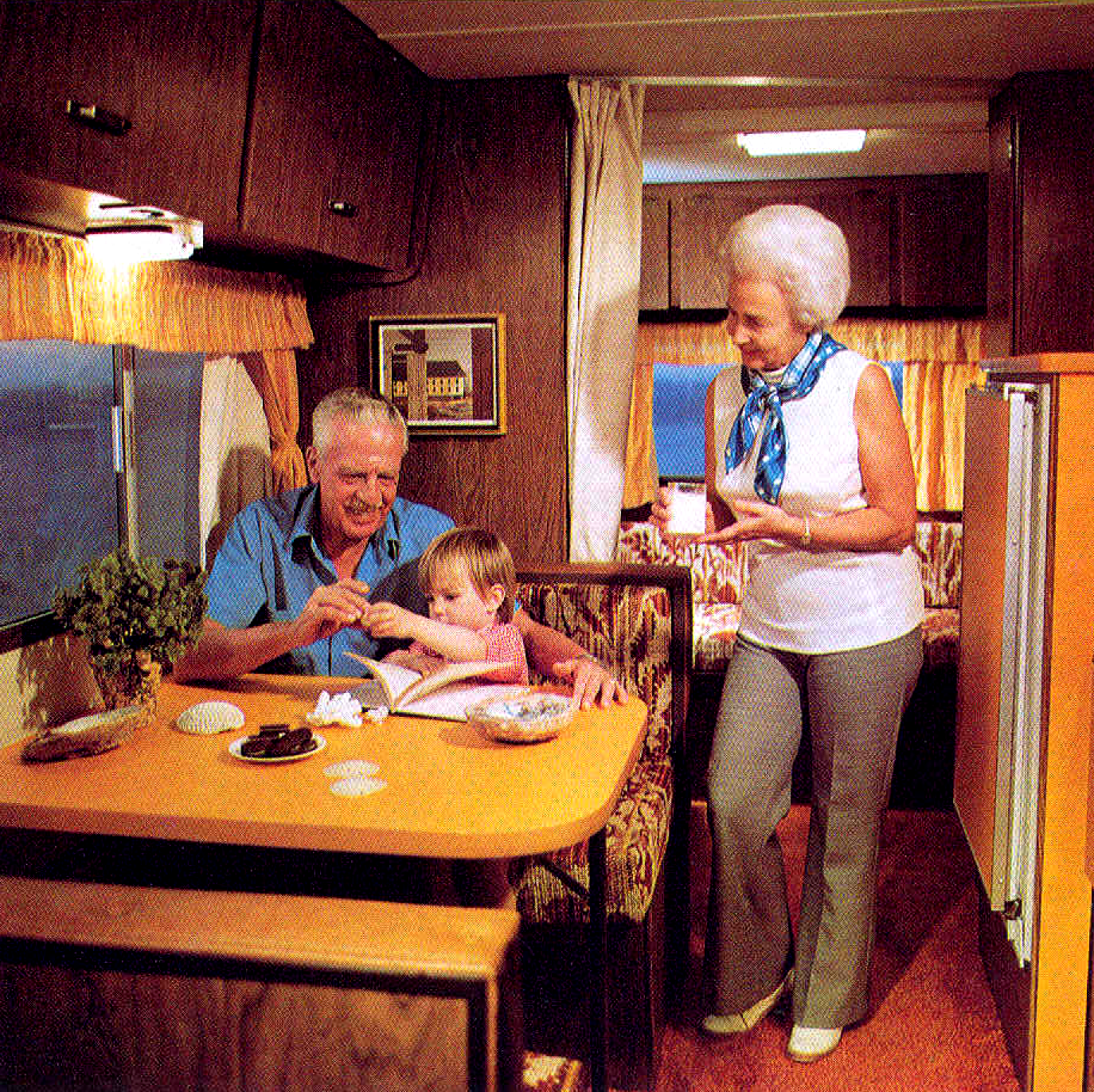 I guarantee those are Hydrox cookies not Oreos.  Trust me – I know 1970s grandparents.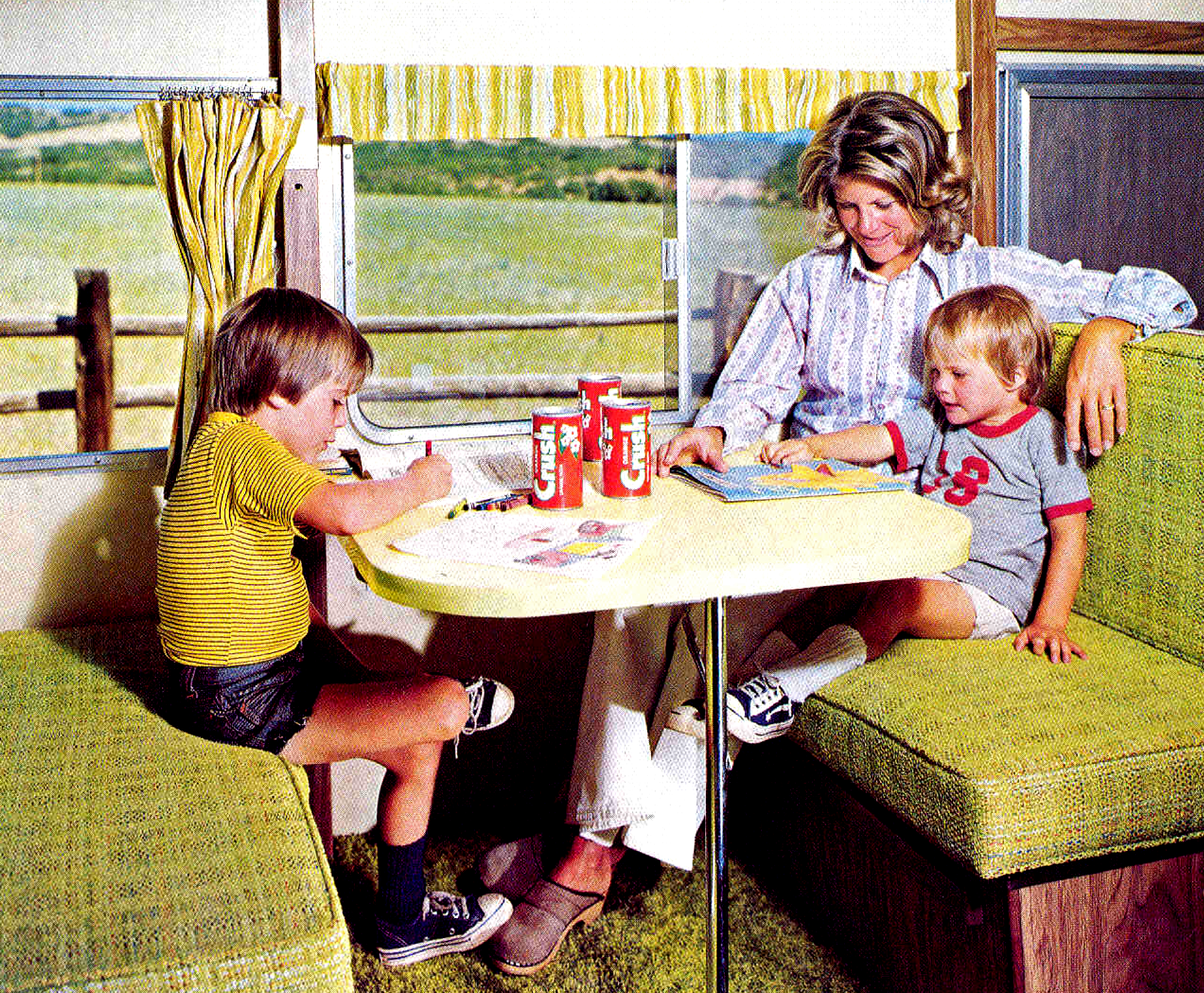 Ah, this is the life.  The family colors and drinks pop-top cans of orange Crush, while dad sits in the driver seat guzzling pop-top cans of Budweiser (not shown).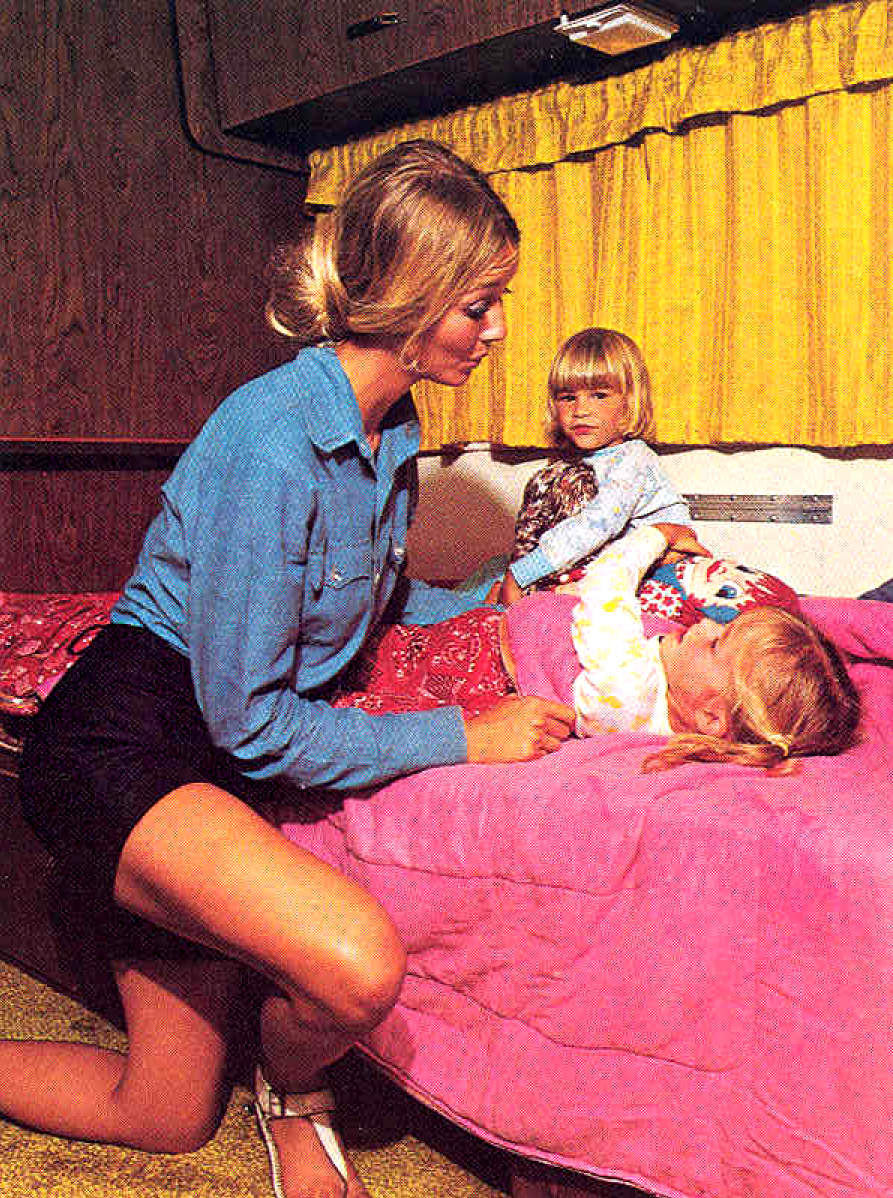 Mom playing favorites again.  Mindy would hope things would be different away from home, but she still gets the shaft.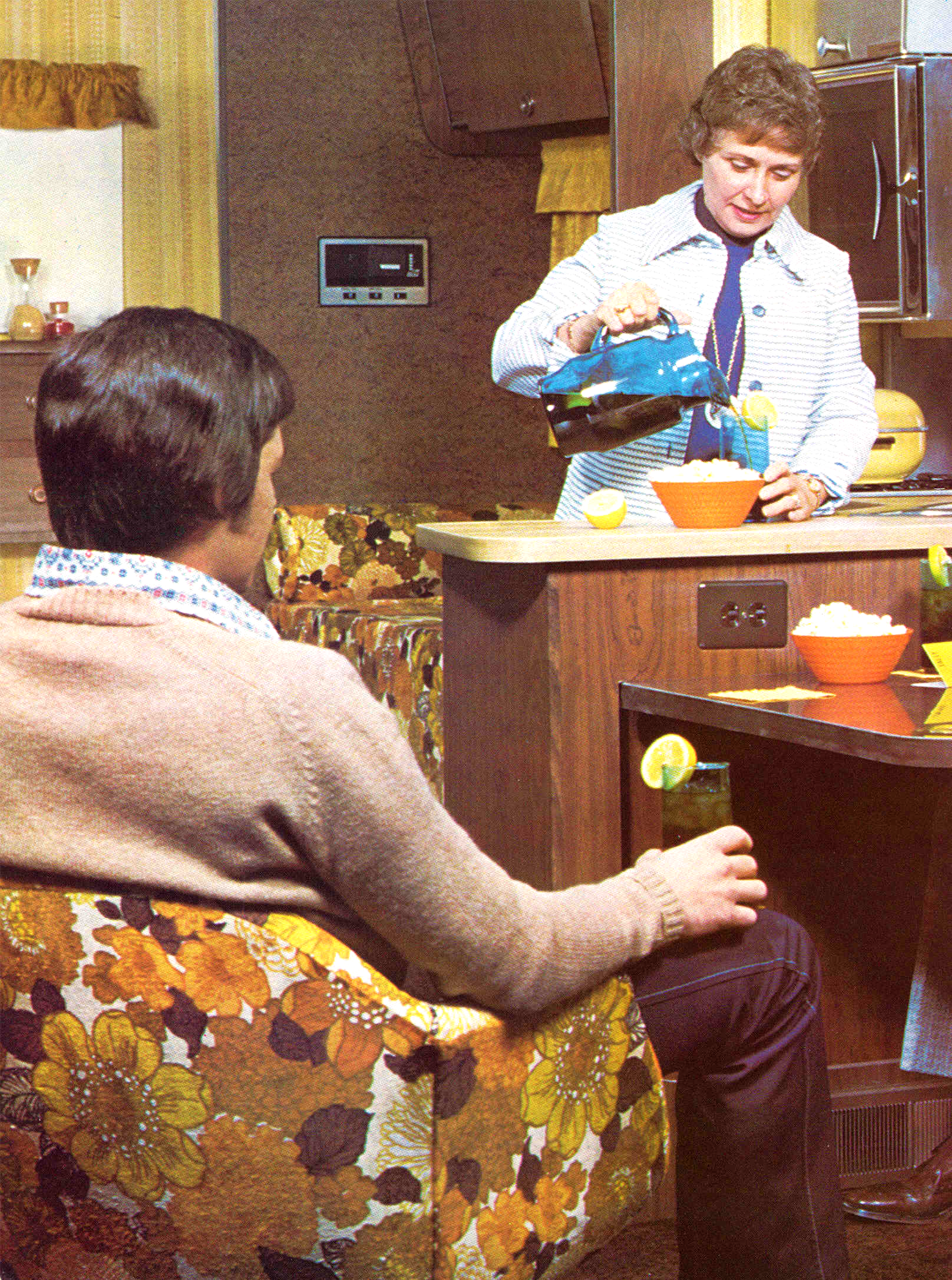 "Hurry up with the tea, woman! I don't have all day!"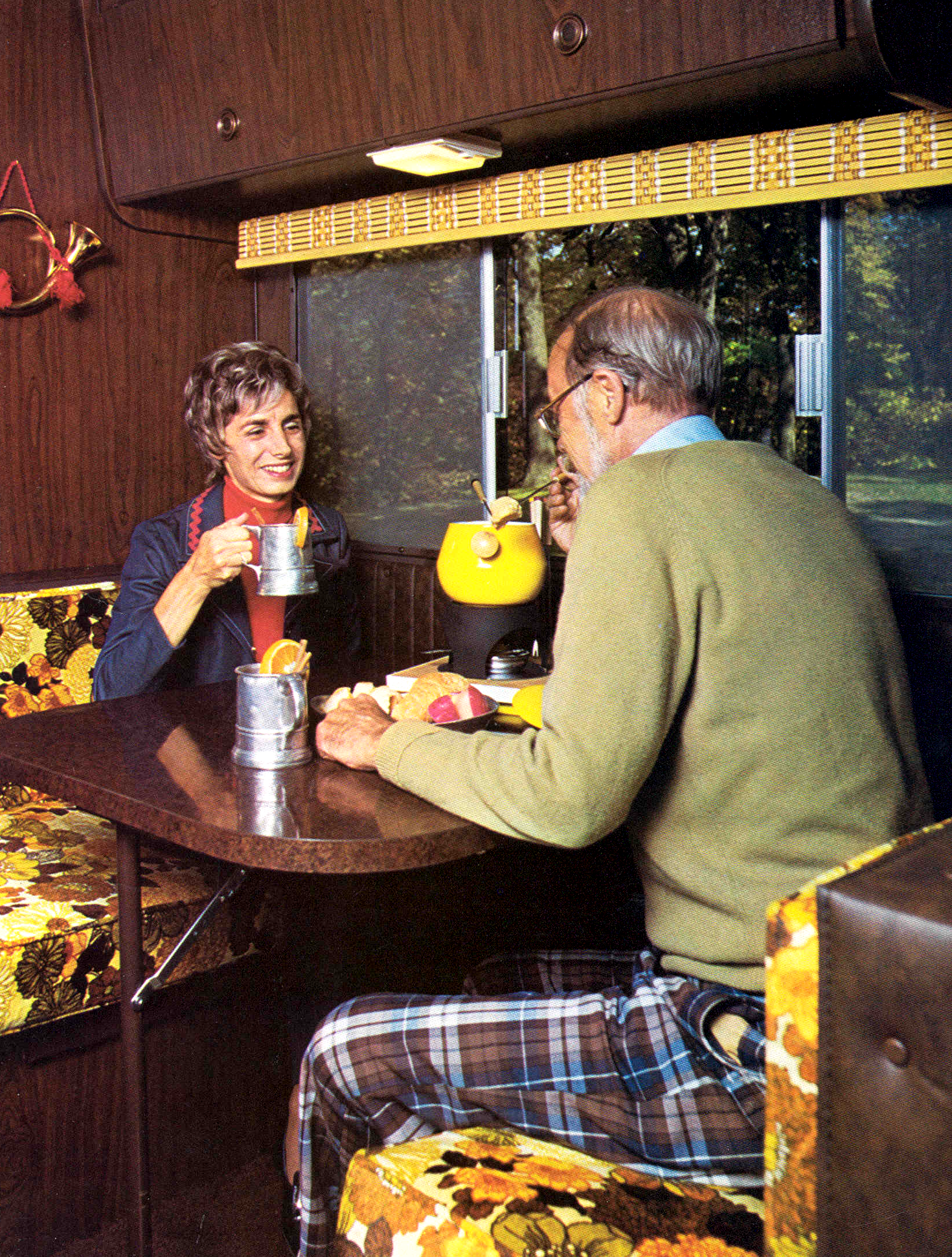 RVs and fondue were made for each other- a match made in 70s heaven.
1976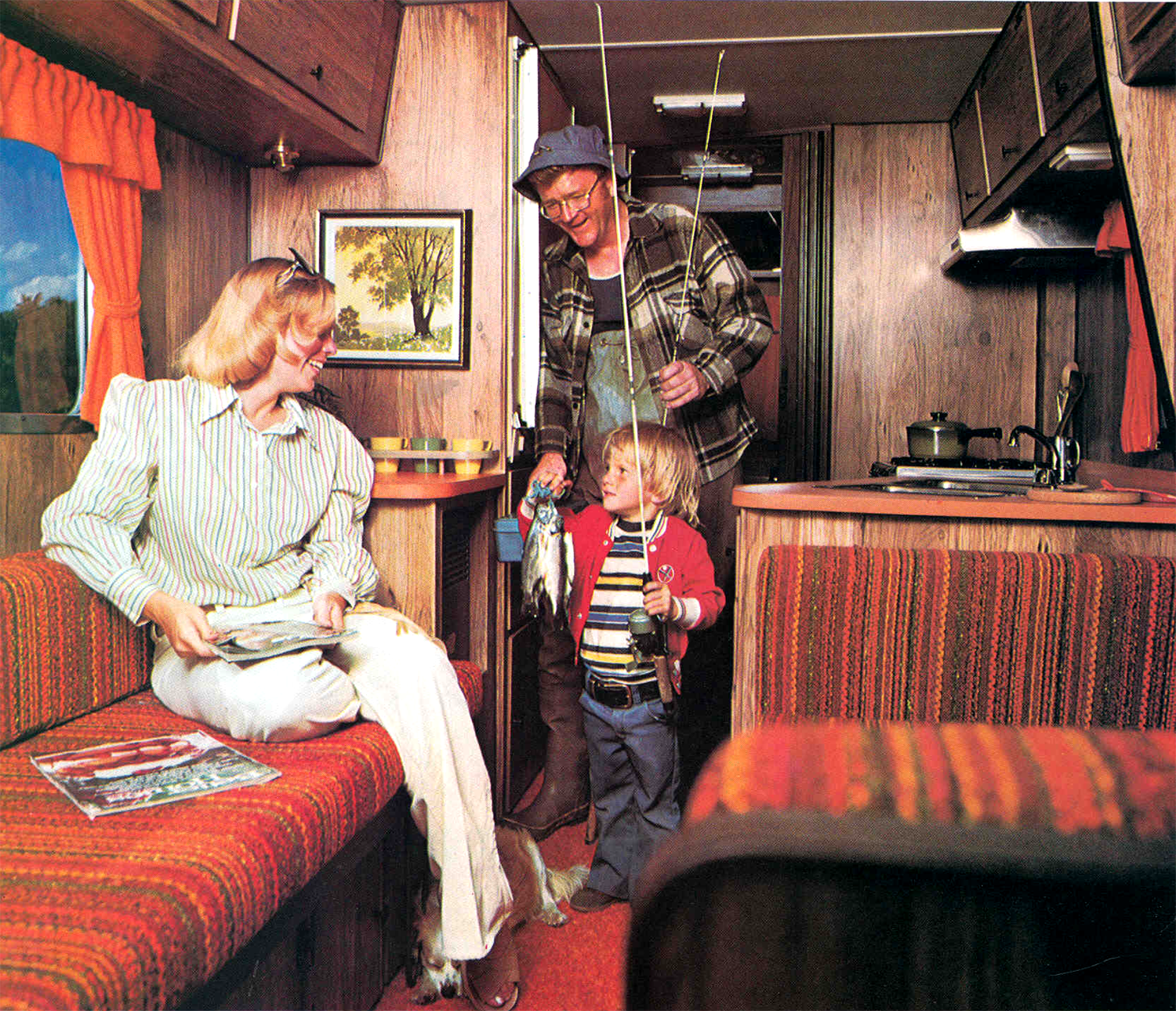 "I'm so glad you two had such great fun fishing while I sat here reading f***ing magazines!"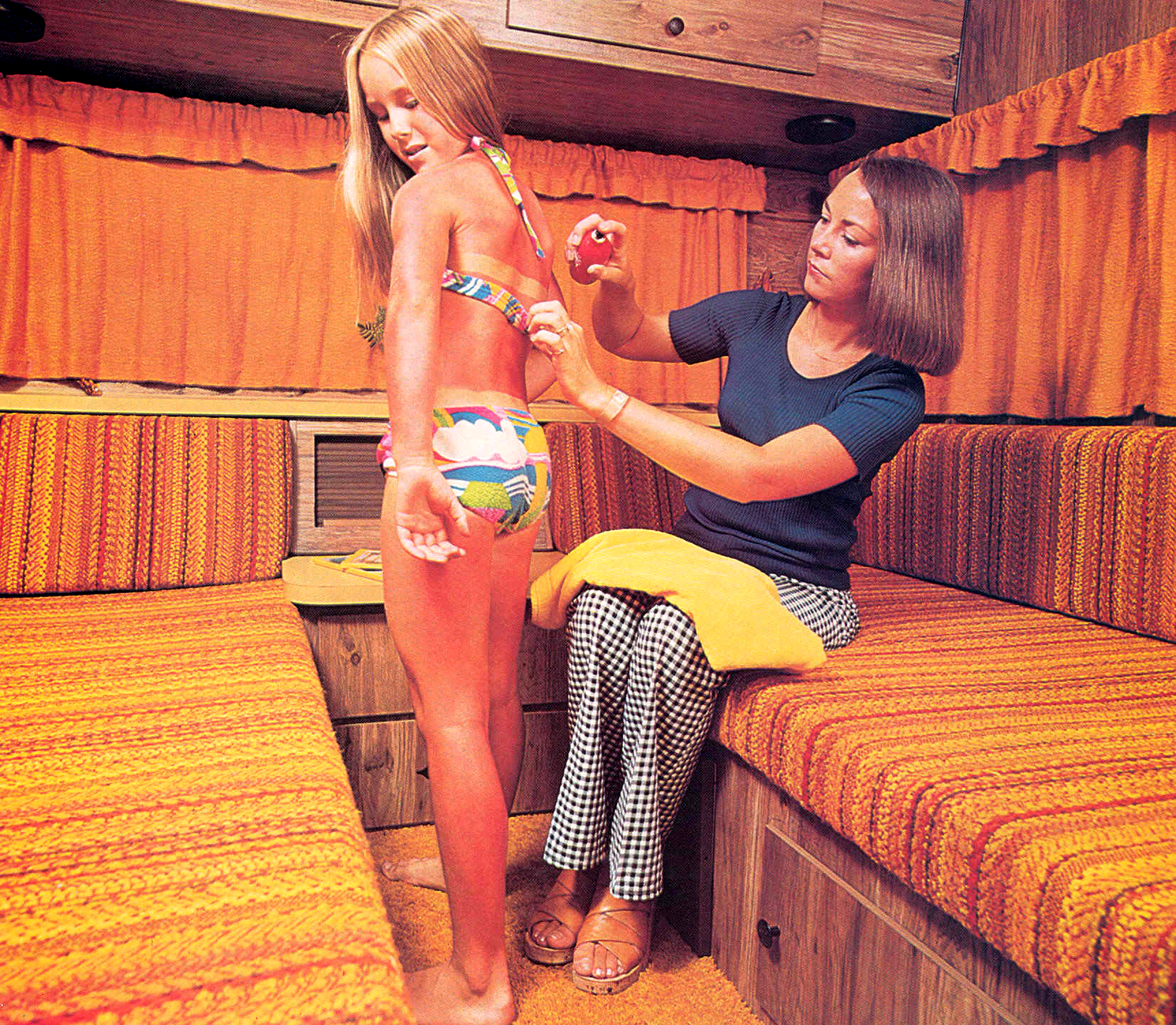 Kind of an odd choice of subject matter for a Winnebago brochure – a girl with severe sunburn.  I don't think a squirt of aloe vera is going to cut it – somebody get this child to a doctor!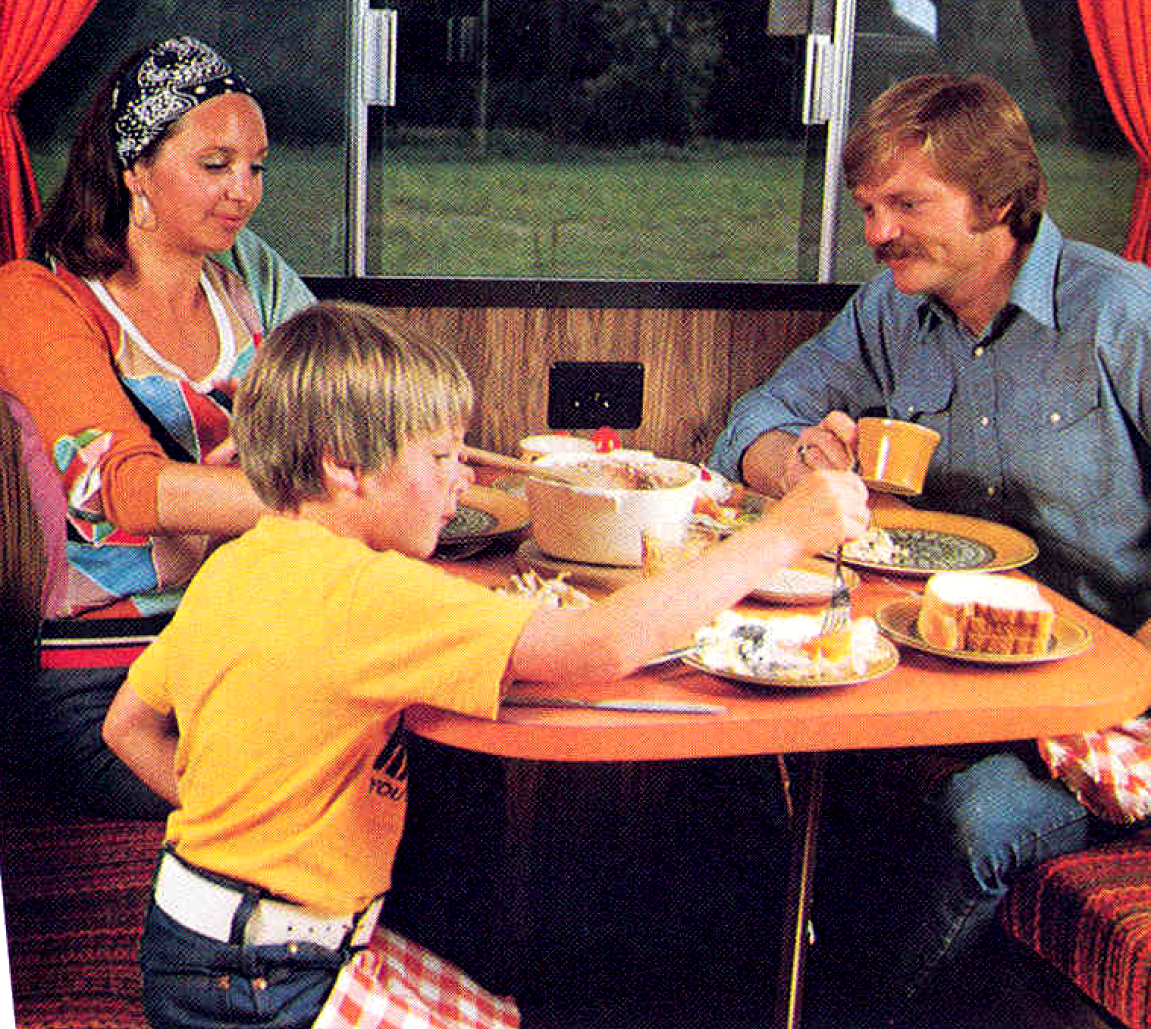 You can tell by the look on dad's face – he's regretting this whole lousy experience. "l'll be in debt for the rest of his life…. maybe I can get a second job… or maybe I'll just run away and change my identity….."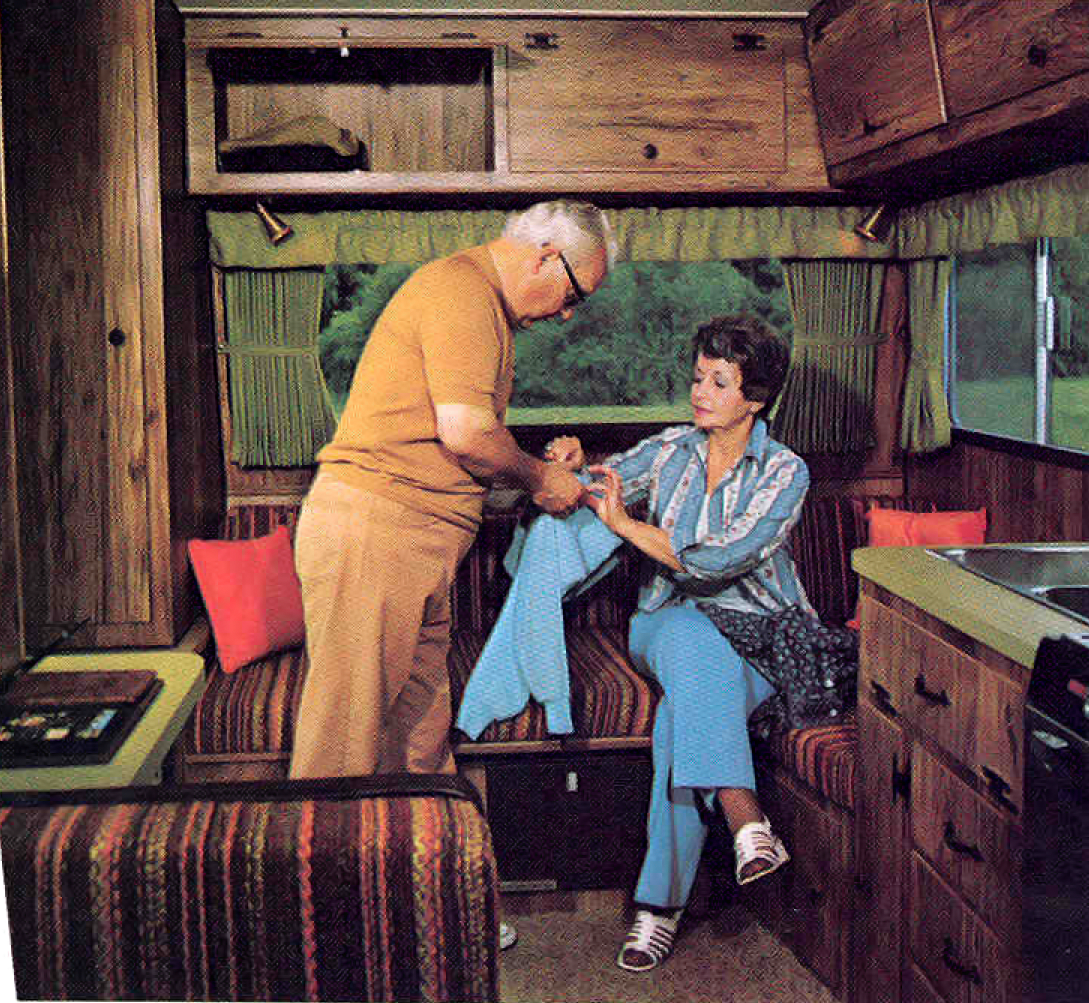 Dear God, this image doesn't exactly appeal to swingin' Baby Boomers.  Let's move on quickly…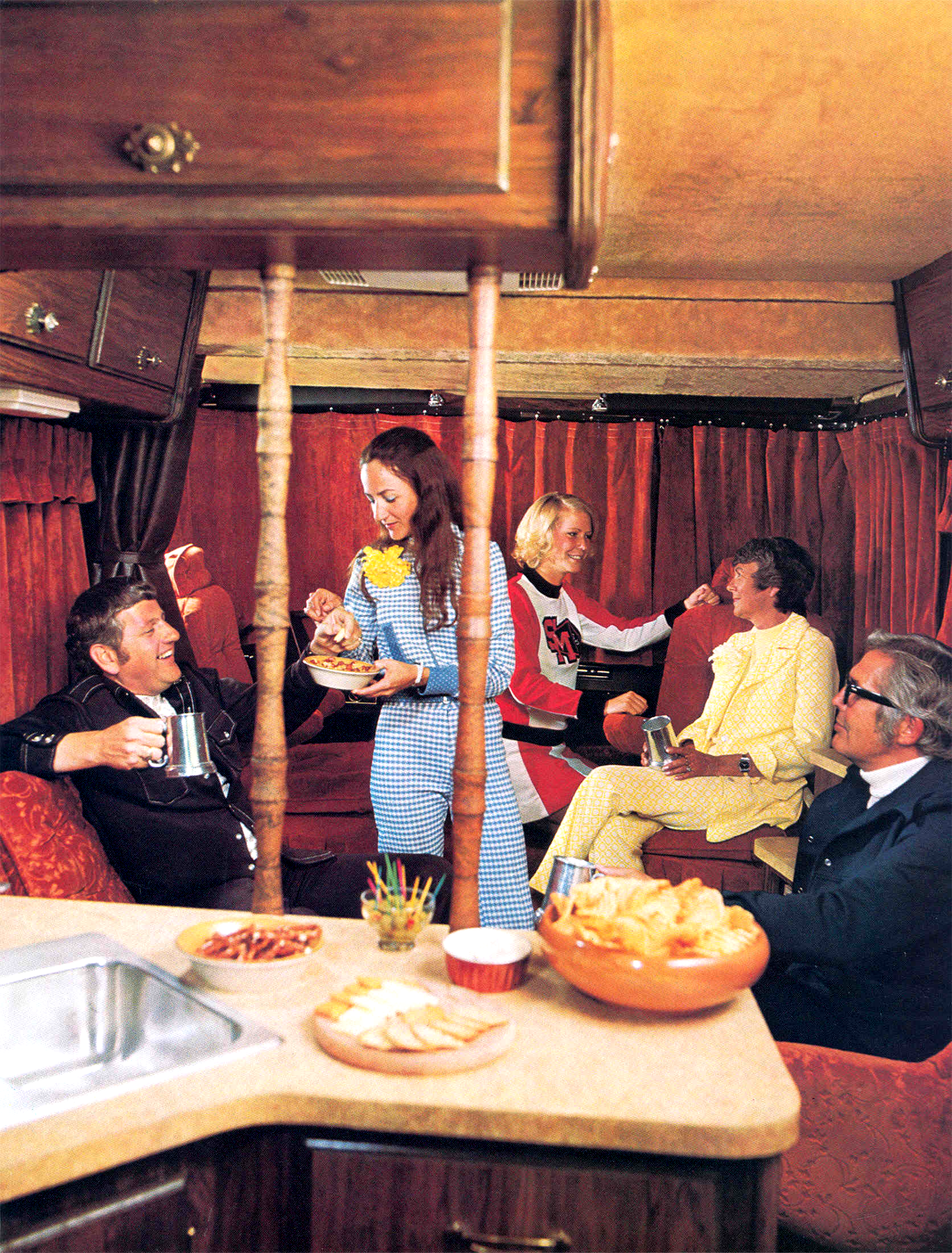 Ah, this is more like it.   Heaven isn't clouds and pearly gates…. Heaven is riding in your Winnebago with a flagon of beer, pretty 70s ladies, and lots of snacks.
Amen.