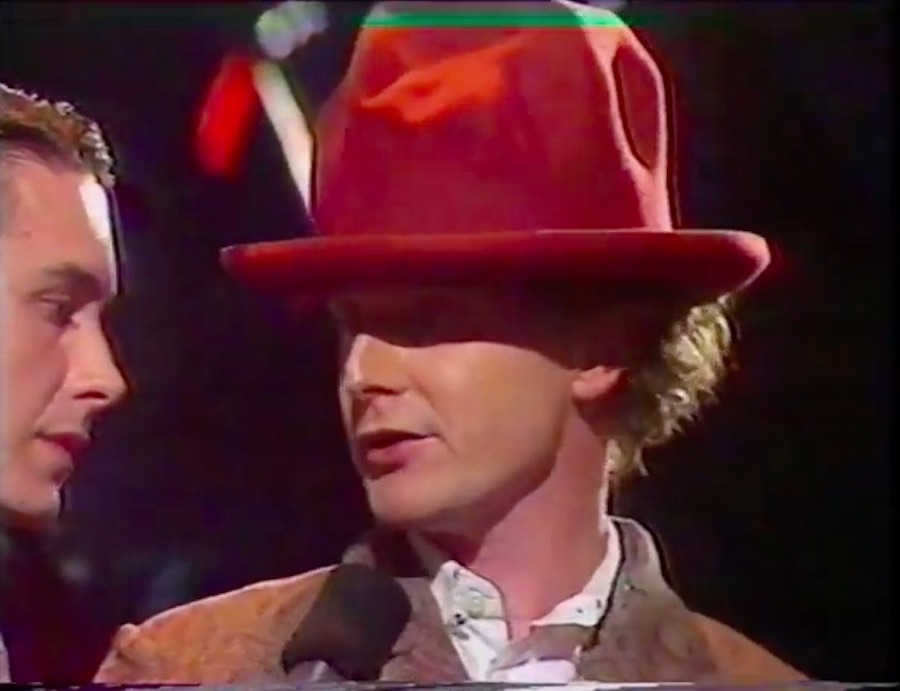 "It's like reconstructing the debris of old pop paraphernalia… what's exciting about it is that you no longer need to buy guitars. You can choose a friend up the road, put your decks together with a beatbox and make your own records, demoralising [sic] the pop myth and beginning to find a way of using material yourself."

– Malcolm McLaren
On November 19 1982, the UK's national weekly youth music programme The Tube included a segment marking the occasion when the terms (and concepts of) "scratching", "break-dancing" and "hip-hop" were introduced to a mass British audience for the first time.
When Malcolm McLaren talked to The Tube presenter Jools Holland about the elements of new urban music which featured on his forthcoming single Buffalo Gals, rap had been bubbling under in the UK with hits for the likes of Sugarhill Gang and Grandmaster Flash and domestic appropriations by such groups as Adam & The Ants, Wham and The Clash.
And the country's first rap club, The Language Lab, was set up in Soho in the summer of 1981 by Tom Dixon and Nick Jones after exposure to the emerging style when their group Funkapolitan provided one of the support slots for The Clash's 17-night residency at Bonds in NYC. Others on the bill included Grandmaster Flash and Melle Mel.
The Language Lab was at the former premises of Soho's The Gargoyle, as Dixon – now, of course, a world-renowned designer – later recalled: "We got a Monday night at Meard Street above Gaz's Rocking Blues. It was a strip club until 11 o'clock then we would go up with our speakers. It had a little theatre and the strippers would be going down as we were putting our stuff on."
In August 1981, as The Language Lab was revving up in London, McLaren had been taken to Afrika Bambaataa's Zulu Nation in the south Bronx by artist/filmmaker/writer Michael Holman.
A year later, in conversation with Holland and clad head-to-toe in clothes designed with Vivienne Westwood, McLaren provided the breakthrough by celebrating the new music as consistent with his abiding principles of punk: that authenticity was achieved through DIY methods and anti-corporate practice.
As recounted to Holland, it was clear McLaren had witnessed the sparking of the movement which would soon consume pop culture:
"This was not having to deal with pre-packaged pop product. I like that very much. The idea came to me watching a group of kids in the south Bronx mixing all kinds of records together and talking, singing or hollering over the top.

"Then the floor broke loose and kids started to spin on their heads or do robotic movements, almost letting an electric wave run through their arms and hit the other side of their fingertips. The whole thing there they term Hip Hop. Scratching is part of DJing practice and breaking is another form of gymnastic dancing which you're about to see on the video I made in New York."
Here is the clip featuring The Tube interview:
And here is the single it trailed, the deathless Buffalo Gals: