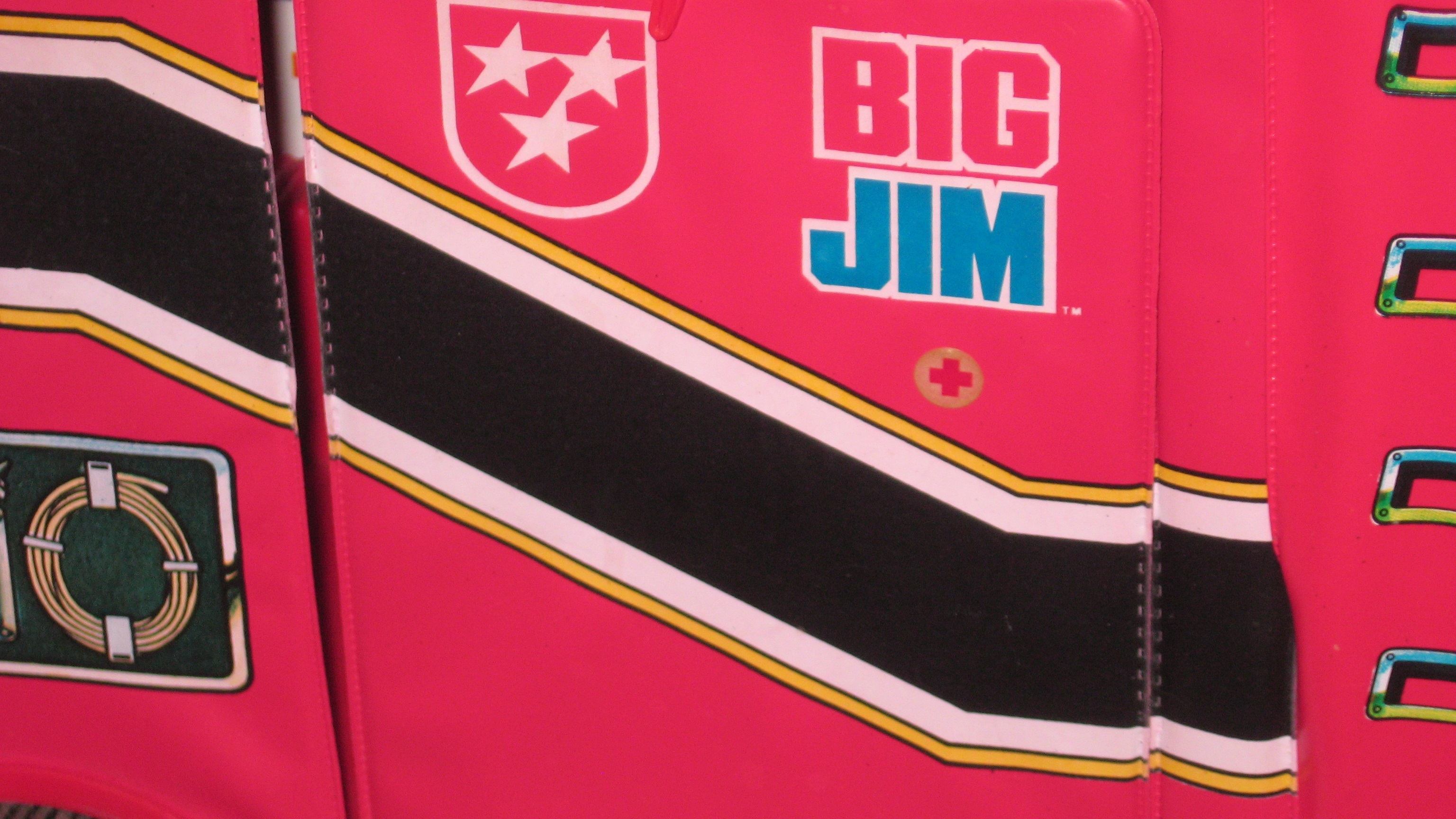 As a child growing in the 1970s, I was never as much into Hasbro's G.I. Joe as some of my friends were. Instead, I absolutely loved Mattel's toy line, Big Jim.
In case you're not familiar with this toy personality, Big Jim is a globe-hopping adventurer. Instead of being a soldier in the U.S. Army (like G.I. Joe), Big Jim is what in you might term a renaissance man — an athlete, a secret agent, an astronaut, a scientist and an outdoors man.
Big Jim's buddies included Big Jack, Big Josh, Big Jeff, Dr. Steel and Chief Tankua (a Native American man). Many of these figures featured karate chop arms too. You could press down on a square in their backs and they'd expertly deliver a karate chop to an enemy.
As much as I enjoyed these action figures (though I think I only had Big Jim and Big Josh), what really thrilled me were the vehicles and playsets of the line.
I still remember the day my parents bought me the Big Jim Sports Camper, which was released by Mattel in 1972. This eighteen inch-long, four-wheel vehicle came equipped with a yellow fishing boat, two oars, a fishing rod, and a variety of other important camping supplies too.
The camper also included a brown coffee pot, pots and pans, a motorcycle rack, a card table and two fold-out chairs. There' was even a camp fire, a skillet, a lantern and sleeping bag.
The van's interior also reeks of the disco-decade, fully kitted-up and decorated with cool sporting competition posters, Big Jim's medal/trophies and other goodies. The rear of the van features a small kitchenette with sink and stove, molded in dark brown plastic.
If Big Jim just wants to take in some air, kids could prop open one of the van's side doors as a kind of tent roof. The other side features a sliding plastic door that you can remove all together. The van's rear has a "pop-up" window.
Another great toy was Big Jim's Rescue Rig. Though created from the same mold as the Camper, the Rescue Rig is a bit longer than the camper, and originally sold for about $13.00.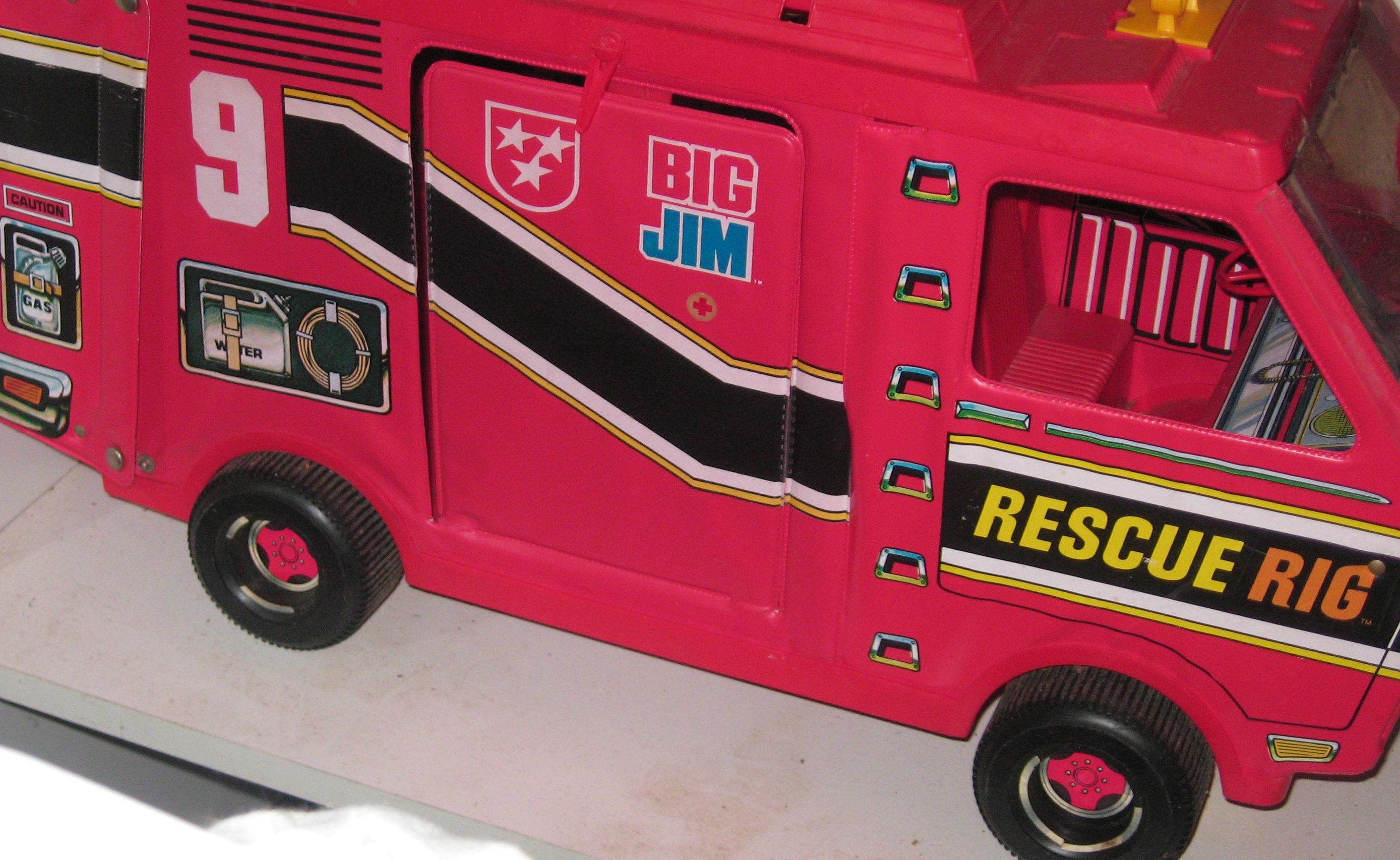 The huge vehicle, described as "a large mobile unit," features an "Adjustable Rescue Boom" cherry picker, plus such accessories as a fire-axe and hook pole.
The Rescue Rig came originally with a remote control "communications center" that could "relay six emergency calls" too. Unlike the camper, the Rescue Rig's entire aft section opens up to serve as a kind of ad-hoc first-aid station.
Perhaps my favorite of all the Big Jim toys however, was the Sky Commander: Big Jim's aerial headquarters.
This massive toy is four-and-a-half feet in length with when fully opened. It can also be folded up into the form of a compact carrying case, which makes it perfect for transportation in the event of an afternoon at granny's house.
The Sky Commander features four compartments. There's the cockpit with pilot's chair and steering wheel, the situation room — replete with maps, Morse Code device, navigation table, and tools, the bunk room (with bed, sink, food supplies, a storage unit on the floor and a rest room), and finally, the tail section.
This "around-the-globe jet headquarters" transports Jim from one secret assignment to another. To help with ultra-high-speed pick-ups, the Sky Commander also comes with a working winch and rescue basket/litter. So you can actually reel action figures up into the plane…
The Big Jim Sky Commander (according to the legend on the back of the box) is perfect for "air search and rescue," "ecology," "trouble-shooting" and even "science" as Big Jim "jets around the world."
Another Big Jim playset which I still own, but which is not quite as elaborate as the Sky Commander is 1974' s Safari Hut.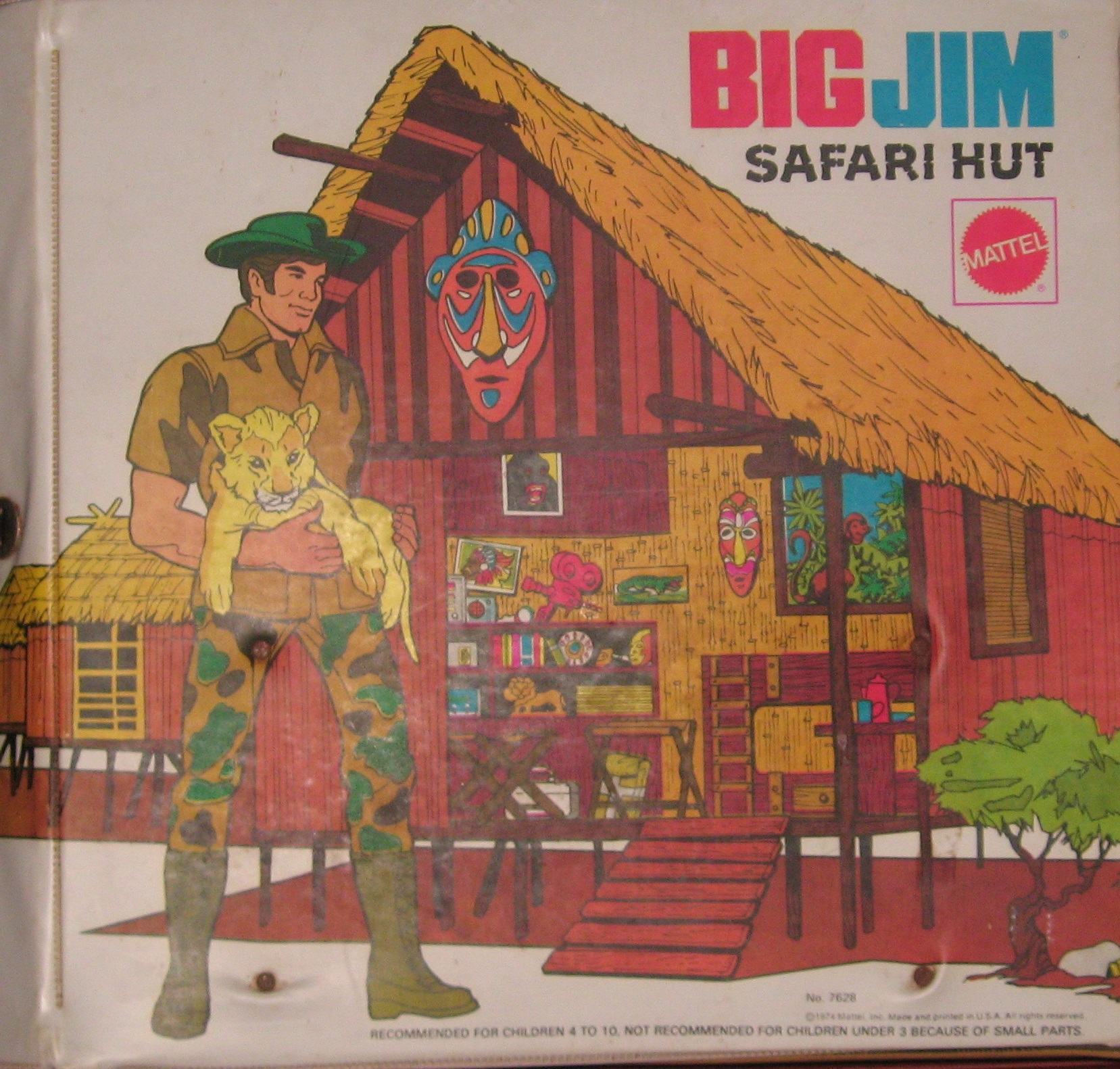 The Safari Hut is a thin carrying case made of soft plastic that opens up to reveal the interior of a rugged African cabin. There are bunk beds, native decorations, some cabinets, and other neat touches. You can see items on the walls such as Jim's movie camera (for photographing wildlife…) and a radio for emergencies.
Today, what seems most impressive about these Big Jim Toys is their sheer size.  They are colossal — created for figures 10 inches tall — and pretty sturdy too.