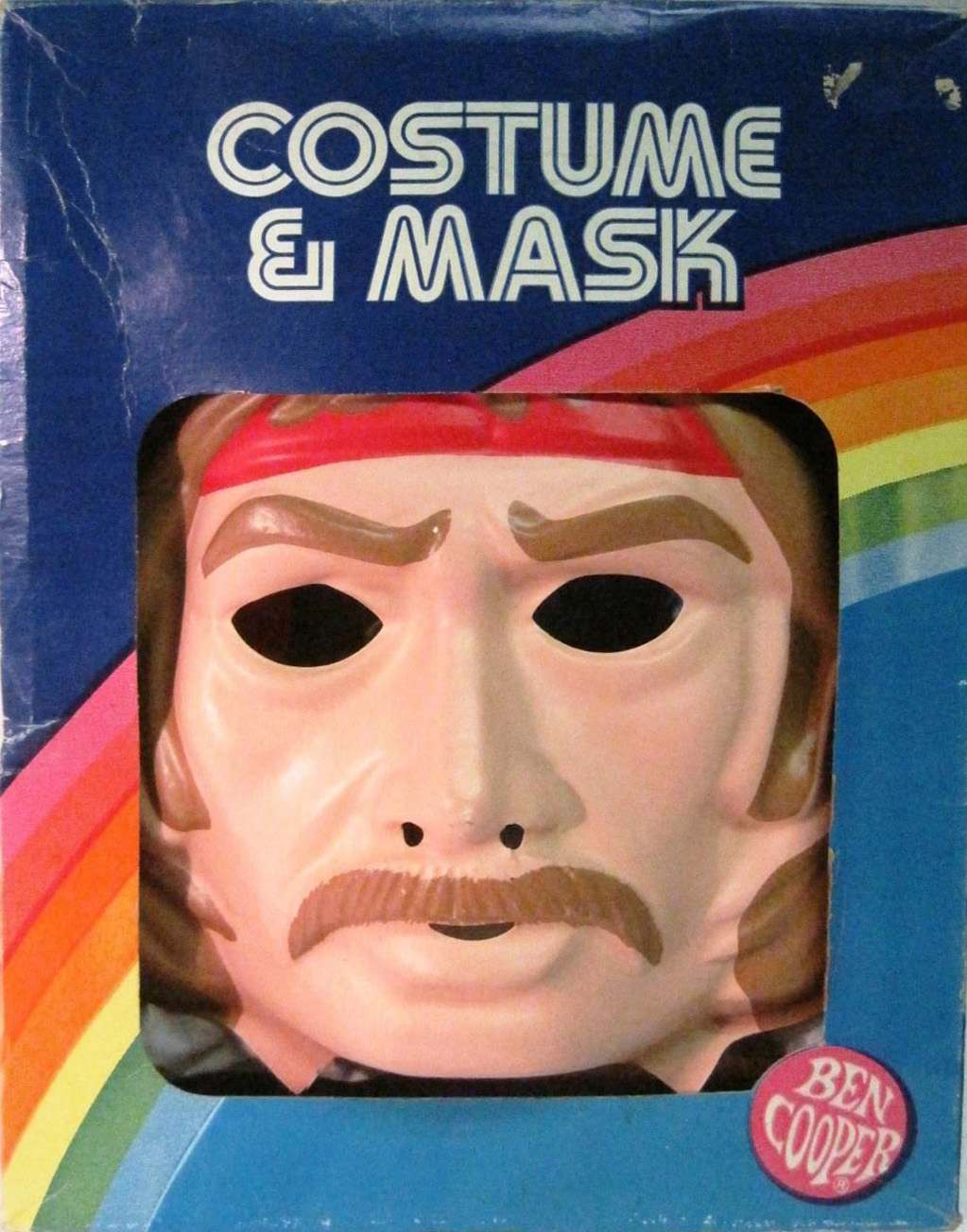 Does it get any more badass than this Chuck Norris costume? Unfortunately, most trick-or-treat attire of the 1970s and 80s was woefully bad.
Generally, costumes consisted of a plastic mask and apron/smock. It was cheap and it came in a box at your local drug store….

The video quality for this Woolworth/Woolco Halloween Advert (1977) is terrible, but this is still a must see. Masks for boys: The 6 Million Dollar Man, Batman, Superman, and Spiderman… for girls: Holly Hobby and The Bionic Woman.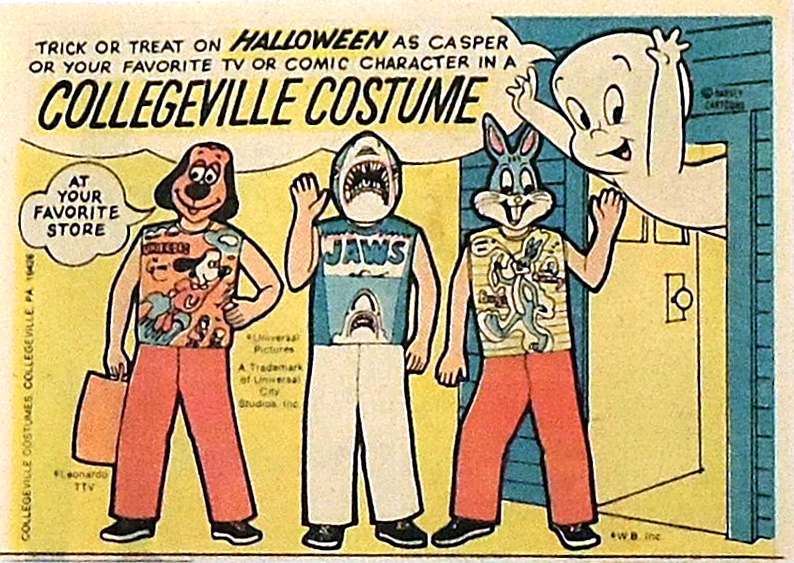 As a general rule, the rubber band in the back of the mask would snap within 30 minutes of use. Plus, the apron wasn't really a costume, but rather a lame billboard for the subject of your costume.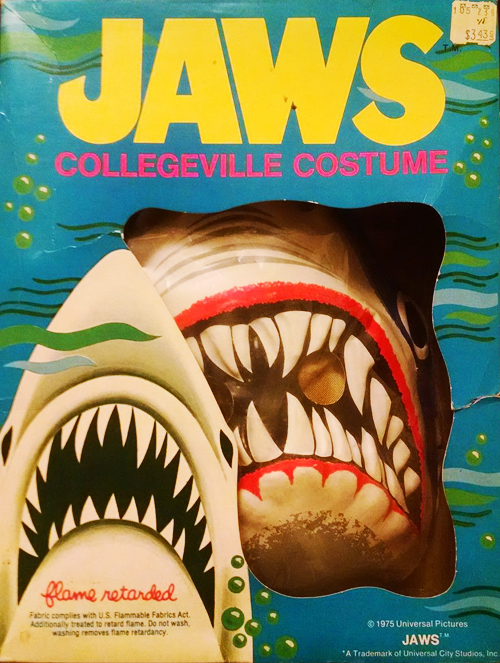 This Jaws costume is among the all-time worst. It consisted of the iconic shark head and lousy plastic poncho with the Jaws logo.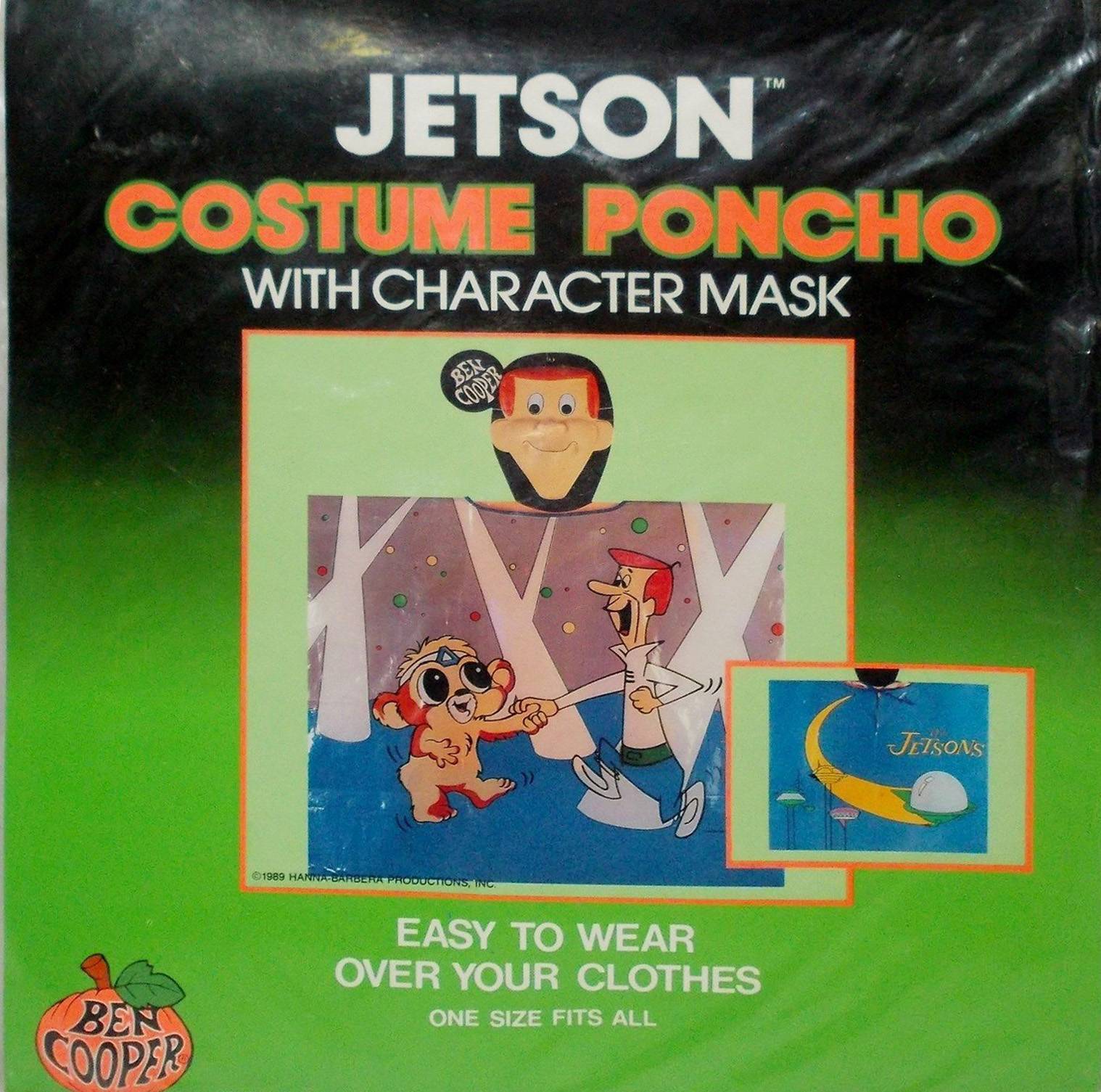 What in God's Holy Name is that creature dancing with George Jetson?
We've all seen the wretched 1970s television Halloween costumes – the Gabe Kaplan (Welcome Back, Kotter) and Herve Villechaize (Fantasy Island) costumes have gained a certain amount of well-earned notoriety on the internet. But to me, the worst offenders are when the costume bears no resemblance whatsoever to their subject…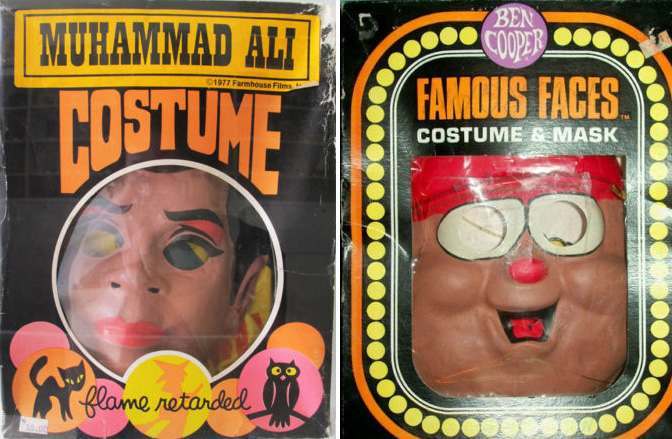 This costume at left looks more like Liza Minnelli than it does Muhammad Ali. No, this is not an error – they literally made the Muhammad Ali mask have long lashes, eye shadow, full red lips and light skin. What were they thinking?
Can you tell what the mask is at right? It's supposed to be Mr. Potato Head, believe it or not.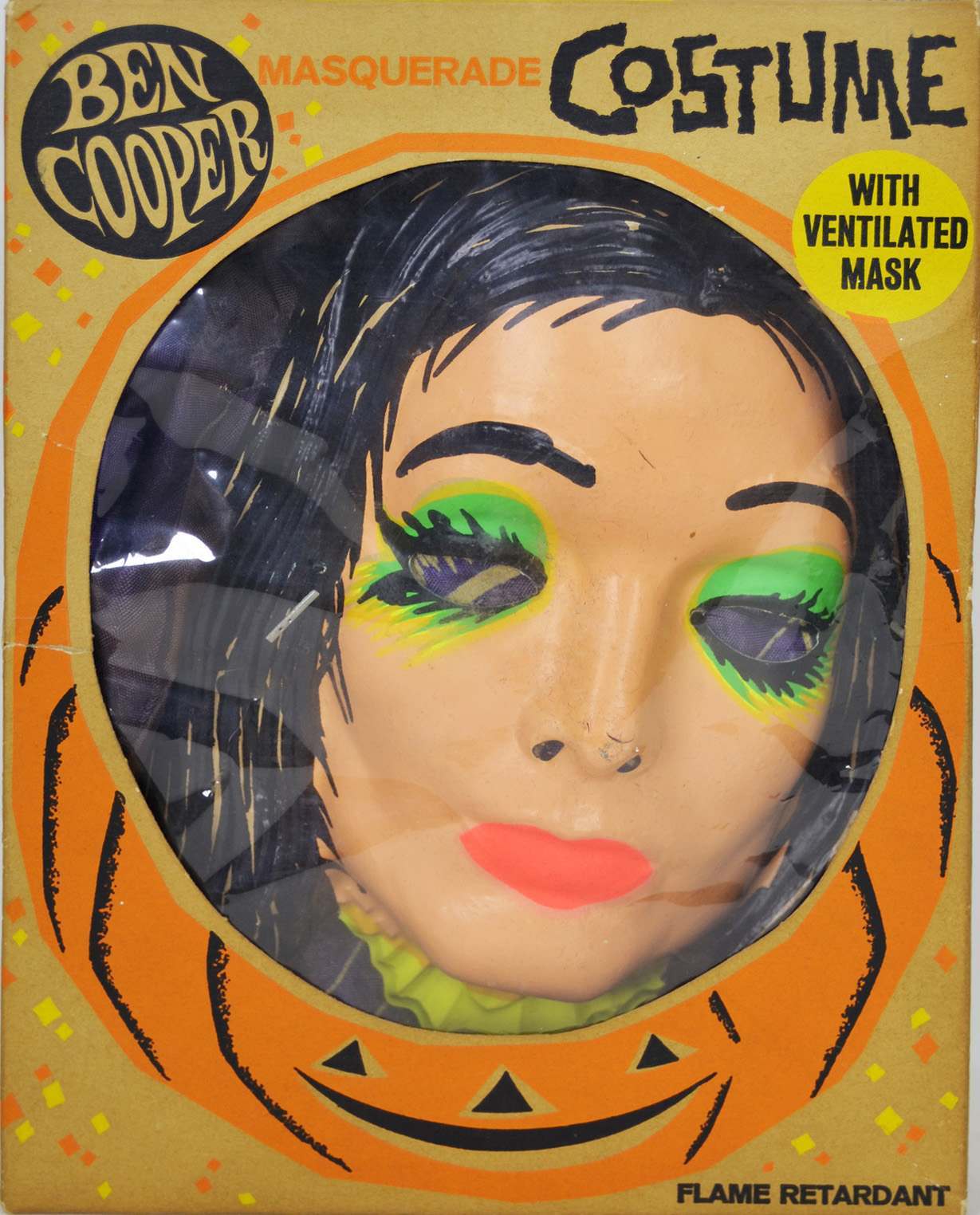 This is supposed to be Morticia Addams. Do you get the impression they were in a hurry when they made these old masks? Look at her eyebrows … and what's with the green/yellow around the eyes?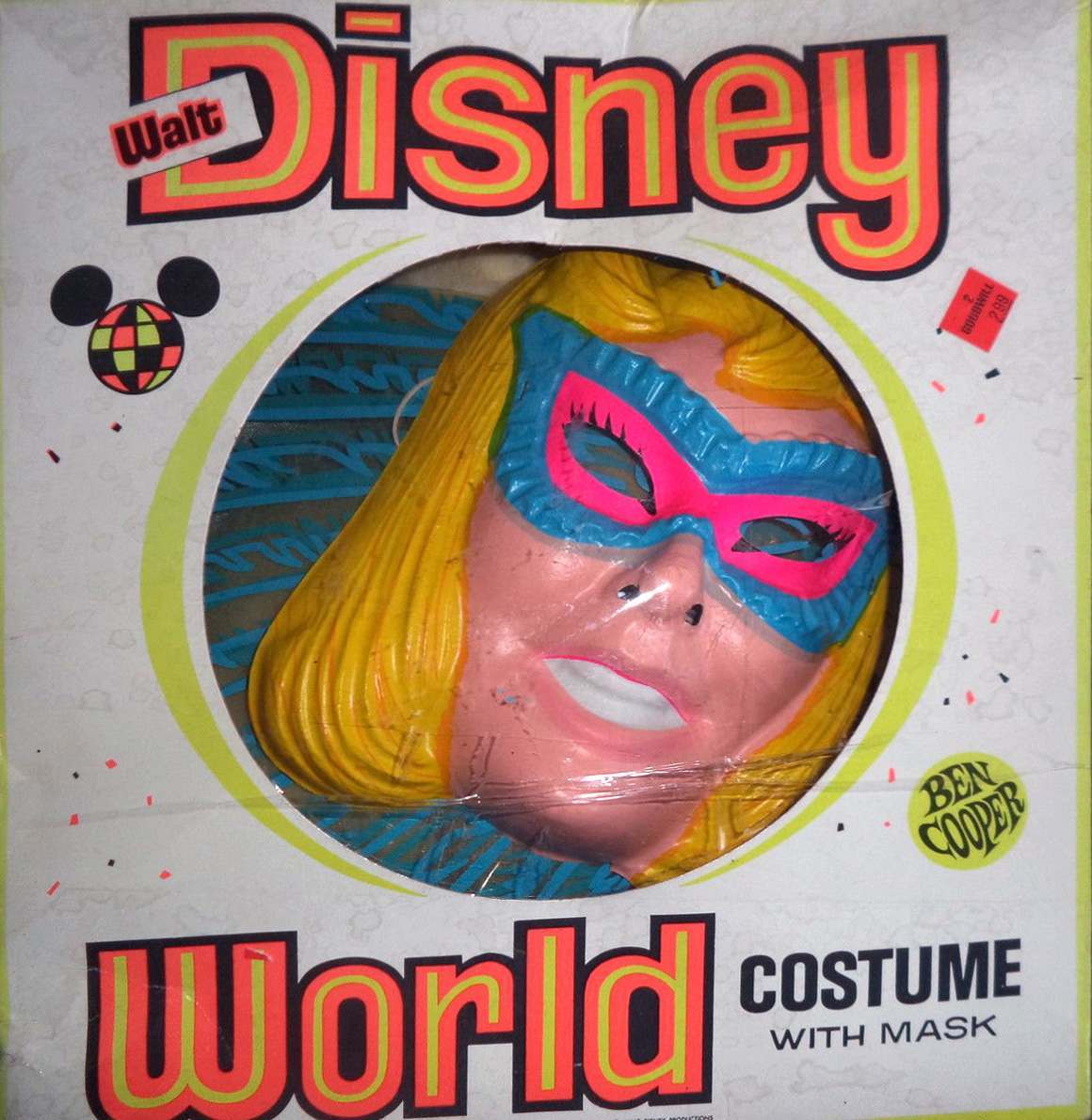 Excuse me? How exactly is this a Disney World costume? Mardi-Gras maybe, or even generic super heroine, but Disney World this is not.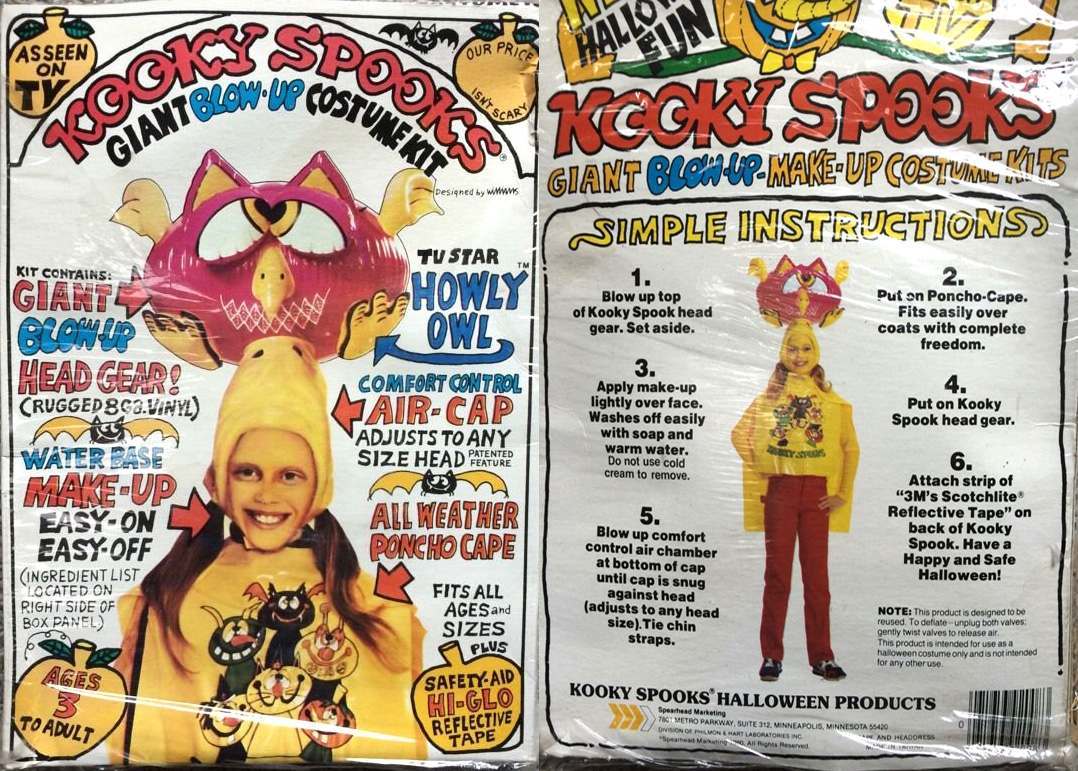 These Kooky Spooks blow up costumes from the 1980s are alarmingly godawful.
"I want to wear an inflatable owl on top of my head for Halloween," said no kid ever.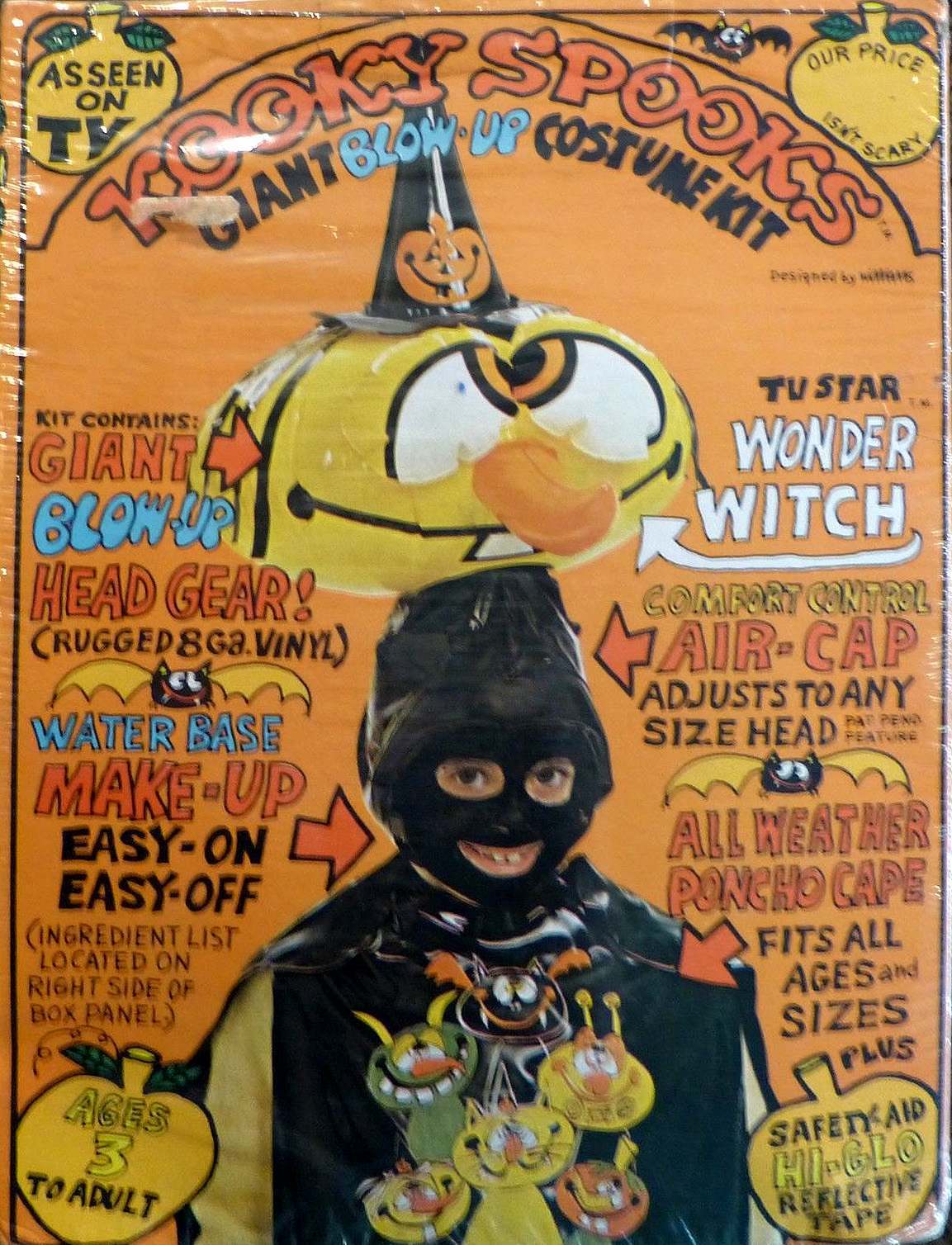 I can't quite put my finger on why, but this costume disturbs the hell out of me.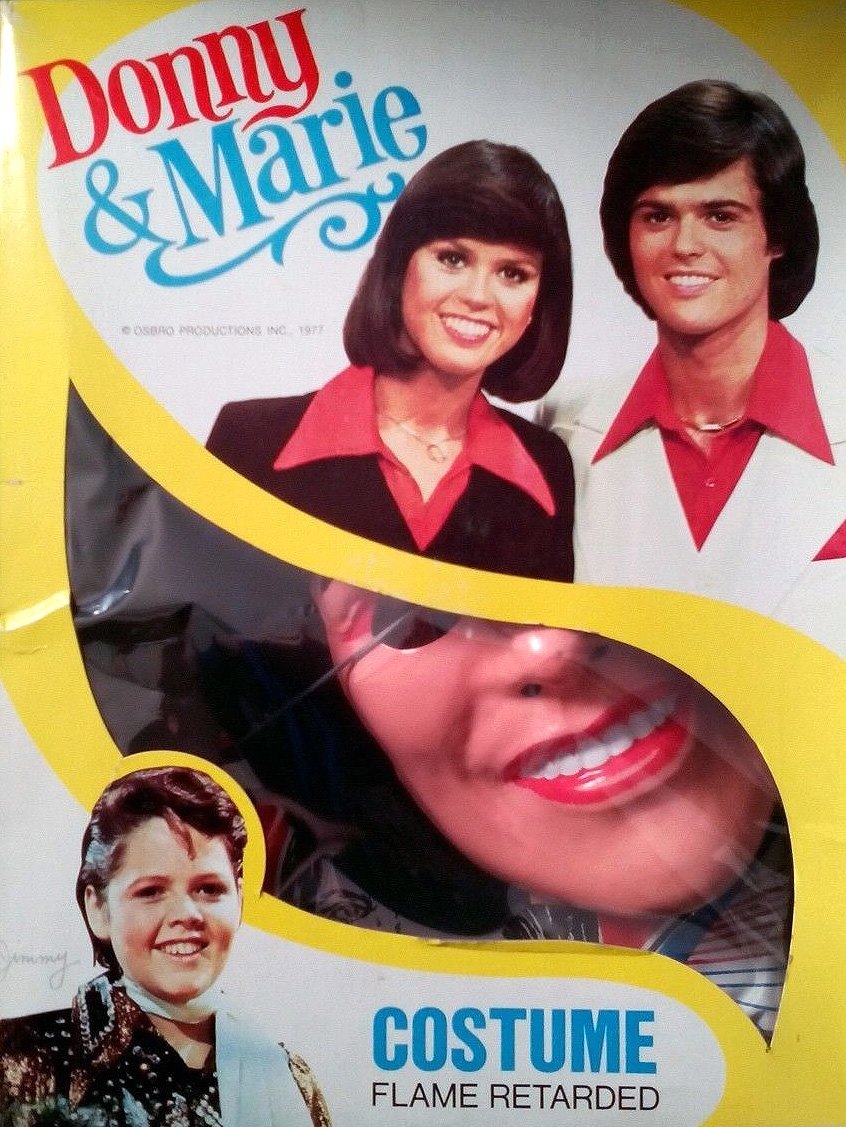 This Osmond costume is truly the stuff of horror. Indeed nothing says Halloween like Donny & Marie. For more proof, check out their Trick Or Treat skit from 1977. Kristy McNichol and Donny go trick or treating and knock on the doors of Billy Crystal and Shirley Hemphill (What's Happening?). Be prepared for cringeworthy jokes and all-around awkwardness via Donny's apparent social impairment disorder.

And if that didn't satisfy your fix for Osmond Halloween insanity, check out this skit from The Marie Show in 1980. Believe it or not, Marie Osmond actually had her own show after the Donny & Marie Show ended. In this skit, Marie and Jeff Conaway (Taxi, Grease) are werewolves having dinner at the home of Gavin MacLeod (The Love Boat). What follows is actually kind of disturbing – see for yourself…

And now back to the costumes….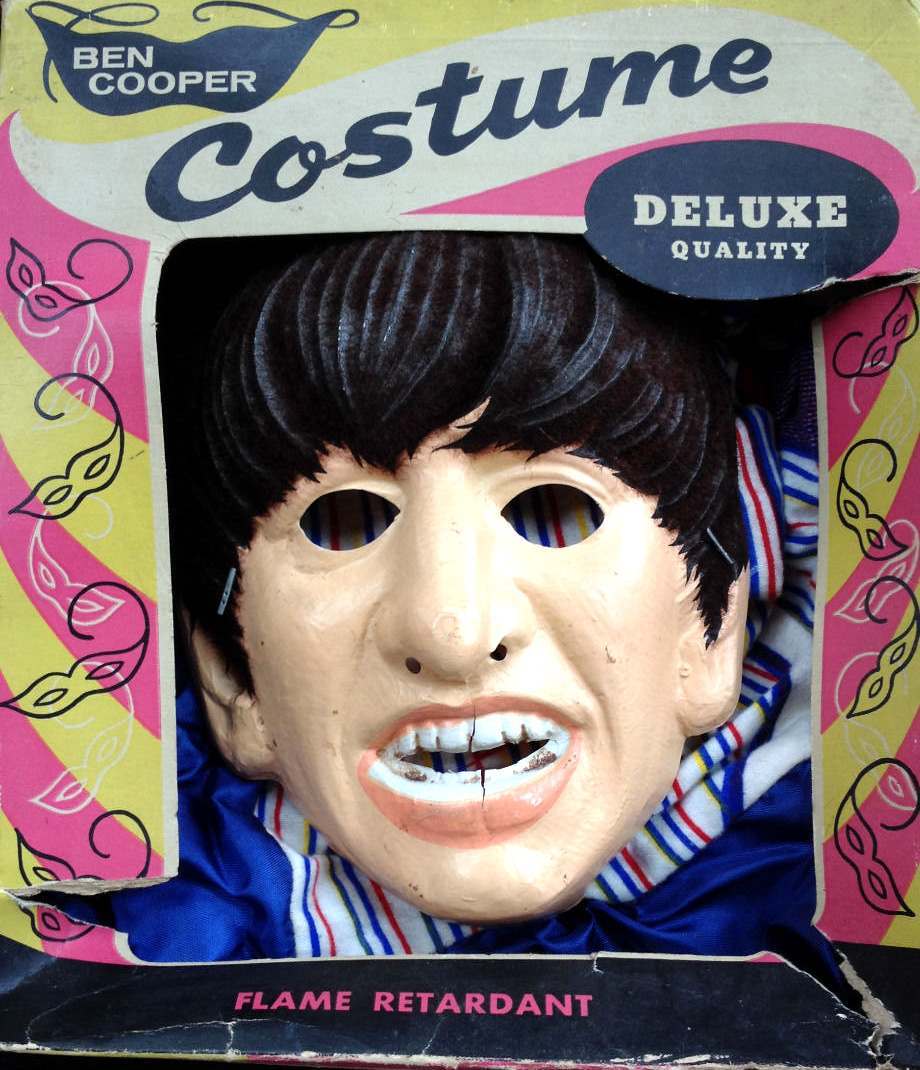 This is a Ringo Starr costume. You'll notice the interchangeable use of "flame retardant" and "flame retarded" on these boxes.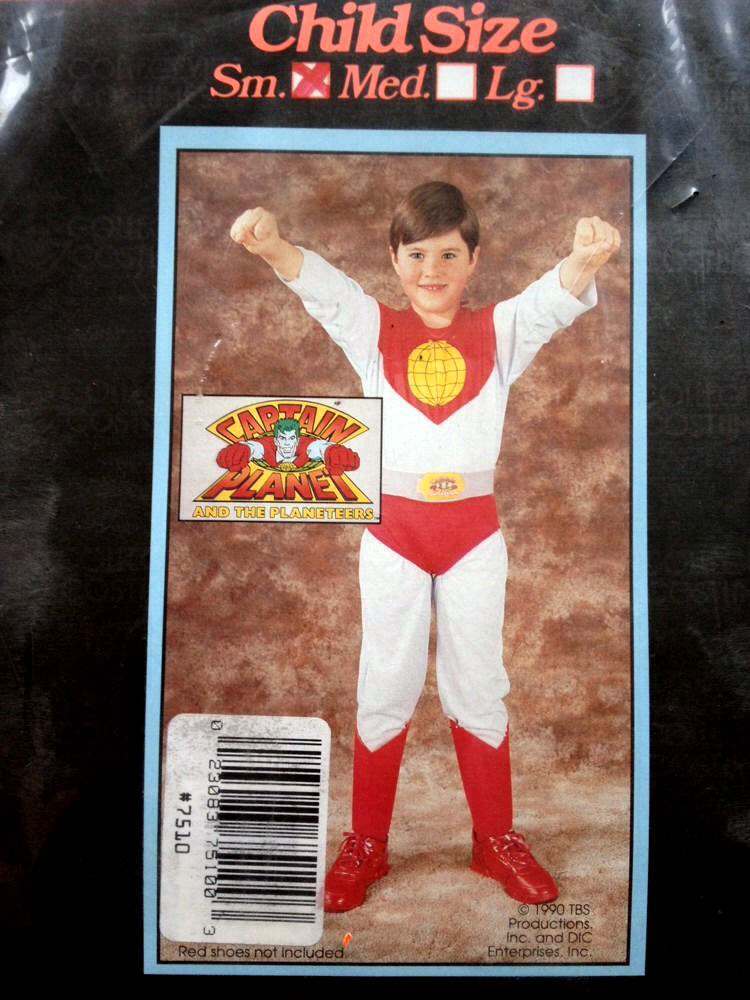 Were I to go looking for the all-time worst Halloween costume, the all-time worst superhero, Captain Planet, wouldn't be a bad place to start.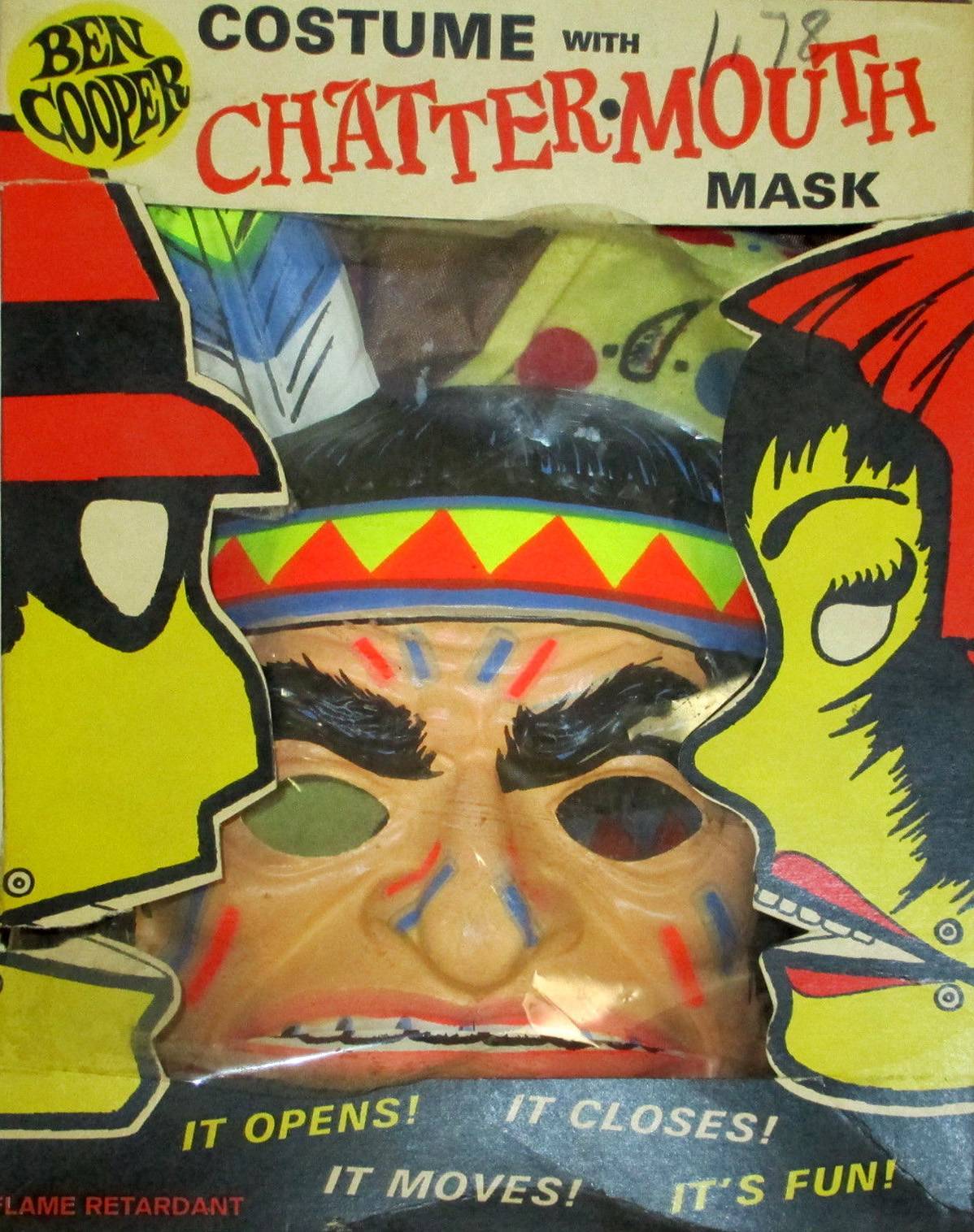 Suffice it to say, they weren't as racially sensitive back then.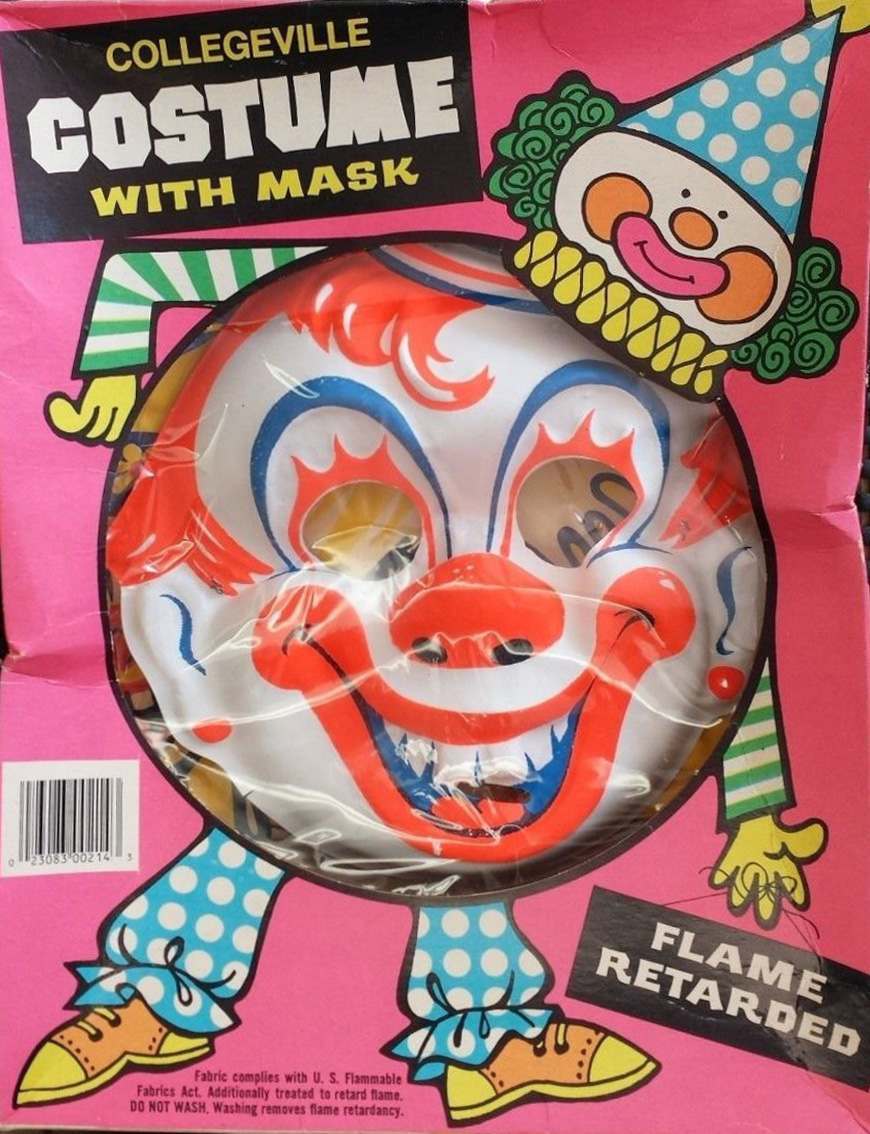 I think I've made my position on clowns perfectly clear. They are sinister creations from the bloody bowels of hell. Enough said.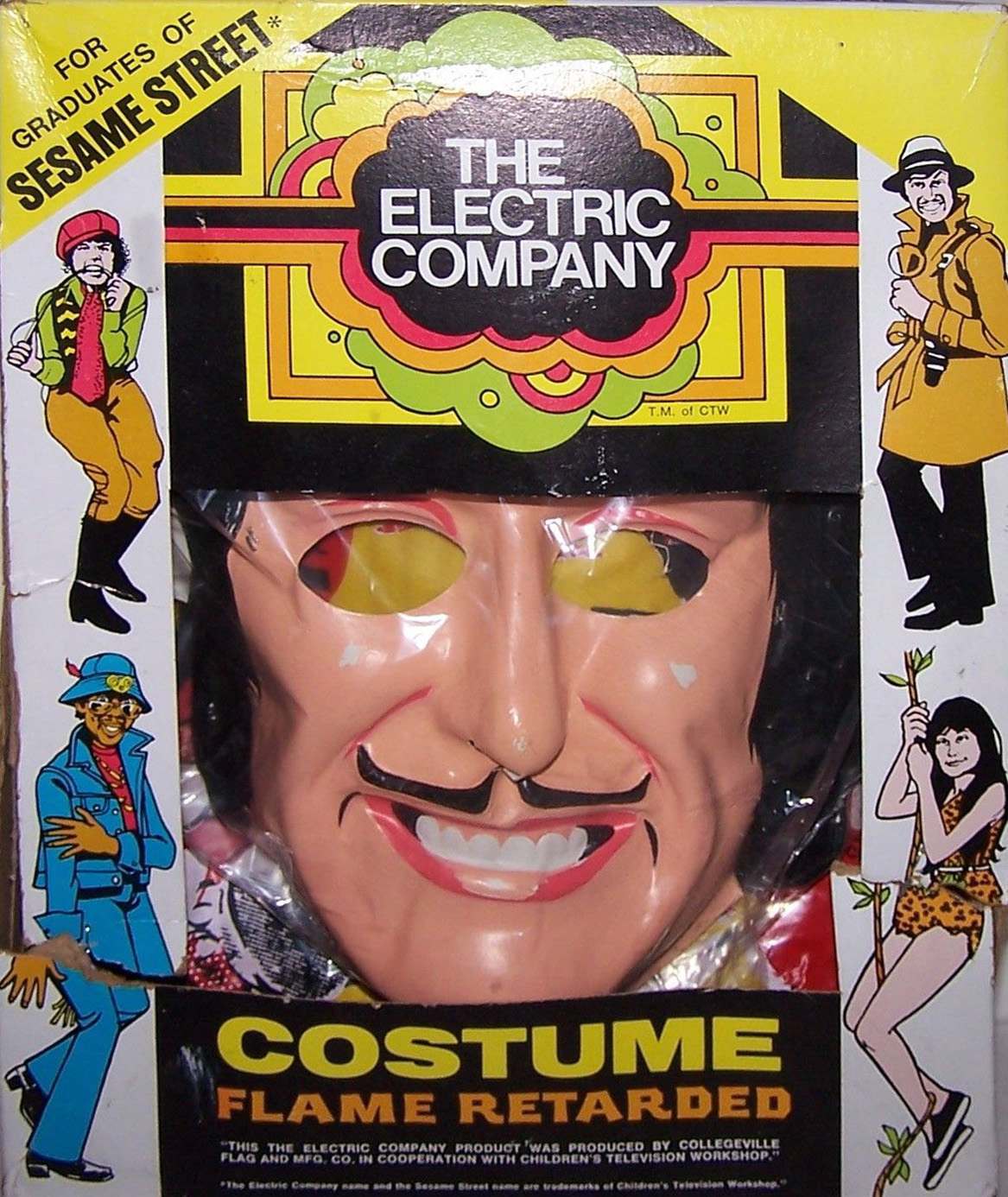 Fargo North Decoder was fine; but if you're going to dress as someone from The Electric Company, you need to be Easy Reader (back when Morgan Freeman was funky).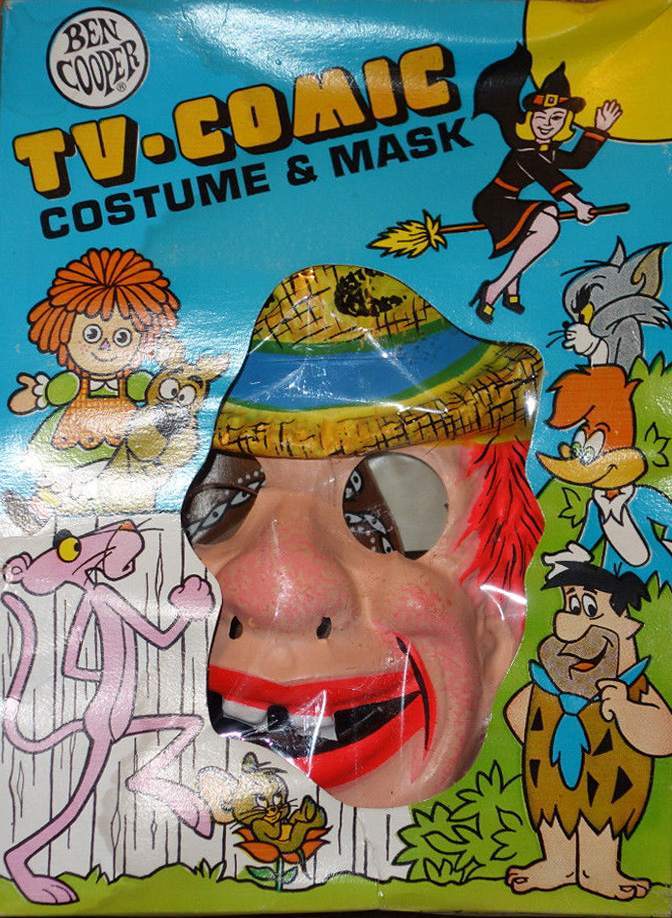 This costume is supposed to be from the TV show "Hee Haw". My heart goes out to those poor children whose parents came home with this costume for them to wear.
Here's another winner from that same Ben Cooper TV-Comic line… can you guess who it is?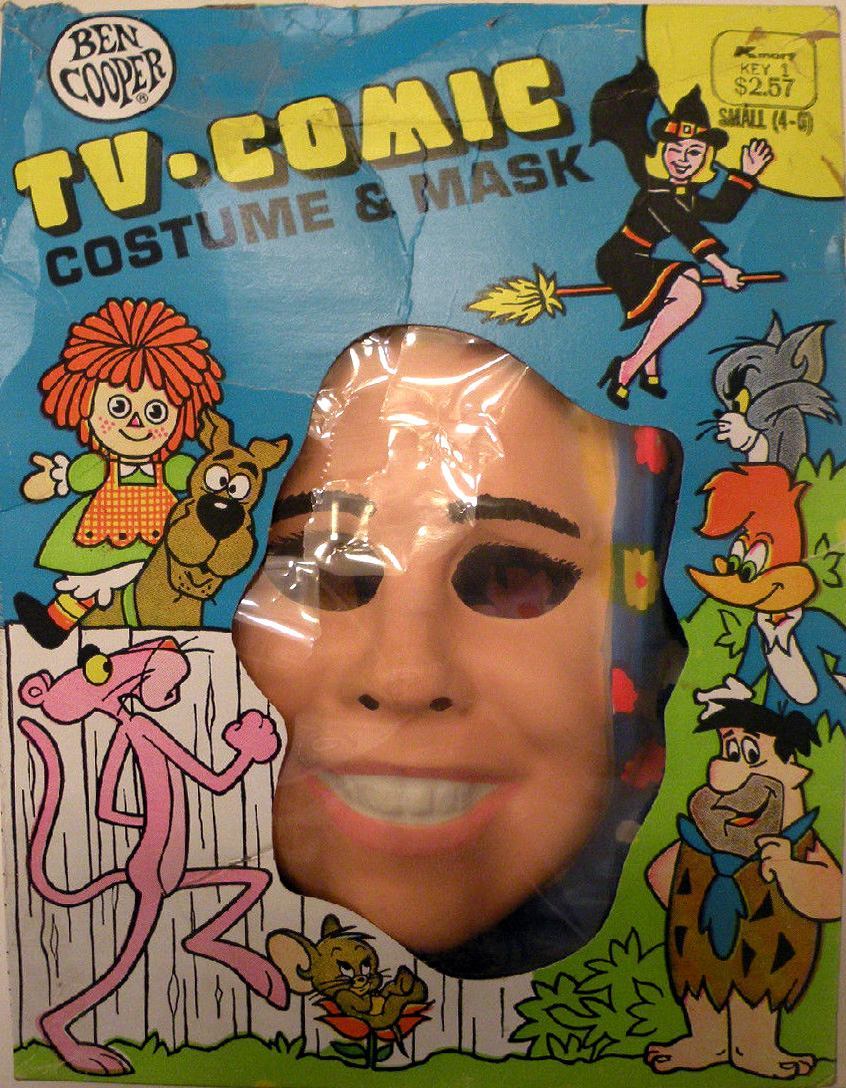 It's Laura from Little House on the Prairie. One wonders why they even bothered with a mask. Considering she looks more like Loretta Switt, a girl would've been better off just using her own face.
Of course, the same could be said about the next one…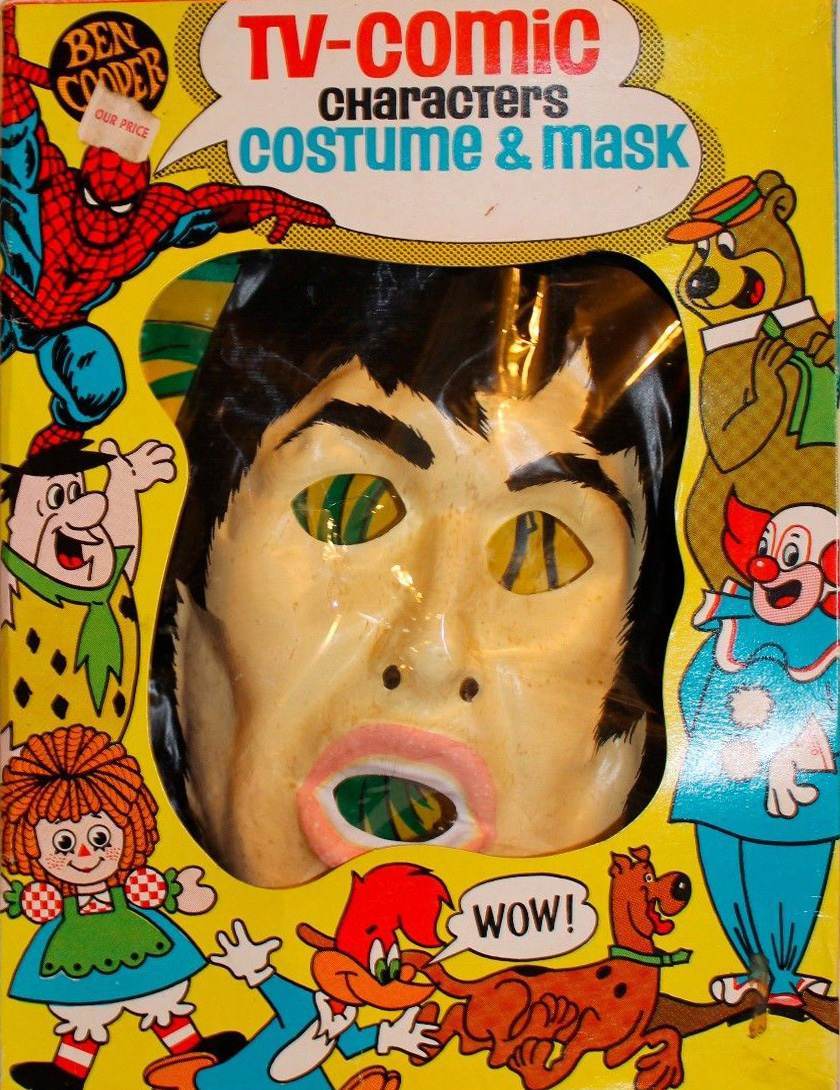 This is supposed to be Tarzan. I guess the vaguely pornographic mouth hole is so big because he's supposed to be doing that famous Tarzan yodel.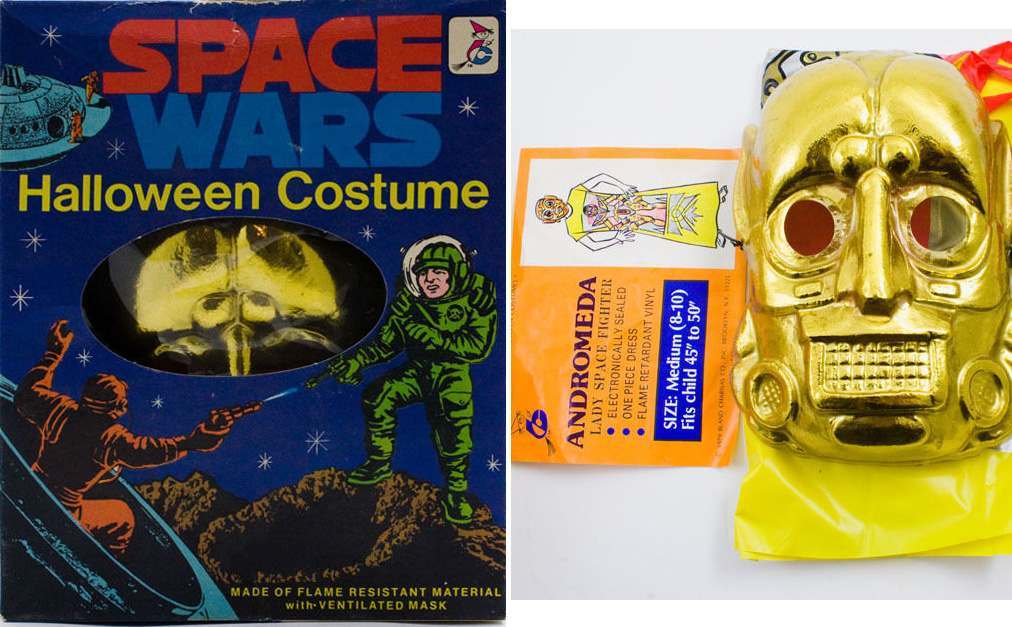 And speaking of poor 70s kids getting shafted on Halloween by parents making poor choices, how about this objectively terrible Star Wars rip-off? I'm sure pops saved a few bucks by going with the "Space Wars" brand, but was it worth it?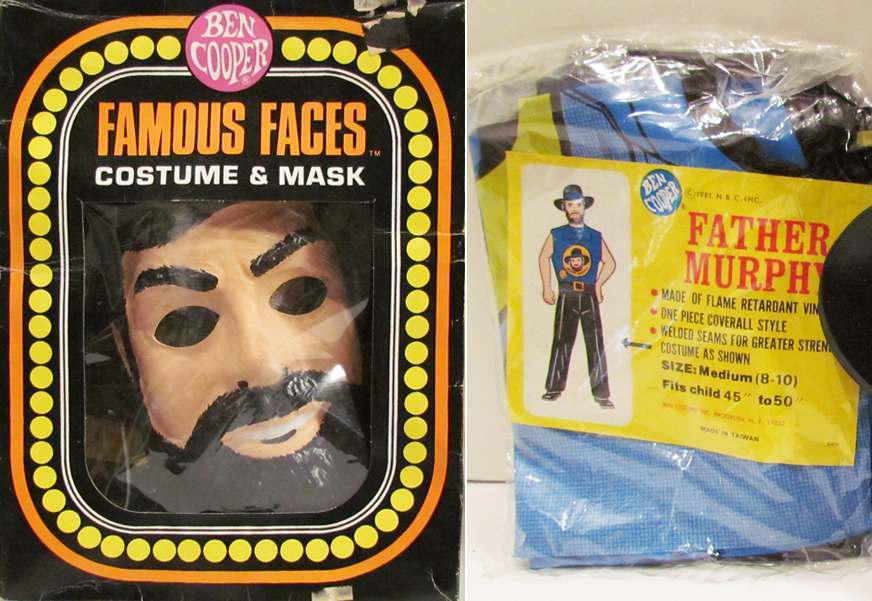 A Father Murphy costume? Really? How did this even happen?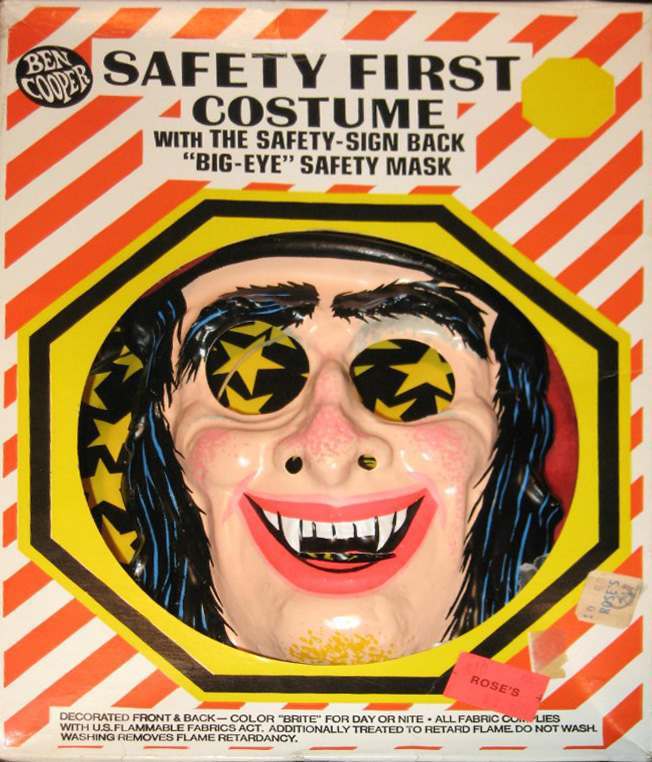 This one has big eye holes for safety – and even has a freaking safety sign on the back!
Halloween Safety was a big thing in the 1970s. Let's end this one with this film from 1977… and, holy crap, is it creepy. The grainy footage and all-around foreboding vibe gives me the heebie-jeebies. Happy Halloween!