From "Atomic Candle" and "Cigarette Impalement" advertisements to cheesy magic humor and sexy magician's assistants – there's a lot to love about these old magician periodicals.  We've got two from the forties and fifties, and two from the eighties.  Enjoy!
GENII, October 1947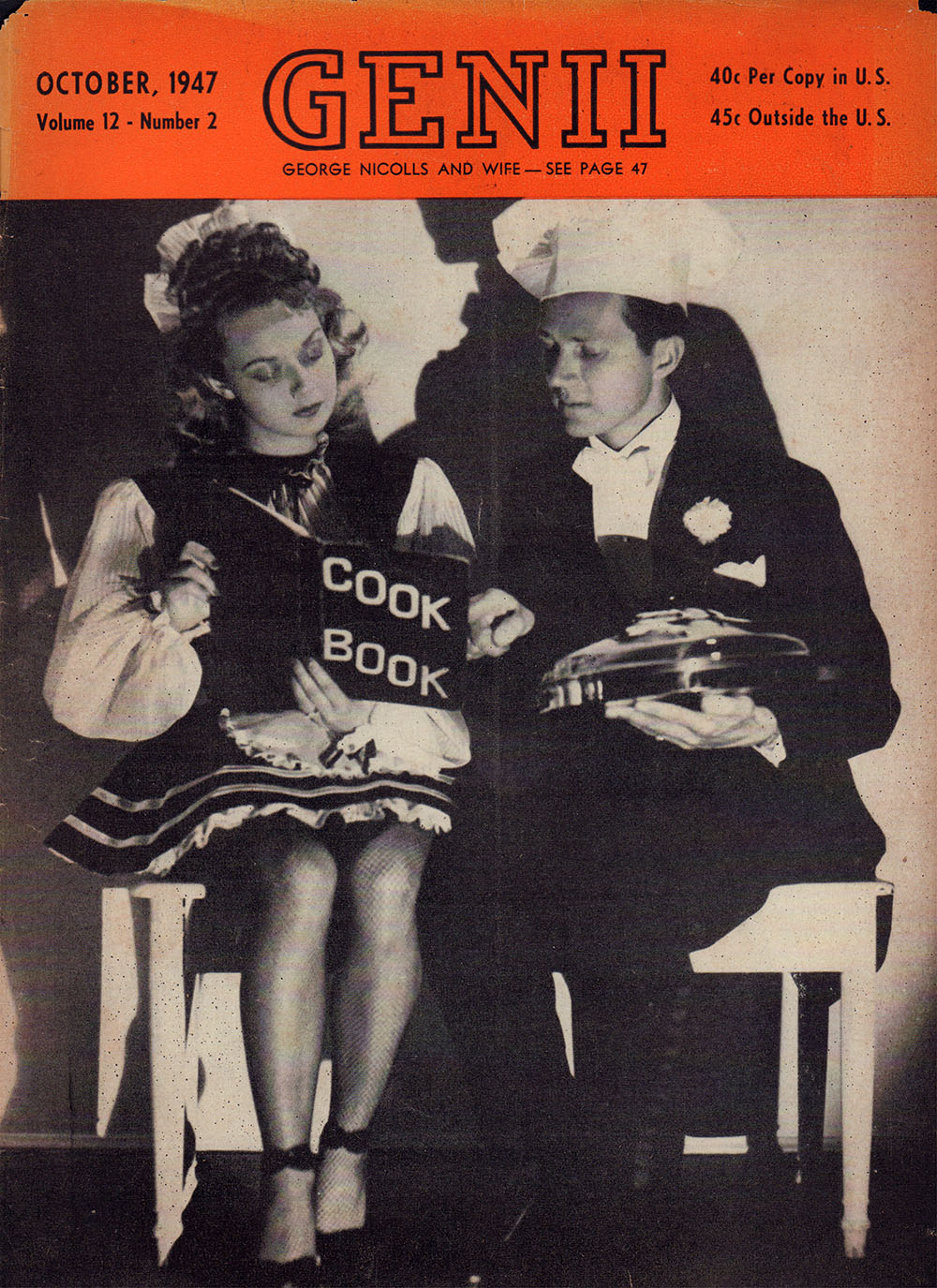 "Portrayed on our cover this month are George Nicolls and his dainty and attractive, newly acquired wife.  Together they make a handsome pair and are much in demand in the better night spots in this country…. Recently Mr. Nicolls acquired complete ownership in a 'spook show' and he plans to supplement his already busy life with some midnight performances wherein the ghosts will gambol and the haunts will haunt.  I haven't seen the new opus but I'm willing to wager that it will be good."
I did a Google search for George Nicolls and could only find a reference to him in a 1951 issue of Billboard where he was suing to get compensation for an injury.  I presume the injury was from his stage show – I wonder exactly what happened.  I guess we'll never know.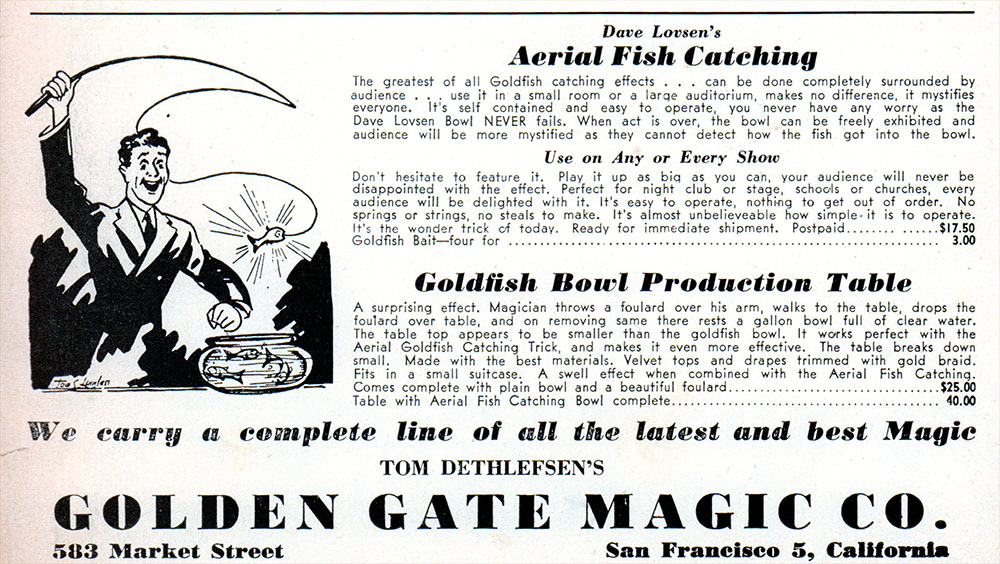 I've never seen the famous goldfish catching act.  Sounds intriguing.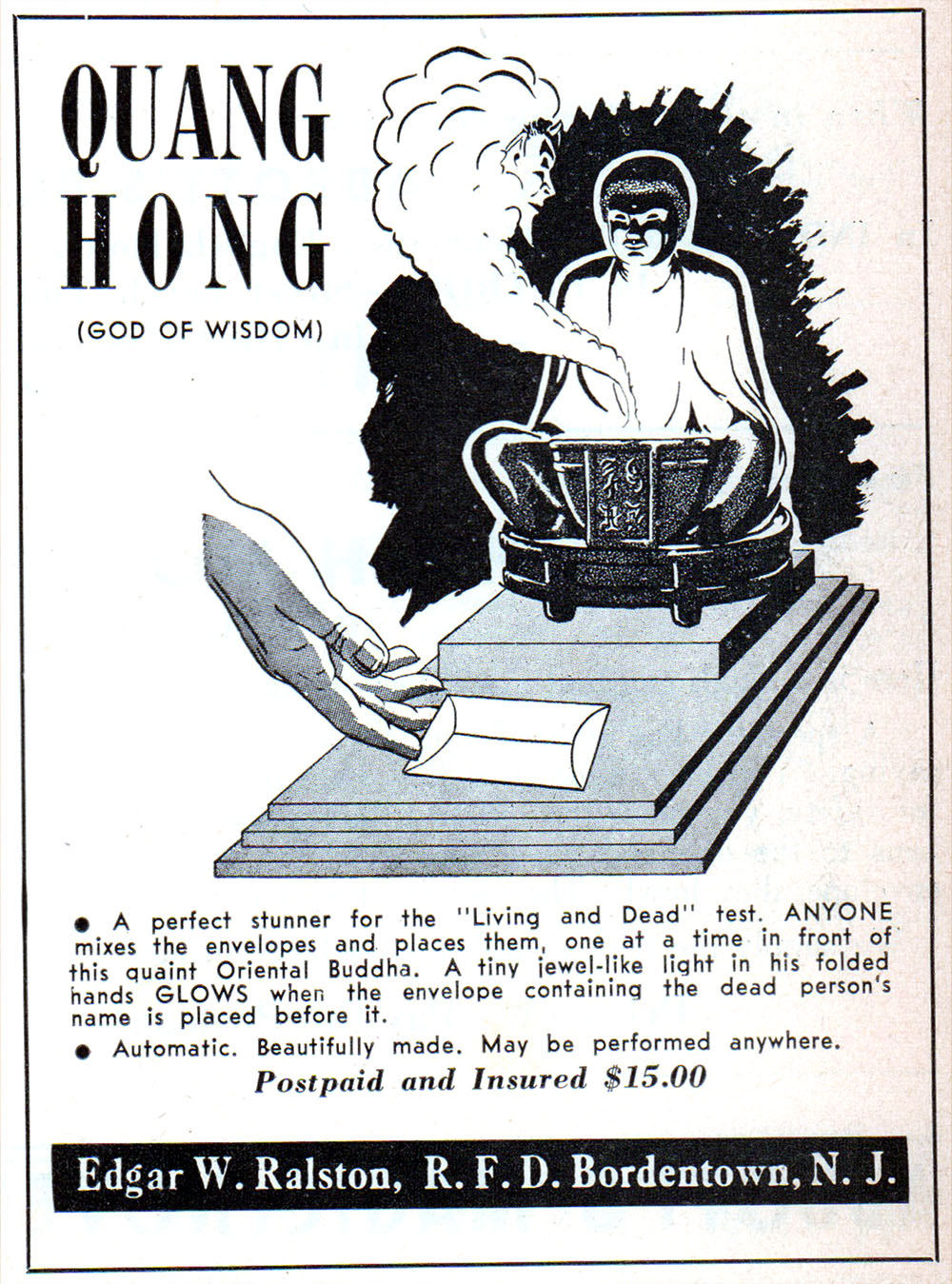 Now this is just plain awesome.  I can just imagine this stunning small audiences in the 1940s.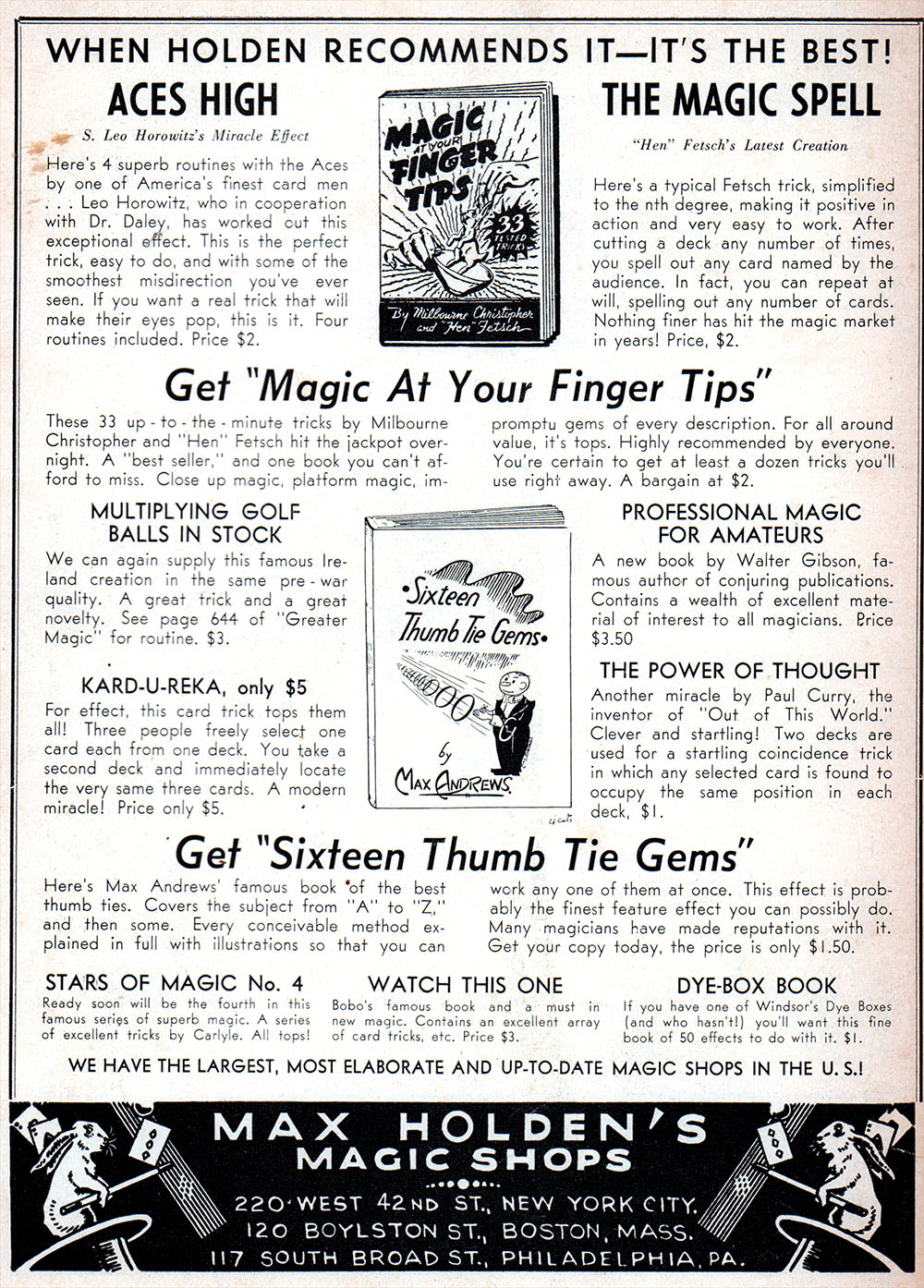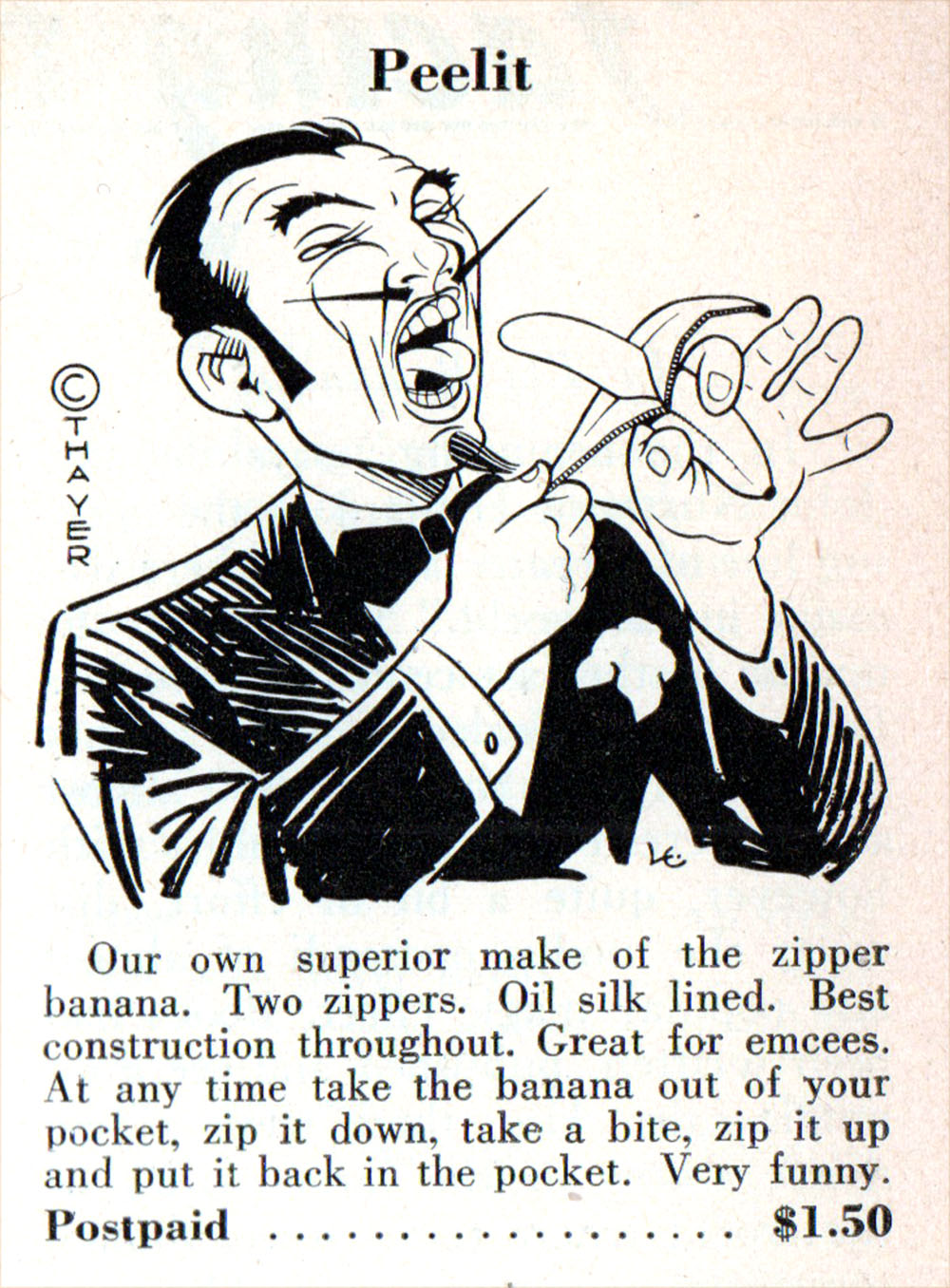 The zipper banana…. suffice it to say, humor has changed in the last seventy years.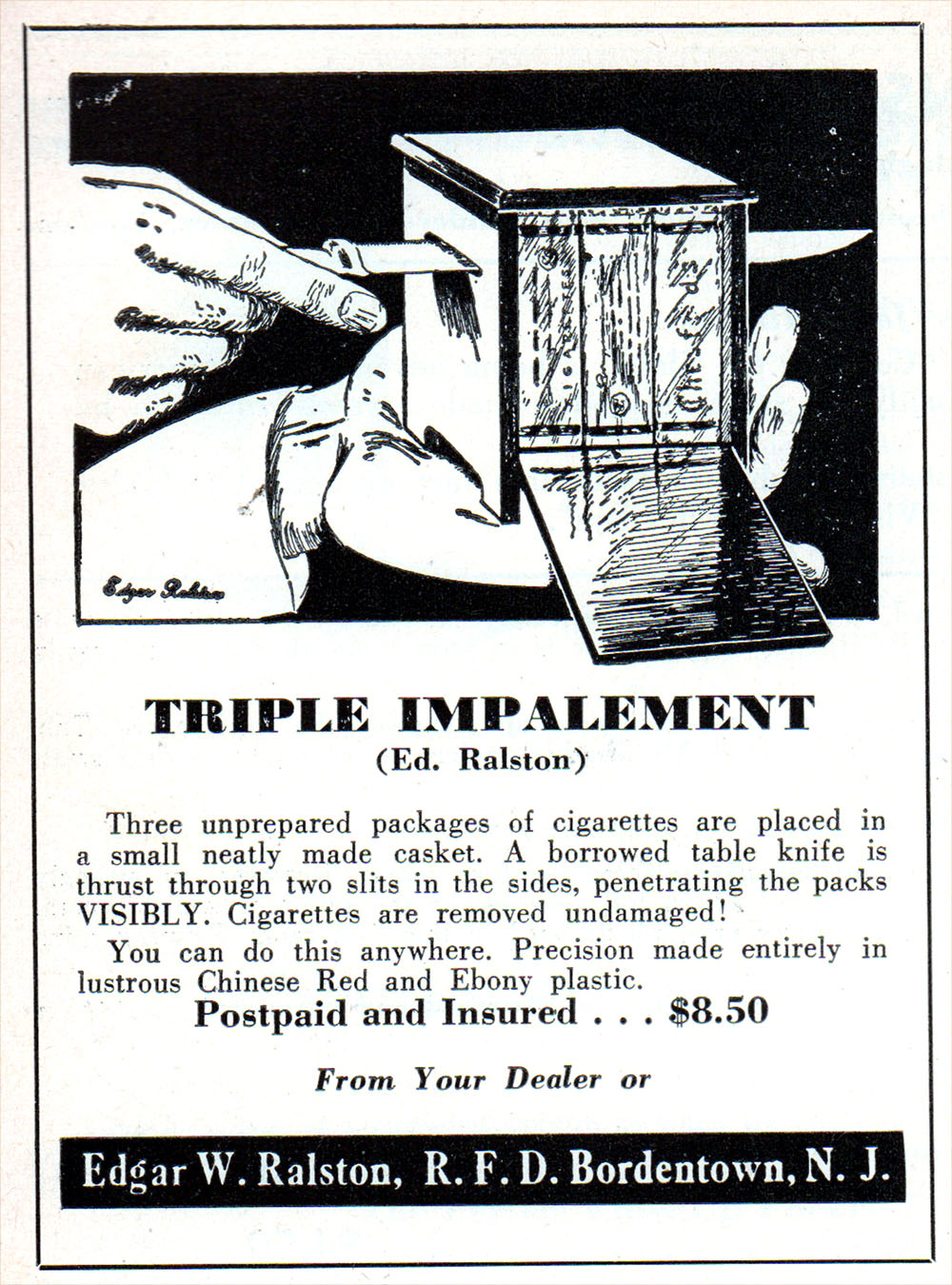 Cigarette impalement.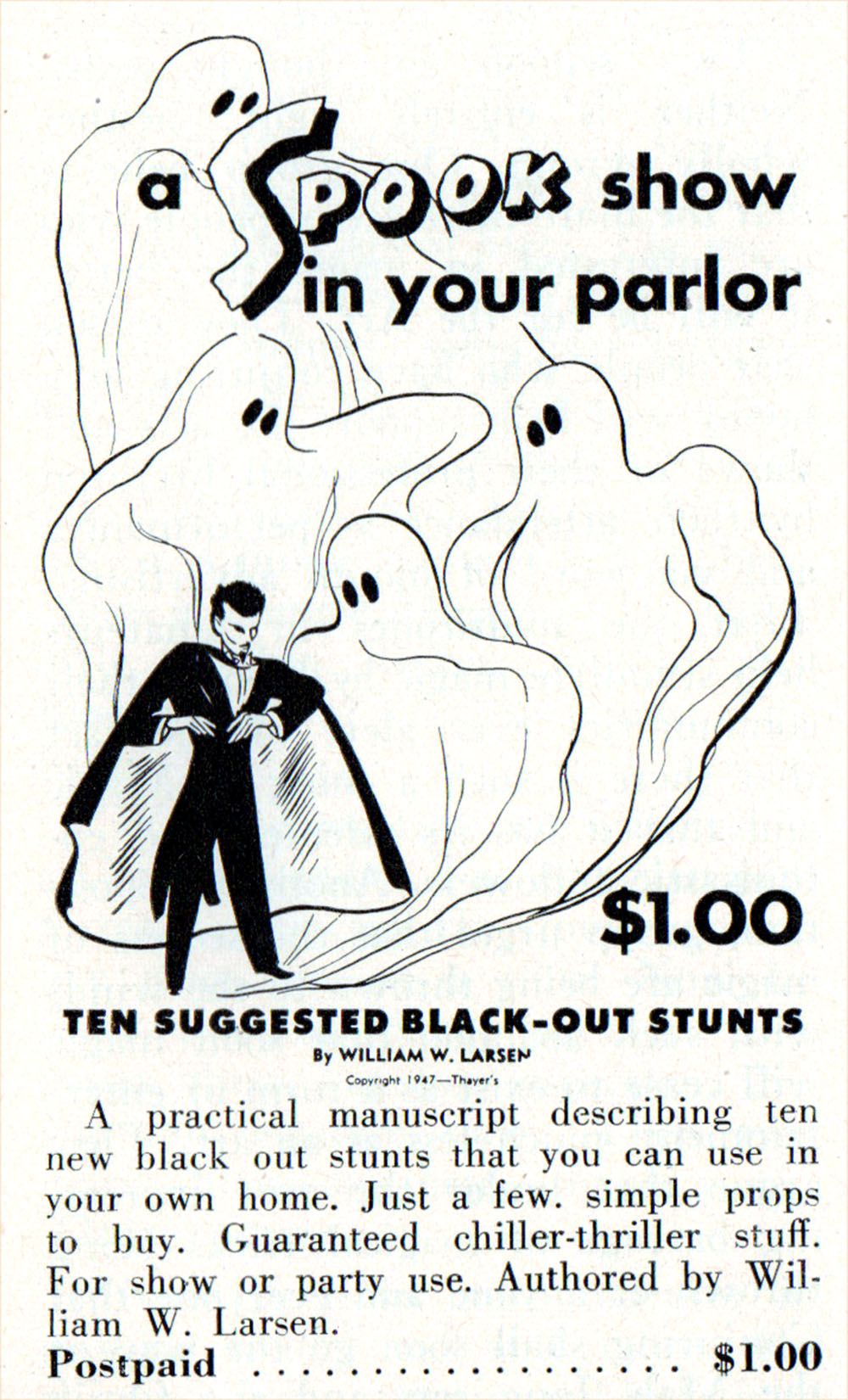 For thorough details on how to open your own Spook Show see: Operating a Haunted House: A Vintage How-To Guide
GENII, April 1952
"Charles Kirkham and his beautiful and talented wife, Phyllis, have done much to grace the magic picture in the West these several years past.  Together, and aided and abetted by several other assistants, they present one of the few really large conjuring shows still laying in this part of the country."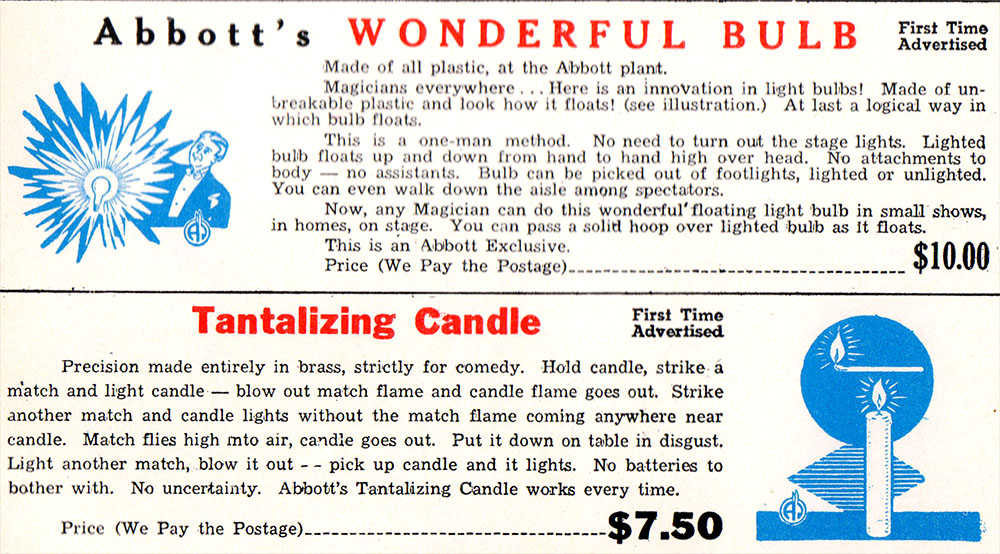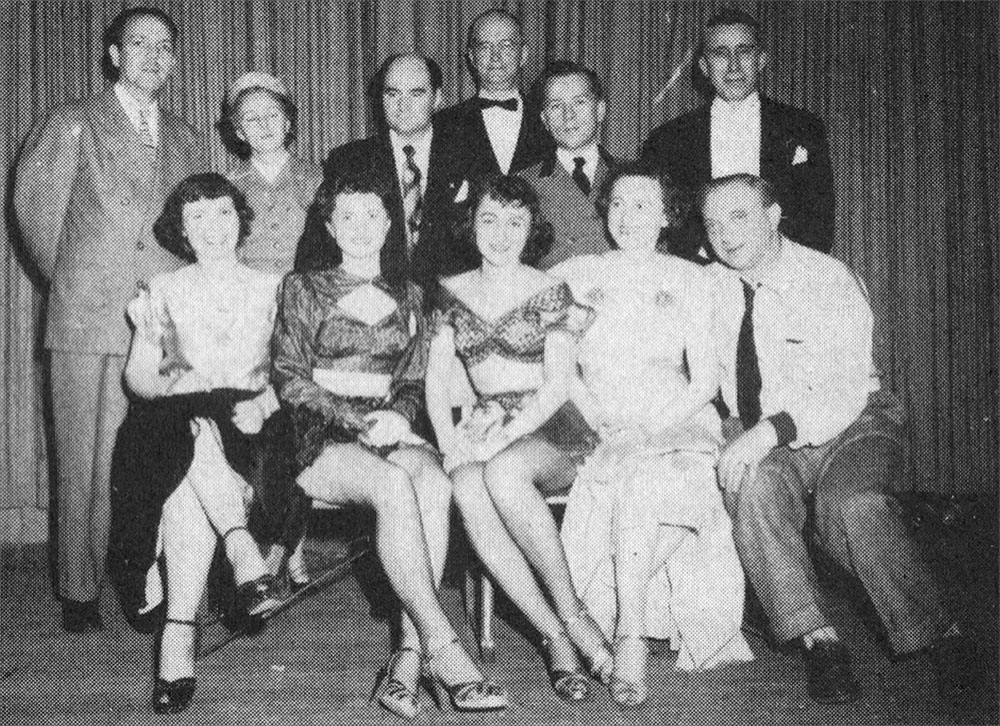 The 1952 Society of American Magicians (S.A.M.)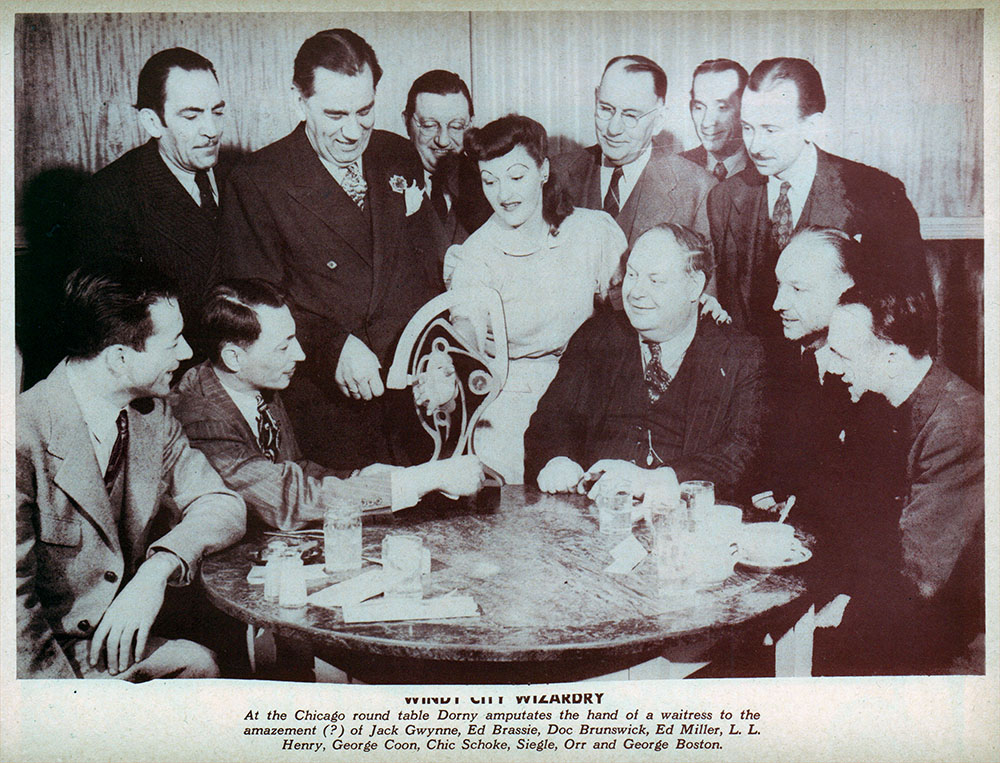 "WINDY CITY WIZARDRY: At the Chicago round table Dorny amputates the hand of a waitress…"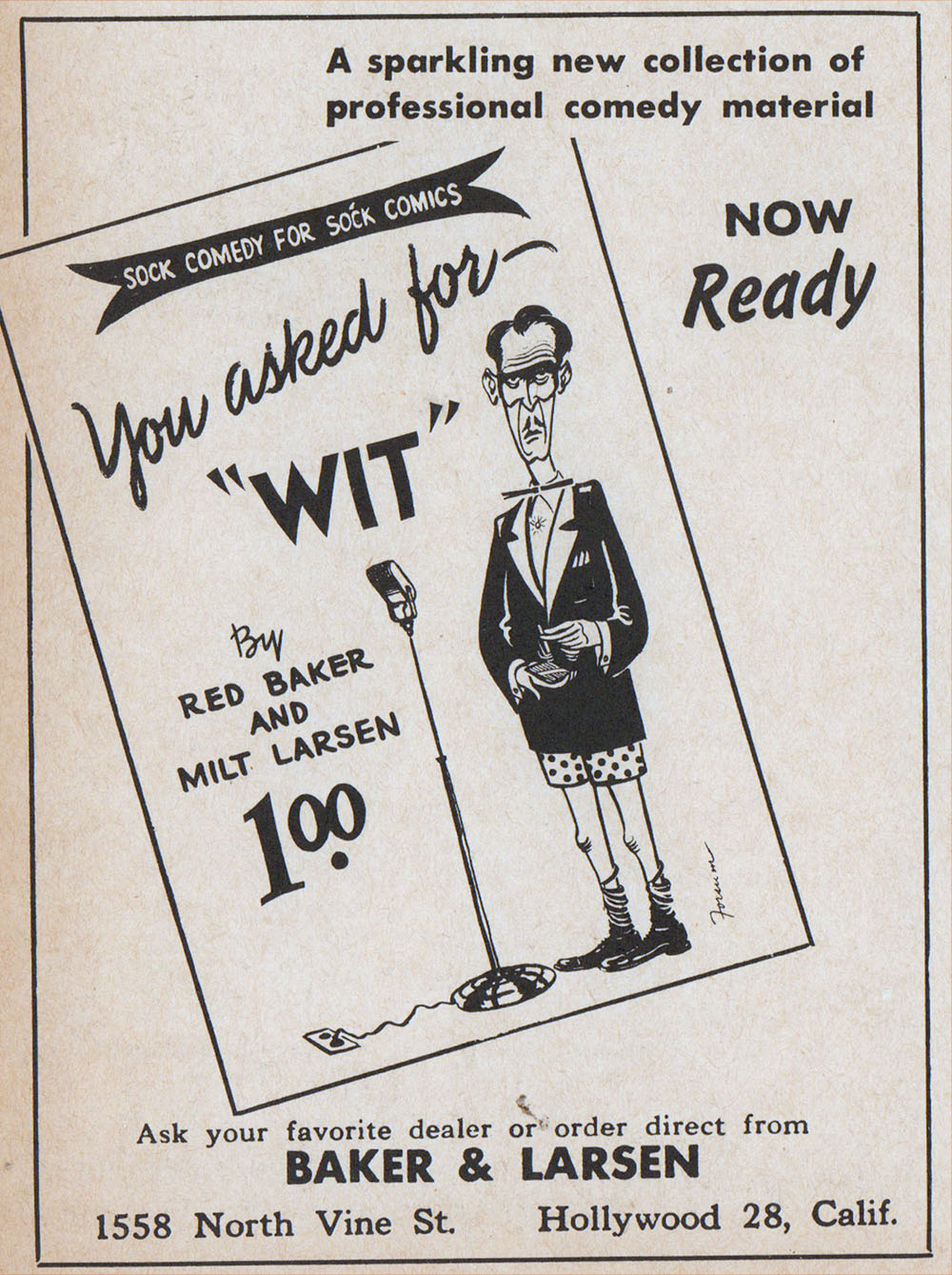 "Sock Comics"?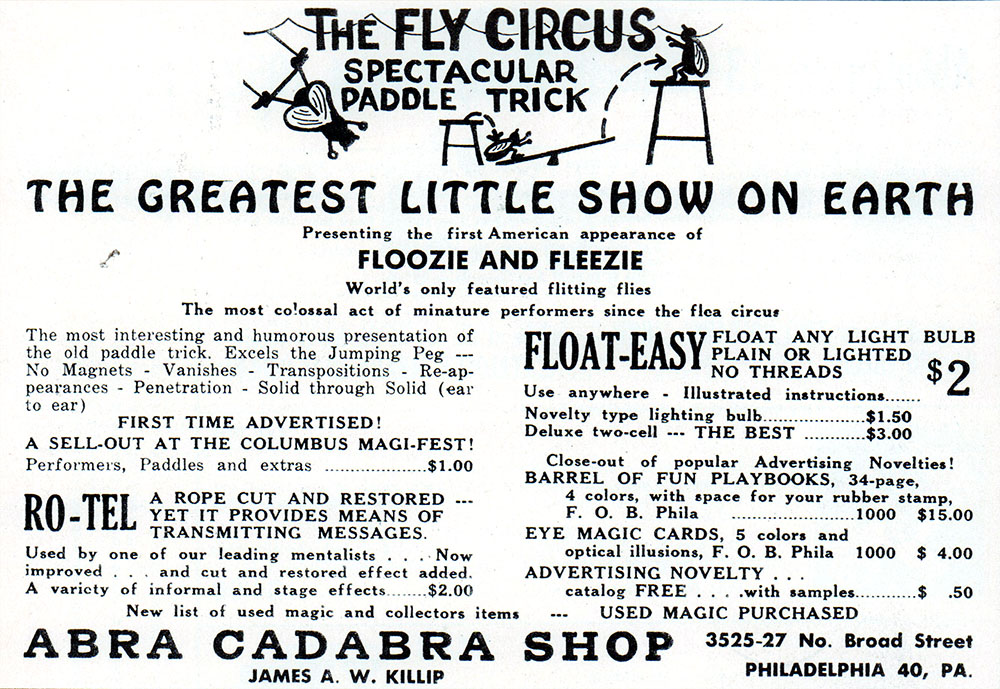 The first recorded flea circus dates back to the early 1820s, when Louis Bertolotto advertised an "extraordinary exhibition of industrious fleas" on Regent Street, London.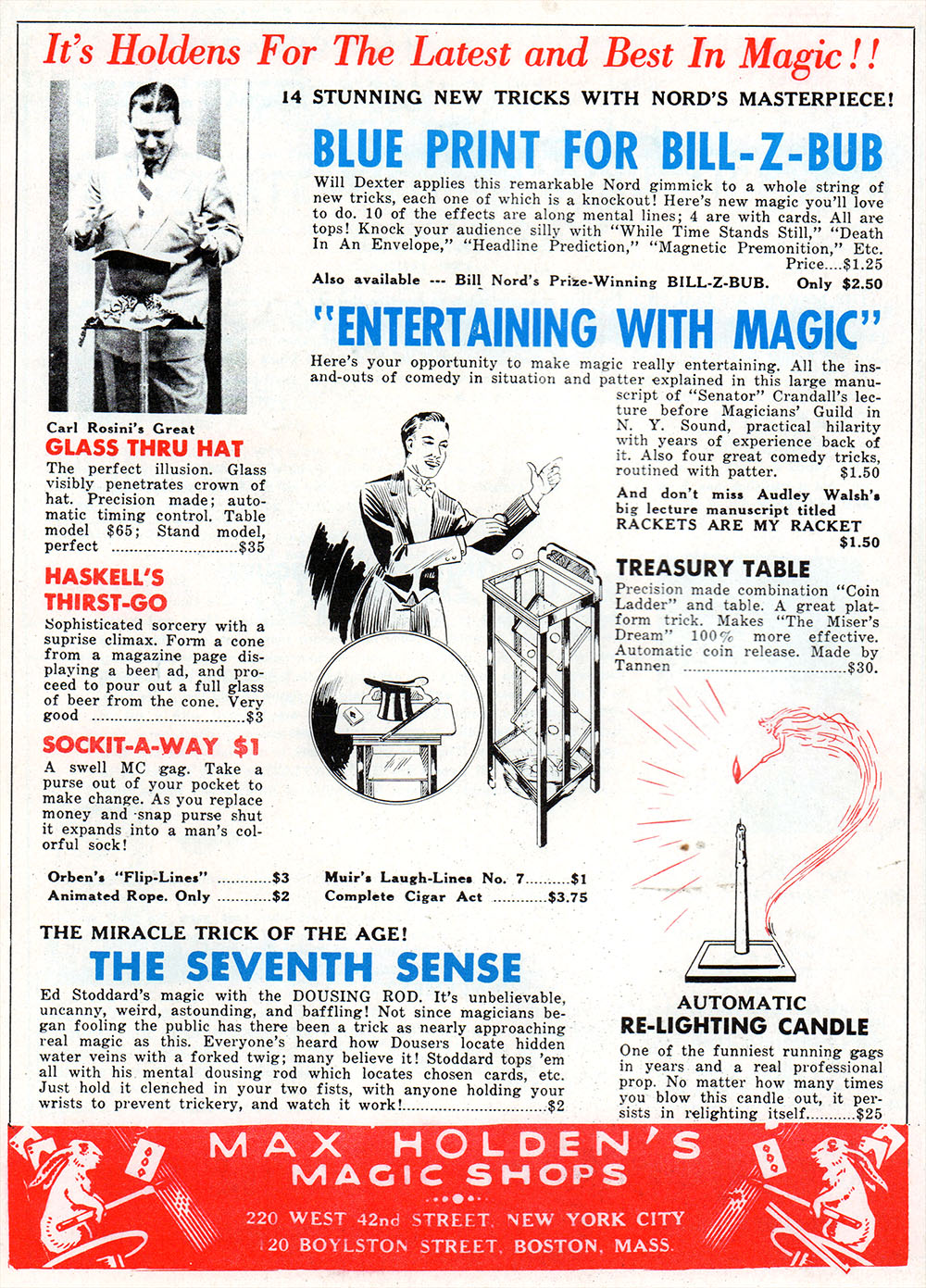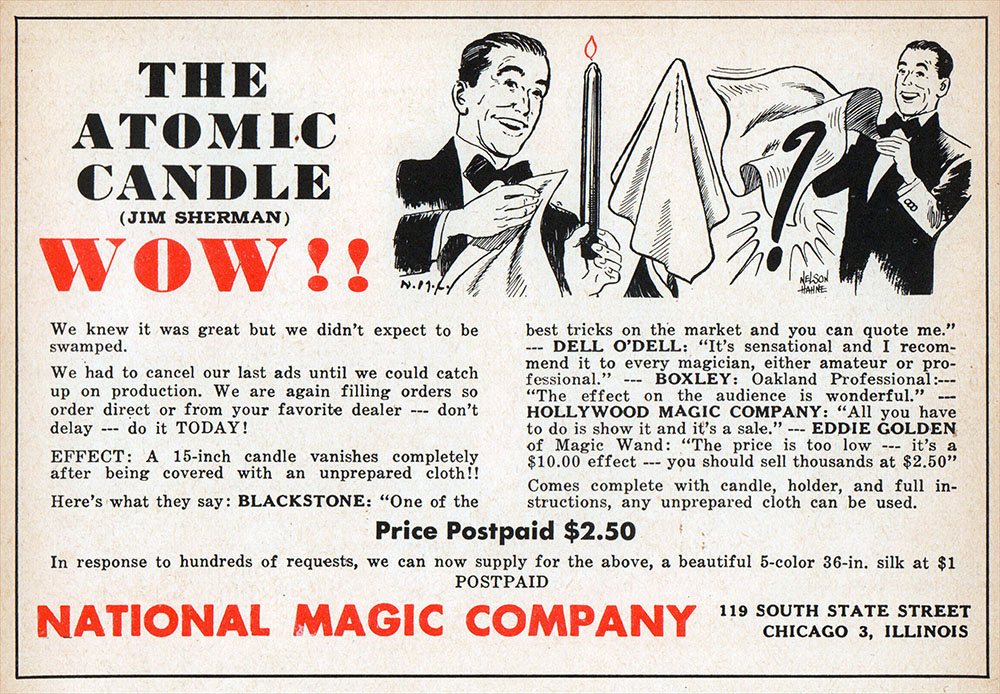 It's sounds like they're over-hyping this Atomic Candle shtick, but here's a review from June 7, 1952 issue of Billboard: "Bill Larson from the West Coast reports that The Atomic Candle is one of the best selling tricks he has handled in years. This is the nifty [trick] in which a 15 inch red candle vanishes after being lighted and covered with an unprepared cloth."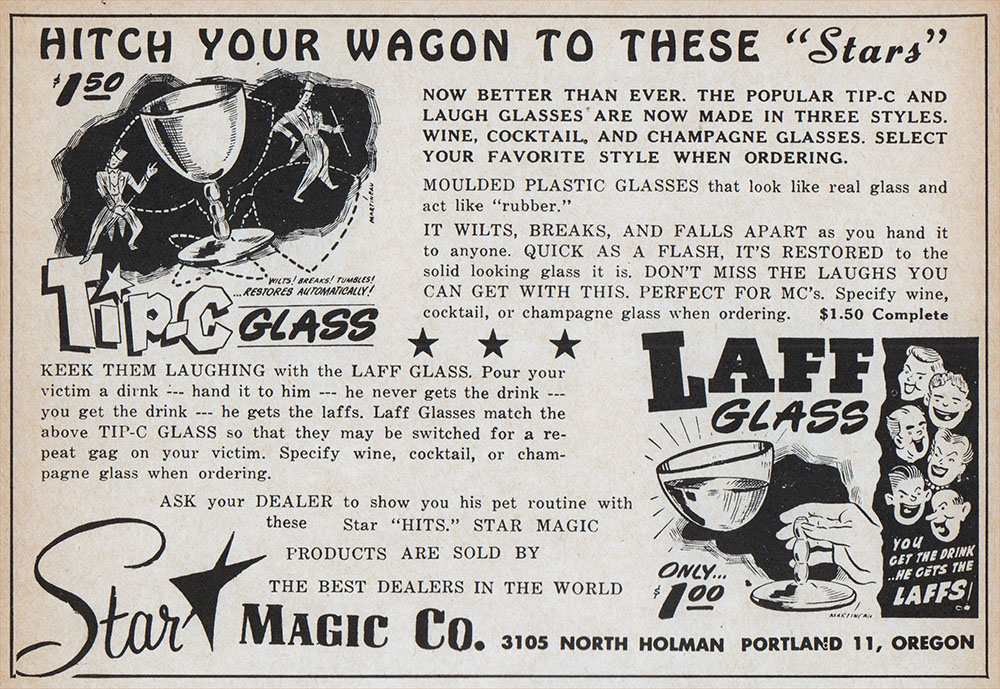 Now let's fast-forward a few decades…
MAGIC MANUSCRIPT, June/July 1981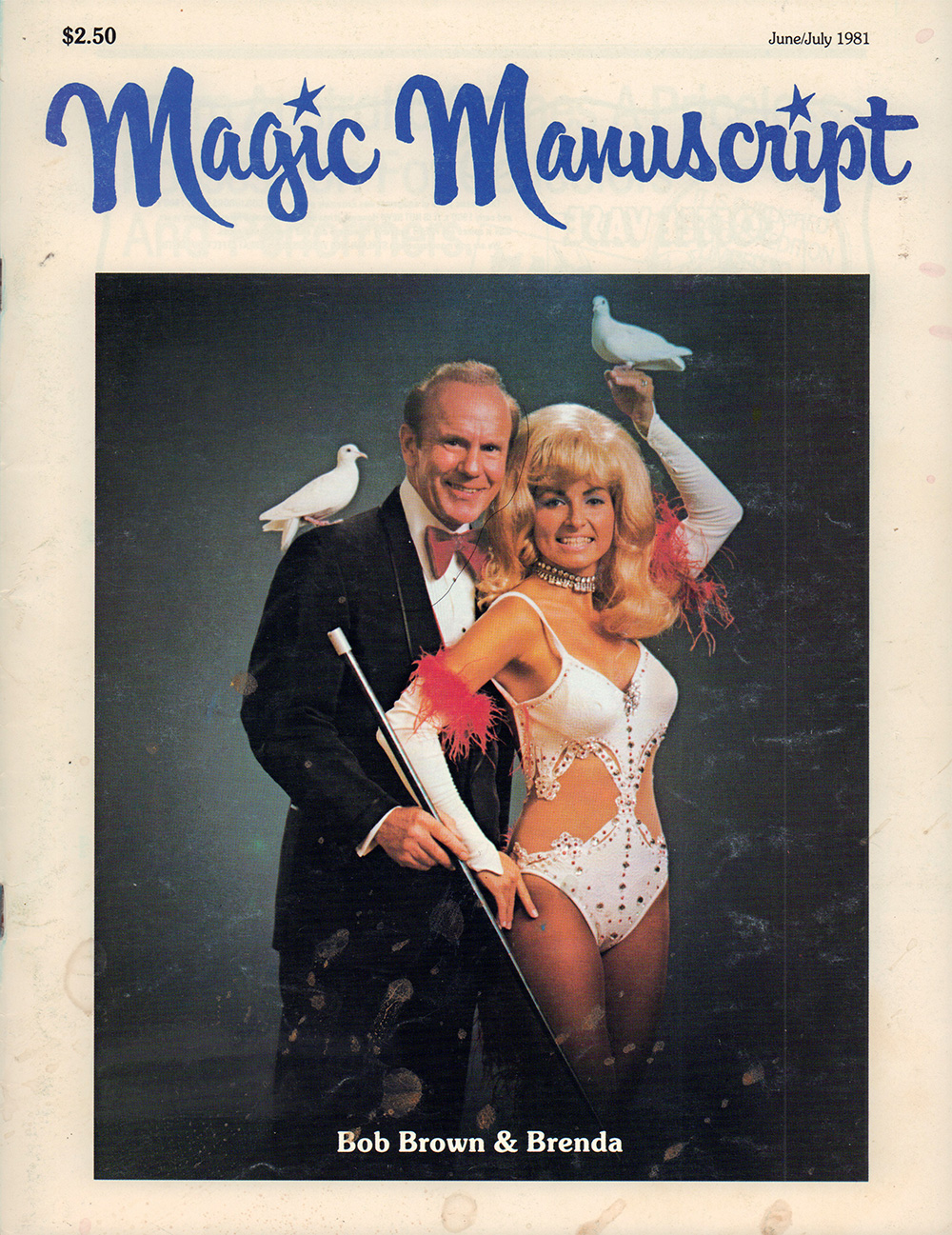 I'm sure ol' Bob was a stellar magician; but, as you'll see, I can't help but wonder if his success may have had a little something to do with his assistant.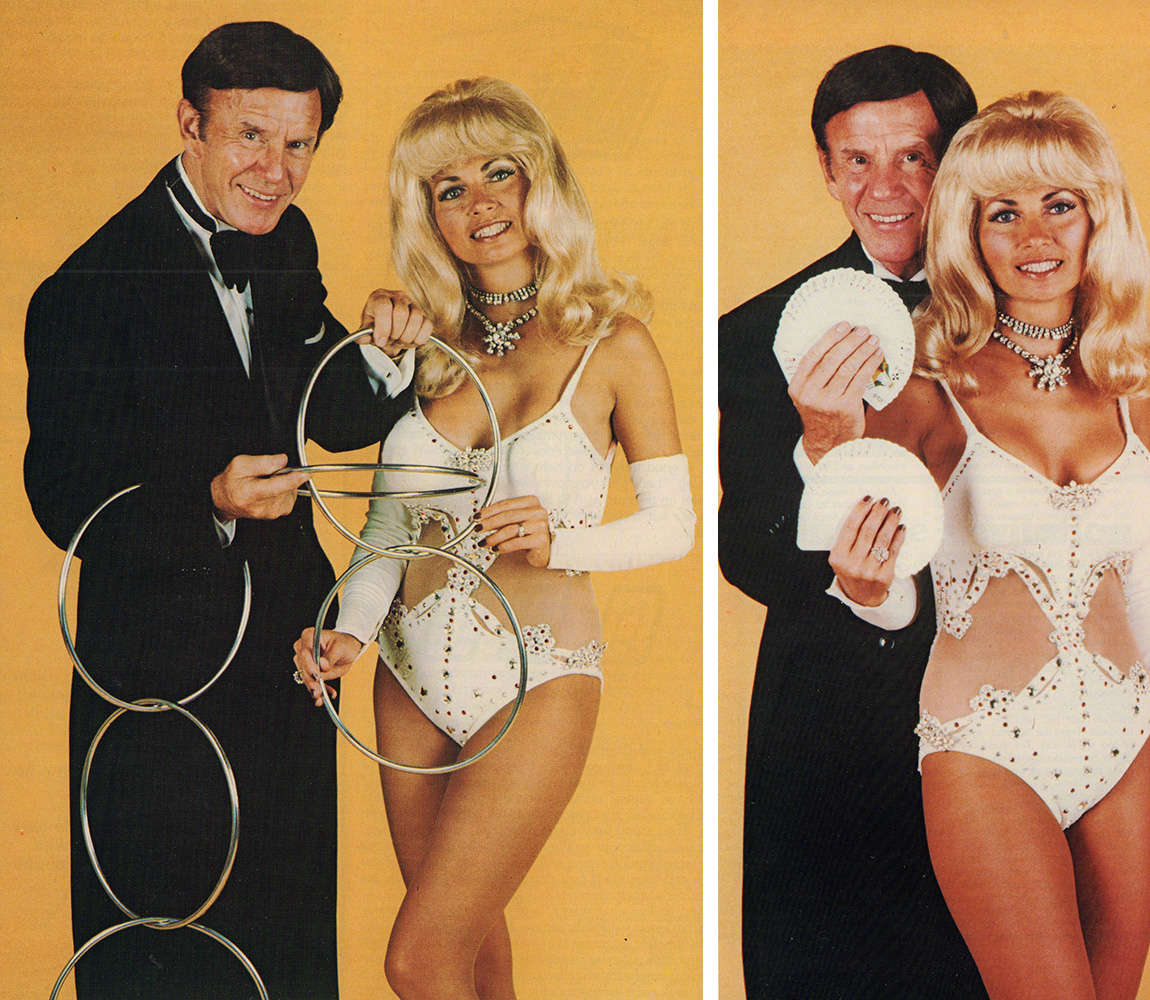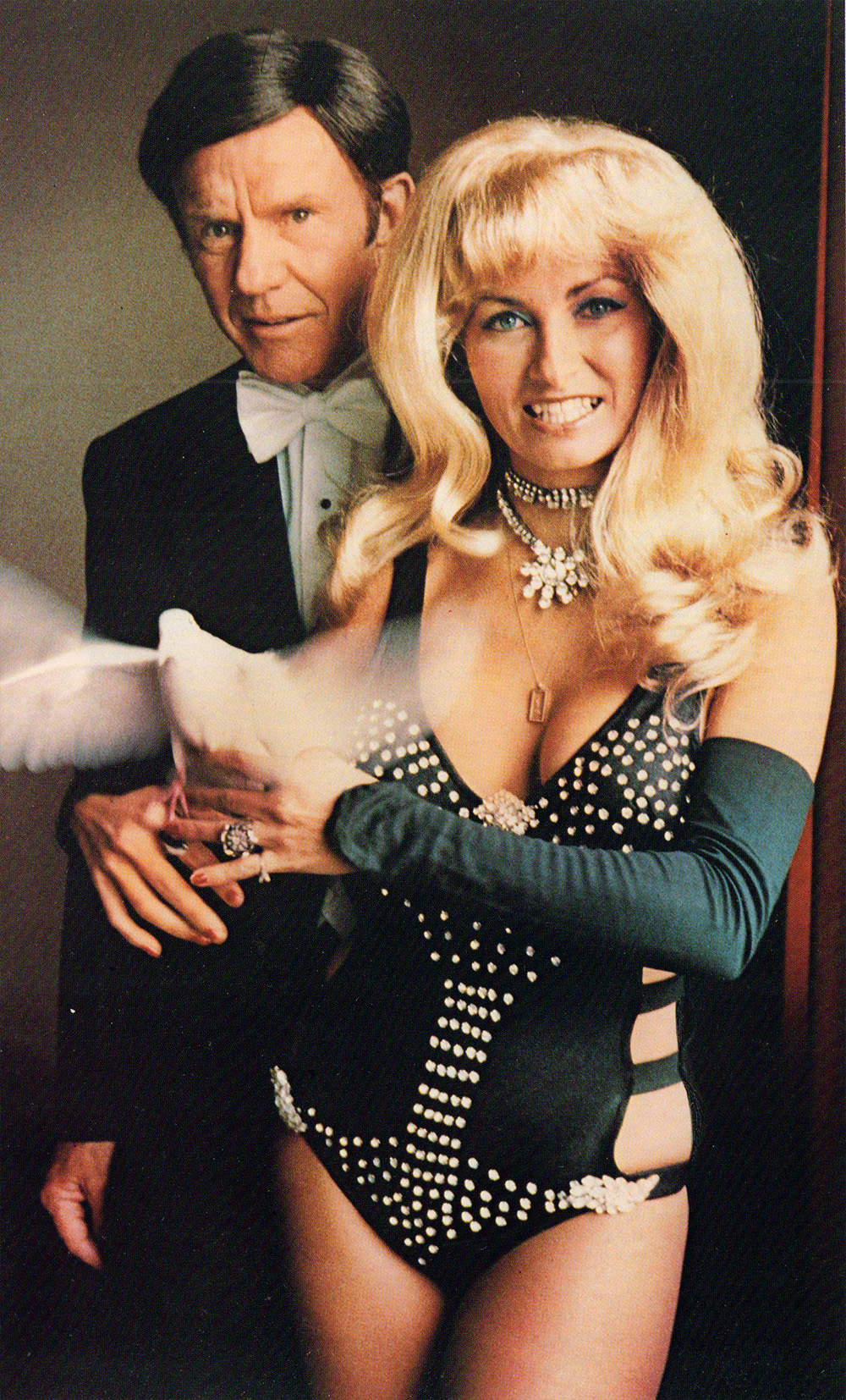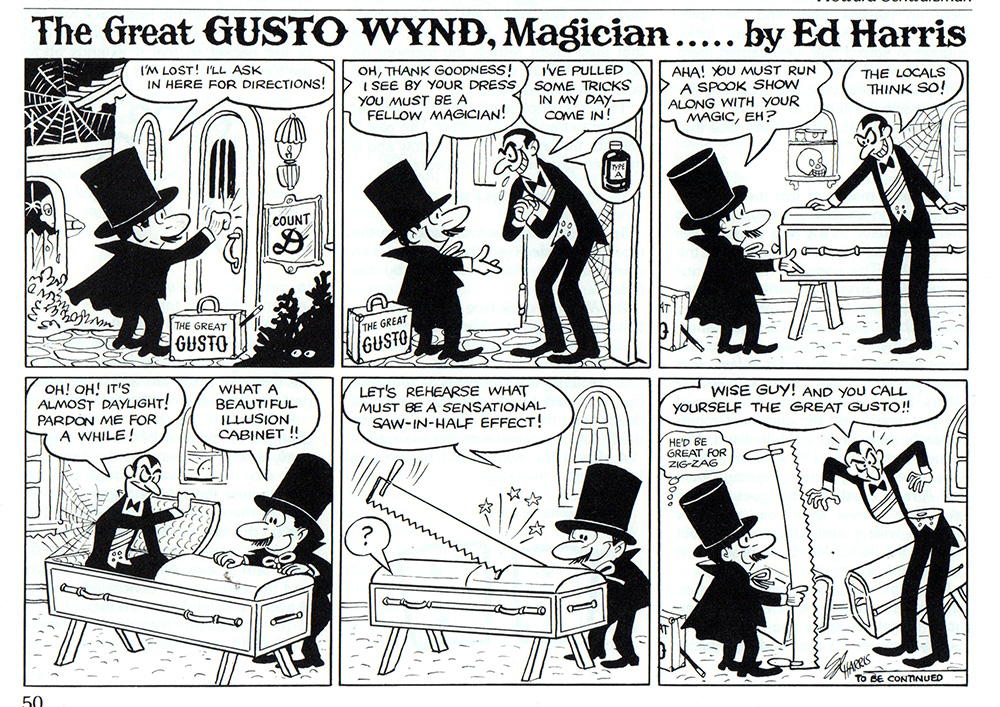 Truly awful humor that I suppose may rouse a chuckle from a magician.  At the end, The Great Gusto Wynd thinks to himself, "He'd be great for Zig-Zag".  This is in reference to the zig-zag routine….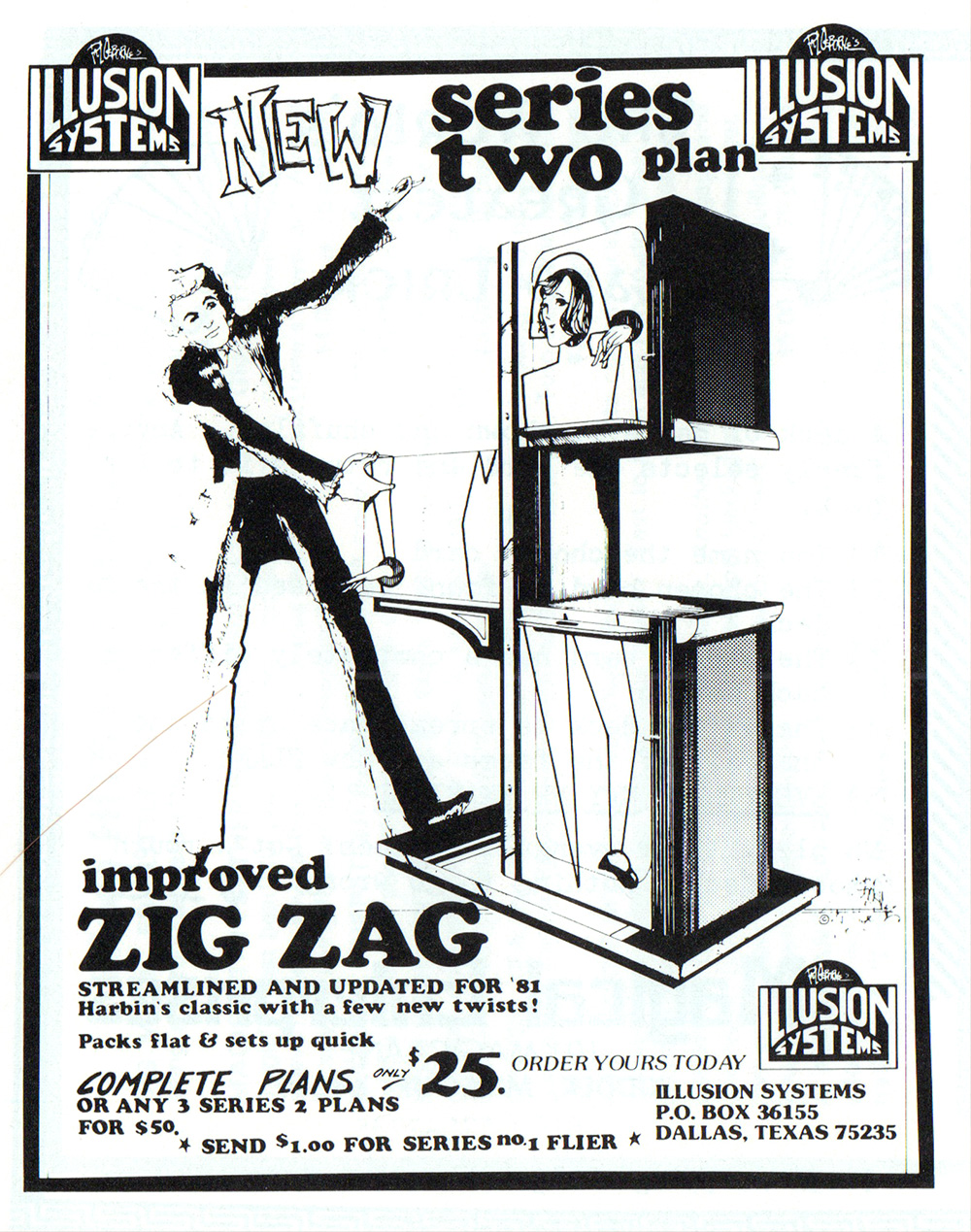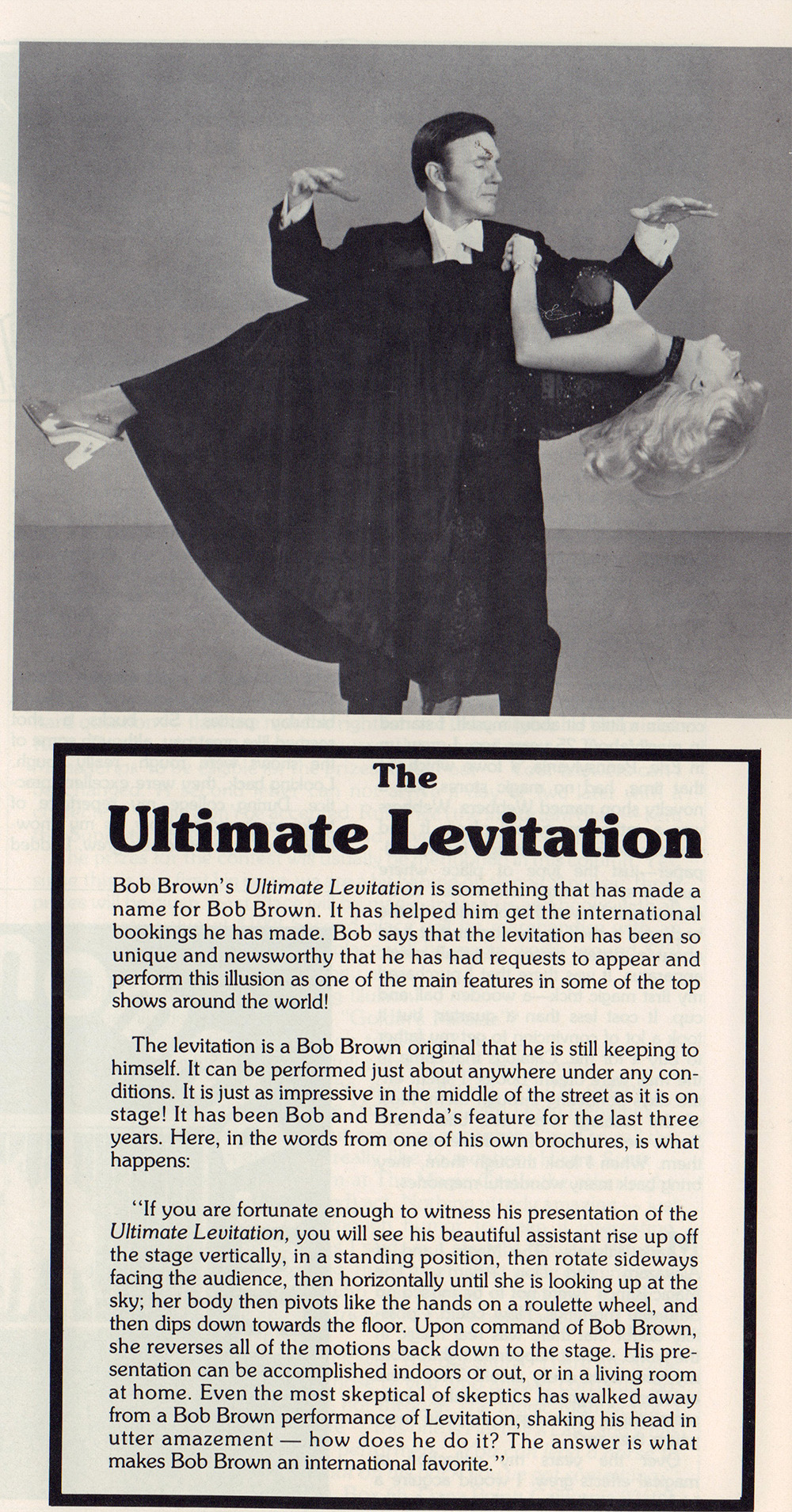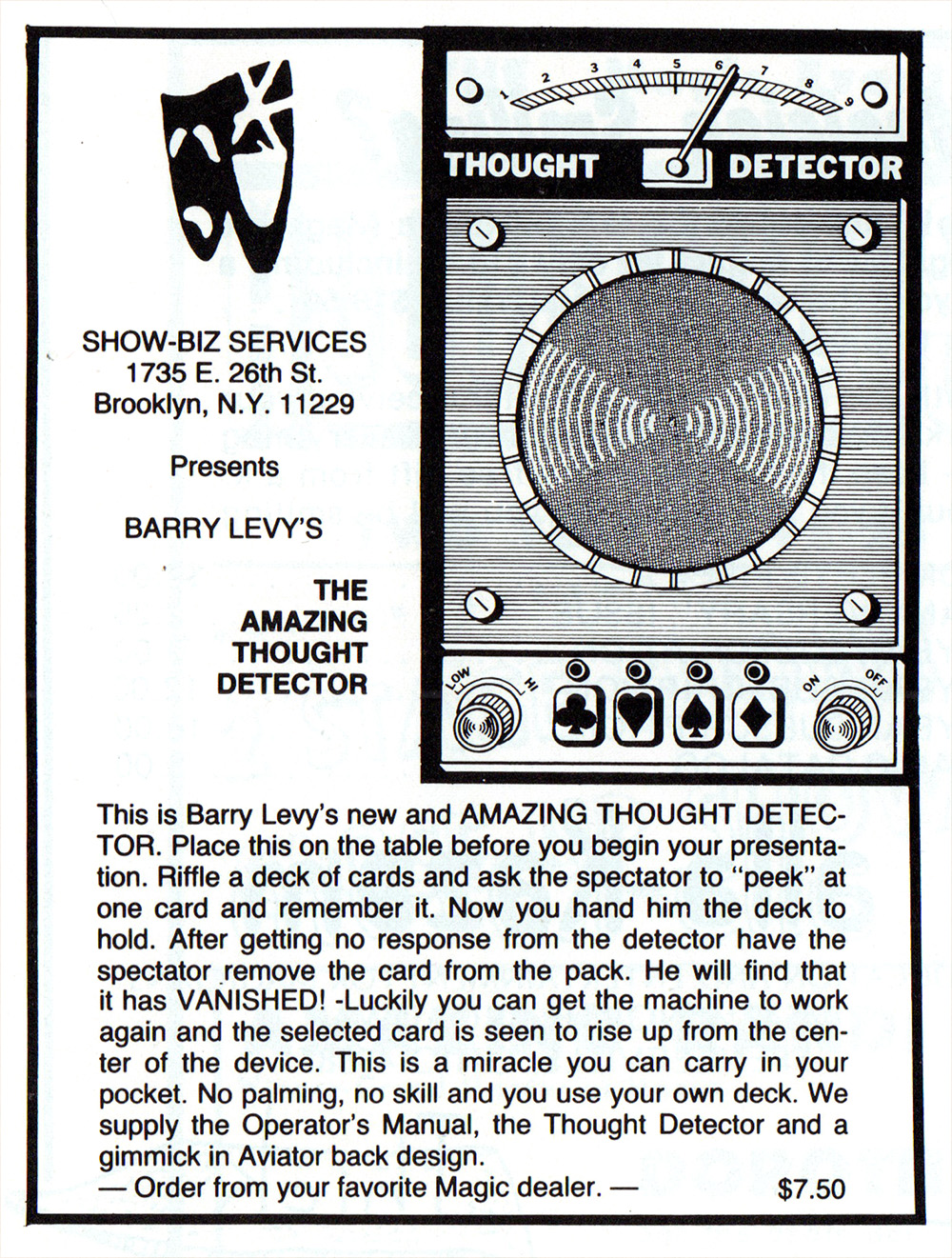 And finally…
MAGIC MANUSCRIPT, July/August 1985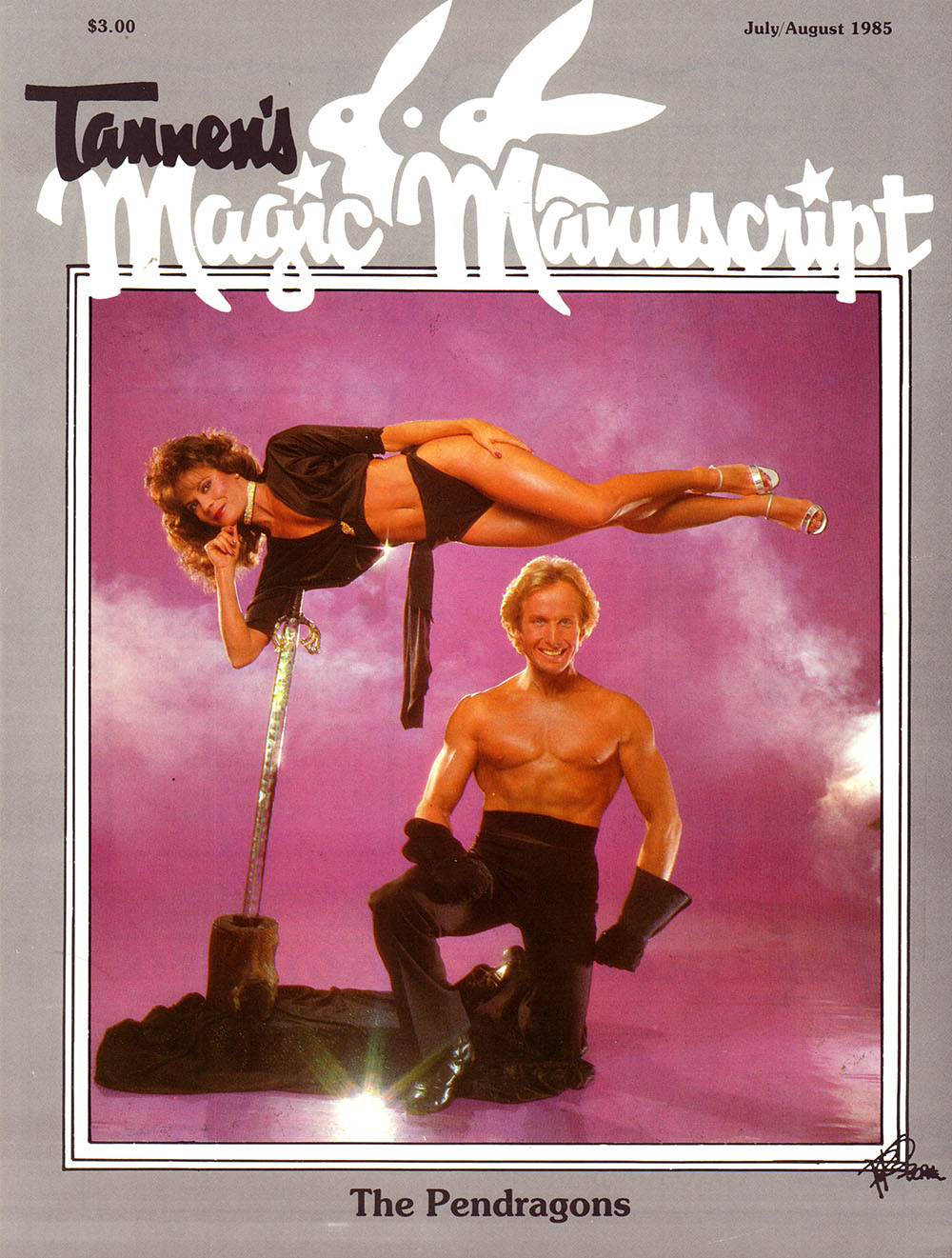 Remember John Belushi doing the back hand springs down the church aisle in The Blues Brothers?  That was Jonathan Pendragon – a Hollywood stuntman who later became a magician. Charlotte was the other half of the Pendragons who went on to great success in the 1980s, appearing on TV a good bit and even at presidential galas for Bill Clinton and George Bush.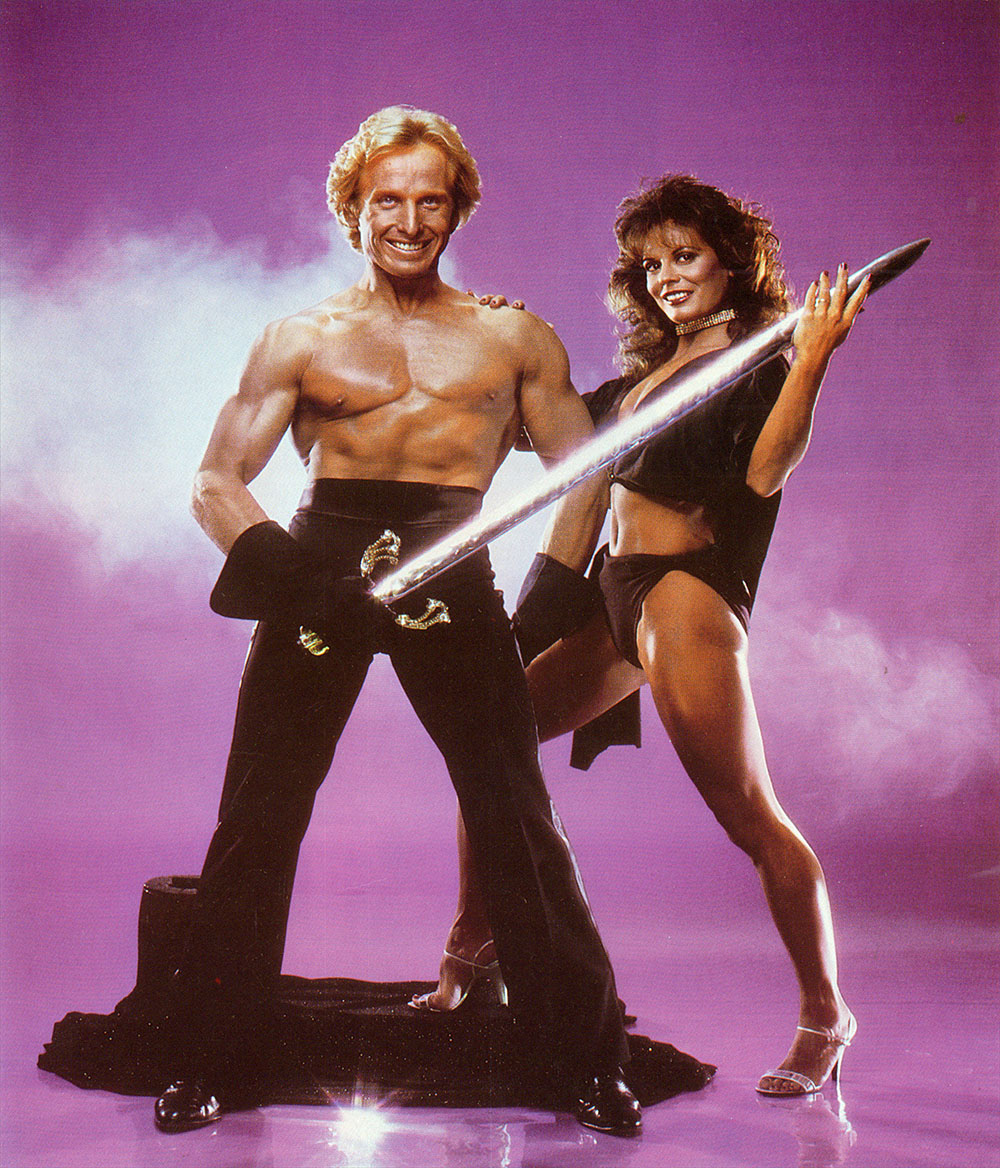 Things went to hell in the 2000s.  In 2006, Jonathan was changing a light bulb when he slipped and fell onto one of his arrows used in his magic act.  Talk about bad luck! It punctured his liver and stomach and was within inches of his heart.  Then, in 2009, he got into an altercation with Charlotte and was arrested at gunpoint!  Needless to say, the two went their separate ways shortly thereafter.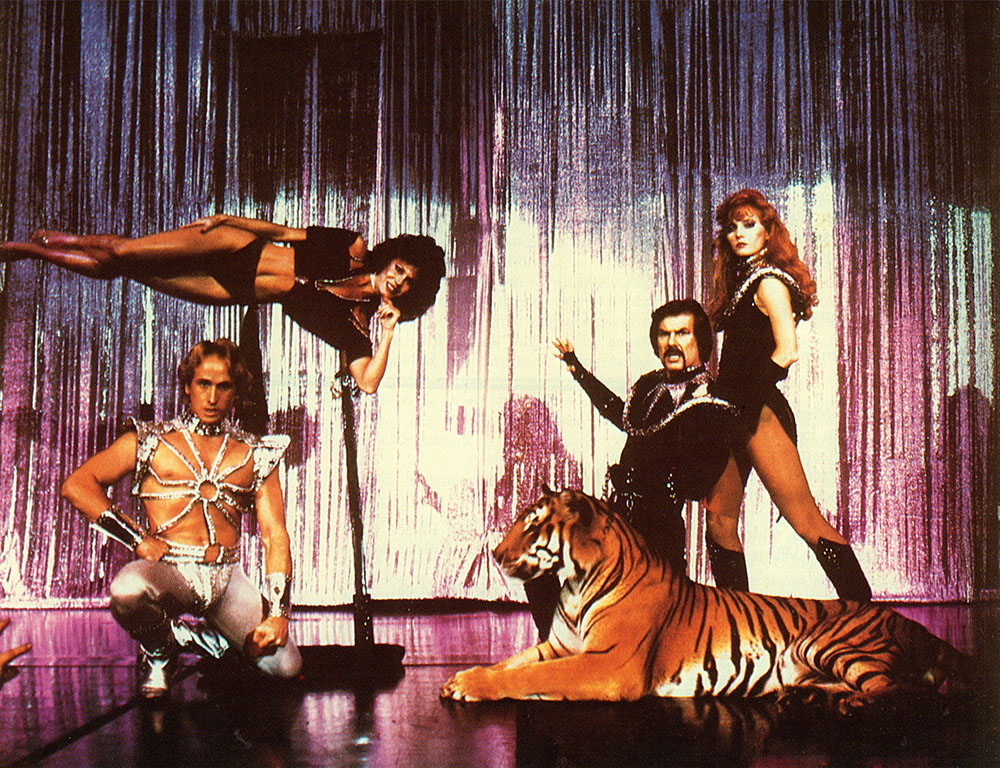 (Left) The Pendragons, (Right) Carlton and Company