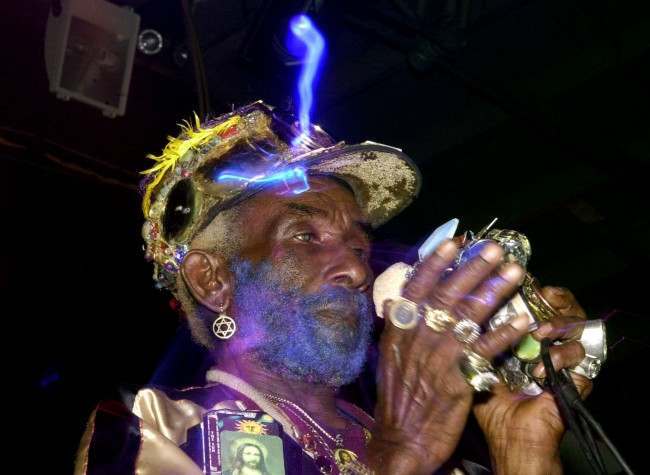 On January 16th of 1980, Paul McCartney was busted for marijuana. Japanese customs officials at Narita International Airport found  7.7 ounces of cannabis in the former Beatle's singer's bags. For his pains – he'd been travelling with his four children and wife, Linda –  Macca scored 10-days stay in a Tokyo prison. The Japan leg of the Wings tour was cancelled.
Said Paul:
"When the fellow pulled it out of the suitcase, he looked more embarrassed than me. I think he just wanted to put it back in and forget the whole thing, you know, but there it was. I didn't try to hide it. I had just come from America and still had the American attitude that marijuana isn't that bad. I didn't realize just how strict the Japanese attitude is. " made a confession on the night I was arrested and apologized for breaking Japanese law, but they still wanted to know everything. I had to go through my whole life story—school, father's name, income, even my medal from the Queen."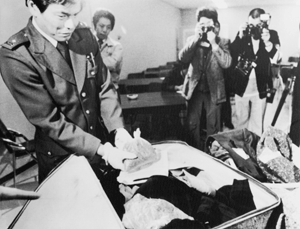 He wasn't all that contrite:
"I spent my time [in the Tokyo jail] making a mental list of all those drugs which are legal but dangerous. We're all on drugs –cigarettes, whiskey and wild, wild women. Society thinks alcohol is terrific, yet it kills. Cigarettes can kill. They are worse than marijuana. It's just not true that marijuana can kill. What about the little old ladies on Valium? Think of aspirin's danger to the stomach."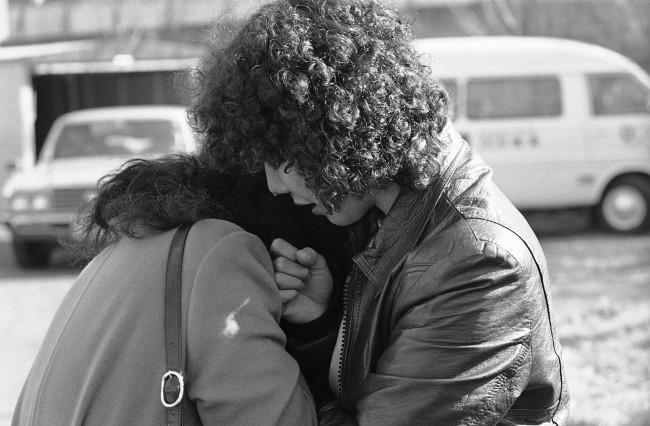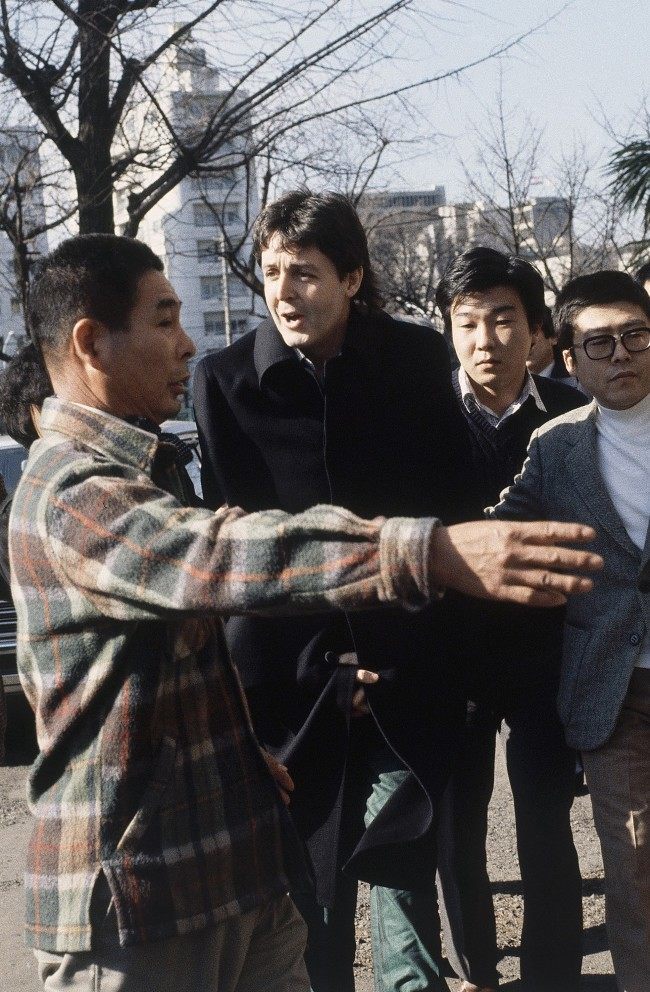 John Lennon said what many were thinking:
"If he really needs weed, surely there's enough people who can carry it for him. You're a Beatle, boy, a Beatle. Your face is in every damn corner of the planet. How could you have been so stupid?"
At some point, Lee "Scratch" Perry, the Upsetter, the reggae great who is not averse to soaking himself in marijuana's essences, stepped in. He wrote to Tokyo's Minister of Justice: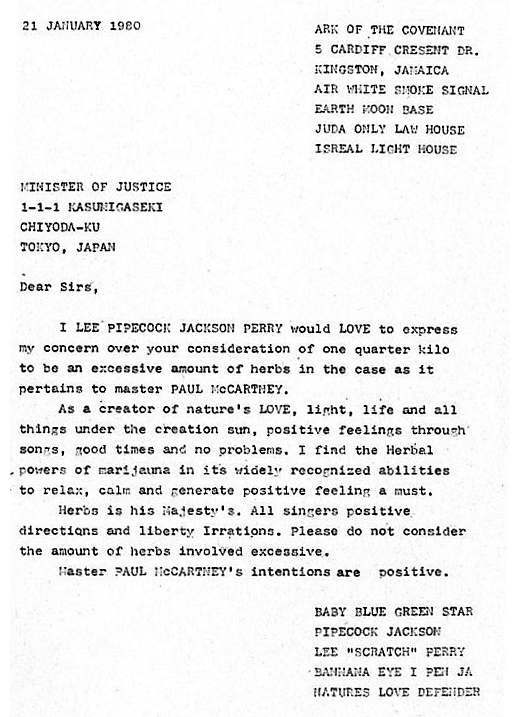 Transcript:
21 JANUARY 1980

ARK OF THE COVENANT
5 CARDIFF CRESCENT DR.
KINGSTON, JAMAICA
AIR WHITE SMOKE SIGNAL
EARTH MOON BASE
JUDA ONLY LAW HOUSE
ISRAEL LIGHT HOUSE

MINISTER OF JUSTICE
1-1-1 KASUMIGASEKI
CHIYODA-KU
TOKYO, JAPAN

Dear Sirs,

I LEE PIPECOCK JACKSON PERRY would LOVE to express my concern over your consideration of one quarter kilo to be an excessive amount of herbs in the case as it pertains to master PAUL McCARTNEY.

As a creator of nature's LOVE, light, life and all things under the creation sun, positive feelings through songs, good times and no problems. I find the Herbal powers of marijuana in its widely recognized abilities to relax, calm and generate positive feeling a must.

Herbs is his Majesty's. All singers positive directions and liberty Irrations. Please do not consider the amount of herbs involved excessive.

Master PAUL McCARTNEY's intentions are positive.

BABY BLUE GREEN STAR
PIPECOCK JACKSON
LEE "SCRATCH" PERRY
BANANA I PEN JA
NATURES LOVE DEFENDER
McCartney was released without charge and deported.
Lead image: One time producer for reggae legend, Bob Marley, Lee 'Scratch' Perry, performing his own style of dub reggae, which was mixed by the 'Mad Professor', at POD on St. Patrick's Day, in Dublin, Republic of Ireland – March 17 2003.
Spotter: Jamie Rowland