A MOVIE poster montage is defined as a "juxtaposition of several shots from the film to form a single image"…. and they were out of control in the 1970s!  For a time, it seemed every film got the montage treatment.
Of course, the tendency for movie poster artwork to follow a trend isn't unique to that decade.  Do a Google image search for "2012 Movie Posters" or "2013 Movie Posters".  What you'll get is thousands upon thousands of hopelessly unoriginal art in a cyan color scheme…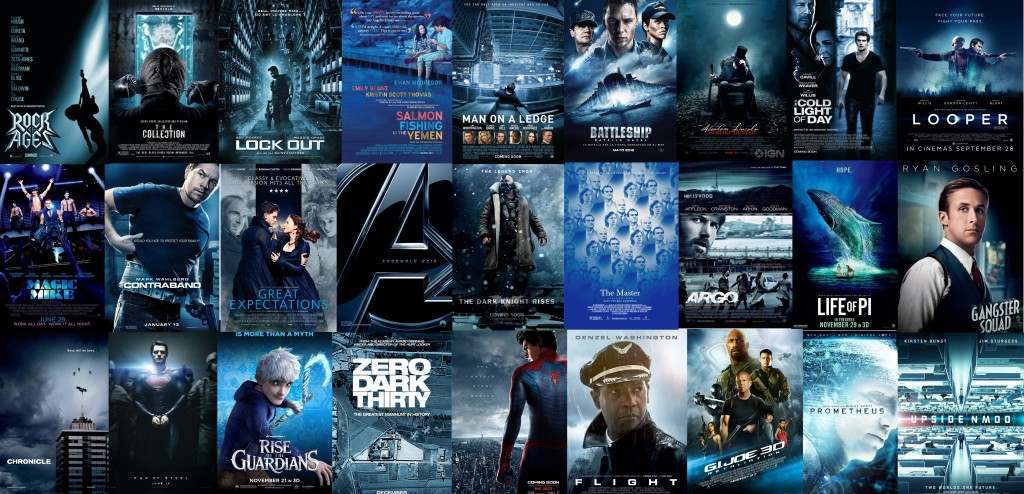 Unlike today's Photoshopped  Cyan Wasteland, the '70s posters were painted by hand.  So, although they all followed the same repeated theme inherent in a montage, they brought something unique and interesting to the table.  Let's take a look at some examples from The Golden Age of the Montage.
Obviously, the purpose of the montage is to give an idea what the film is about; however, it's also supposed to arouse interest enough to get people to buy tickets.  I, for one, want to know what's with the dramatic beer squishing.
The action film is where the montage effect is at its best.  The technique can convey lots of sex and violence so much better than a single image.
From a single image I know this film contains kickass flaming arrow warfare, dirty truck-stop whores, and a corrupt racist sheriff.  Sign me up!  (Can you even imagine the Photoshopped cyan yawnfest they'd create for this poster today?)
The clock is ticking, bombs explode, there's panic in the streets…. this is the montage at its finest.  If you're a movie studio and you want to demonstrate how balls-out violent your film is, you would be wise to go with ol' reliable – the montage.
The fact that these posters were created by real live human beings means that you leave some room for artful conceptions.  It doesn't have to be a jumble of various scenes from the film.  It can be a composition of pictorial elements which, when done with the right amount of skill and imagination, can be quite compelling.
This one may be a bit lacking in the artistic flair department; however, it still gets the job done.  We have plenty of gunplay, a flaming car chase, ample cleavage, and a giallo-esque gloved bad guy…. The movie itself probably didn't live up to the artwork, but that's irrelevant.  The poster's purpose (especially for low budget flicks) was to put butts in seats, not accurately document the storyline.
I've been gushing about montages a bit too much.  Let it be known, there were plenty of terrible ones out there as well.  This one is too awful for words.  It's too much like a cheesy Harlequin romance to lure in horny males; yet, too much like a sleazy porno to attract the chick-flick crowd wanting to see a romance.
There is great quantities of moonshine being smashed by a Trans-Am and guzzled by a hot blonde wearing nothing but her overalls….. any argument not to see this movie is invalid.
It's fair to say the late Seventies through early Eighties was the heyday of the Boob Comedy.  These films were lathered in a thick layer of wacky hi-jinks, juvenile tomfoolery, and, most importantly, lots of boobs. This montage makes it abundantly clear Swap Meet falls squarely in that category.
Roger Corman sure knew how to make a drive-in movie.  Any paper-thin story with actors hired on the cheap can become a money maker when you insert generous helpings of nudity.  Corman made a mint banking on that concept.  This film seems to have one other ace up its sleeve – a drag racing school bus!
In case you have picked up on it, the montage technique was primarily used for B-movies.  I'm not sure why that was the case – any theories?
Just don't tell me it's because mainstream big-budget films exercised more originality.  Check this out…
Like J.D.'s Revenge earlier, these montages could be assembled to create quite the dramatic effect.  I love how the hanged women melds into her ghost, which contains her screaming face which transforms into a skeletal jaw, which contains an ominous shadow….. Nicely done.
This one is truly a landmark in that it implements not one but two design viruses:  (1) the montage and (2) the A-frame.
In a way, you can look at these montages as movie trailers.  Movie studios obviously didn't have the internet back then to distribute trailers, and TV spots are expensive.  So, the next best thing may have been to visually represent the trailer via a montage.    An interesting thought.
The montage effect knew no geo-political boundaries.
Not only is this another instance of an International Montage, it serves as a good example of another overused motif:  The Giant Floating Head.
Want more Giant Floating Heads? Stay tuned.  Giant Floating Head article coming soon. Ciao.