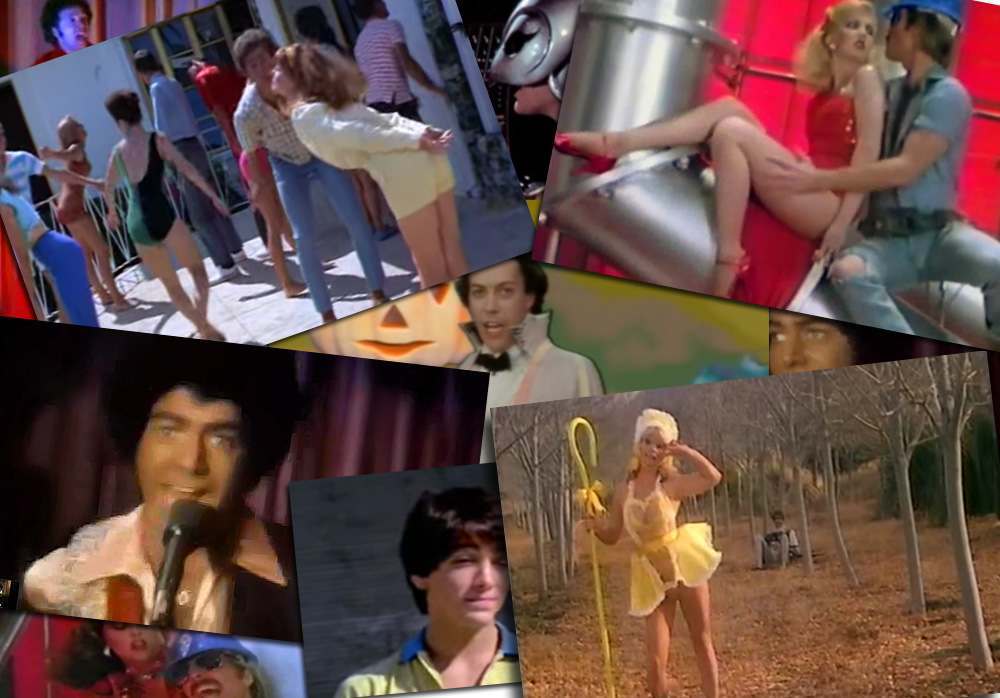 If I can offer any advice to my readers it's to take care of yourself – treat your body like a temple. Say "no" to drugs, drink in moderation, and, above all, avoid listening to these songs. A while back we provided you with 5 Unspeakably Awful Songs of 1980s Horror Cinema; well, we're at it again, tempting you with the worst that old-school movies can offer. Don't say you weren't warned.
1. "Do the Jellyfish" by Neil Sedaka
Movie: The Sting of Death (1966)

From the 1966 movie, The Sting of Death. The movie is terrible, but, impossibly, the song is even worse. Warning: as horrible as it is, it is excruciatingly catchy. It's one of those tunes that sticks to your brain like a bad-song parasite. You'll be reciting "do the jella-jella-fish" for weeks, I guarantee it.
2. "I Love You to Death" by David Hodo
Movie: Can't Stop the Music (1980)

Can't Stop the Music was a train wreck of a film starring the Village People, Bruce Jenner and Steve Guttenberg. The singer of the craptastic "I Love You to Death" is the construction worker of The Village People, David Hodo. Yes, this is all an unspeakable mess, but it still demands your undivided attention.
3. "Halloween Song" by Tim Curry
Movie: Worst Witch (1986)

You would think Tim Curry camping it up for Halloween would be an automatic win. You would be gravely mistaken. I've heard disillusioned individuals argue that this is actually a good song. The lyric "Has anybody seen my tambourine? I may start playing the 'Begin the Beguine'" invalidates any such arguments.
4. "This Is…." by Peter Carpenter
Movie: Point of Terror (1973)

Peter Carpenter is more Tom Jones than even Tom Jones (if that makes sense). It's a travesty of epic proportions.
5. "Little Bo Peep" by Angela Aames
Movie: Fairy Tales (1978)

Martha Reeves (of Martha & The Vandellas) appeared in this film, but apparently didn't realize it was a sex comedy until it was too late. Poor Martha took members of her church to see the film; the holy rollers were sufficiently appalled.
Perhaps most appalling of all is this little ditty by Angela Aames. Sure, I can appreciate the amazing Little Bo Peep outfit – it almost makes it worthwhile. I can also appreciate that this song isn't supposed to be good…. but, sweet mother of God, it is just so awkward. From the tap dance to the vocals, it is just painfully cringeworthy.
6. "Got to Believe in Magic" by David Pomeranz
Movie: Zapped! (1982)

They don't make them much sappier than this. What's worse is that this saccharine mess is background music to Scott Baio using his telekinetic powers to (1) attack innocent bystanders with a remote control plane and (2) forcefully remove his girlfriend's clothing. Is this the most bizarre thing I have ever seen? No, but it's in the top ten.
7. "The Hell of It" by Paul Williams
Movie: Phantom of the Paradise (1974)

Those who lived through the seventies will well remember Paul Williams – he was omnipresent in those days. You couldn't go two seconds without seeing his ugly mug. One minute he's on B.J. and the Bear and Smokey and the Bandit, the next he's hanging with Kermit the Frog on The Muppet Show and Danno on Hawaii Five-O. Come to think of it, even if you didn't see or hear him, he was still present: he composed almost everything you heard from The Love Boat theme to "Just an Old Fashioned Love Song" by Three Dog Night and "We've Only Just Begun" by The Carpenters. This dude was everywhere.
In 1974, Paul released "The Hell of It" for the Brian DePalma film, Phantom of Paradise. This may be the cheesiest song ever recorded or the greatest (or both, for that matter)… I honestly can't decide. One thing that is certain: his performance of the song on The Brady Bunch Variety Hour has to be seen…

This track is so amazingly hammy, I could easily imagine the Muppets singing it. Yet, it has some pretty grim lyrics ("Born defeated, lived in vain, super-destructive you were hooked on pain") which muddies things even further. Is it a work of genius or Cheez-Whiz? I'll leave that for you to decide.
8. "You Baby" by Neil Diamond
Movie: The Jazz Singer (1980)

I hesitated to include this because it's not a terrible song. However, Neil Diamond in blackface quickly wiped away any reservations I might have had. Diamond's blackface is so terrible it's nearly comical. I missed half of it because I was rubbing my eyes, unable to accept I was actually seeing this spectacular fail.