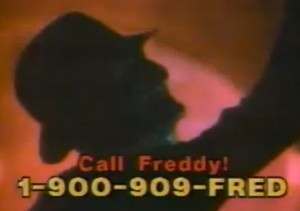 Although originally created in the early 1970s for an entirely different purpose, the 1-900 prefix in the American telephone numbering nomenclature came to represent, in the late 1980s and early 1990s, a "premium rate" code.
This "premium rate" code meant that higher-than-normal prices were applied to calls, with the money being used to profit the business phoned.
Commercials for 1-900 telephone "hotlines" quickly became the rage (or scourge, perhaps) of late night/early morning American television for a time, with announcers imploring youngsters under the age of 18 to get their parents' permission before calling.
Meanwhile, each call cost "two dollars for the first minute, and one additional dollar each minute."
Legendarily, one poor kid apparently racked up nearly 20,000 dollars of charges on one premium rate 1-900 hotline in 1987, earning the business the ire of regulators.
Although 1-900 hot-lines for M.C. Hammer, Jessica Hahn and New Kids on the Block likely represented a brand of horror unto themselves, the actual horror genre actually got into the act too.
Sadly, these numbers are no longer in service, but below you can recapture the glory days of 1-900 Horror!
The Freddy Krueger Hot Line
This Freddy Krueger number allowed callers to answer trivia questions and attempt to survive Freddy's Boiler Room.  Also, a lucky winner could take home $10,000 or a win a walk-on in the next Elm St. movie.
Creep Phone
The commercial played a constant loop of (ridiculous) monster images from the Ghoulies (1987) movies, and implored callers to call to get in touch with the "baddest of the baddest," including zombies and other monsters.  You could also record your own "scream" so that "millions" of other Creep Phone listeners could hear it.
1-900 Halloween
The talking pumpkin of 1-900 Halloween invited callers to hear a different spooky story every day, and made the expensive call seem an altruistic act by promising to contribute a portion of the call's proceeds to The Special Olympics.
Be a Junior Vampire of America
For a time, Al "Grandpa Munster" "Lewis had his own 1-900 hotline, which implored young callers to join the Vampire Club of America.  If they called, they would learn all about Grandpa's "monster friends," get a vampire hat, and learn to scare their friends, and even…themselves.
Save Michael's Next Victim (Halloween V: The Revenge of Michael Myers)
Absolute honesty time: I called this number.
I was a sophomore at the University of Richmond at the time, and a dedicated fan of John Carpenter's Halloween.  So I rang up 1-900-860-0700, the Halloween V: Revenge of Michael Myers hotline, and tried hard to save the Shape's next victim.  I urged her to run to the Tower Farm…and she was killed instantly.   I called again, and tried another route.  Same result.  Demoralized by my failure, these were my first and last calls to a 1-900 hotline.
Alas, no commercial for this Halloween V hotline could be found on YouTube at present.  Proof of its existence can be found only in the pages of old Starlog Magazines.