ONCE UPON A TIME, air travel went something like this: You leisurely walked from your Chevy Vega to the gate with zero security hassles, and then made your way to a comfortable, roomy seat with an ashtray in the armrest.  You lit up a smoke, waited for the stewardess (notice I didn't say "flight attendant") to announce the bar was open, and then let the good times roll.
Fast forward to the present, and things are slightly different. And by "slightly different" I mean "incomprehensibly worse." What happened to bring about the changes?  Well, hi-jacking and terrorism certainly didn't help.  But this isn't a history lesson –  this is a gripe session, so bear with me as I count the ways air travel has become objectively terrible over the past few decades.
1.  Security Gone Mental
Airport security used to be nonexistent, now it is omnipresent. I suppose there's a good reason for it, but that doesn't make it any more pleasant. Security lines are often so long that approximately 1 out of 4 passengers will pray for death before they reach the metal detector. A startling 3 out of 5 passengers will lose their religion, and 1 of 10 will become so enraged at God, they actually convert to Satanism.  [Source: unknown]
Now follow that with the indignity of the full body scan. Perhaps they'll single you out for a pat-down and reach-around.  If you're lucky, you'll get molested by someone with a gentle touch. If you're not so lucky…. well, there's always therapy.
Clayton Moore (The Lone Ranger) traveled the world in full costume, toting actual six shooters with never a problem.  Today, a suspiciously folded bubble-gum wrapper can land you in an interrogation chamber – with a body cavity search thrown in for free.
2.  Crowded to Clown Car Capacity
Provided you've passed the security checkpoint with sanity intact, it's time to board a crowded and odorous plane.  Many refer to this phase as the Dark Night of the Soul. No turning back now – just put on a brave face and pray you're not seated by the morbidly obese.
In days of yore, you didn't have to be in First Class to stretch your legs.  Now, economy flyers are stacked like Jenga pieces, maximizing both efficiency and passenger misery.  The next logical step is to require passengers to dislocate their limbs, fold them neatly like button-down shirts, and stack them in orderly piles.
 3.  Stewardess Extinction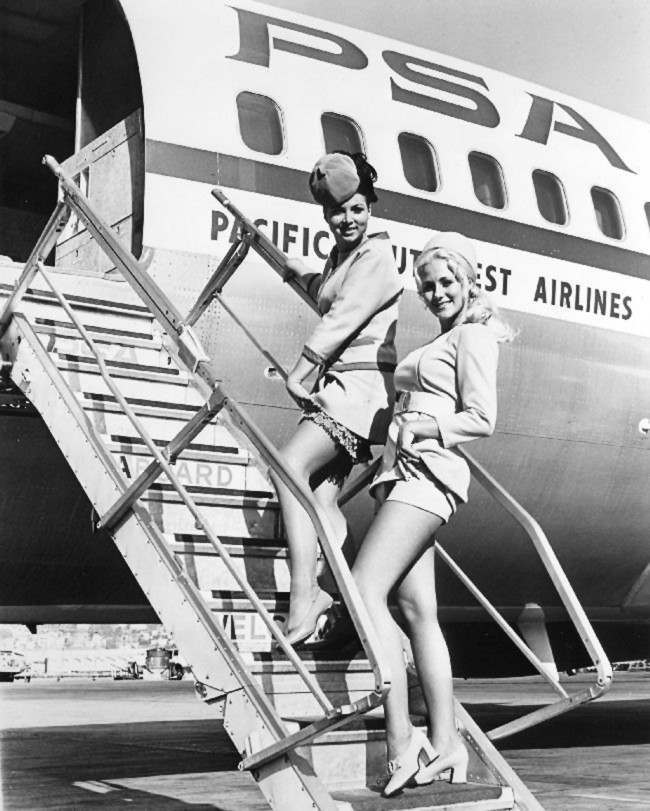 All could be forgiven if the airlines had at least retained the stewardess.  No disrespect to the modern highly trained flight attendant, but the "cocktail waitress in the sky" approach had its value for a certain segment aboard. Granted, airplanes of the 1960s and 70s were nothing more than Gentlemen's Clubs – it made good business sense to have stews in hot pants and go-go boots.   Today, this sort of scanty attire would just lead to lawsuits and awkwardness.
4.  A Cornucopia of Stale Pretzels
Can you even imagine a world where every airline passenger is handed a sharpened steak knife? Well, that's exactly what you'd need in 1971 in order to eat your roast beef (with a side of potatoes, green beans with chestnuts, salad, dinner roll, cake and red wine).
These days, passengers are overflowing with gratitude for their tiny packet of nuts. Soon they'll just toss moldy crusts of bread to the hungry masses. They'll travel up and down the aisles with ladles for us to cup our hands to receive this precious gift of water.
These things have changed for good reasons – for safety and to meet a budget.  For God's sake, the cockpit door used to be nothing more than a curtain.  It was a different time indeed, but no less appealing from the vantage point of a cramped, starving, and severely disgruntled 21st Century passenger.
THE END