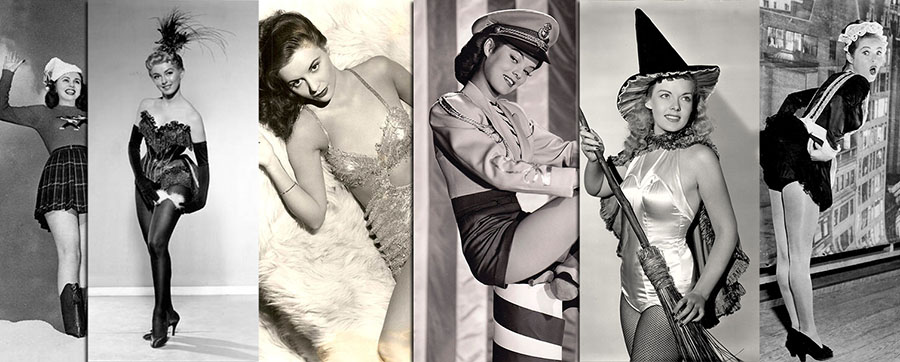 Take a look around Hollywood's top shelf of TV & film actresses – what are the odds they'll be remembered 60-70 years from now?  Less than a handful will have any recognition whatsoever; the rest will be only be familiar to the vintage Hollywood enthusiasts.
In the 1940s-1950s, the actresses featured in the list were familiar names, but these girls have largely landed in the dustbin of history (except for those of us who call ourselves fans of old movies and pinup girls – a niche to say the least).
Well, here they are – back from obscurity.  I've included pictures of each along with a short bio. You'll note that many of these poor gals experienced some sort of awful tragedy, making their careers in Hollywood woefully short-lived. Whether it's getting arrested for smoking weed with Robert Mitchum (Lila Leeds) or picking up hitch-hiking soldiers while drunk driving (Helen Walker) – most of these stories don't have a happy ending…
1. Laraine Day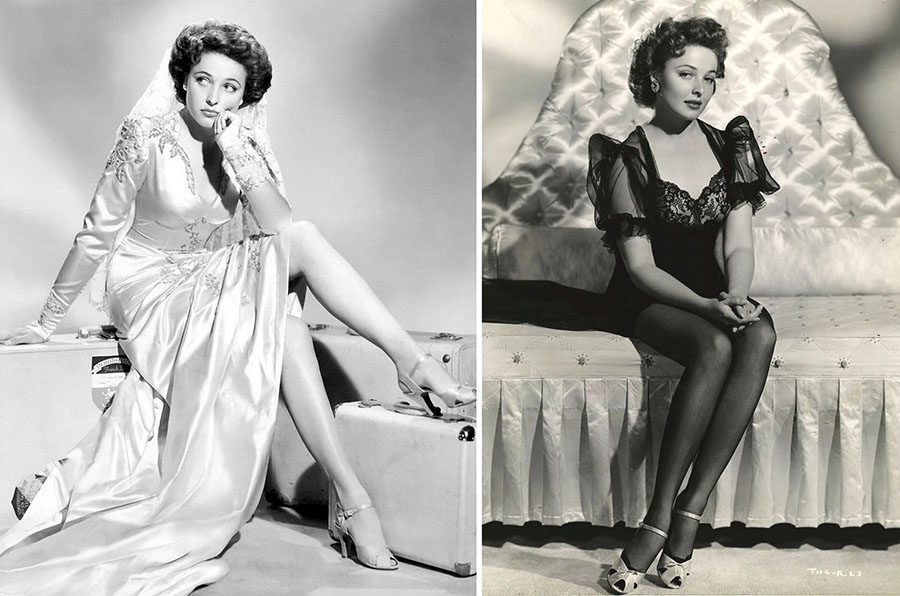 Laraine Day ( 1920 – 2007 ) was an American actress and a former MGM contract star.  Day was often referred to as "The First Lady of Baseball" as she was married to famed baseball manager Leo Durocher.  Day was a lifelong Mormon, and never smoke or drank.
2. Andrea King
Andrea King (1919 – 2003) had a decent career in the fifties with leading roles in several film noirs (Dial 1119, Southside 1-1000 ) and a the sci-fi flick, Red Planet Mars (1952). She later played supporting roles with the likes of Gregory Peck and Clark Gable.  By the 1960s, she stuck to appearances on TV shows, including the pilot episode of Columbo.
3. Janis Carter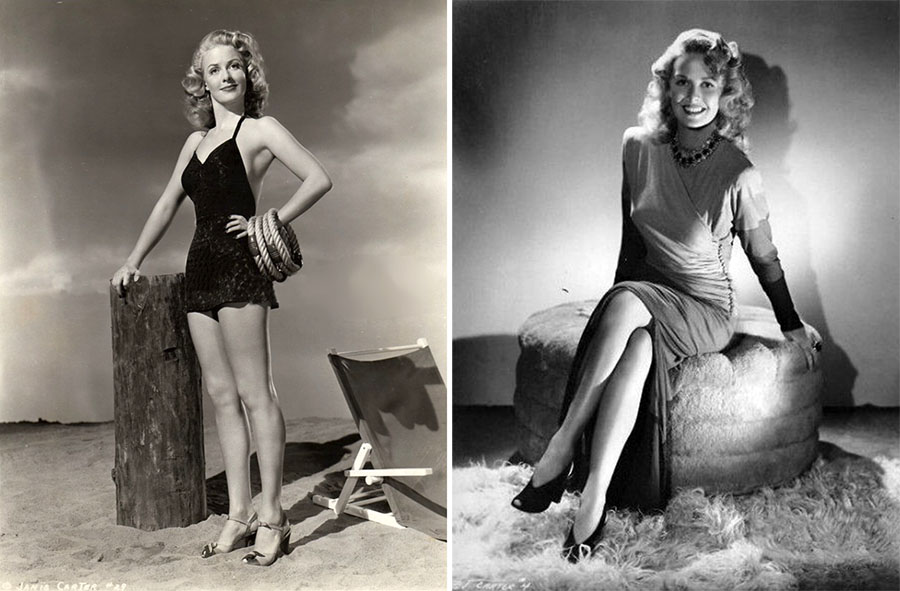 Janis Carter (1913-1994) lasted 12 years in Hollywood, appearing in about thirty movies, before things started to wane.  She hosted a TV game show, "Feather Your Nest" then, in the mid-fifties, got married and quit the acting game entirely.
4. Gloria Grahame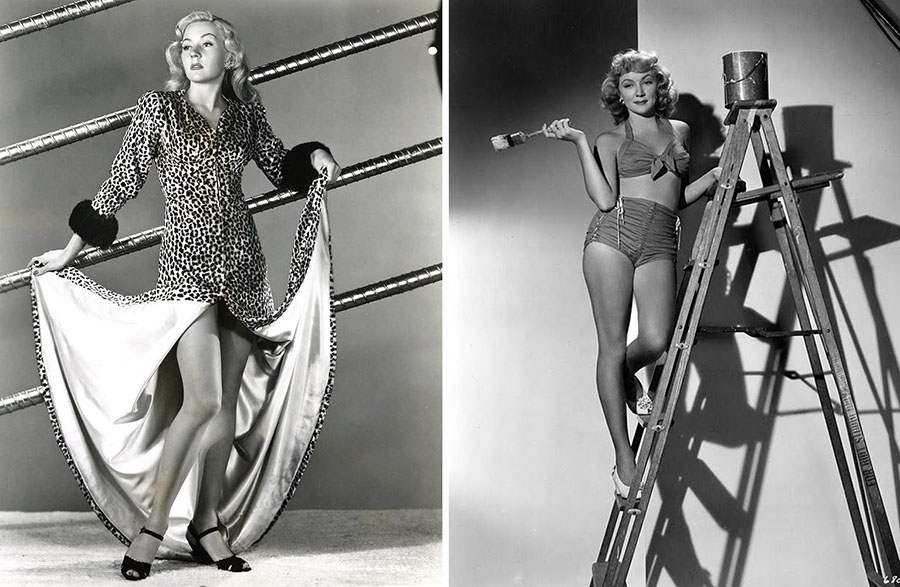 Gloria Grahame (1923–1981) was on the fast track to major league stardom, but her controversial personality kept getting in the way.  Her diva attitude on the set of Oklahoma! made her unemployable in Hollywood… and marrying her stepson didn't help things either. While at her peak in the 1950s she was best known for her lips – called "the girl with the Novocaine lips".
5. Elaine Stewart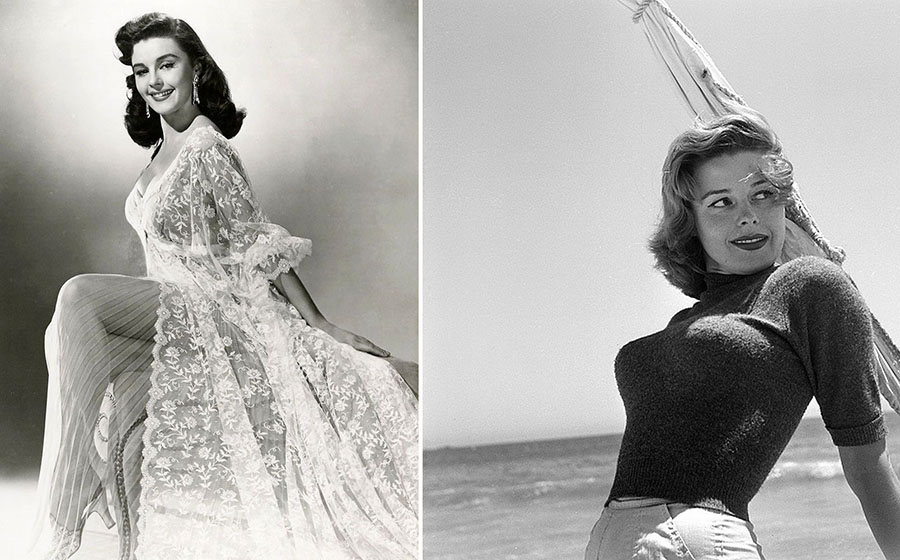 Elaine Stewart (1930-2011) had a successful run in the 1950s, then married game-show producer extraordinaire, Merrill Heatter.  In the 1960s, when her movie career slipped, she co-hosted several game shows produced by her husband –  Las Vegas Gambit (1972) with Wink Martindale and High Rollers (1975) with Alex Trebek.
6. Peggy Diggins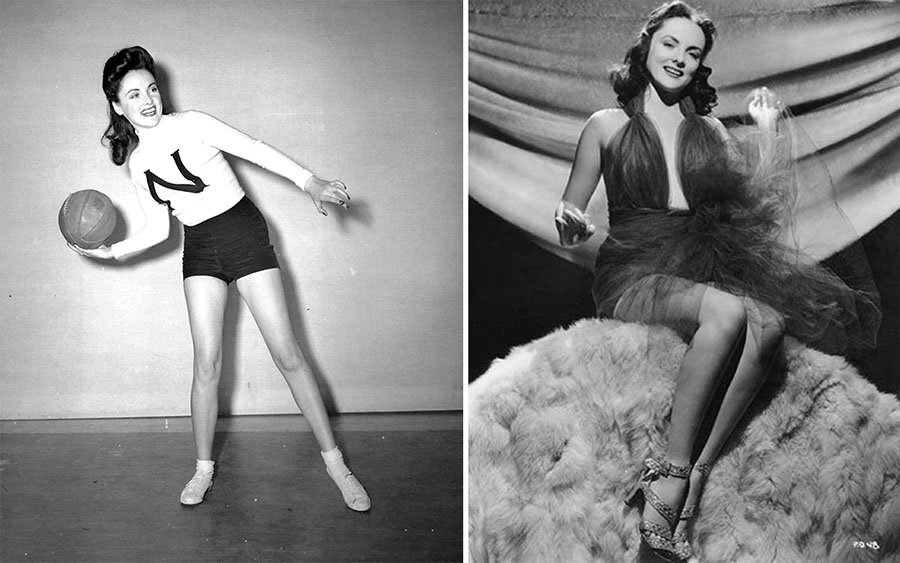 Peggy Diggins was an American actress (1921-1957) of Irish descent who was brought into the Paramount fold and became a WW2 sweetheart of American forces overseas.  Not long after "making it big" she got into photography, becoming a war correspondent and picture editor for a magazine.  Sadly, she met an untimely end in an automobile accident at the young age of 35 in Gulfstream, Florida.
7. Cleo Moore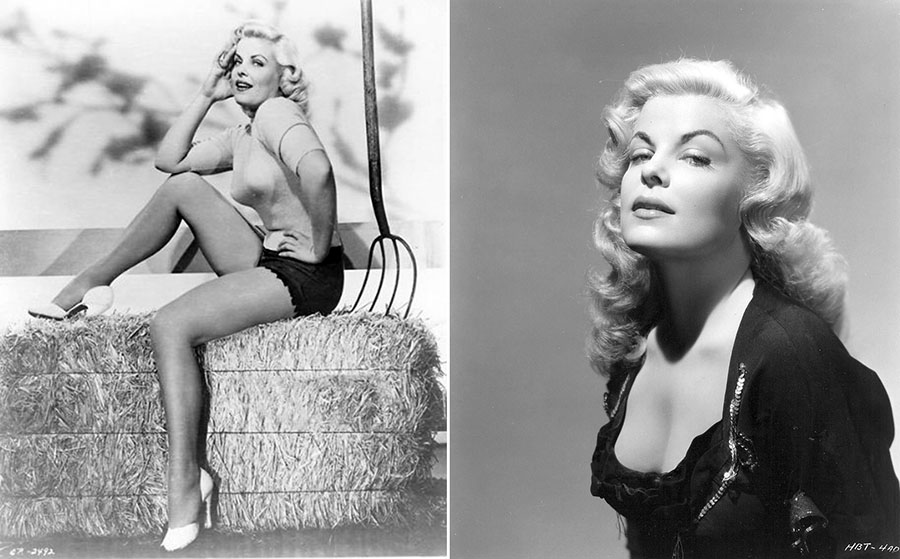 Cleo Moore (1924-1973) came from a prominent family in Louisiana.  Her family followed the post-WW2 building boom out to California where she soon experienced a few bright few years in Hollywood. Unfortunately, some poor choices in movies which turned out to be bombs, ultimately ruined her acting career.  But she was soon on her feet again, married a real estate tycoon, and nearly ran for governor of Louisiana.
8. Anne Gwynne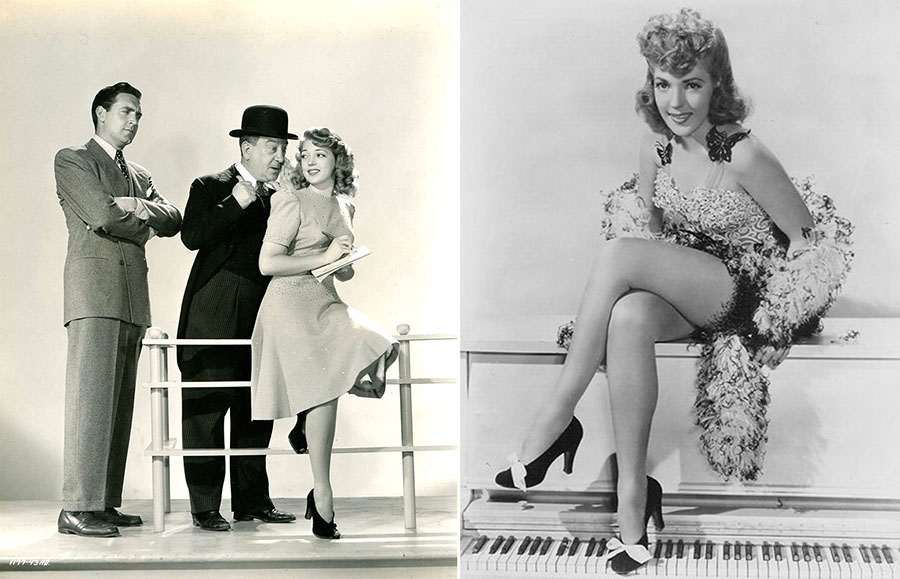 Anne Gwynne (1918-2003) was an American actress and considered one of the top five pinups with the American forces in WW2 as well as being one of the early 'scream queens' [House of Frankenstein (1944), Teenage Monster (1958)].
9. Dolores Moran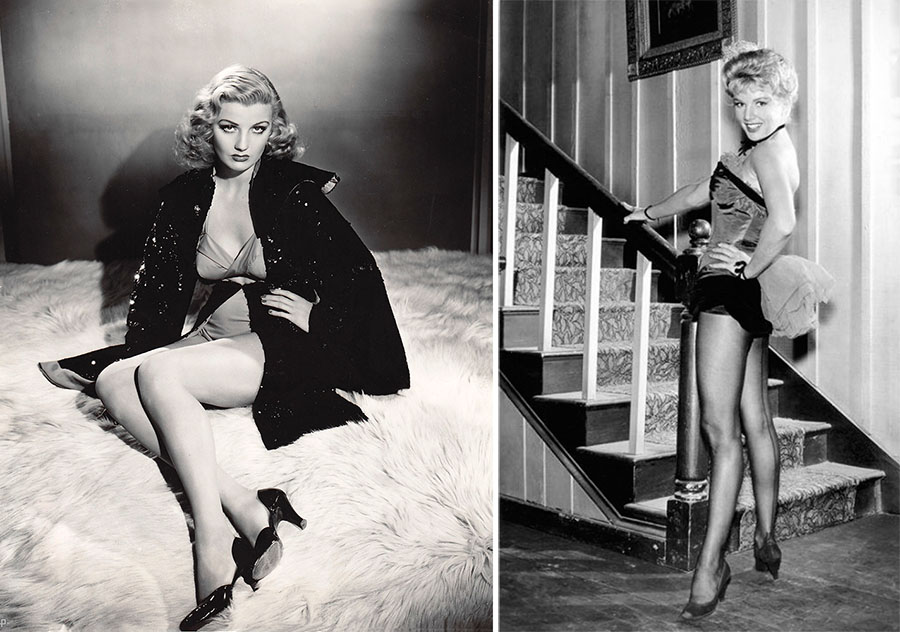 Dolores Moran (1926-1982) got her lucky break when she was employed as a car hop and an old millionaire, unbeknownst to her, left her $300k in his will (a lot of money now – a ton of money back then).  She soon had a blossoming career in Hollywood… that is until she met up with an eccentric, controlling, Svengali husband who basically tanked her career.
10. Helen Walker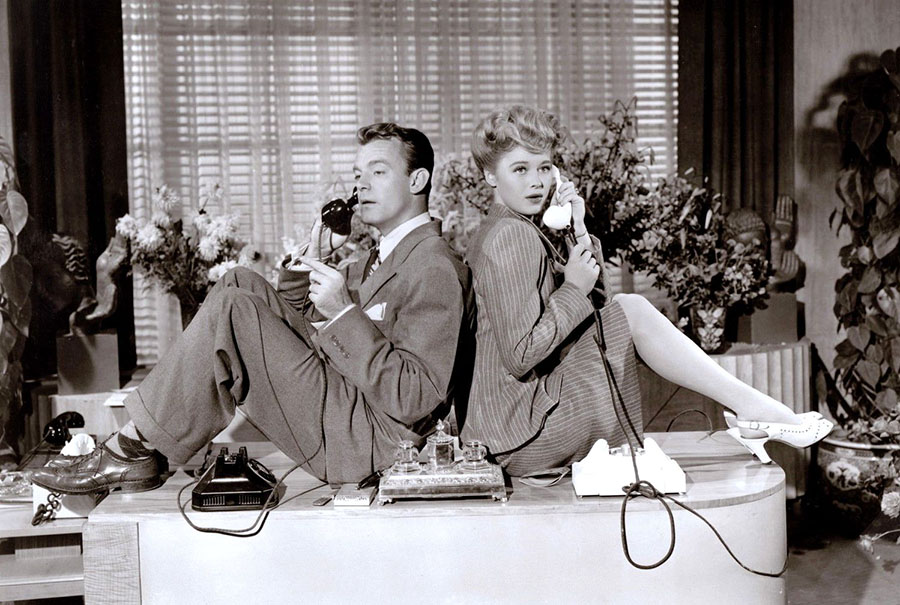 Helen Walker (1920-1968) was making it big in Hollywood when tragedy struck.  She had big parts in big movies: Brewster's Millions (1945), the romantic interest of Fred MacMurray in Murder, He Says (1945), Nightmare Alley (1947)… then, on New Year's Eve 1946, after just wrapping up Nightmare Alley, she picked up three hitch-hiking soldiers. Her car ran over the median and flipped, killing one of the soldiers and seriously injuring the other two.  She was charged with manslaughter, sued, and lost her career.
11. Janis Paige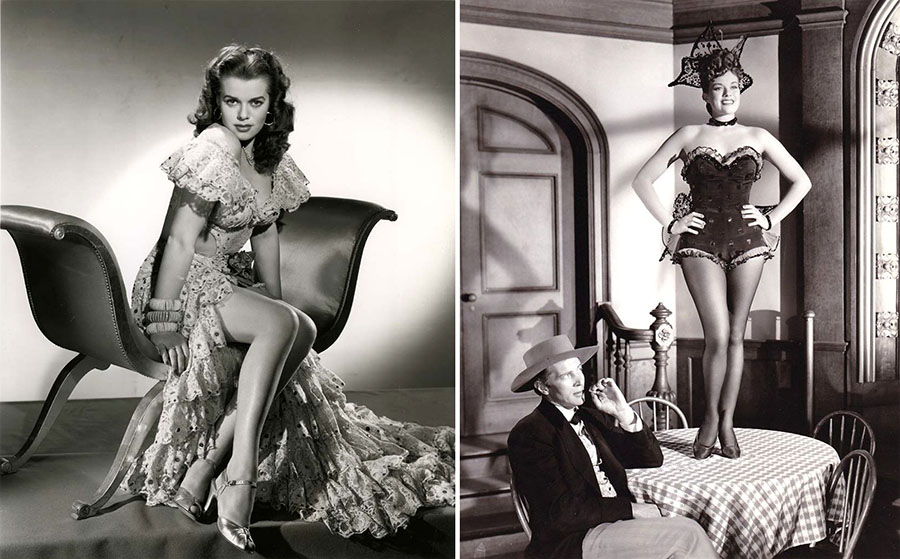 Janis Paige (1922- ) started out as a secretary for a plumbing supply store before gaining some attention as  "Miss Atomic Energy" and "Miss Delicious Apple".  Her mother takes her to Los Angeles where she gets a movie contract with MGM when she's noticed as a waitress in a Hollywood canteen.  She enjoyed fame for a few years before the bottom fell out – a messy divorce and no more movie offers forces her to sell her Cadillac and go on a pathetic nightclub tour.   She rebounds a bit on Broadway and a few television spots, and marries the guy who wrote the classic children's song "Zip-a-Dee-Doo-Dah."
12. Peggy Ryan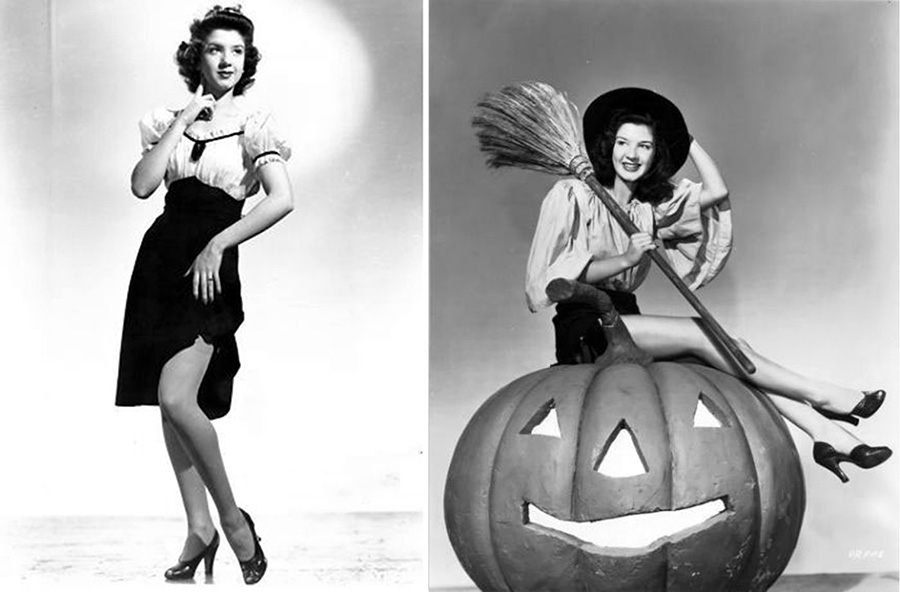 Peggy Ryan (1924-2004) was born to a pair of vaudeville dancers ("The Merry Dancing Ryans") who had her performing at the age of two.  She enjoyed some success in as a competing studio's answer to Judy Garland dancing alongside partner Donald O'Connor (the studio's answer to Mickey Rooney).  Once her career began to sag, she settled down in Hawaii with her husband, and, oddly enough, would appear on Hawaii 5-0 (as a secretary) for the entire run of the series (1969-1976).
13. Lila Leeds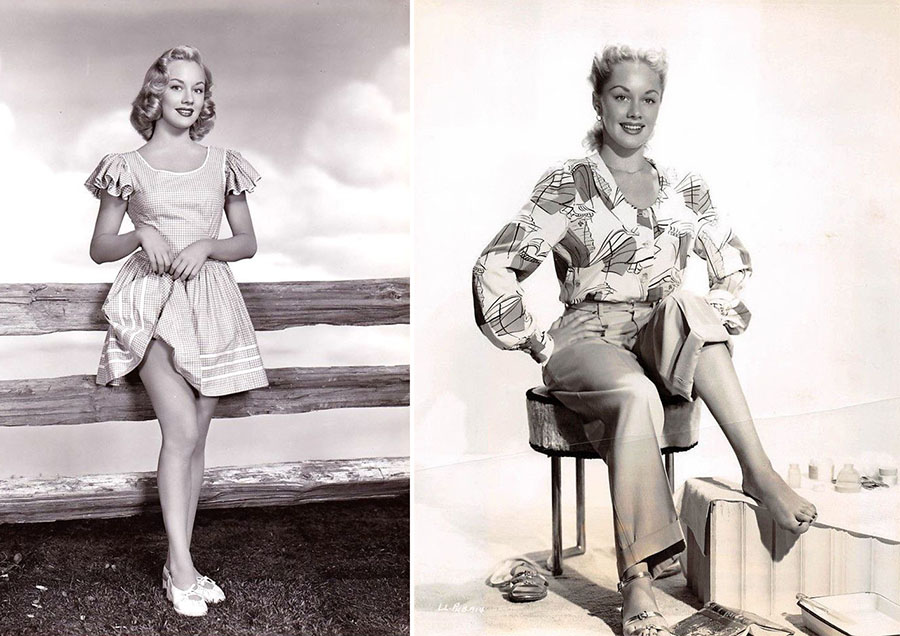 Lila Leeds (1928-1999) got her start when she was noticed by Gary Cooper who gave her a job as a hat check girl in a prominent restaurant in Hollywood.  Predictably, she soon had a promising acting career… that is until she decided to smoke weed with Robert Mitchum.  They were both arrested – Mitchum's career rebounded, Leeds' did not.  Immediately upon her release from prison, she was involved in a major auto accident.  Leeds took this as a sign and got the f**k out of Hollywood and didn't look back.
14. Paula Drew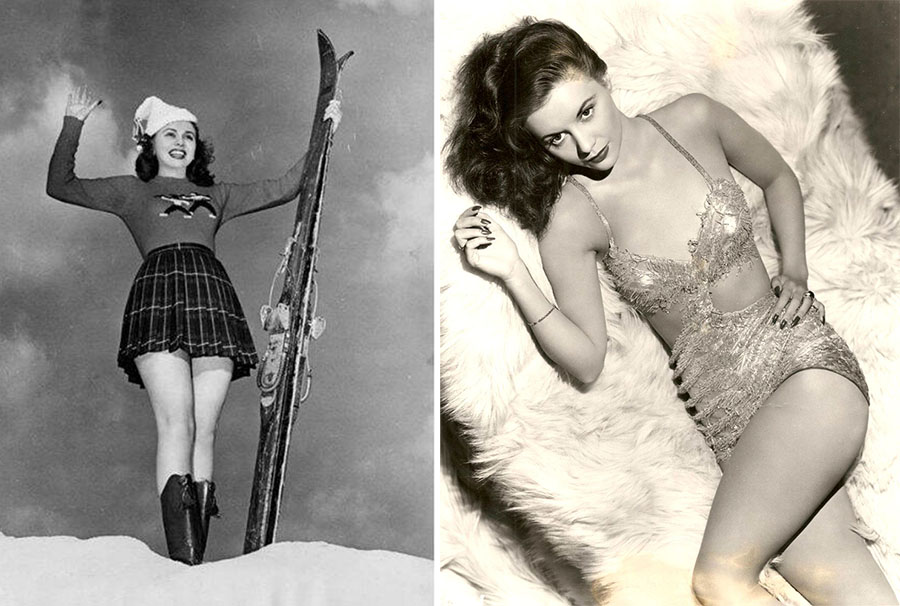 Paula Drew (1925-1968) starts off with a bang: she graduates from Julliard and is given a contract by none other than Jack Warner (of Warner Bros.).  Sadly, she squanders her opportunity when she elopes with Russian psychiatrist Dr. Isaac "Ira" Maxim Altshuler (famous for using music as therapy), who had divorced his previous wife just thirty days ago.  As you might expect, their marriage doesn't even last two months.  The divorce is messy with both parties suing each other.  In the end, Paula is left without a penny and no career.
15. Chili Williams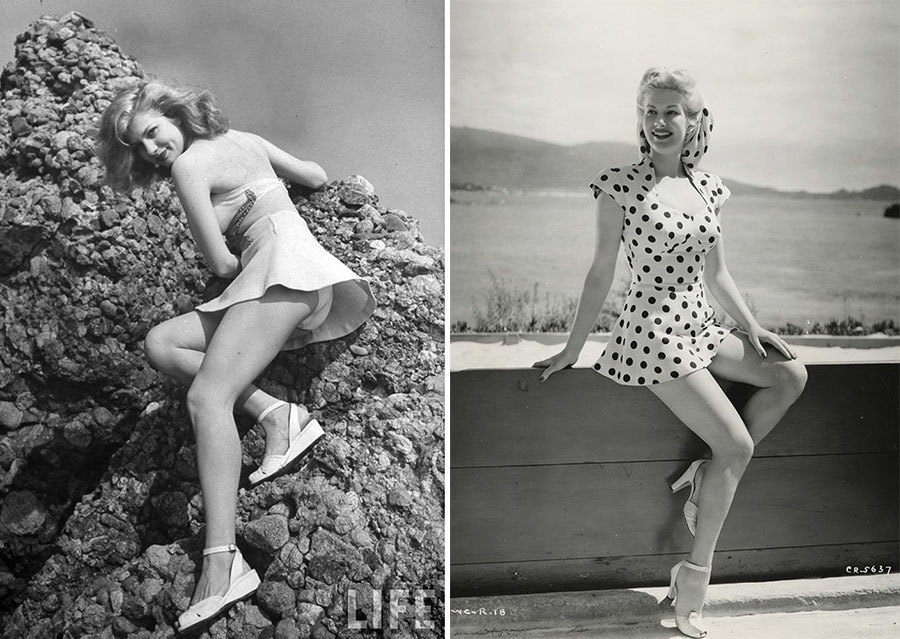 Chili Williams (1921–2003) appeared in twenty films in the 1940s and early 1950s, but she's best known as the chick who appeared in polka dots on the cover of LIFE magazine.  After that issue was released, Chili received over 100,000 letters from servicemen.  You might think this would be the ticket to the good life, but a series of scandals that killed her career.  She was arrested for breaking into her boyfriend's house and was supposedly caught butt-naked with her photographer, a married man.  Thankfully, Chili had the good sense to step out of the Hollywood whirlwind, move to Vegas and open a dress shop.
16. Linda Christian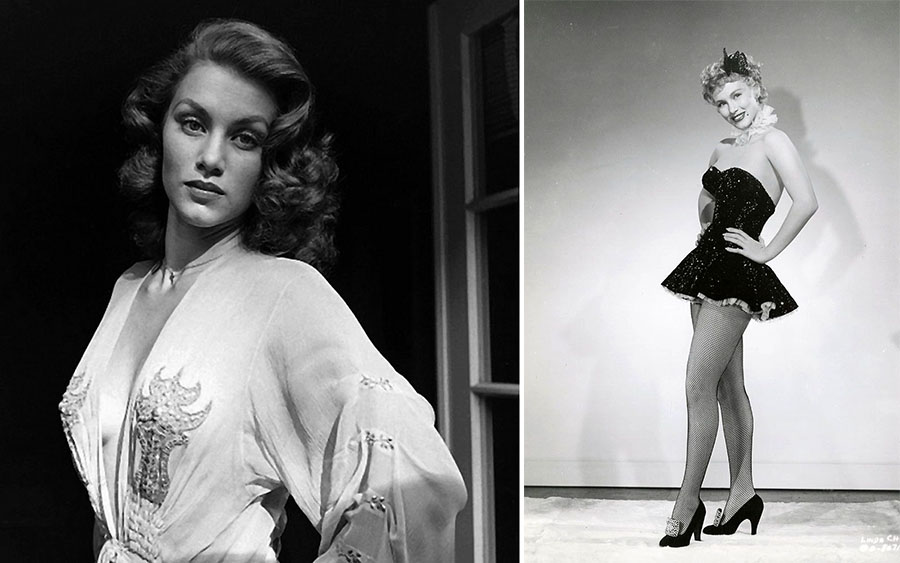 Linda Christian's (1923-2011) father was a Dutch executive with Shell Oil; so, she had a good from the start.  But it gets better – she marries Tyrone Power in 1946, and has the distinction of being the first Bond girl – appearing in 1954 TV adaptation of  Casino Royale.  Christian's infamous photo, often called "The Kiss of Death" shows her kissing  racing driver Alfonso de Portago (who she was having an affair with) – he then speeds off in his Ferrari, killing himself, his navigator and ten spectators.
17. Dorothy Hart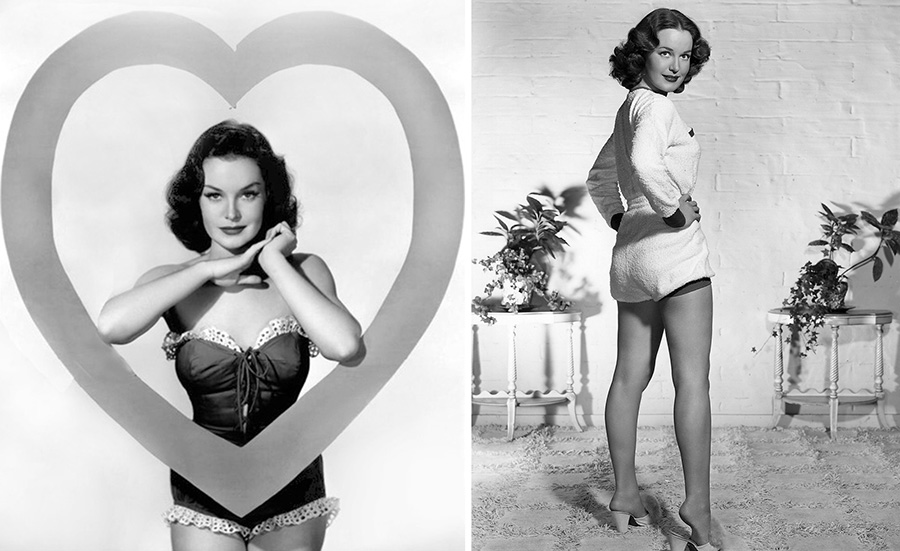 Dorothy Hart (1922-2004) appeared in a ton of westerns, B-movies, and costume productions – never achieving her goal of becoming a serious actress.  Notably, she was sued by none other than Mary Pickford.  Pickford said wanted to "take an  unknown girl and make her into a great star", but Hart ended up refusing the role.  Pickford sued her for $79,000 and ruined her career.  But Hart rebounded, did major volunteer work for the Red Cross, and was eventually appointed by Eleanor Roosevelt to a position in the United Nations.
18. Dona Drake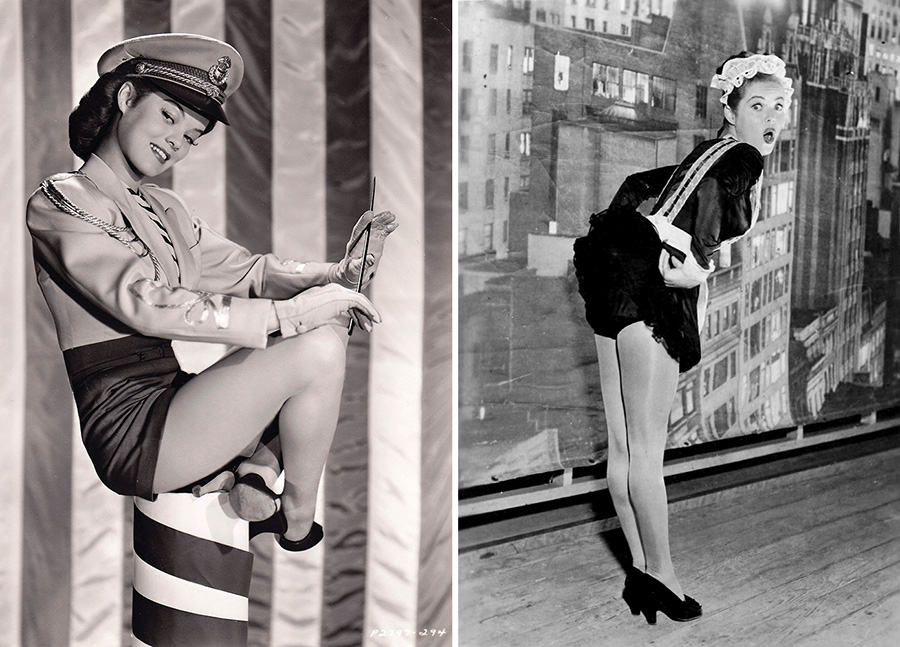 Dona Drake (1914-1989) transitioned from a successful career as a nightclub singer and dancer to Hollywood actress…but, oddly most often as a non-white role.  For instance, she played the Native American maid of Bette Davis in Beyond the Forest, and as an Arab girl opposite Bob Hope and Bing Crosby in Road to Morocco in 1942.  She dated a mobster in the late 1930s, but he was murdered.  She then married rich and famous fashion designer William Travilla ( best known for dressing Marilyn Monroe in eight of her films.)
19. Dani Crayne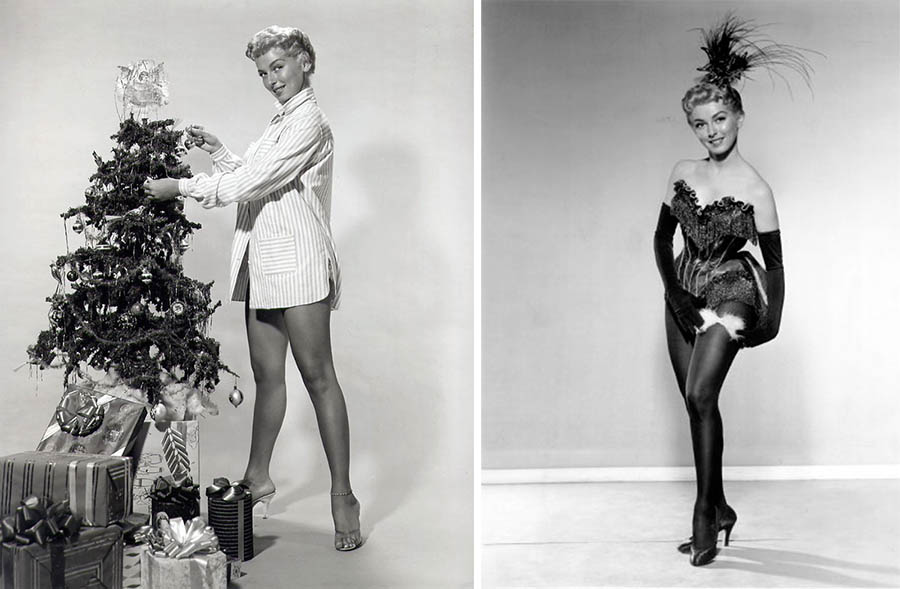 Dani Crayne (1934- ) was in a bunch of films and TV shows throughout the fifties, but is one of those starlets that really "made it" by latching on to some famous guys.  She was married four times, with celeb hubbies: Hal Needham, the famous stuntman/director, David Janssen (The Fugitive) and singer Buddy Greco.
20. Angela Greene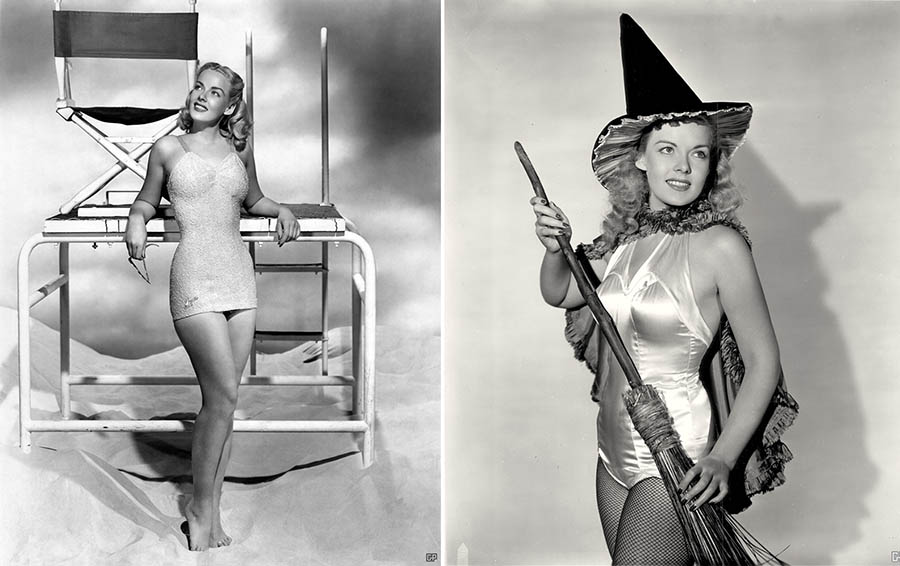 Angela Green (1921-1978) was born in Ireland, but was adopted by family in the US.  She's known for the many cult classics in the 1950s including Night of the Blood Beast (1958) At War with the Army with Martin and Lewis (1950) and The Cosmic Man (1959).  But in the 1940s she had a serious acting career – even purportedly dating Jack Kennedy.  She posed as a model for Norman Rockwell and played Tess Trueheart in the Dick Tracy TV show.  Her career actually lasted through the sixties and seventies, mostly with television spots, but also notably in Futureworld as Mrs. Reed (1976).