ONCE the Atari 2600 hit its stride in '81, there was simply no stopping the tsunami of video game offerings. The transition from coin operated arcade games to systems you could play in your living room can't be overstated – it was revolutionary.  But with this influx of new entertainment came a cornucopia of bad games. Here are five of the worst offenders.
 OUTHOUSE (1982)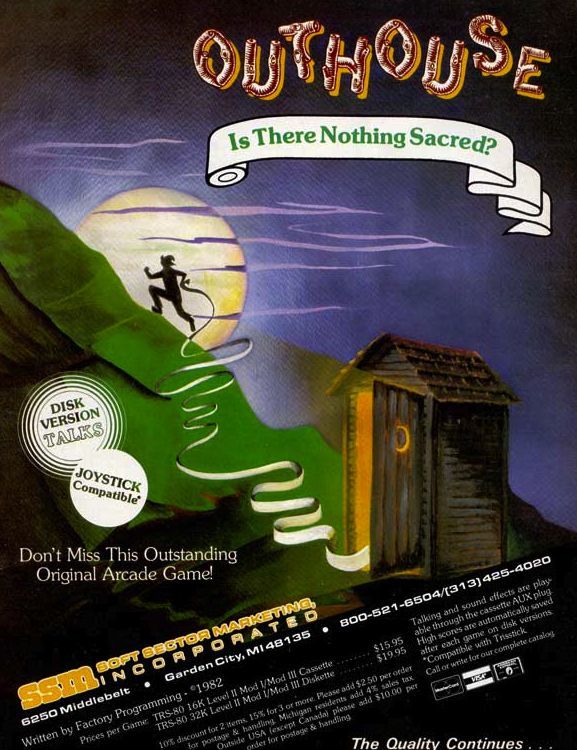 This TRS-80 game basically was about preventing other people from using up your toilet paper.  Think about this for a moment: It was the dawn of the video game revolution, the prospects were limitless, the future full of possibilities…. and they make a video game about preserving toilet paper?
E.T. THE EXTRA TERRESTRIAL (1982)
It sold 1.5 million copies. Problem is, Atari ordered production of 5 million copies.  The result: The remainders were buried in a New Mexico landfill and Atari was dealt a mortal financial blow, ultimately leading to their bankruptcy.
Over the years, the game's awfulness has become exaggerated, often to mythic proportions.  Let's be clear – it was bad – really, really bad.  But there were plenty equally terrible games on the same shelf in '82.  What made it such an epic failure wasn't the wretched gameplay or graphics, but rather the fever pitched expectations of both the consumer and the distributor.  Indeed, consumers were let down so badly that this game is cited as a prime contributor to the North American Video Game Crash of 1983.  Now that's a bad video game!
KOOL-AID MAN (1983)
The most blatant example of product promotion in video game history. All would be forgiven if the game was any good.  Alas, it was not.  Initially, you could only get this through the mail with 125 proof of purchase points.  With that many Kool-Aid points, you not only got a video game, but you also got Type 2 Diabetes.
CUSTER'S REVENGE (1982)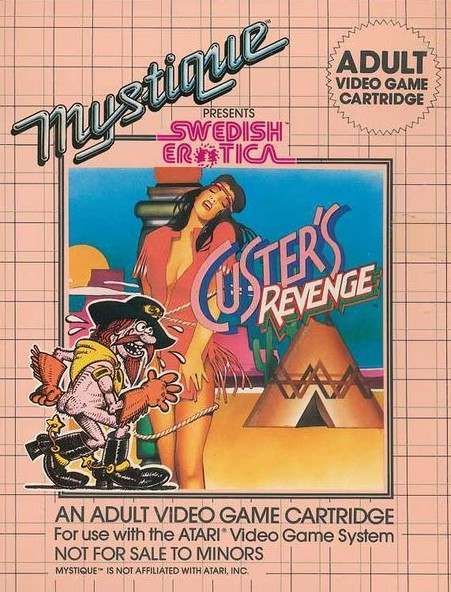 Without any hesitation, the most politically incorrect video game of all time has to be Custer's Revenge. The object is to have General Custer literally rape a Sioux Indian girl.  This is beyond offensive, beyond despicable. I stand in complete amazement that this ever existed.
FRANKIE GOES TO HOLLYWOOD (1985)
I nearly choked when I ran across this advert in a September 1985 issue of ZZAP 64 magazine.  I have no memory of it, but the very idea that it existed blows the mind.  Frankie's Pleasure Dome, with its overtly homosexual overtones, doesn't exactly lend itself to mainstream entertainment.  But then, I would have never predicted Village People trading cards or Bronski Beat breakfast cereal either.
Okay, there was no actual Bronski Beat cereal, but you get my point.