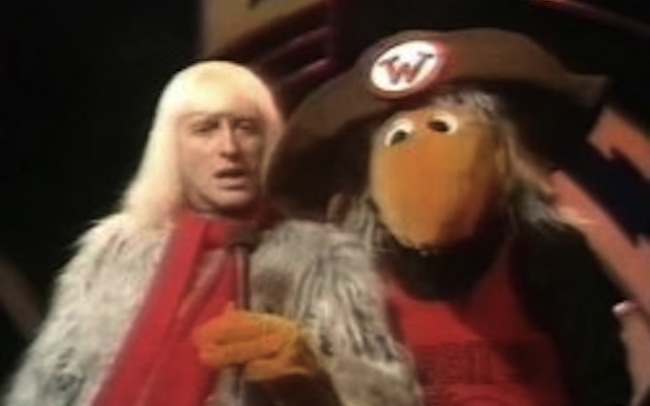 OPERATION Yewtree calls The Wombles.
Mike Batt wrote their music. He went on the record:
In 1974 The Wombles were the biggest selling act in the U.K. It all came about by my being hired to do the music for this little TV series, five minutes long, that the BBC did. These funny little puppet things being stop-animated into rather twee adventures picking up litter on Wimbledon Common. Instead of getting the £200 fee for it, I asked if I could have the character rights to the music. That was worth nothing, because there was no band or anything, so they gave me that instead.
Clever chap. The Wombles went on to record such hits as The Wombling Song, the tribal Remember You're a Womble, Keep On Wombling, Minueta Allegreto, Wombling White Tie And Tails and the supremicist  SuperWomble. 
Guitarist  Chris Spedding told Mojo magazine:
I only recall appearing on Top of the Pops [as a Womble] once… You couldn't play an instrument in those costumes! They were so hot and smelly from previous wearers that I got out of it as soon as I could. We never learnt any dance moves for these shows. I was just told to move around as much as possible. During these performances there was ample opportunity for us to ogle cute young teenage girls through those eye holes. They couldn't see the leering rock musician inside. In fact, a pretty young girl once peered into my eye holes and whispered, 'I love you, Womble!' I did a little Womble dance in response, but if only she knew…
Mike Batt:
Of course, [the girls] thought they were looking at these lovely, cuddly Wombles that were just playing pop music for them, but in fact there were these lecherous session men who were drooling from inside the costumes.
Send in the clowns…
Tidybag writes:
The Wombles made 17 Top Of The Pops studio appearances in 1974-75, plus one in 1998. Only a few of the performances are thought to have survived, as most episodes were wiped until 1976….

There was also an earlier Wombles appearance of sorts: on 20 December 1973, Jimmy Savile introduced a whole episode of Top Of The Pops while dressed in an Orinoco Womble costume, without much explanation. After the first few links he removed the head, leaving the body of a Womble with the head of a man – sometimes accompanied by the body of an audience member with the head of Orinoco.