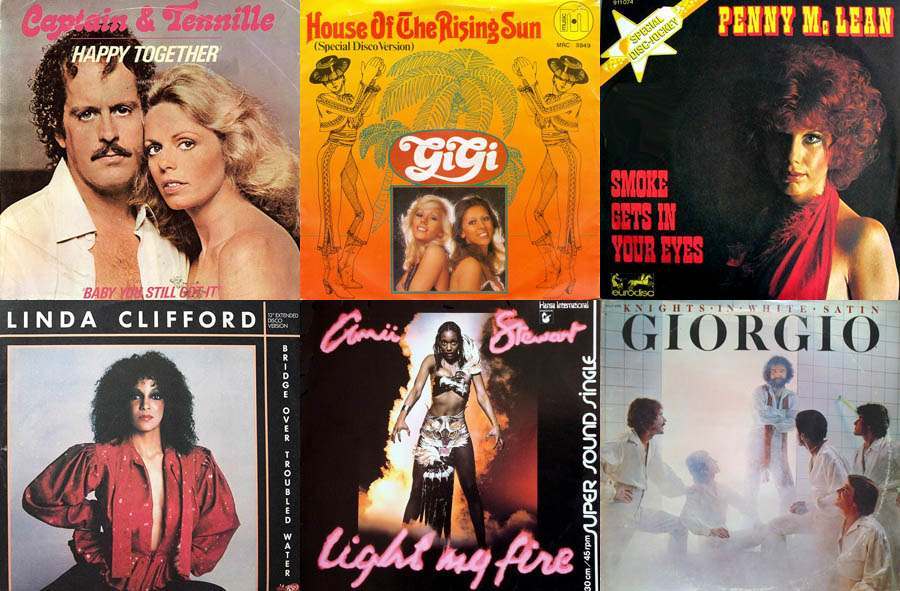 What started as an important urban underground movement in the mid-70s quickly became a laughable travesty by decade's end. Once everyone started riding on the disco gravy train, the magic was gone. Contributing to its demise was the butchering of classic hits – much loved tunes given the disco treatment. Here are some of most offensive examples.
"Can't Take My Eyes Off Of You" by Boy Town Gang (1982)

Frankie Valli was no stranger to a disco beat, so I imagine he wouldn't have too much trouble with this disco cover….. the male dancers, however, are a different story. My eyes!
"Bridge Over Troubled Water" by Linda Clifford (1979)

I get the shivers whenever I hear this grand Simon & Garfunkel classic. I shiver when I hear this version as well – but for very different reasons.
"Whole Lotta Love" by The Wonder Band (1979)

I can't help but wonder if this song somehow contributed to the death of John Bonham who would die one year after the release of this disco cover. They say he drank 16 shots of vodka for breakfast on his last day…. perhaps he had just heard this song? It's just a theory.
"California Dreamin'" by Cynthia Woodard (1979)

Like a lot of disco songs it takes forever to get past the intro and into the lyrics (you've got to give the folks time to do a quick line of coke and make it to the dance floor). Here it's at the 1:15 mark that Cynthia kicks in with a nicely sung, soulful version that will, nonetheless, have you pining for Mama Cass, Denny, Michelle and John.
"Fever" by Madleen Kane (1978)

Yes, this is a terrible disco version; however, it could have been done right. Not all disco versions are bad – Isaac Hayes' version of the same song is actually pretty good. Indeed, Chilly's version of "For Your Love" is (dare I say) better than the original.
"Day Tripper" by Amadéo (1977)

Not only are we given a cringeworthy rendition of this Lennon/McCartney standard, but we have to hear a narration throughout – prepare to be horrified.
"Do Wah Diddy" by A la Carte (1980)

My suggestion: Don't Wah Diddy
"Gloria" by Midnight Stud (1977)

An oft covered song by Van Morrison (originally for his band Them) covered respectably by Jimi Hendrix, The Doors, Shadows of Knight and Patti Smith….. no so much by Midnight Stud.
"Happy Together" by Captain & Tennille (1979)

I actually enjoy the music of Captain & Tennille. "Love Will Keep Us Together" is pop music dynamite, I loved their show as a kid, and Tennille has a great voice…. and yet, there's this abomination. I am going to go out on a limb and say this is the worst of all disco covers – too harsh?
"I Heard It Through The Grapevine" by P'zzazz (1980)

Why should I turn my nose up at disco re-tooling of hallowed classics? Are these songs somehow so holy, they don't deserve an upgrade now and again? I suppose there's some fun in hearing familiar melodies get "disco-ized"; however, I think you'll agree here at the end of this list that enough is enough! Suffice it to say, the endless cover versions was a prime way disco wore out its welcome.