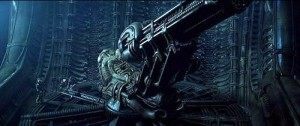 RIDLEY Scott's Alien (1979) dramatically altered the template for horror films set in outer space. For example, the blockbuster film was among the first (after Dark Star [1975] to suggest that travel in the final frontier would be the purview of "work-a-day" space truckers rather than noble explorers or adventurous astronauts.
And instead of intrepid space travelers fighting men-in-rubber suits inside idealized white-on-white space station environs (as was the case in The Green Slime [1968]) Alien suggested a technological space age marked by endless industrial corridors and aliens of constantly shifting dimension.
The Scott film's central alien — a bio-mechanoid horror created by H.R. Giger — could also gestate inside a living human host, and this fact ushered in a new era of cinematic "body horror."
As with any genre blockbuster, Alien almost immediately spawned a host of knock-offs, some terrible and some quite good.  These films found much material to imitate and emulate, from the diverse make-up of Alien's victim pool, to bloody variations on Alien's famous chest-burster birth scene.  Many Alien knock-off films also involved long forgotten derelicts or other structures on alien planetary surfaces, for instance.  Inevitably, human crews would discover these Lovecraftian edifices and wake up age-old horrors.
Among the Alien knock-offs of the 1980s were Scared to Death (1981), Forbidden World (1982),  The Beast Within (1982), Parasite (1982), The Being (1983), and Biohazard (1985), to name just a handful.
The list below represents five of the best — or at least the most memorable– of the Alien knock-off breed.  As is often the case regarding knock-offs, the best such films are invariably those that re-purpose not merely the clichés from one source – in this case — Alien — but also from other literary or cinematic works as well.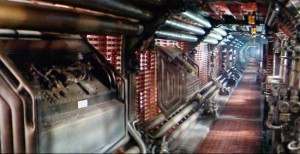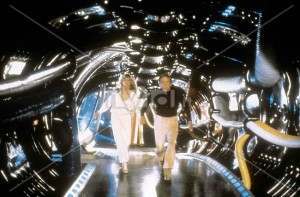 Saturn 3 (1980)
The story of a psychotic mad scientist, Captain Benson (Harvey Keitel) who travels to the Experimental Food Research Station on a moon of Saturn during a twenty-two day eclipse and communications black-out called "Shadow Lock," the much-reviled Saturn 3 might actually be considered, first-and-foremost, a child of the Frankenstein story.
On remote Saturn 3, Benson assists two scientists working to alleviate a famine on overpopulated planet Earth. Major Adam (Kirk Douglas) and his romantic partner, the beautiful and innocent Alex (Farrah Fawcett) are wary, however, of Benson's form of help: a colossal humanoid robot named Hector, the first of the "Demi God" series. Hector boasts human intelligence, not to mention human tissue.  And echoing his creator's madness, he soon begins lusting mightily after Alex.
Outside the space-age Frankenstein monster tropes, Saturn 3, like Alien, is set in a location where aid and assistance from the authorities is not available.  Similarly, Earth in both films is depicted as a used-up dystopia.  In Alien, "the company" controls everything on Earth, and in Saturn 3, humans have polluted the planet and resorted to rampant drug use because of the planet's inhospitable nature.
Hector stands in for the titular alien, as well, and hunts down the film's Adam and Eve-styled protagonists in the facility's twisting factory-like corridors.
Finally, in Scott's film, the Alien is almost entirely a creature of instinct, driven by impulses to reproduce and survive. In Saturn 3, by contrast, the monster is a machine that experiences something "human" beyond programming: psychosis and lust.  Hector is ultimately beaten, however, because as a machine he can't understand the human concept of self-sacrifice.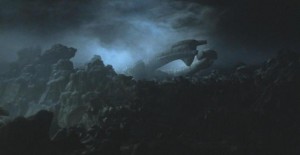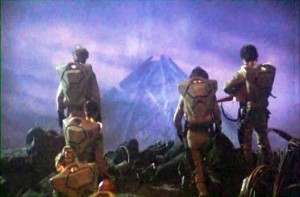 Galaxy of Terror (1981)
Aliens (1986) director James Cameron served as a production designer on this knock-off from Roger Corman's New World Studios, and in the process created a universe that is very reminiscent of the Scott film, at least from a visual stand-point.  Like Alien,  Galaxy of Terror is set in a "lived in" universe (unlike, say the white-on-white minimalism of 2001: A Space Odyssey [1968] or Space: 1999 [1975 – 1977].)
In Galaxy of Terror, a rescue ship, The Quest, heads to the mysterious planet called Morganthus to discover the fate of the Remus, another ship which crashed there.  Once on the surface of dark Morganthus, however, the Quest crew discovers a strange alien pyramid.  Soon, the crew — including characters played by Robert Englund, Sid Haig, Grace Zabriskie, and Erin Moran — begins to experience their worst fears made manifest.
In this case — if the plot summary hasn't given it away already —  Galaxy of Terror draws inspiration not only from Alien, but from Forbidden Planet (1956), a film in which another rescue mission (to Altair-4) runs afoul of a "Monster from the Id," actually the human subconscious.  That's pretty much the case here, only with slimy monsters, doppelgangers, and a scene involving a rape by a giant alien worm.
The alien pyramid in Galaxy of Terror looks like it could have been constructed on Alien's LV-426, and the slate gray sky above it even looks eerily similar. More trenchantly, perhaps, Galaxy of Terror's rape scene also reflects the violent sexuality seen in Alien, the harsh re-purposing of the human body for unwholesome breeding purposes.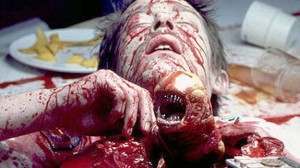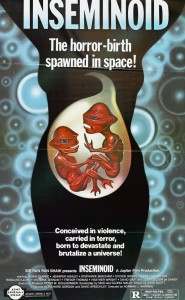 Inseminoid (1982)
Also known as Horror Planet, Inseminoid is probably the schlockiest film on this list. The film stars Judy Geeson, Stephanie Beacham and Victoria Tennant as astronaut scientists, and involves the discovery of an ancient alien tomb on a far distant planet.
Before long, one astronaut, Sandy (Geeson), is impregnated by the last living alien in the tomb, and becomes the protective expectant mother of two ghastly alien twins. Her maternal instinct is re-purposed to serve an interloper's biological imperative.
And just as Kane in Alien gives birth to the chest-burster, here Geeson gives birth to two monstrous tykes who — naturally — nurse on human blood.
Inseminoid's central conceit is that everything on this distant alien world is "doubled."  The planet orbits twin stars, and the alien mythology is obsessed with twins, and so forth.
Although lacking tact (especially in the flashbacks to Sandy's impregnation), Inseminoid occasionally features a beautifully composed shot, such as one on the purple surface of the distant planet during a funeral.  There was also a funeral (for Kane) in Alien, but this shot of an alien vista grants the hororr film a nice sense of scope and also a visceral sense of place.
Like Alien, Inseminoid also concerns an alien species that co-opts the human race for its own reproductive requirements.  Here, the aliens suckle on the (open) wounds of dead humans, and Sandy herself becomes a bit blood-thirsty as her biology is altered to play host to most unwelcome invaders.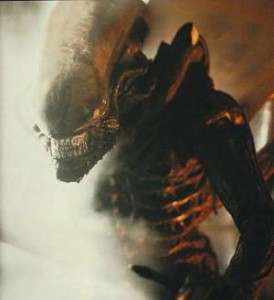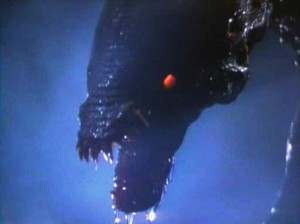 Creature (1985)
A corporate spaceship, the Shenandoah, sets down on Titan to investigate an ancient alien archaeological site.  The Shenandoah's mission is imperiled, however, by the arrival of a ship from a competing corporation, Richter Dynamics, and the presence of its freakazoid captain, played by a scenery-chewing Klaus Kinski.
Before long, the rival crews learn that the archaeological site was actually something akin to an alien zoo or laboratory: a collection of diverse aliens from all over the universe.  Unfortunately, one managed to break free from its captivity and is now attacking and brainwashing human beings…
Creature — while ripping off Alien lock, stock and barrel — also offers a number of notable fan touches.  The film's Ripley equivalent is Beth Sladen (Wendy Schaal), and her name seems like a nod to Elisabeth Sladen, who accompanied Tom Baker's Fourth Doctor in Doctor Who on several dangerous adventures in space in TV serials such as "Ark in Space" and "Planet of Evil."   The film also quotes dialogue directly from — again – Forbidden Planet.
Additionally, the key to destroying the unleashed zoo specimen in Creature is Sladen's knowledge of Howard Hawks' The Thing (1951).  She remembers that — in the movie's last act — the imperiled humans electrocuted an invading alien.
These and other tributes assure that Creature can be contextualized as more than mere Alien knock-off.
Finally, Creature also revives the "corporate" culture social critique underlying the Scott film.  In this case, the rival spaceships are involved in what the film's dialogue calls "a fierce race for commercial supremacy."
Even in space — with drooling, brainwashing aliens out and about — the ultimate enemy is…big business.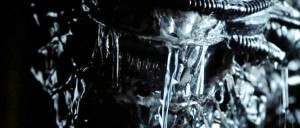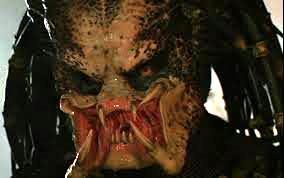 Predator (1987)
John McTiernan's 1987 adventure/horror movie is actually part-Rambo (1985) and part-Aliens (1986), and is the best film on this list, by far.  Still, much of its energy seems derived from the Alien aesthetic.
Here, we get the remote location (a jungle in Central America instead of outer space), an alien — with a similarly distinctive jaw-line — that cuts down one human at a time, and is a kind of alpha or apex predator.
The alien in Scott's film was the ultimate survivor, able to breed and survive in any setting.  The alien, by contrast, in Predator is the universe's greatest hunter, a characterization that sets up a conflict with planet Earth's greatest warrior, Dutch, played by Arnold Schwarzenegger.
But the real commonality between Alien and Predator arises in a mid-story surprise and revelation of conspiracy.  In Alien, the Nostromo's science officer, Ash (Ian Holm), protects the alien all along, and considers the rest of the human crew "expendable," on secret orders from the Company.
In Predator, Dillon (Carl Weathers), an ambitious military officer, uses the cover of a rescue mission to get Dutch's men into a position where they can acquire important documents about "the enemy."  As in Alien, the soldiers serving under Dutch are thus considered "expendable."
Neither Ripley nor Dutch respond well when they expose the secret conspiracy, and the conspirator.  In Predator, however, Dillon gets a shot at redemption, and Ash gets…decapitated.