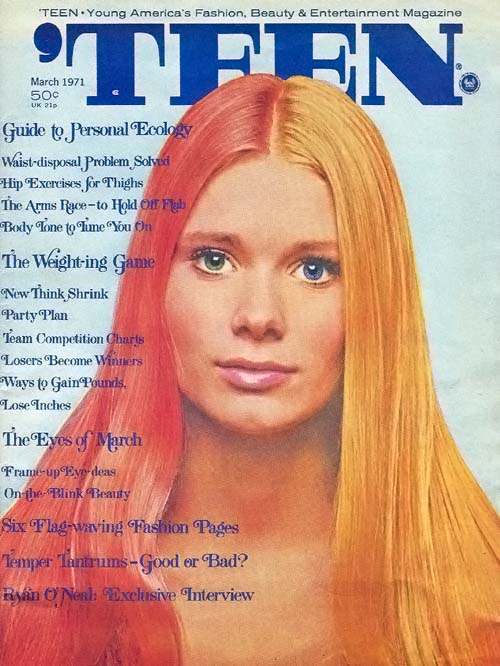 There's no better insight into the teenage girl psyche than those ubiquitous teen magazines. So, let's step into the mind of early Seventies teenyboppers and take a look at the March 1971 issue of 'TEEN magazine.  It's chock full groovy advertising and advice, fashion and feminine hygiene. Within its glorious pages we'll find a plethora of mini-skirts, a cry for the whereabouts of Peter Tork, and how to look fabulous in the jungles of Vietnam.  Come take a look!
DYE ADVERT – MAY CAUSE ACID FLASHBACK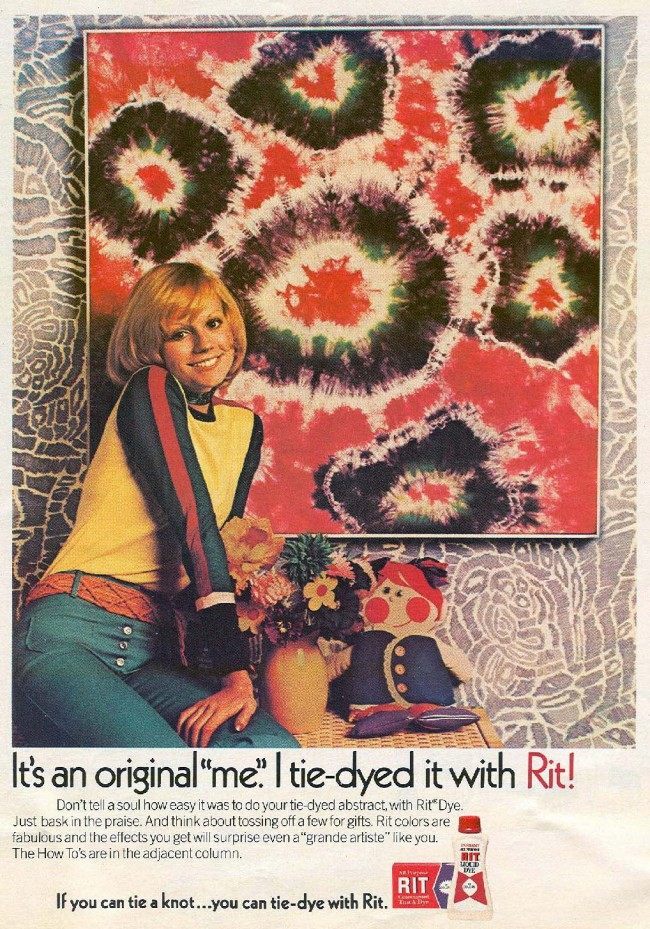 This tie-dye painting in combination with that wallpaper is causing a bit of a sensory overload.  While I'm sure that wall is nice while gobbling up psychedelics, it would be migraine inducing on a daily basis.
MINISKIRTS AND POLKA-DOTS-A-GO GO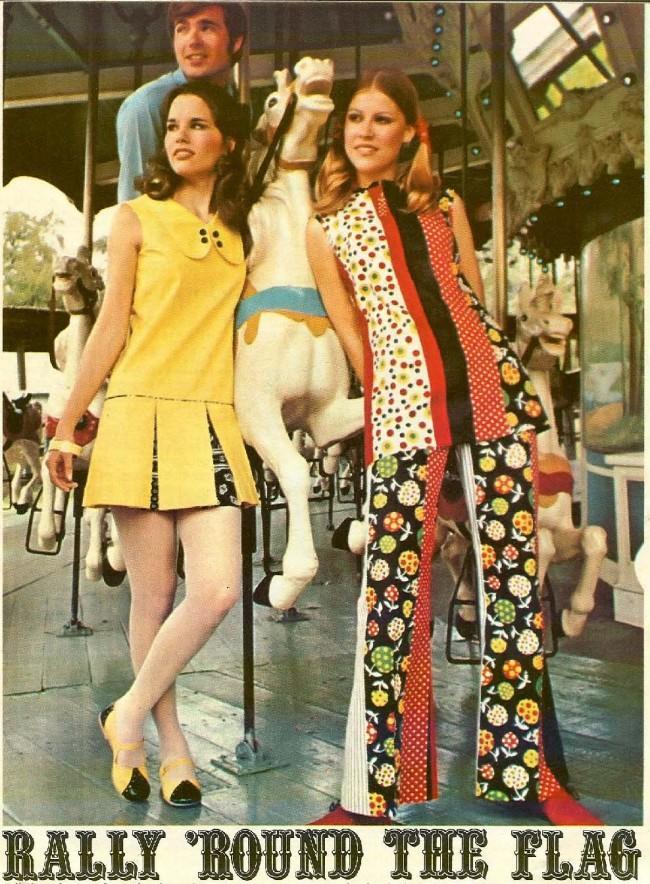 While most people associate the bright psychedelic polka dot patterns with the 1960s; that style didn't hit Main Street America until the early '70s.  By this time the mini-skirt's hemline had gone about as high as it could go – there was nowhere else to go but down.  Hence, slacks and maxi-length dresses completely overtook the mini in the States by '74.
BULLY MAGNET CLOTHES FOR BOYS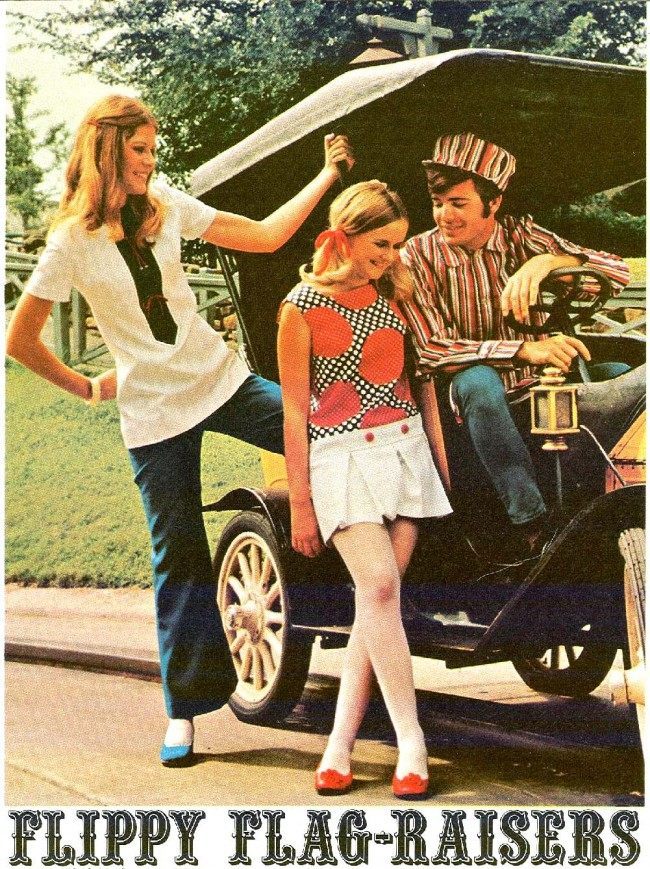 All the cool cats in '71 wore matching train conductor hats and striped shirts and drove Model T's….. well, actually nobody did.  In fact, if a boy wore that outfit to school, he could pretty much count on a thorough beating from his schoolmates on a daily basis.  And he'd deserve it.
UGLY FAT BOY MUST DIE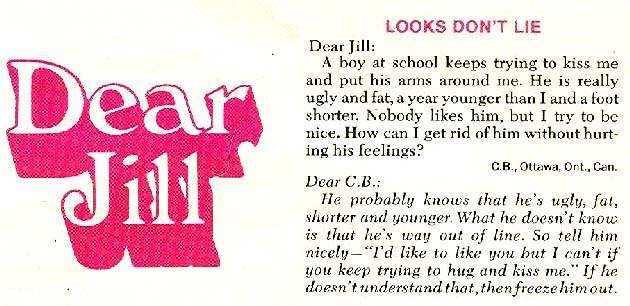 From the Dear Jill advice column:
"A boy at school keeps trying to kiss me and put his arms around me.  He is really ugly and fat….. Nobody likes him."
Jill's recommendation: "Freeze him out."  I'm not sure what that means, but it sounds a job for the Italian mafia.
DAIRY EROTICA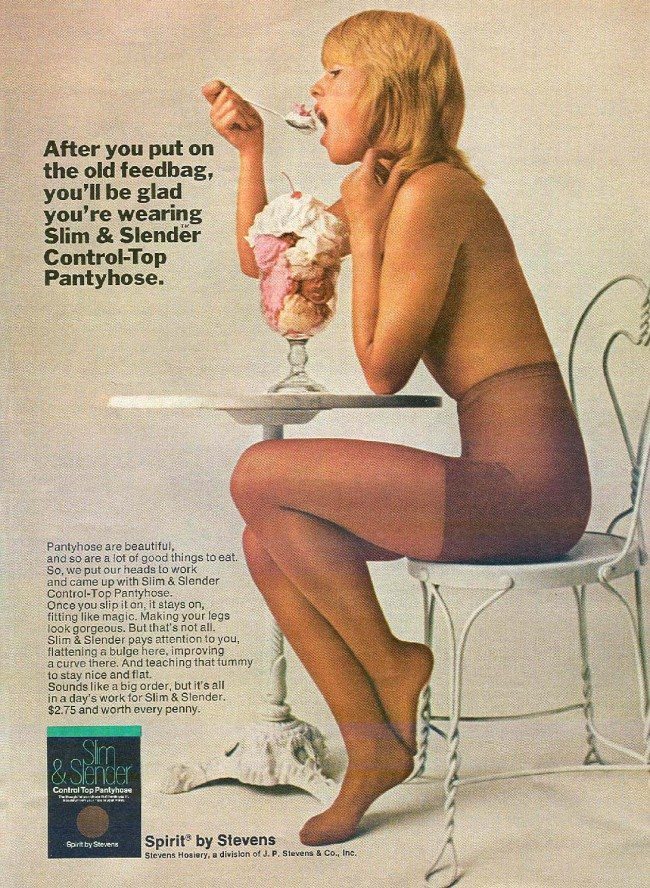 This advert just demonstrates how pathetic I am.  There's a naked girl in the picture, yet my eyes keep going to that beautiful ice-cream.  Simply mouthwatering.
LOOKING GLAMOROUS FOR THE VIETNAM CONFLICT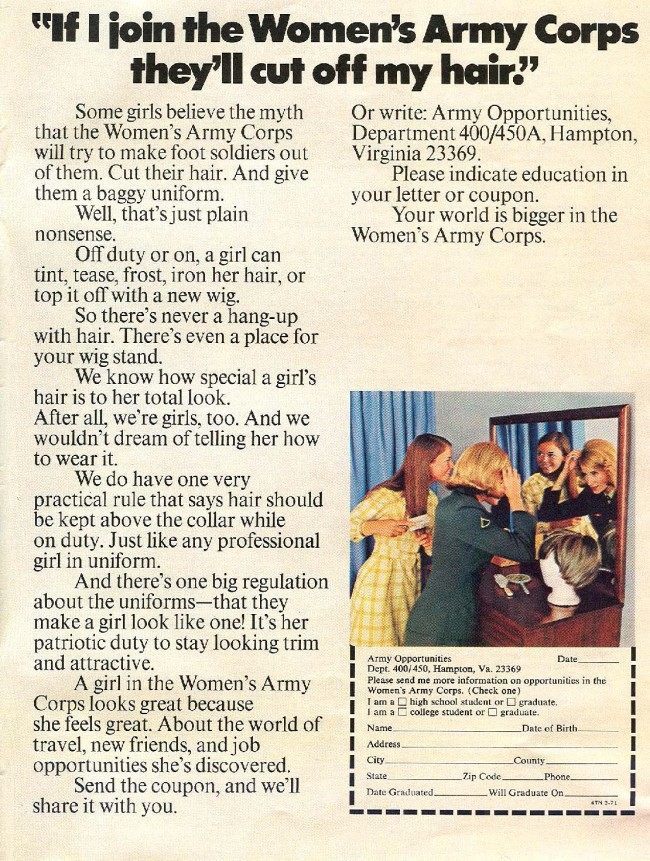 "Some girls believe the myth that the Women's Army Corps will try to make foot soldiers out of them.  Cut their hair. And give them a baggy uniform.  Well that's just plain nonsense.  Off duty or on, a girl can tint, tease, frost, iron her hair, or top it off with a new wig."
This advert simply blows my mind.  It goes on to read, "It's her patriotic duty to stay looking trim and attractive."  God Bless America!
WE GET… ABDUCTED AND MURDERED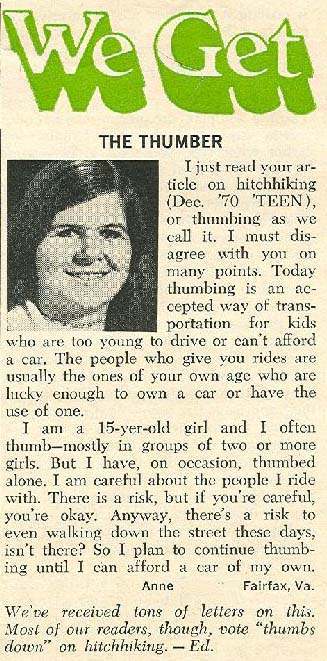 The "We Get" section is the letters to the editor section of 'TEEN magazine.  In this particular letter, Anne says hitchhiking "is an accepted way of transportation for kids."  She goes on: "I am a 15-yer-old girl and I often thumb…. So I plan to continue thumbing until I can afford a car of my own."
Well, I certainly hope Anne came to no harm.  However, "thumbing" in the US is easily the least safe thing a human being can do.  Sure, it gets you from Point A to Point B…. but the "B" stands for "Brutally raped and murdered".
SCANDALOUSLY MODEST UNDERGARMENTS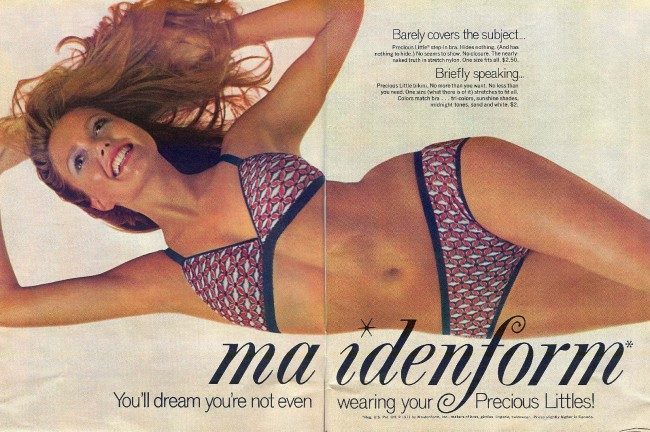 "One size (what there is of it) stretches to fit all."
They call them "Precious Littles" because they're supposedly so skimpy.  My how times have changed – these are damn near granny-panties by today's standards.
PETER TORK – ALIVE AND NOT-SO-WELL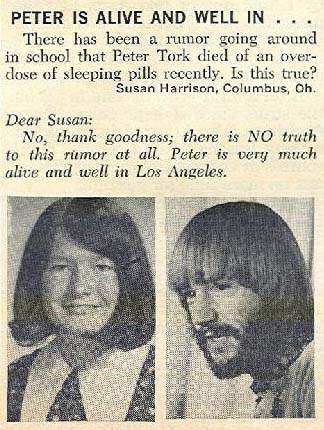 I find this hilarious.  A concerned citizen inquires about the health and well-being of ex-Monkee, Peter Tork, hearing that he OD'd on pills.  The response is that he is alive and well in LA…. which wasn't exactly true.  His new band, Peter Tork And/Or Release, failed to get a record deal, and he completely ran out of money.  Around the time this 'TEEN magazine article was published, the penniless Tork was living in David Crosby's basement before being sentenced to three months in an Oklahoma penitentiary for drug possession.
HAIR LIGHTENER – GATEWAY TO JOINING A HIPPIE CULT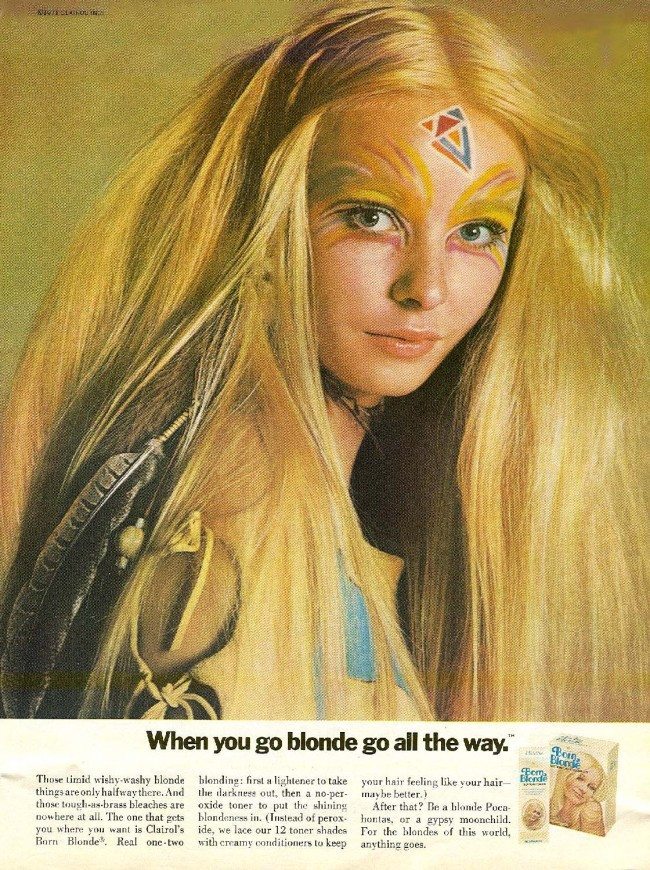 "When you go blonde go all the way."
And when they say "go all the way", they mean that quite literally – as in, do tremendous amount of psychotropic drugs, change your name, and join a cult.
AND MORE MINI-SKIRTS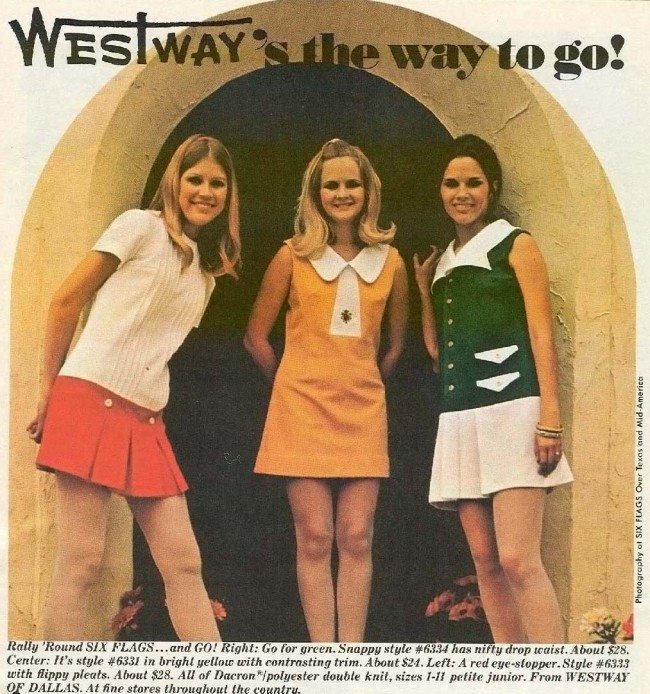 Truly, 1971 was the Golden Age of the miniskirt in the States, and this 'TEEN magazine is bursting with high hemlines.
IT'S CALLED ENGRAVING, BUT WHATEVER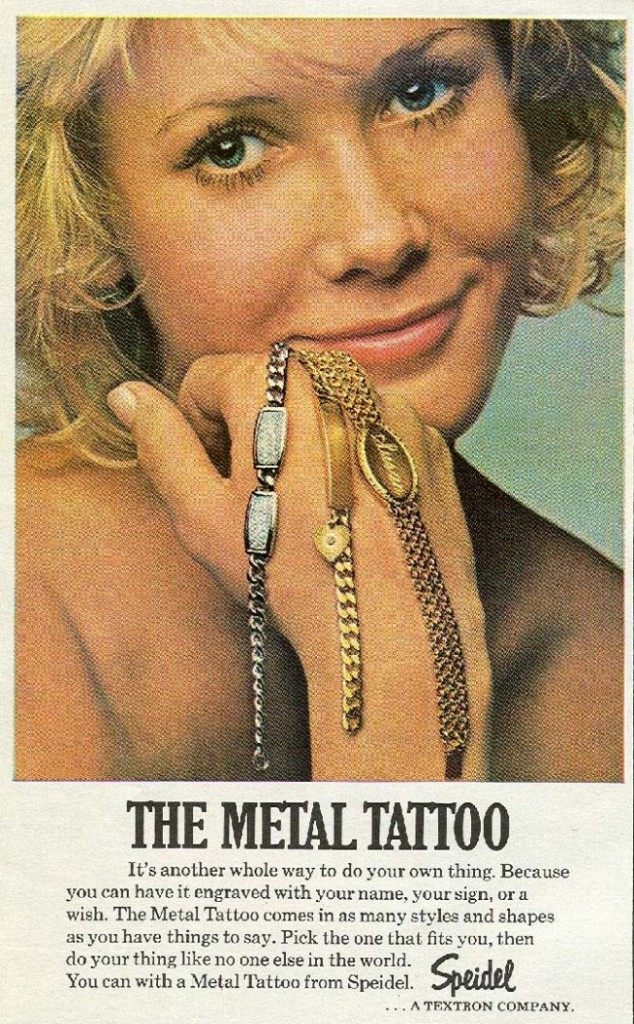 I have my name embroidered on my bathrobe.  I suppose that's my Terrycloth Tattoo.
SMOG RESISTANT HAIRSPRAY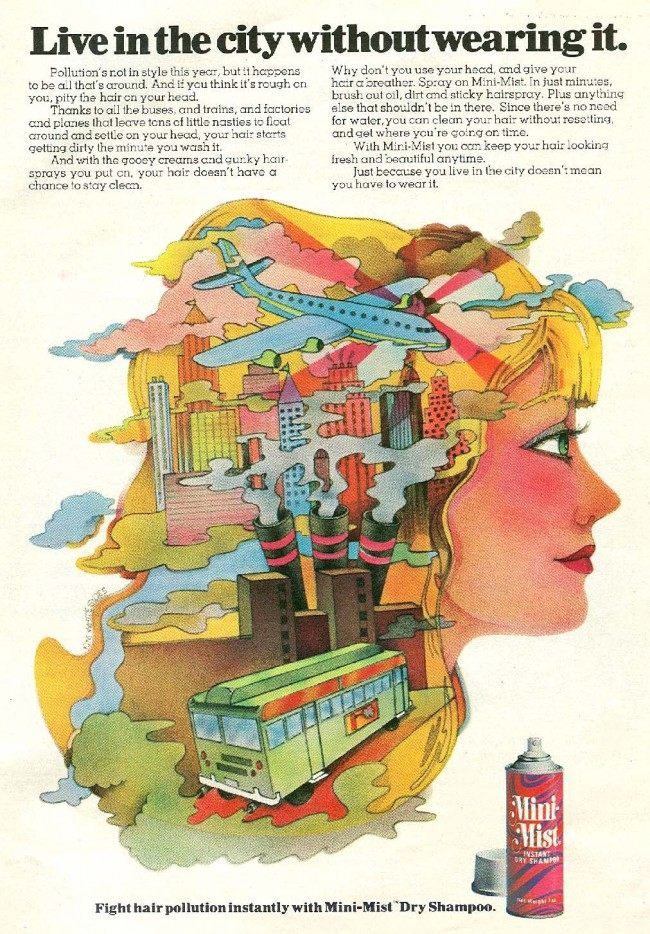 "Pollution's not in style this year, but it happens to be all that's around.  And if you think it's rough on you, bit the hair on your head.  Thanks to all the buses, and trains, and factories and planes that leave tons of little nasties to float around and settle on your head, your hair starts getting dirty the minute you wash it."
It's absolutely hilarious that in a few short years, aerosols like this product would be found to be among the biggest pollutants, emitting chlorofluorocarbons into the atmosphere and destroying the ozone layer.  Irony, you cruel mistress!